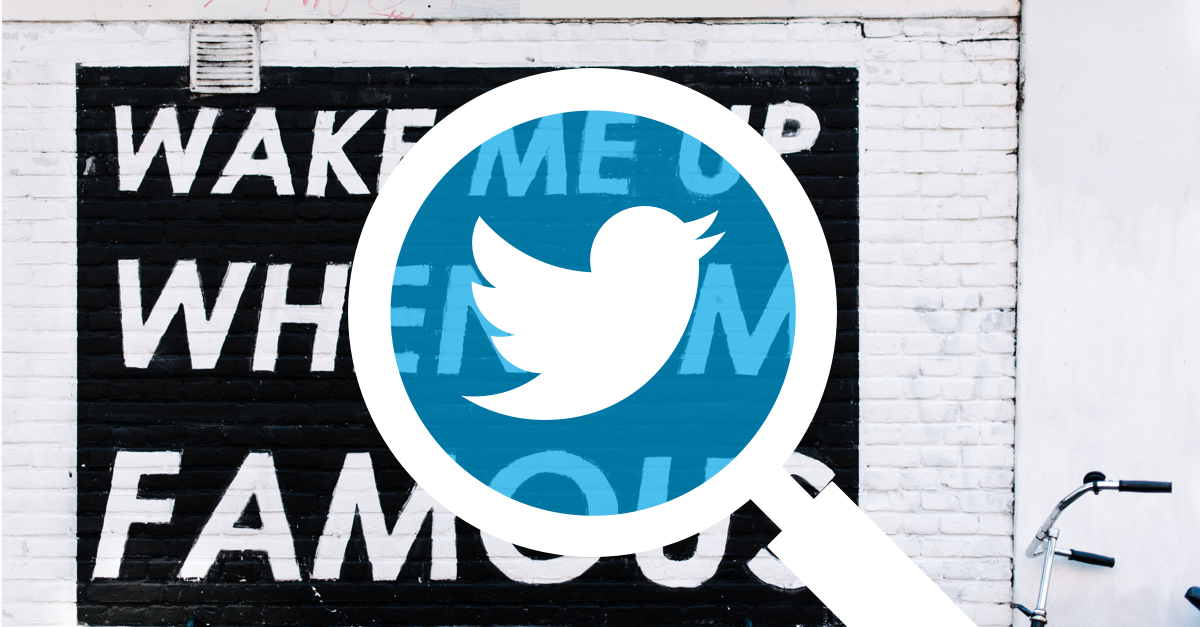 10 Ways to Get More Out of Twitter
Twitter has more tricks up its sleeve than you'd think. If you're tired of just broadcasting on it and want better results, try a couple of these best practices.
Twitter may not have the scale of Facebook, but if you're in the business of influence or media, it might just be your favorite social media platform anyway.
It's especially useful for promoting content, networking with influencers, and offering customer service. But Twitter also does quite well for referral traffic, too. Especially mobile referral traffic.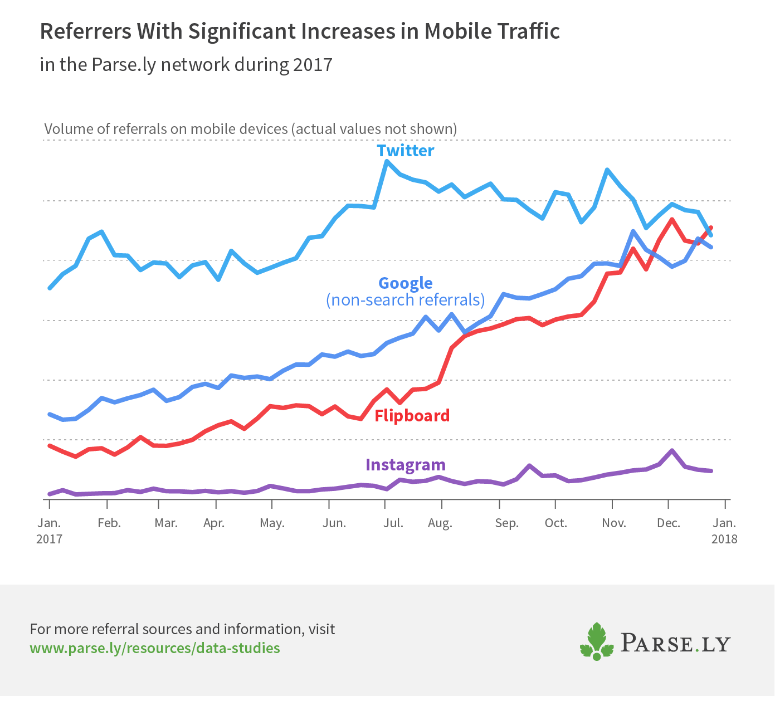 So it's clearly a worthwhile platform to be on. But it takes more than just broadcasting company messages to get results.
If you'd like to be a more sophisticated user (and also get more results), we suggest you try a few of these tactics.
1. Schedule your tweets to go out more than once
Do you only share new content you've published once or twice? That's a major lost opportunity. And while Twitter no longer allows duplicate tweets, that doesn't mean you should give up on promoting your content.
Just vary your tweets a bit. Use a few different images, for starters. Excerpt a couple of different sentences. Give a shout out to anyone you've linked to or mentioned in the post.
This is a super-easy way to double or triple your results from Twitter. And while we can no longer just schedule the same tweet to go out over and over again, we do all still need to be sharing things more than once.
Here's a sample schedule to illustrate how to do this:
Day 1 (publication): Tweet the headline, primary image, and a couple of hashtags.
Day 2: Tweet out to 1-3 of the websites / publications that you either mentioned in the post or linked to.
Day 4: Tweet out an excerpt from the post. Even just a sentence will do.
Day 6: Tweet out a different excerpt from the post.
Day 8: Tweet excerpt #3.
Day 12: Make one of the excerpted sentences into an image, then tweet out the headline, link, and different hashtags
Day 16: Tweet out why you wrote the post in the first place. In other words, a sentence about why the post matters.
Day 24: Tweet out what problem the post solves. For example, "Not getting good returns from Twitter? Then you need to read our new post, 'How to Get More Results from Twitter"
That's eight different shares that can be set up quickly. Incredibly, if you do just this, your content will get double the amount of shares the average piece of content gets
2. Say thank you
Want to do something meaningful every time you check your Twitter account? Just say thank you. If someone shares a piece of your content. If someone follows you. Even if someone just likes a tweet.

Twitter really excels at this kind of engagement, so try it. Besides, gratitude is good for your health. We would all do well to practice it more often. Especially in a medium that can occasionally be, well… unfriendly.
Here's a thank you from Lilach Bullock. It's an animated gif. If you happen to love cute animated gifs, sending out thank yous to people on Twitter is a great way to indulge your love of moving images and memorable moments from favorite films… all in a productive way. People remember when someone says "thank you".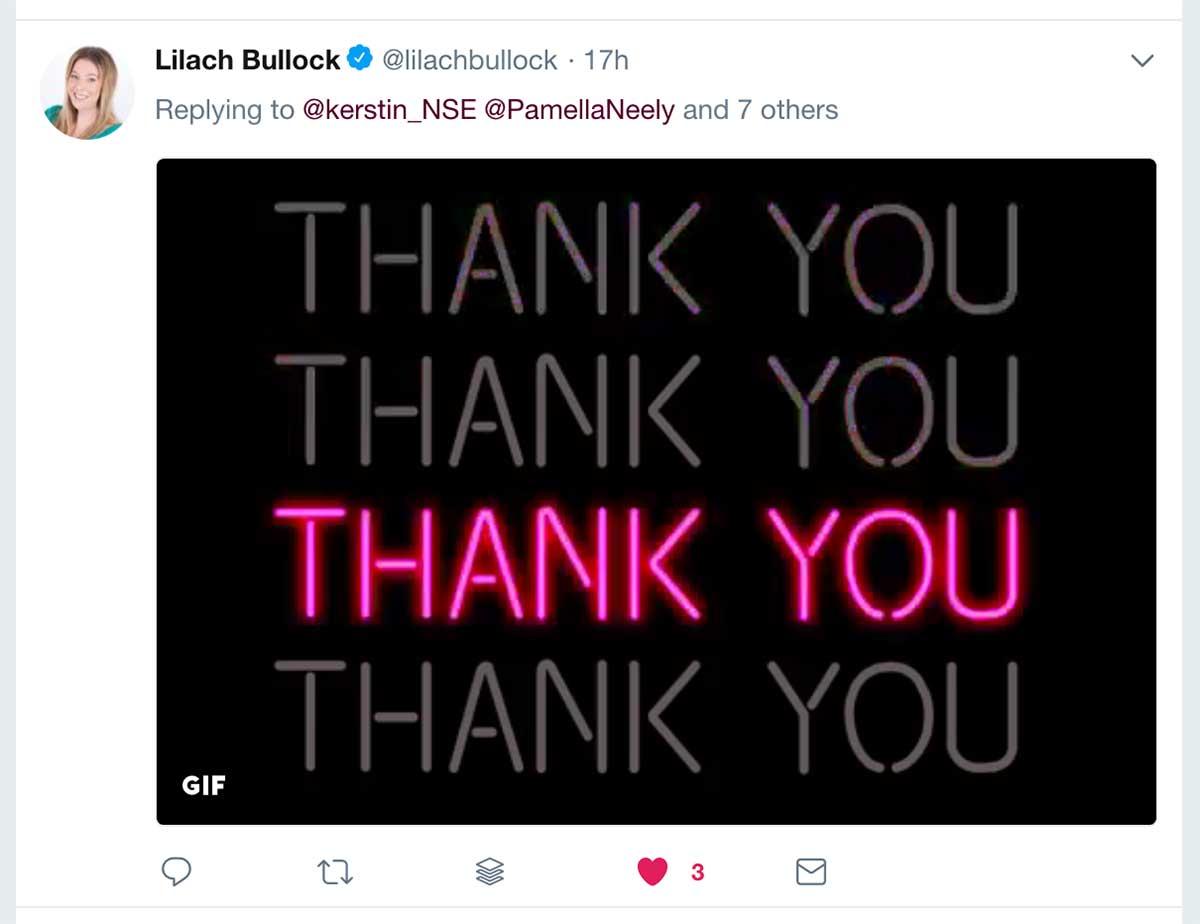 One of the best ways to get more results from Twitter is to simply know what you want.
So ask yourself, what do you want? A big audience of Twitter followers? More traffic to your site? More exposure for your content? More leads? More email subscribers? To make friends with influencers and simply to network with other people?
Twitter can do all those things. But your results will be dramatically better if you define what you want up front. As has been said, "you cannot improve what you don't measure".
Then use your reporting to track your progress. Once you've got your reports dialed in enough to see which actions you take actually work, then you'll be able to do more of what works… and less of what doesn't.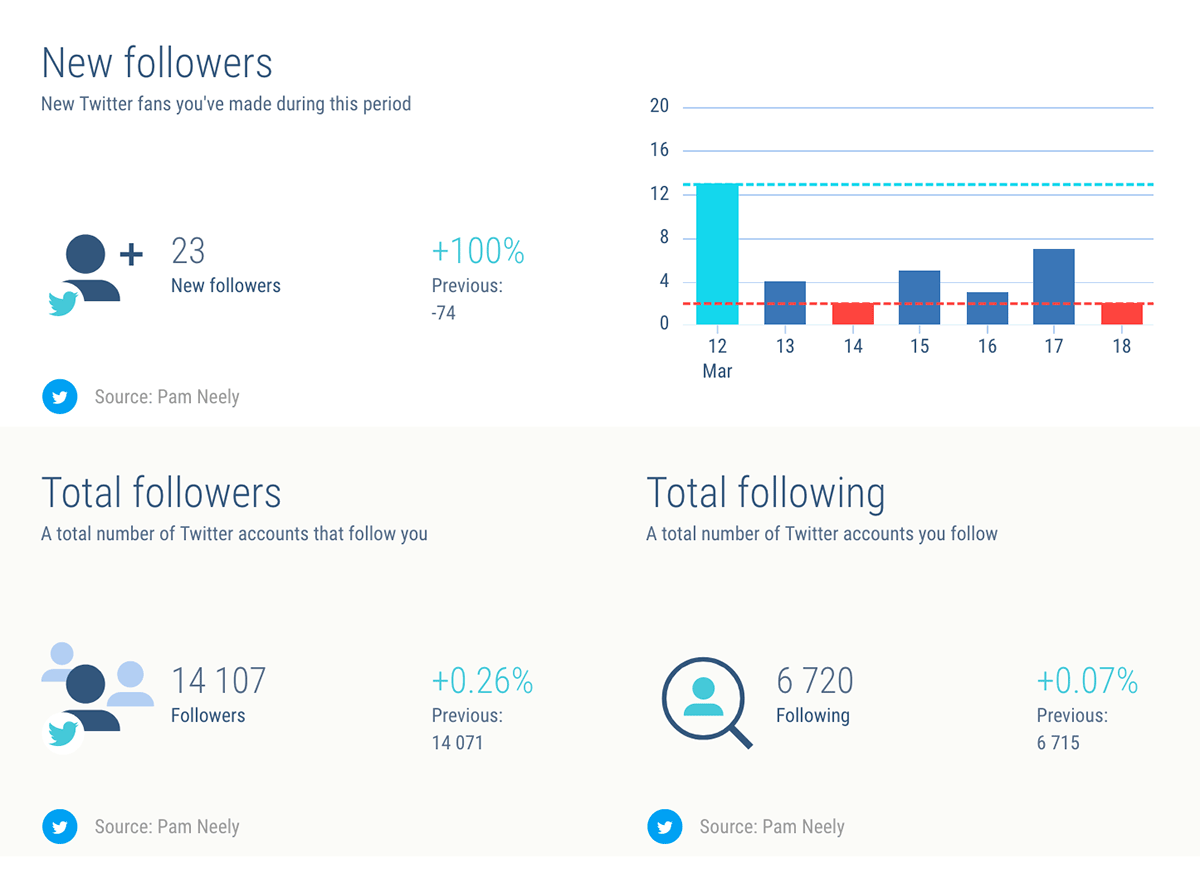 4. Shake up your tweet formats
We're all guilty of this sometimes. We get rushed, and just fill up our Twitter feeds with link posts.

Try really hard to not do this. Not only should you share other people's content at least two-thirds of the time, but you also want to vary the types of content you share.
One of our favorite ways to do this is with Twitter polls. Like this: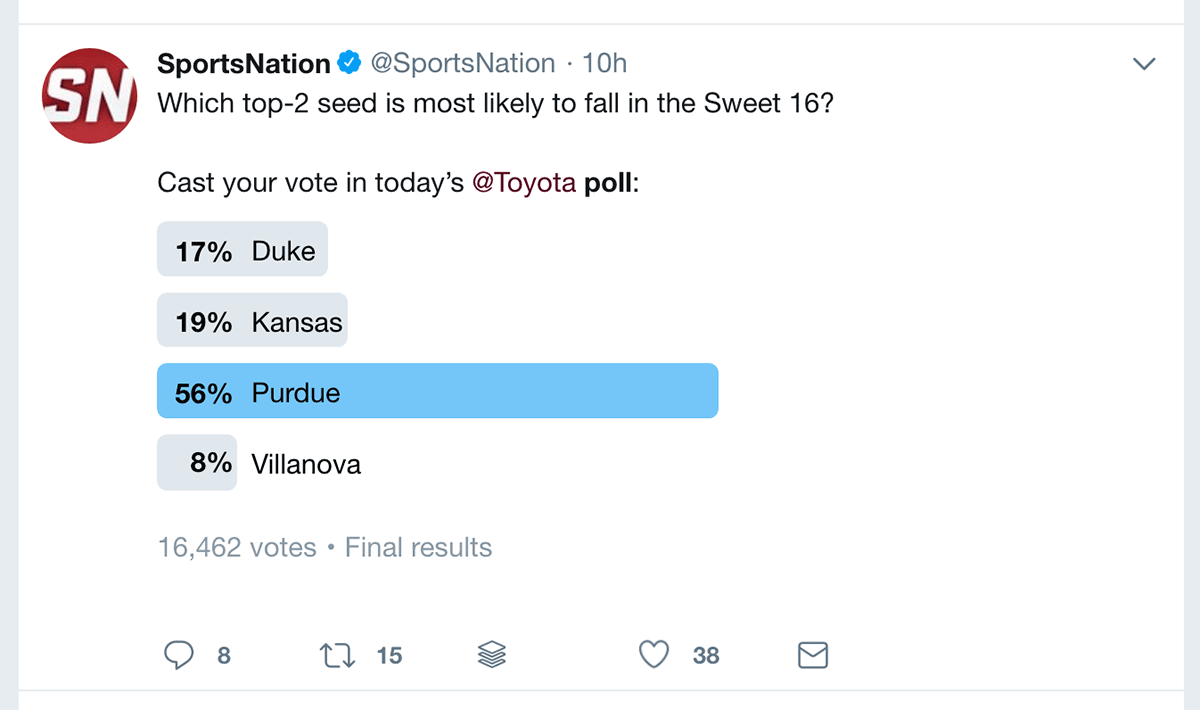 Aim for one Twitter poll every week. Maybe every Friday afternoon.
This varies your tweets, makes your feed more interactive, and gives you content that can be re-used elsewhere. The results of your Twitter polls make great content for your email newsletters or your blog.
But polls are just the beginning. For even better variation in your Twitter feed, you need video.
A great person to follow for Twitter video inspiration is Rebekah Radice.
She publishes short, 30-second or so videos on Twitter almost daily.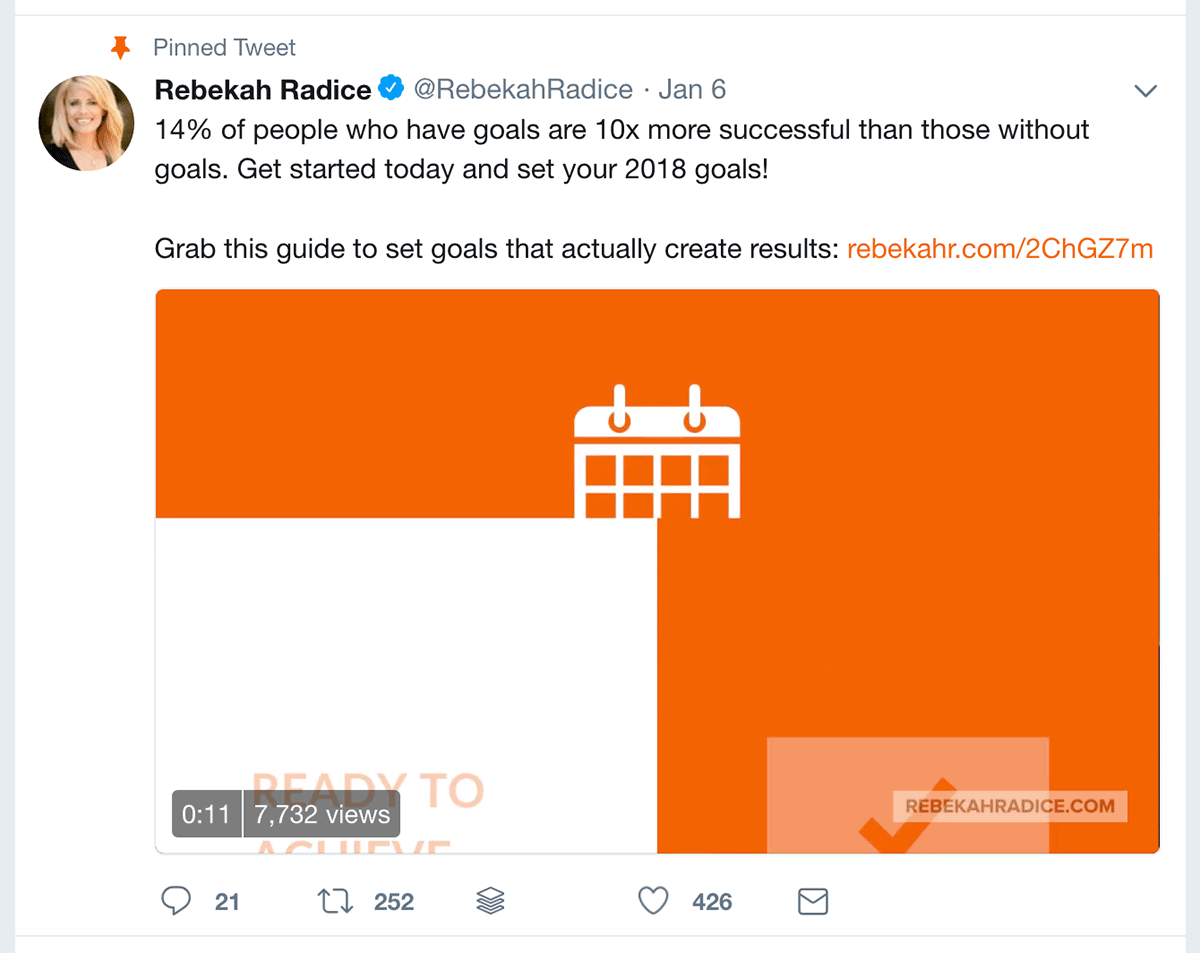 Note the pinned tweet here, too. If there's a particular tweet you want to be sure everyone sees, you should pin it to the top of your feed.
5. Tease your next email newsletter
Yes, you can add Twitter cards to advertise and get email subscribers. But you can also pick up a handful of subscribers every week simply by announcing your newsletter.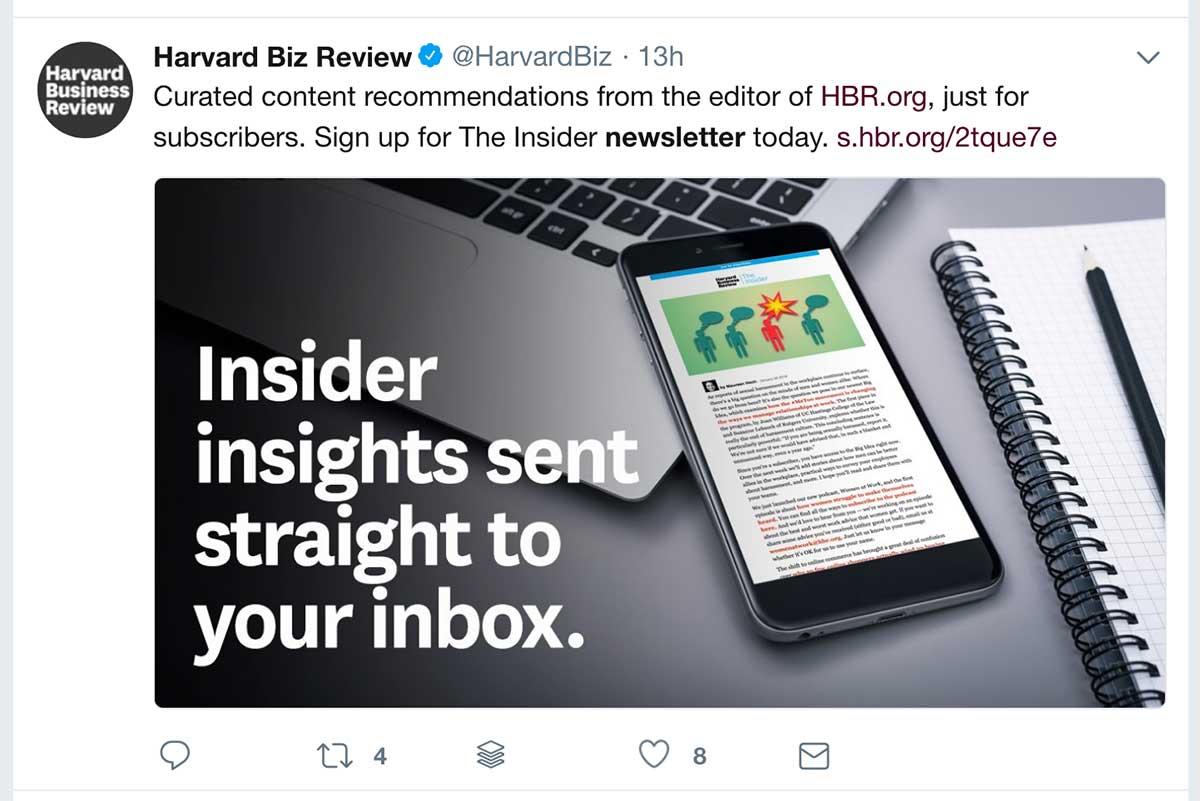 Hint for the procrastinators among us: If you often skip sending your newsletter out, pre-announcing it is always a great way to con yourself into actually getting that newsletter done. Once you announce it, then you have to do it.
6. Use Twitter lists
Got a list of micro-influencers you want to make friends with? Or maybe a list of prospects? Or a list of active clients?

All those groups should be added to separate Twitter lists. And, if possible, add them to private Twitter lists so you don't make this competitive information publicly accessible.
Once you've got the lists, you've got a super-easy way to just dip into your Twitter account, check one of these lists, and like or share or comment on one of the latest tweets. This builds your relationships with these key people and saves a ton of time. You can typically get one of these high-value engagement actions in while you wait in line for a coffee or to check out at the grocery store.
Bonus tip: You can subscribe to other people's Twitter lists, too. And you can see who's on those lists and easily follow them.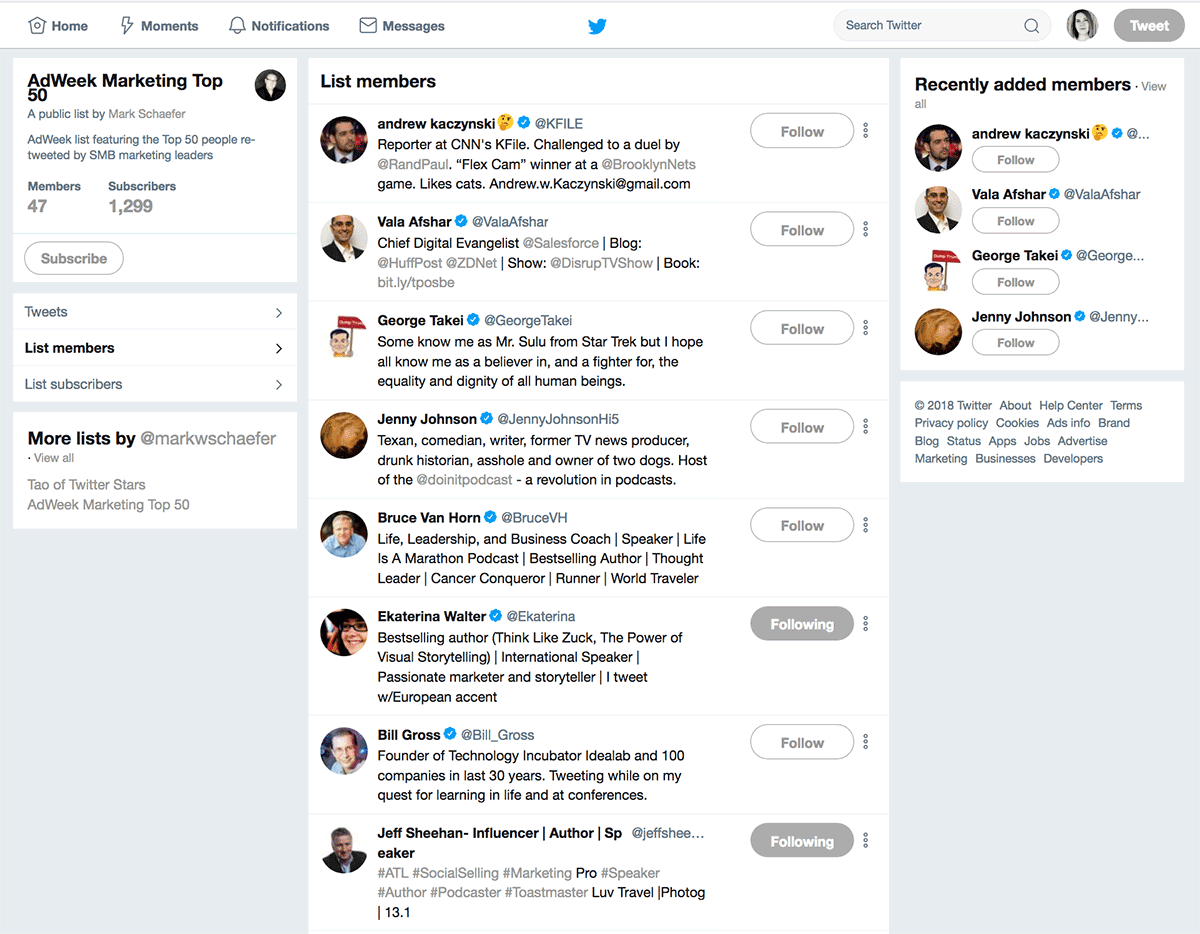 Because Twitter lists organize accounts so well, they're a source of people to follow. And given that about 50-70% of the people you follow will probably follow you back, lists are also a terrific way to build your Twitter audience.
One last bonus tip: You can also add your Twitter lists to your website, or upload them to a Flipboard.
7. Try a Twitter chat
I thought these were a terrible idea for a long time. I was wrong. Many people really like Twitter chats, and a lot of companies get a lot of great results from them.
The beauties of the Twitter chat are:
They're a great way to make friends with micro-influencers

They're a great way to get your Twitter audience engaged

They create comments and content from your audience that you can use later, either in blog posts or newsletters… or in other social media posts

If you've recently published content that's related to the Twitter chat, the chat itself becomes a content promotion tool

It's a way to find out what your audience thinks about different issues
Ann Smarty's company Viral Content Bee does weekly Twitter chats. Anyone can participate.
8. Consider spending a little money
Just because social media can be done for free doesn't mean it should be done for free. And if you have even a little bit of budget (like $100 a month) it can be a smart use of money to strategically boost some of your content. For instance, the announcement for your weekly Twitter chat. Or the Twitter poll you want more exposure for.

You can also try Twitter's beta "Promote Mode" program. It costs $99 a month, and promises to get your tweets and your account more visibility.
I've been on it for about two weeks now, and have gained some insight. The results weren't phenomenal, but for many companies, paying $99 to reach 11% more people would be a bargain. And other Twitter users have tried Promote Mode and said it worked well for them. So – as with most things – you'll probably have to try it yourself to really see if it can help.
9. Leverage trending hashtags
Hashtags are one of the best things about Twitter. So use them to your advantage.
Normally I would suggest that you might want to skip the more controversial topics that some hashtags are attached to, but there's new research that suggests consumers do want brands to take a stand on certain issues, particularly issues like human rights and labor laws.
If you're not quite ready to step into controversy, there are plenty of other hashtags to use. Television shows, for instance, tend to have active hashtags. So do cities, holidays (especially quirky holidays) and, of course, dogs and cats.
Tweeting content with these hashtags has several benefits.
First, adding a relevant trending hashtag to a tweet will get your content in front of new people.
Second, it will force you to stretch a bit creatively. You'll have to figure out a way to incorporate the hashtag to your brand, even if it's just tangentially.
If you can, try to tweet live, too. Trending hashtags are often an in-the-moment thing when they're done best. Like Oreo's classic "dunk in the dark" tweet during a Super Bowl blackout.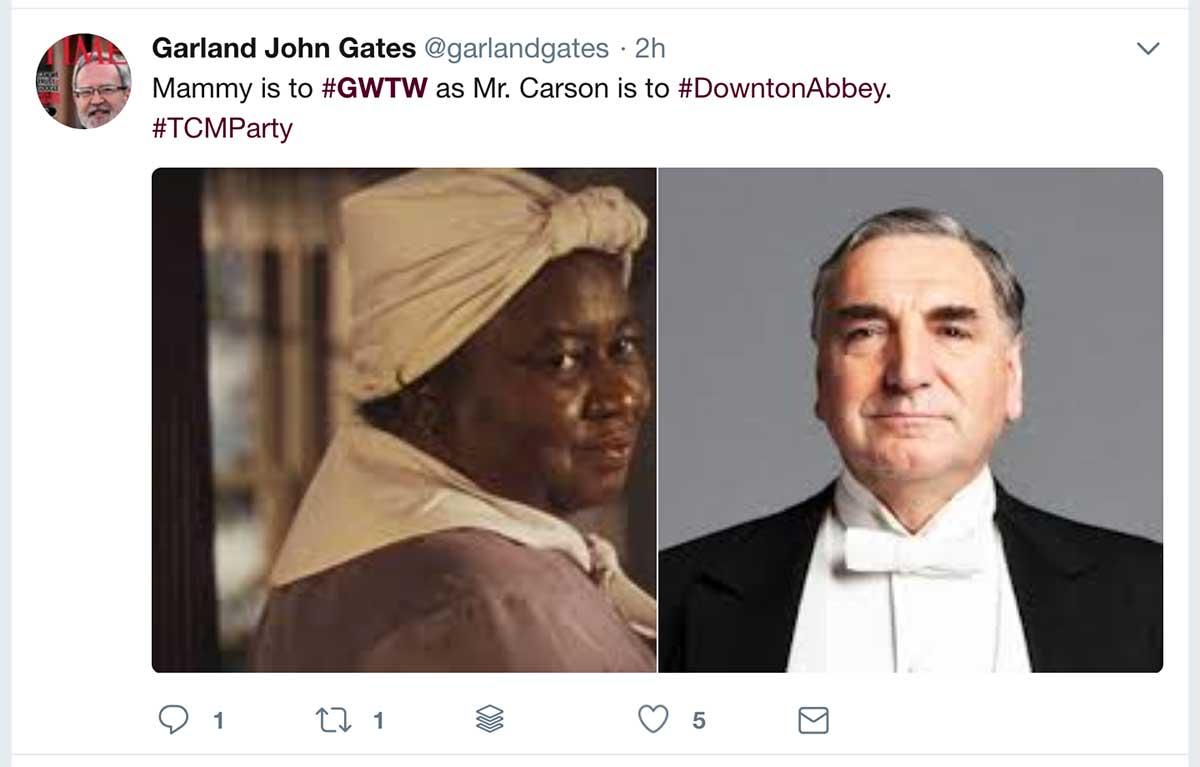 10. Add some humor
Really want your audience to like you? Try to be funny. And if you aren't sure you can pull off funny, at least try to be yourself.
Heck, if a government office can achieve this level of mirth, surely most companies can: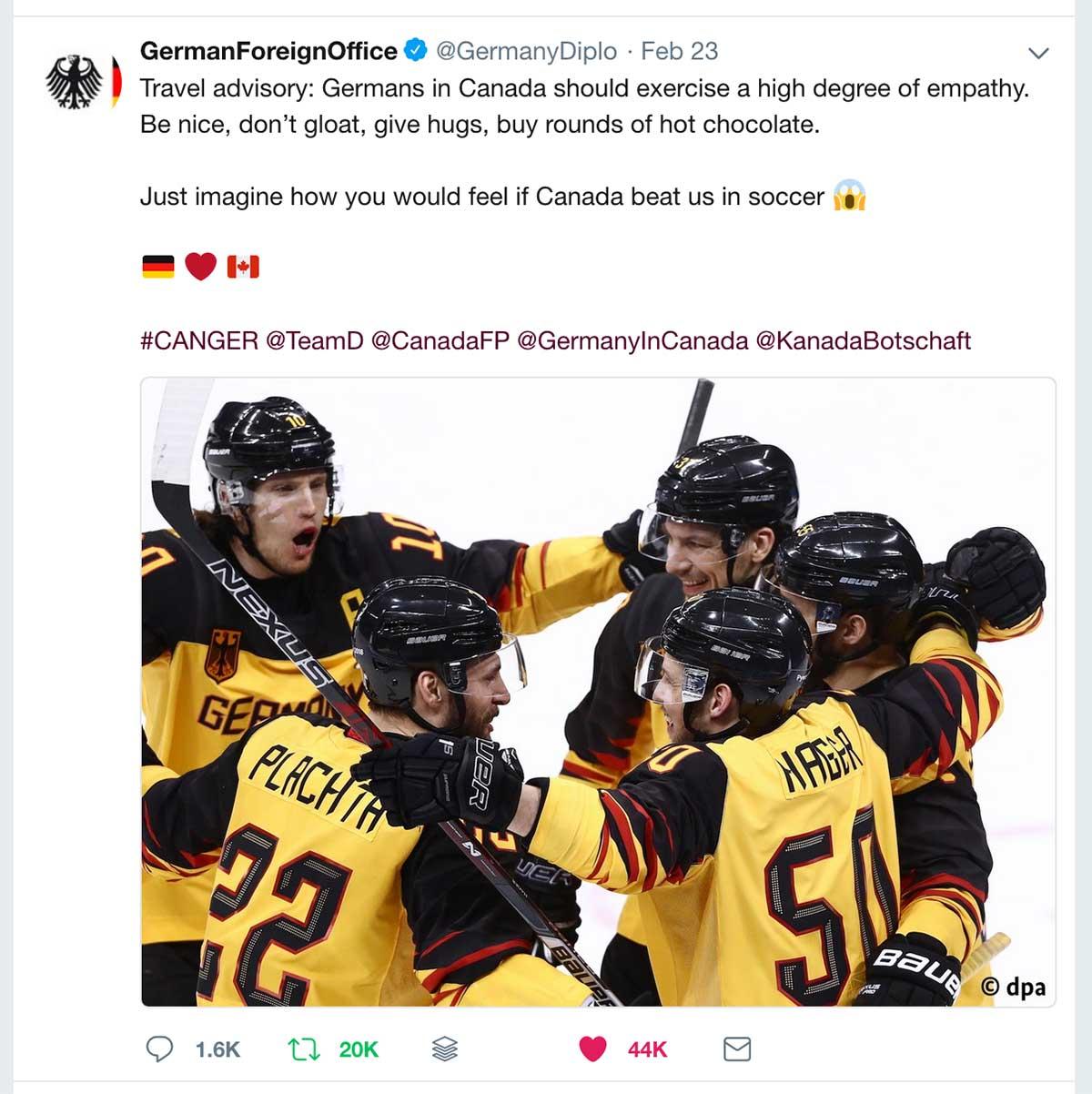 There's another approach to Twitter humor than requires more time, but might bring joy to even more people. It's a "fake" account.
These faux accounts are a "secret life" of some part of your business. They could be from the view of a product, a mascot, or even a long-dead Founder. Or perhaps the secret life of the company dog.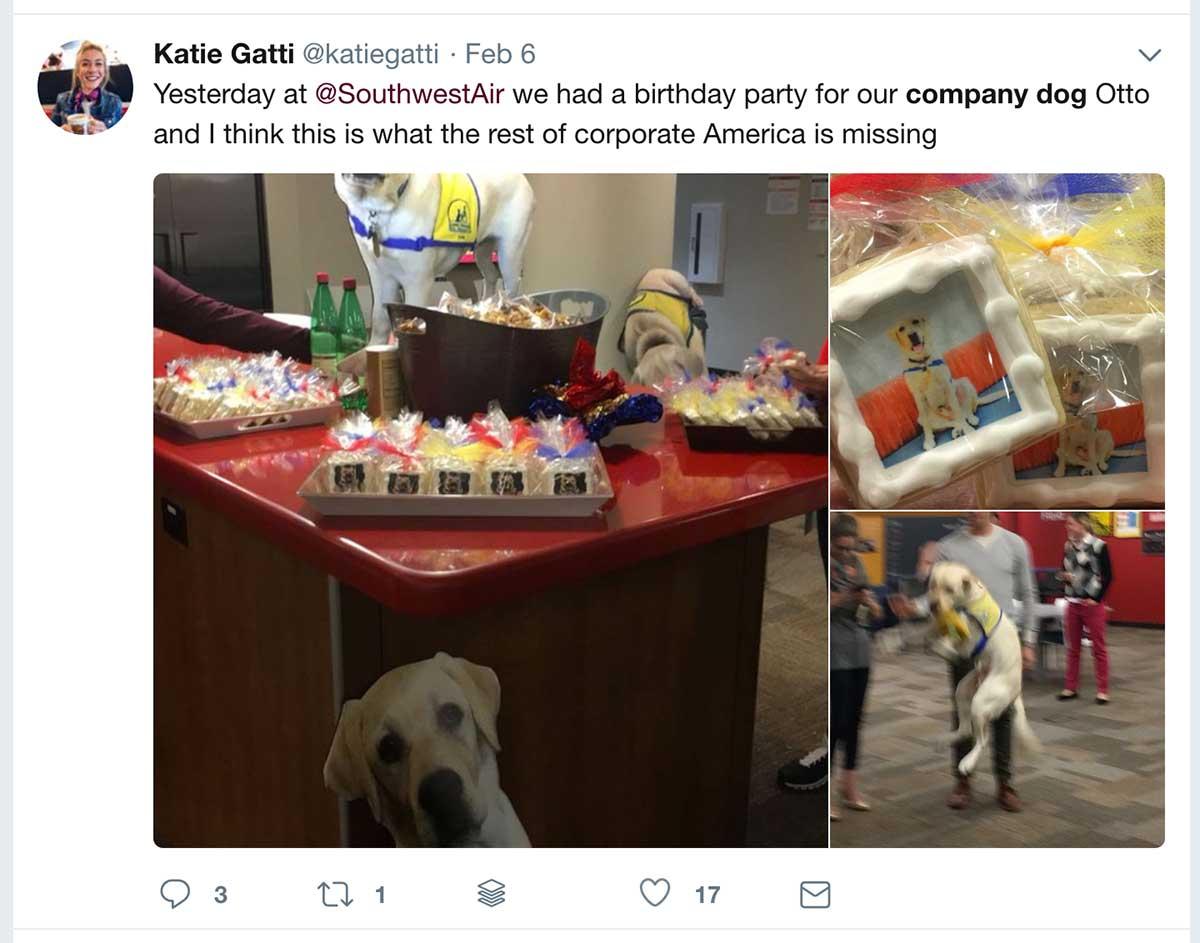 Closing thoughts
So that's ten Twitter hacks to get you more results. Experiment with them, and keep testing new things. Twitter is evolving all the time, and we need to refine our marketing to keep up.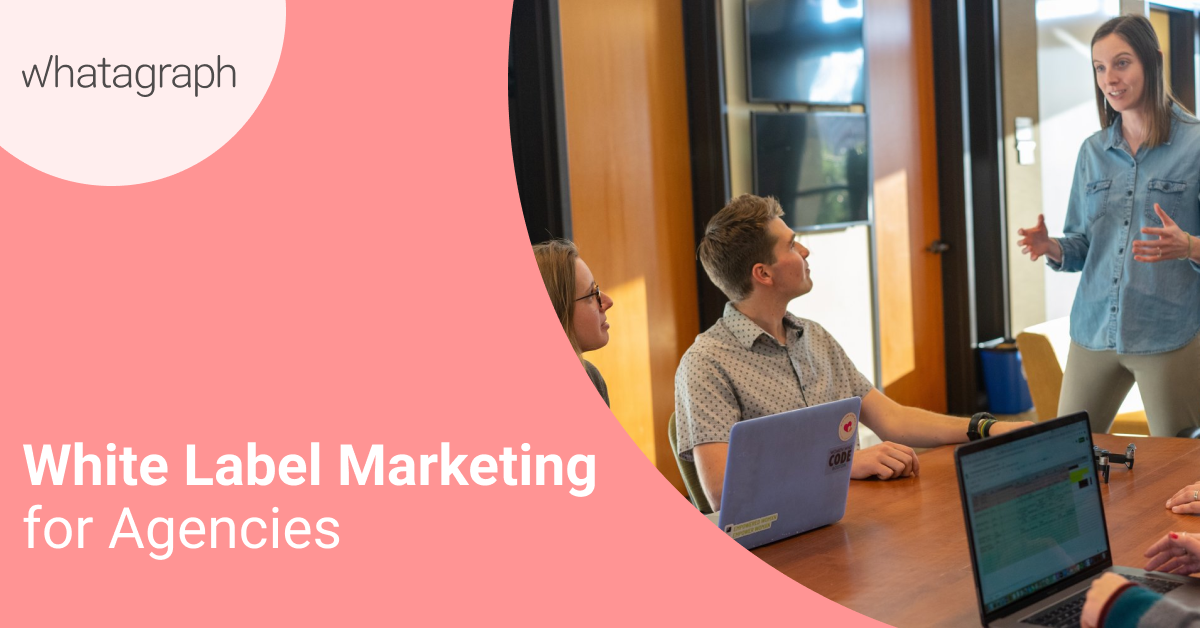 Many business professionals often desire to engage in everything that concerns their businesses by themselves. Interestingly, this is a wrong step as it could hamper the growth and development of their businesses if not done in the right way.
Read more...