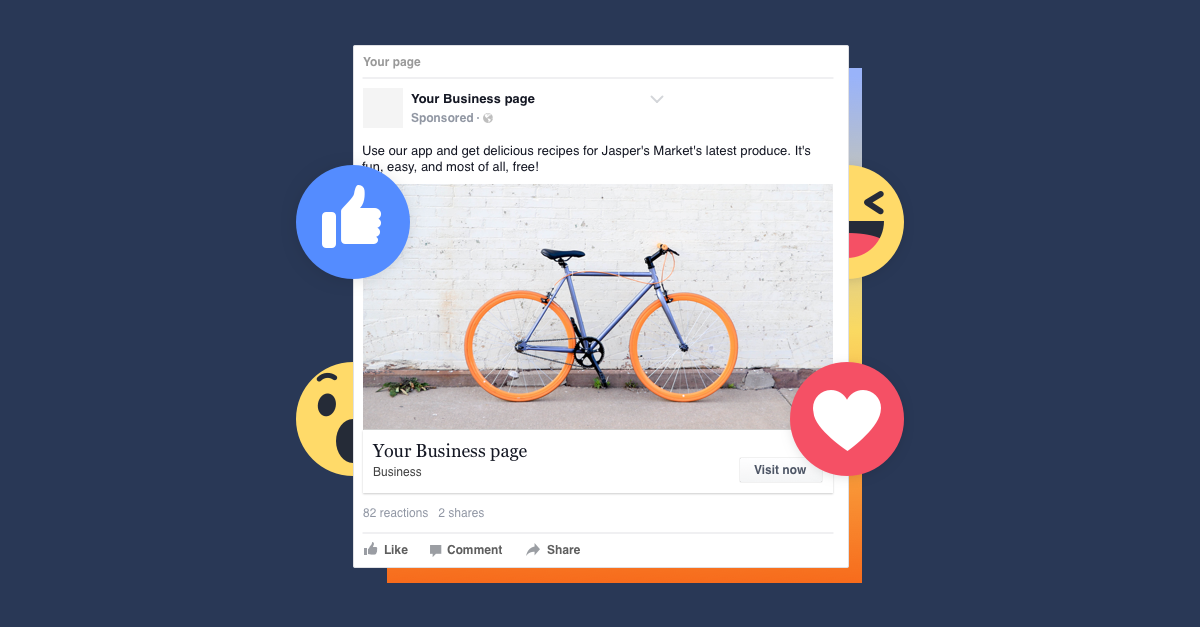 13 Facebook Tools That Will Give You An Unfair Advantage
Oct 12, 2018 ● 9 min read
Don't have 24 hours a day to manage your Facebook page? These tools can cut your work down to a couple of hours of work per week or less - and get you better results.
Almost every digital marketing plan includes Facebook. And if you say "social media" to most people, they'll think of Facebook first. It's the platform of the masses.
Because Facebook is so important, it makes sense for marketers to spend a lot of time with it. Maybe too much time. As you know, Facebook may be great, but it's also a lot of work: organic reach is all but gone, the competition is ferocious, and it's referring less traffic to websites all the time.
So what to do? Work smarter, for one thing. And if you can find a tool that helps you do that, use it.
We think anyone of these thirteen tools can help you. Maybe even all of them.
FACEBOOK PAGE GRAPHIC TOOL
PosterMyWall lets you create stunning promotional graphics and videos without needing any design skills.
Among its many features, it has a Facebook cover maker that will make your page look amazing.
And best of all, PosterMyWall works on computers, tablets, and even your smartphone so you can easily make those last-minute changes on the go. It is a free-to-use site and you can download graphics with a watermark.
Small fees apply if you need a high-resolution file of your design.

ANALYTICS
Are you a data-driven Facebook marketer? You should be. The platform is sophisticated, crazy competitive, and awash in opportunity – three factors that make it smart to use every advantage you can get.
Facebook Analytics can tell you when to post (the eternal question), what to post, and what formats to post. It'll let you see who your audience is, so you can understand what they're really interested in.
So where do you get this juicy information? It's free to access from within your account.
Here is what the summary page looks like: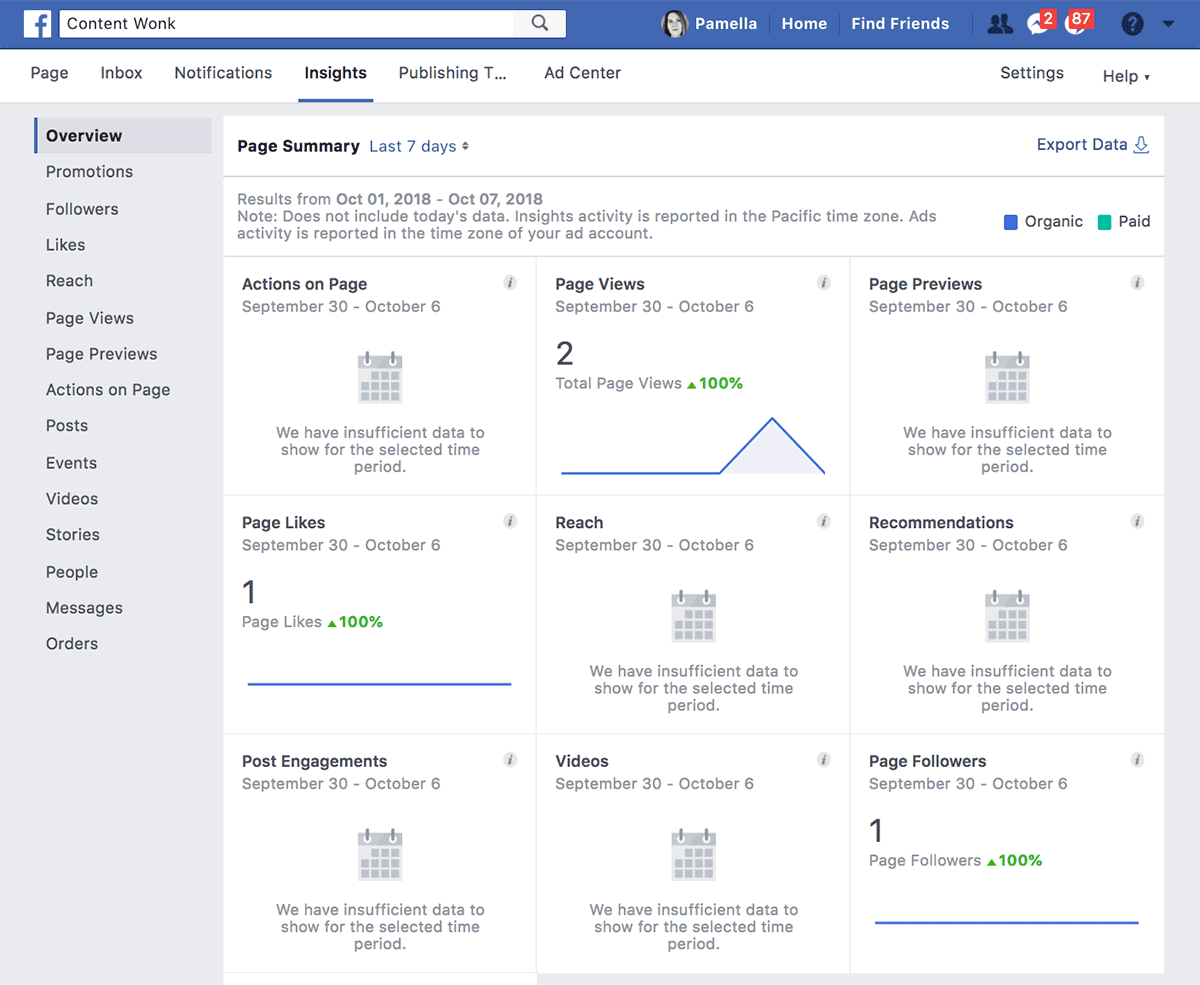 If Facebook's reporting seems kind of unwieldy – hard to read and a little hard to access – no worries. Whatagraph can clean it up for you and automatically send you reports.
Whatagraph can also pull data from pretty much every other social media site – everything from Facebook Ads reporting, YouTube, LinkedIn, or Twitter to Instagram, Google My Business, and more. You can organize all this data any way you want in customized reports, or use report templates to work even faster.
This saves a lot of time, but more importantly, it lets you be laser-focused on the metrics that really matter.
You can even automate reports. So if your boss wants a weekly (or even daily) update on "How's our Facebook page doing?" you can send that. With no extra work on your part.

It takes about 15 minutes to set up and automate a new report from scratch. After that, each report will be sent as you wish, when you wish. If you've been spending hours every week pulling reports, this one tool could free up an awful lot of time.
There's even a free trial.
Here are a few sections from a sample Facebook report:


VISUAL CONTENT / VIDEOS
If you aren't using video on social media… you're missing out on an awful lot of engagement.
Animoto is arguably the premiere video creation tool. Are there other video creation tools? Oh yes – many. There are at least 30 different video creation tools, and probably another 30 video editing apps.
So why Animoto? Well, because it's so widely used, it's likely that any new hire or a freelancer will have used it before. It's also really easy to use, and really easy to share on social media and other platforms. It's also not crazy expensive: monthly plans start at $16 per month (though you'll probably want the $42 per month option for a business). And there's a 14-day trial.
Do you have a lot of text-based content that you'd like to convert to video?
That's what Lumen5 does. Fast.
Here is what the interface looks like. I used the free plan to make a video in about five minutes.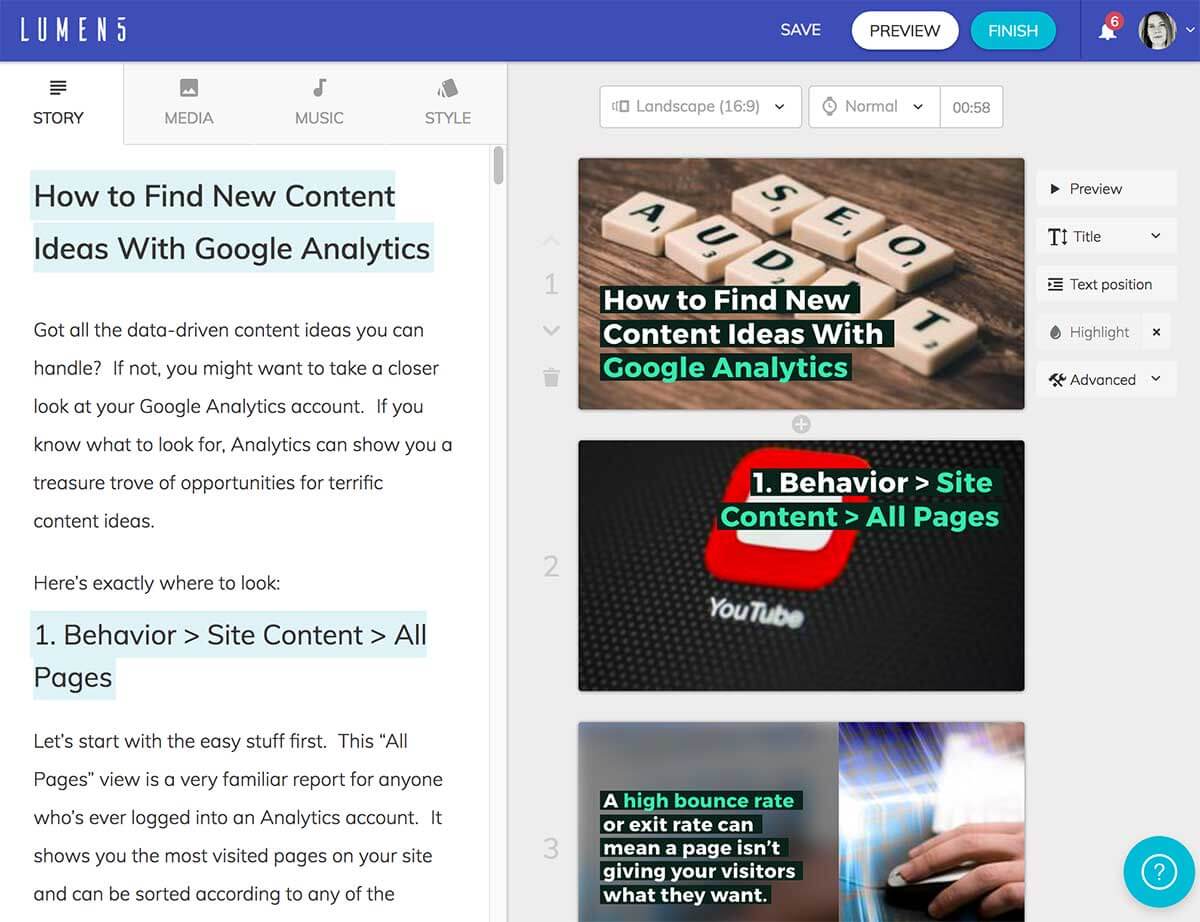 The free plan here is especially nice for Facebook marketers because it lets you create square videos – just what you need for Facebook (and Instagram).
ADVERTISING
Advertising has become a requirement for Facebook marketing. So you might as well do it right.
WordStream's free ad grader will give you a nearly instant review of your advertising, telling you how your ads have been doing in terms of:
Audience performance score

Wasted ad spend

Performance by audience

Account activity

Best practices (which ones you're doing, or not doing)
You can also send the report to yourself or others. This could be a nice tool for a small ad agency to use for quick assessments of prospective clients' accounts.

Here is just part of the report: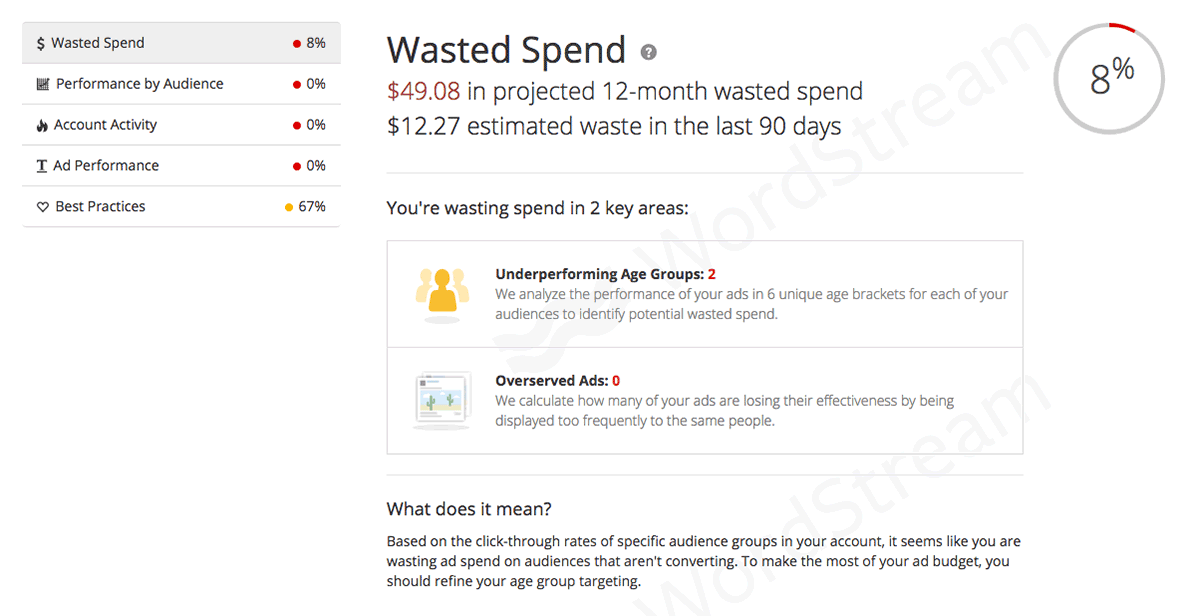 Facebook's lead ads are a super-effective new way to create an entirely new stream of leads. But they have one shortcoming: You have to get the leads out of Facebook.
You could manually go in an download the leads, but that takes up precious time, and it will also badly suppress the response you get from the new leads. This is because if you don't get back to people almost immediately after they've signed up, their interest will tank… and so will your results.
Zapier fixes this. You can set up a "zap" – an automated rule – that will pull new leads from Facebook, and bring them over to your marketing automation or email service provider account within seconds. Then boom – you send them their welcome email and the resource they gave you their email address for.
Setting this zap up takes about 20 minutes. And there is a cost to use Zapier, but it's modest: $20 per month.
Once you've created your first zap, you may find that there is a slew of other things you can do with it. Zapier is a killer marketing automation tool, well worth some research and testing.
See more about how this lead management zap works in our blog post about Facebook lead ads.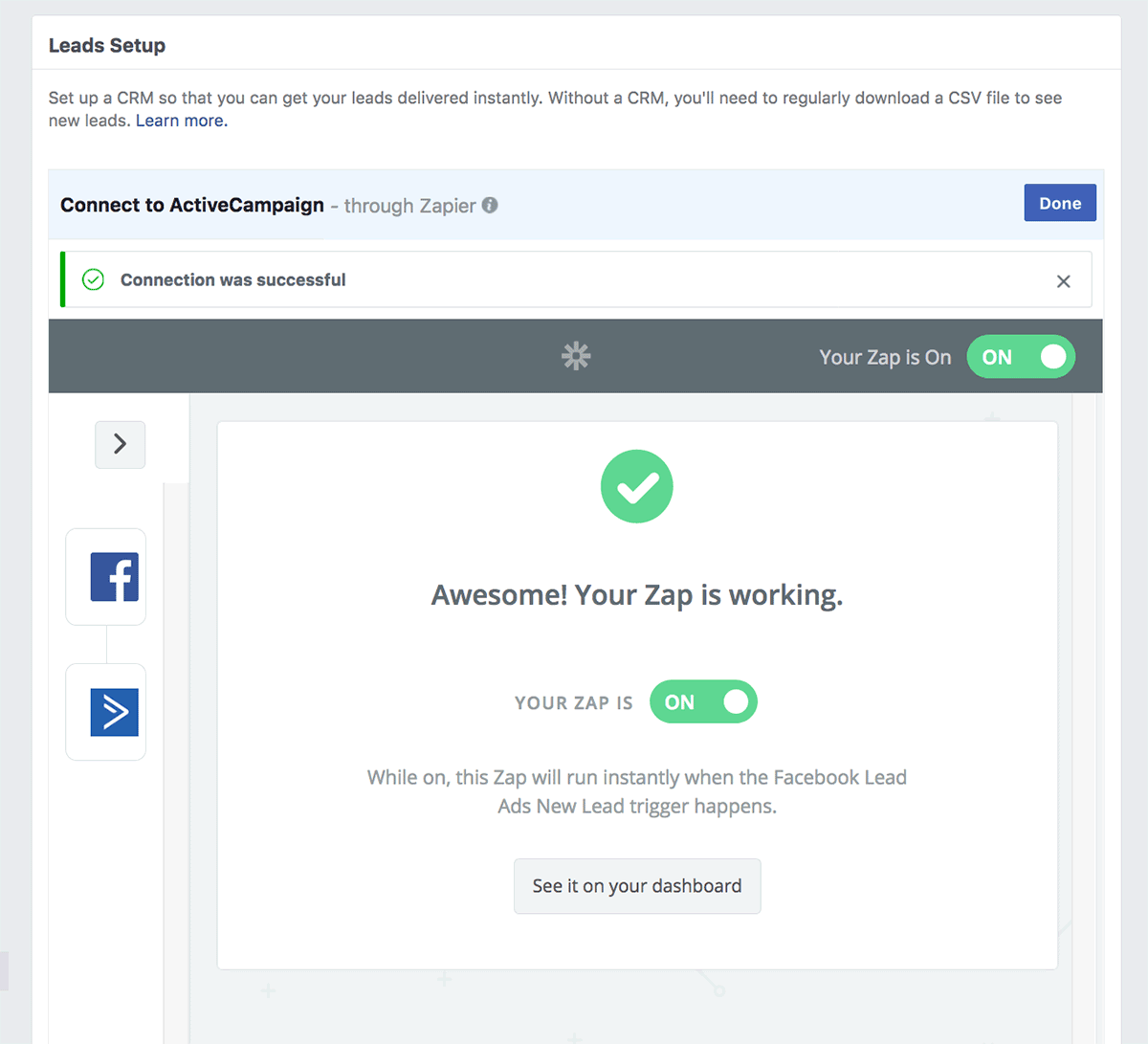 CONTESTS / QUIZZES / PROMOTIONS & MORE
Need a multitool to make compelling quizzes? You got it. LeadQuizzes can help you with: surveys, website feedback, Net Promoter and much more. It's also affordable (starting at $29 per month) and really easy to use. I've used it myself.
If you want to boost engagement and generate more leads, this tool can definitely help.

COMPETITIVE ANALYSIS
If you like quick benchmark tools, you'll love Fanpage Karma. It lets you compare your Facebook page to other pages in your industry. It will also show you when your competitors are posting, which posts are getting the best engagement for them and more.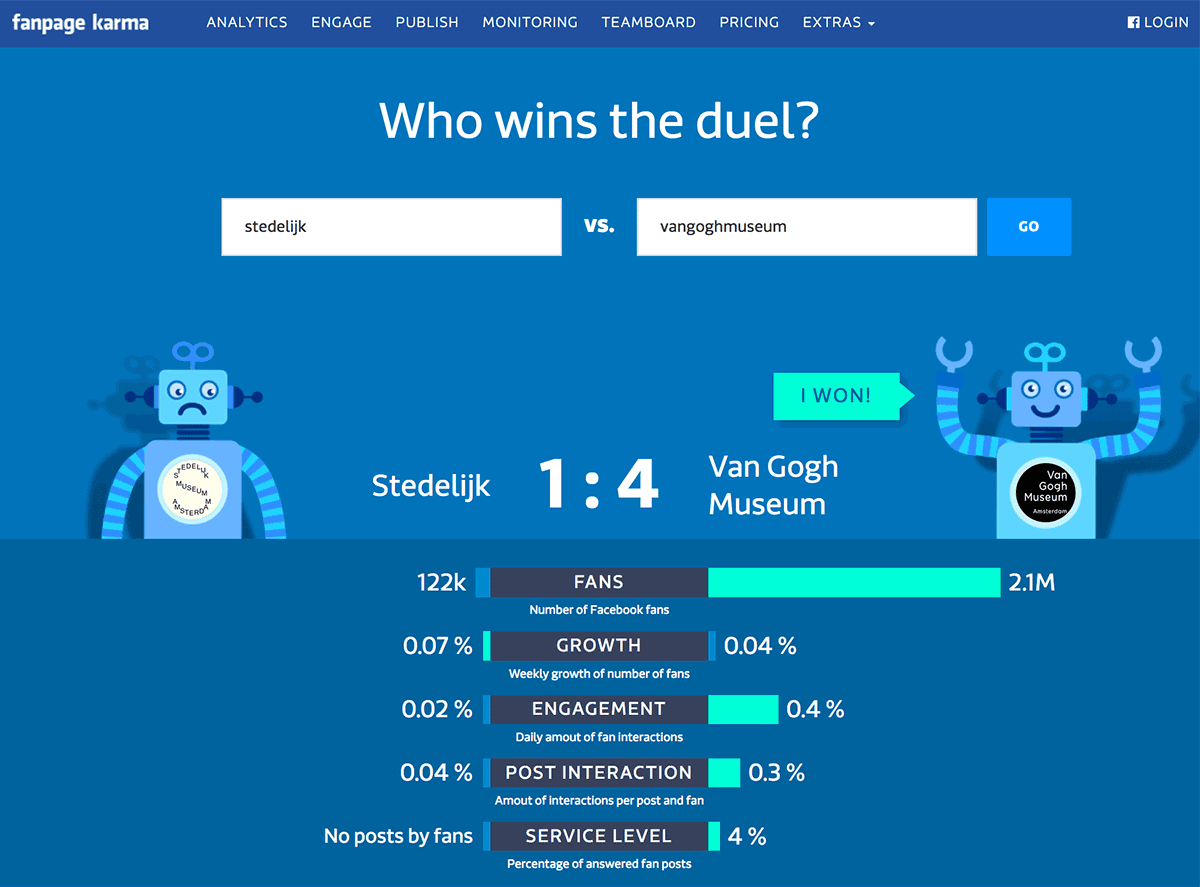 CONTENT CURATION
It's the eternal question… what to share on social media? Post Planner answers it, and then some. It will help you
Find awesome content

Put it into Facebook post format in a snap

Schedule the posts to your queue
If you've been spending two… three… four or more hours a week crafting posts, please: Try this. It could save you a lot of time.
Oh yeah – and it's $3 a month for the starter plan. Don't tell me you don't have a budget for that.
CONTENT CREATION, MANAGEMENT, AND RESHARING
One of the frustrating things about social media – and digital marketing in general – is how complex our "marketing stacks" can get. A "stack" is the set of tools you do to manage your work.
Some studies have found that marketers use five tools on average, but honestly, I find that number ridiculously low. I asked several marketing friends about this, too, and everybody uses at least ten tools to a greater or lesser extent.
Either way… when you find a tool that can sew up most of your content marketing work, jump in it. CoSchedule does that.
At its core, it is an editorial calendar tool, but it can also help you manage:
Your blog

Your email campaigns

Your social media posts and posting schedule

And other content projects (webinars, ebooks, etc)

Your team and what tasks need to be done
It will also let you automatically re-share content with their "ReQueue" function. Be careful about using this on Twitter (duplicate tweets are against their TOS), but used correctly, ReQueue could potentially save you an entire week's worth of work every year. I will let you go ponder what you could do with your free week.
GENERAL AUTOMATION AND AWESOMENESS
A tool that could almost change your life.
Seriously.

IFTTT lets regular, non-coding people automate stuff. Like everything from your garage door to your Facebook marketing, your calorie tracking to Google Analytics. If you haven't tried this yet, you owe it to yourself to go set up at least five "recipes".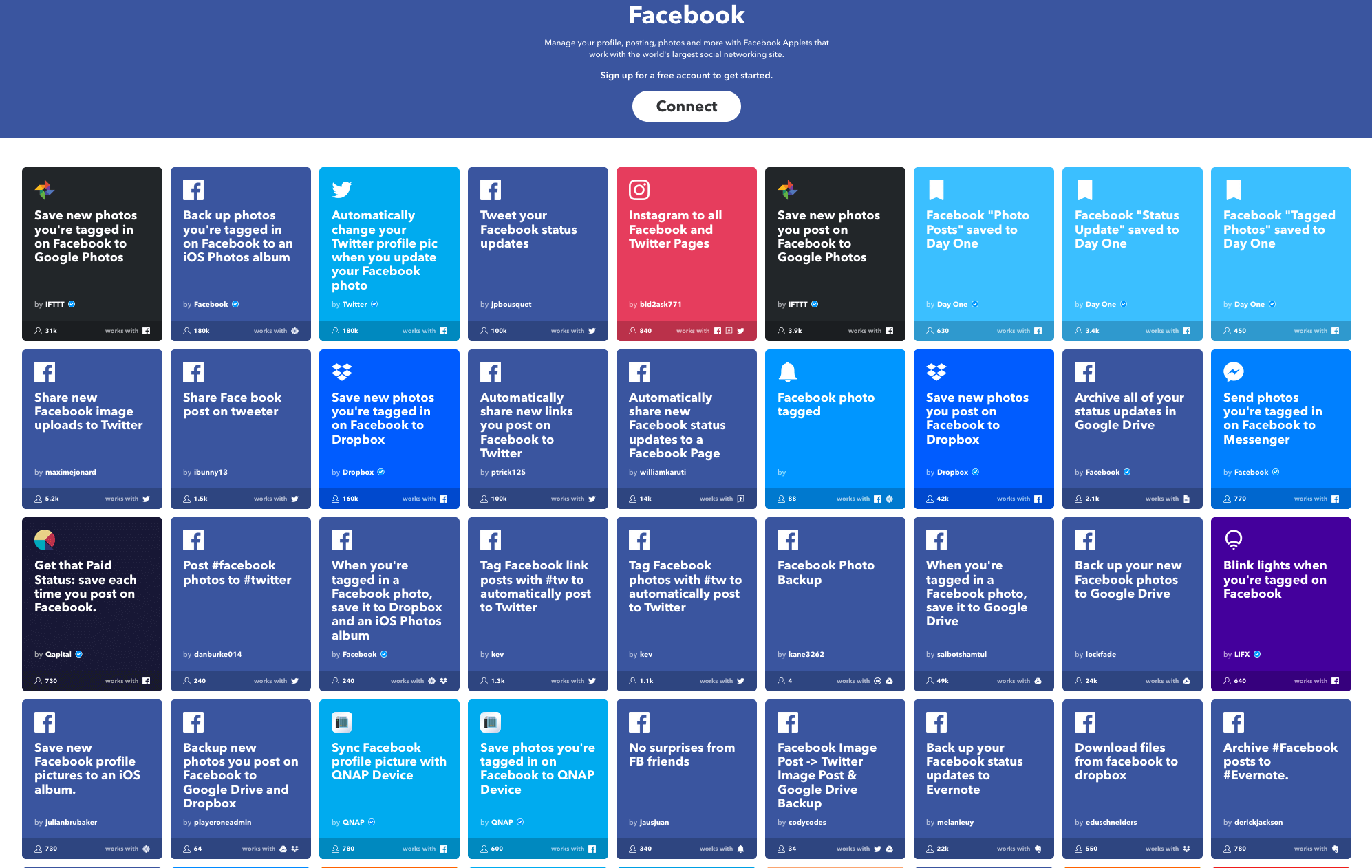 Oh yeah, and it's free.
APPOINTMENT CALENDAR / SMALL BUSINESS MANAGEMENT
Do you offer appointments? Or maybe you want to have open office hours so prospective clients can talk to you about your services?
Your Facebook page can help you fill up those slots, because a Setmore calendar can be incorporated into a Facebook page. People can see your open appointments with it, and can book an appointment with you from your Facebook page.
Setmore calendars can also be shown on your website, and the two sources (Facebook and your site) will sync. You can even charge for appointments – Setmore will handle the online payments.
Here is what it looks like in action: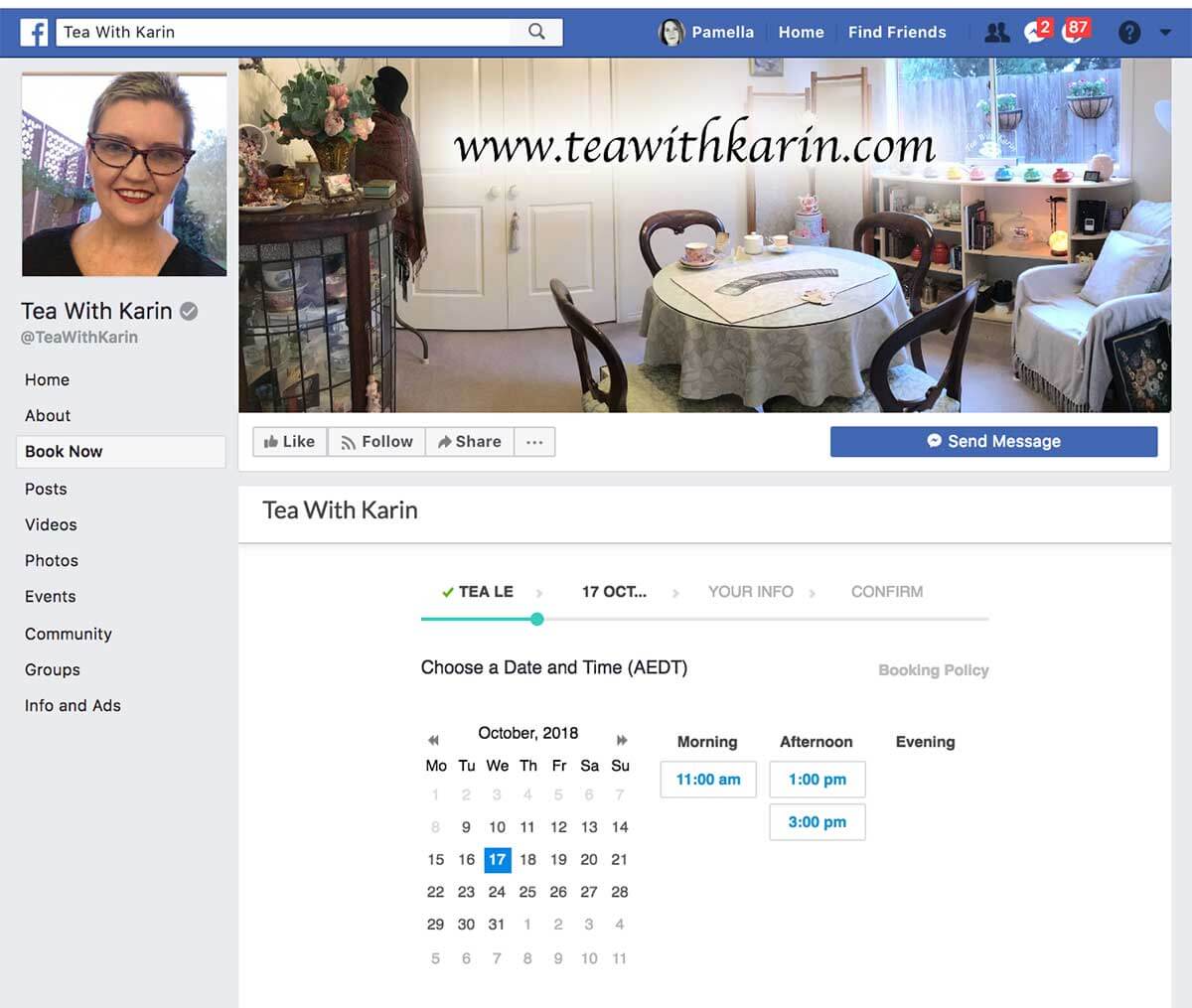 Conclusion
So that's our list of 13 must-try Facebook tools. There are probably hundreds of other ones available… but everybody has to stop tool shopping at some point and get back to some actual work!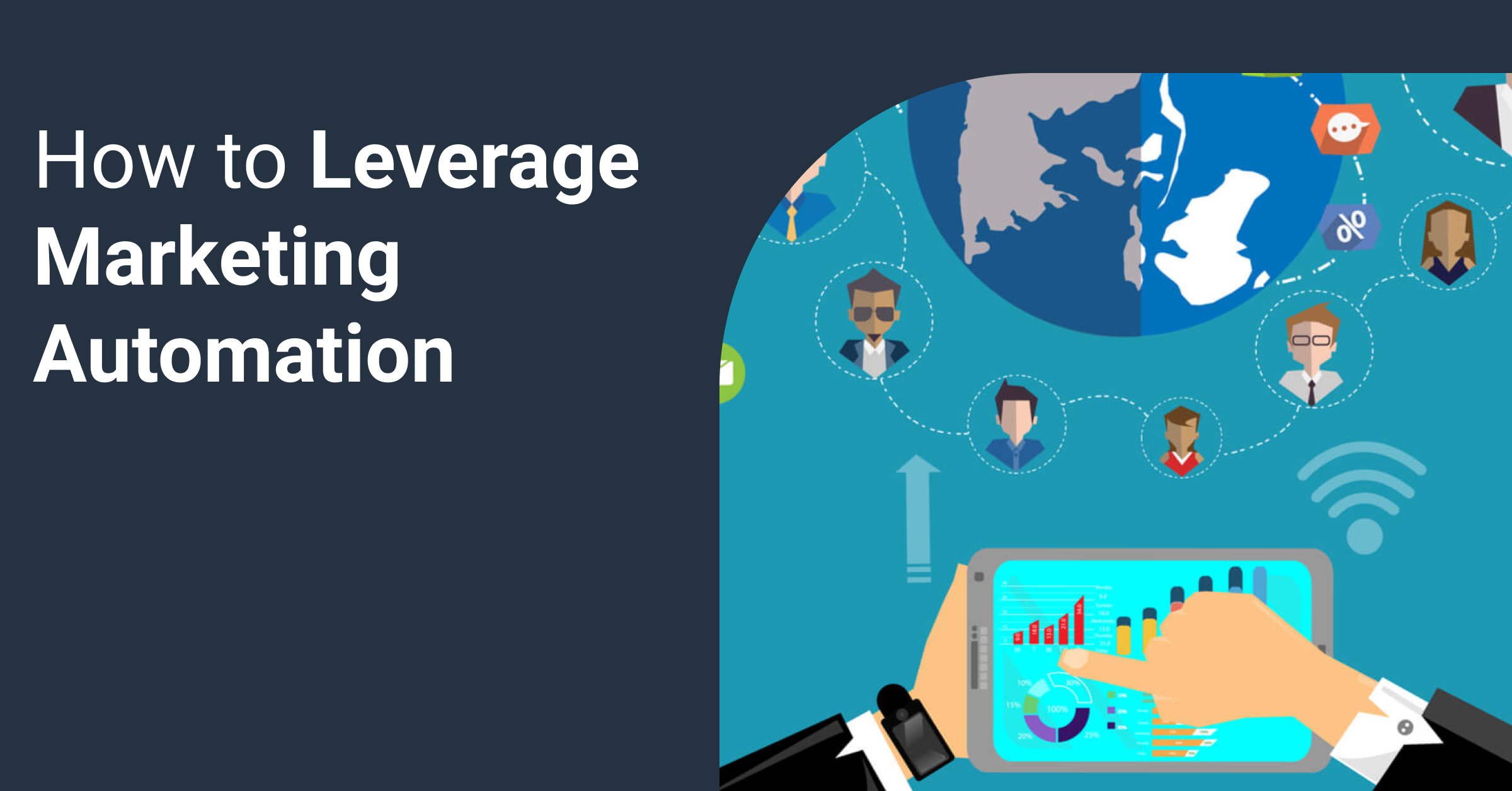 Automation is becoming more common-place in a variety of industries.- marketing is reaping big rewards in this regard. A streamlined approach to your marketing automation can bolster ROMI significantly!
Read more...