#marketing
Mailchimp merge tags and other hacks
Want to go beyond the basic features of your MailChimp account? We'll show you how here, with step-by-step instructions.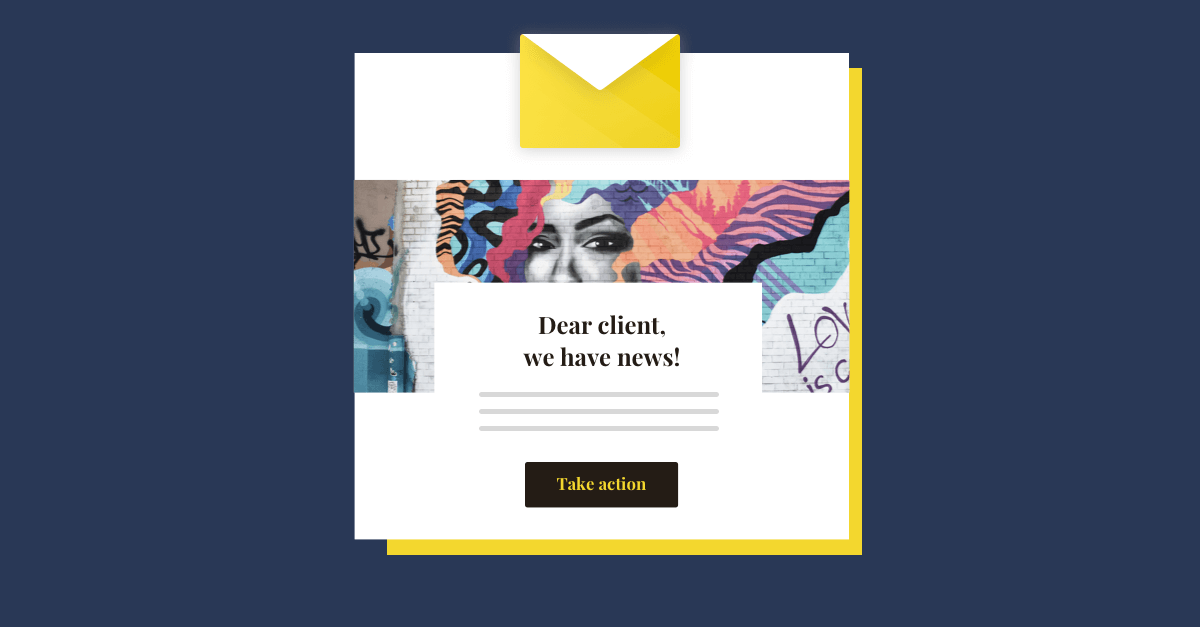 Table of Contents
"MailChimp is too basic."
Ever heard that before? MailChimp has gotten a bit of a bad wrap in the last few years as being "too limited" while other "more sophisticated" email service providers have evolved.
Don't believe a word of it. MailChimp actually has some very sophisticated features and is plenty powerful enough for many – even most businesses. You just have to know where to look.
Let's take a tour of five of those features, complete with click-by-click instructions for how to use them. These are all super easy to do, but they can deliver major benefits to your marketing – which is why we're calling them "hacks".
Once you've read this post through, you'll be able to save yourself several hours every week, and you'll probably get better results from your marketing, too.
1. Send postcards.
Here is a cartoon representation of why poor old snail mail sometimes still beats email: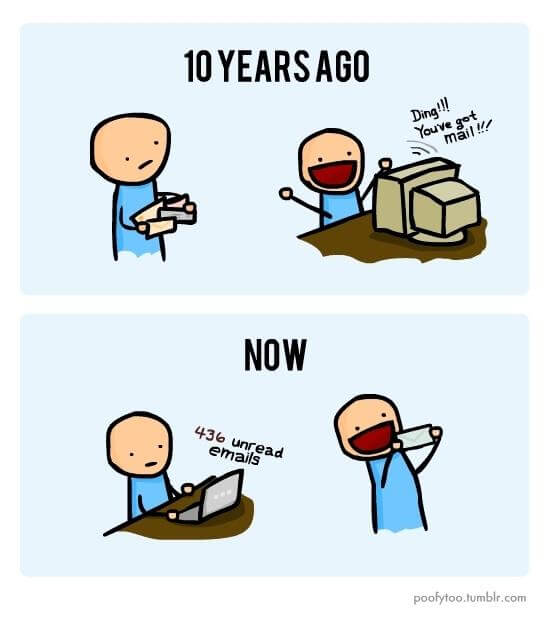 It's by the brilliant Victor Hung.
The cartoon may be clever, but it's also data-driven. Direct mail actually generates a higher response rate, gets more customers, and is more memorable than email.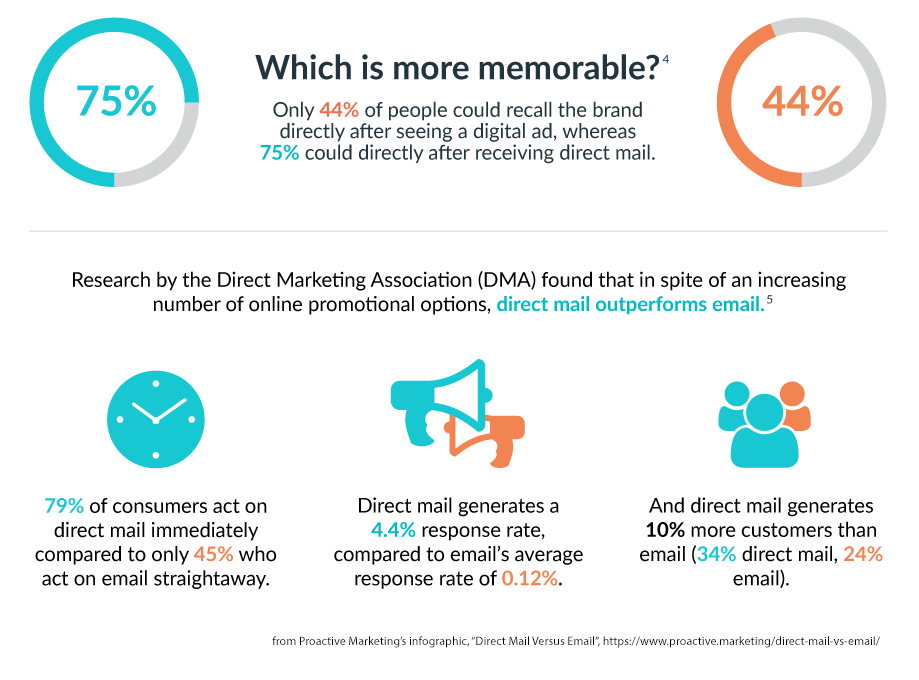 And postcards, specifically, work exceptionally well.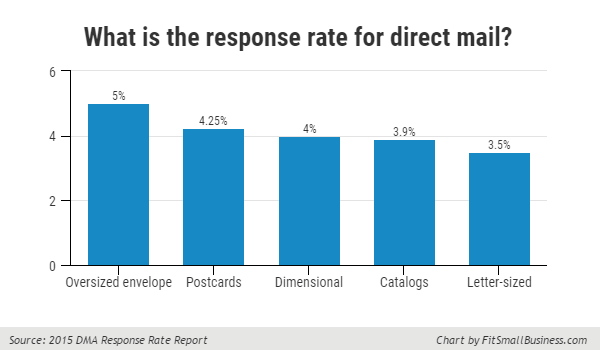 So why am I bringing up direct mail and postcards in a blog post about MailChimp - an email service provider?
Because MailChimp now lets you send postcards. From within your account. To 27 countries. And if you're on a monthly paid plan, they'll even find the addresses of your subscribers for you.

To create a postcard campaign, just click the blue "Create" button in the top navigation area of your MailChimp account:

Next, select "Postcard":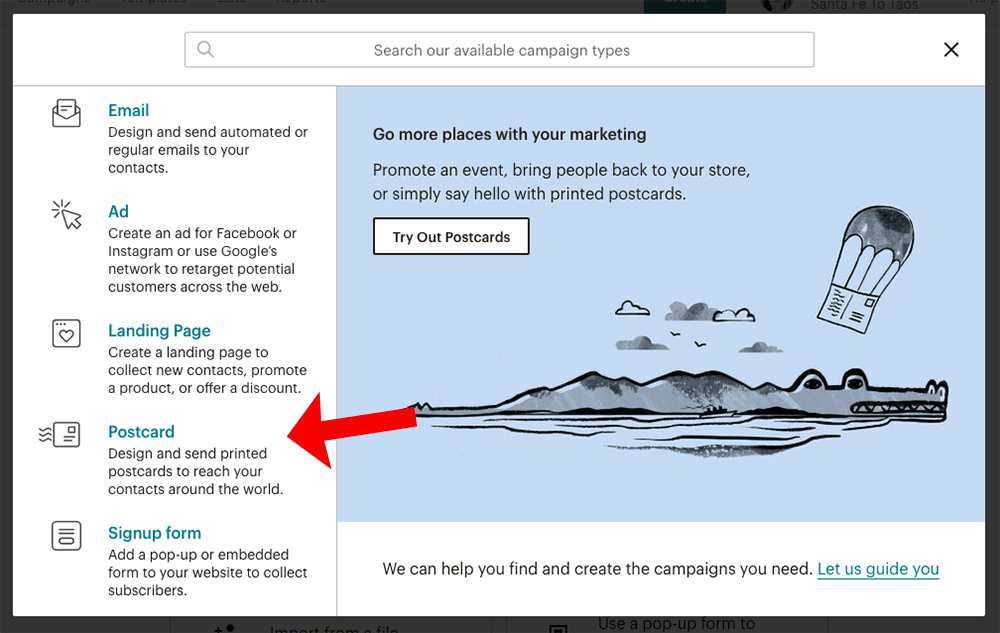 In the next screen you'll be asked to name the campaign…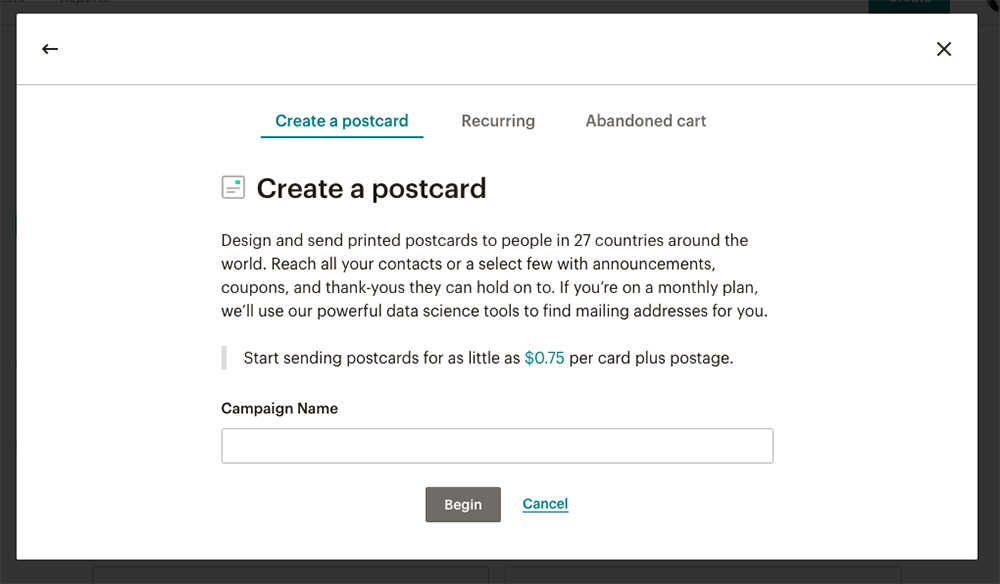 Now you'll choose whom you'll send the postcards to. You can mail them to an entire list, or just to a specific segment of a list: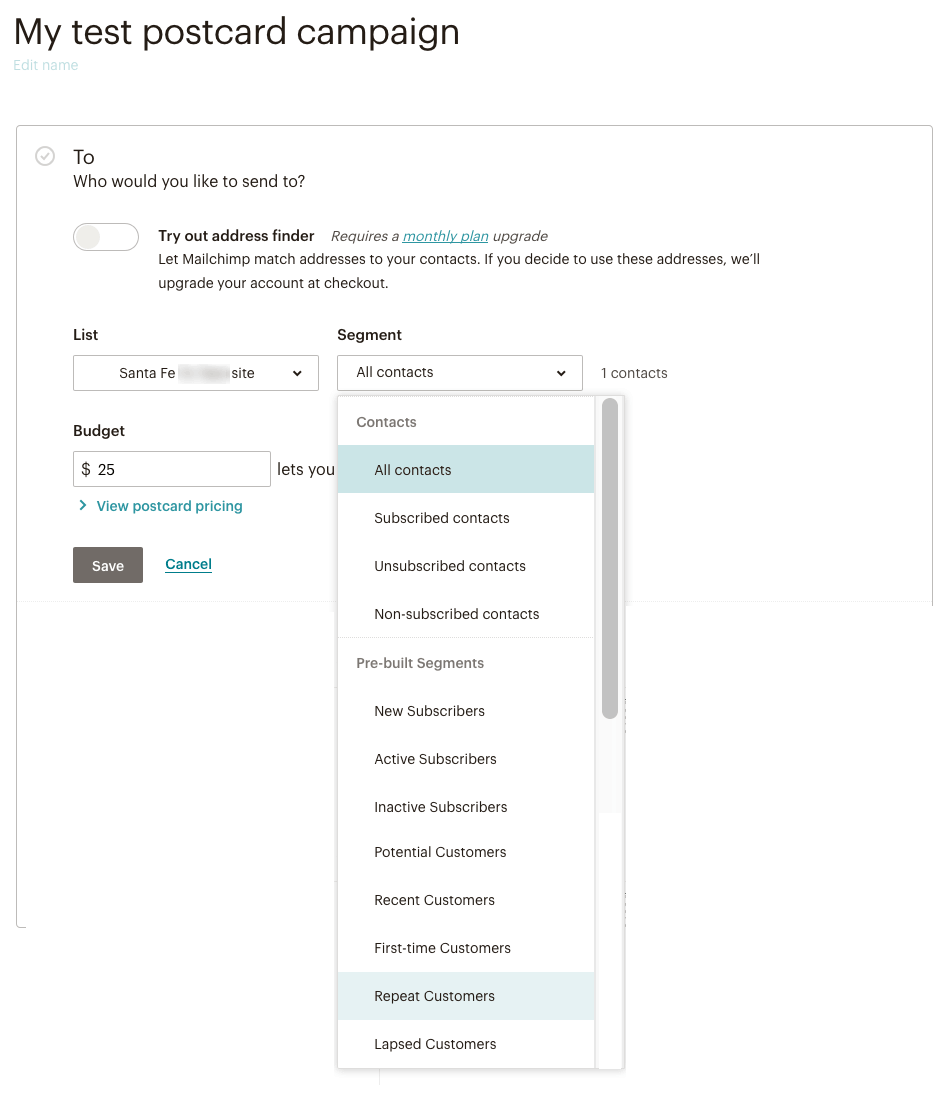 You'll also choose the budget for your postcard campaign.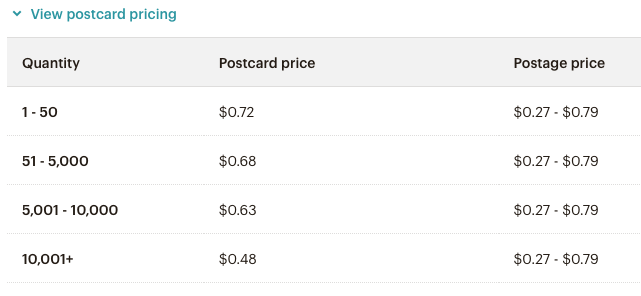 Next up is the fun part. You don't have a lot of space for copy on a postcard, so make it count. Also consider adding a call to action into the image you use for the front of the postcard.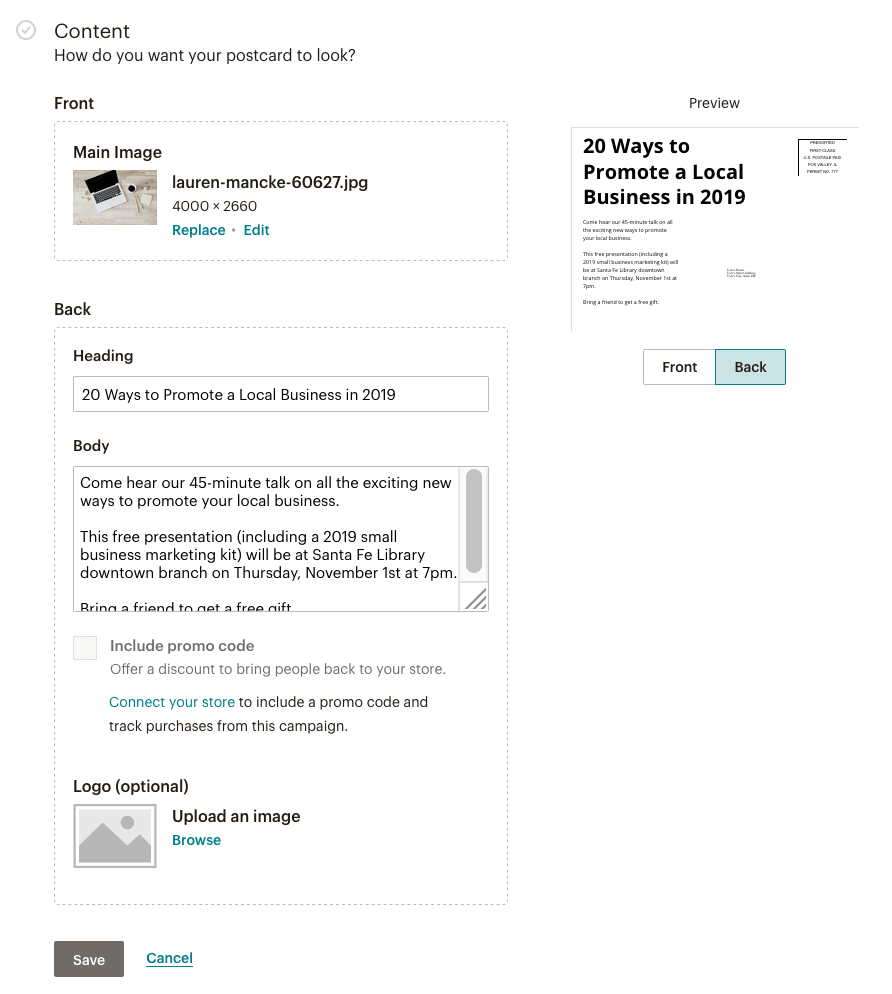 After you've got the creative part done, they'll let you review your campaign.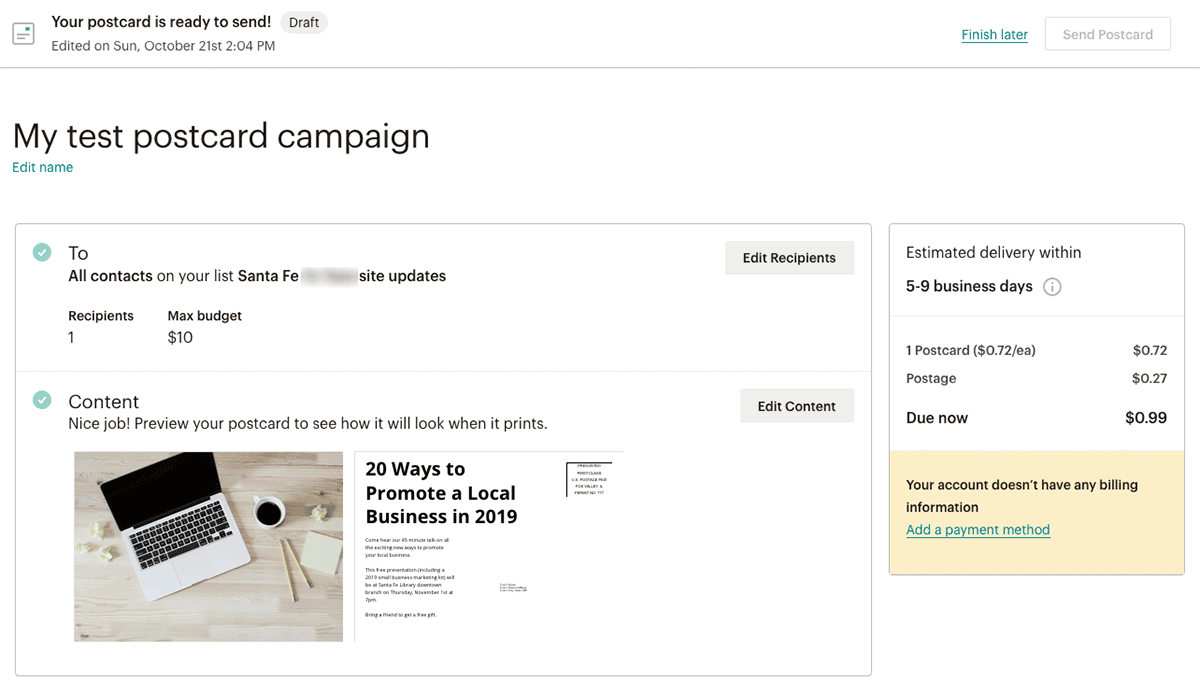 And voilà: You're ready to send your first postcard campaign… from your email service provider!
Postcards can be an excellent way to ask for reviews for an order people have recently placed. Agencies could use them to send Christmas cards or to invite people to events.
Postcards can also be an excellent way for SAAS companies to nudge trial users to spend more time with their product, thus making them more likely to become paid customers.
What would you do with a postcard campaign?

2. Set up RSS to email.
Too busy to put together an email newsletter? No problem. So long as you have enough time to publish blog posts, MailChimp will automatically send new blog posts to your subscribers.
And it's really easy to set up.
a. Log into your MailChimp Account.
b. Click this link.
c. Name your new RSS/blog to email campaign and choose the list you want to send these updates to.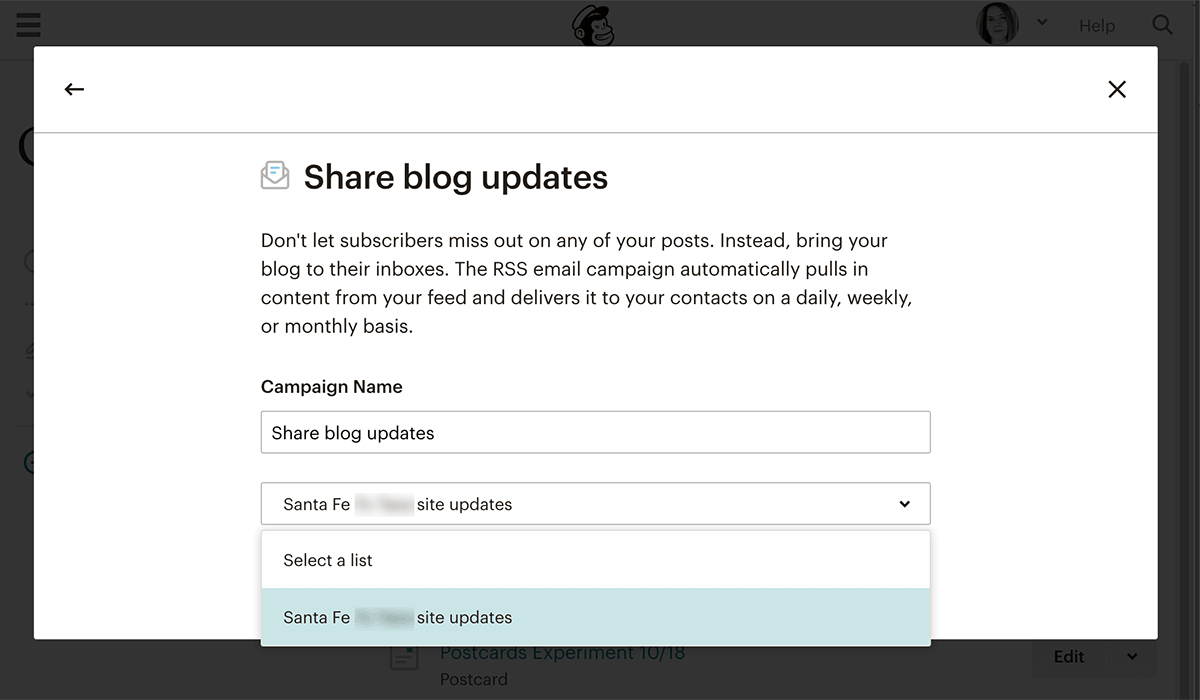 d. Enter your site's RSS feed URL and when you want the emails to go out.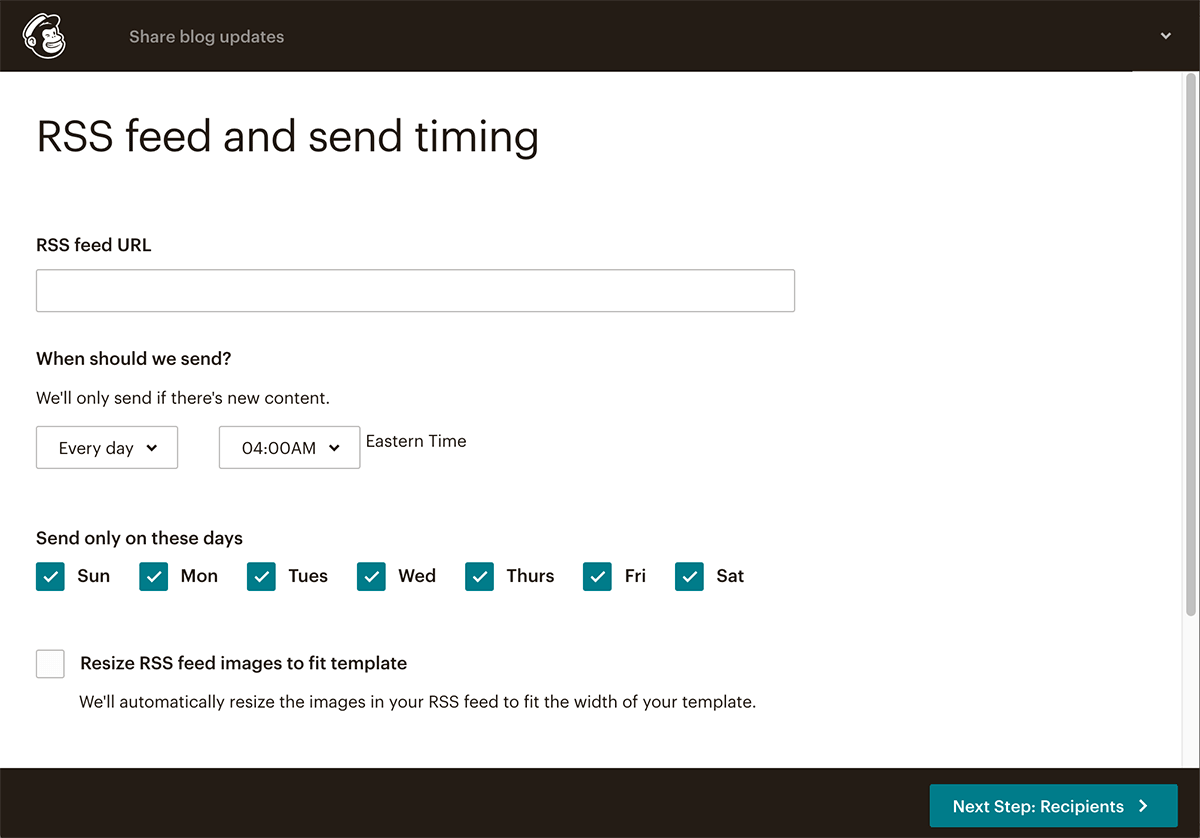 A note about finding your website's feed URL: If you have a WordPress site, your RSS feed is probably yoursite.com/feed/.
MailChimp will also offer to find your site's RSS feed for you. Just type in your site's web address into the "RSS feed URL" field and they'll try to help you out.
You may also want to control when your posts go out. I changed the settings a little so my email updates will only go out once a week on Saturdays at 10 am. I also checked the "Resize RSS feed images to fit template box". Otherwise, a large image could wreck the layout of the email.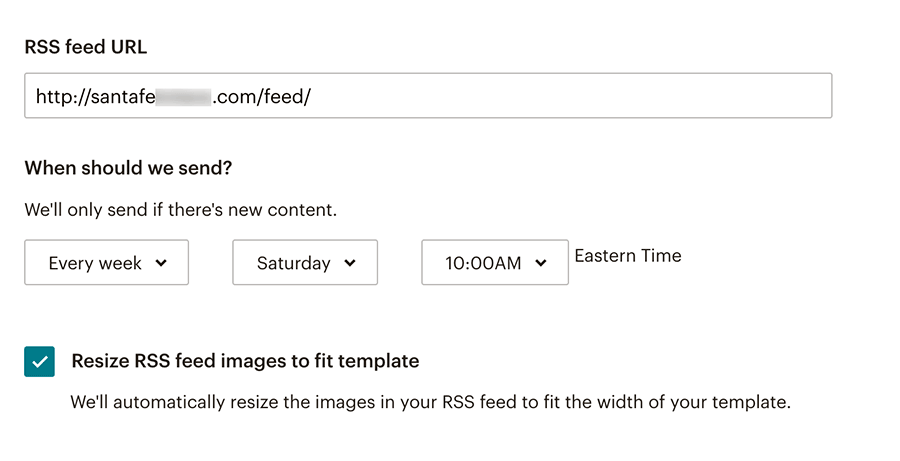 e. Decide if you want to send these RSS-to-email updates to your entire list, or just to a specific segment of your list.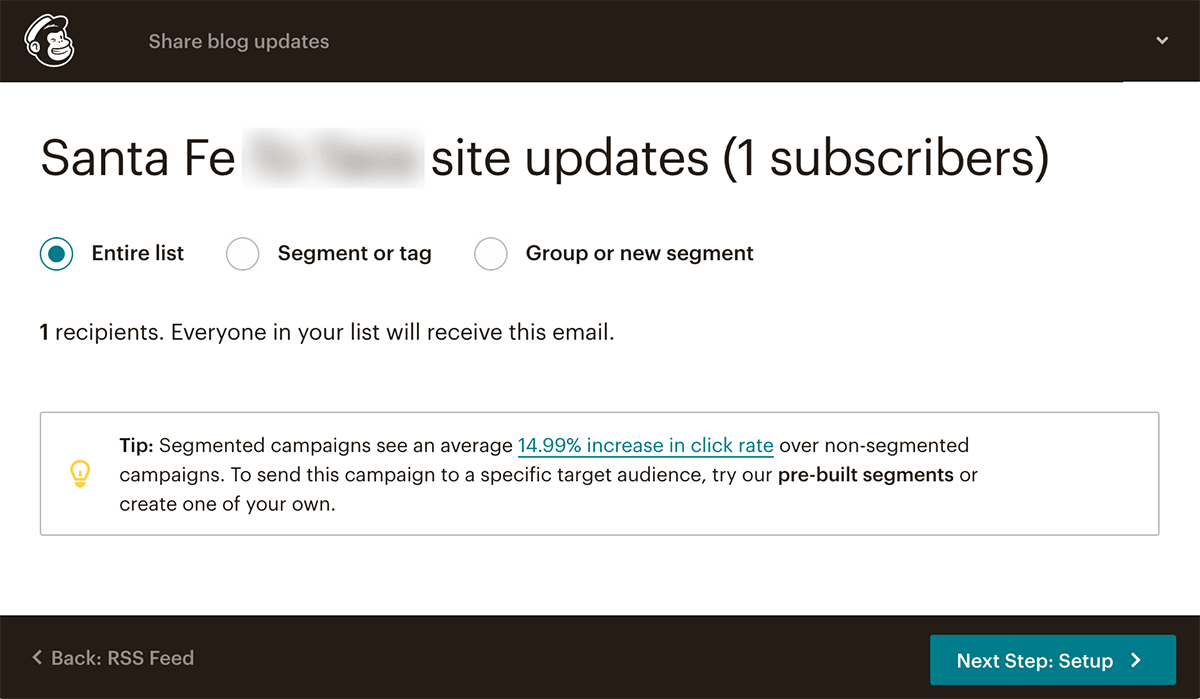 e. Pick the subject line, sender name and other settings: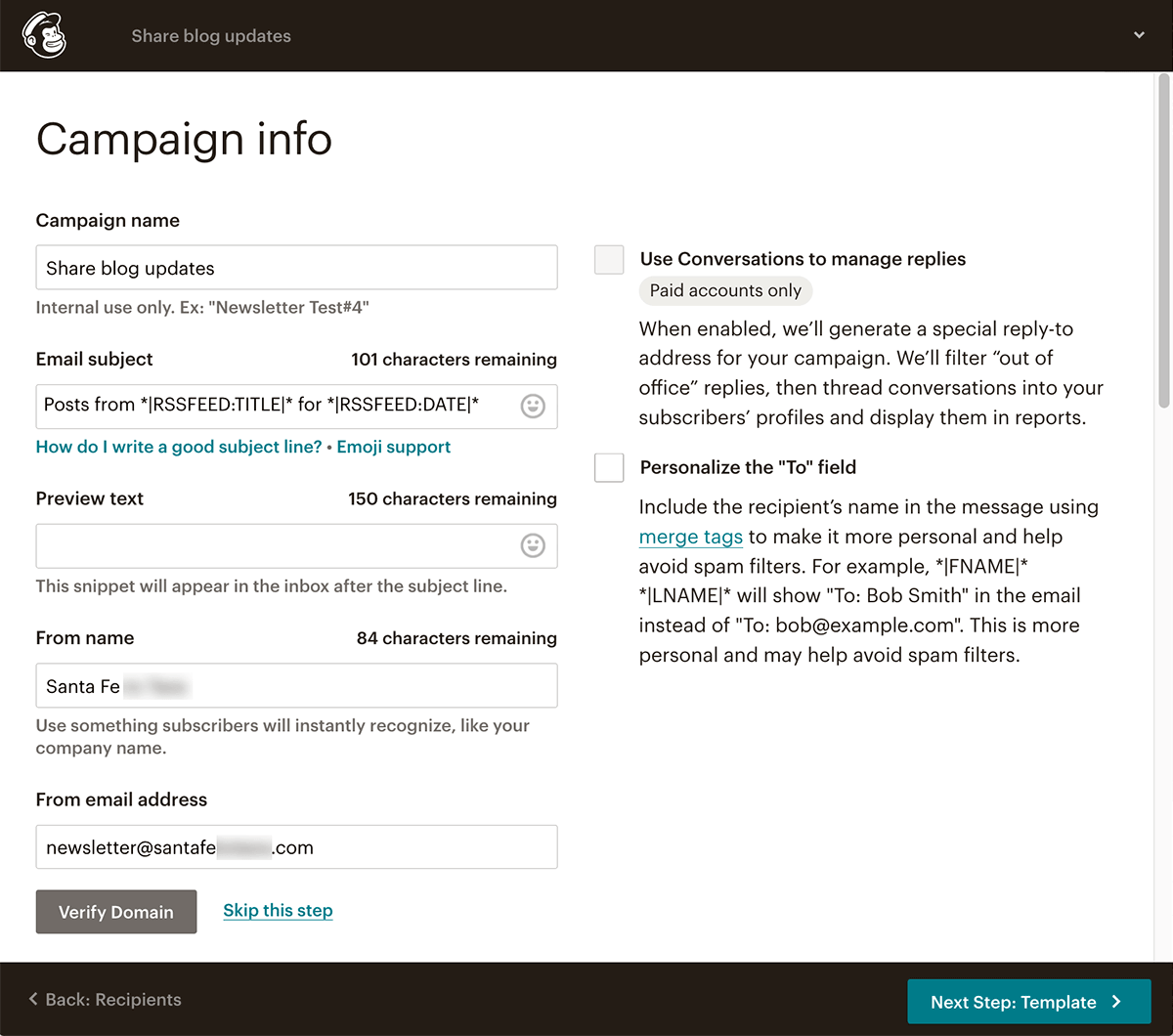 If you haven't verified your domain before, you'll be guided through the steps to do that from this screen. Don't worry: It's easy – verifying your domain just means MailChimp with send you a confirmation email to the email address your sending this campaign from. You have to click on a link in that confirmation email to confirm your domain, and you're done.
No biggie.
If you scroll down, you can also choose some of the more advanced settings: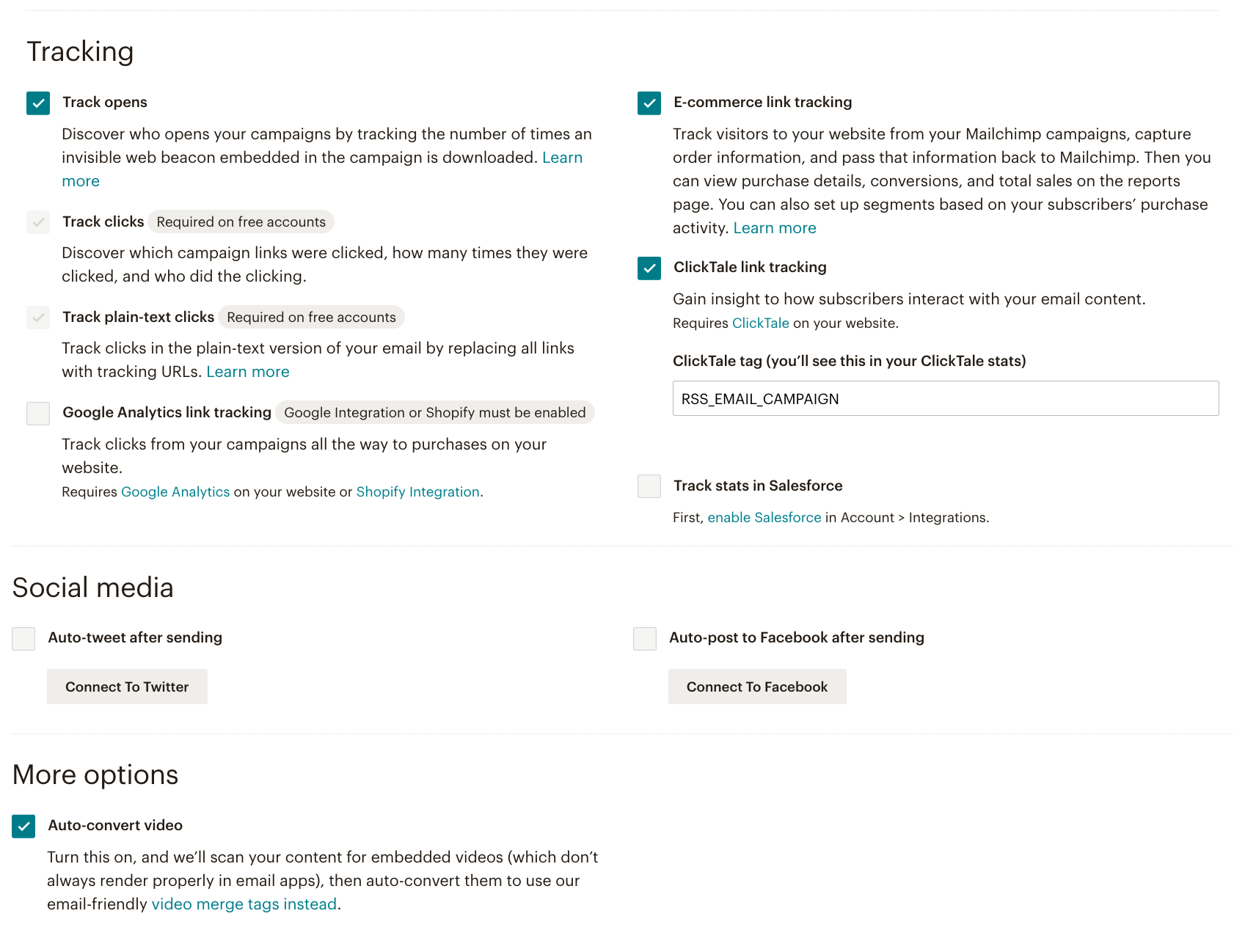 g. Select a template.
I kept my email really simple and just used a single-column template.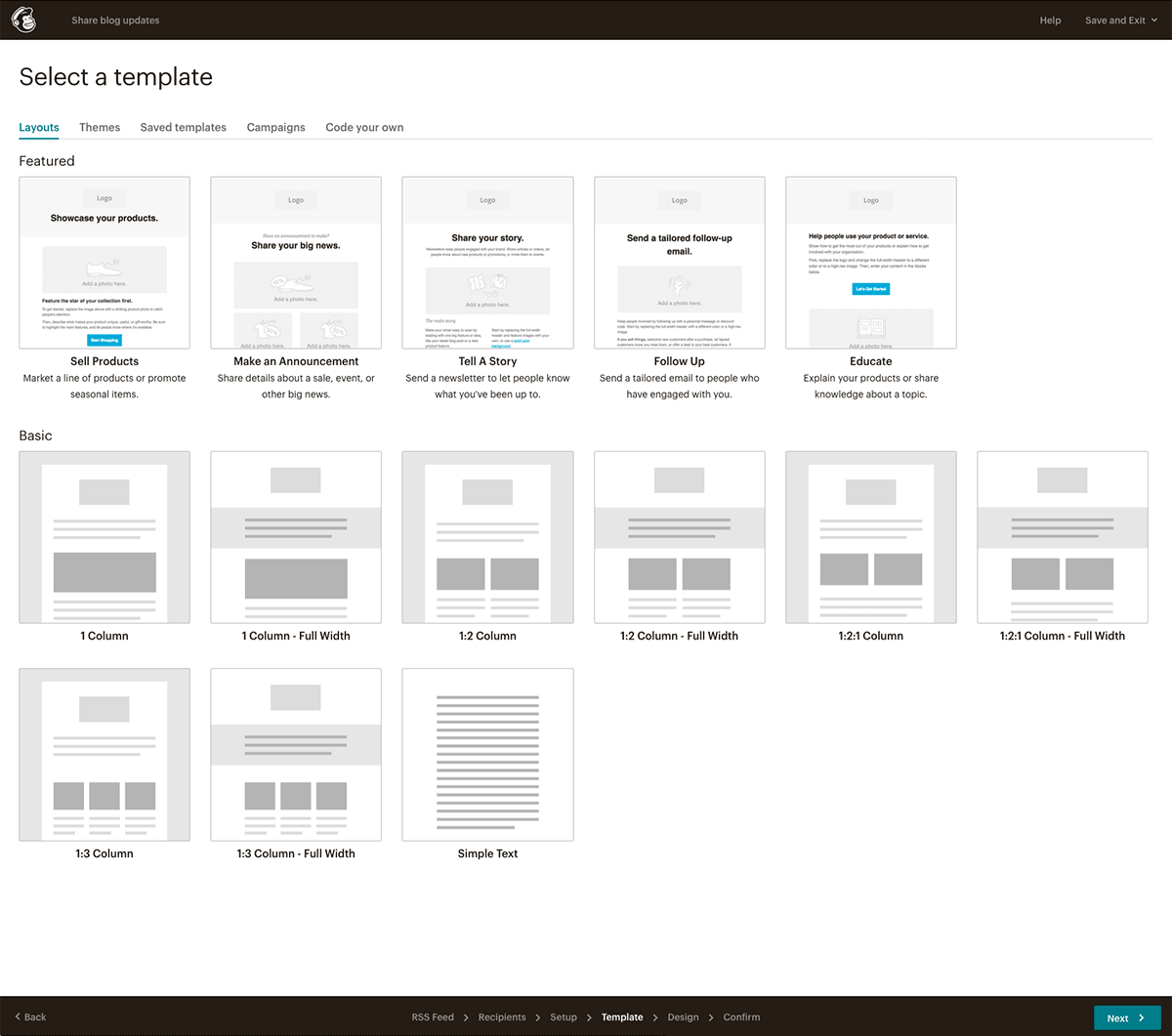 h. Design the email.
You know how to do this. To make sure your new blog post flows in as it should, create an empty text box, then insert an "RSS Feed Items" merge tag into that text block.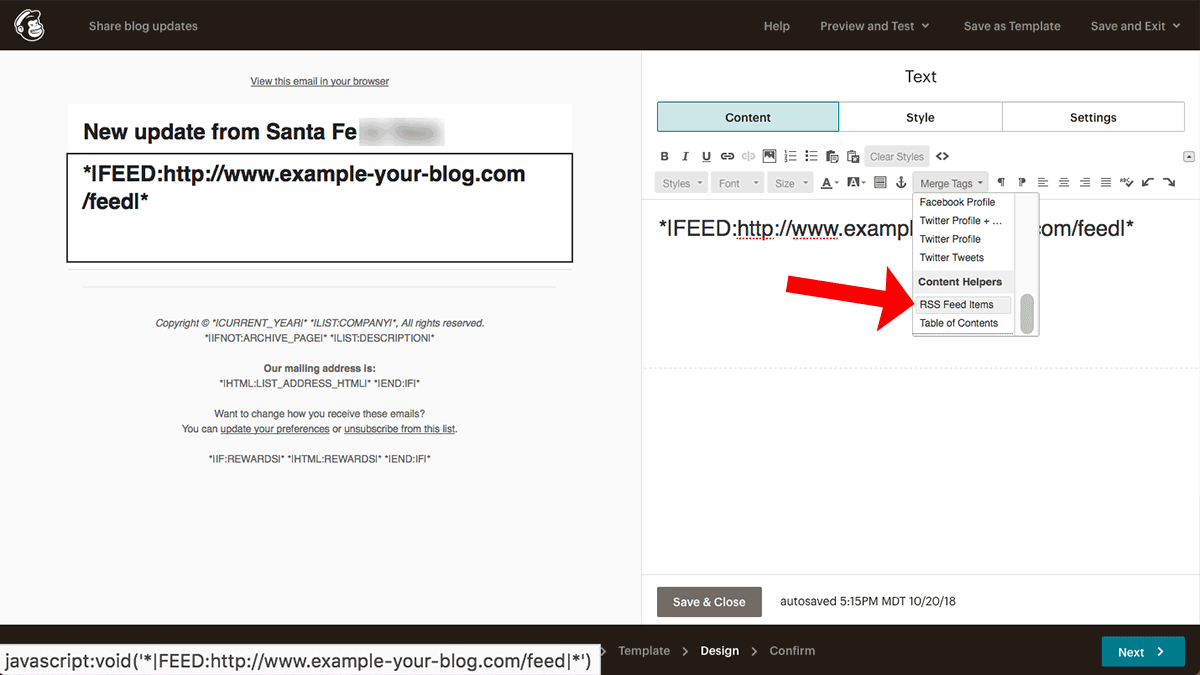 i. You'll see the final confirmation screen. Click the "Start RSS" button in the lower right-hand corner to activate your automatic emails.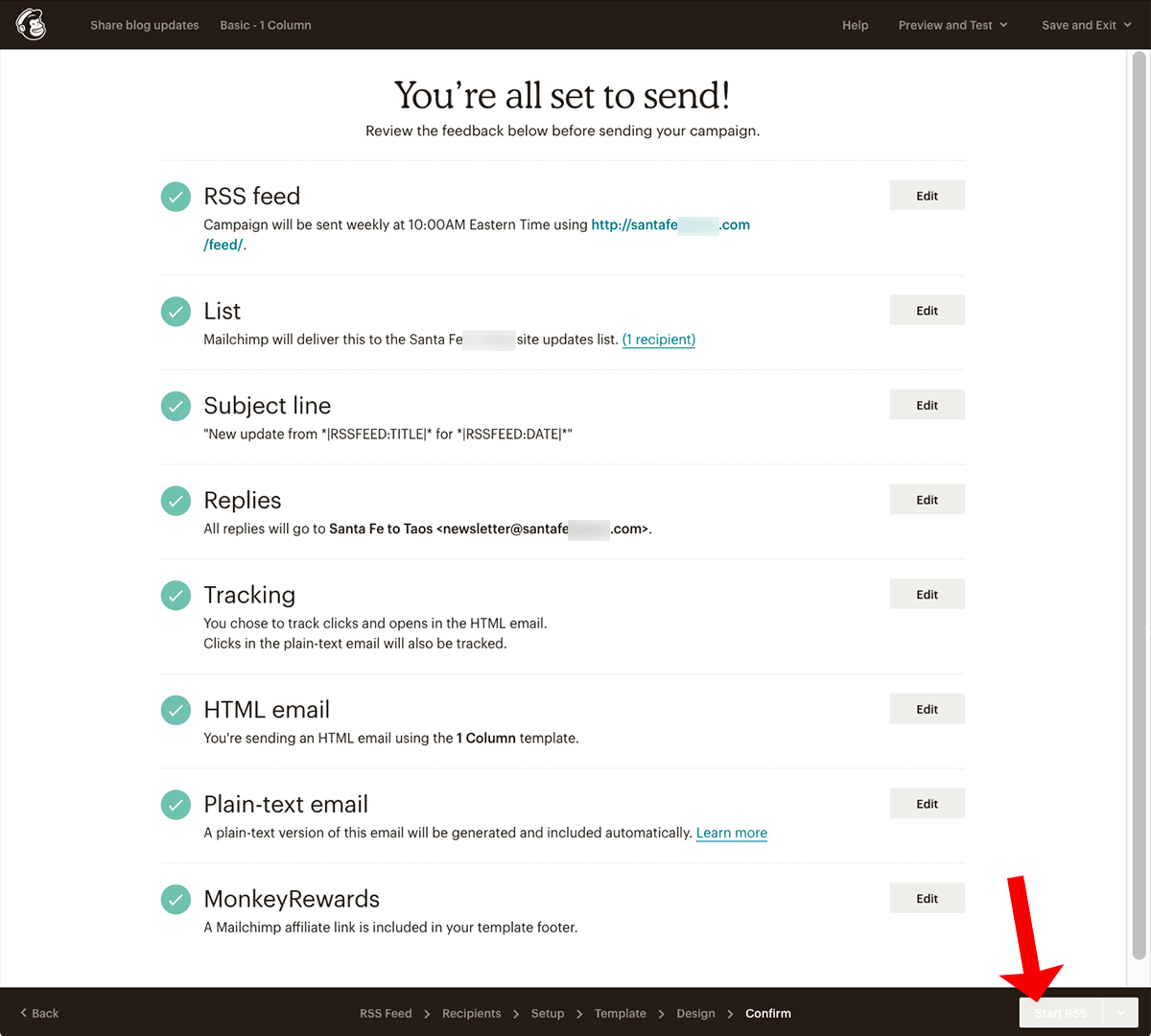 Here's the activation page: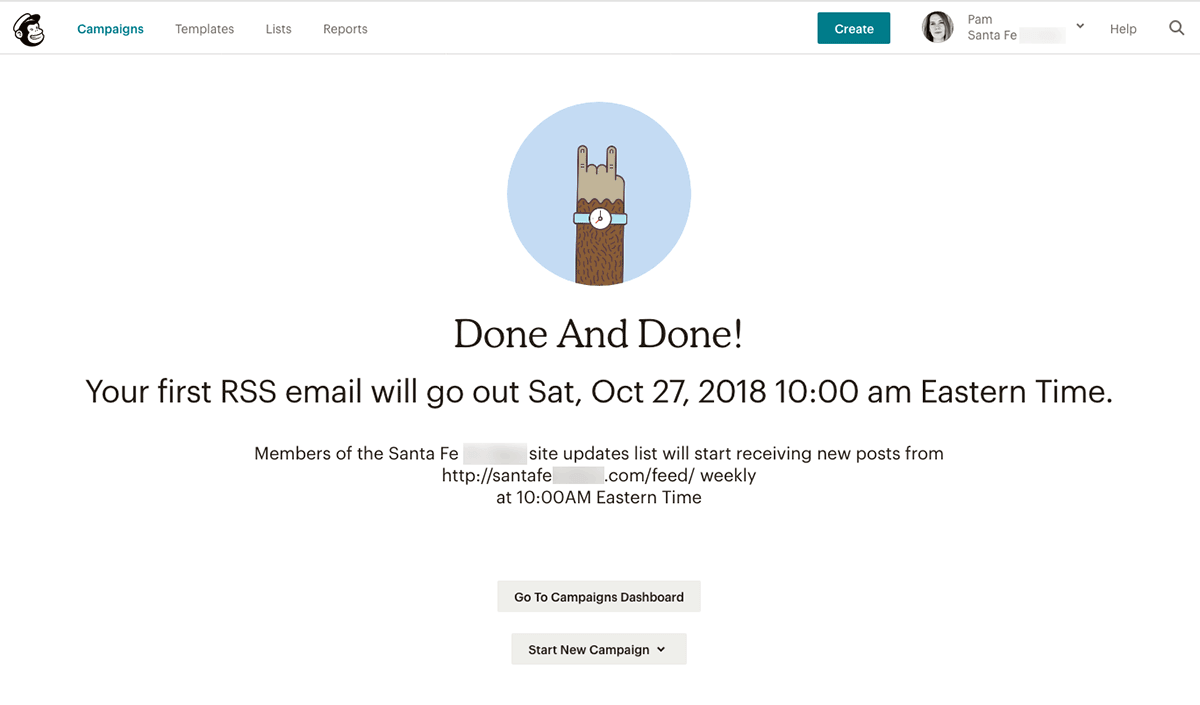 How's that for making automation easy? It took about half an hour to set this up, and now I never have to lay out another email newsletter update again.
3. Pull your MailChimp analytics data into Whatagraph.
Tired of pulling the same reports over and over again? You don't have to. Just spend about 20 minutes in your Whatagraph account, and we'll pull the reports for you and send them to people for you.
Here's how to do it:
First, link your MailChimp account with your Whatagraph account.
To do this, click "Add a source" from within your Whatagraph account.

Choose MailChimp from the integrations: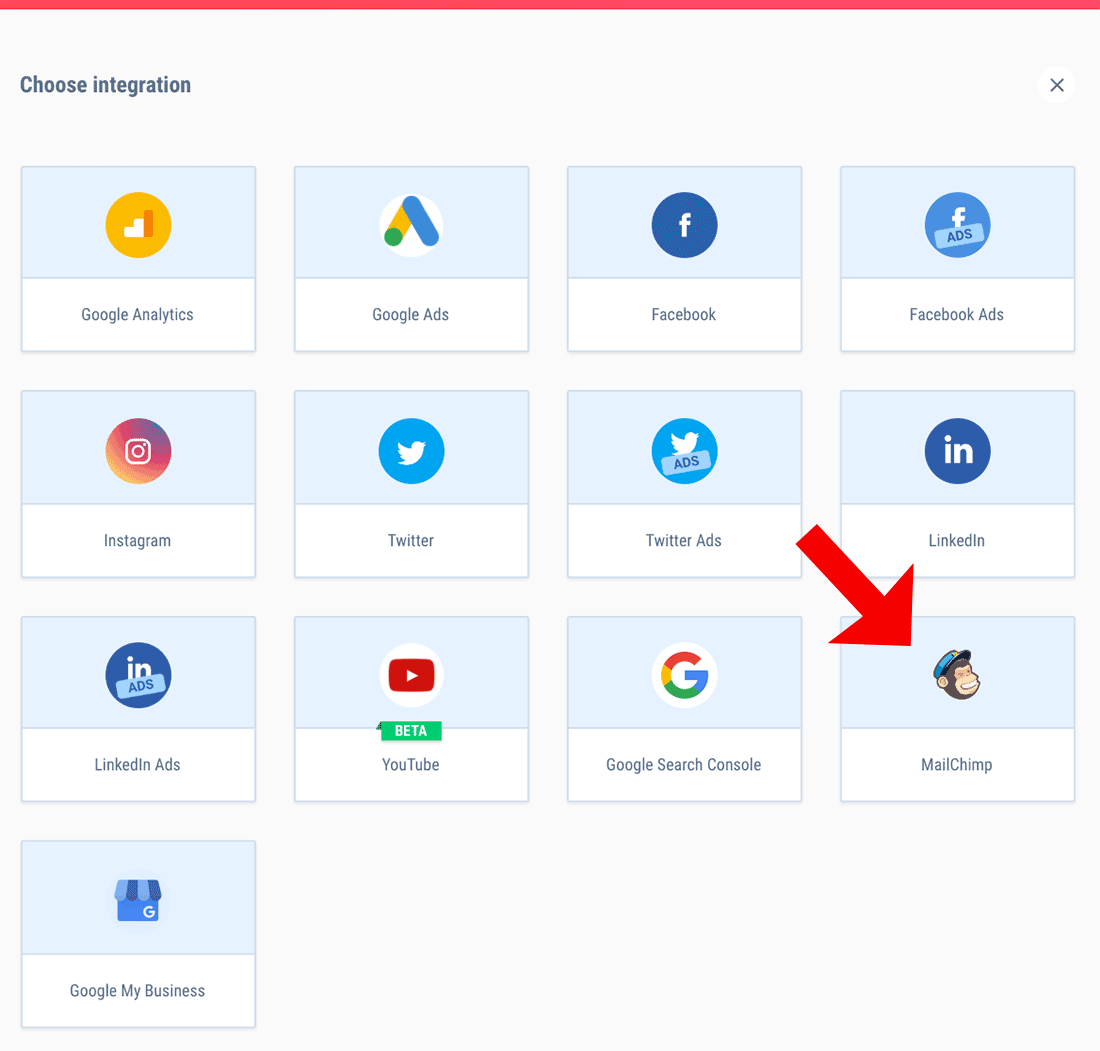 You'll be asked to log into your MailChimp account. Once that's done, select the list you want to bring in the analytics data for.

Click "add source" and you're done. Do note that you can't pull in any historical data – as in any data from before you added the source. But after you've added the source, going forward the data will populate into your Whatagraph reports.

You can view that data in your Whatagraph reports by going to the dashboard of your account and clicking the "Create report" button near the top right navigation area.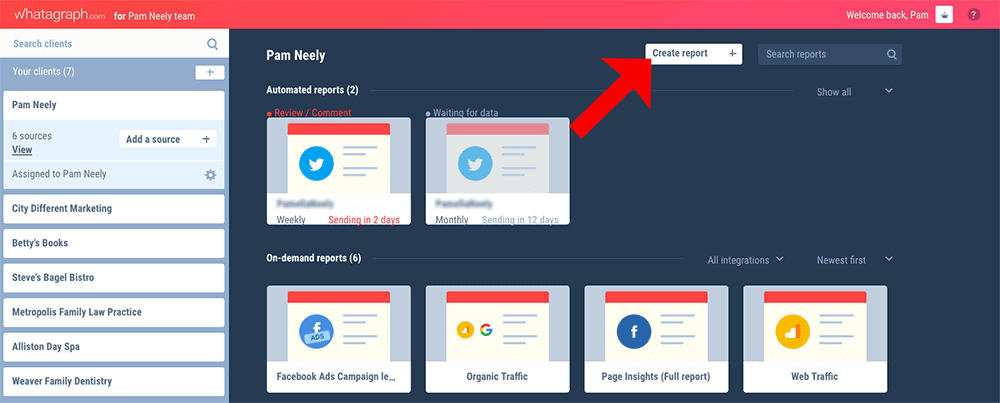 Choose the email tab, then select the default MailChimp report.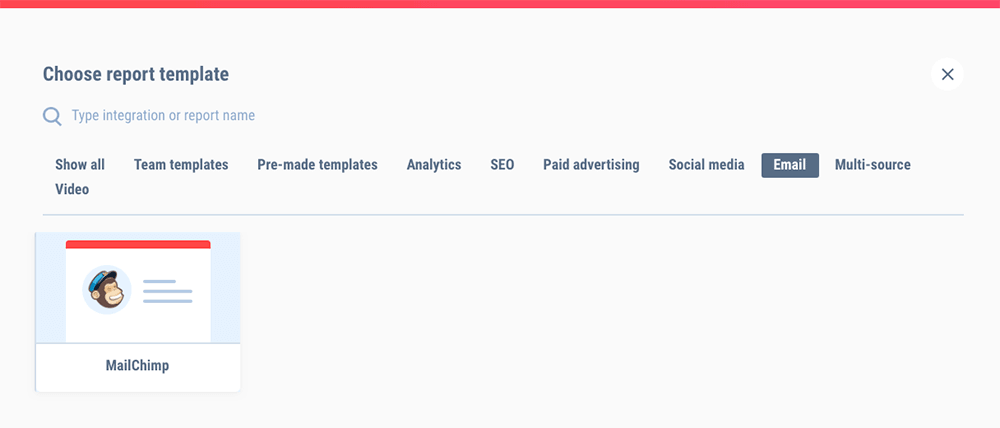 Next you'll see the default MailChimp report, plus all the customizable data blocks on the right. You can edit and schedule this report just like any other Whatagraph report.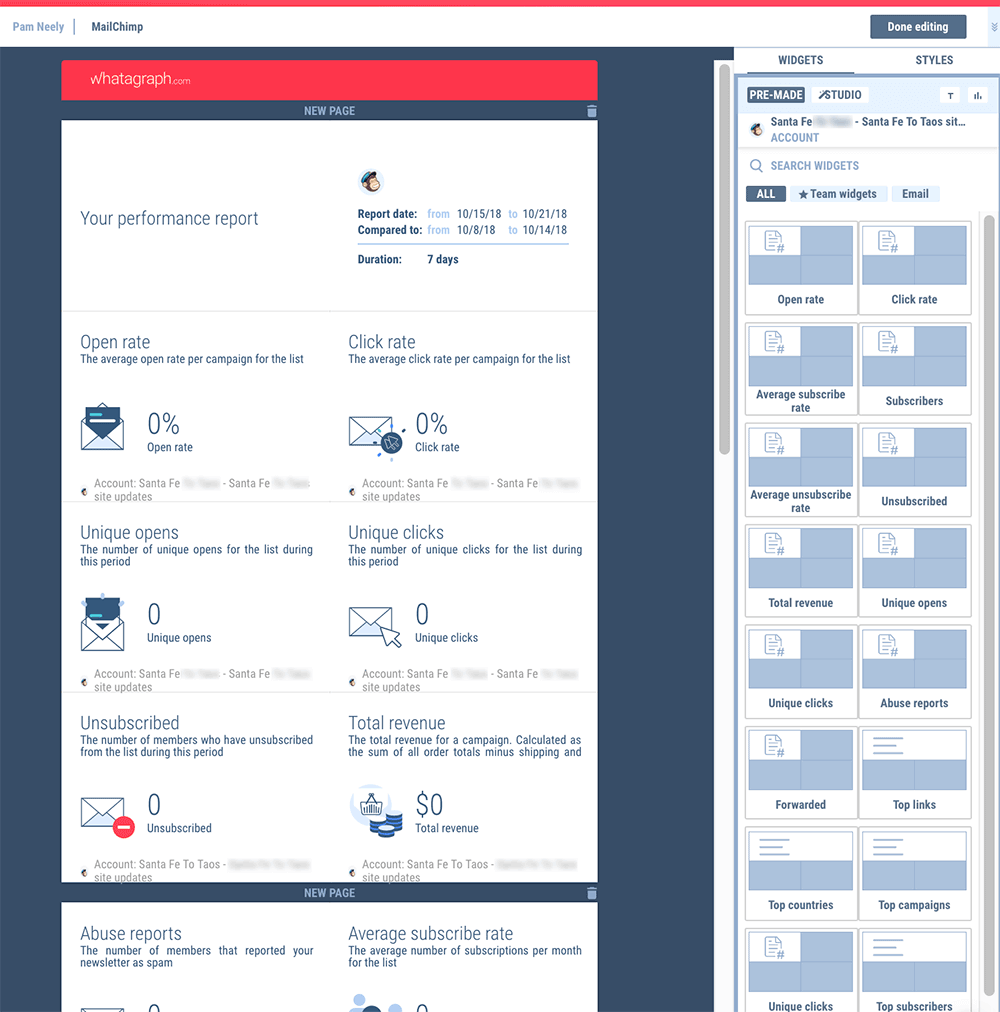 You can also pull your MailChimp data into any of the multi-source reports. Here's a view of us editing a Small Business multi-source report so we can add a data block about the top email campaigns: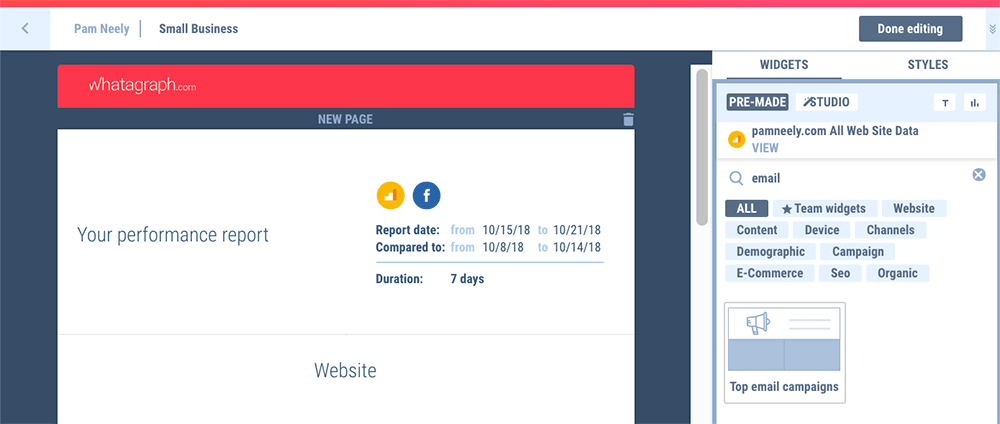 4. Customize the thank you page after someone signs up.
This is so easy to do, but it can help your new subscribers have a much better experience.
MailChimp's default setting is to just show a generic "thanks for signing up page" after someone has confirmed their email address.
It looks like this: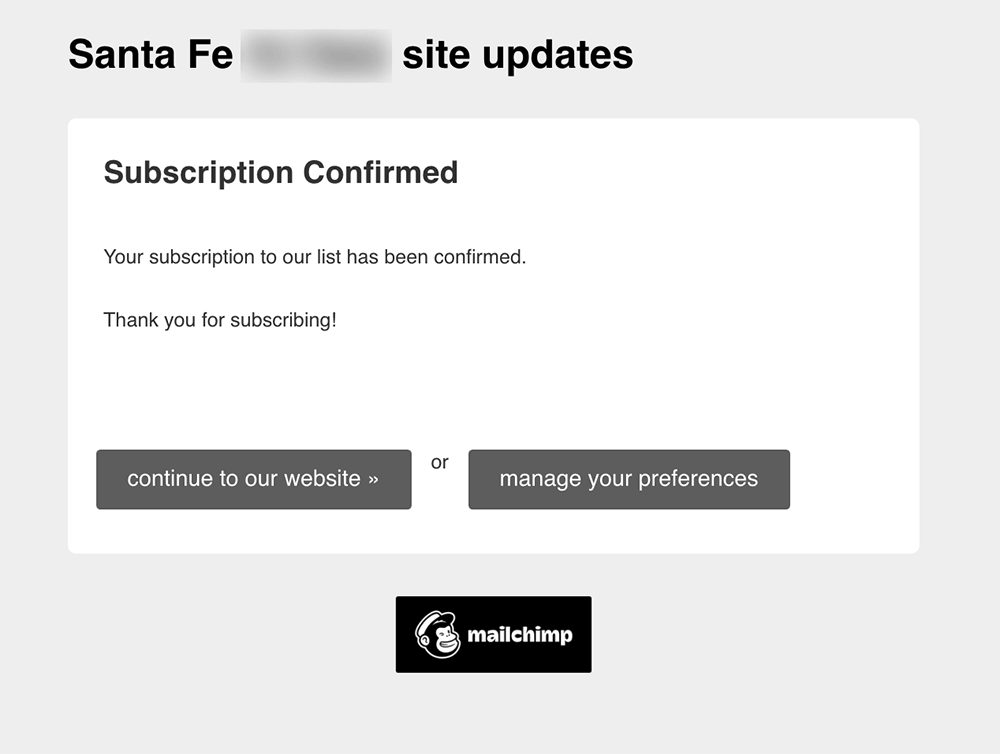 There's nothing wrong with this, and it works, but it's a nicer experience if you can bring the new subscriber back to your website.
To do this, go into the "Lists" area of your account. Find the list you want to add this custom confirmation page to, then go to "Signup forms" and choose "Form Builder".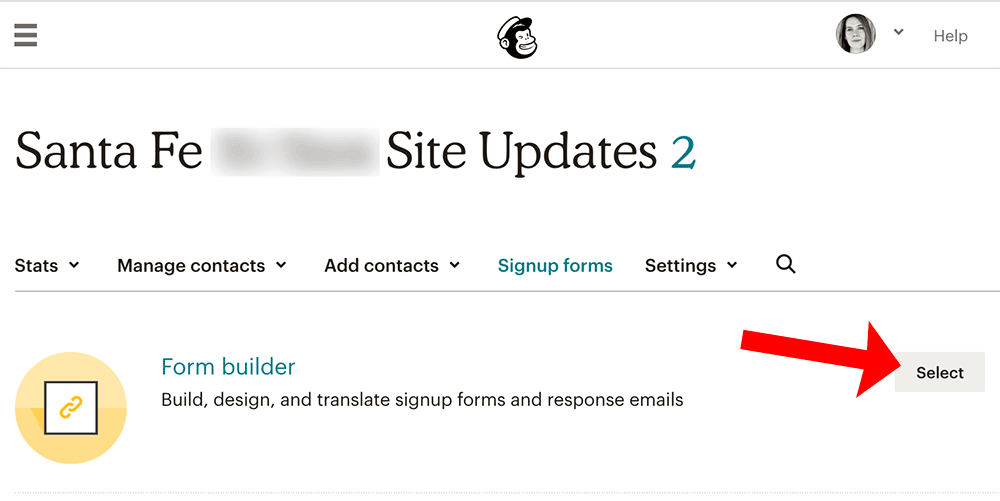 In the next page, choose "Confirmation thank you page" from the pull-down menu under "Subscribe".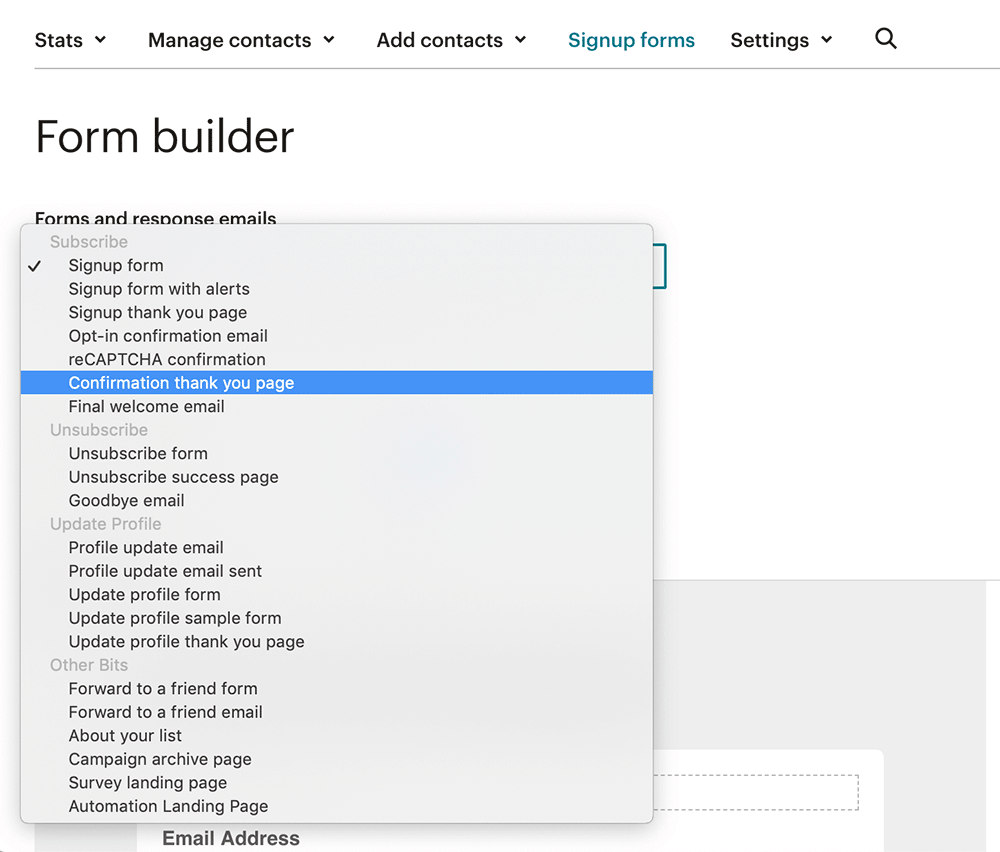 The interface will change to give you a field where you can paste in the "thanks for subscribing" page on your website. Like this: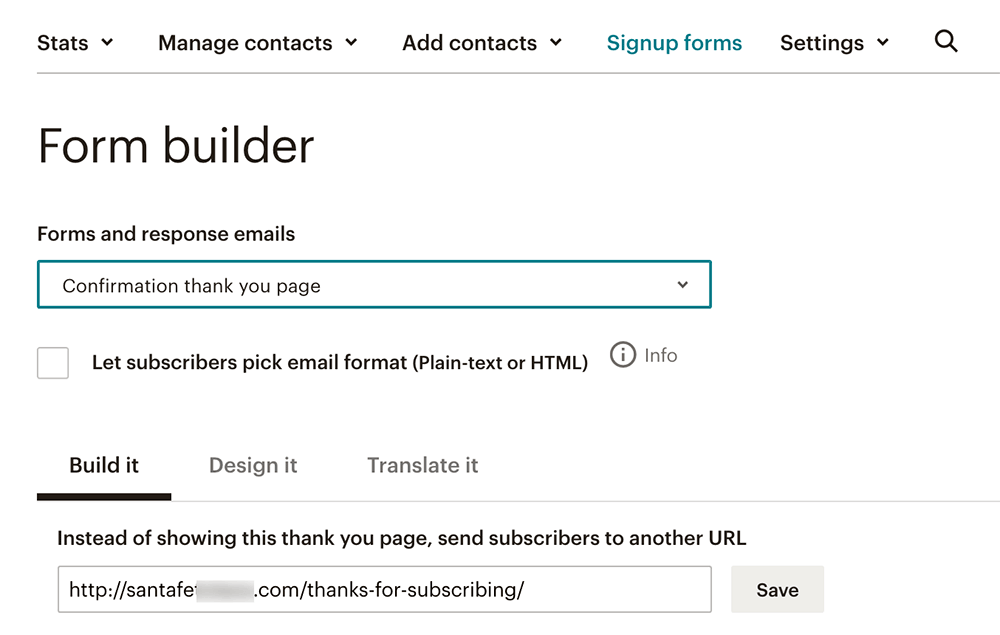 Paste that URL in and click save, and you're done. Instead of seeing MailChimp's default thank you page, your new subscribers will be brought back to your site and will see a custom page you've designed just for them.
Like this one from my test site: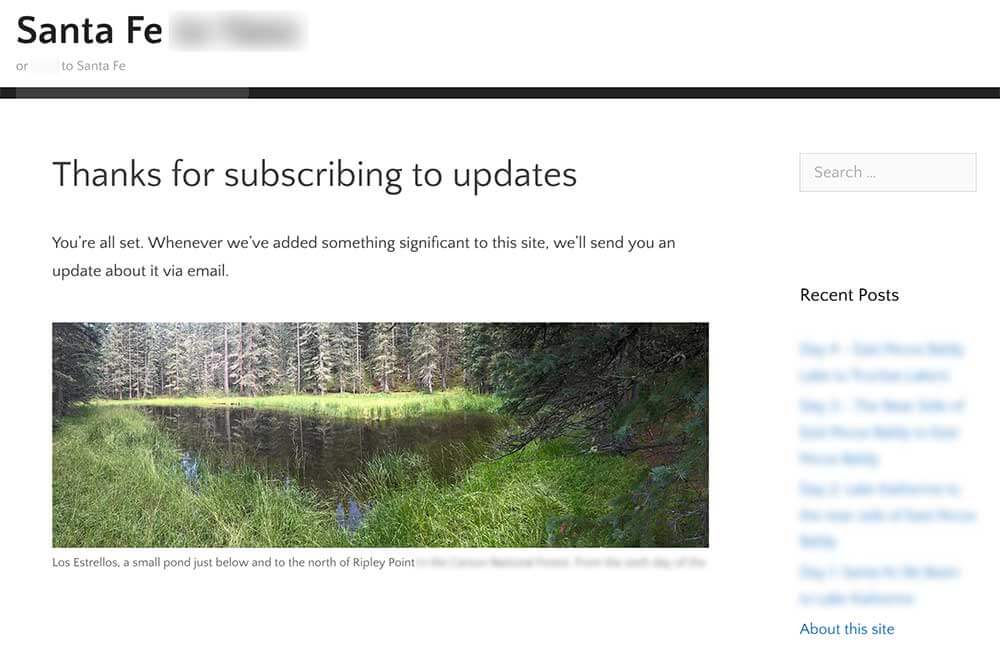 5. Set up a welcome email.

Are you using a welcome email? Many marketers aren't. This is a massive lost opportunity, as welcome emails… well, they rock. Welcome emails get dramatically better engagement rates than regular promotional emails. And they generate a lot more revenue, too.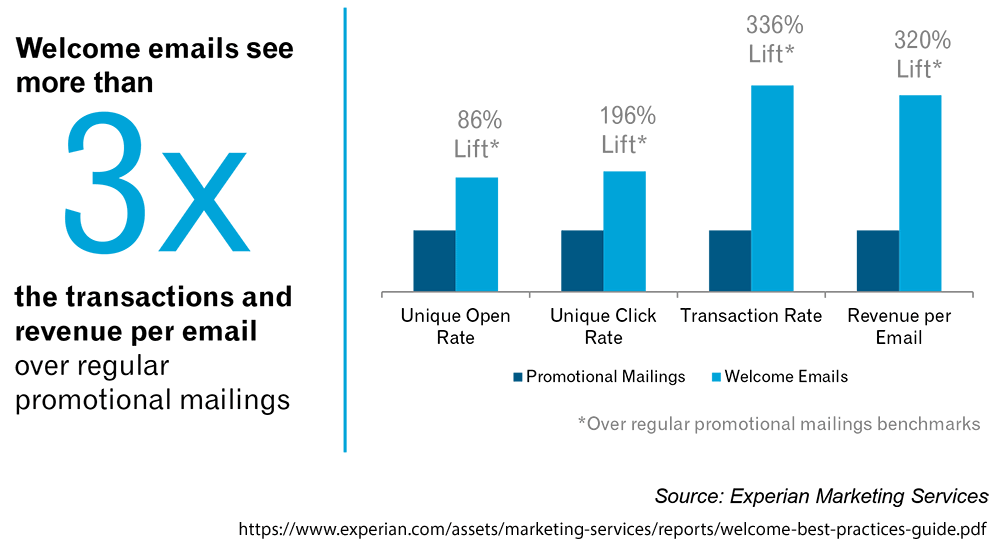 As a MailChimp user, you've got a particularly nice opportunity here, because it's very easy to set up a welcome email for your list.
Just go back to the Lists area of your account. Choose the "signup forms" tab (just like we did to add a confirmation thank you page). Then click the "Form builder" option.
In the pull-down menu, choose "Final Welcome Email".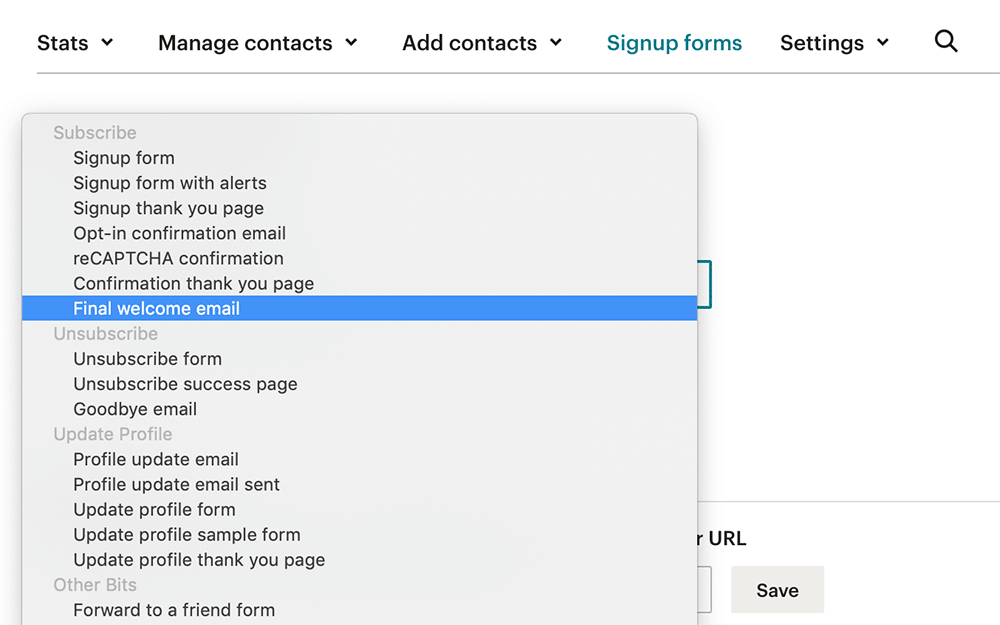 Next you'll see the default welcome email and its sender and subject line information. It's okay for a default, but you may want to change a few things.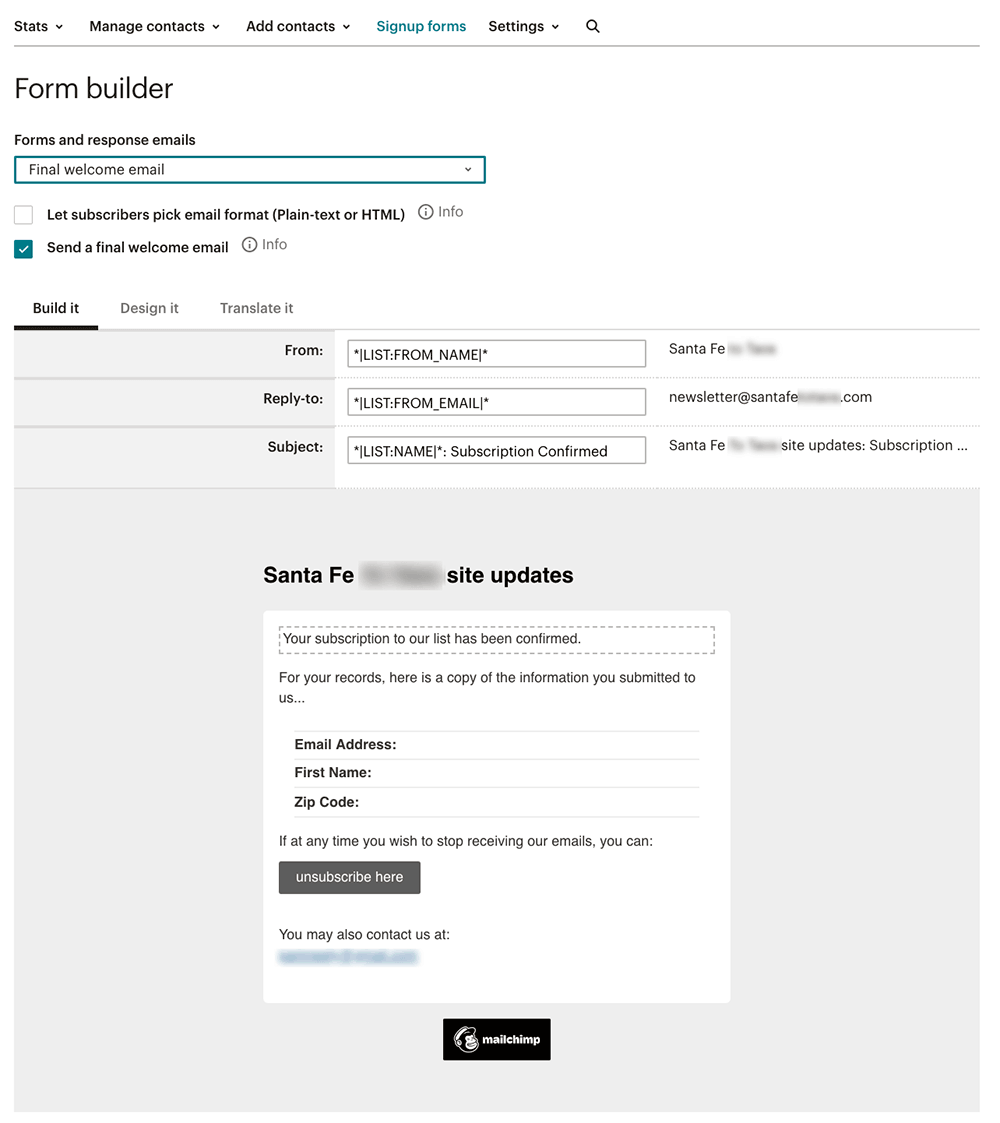 You'll definitely want to change the design. But when you move over to that tab, at first it looks like you can't do anything. Don't worry, just mouse over "Your subscription has been confirmed" text and click.

Now you have a nice big editing and formatting area to work with.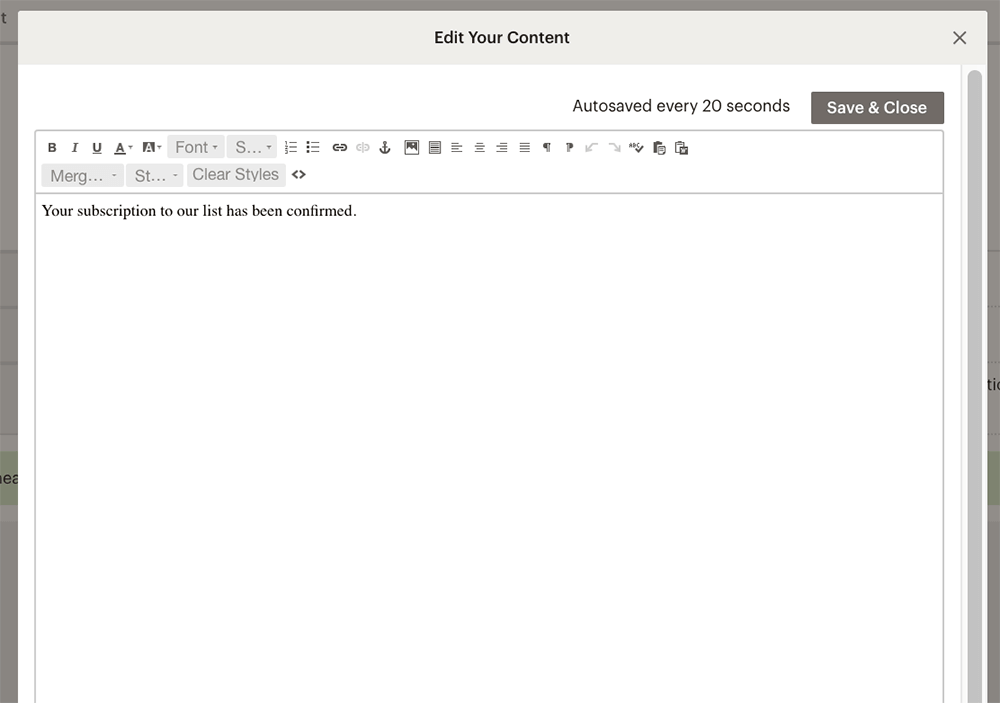 We could write a whole blog post about how to create a great welcome email, but let's keep it really simple for right now. Here are a few essentials of a good welcome email:
Welcome your new subscriber. "Thanks for signing up!"

Tell them what to expect from your emails. "We'll send you updates every two weeks, which will highlight the best content we've published, plus the best third-party content we've seen."
Here are some other excellent things to add to a welcome email:
A short list of your most successful content ever.

A call to action to follow you on social media (complete with icons and direct links to your social media accounts).

Your phone number and contact information if you're a consultant or an agency.

A list of your all-time, best-selling products if you're in ecommerce.

Conclusion
Don't look at MailChimp's simple interface and think the tool itself is simple. There are plenty of advanced features available, and plenty of ways to make your marketing easier and better.
Published on Oct 24, 2018