#marketing
What ACV Means and How to Use It in SaaS
The world of SaaS sales is flush with loads of metric acronyms that most people don't understand. And frankly, a lot of these esoteric initialisms aren't all that relevant for most SaaS companies. Let's talk about the ACV SaaS metric.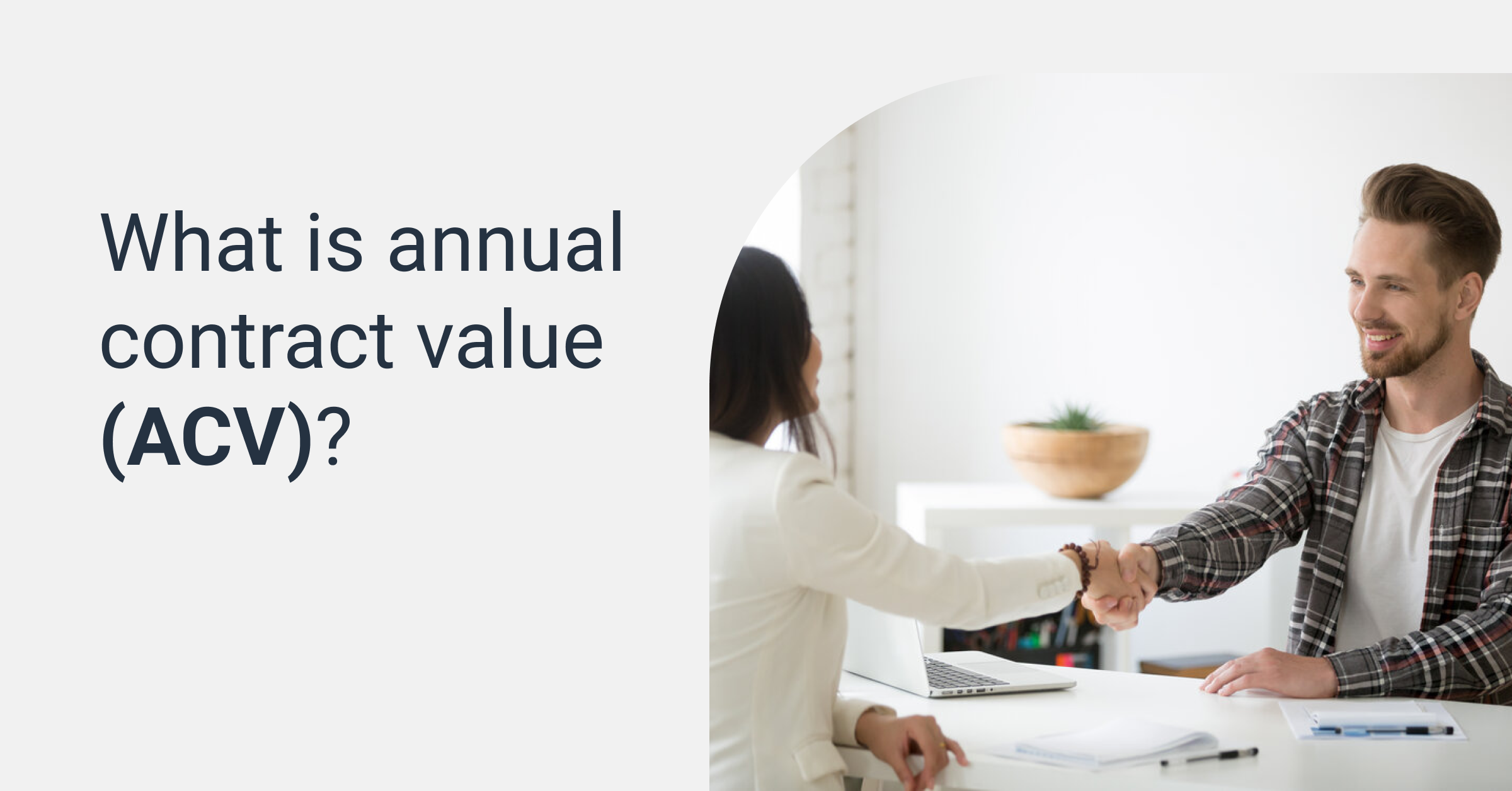 Table of Contents

There is one value metric that trumps most if your business revenue relies heavily on term subscriptions. Whether you're a tech guy or not, Annual Contract Value (or ACV) is one of the most important and best ways to measure the value of contracts in the SaaS game. Just about every SaaS business out there uses this metric. And you'll see why below.
Getting insights into your sales metrics is also a key item for SaaS companies of all types. There are loads of tools out there to do this, but not all of them have the right system for your business. Whatagraph is a fully customizable tool that covers the whole sales reporting process in a great way; see below. But we'll cover this point a little bit later.
Quite a few misconceptions surround ACV, but we're here to clear them up. To elucidate, we'll go over the basics of ACV, what it means and how to calculate it, how it stacks up vs. ARR and other SaaS metrics, and how to start reporting on your ACV the right way.
What ACV means for SaaS companies
Among the many SaaS metrics out there, ACV symbolizes the annual contract value of any customer subscription. And whether plans are annual or multi-year subscriptions, it's accounted for.
You will often see ACV being used synonymously with ACV bookings. The difference between these two is that the former is the total value of accepted term contracts, whereas the latter is the one year value of the contract with a SaaS business.
In a more numerical sense, ACV is the one-year total contract value per customer contract. Let's say a given customer signs off on a 3-year deal with you for $30,000. ACV accounts for 12 months. So, in this case, the one-year contract value is $10,000.
ACV calculations are straightforward.
total contract value / total years in contract = annual contract value
ACV vs. MRR vs. ARR
Imagine you land a deal for a 24-month contract with a total contract value (TCV) of $120,000. After all the shenanigans that come along with celebrating a gigantic multi-year deal like this, you have to crunch the numbers.
Here's how it's done.
A $120,000 contract with a term of 24 months will give you a monthly recurring revenue (MRR) of $5,000. Knowing the ACV formula, our ACV in this scenario would be $60,000. Pretty simple right?
At first glance, ACV and annual recurring revenue (ARR) look the same. But the primary difference between the two is that ARR represents the amount of revenue any given SaaS company wants to repeat year over year.
In more practical terms, ARR explains how the recurring revenue you expect is based on yearly subscriptions. On the other hand, ACV is the value of subscription revenue from each contracted customer over a single year.
The value of ACV as a metric
Being one of the centerpieces of SaaS metrics, ACV is best used when combined with other metrics. TCV and ARR are great starting points when looking at the total value of contracts.
When you calculate ACV, it would be advantageous to stack it against similar companies. You might be able to spot areas for improvement within your sales process. Or the opposite could be true. You may be outperforming your competition by a mile.
ACV definitely a tricky and company-specific metric in terms of calculations. But, whichever way you spin it, ACV is a great way to measure revenue growth. It's often looked at as a momentum metric. And using it should you better understand revenue streams and optimize sales strategy.
A tool to measure your ACV
Since we've cleared up some of the confusion surrounding ACV, you're set and ready to go. Shortly, you'll be landing multi-year contracts and calculating ACV like a pro.
Before you start pulling up your excel spreadsheets and jotting away numbers on your notes, think about the time and ultimately money you'll be spending by reporting on your metrics manually.
You are trying to optimize here. You're trying to boost revenue, and you're trying to get insights into the metrics. And it's going to be difficult to do that without a tool made for especially that purpose. You need a tool like Whatagraph to automate this process and make actionable reports to optimize your sales strategy.

Time to get rid of all of the inefficient manual work and check out a tool that measures your sales process's value.
Published on Nov 18, 2020