#marketing
The 14 Best E-commerce Tools to Build Your Online Store
E-commerce tools are a way of optimizing your business. Whether it be through automating, managing systems, organizing tasks, or managing inventory, they can all drive sales.
Table of Contents
Why e-commerce?
Currently, there are an estimated twelve million to twenty-four million businesses operating within the e-commerce segment. Lucrative, huh? And to put the cherry on top, the e-commerce segment hits over 500 billion dollars a year in revenues in the US alone.
These are staggering numbers. But this also means there is loads of competition – that's why we're here. And what's a better way to get ahead of the curve than using a good e-commerce tool?
In today's article, we'll go through the best e-commerce tools there are that can be used by the business owner or e-commerce agency.
The best e-commerce tools out there
Whatagraph is one of the many tools that's been proven to work wonders for e-commerce businesses. It's a tool that automates the whole eCommerce analytics and reporting process for operations. This software is based on open API and connects to loads of different other tools for reporting. Whatagraph already has an integration with Shopify!
Apart from Whatagraph, we're going to cover 13 of the best e-commerce tools to ensure you have the resources you need to boost your e-commerce business.
1.Shopify
Shopify is one of the best e-commerce services in the industry – it's considered one for a good reason. Shopify takes care of everything from backups to updates automatically. The tool also employs a drag-and-drop website building system. It also provides users with Shopify email marketing apps, abandoned cart solutions, app subscriptions and more. Shopify's site builder is simple enough to allow even a computer novice to design their online store easily or even help them with Shopify´s dropshipping. There are plenty of templates and themes to choose from. However, an experienced Shopify website developer can put his own spin on Shopify stores because the platform allows for editing their CSS and HTML code.
In the likely scenario that you need marketing services, it has built-in tools for running campaigns on Facebook and Google. To cap it off, you can manage everything from order to shipping and payments on their all-in-one dashboard. There are a variety of third-party platforms that make premium Shopify themes to aid your customization too! There are some extra tools that could help adding additional functionality such as Shopify shipping. 
Pricing
Basic Shopify: $29/month
Shopify: $79/month
Advanced Shopify: $299/month
Shopify Lite: $9/month
Shopify Plus: Pricing available on request 
If you'd like to configure your Shopify website so that it adheres to the Web Content Accessibility Guidelines, you can integrate with solutions such as accessiBe. The latter will ensure you obtain Shopify ADA compliance.
2. Elementor
WordPress is far and away from the most heavily-used CMS on the planet.
WooCommerce, WordPress' flagship eCommerce theme is used in 23.5% of all online stores.
But if you can't code, creating a WooCommerce site can prove extremely challenging.
Well, that is unless you use Elementor.
A powerful website builder, Elmentor enables users to create stunning WordPress websites without having to write a single line of code.
And, with its WooCommerce website builder feature, Elementor can be used to create comprehensive WooCommerce websites, code-free.
Elementor users can leverage dozens of features and widgets to create a one-of-a-kind online store, including 20 unique eCommerce widgets to build the store you've always wanted. Those looking to get up and running with an online store as quickly as possible can explore Elementor's Full Site Kits. Designer-made and comprehensive, Kits are fully-functioning, complete WordPress websites that users can customize and launch. 
Pricing:
Essential for US$49 per year - You can build one professional website with this plan
Expert for US$199 per year - You can build 25 professional websites with this plan
Studio for US$499 per year - You can build 100 professional websites with this plan
Agency for US$999 per year - You can build 1000 professional websites with this plan
3. Picreel
Picreel is a popular lead generation and conversion optimization tool for eCommerce stores. The online application is helpful in targeting engaged website visitors with AI-powered exit-intent popups. With real-time analytics, you can track leads and conversions right from the dashboard.
Picreel also offers a huge library of 100+ ready-to-use, customizable popup templates that lets you create beautiful popups in minutes. With A/B testing, you can easily find the best-converting popups to take your business sales to new heights. That's not it. Picreel provides seamless integration with all popular sales/marketing tools and transfers the captured leads automatically to your favorite tools.
Pricing
Starter - $14/month
Basic - $52/month
Plus - $112/month
Pro - $299/month
Enterprise - Custom quotes on request
4. ProProfs Help Desk
ProProfs Help Desk is all about customer care. The tool helps with managing inquiries and responding to customer emails quickly. On Proprofs Help Desk, you can track the progress of every customer request or issue, share an inbox with your teams for easier collaboration, and access a built-in knowledge base and live chat system. 
Having all of these features, you're going to need insightful reports to measure both individual and team performance. Well, they've got that covered as well. You can also capture customer feedback on ProProfs Help Desk with NPS, CSAT surveys. And they allow you to work on desktops, mobile devices, and tablets.
Pricing
Forever Free Plan: $0 with limited functions
Essentials Plan: $10/user/month
Premium Plan: $15/user/month
5. BigCommerce
If we're talking about the best e-commerce tools, the list wouldn't be complete without BigCommerce. It's a robust platform that offers endless opportunities to build, innovate, and grow your online Store. The tool employs a drag-and-drop design element with the flexibility to innovate with an open SaaS platform. BigCommerce also has easy integration with third-party apps and extremely powerful analytics for customer insights. They tout the best-in-class uptime and server response with Google Cloud Platform. Last but not least, they have storefront conversion features like coupons, digital wallets, and more.
Pricing
BigCommerce Enterprise pricing available on request
6. Zyro
As an eCommerce website builder, Zyro is best known for its simplicity. There are 140+ professionally designed templates to choose from and an intuitive drag-and-drop builder, so it usually takes no more than an hour for most users to get started. You get deep tracking, marketing, and targeting capabilities with Zyro's site builder, despite its ease of use.
The eCommerce plans offered by Zyro make it easy to use in conjunction with Google Analytics, Google Tag Manager, Facebook ads, WhatsApp LiveChat, and other re-targeting techniques. Zyro lets you accept payments from PayPal to credit cards like American Express to dozens of other options. You can also connect to Amazon, Facebook, and Instagram to sell your products across channels.
 
Zyro's team continually works hard to bring out new tools and features. They focus on AI learning to create features that save you time and make website creation easier. Completed with various AI features to enhance your online business performance like AI writer, business name generator, slogan generator, logo maker, and so on.
Pricing:
Website: $2.61 /mo
Business: $4.41 /mo
Online Store: $8.01 /mo
Advanced Store: $14.31 /mo
7. UltraCart
UltraCart is one of the few e-commerce tools that disregards the number of products or experiences a company has. Whatever the number is, UltraCart can be extremely useful. Using this tool comes with multiple fully customizable themes for website building and dashboards for insights on marketing, sales, and design decisions. 
UltraCart also enables easy and useful integrations with payment and fulfillment providers without all of the expensive add-ons.
Pricing
Small: $49.95/month
Medium: $79.95/month
Large: $229.95/month
Enterprise: $499.95/month
8. WooCommerce
Without a doubt, WooCommerce is one of the best free e-commerce tools available. If you have a WordPress website and want to start working with e-commerce to take your business to the next level, using WooCommerce is one of the easiest ways to do it. Using WooCommerce means you have access to a plethora of stunning WooCommerce themes that will help look your store different and grow faster.
There are certain upgrades for additional features that cost. However, the free version should more than suffice for rather small e-commerce stores.
Pricing
WooCommerce is free and open-source.
9. Oberlo
Oberlo is a user-friendly system to manage the whole process of adding, customizing, and tracking products. The tool is dedicated to inventory management, sales-tracking, finding alternate suppliers, and more.
Pricing
One great thing about Oberlo is that it's free to use for stores with up to 500 products and 50 orders per month. The highest tier plan they offer is $79.90 per month.
10. OpenCart
OpenCart lets you manage your online business without any costs attached. You can download free attachments and updates, and if you want more expansive features, you can pay for those.
Pricing 
OpenCart is a free and open-source platform.
11. PrestaShop
PrestaShop is another tool in the arsenal for e-commerce based businesses. It'sIt's a free service that allows you to build an online business hassle-free. From a features perspective, it's actually looked at as a competition to Shopify and WooCommerce services.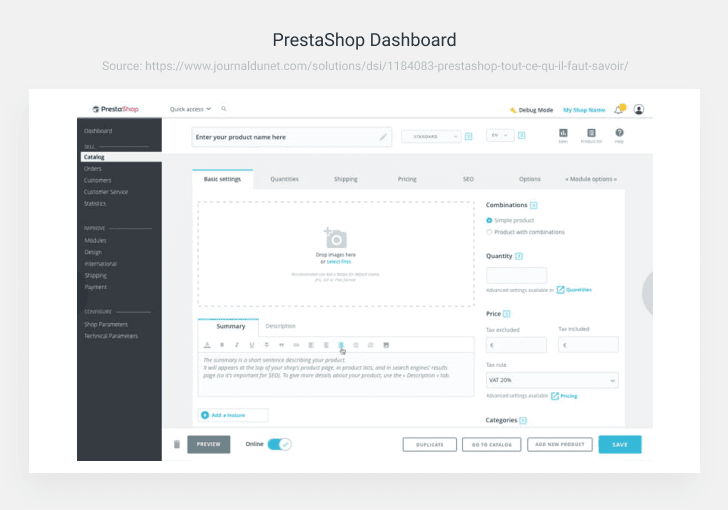 Pricing
PrestaShop is free.
12. Magento
Magento is a powerful e-commerce platform that allows you to build and manage your online store, track orders, and access in-depth analytics. While their community version is free, upgrading to Magento 2 through Upgrade Service is a smart investment for long-term growth and success. This service offers new features, bug fixes, and security enhancements, ensuring that your store stays up-to-date and secure. Although some of Magento's paid options can be expensive, upgrading through their service can help ensure that your business continues to thrive.
Pricing
Magento has a community version of their system, which is free and open-source. They also have several paid options, some of them being on the higher side of prices. As an example, their enterprise edition costs roughly $15,550 per year.
13. Omnisend
Omnisend is a tailor-made e-commerce platform for marketing. They offer useful features, including customizable marketing automation templates and a visual drag-and-drop email builder.
Pricing
Omnisend offers a free plan for basic email marketing and automation activities included in their Standard Plan (starting at $16 per month). They also provide free SMS credits to try out SMS marketing with their Pro Plan ($99 per month).
14. Big Cartel
Big Cartel is another e-commerce tool for building and managing an online business. This platform is segmented for artists and individuals who want to sell their work in online shops. 
Pricing
The pricing for Big Cartel starts at $9.99 per month and maxes out at $29.99 per month.
Which e-commerce platform is the best?
With all of these different platforms for small business owners and e-commerce stores, you're probably wondering which one is the best.
If you want an easy-to-use e-commerce platform that's been a proven track record of success with the business model, then Shopify is your best bet.
Shopify is an ideal option for both small businesses and larger stores. Some of the more notable customers of Shopify include Tesla and Penguin Books Store. It's is a solution that's conducive for small organizations and businesses that are ready to scale.
Tracking your store's performance
Now with all of these different reporting tools available, you're definitely going to need to weigh the costs. Because you likely won't have time to try all of the e-commerce tools out there.
However, there is one type of tool that we cannot stress the importance of enough. That is performance tracking and reporting. To better make decisions and adjust, you'll need overviews of what efforts are paying off and what isn't. This way, you can make key decisions that are going to impact your overall success.
That makes the data and behavioral insights an essential piece in e-commerce.
Whatagraph is one of the best e-commerce tools out there to track and report on results – here's a 7-day trial to find out why. So once you've got your sleek-looking e-commerce store up and running, you'll be able to see how it's performing in terms of marketing and sales.
The Whatagraph blog team produces high-quality content on all things marketing: industry updates, how-to guides, and case studies.
Read more awesome articles
Enter your email and get curated content straight to your inbox!
Only the best content & no spam.
Pinky promise.
By submitting this form, you agree to our
Privacy policy