Our aim at Whatagraph has always been to have a simple, user-friendly interface that makes analytics data reporting a piece of cake. We've come a great way since the launch, and have not stopped there.
Over the past few weeks, the team's been busy developing new important features, based on feedback and suggestions from a bunch of great people that use Whatagraph reporting regularly.
Cleve, Cathy, Antonio, Esther - and everybody who asked about custom dates - this one's for you :)
In this post, I will briefly introduce you to the most important changes that we made to your Whatagraph dashboard.
1. New feature! Custom Dates Calendar.
Previously, you've been able to select only predefined range analytics reports - weekly, monthly, yearly and others, and have them compared to previous period by default.
Now

, the freedom to

choose a custom date range

is yours. As the ability to

define own comparison period

for the report.

Also, we've kept the

shortcuts for weekly, monthly, quarterly and yearly analytics reports

in the calendar, so generating them quickly isn't a problem.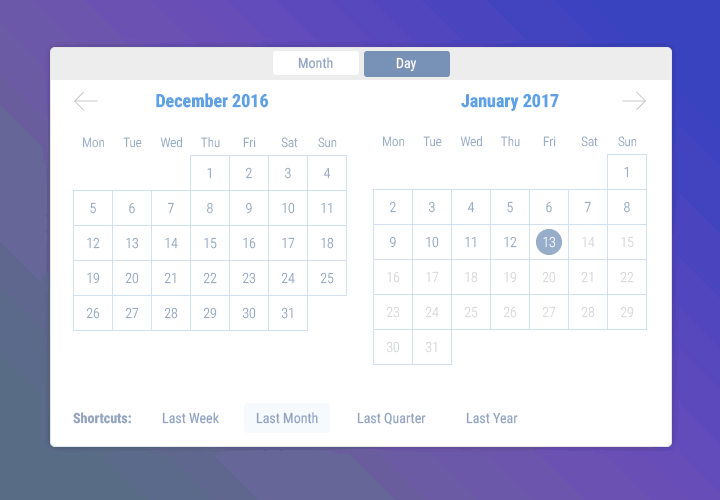 2. New feature! Languages.
We have translated our reports and automated emails! You are able to change your report language in site settings, to the following:
French

Spanish

Hungarian

Russian

Italian

German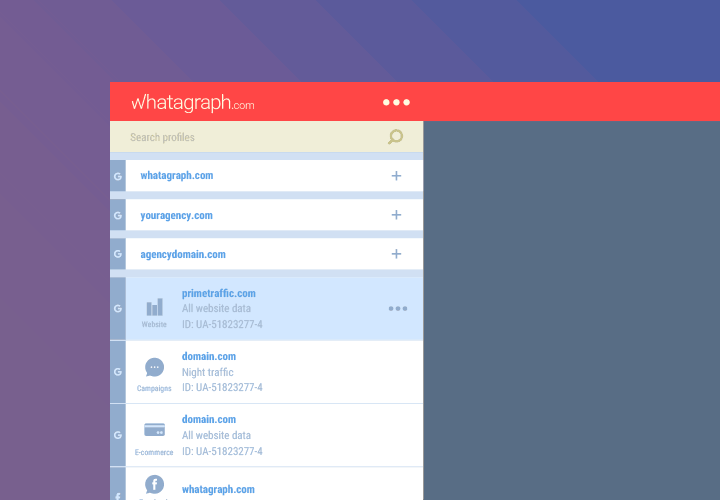 Please note, when you change the reporting language, automated report emails will be changed accordingly too.
3. Main dashboard menu has moved.
Previously

, links to Dashboard and Settings were located in the left-nav.

Now

, left-nav is home for your analytics profiles, while links to Dashboard and Settings moved to the top right corner, next to your name.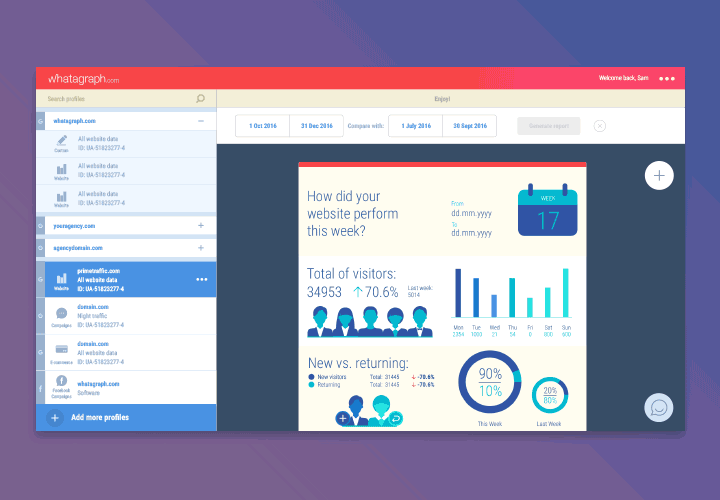 4. Simpler navigation for your Google Analytics Profiles
Previously

, both the GA profiles and GA views were fully listed in the left-nav, together with your Facebook pages.

Now

, we've created

folders for GA profiles and views, nestled under the same ID

. Talking in a more human language - if you separately track analytics data for www.website.com, www.website.com UK traffic, www.website.com US traffic, now the 3 views are neatly placed in one www.website.com folder.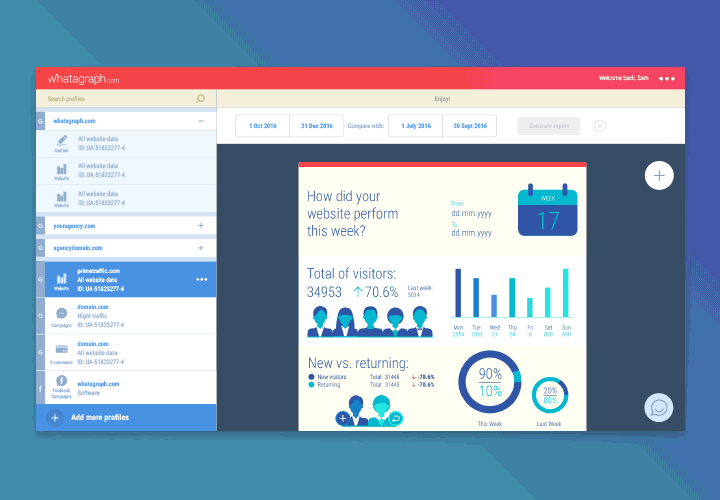 5. One analytics profile - different report types
Now you have the ability to

assign a number of different report types to any analytics profile

. So if you're looking to get both website overview and E-commerce data reports for the same website, now you can.
Note: to assign a different type of report to the current profile in your dashboard, you will have to select 'add more', choose analytics profile you need and select a report type when prompted.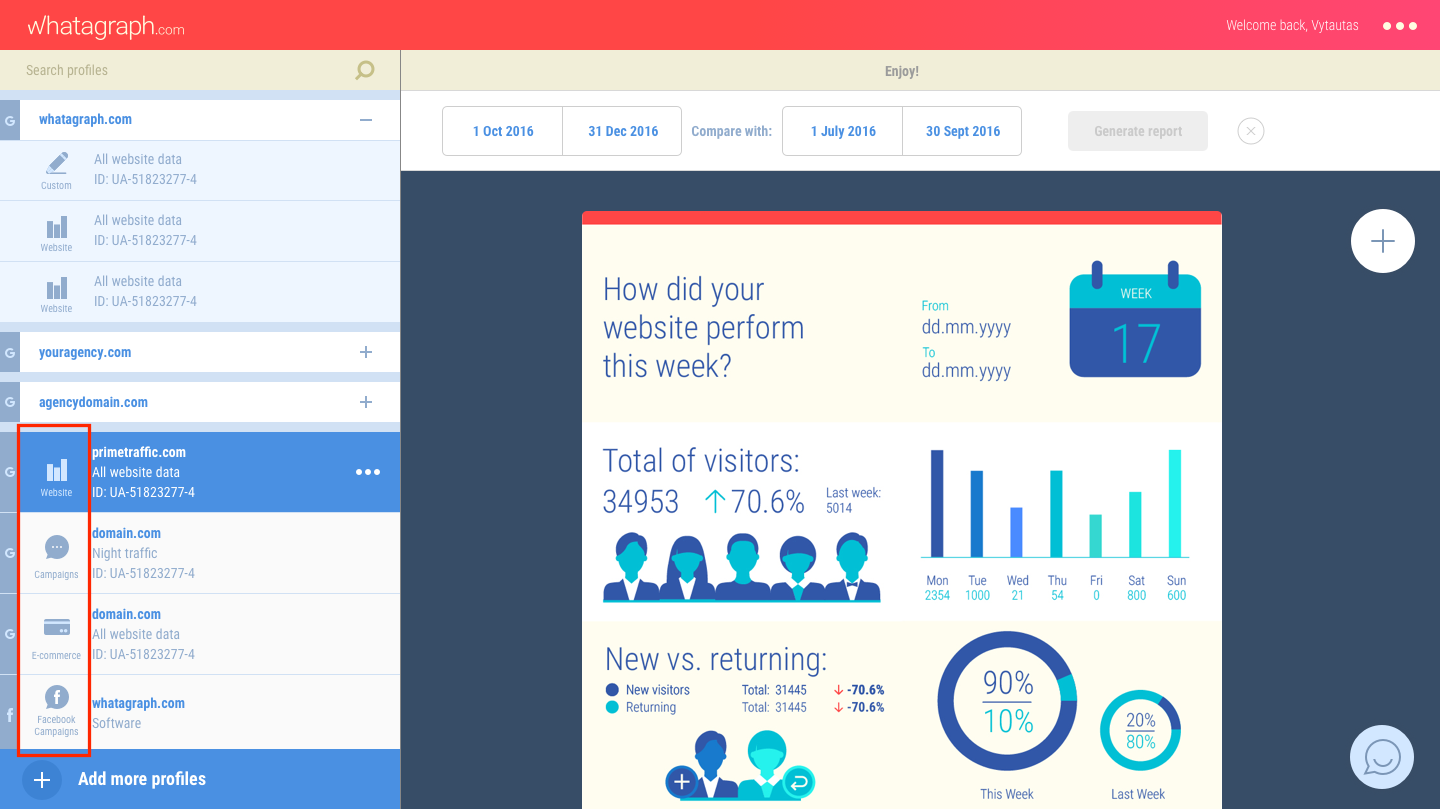 6. Adding new analytics profiles slightly changes
Previously

, when you chose to add more profiles, you were prompted to select the integration, which took you to the list of available websites/pages.

Now, we have introduced an additional step, where you are prompted to select a type of report before proceeding to the list of websites/pages. You can always change the report type later in site settings, or add more report types to the same analytics profile.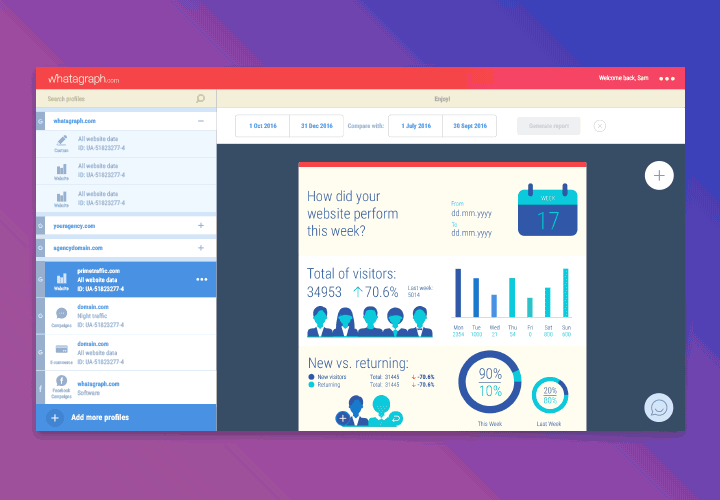 7. New look in Manage Accounts
Manage Accounts page got a makeover too - with the same profile grouping as left-nav in your dashboard.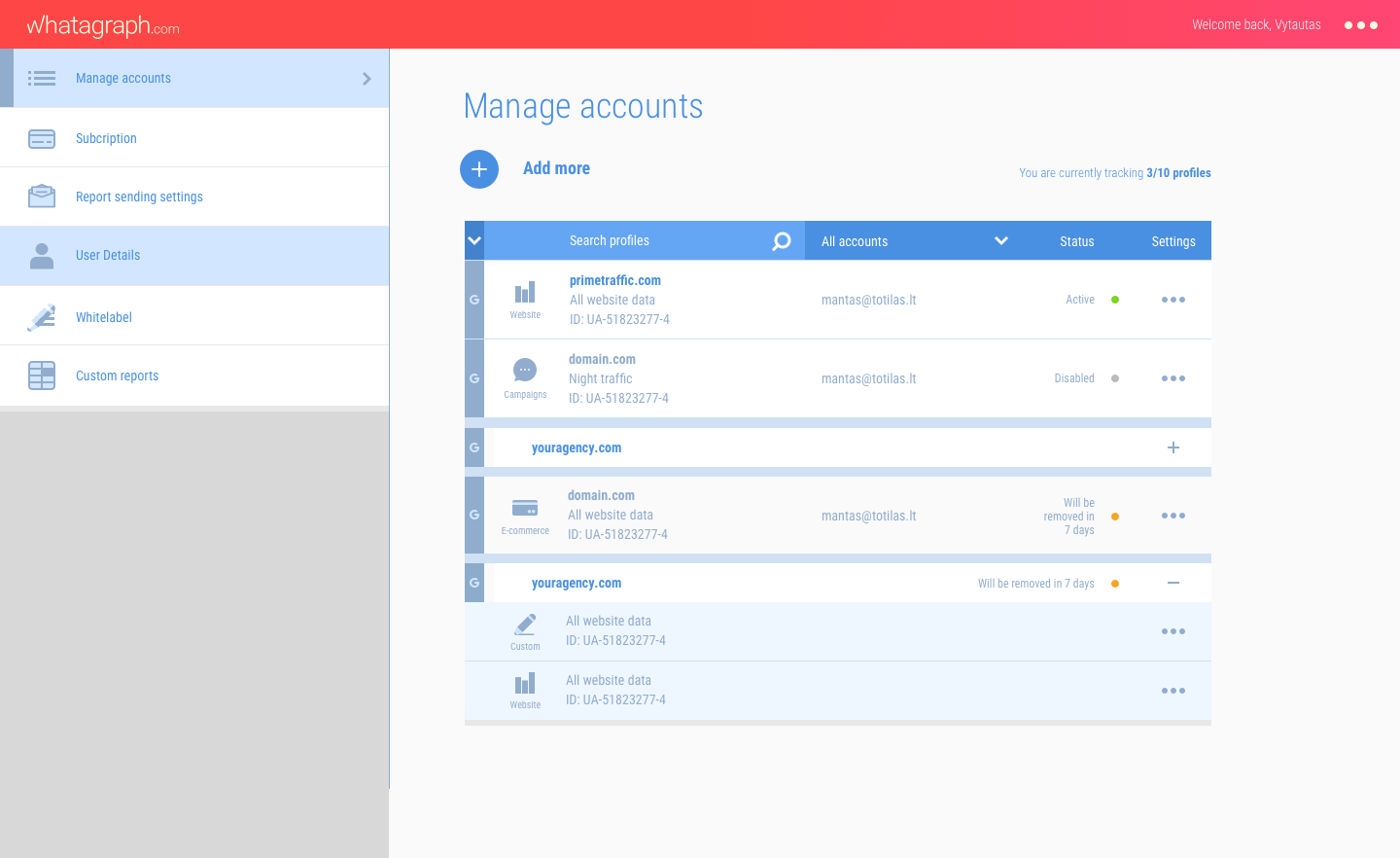 8. New feature! Report embedding option in report menu
Showing off your metrics has never been easier. You can now embed any Whatagraph report with a simple snippet of code.
Report embedding will be placed in the menu on your report preview window, together with PDF downloads, full screen view and email share.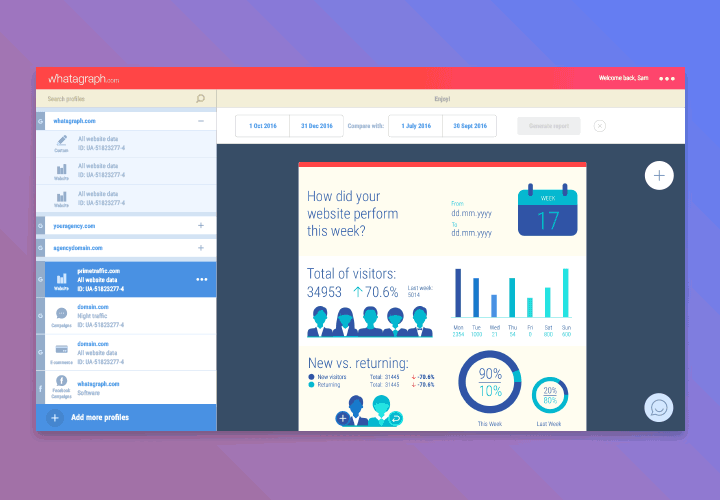 9. New report emails
We've made automated report emails more visual. You will see top 3 infographic stats from the report in your email, so you can get a snippet into the analytics instantly, without having to go to your dashboard or download a report.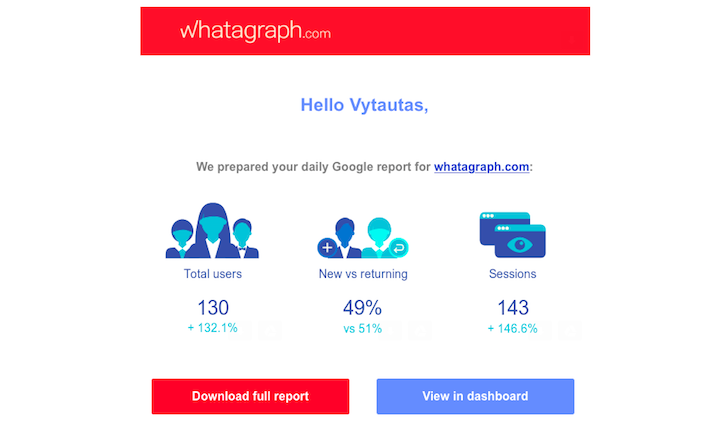 10. We've renamed our plans
PRO 3 has been renamed as

PRO

- a plan perfect for bloggers, freelancers and small web projects.

PRO 10 has been renamed as

Business

, best suited for SMB businesses and small digital agencies.

Agency remains

Agency

- the perfect option for large digital agencies and established business.
The 3.5 dashboard with new features and improved UI is already available. I hope you are as excited as we are!
If you have any questions or concerns, do get in touch on our live customer support from your dashboard or whatagraph.com page.