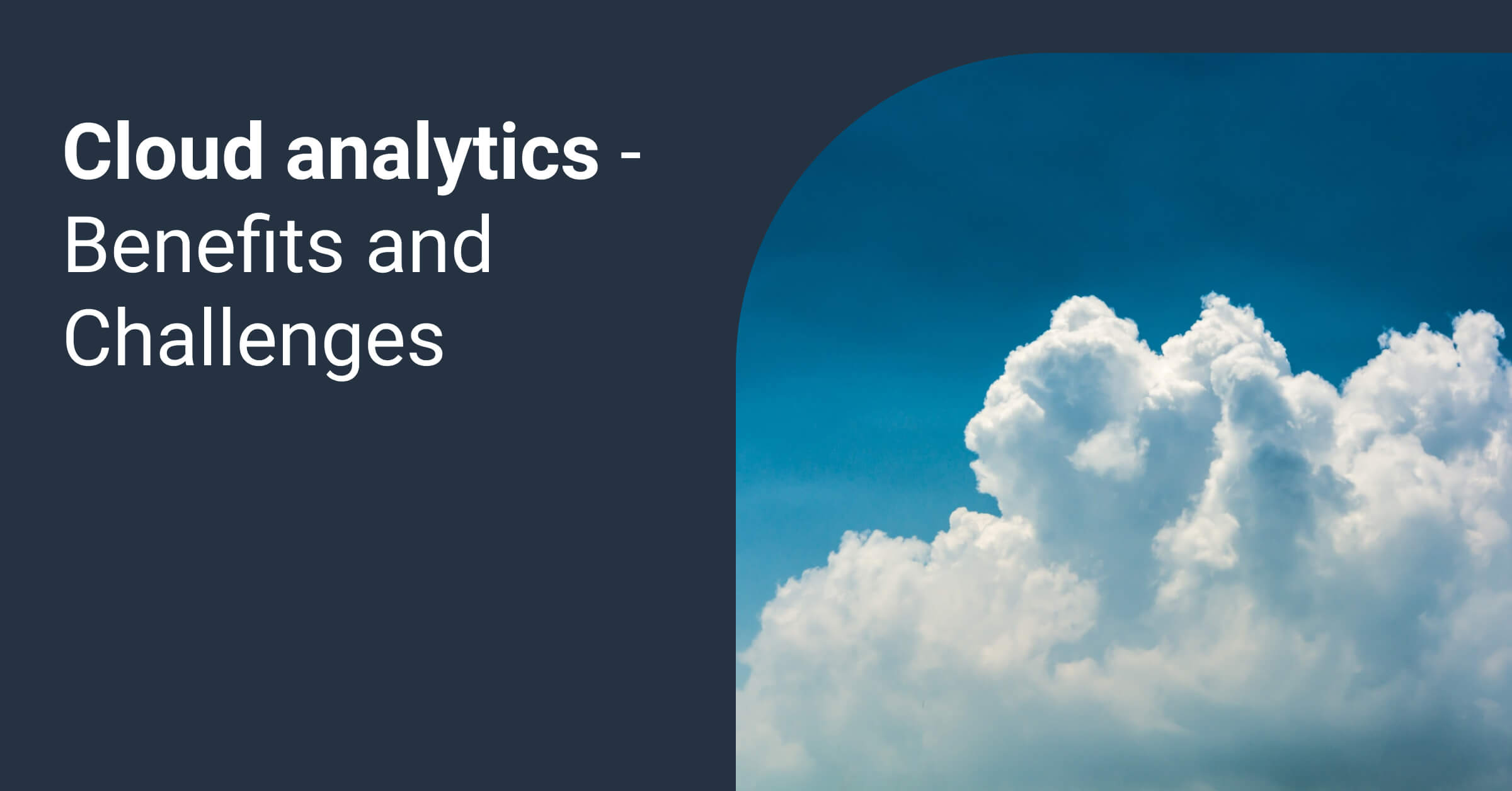 Cloud analytics - Benefits and Challenges
May 13, 2021 ● 8 min read
Cloud analytics is a category of cloud service model that performs data analysis and related services on a public or private cloud. Any data management or business intelligence method carried out in conjunction with a cloud service provider is referred to as cloud analytics. Cloud analytics is also known as Software as a Service (SaaS)-based business intelligence (BI).
What is a cloud-based analytics solution?
Cloud-based analytics can be defined as hosting business intelligence analytics within a cloud computing source network. Analytics platforms are partly or entirely run in the cloud.
Most firms are shifting their sales data, marketing data, and even financial and HR data to the cloud. Cloud BI applications that can connect to various data sources are useful for any position that needs to deliver and share market insights.
How Cloud Analytics Works
Cloud analytics work from a software framework hosted on an Internet platform. The programs are run on servers located in a data center. Cloud service providers, such as Google and Amazon, have massive data centers. Amazon Web Services (AWS) and Microsoft Azure are the most common cloud analytics computing systems. Most powerful servers are housed in the data centers, which support cloud-based data analytics tools.
The data obtained by cloud-based analytics tools are stored in the cloud and can be viewed from any location. The data will be recovered easily and secure if any of a company's geographic sites are affected by a local disaster. With the introduction of machine learning algorithms, cloud-based analytics systems will eventually learn on their own. This would improve productivity by making it possible to interpret future actions based on historical data.
According to Gartner, a cloud analytics example includes any cloud application of the six elements mentioned below:
Data sources — Original data sources that can include social media analytics or website usage data. Data models are created with structured data types to standardize how data points relate to each other.
Processing applications — large volumes of big data are processed in a data warehouse.
Computing power — raw computing power to ingest structure and analyze data at scale.
Analytic models — closed function mathematical models for predicting outcomes. They require strong computing power.
Data sharing and storage — Data warehouses as a service that let organizations quickly and easily scale.
Types of Cloud Analytics
Public Cloud
Public clouds provide applications-as-a-service to businesses, such as virtual servers, storage, and data processing. They are accessible to the general public and are built on a multi-tenant architecture where IT networks are shared, but data is not. Companies can reduce costs and streamline IT management as a result of this.
Private Cloud
Private clouds are exclusive clouds that are only available to a single company. They act as extensions to an organization's current IT infrastructure and are only available to the enterprise. These are used when data protection and confidentiality are of the utmost importance. The disadvantage of this approach is the high cost.
Hybrid Cloud
Hybrid clouds are made up of both public and private clouds. These frameworks enable companies to take advantage of on-demand IT technology for non-sensitive data while keeping sensitive information in a private cloud.
Benefits of Cloud Analytics
Enterprise data consolidation
Large organizations with several diverse data points, and it's tough to see if all the moving pieces in an organization fit together while they're spread apart. A data warehouse opens to anyone that uses a cloud implementation can provide it. Companies can effectively maintain data governance such that only people who use the data have access to it. Another benefit of consolidation is using web services to conduct data mining and predictive analytics to construct real-time prediction models.
Ease of access
Employees and external partners can access data in the cloud, and compliance controls can be held in place to restrict access to the right individuals. Managing access from different pieces of data requires more internal resources and delays creativity and insights.
Sharing and collaboration
Increased ease of access and data consolidation encourages employee sharing and teamwork, which is why cloud analytics is a natural choice for multinational organizations. As employees access analytics in the cloud from anywhere in the world, they can quickly migrate files and communicate in real-time. This is also supportive of the increasing rise of telecommuting work cultures. As cloud analytics is integrated into a BI system, data exploration becomes an everyday part of the community.
Reduced operating costs
Setting up an in-house analytics solution can be extremely expensive, particularly for smaller companies that might lack the necessary internal skillsets. Cloud analytics eliminates the need for companies to buy hardware to offer ongoing support, which can be time-consuming and risky if not done correctly. There are also ongoing updates that must be performed that can trigger completely unnecessary downtime. A cloud solution relieves an organization of this responsibility, allowing it to concentrate on its core strengths.
Scalability
Therefore, it is easier to ramp up capacity as the company expands, increasing the number of subscriptions rather than buying additional hardware. It also means the applications scale-up in response to a sudden surge in demand for analytics systems.
What Are Cloud Analytics Tools?
Data ingestion, storage, analysis, and reporting are all aspects of cloud analytics tools. There are some cloud-based analytics tools on the market. Among the most well-known cloud analytics providers are:
Power BI: Microsoft's business analytics service that consolidates data analytics into a single location. Makes use of immersive graphic visualizations. Quick measures, forecasts, classification, and clustering are also included. Salesforce, Excel, and Sharepoint are also supported.
Domo: Specializes in business intelligence tools and data visualization. In 2010, the company was established. All functions can be handled in real-time through a dashboard. Data from various organization can be accessed. A workbench is a program that imports vast volumes of data from XML, ODBC, and Excel. The analyzer program displays only the results of which the consumer is most involved and hides the rest.
IBM Cognos Analytics: A business intelligence platform that employs artificial intelligence and machine learning. Cognos recommends the best chart forms for visualization. The analytics are self-service, with a natural language-powered AI assistant discovering information trends.
Challenges of Cloud Analytics
Performance
While most cloud analytics solution providers are extremely dependable, a business remains at its mercy when it comes to possible downtime. Often vendors will advertise their uptime ratings, which should be taken into account when selecting a vendor. A hybrid approach to cloud analytics could be the right option for companies that need 100 percent uptime.
Data security
According to RightScale, the biggest concern faced by corporate cloud customers is data security. They are concerned about data loss and leakage, and cloud implementation could expose some vulnerabilities. However, as cloud adoption grows, data security becomes less concerned as organizations gain experience managing risk. Training and qualification will aid in the improvement of protection efforts to reduce this risk.
Finding the right skillsets for the job
Companies struggle to ensure they have the necessary skillsets to develop and run a cloud analytics operation. The challenge is keeping up with changing technologies by training and hiring. According to a RightScale survey, there is a proven lack of cloud architects and engineers. However, as more operations are automated, the value proposition for cloud analytics has increased. Tools exist, for example, to track user habits, services and to automate backups.
Managing cost
Cloud analytics' on-demand nature helps organizations scale as desired, but companies often underestimate how much they can use their cloud analytics capability. They must also ensure that precautions are to prevent instances from being ignored. This will result in unanticipated costs. Additionally, because of the scarcity of specialists with this skill set, recruiting cloud experts can be expensive.
Migration
Migrating legacy systems to the cloud, such as information centers, can be time-consuming and costly. There is also the possibility of data failure if the conversion is not done properly. Companies must understand all facets of a platform conversion and back up all data in a safe manner.
How Can I Use Cloud Analytics
The versatility that cloud analytics provides for companies is only one of several benefits that come with it. On-premise solutions are typically custom-built, and scaling becomes prohibitively costly as additional capacity is required. Furthermore, cloud analytics is a more adaptable approach for companies with changing analytics needs. Furthermore, cloud BI tools provide quick access to real-time data, enabling deeper insights and faster, more reliable decision making.
Due to the extreme data's immediacy, most businesses use cloud analytics for social media and web traffic. Social media analytics software allows businesses to decide on the fly and imagine how various promotions and policies are doing real-time. Understanding the actual data available for cloud-hosted BI solutions for websites enables companies to continually tweak and fine-tune their customer interface and expose any errors or pressure points that their users find.
Data warehousing is another common application for cloud analytics. Data warehousing on-premises forces data to migrate further before being processed in organizations that use cloud analytics. Instead, cloud-based centers allow businesses to directly collect, scrub, and prepare data for analysis as soon as it arrives. This aims to save money while still providing better intelligence.
Conclusion
Every day, your business creates a massive amount of data. Cloud analytics offers an attractive ability to consolidate the data and transform it into actionable insight while reducing procurement and maintenance costs. The aim is to identify your company's needs ahead of time so that you can make the most of your cloud analytics tool of choice. The knowledge you need to gain a strategic advantage and advance your company is right in front of you. Cloud analytics allows you to use them at your disposal.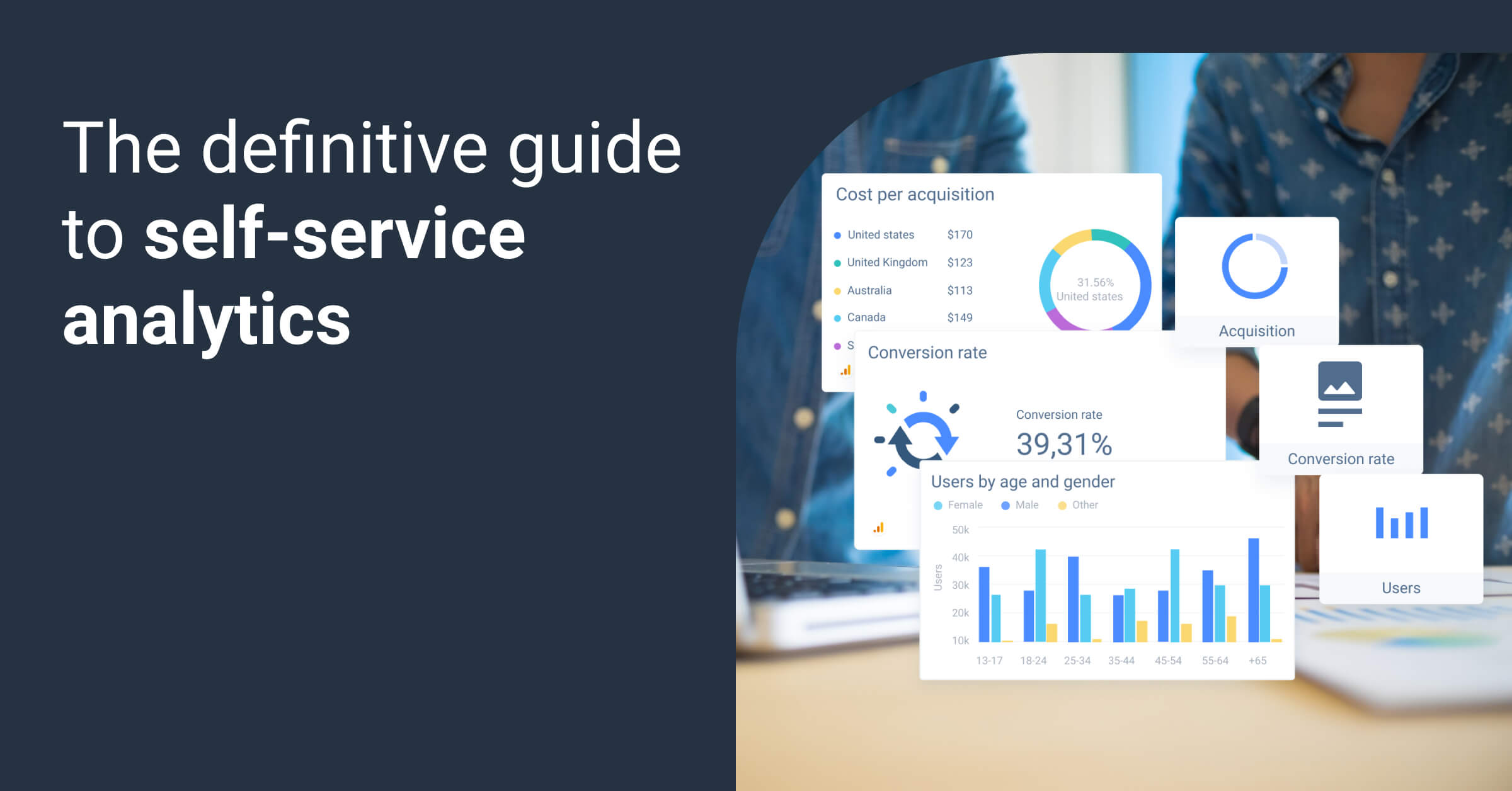 In this present data-driven world, self-service analytics is gaining traction amongst businesses and companies who desire growth and control of the things they offer. Self-service analytics is a quality of self-service BI which allows business professionals to access data, perform queries and generate their own reports.
Read more...