#marketing
Customer service analytics
This describes the process of collecting customer feedback and analyzing it to discover actionable insights. Customer service analytics helps a company to better understand the need and expectations of its customers, improve customer experience strategies and increase the loyalty and retention of customers.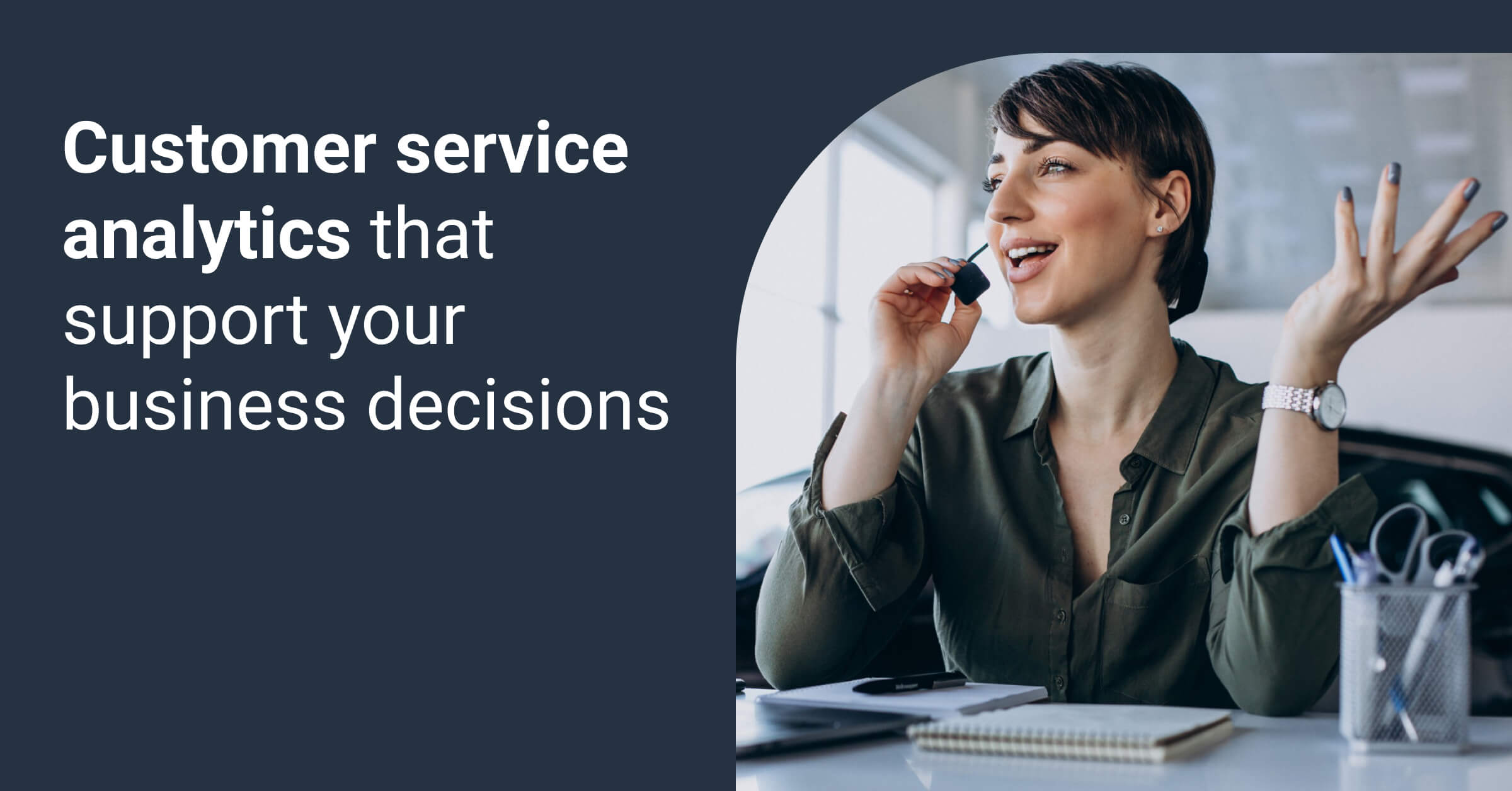 Table of Contents
Every customer desires to have a personalized experience when it comes to interacting with companies. Other than relating with the products and services the company offers, customers desire to be heard and in quick response time as well. This helps to trigger customer loyalty.
Efficient services from the customer support or the customer service team, especially concerning customer queries or inquiries, provide a great customer experience and translates into customer retention for the company.
It is important to note that customers with just one bad brand experience will discontinue services from the brand. Hence, brand loyalty is directly related to customer satisfaction. Let's dive into what customer service analytics entails.
What is customer service analytics?
Customer service analytics is the process by which data gotten from customer behavior is utilized (analyzed) to make vital business decisions through predictive analysis and market segmentation.
This data is processed by companies to be useful in the aspect of customer relationship management, site selection, and direct marketing. This helps companies to solidify strategies with the information they receive from the clients.
Every interaction the customer service team has with the customer is an opportunity to collect data, and this makes you understand what your clients expect from the services your business offer.
With analytics, you have a deeper understanding of customer journey, identify customer behavior, analyze the challenges they face, and how you can help them combat such challenges with a good customer service strategy.
Also, with service analytics, customer retention greatly increases.
Predictive analytics with customer data scores can be made possible with service analytics. This means that you can predict the behavior of prospective customers or clients based on customer feedback and customer satisfaction metrics and also know exactly what customers expect.
Metrics for Customer Service Success
There are different qualities to assess the performance and quality of the service teamwork and identify opportunities for improvement where there is one. Customer experience provides key metrics for measuring customer service success. Customer service KPIs (key performance indicators) are used as a basic standard (using analytics strategy) to measure customer support's success, and there are a lot of them. The basic ones are:
Average First Response Time: This indicates the length of time (seconds, hours, or days) that a customer has to wait for before getting a response to their initial support request. Ideally, every customer expects a response time of 24 hours or less via emails, while live chats should be replied to within seconds of delivery.
Average Response Time: Customers' satisfaction is hinged upon the swiftness of the reply time after you have established contact. Customers expect you to interact fast to avoid frustrations on their part.
Average Resolution Rate: The productivity and efficiency of your brand are measured using this KPI. It measures the number of support requests (received by the support team) against the number of requests received.
Average Number of Responses per Requests: This measures how long it takes to address customer's issues as they place them across to the support team. A high number shows the possibility of inappropriate ticket routing, which goes further to show that customers are going all out to find their issues solved. This may frustrate the customer as he gets to repeat the same thing over to different people at different times.
Resolution Rate at First Contact: This measures customer's requests that you solve in a single interaction. This enhances customer satisfaction. This is otherwise known as first call resolution.
Customer Satisfaction
Businesses that don't satisfy their customers and clients fold up in the end. This is because customers, by default, go to where they get satisfaction (value) for their money and the services you render or offer. Customer churn is the result when the customer experience is bad.
The following are necessary when you think about satisfying your customers:
Customer support satisfaction by customers (CSAT): The quality of the customer service you render, and how satisfied the customers are is measured here. You can send a short survey to customers after interactions with them. This allows you to measure the effectiveness of your team while interacting with the customers. You can easily identify dissatisfied customers this way and know what exactly went wrong.
Net Promoter Score (NPS): This describes the rate at which customers and clients recommend your business, products, and services to their colleagues, friends, and family members. This indicates that they are satisfied with your brand, and in turn, drives customer loyalty and retention for years. NPS helps you classify your customers into passives, promoters, and detractors. You know who your customers are.
Improving Your Customer Satisfaction
Understanding customer journey analytics will help you to serve them better, as this will provide insight into what you should focus on. The following are key points to look into for improving the satisfaction of your customers:
Request for customer feedback: Feedbacks are the only way where customers get to express their mind about your products and services without being a detractor to anyone. However, if there is no medium in place to do such, they randomly talk about your brand online negatively, which isn't a good reputation for you. Potential clients can get detracted by existing customers' comments and feedbacks.
Feedbacks are important, and you should provide feedback forms through which customer experience or issues can be shared through, and receive a prompt response from the customer support team as well.
Give prompt educative response(s): There should be ready-made answers available to likely questions that clients can relate with. Also, customer support teams should be readily available to answer questions in live chat sessions, to ease the frustration of customers. The customer service data can help to prepare the team ahead of questions that are likely to be asked. These responses should be as fast as possible and should explain to clients the nitty-gritty of the product or brand.
Embrace social media: Some customers interact well on social media than giving feedbacks some sort of surveys or emails. Customer service managers can monitor the entire customer journey of clients using data analytics from social media and every platform available which provides valuable insights to customer pain points and allows you to proffer adequate solutions to customer issues.
Great Usability of Products: Your major focus should be to gain more satisfied customers, who will, in turn, promote your brand to their friends and colleagues. Your product or brand must offer products that clients can easily relate to and are easy to use. This will increase customer engagement with the product or brand. Also, customer service operations should be closely monitored (say on a monthly basis) to ensure productivity at all times.
Customer Effort Score
The customer effort score measures the energy put into getting an issue solved by a customer. High energy or efforts means there were too many interactions before issues were solved, which may lead to frustration on the part of the customer. However, less energy and efforts show that with just an interaction (or few interactions), customers issue is resolved. This enhances customer retention for brands and businesses.
Customer Data
Customer experiences, customer profiles, customer journeys, etc. can be collected, measured, and archived. One or several data sources can be used for the collection of the data.
You can improve customer experience through data and analytics. Customer experience and the analytics of customer journey becomes very vital here. Beautifully, everyone can create reports needed from the raw data collected for this purpose, and it makes more sense that the customer support team be involved, rather than just one or two persons.
Effective management of client's data requires some more conventional methods which include interactive dashboards, individual scoreboards, intuitive data-capture software, and real-time analytics.
The following important data types should be looked into for an adequate comprehension of the customer, and possibly influence their satisfaction from the same data:
Transactional data: Retail makes it easy to describe transactional data. With every purchase made, the company gets wide knowledge and understanding of customers' journey. This will make recognizing trends easier and contribute positively to the growth of the business.
Web-behavior data: Your brand can analyze what your website visitors do. From their engagements on your platform(s), you can know other places they visit, where they come from, and how frequently they engage your platform. This data helps you to put things in place to increase their retention and conversion rates.
Personalized customer texts: This is otherwise referred to as text data. As explained earlier, customers sometimes prefer to express themselves about products (used or purchased), goods and services offered by a brand, etc. on social media platforms in the form of a review or just a random social media post. A timely review of this would give your company an edge over competitors, and you know how much effort to put into solving customers' problems or issues.
Customer journey analytics
This refers to software that allows businesses to manage their customer experience across all platforms. This is done by tracking and putting together all interactions made by customers on different platforms to allow businesses to make real-time reactions and execution of strategies that are behavior-driven.
Customer journey analytics works by combining both quantitative and qualitative data. There are a lot of them which you can use to improve your services and promote your visibility amongst clients.
Artificial Intelligence' role in customer service analytics
Artificial Intelligence (AI) plays a vital role in businesses in the 21st century. With machine learning and natural language processing (NLP), you can create algorithms that learn data successions and also understand human languages.
Ai-powered systems help you categorize and extract a large volume of unstructured data, raw data, open-ended responses and run them through necessary processes to make them available and useful for you. It also runs sentimental analysis and helps you identify why customers say what they say. Artificial intelligence allows you to effectively use mobile apps to provide support for your customers.
Conclusion
In any business, customers are important. Hence, it is essential that you put them first in all that you do. Their continued satisfaction is a benefit to your business and them as well.
Published on Jun 01, 2021