#marketing
eCommerce Facebook Ads: How Brands Benefit From Them
With nearly 3 billion monthly active Facebook users, the world's largest social network is likely to be used by your prospective customers. The Facebook platform benefits eCommerce not only because of its users but also because it allows increasing their sales and awareness.
This blog is not going to be a tutorial on how to set up eCommerce Facebook Ads. Facebook already has information on the subject. It will, in fact, be about how brands use these ads and what you can learn from them.
3 Benefits of eCommerce Facebook Ads
In 2020, over 10 million businesses actively advertised on Facebook. So, given the competition, why would you need to consider running eCommerce Facebook Ads?
Increase traffic with paid media
eCommerce advertising is the act of placing paid content on an online property. To catch people's eyes, Facebook is providing advertisers and businesses multiple ways to display their products. Starting with multi-product ads and ending with carousel ads. Paid ads are one of the businesses' solutions to decreasing organic traffic, which has dropped by more than 18% over a six-week period since the beginning of May 2021.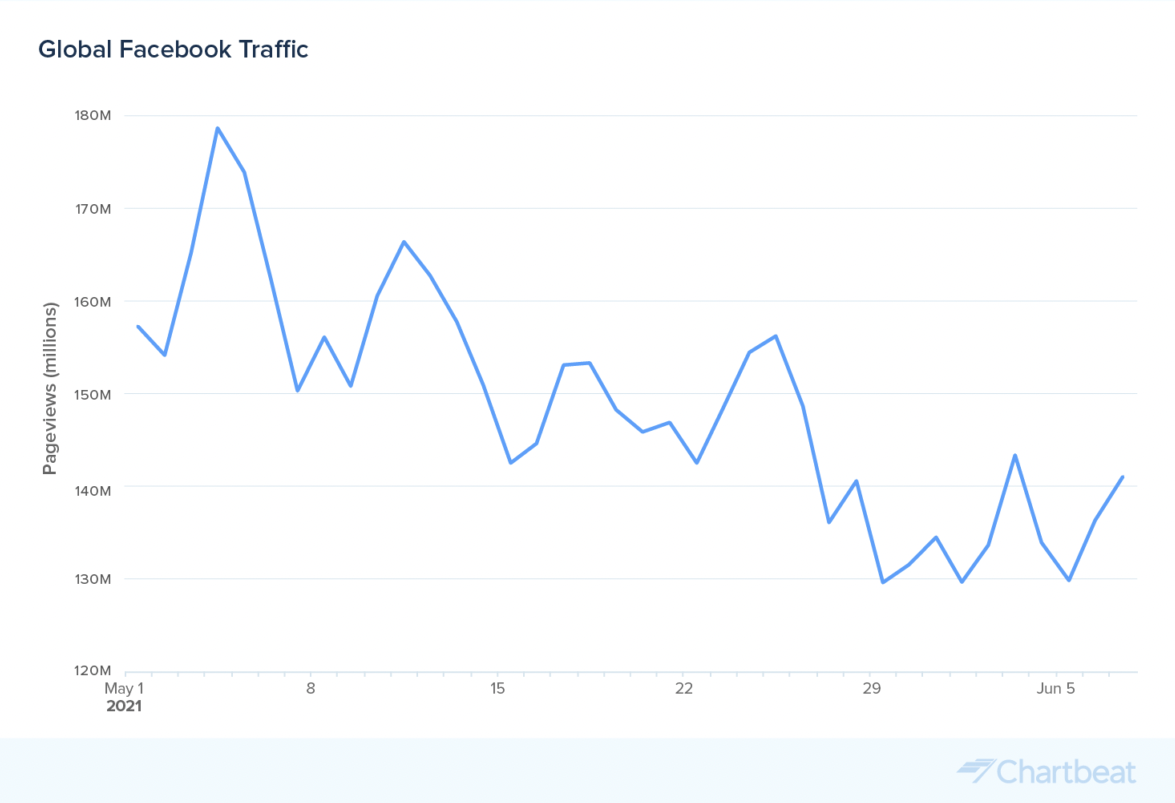 Tracking this metric will allow you to determine whether or not there are fluctuations and changes in traffic. Here's a free Facebook Ads report template that will help you measure the effectiveness of your campaigns and create detailed reports on your visitors' behavior. This report will also allow you to track and compare organic and paid searches. This will provide you with an overview as well as a breakdown of your efforts. Then, by reviewing reports, you'll be able to determine which campaigns, paid or organic, are bringing in the most searches.
Implement nano-targeting and showcase your products
Facebook Ads nano-targeting allows advertisers to target an individual and 'show off' with relevant images. This means that the more relevant products a customer sees, the more likely they are to buy. Facebook ads account for 80.4% of U.S. social referral share to eCommerce and retail sites. This shows the power of connecting with the target demographic.
Raise brand awareness of your eCommerce site
Brand awareness ads require only 5% of your ad budget. There is no reason not to be creating them. More so, 78% of American consumers say they've discovered products on Facebook. This means you can highly benefit from these campaigns. Create eCommerce Facebook campaigns with the sole purpose to increase brand awareness. Identify your audience, learn about their behavior on your website and implement earlier mentioned nano-targeting. Use these ads and try to get your existing content in front of a new audience.
To create the most effective ads, get access to historical data with Whatagraph. Grab a free Facebook analytics report template and pull all information related to the ways, your audience interacts with your content. As we are talking about brand awareness now, metrics like impressions, reach, and unique link clicks would show how much and often people get to be exposed to your content. 
Impressions indicate how many people saw your post even if they didn't engage with your contnet in any way. While impressions are not required for attribution, many partners and networks use them as another powerful metric when measuring ad performance.
Furthermore, reach metric provides information on how many people were exposed to your message during an ad campaign. A Reach campaign should target at least 1,000 people from your website's custom audience. If your audience is less than 1,000 people, you must reduce your daily budget by $1 per 100 people.
Brands promoting their products
Revealbot
Even though Facebook offers 5 different unique ad formats, single image ads on Facebook are still considered the most effective. Revealbot used this format with little copy to offer marketers solutions to bad attribution data. When you see this ad on your Facebook feed, you understand that:
This product is for people 'who seek data automation tools;
It offers a training overview where marketers can learn how to automate ad campaigns.
When creating brand awareness campaigns with Facebook Ads Manager, create Facebook lead ads in image format. Then, based on the results, analyze the performance of e-commerce Facebook Ads and improve them.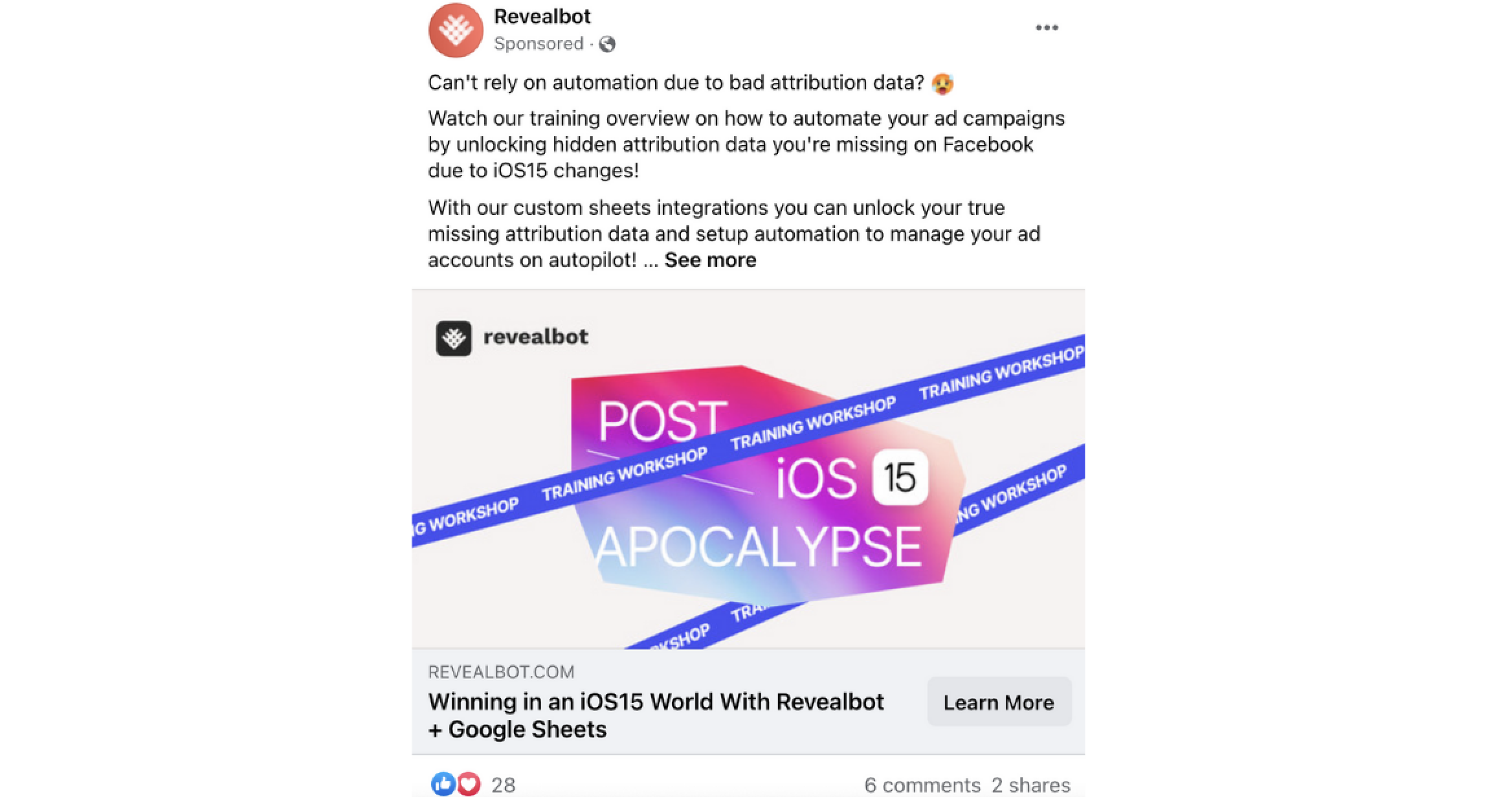 Madgicx
Here is a video, marketers would have probably stumbled upon on their Facebook feed. Madgicx is running Facebook Ads in video format to meet the demand. 9 out of 10 Facebook users said they wanted to see more videos!
Facebook advertising strategy is a combination of ad creative and brand story. Video ads are a great way to 'explain' what your product or service is all about. Take this video as an example:
It's clear that it's for marketers. Retargeting campaigns and targeting customers are easier when the target audience is identified.
It's clear that part of what it does is optimize ads. Existing customers may know what you are selling, but what about potential clients? Create a video explaining what you do or sell in a creative and engaging way;
It's also clear that it helps Facebook advertisers to have high CTR and ROAS. Identify and list the ways how you can be helpful to your target audience.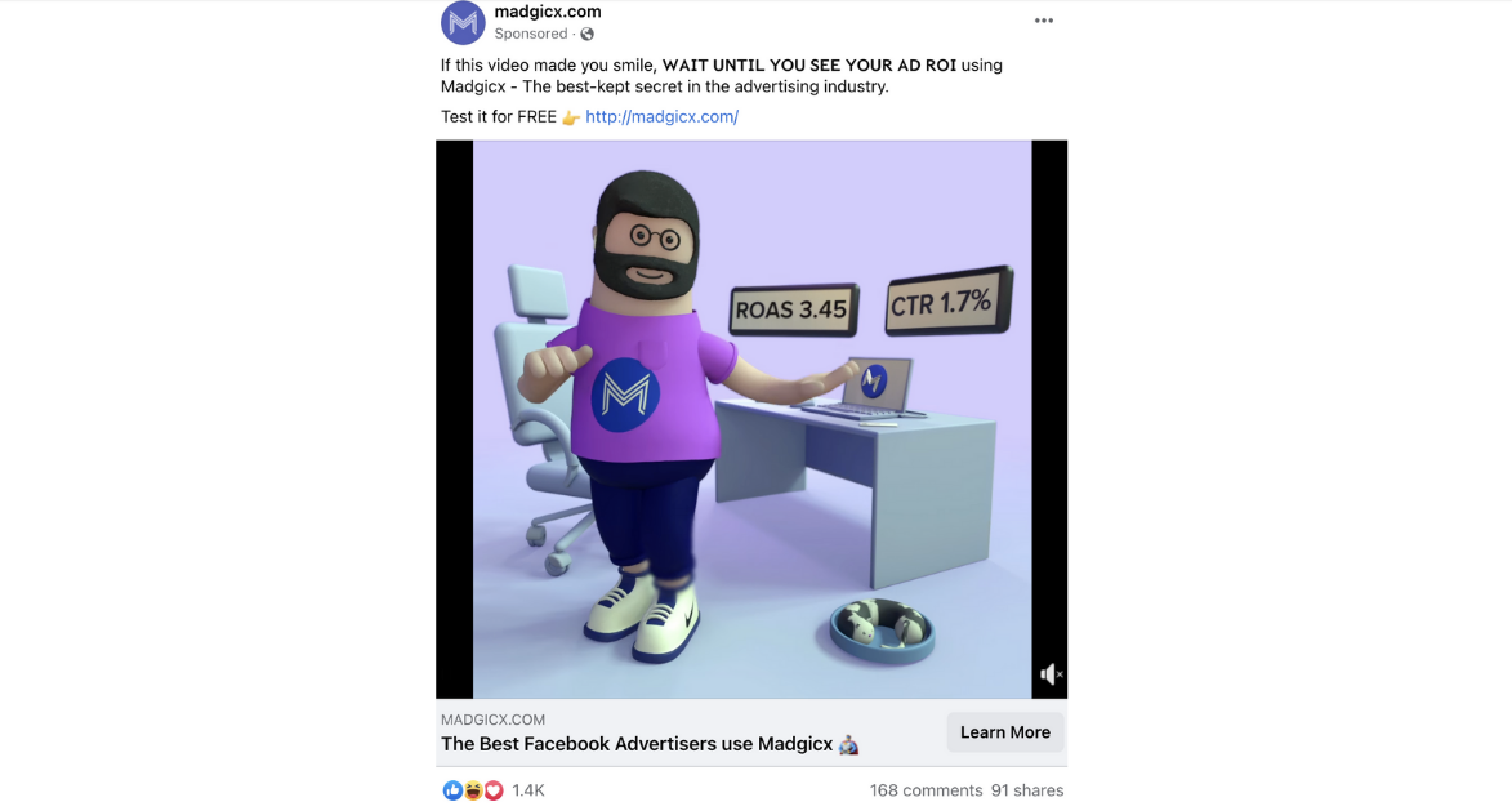 Even though you can't see the actual video, watch it here if you're curious.
Project Honey Bees & Burga
Let's talk about the copy now. These two examples from Project Honey Bees and Burga perfectly portray how Facebook Ad copy should sound like. Even though running an online store can 'feel dense', reading CTA must 'feel effortless'.
Words 'adopt' and 'buy/get' clearly states to a Facebook user what you offer and how they can benefit from you. One of Facebook's, the King itself, recommendations is to 'Keep copy sweet and short'.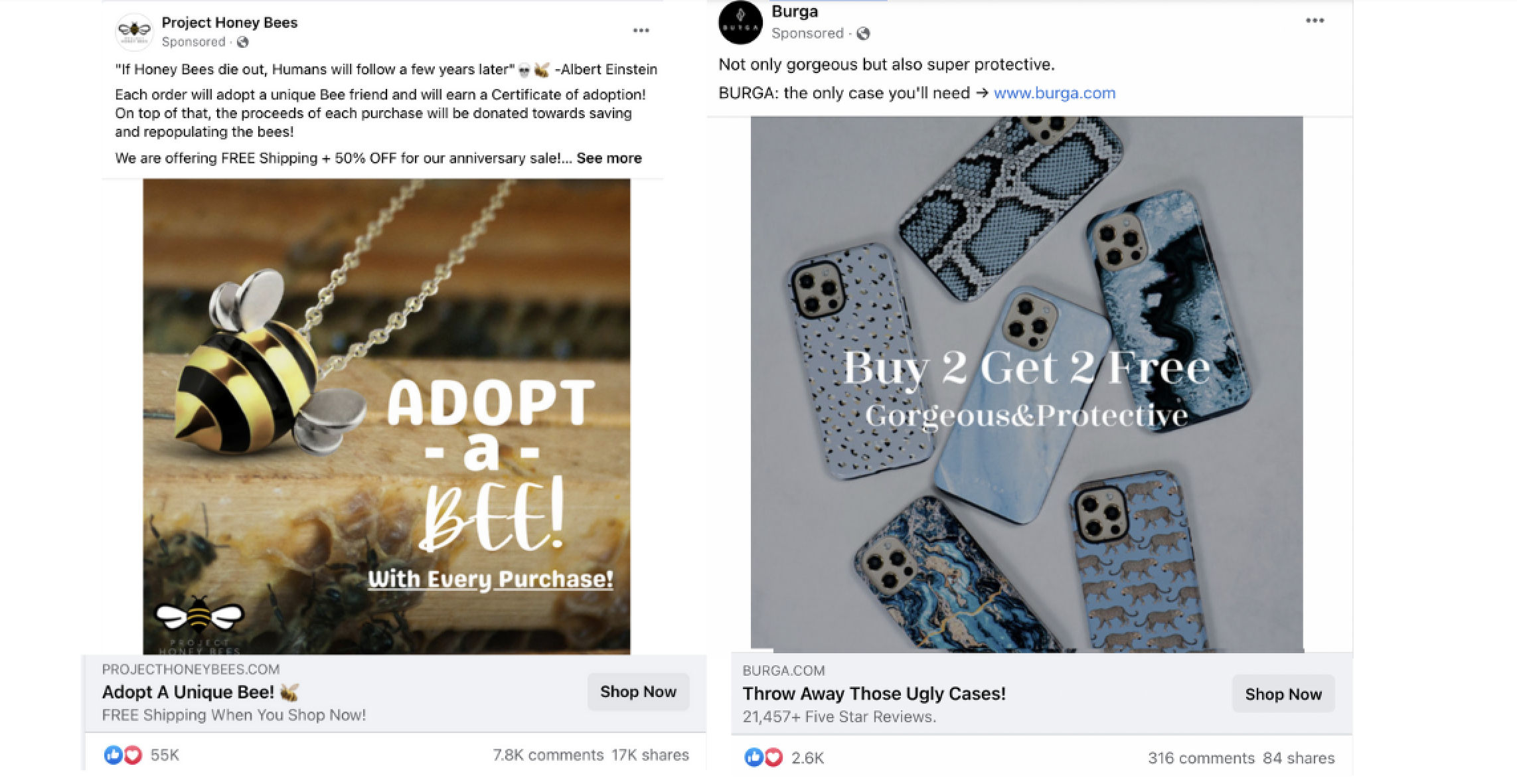 Keep an eye on your spelling and grammar. 74% of web readers pay attention to it, and 59% would actually avoid buying from a company that made obvious spelling or grammar mistakes.
Other CTA phrases: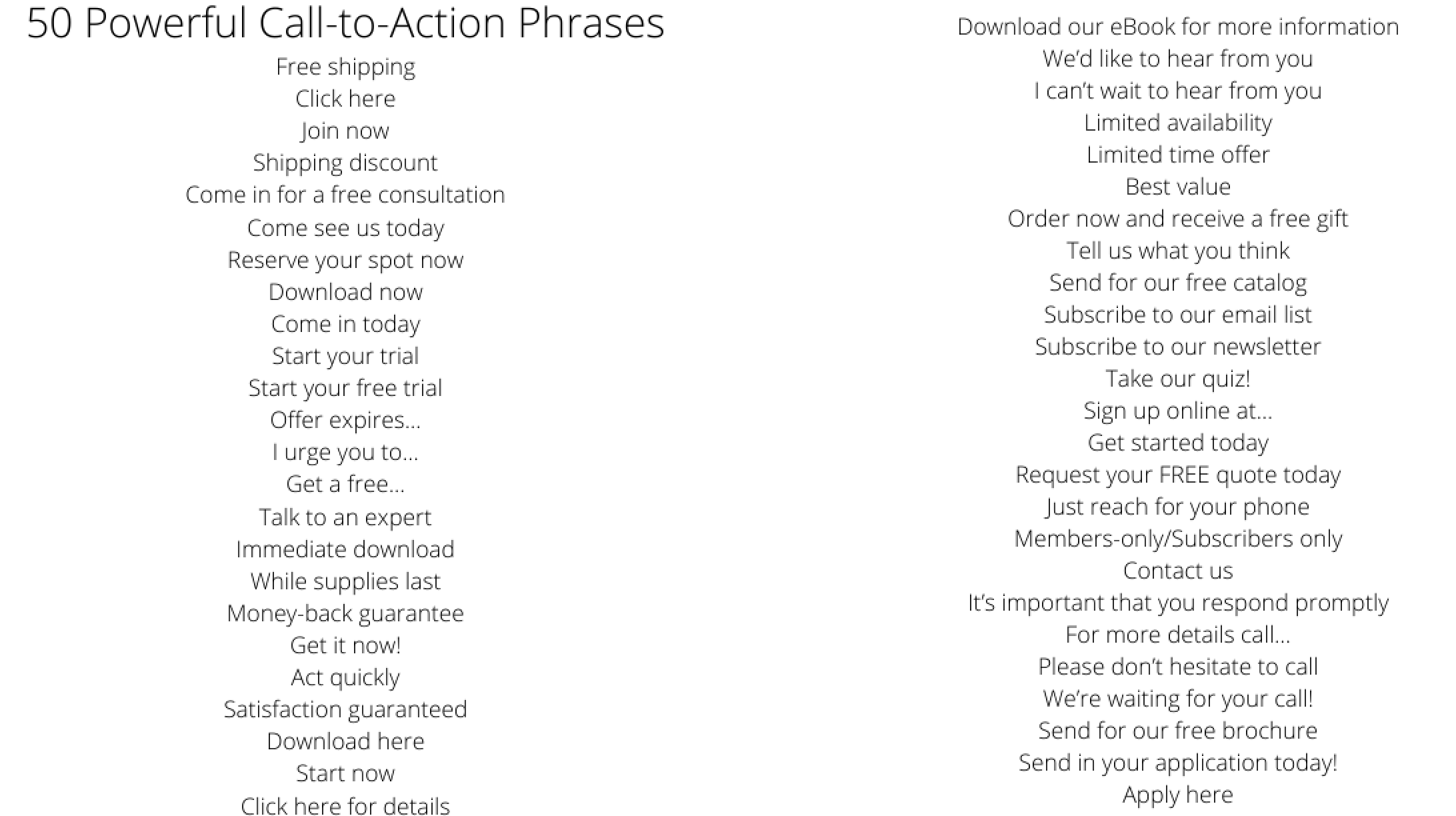 CXL
Carousel ads are being used by CXL to display multiple products. A carousel ad with multiple cards entices users to swipe to see what the next card is. This format receives 72% higher CTR than single image ads whilst also driving 30-50% lower cost-per-conversion than domain ads.
Some of these carousel ads are created automatically. Many brands are using dynamic ads for optimization and automation features. It's beneficial if:
You don't have enough data about your target audience;
You just started running Facebook ads for eCommerce;
You don't have enough data about your target audience and their behavior with your website.
This means that if you do want to display multiple products in an ad, but don't have enough data, select carousel ad format manually and let the dynamic ads handle the rest.
Carousel ads help navigate through website page content and allow potential customers to learn more about the products your company offers.
Advice: Install Facebook pixel and track Facebook ad campaigns performance. Analyze the actions people take on your website to determine the effectiveness of your advertising.
Bottom line
Best Facebook ads are the data-driven ones. You know what the audience wants and how they interact with your Facebook ad campaign. If you don't know where to start with your Facebook advertising, try this free Facebook ads report template. Start gathering data of the performance of your ads and run Facebook ads that actually bring leads and increase sales.
Dominyka is a copywriter who uses simple words to explain tough ideas. Her content is inspired by the good old brand "For Dummies." Anyone can read and learn all things marketing with her.
Read more awesome articles
Enter your email and get curated content straight to your inbox!
Only the best content & no spam.
Pinky promise.
By submitting this form, you agree to our
Privacy policy