#marketing
Basics of Executive Dashboard
The Dashboard makes it easy to track and make sense of massive amounts of data. Moreover, it allows the decision-makers to make fact-based decisions in a timely manner.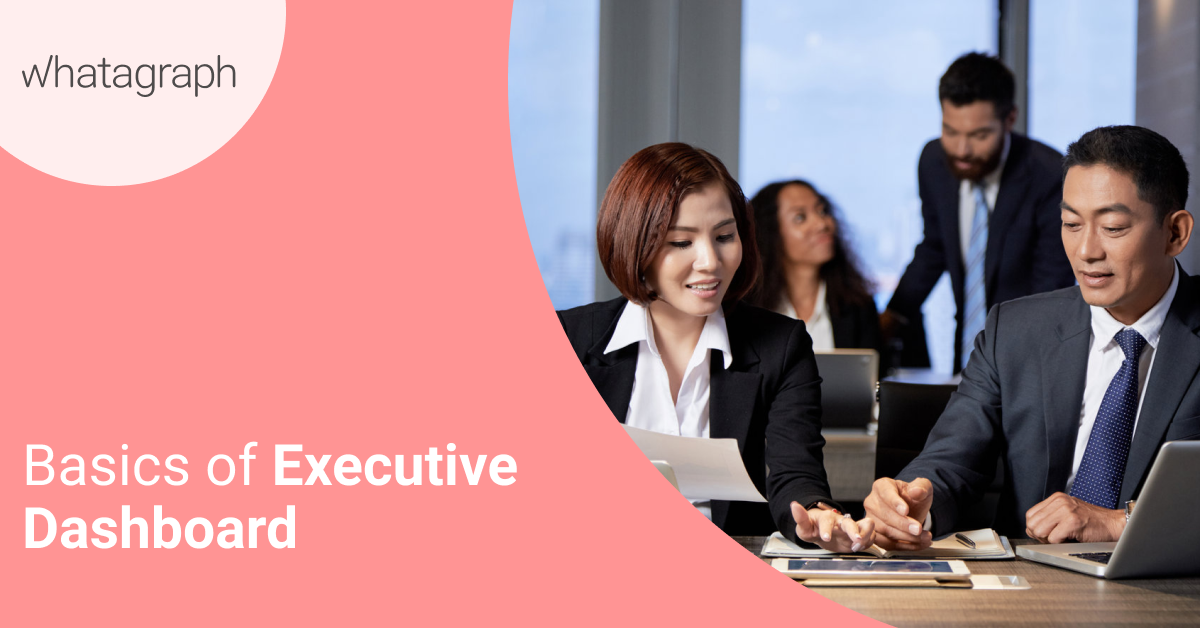 Executive dashboards allow the executives of the organization to see and monitor the performance of the organization in real-time. Hence, it helps them identify the risks or recognize the opportunities for improvement and expansion and make data-driven decisions.
Building an Effective Executive Dashboard
There are different types of executive Dashboards, but all have the following standard features. For an executive dashboard to be effective, the most crucial part is to understand your business and its objectives. Then translate these business objectives into measurable goals and select KPIs for these goals.
What are your objectives and what goals you want to achieve are some essential questions to ask before you build a dashboard. You cannot answer these questions until you understand your business; therefore, take time to understand your business and identify your key objectives. It would be best if you focused your efforts on these objectives and set up the goals you want to achieve.
Choose What Metrics to Track
When you know your objectives and have explicit goals set up that align with your business strategy, the next step is to choose the relevant metrics. Metrics allow you to track and measure the performance of your organization. First, choose the key metrics of your organization, and then select the factors as metrics that influence your key metrics.
Set up Key Performance Indicators
After you choose which metrics to track, it is easier to define your KPIs. KPIs allows you to set targets, compare your performance against your goals, identify trends and take action in time.
Your KPIs should be relevant and directly tied to your business goals so that they help you monitor your key business objectives. Wherein, you will know how well you are performing to reach your goals and where you need improvement to move forward.
Some of the factors to keep in mind while setting up your data are such as how often you want data updates. Moreover, you want to update your data manually or want automated updates.
Automating your data may require more work at the initial stage, but it will be easier to handle later on. In automated updates, the Dashboard connects to the data; therefore, it continuously updates in real-time. Access to real-time data provides the required information and insight to make better and informed decisions.
Additionally, make your data tell a story that makes it easier to take action.
Integrate Your Business through APIs
Executive Dashboard is much more beneficial and accurate when it is created with APIs or "application programming interfaces" with your business systems. Therefore, it is essential to integrate your business system with APIs.
The Dashboard provides all the data into one place, so you don't have to keep track of all the data from different sources and log into multiple systems. Additionally, It is better if the Dashboard is readily available to everyone who needs to access it via various devices as well as on a website.
Benefits of Executive Dashboards
Executive Dashboard is beneficial for the business in so many ways; it provides insight into your business and helps you measure the performance of the organization. You can use this information to make changes and improve your performance. The following are some of the benefits of the Executive Dashboard.
The Dashboard provides a visual representation of the performance that is easy to track. Visualizing data makes it easier to identify trends, and the managers can get instant insight into what is happening in all aspects of a business organization.
Once you set up a dashboard, it automatically updates with your data. Therefore, they save a lot of time otherwise spent on reading a lengthy report and logging in or out of the systems.
Executive Dashboards provide a visual presentation of data that makes it easier for managers or executives of the organizations to interpret the vast amount of data in the least amount of time. It allows them to identify trends and make better informed, quicker data-driven decisions on the spot.
The Dashboard improves the overall performance of the organization as it allows you to measure your performance and compare it against your organization's goals. You will put more effort and make changes if something is not working when you can see the key objectives of the organization and how far or near you are in reaching your goals.
Furthermore, it makes employees perform better when they can see their performance result in real-time.
Executive Dashboard Examples
The finance dashboard visualizes the over-all financial condition of the organization. It allows executives to monitor their progress, profit, and loss, budget, cash-flow, and client revenue. It helps compare the organization's performance to the past as well as pinpoint the problems in the early stages, and solve them promptly.
Moreover, this Dashboard lets the managers know how the individual member of the team is performing.
A marketing dashboard shows all the pertinent data of an organization's marketing efforts. It tells how effective marketing is, and what impact it has on the business through marketing analytics and KPIs, using data visualizations.
The Dashboard allows the executives to track the key metrics such as customer retention, customer acquisition cost, cost-per-lead, lead generation, goal conversion, and sales. It helps them monitor the over-all marketing performance, see if the strategy is working or not, and make adjustments accordingly on time.
Project Management Dashboard
The project management dashboard is essential to give an overview of the projects' ongoing progress. It shows the performance of the team, how well they are performing and reaching their goals. It tracks the metrics project status, task status, project risks and any changes in the project.
The project management dashboard informs the executive about the progress of the project. Therein, they know when there is a problem and fix it on time.
Human Resources Dashboard
A human resource dashboard is necessary for well-informed decision making. It keeps the managers in the loop about relevant developments in the teams and organization. For instance, it allows managers to monitor the problems and make changes where the changes are needed. The Dashboard also helps to track the cost of recruitment, training, and labor.
Different Types of Dashboard
The following are three types of dashboards mostly used by executives.
Strategic: The strategic Dashboard is typically used by high-level management to monitors the long-term company strategic goals. They monitor the performance against the company's strategical goals, and it allows them to identify the problem areas or where there is room for expansion.
Operational: Operational Dashboard provided short-term information and updated regularly. They give a snapshot of the organization's ongoing performance.
Analytical: Analytics dashboards track and provide long-term data of the organization to analyze. It gives the detailed data to drill down and gain insight, such as it helps to identify trends, compare the data, and make the prediction. The information is then used to make decisions.
To summarize, the executive Dashboard provides the visualize representation and makes it easy for executives to track multiple data sources in real-time.

Therefore, it is a useful tool to monitor and analyze the performance of an organization in the least amount of time after you connect it to various data sources. An executive or CMO dashboard is vital to have for any organization, and there are different types of Dashboards available for your particular need.
Published on Feb 14, 2020