#marketing
Boost eCommerce Sales with Facebook Dynamic Product Ads
With almost 3 billion monthly users, Facebook is becoming the most popular eCommerce advertising platform. The benefit of Facebook dynamic product ads has been felt most strongly by eCommerce. They learned that Facebook dynamic product ads help to maximize customer lifetime value and increase conversion rates. In this article, we will provide tips & tricks for increasing sales and examples to serve as a benchmark.
Briefly: Dynamic product ads
Dynamic ads look very similar to other ads on Facebook, Messenger, Instagram, or Audience Network. So what's the difference? Dynamic ads let you create ad templates that, in the future, will be used by machine learning. Then, machine learning will automatically deliver ads to people based on their interests, intent, and actions. In other words, if you use catalogue sales, you can forget about manually creating ads because they will be generated automatically.
Facebook's dynamic ads serve relevant ads to the right customers by combining retargeting, automation, and machine learning.
Facebook: Optimization tool
Facebook is an efficient advertising platform. But what you may not know is the extent to which Facebook helps brands & retailers. Here is what you need to know:
Facebook offers an optimization tool called dynamic creative. It uses images, videos, titles. descriptions & CTAs and creates personalized creative variations for every person individually;
Create dynamic ads and retarget your website or mobile apps' shoppers;
It reaches new people who in the past have expressed their interest in your product using broad audience targeting. To fully get the benefits of broad audience targeting, you need to implement a Facebook pixel on your website and create a catalogue.
Benefits
With Facebook ad revenues in Q2 2021 at an incredible $28.5 billion U.S. dollars, retailers clearly can't resist the platform's immense advertising potential. The main advantages of Facebook's dynamic product ads are:
Up-sell and cross-sell
The success rate of selling to a customer you already have is 60-70% while selling to a new customer is 5-20%. Upselling and cross-selling are sales techniques used to offer upgrades or related items to customers. With Facebook dynamic ads, you can target audience and increase your existing customers' average order value or lifetime value.
Facebook suggests beginning cross-selling by creating Facebook ads that target clients who have purchased your product in the last seven days. Then, if your goal is to increase reach, create upsell campaigns.
Tip: Use website custom audience in addition to customer audience. This way, you'll reach more people, not only those on Facebook but also those who have visited your website. Using ads to collect email addresses converts around 20%.
Different ad formats
Facebook Dynamic Ad Campaigns are the same as Facebooks Ads. However, for e-commerce purposes, the most common formats are:
Dynamic Carousel Ads. It lets you automatically present up to 30 products in a single ad unit on the model and up to 5 on desktop;
Slideshow Ads (as per example). Create a looping video ad with up to 10 images. This ad format is excellent because it offers a full-screen landing page that encourages engagement;
Single video Ads. In a survey amongst mobile shoppers in the U.S., 30% cited video as the best way to discover new products.
Facebook dynamic ads highlight and visually display the company's products. Their position provides an opportunity to drive traffic to the company's website and generate new sales.
Tip: Use split testing to find the right Facebook ad design. The most common A/B testing lets you change variables to determine which strategy performs best.
Trick: Start using Facebook's Ads library and see how your competitors are using these ads.
Automation
Facebook ads promote your entire product catalog automatically (as per example). They display relevant ads to users who have expressed an interest in and intent to purchase your product. In addition, they create headlines and use relevant keywords. It aids in increasing traffic and sales for you.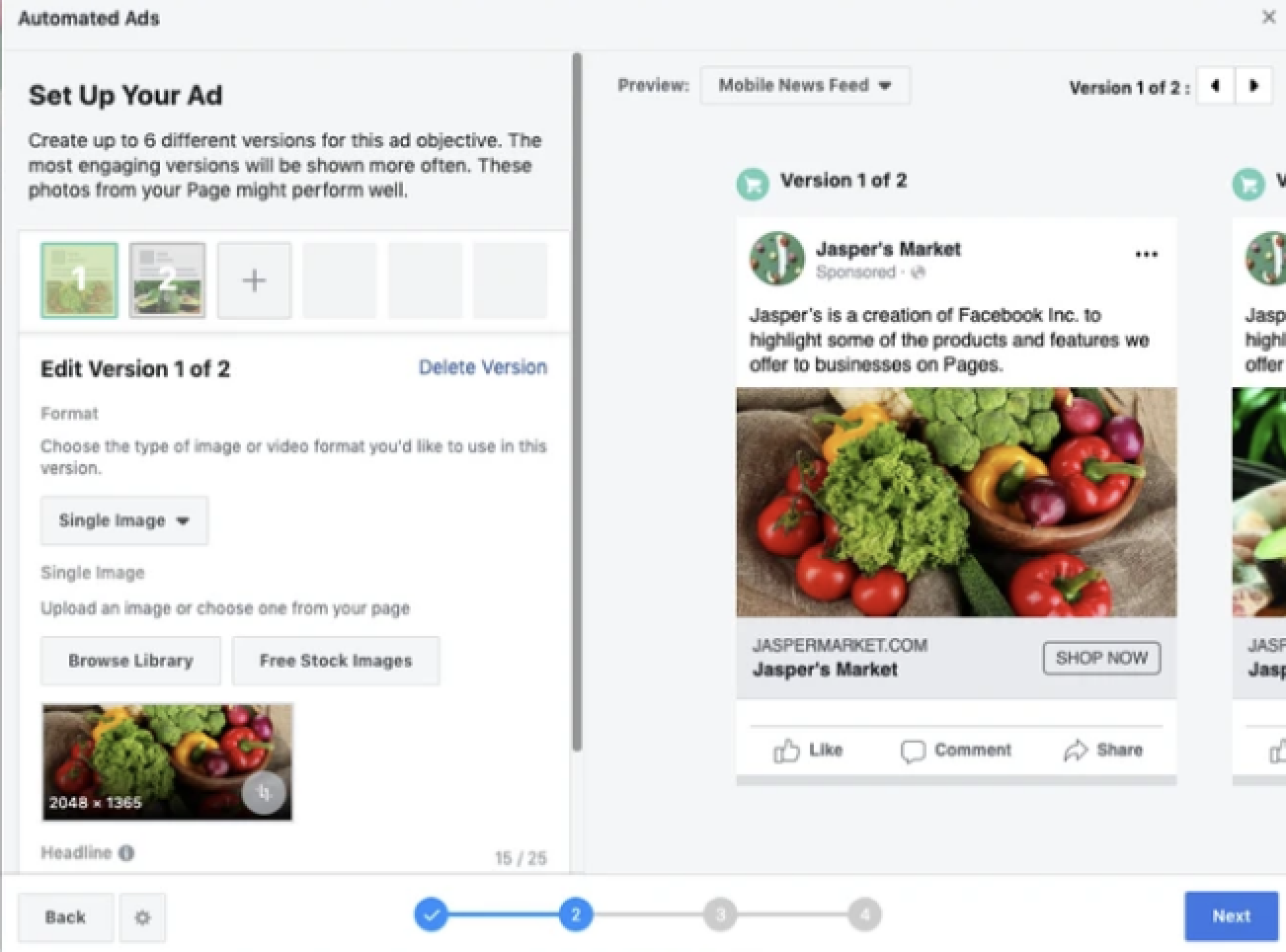 When it comes to cross-selling and upselling products, Facebook automatically chooses relevant items from the product set you choose to show in ads. An even better feature is that they will no longer be targeted with the same ads after someone buys your product.
Finally, automation targets consumers with personalized Facebook advertising based on their behaviors and interests. Users who visit your website or click on your product ad creative in the future will only see ad copy that is pertinent to them.
Bottom line
It's one thing to create dynamic ads. You should also think about long-term marketing solutions. While automatically generated dynamic ads are convenient, manually created ads have more clout when it comes to the creative side of the content. Take a look at these articles and learn more about Facebook and Google Ads. Maybe you'll benefit more from other creatives.
Dominyka is a copywriter who uses simple words to explain tough ideas. Her content is inspired by the good old brand "For Dummies." Anyone can read and learn all things marketing with her.
Read more awesome articles
Enter your email and get curated content straight to your inbox!
Only the best content & no spam.
Pinky promise.
By submitting this form, you agree to our
Privacy policy