#marketing
Facebook Insights to Follow
Facebook Insights is a useful analytics tool Facebook offers to analyze how your Page is performing and your audience's reaction to it. These tools make it easier to review the metrics and provide data to gauge what works and what doesn't and plan accordingly.
You can discover what your audience wants when you take the time to monitor and analyze Facebook insights. It helps you understand what people want, and when you provide your audience what they want, it increases your engagement and makes your Page much more effective.
The data you get from Facebook insight report helps you to determine what is important and what works. Therein you can optimize your posts and use it to its full potential to improve your marketing strategy. To make it easier you can also consider using Facebook reporting tool. 
Insight Overview
You can open your Page and click insight at the top of the Page to reach Page insight overview dashboard. From there you can not only see the most recent to 28 days data, but you can also select the date range from Date Range drop-down menu. Moreover, you can view the five most recent posts and pages to watch at the bottom of the Page. 
Pages to Watch
Pages to watch helps you to view other pages similar to yours and see how they are doing compared to your Page.  Facebook shows five potential competitors' pages by default. However, you can watch more by clicking "See More Suggested Pages."
This FB insight tool allows you to watch and keep an eye on your potential competitors' activity, likes, growth rate, and posts.
Actions on Page
Actions on Page shows you the activity from your contacts as well as from the call-to-action button. You can see the number of people who clicked to get direction to your business, clicked on your phone number or your website link.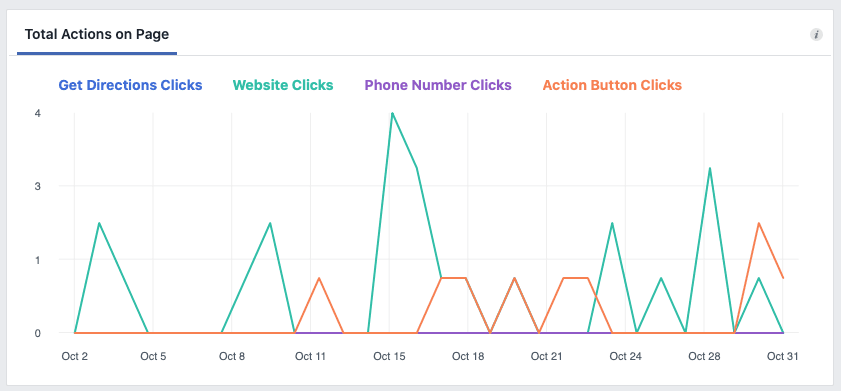 Page Views
age views give information about all the views of your Facebook Page. It shows who can watch your Page, how many people reached to your Page, and how many interacted with it. 
Page Previews
Page previews are the number of times people hover over your Page before they decide to visit your Page or not. Preview is a helpful tool to see how many people visit your Page after the initial hover over. You can create your page preview specifically to attract your relevant audience to click on your Page and like it.
Likes
This measures your Total page likes as of today and how the likes are increasing. Net likes show you the number of new likes minus the unlikes as well as paid likes and organic likes.
After that, you can go down and see Where your Page likes happened and also what days people are interacting with your Page. You can specifically see when and how often the page likes are happening, or how many likes are happening on your Page, with ads and how many with page suggestions, mobile or with your posts.
Reach
Reach shows information about how many people are seeing your posts in total. In Post Reach, you can see how many people saw your post on different days. It shows the organic and paid reach information separately. Reach is a beneficial insight that helps you to know what time and day are better to post things. 
After that, you can scroll down, and you will see Reactions, Comments, and Shares where you can check how people interact with your post, their reaction such as haha, wow etc. Also, you can see the number of times people share your post.  
Next, you see Hide, Spam and Unlike report. Here you can see what posts people are hiding, not liking or reporting as spam and avoids creating similar posts. At last, you can see the Total reach of your Page; it shows content posted to your Page, including mentions and check-ins.
Visits
Page Visits show in Total Views that how many time your Page was viewed. It also shows you the Total People Who Viewed your Page as well as allows you to see what times and days most people visited your Page. It helps you to know when your audience is most active, and you can make a schedule to post accordingly. When you scroll down, you can check external refers to see any time people come to your Page from websites other than Facebook.
Posts
Posts show you the insight of each specific post. You can see When your fans are online on any given day and make a schedule to post accordingly. You can also view Post types when you scroll down and check the type of posts to see which type of posts work best. You can see your most recent posts, and if you see a post doing better, then you can even boost it. 
Furthermore, from Top posts from pages you watch, you can watch the most popular posts from your competitors' pages you track. 
People
Audience insights are crucial to your marketing strategy. It gives you information about Your Fans, especially their demographic information. It shows who your audience is, Your followers show which age group they are, what pages they like, what they are doing online. It also shows how much your audience make, their purchase behavior, and where they are located. People Reached shows you the country, city, the language of your audience and help you to focus your marketing efforts on your targeted audience.  
Events
Facebook events allow you to monitor data and help you optimize event promotion when you organize an event. You can track important information, such as: how many people saw your event as well as how many people responded to your event. Additionally, it provides you with information about how many people clicked to buy tickets and their location.
Videos
From clicking on videos, you can check Video Views to see how many times people viewed your videos for more than three seconds. 10-Second Views show the number of times your videos were viewed for more than 10 seconds. Top Videos show the top five videos.
Recommendation
Recommendation tool shows the number of people who recommend your Page since last week. Recommendations only show if your Page has been recommended.
Page Responsiveness
Page responsiveness gives you information about how responsive you are and how often you respond to the messages.
Messenger Insights
Facebook insights also provide messenger insights. You can see Messaging connections that show you the number of people your Page can contact. Block rate shows the percentage of the blocked connection from the total messages connections and also it shows the percentage of deleted and spam messages.
Moreover, the Responsiveness shows not only your response rate but also your response time. The response rate shows the percentage of messages you responded to, while the response time indicates the average time it took you to respond to a message.
Local
Local analytic is a beneficial tool to use if you are running a local business. You can get the information about the people near your business, and know if your ads are reaching to people near your business or not. 
FAQ:

How Do I Access Facebook Insights?
Facebook insights are available for all business pages once they reach 30 fans or more. You can not only access it by clicking insight at the top of your Page but also download it in excel to get more detailed and in-depth data to review. 
Are Facebook Insights Free?
Yes, Facebook insights are free analytics tool provided by Facebook to everyone using the business Facebook page after they reach 30 fans.
What Do Facebook Insights Allow Business Subscribers to Do?
Facebook insights allow business subscribers to monitor and analyze their business pages and see which type of posts perform better and why and make a marketing strategy accordingly. It also allows them to know more about their audience's demography, location and also when and how best to reach their targeted audience.
Krystyna is a content writer who believes optimizing the way you report data is the key to a good marketing strategy.
Read more awesome articles
Enter your email and get curated content straight to your inbox!
Only the best content & no spam.
Pinky promise.
By submitting this form, you agree to our
Privacy policy