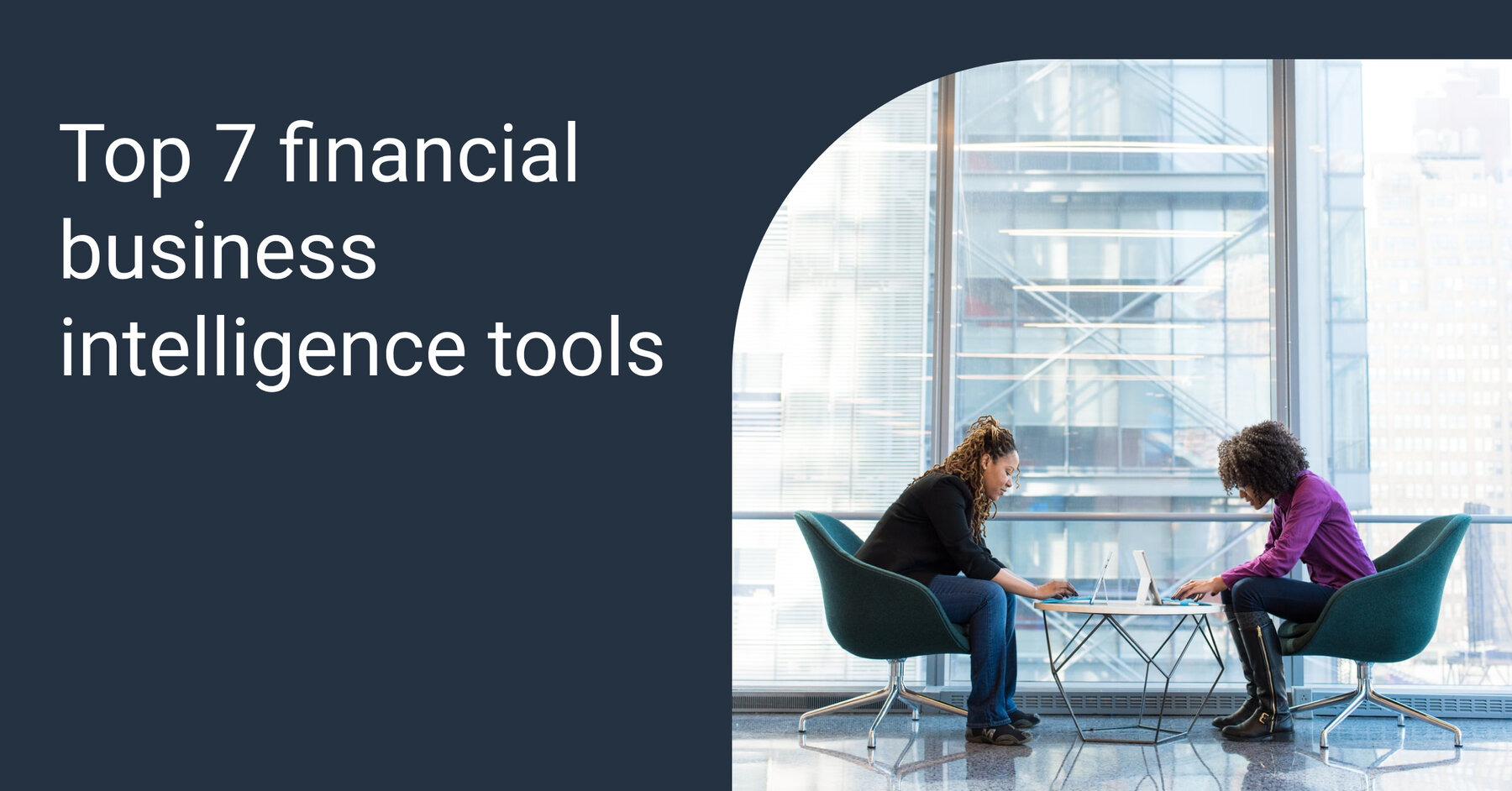 Financial Business Intelligence
Jan 29, 2021 ● 5 min read
Business intelligence (BI) is a collection of systems and technologies that offer quick and easy-to-understand data-oriented insights about the current state of your organization. These tools access, examine, and analyze data, presenting their findings as reports, summaries, charts, maps, and graphs.

In other words, BI refers to the conversion of massive data into actionable insights. Business intelligence is aimed at presenting information in easier and diverse ways, supporting your decision-making processes.
However, BI doesn't show business teams or owners what to do or predictable happenings consequent to their actions. Similarly, BI isn't exclusively for report generation.
Instead, Business Intelligence provides people with various ways of examining data to identify and understand trends, offer predictive analytics, gain and optimize insights and information to make better business decisions.
The Benefits of Business Intelligence Tools
Generally, business intelligence tools help businesses to:
Enjoy maximum profitability
Reduce risks or manage risks
Remain competitive
Improve internal operations
Identification of New investment Opportunities
Improve marketing efforts, etc.
What Is Financial Intelligence?
Originally, finance, accounting, and history borders about recordkeeping. However, over time, their definitions and scope began to evolve and become more precise.
The delay experienced between recording a financial event and putting the information recorded in context for useful conclusions isn't a new thing in the industry - thanks to the emergence of technology, this delay gap has been closed to its minimum.
The integration of digital technology elements into accounting made it possible to process and summarize data very efficiently. The introduction of spreadsheets also allowed finance experts to access it as fast and easily as possible.
This new and major criterion shift makes its accessibility possible regardless of its location, whether in different software systems or different countries. This strongly differentiates top-performing finance organizations from others. This ability is otherwise referred to as "financial intelligence."
Basically, financial intelligence is an advanced thought-process of organizations, including how such organizations consume external and internal information. Financial intelligence makes it very possible to integrate data from different systems to draw convincing conclusions.
Top 7 Financial Business Intelligence Tools
The advent of technology has made several options available if you want to implement or search for a financial BI tool in your organization. Below are our top seven (7) financial BI tools that will help you make the right (best) financial business decisions!
1. MicroStrategy
MicroStrategy is a financial BI tool that provides high-speed and powerful analytics that help finance teams to track trends, identify new opportunities, increase productivity, etc., and has been employed for use by several top-tier companies.
MicroStrategy users can connect and source data from different sources, regardless of the incoming source, whether cloud-based, spreadsheet, etc. MicroStrategy is accessible via desktop or mobile.
2. Yellowfin BI
Yellowfin business intelligence tool is an end-to-end analytics tool that integrates machine learning, visualization, and collaboration. Yellowfin BI features a filter option that allows users to filter several data using either radio buttons or checkboxes.
You can also access your data dashboards anytime and anywhere, whether web, mobile, or desktop. It also has excellent customer support services!
3. Datapine
Datapine is an encompassing business intelligence tool that supports data analytics' complex processes of customers, regardless of such customers (users) level of expertise, whether technical or non-technical.
This BI tool features a detailed self-service analytics option, making it easy for users to integrate various data sources easily, including performing complex data analytics, generating actionable business insights, and creating engaging dashboards.
4. Zoho Analytics
Another excellent option on our list of top business intelligence tools is Zoho Analytics. This BI tool allows users to perform detailed data analysis and reporting. Zoho analytics features automatic data synchronization that can be scheduled routinely.
The capabilities of this BI tool is underrated! With Zoho, you can easily create a connector using the integration API feature. Zoho Analytics allows the blending and merging of data from various data sources, ultimately creating meaningful reports.
The tool also features an easy editor that allows users to build personalized reports to focus on essential details.
5. Whatagraph
Fifth on our list of best business intelligence tools is Whatagraph. It is software designed specifically for the discovery and visualization of data. This tool allows your finance department to easily visualize, analyze, and share data without the interference of your IT department.

Whatagraph supports an extensive range of data sources, including Google Analytics, Facebook, Instagram, Snapchat, Mailchimp, Shopify, etc.
Every user on Whatagraph enjoys excellently designed services and an easy-to-use dashboard.
6. Sisense
Even if you aren't tech-savvy, there's no need to worry! Sisense might be the best option for you! Sisense is a user-friendly tool that lets you manage big and complex data, analyze and visualize data without involving your (banks) IT department.
This tool allows you to gather data from different data sources, including Google Analytics, Salesforce, and AdWords. Most importantly, Sisense's rate of processing info can never be exaggerated! Sisense also features swift customer service.
7. Domo
Last on our list of top financial BI tools is Domo. Domo is an entirely cloud-oriented BI tool that combines several data sources, including social media, spreadsheets, and databases.
Whether you are a small or large financial organization, you can be sure of enjoying the services of this business intelligence platform - ranging from listing your best-selling products to cash balances, macro, and microdata analysis, etc.
However, users complain that it is somewhat challenging to download their analysis from the cloud for personal use.
Why Are Business Intelligence Tools / Business Intelligence Software So Important?
Regardless of your career level, whether financial manager, C-level executive, etc., it is essential to have access to the right data for the overall benefit of your company's financials, especially in the highly competitive environment we have nowadays.

Business intelligence software is a major component that ensures your company's financial stability, identifying cash flow, optimizing expense management, and recording profitable results always. Similarly, Finance business intelligence encourages the data-driven culture of an organization.
Financial Benefits of BI tools
Business intelligence tools offer the following financial benefits:
Aids the reduction of delivery costs and time.
It helps in monitoring sales.
It helps in building an effective procurement system, which consequently reduces financial investments in holding inventories.
Helps in monitoring the company's financial performance in the market.
Improves financial performance.
Business Intelligence Best Practices
Knowing how to translate spreadsheets on a single dashboard to gain insights is rapidly becoming an essential skill in the present-day fiscal management of several companies. To do this in the best way possible, there are some best practices you should adopt. These practices include:
Identifying your audience. Knowing the audience you are presenting your data is essential in creating in best business intelligence in your financial presentations ad processes. You should always consider presenting t a C-level executive, finance professionals, a colleague from another department, etc.
Selecting the best-suited financial KPIs. This helps in improving the quality of communication between colleagues. It also aids the creation of a simpler approach to sourcing seemingly complex financial information.
Create a dashboard to enable your team to compare their results obtained at different times and interact with all the screen metrics.
Schedule automated reports
Bottom Line
These business intelligence best practices will provide several solutions that make your business faster, smarter, and more result-oriented while eliminating all forms of hard manual labor.
Similarly, these finance tools listed in our list of top software would help companies in gathering, planning, organizing, and analyzing their resources.
All marketers love data. To identify campaign strength, potential problems, and determine the area to concentrate our efforts, we need data. However, the essentiality of marketing data varies: while some are very important, others' importance is minimal, but not negligible.
Read more...