#marketing
How to Freeze a Row in Google Sheets
If you use sheets, you probably know that when you scroll down, your top data or the headers disappear. Likewise, when you scroll to the right the data at the side columns disappear; this could be problematic if you are working with a large dataset.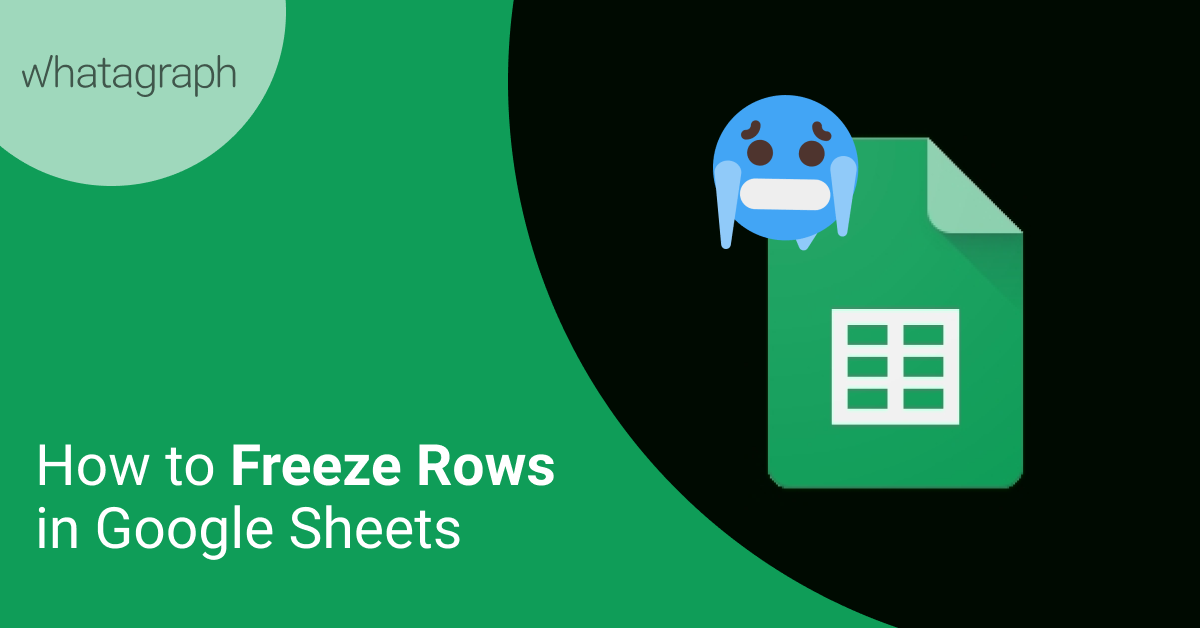 For instance, in big rows of sheets, while scrolling down, you can forget what column A, B or C corresponds to. Thereby you may want your top row to be frozen. When you freeze row in Google sheets that row will always be visible while scrolling in any direction. In case you want to make everything simpler try Google sheets integration with Whatagraph.
How to Freeze a Row in Google Sheets
Freezing row in Google sheets is not difficult if you are familiar with the Google sheets interface. The following are two ways you can freeze rows in Google sheets spreadsheet.
Freeze Rows in Google Sheets Short Cut
Firstly, the easiest way to freeze rows in Google sheet is to go to the top left part of your spreadsheet. You will see an empty grey box right before A row and top of the 1 column;

Put your mouse over the border of that grey box, hold on it until your cursor changed into a hand icon, left click and drag it down to the first row- if you want to freeze only 1 row;
You can drag it down to two or three rows if you want to freeze two, three or more rows;
Likewise, you can hold the right end of the grey box and drag the border to the right to freeze any number of columns.
Freeze Rows in Google Sheets Menu Option
To freeze the Google sheets top row:
Go to the top menu, and click the View, a drop-down menu will open up;

Click on the first option that is freeze;

You will see more options, choose the 1row option if you want to freeze only the first row;
Now your top row is freeze, and you can always see it while scrolling up or down.
How to Freeze Multiple Rows in Google Sheets
There are other options if you want to freeze four rows at a time, select the cell from the row you wish to freeze up to, click view>freeze>freeze the current number of rows (4).
If you want to freeze two, three or five rows, select a cell from that row and select the view icon from the top menu, then click freeze and at last select freeze to the current number (your desired row will appear in bracket).
You can freeze the column 1, column 2 or select the cell you wish to freeze the column or rows up to. Select View from the top menu bar, then click freeze and select up to current column (X) option. X represents up to whatever column you have chosen.
How to Unfreeze Rows and Columns in Google Sheets
If you want to unfreeze row or column you can drag the grey border back to its original place- in the top left empty grey box, or you can:
Select the row or column you want to unfreeze;

Navigate to the top menu, click View, and then tap freeze;

At last, click on No rows or No columns from the freeze menu.
Hopefully, now you know how to freeze rows and columns in Google sheets.
Published on Dec 12, 2019