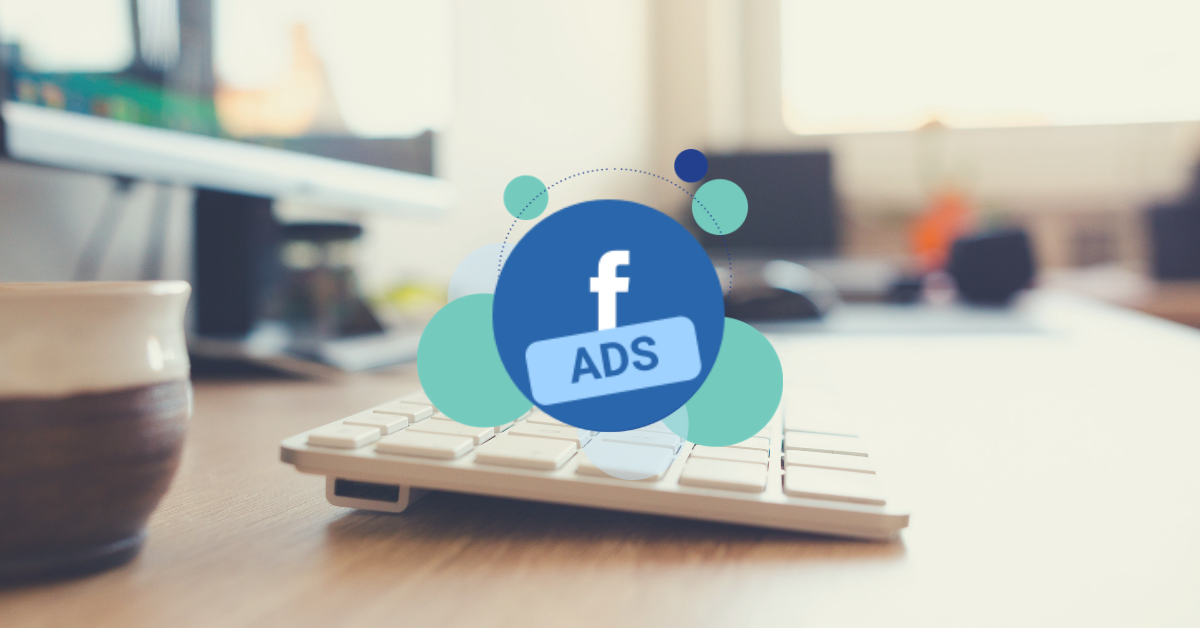 How to add Facebook Ads split testing results to your reports
Facebook Ads split test is not a new feature, but did you know you can build automated Whatagraph reports to show the results of your A/B testing? Learn how in this post.
Facebook split testing has been around for a while now. If you are no newbie to social media marketing, you'll know that A/B testing your ads is the fastest and probably the easiest way to find what's really working for your ad's audience. Or, for that matter, what your ideal audience is.
A/B testing is basically your BFF for uncovering best performing solutions that ultimately save your budget and bring better results.
In Facebook Ads, you can test anything from ad headlines, copy, CTAs, to different audience, ad format and placement. Or a combination of the above. You can run your split tests from 3 to 14 days.
Facebook split test results in your reports
So, you've been running your split tests for a couple of weeks now, and you've got some clear winners that saved $800 to your client's pocket.
It's time to show the results.
If you already have a Whatagraph account, it's easy to add this information to your existing Facebook Ads report. Or you can build a separate one dedicated completely to your split test results.
If you don't have an account yet - no worries. You can get your trial here.
Ready? Let's get started.
1. Decide on the KPIs you will be displaying
Before creating the report you need to have an idea of the metrics that will show which ad is a winner, and why. Displaying numbers in the form of a funnel works well.
Your test ads will have a similar number of impressions, but what happens further down the funnel is what matters. And what gives your winning ad the champion title.
Good news - you don't need a long list of metrics here, a few will do:
Impressions

Clicks

Conversions

Spend

Cost per conversion
Ultimately the ad that gets most clicks and also has the lowest cost per conversion wins.
You can also add info on demographics, for example how each ad performed across different age groups for every gender.
2. Build the report to display your split test results
First, make sure you have Facebook Ads connected to your report.
If you are adding split test results to an existing Facebook ads report, you only need to add a new page to your report, since the data source is already connected.

If you are starting with a blank report, first connect your Facebook Ads account to your report.

Now it's time to start dragging and dropping. You can do a neat head to head ad comparison using a simple table widget.
Go to Studio, and drag over a table to your report.

The widget will pre-populate data which you can change in the widget settings. Simply click on the table and the settings menu will open to your right.
Add the title to your widget

In report type, select 'Campaign performance'

Next, add your FB Ads campaign (the one that was using split test)

In dimension, select 'Ad name'

In metrics, add the metrics you'd like to show. I went for impressions, clicks and cost per click.
Your widget settings will look similar to this: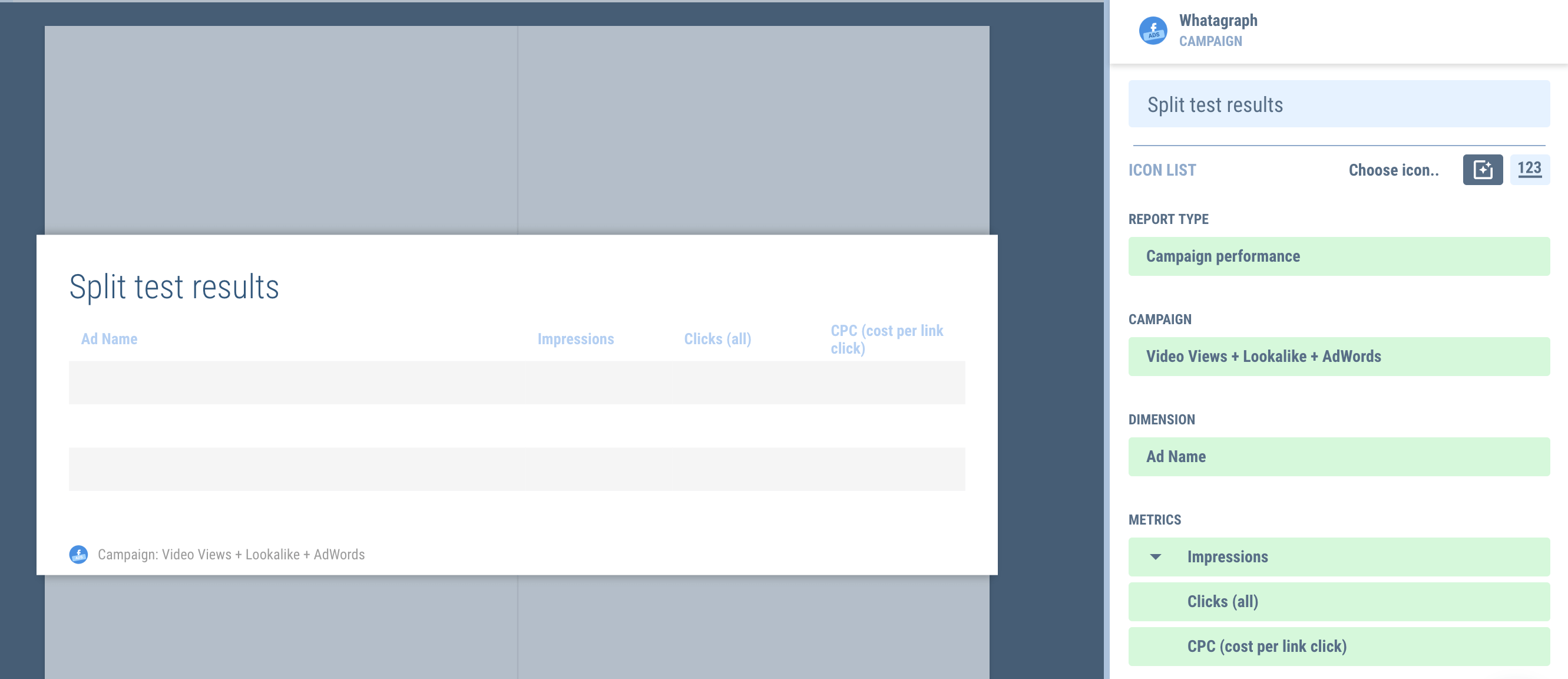 Once you click on 'Update widget' at the bottom, you'll get a nice comparison of your ad performance that you ran in your Facebook split test.
Can this get any better? Yes.
Add a comment box to your report to share your professional opinion. Your clients will definitely appreciate it.
Why are the numbers different?

What was the key difference between the ads?

What's your assumption on what worked well?

Most importantly, how much money your client saved?

Prefer more visual presentation? Use 'Expanded media' widget for that. You can find it under the Studio widgets: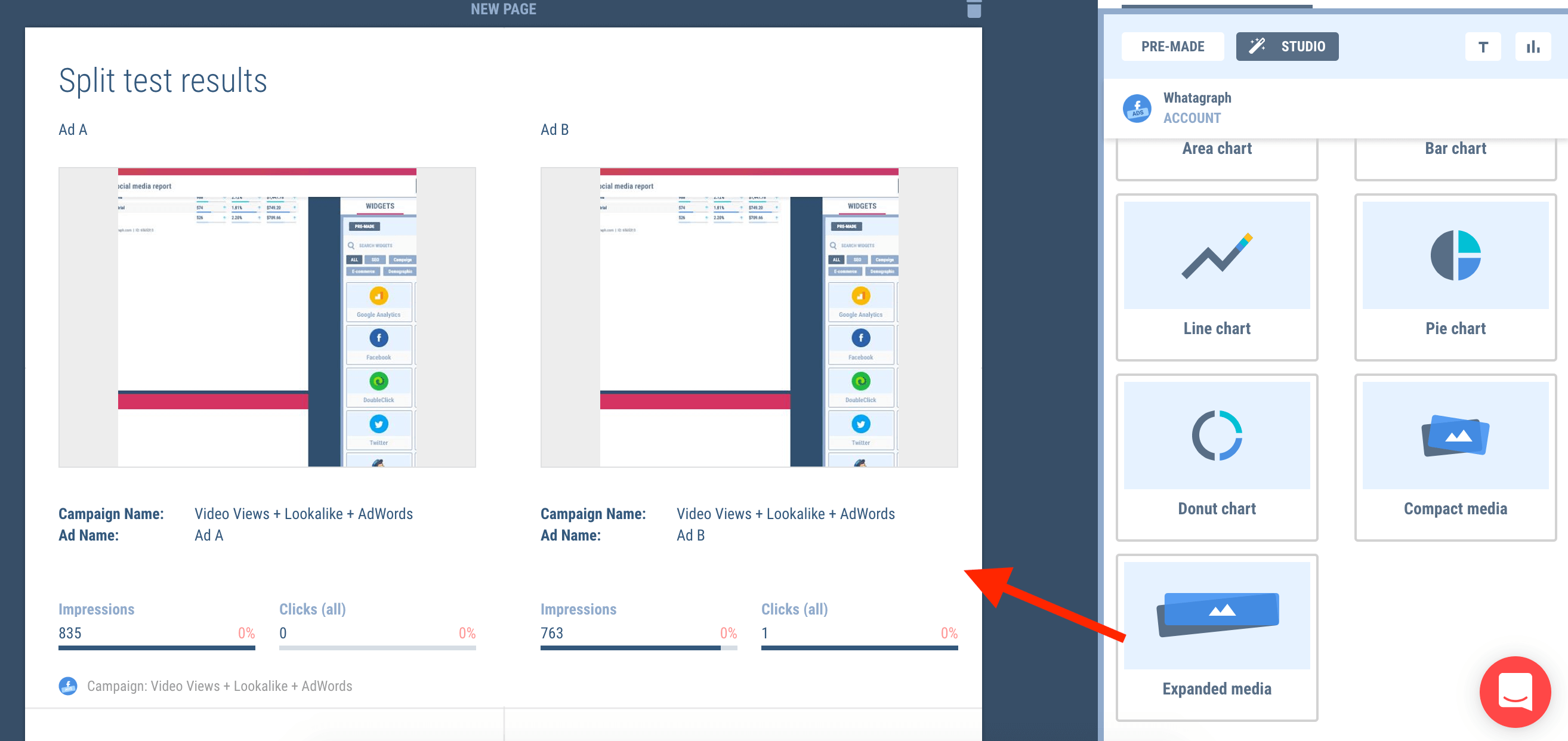 The settings would be very similar to what we did in the table: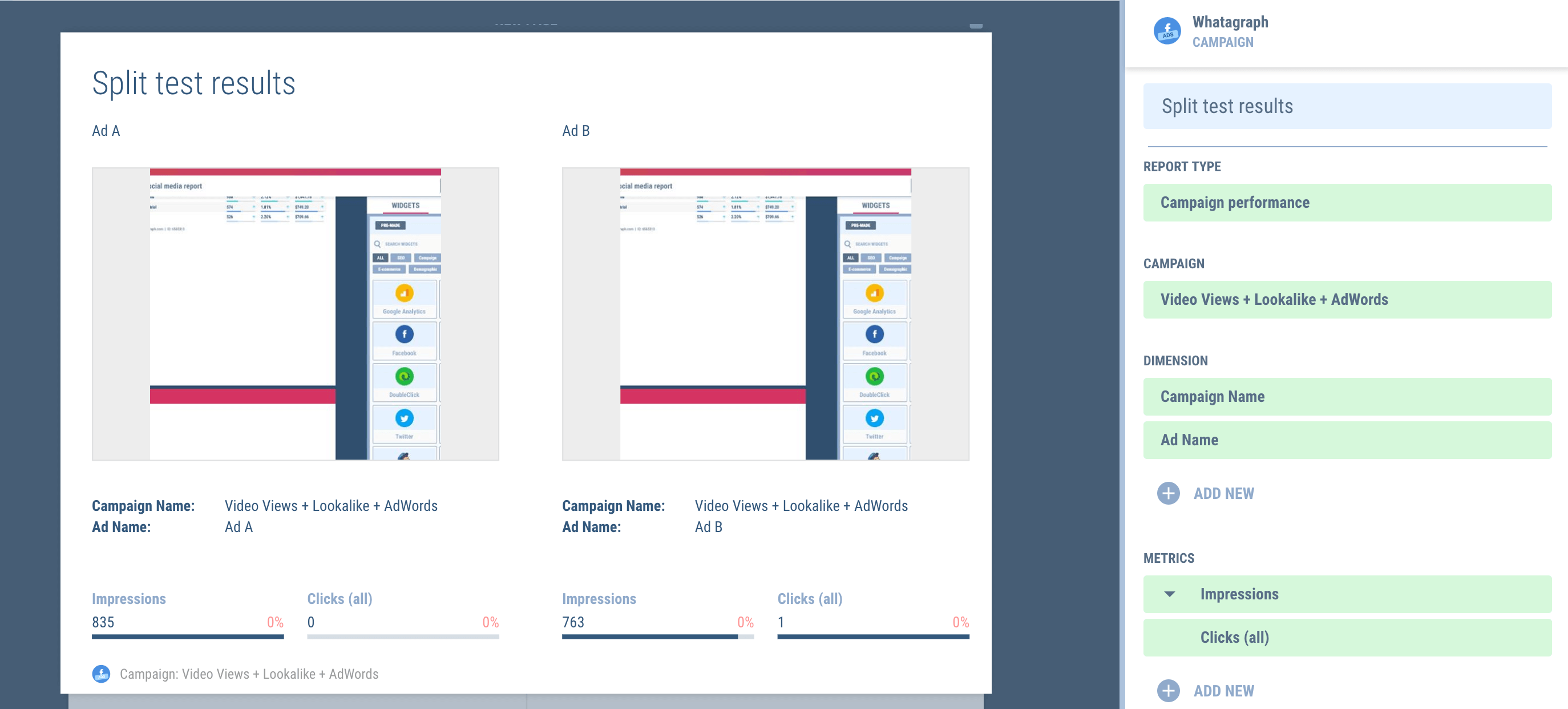 Go further - add a demographic breakdown!
You can use 2 demographic widgets to compare your ads head to head. Simply visit your pre-made widget section, and select 'Demographic" tag. You will find all sorts of widgets here, including "Ad click by audience".
1. Add this widget to your report twice: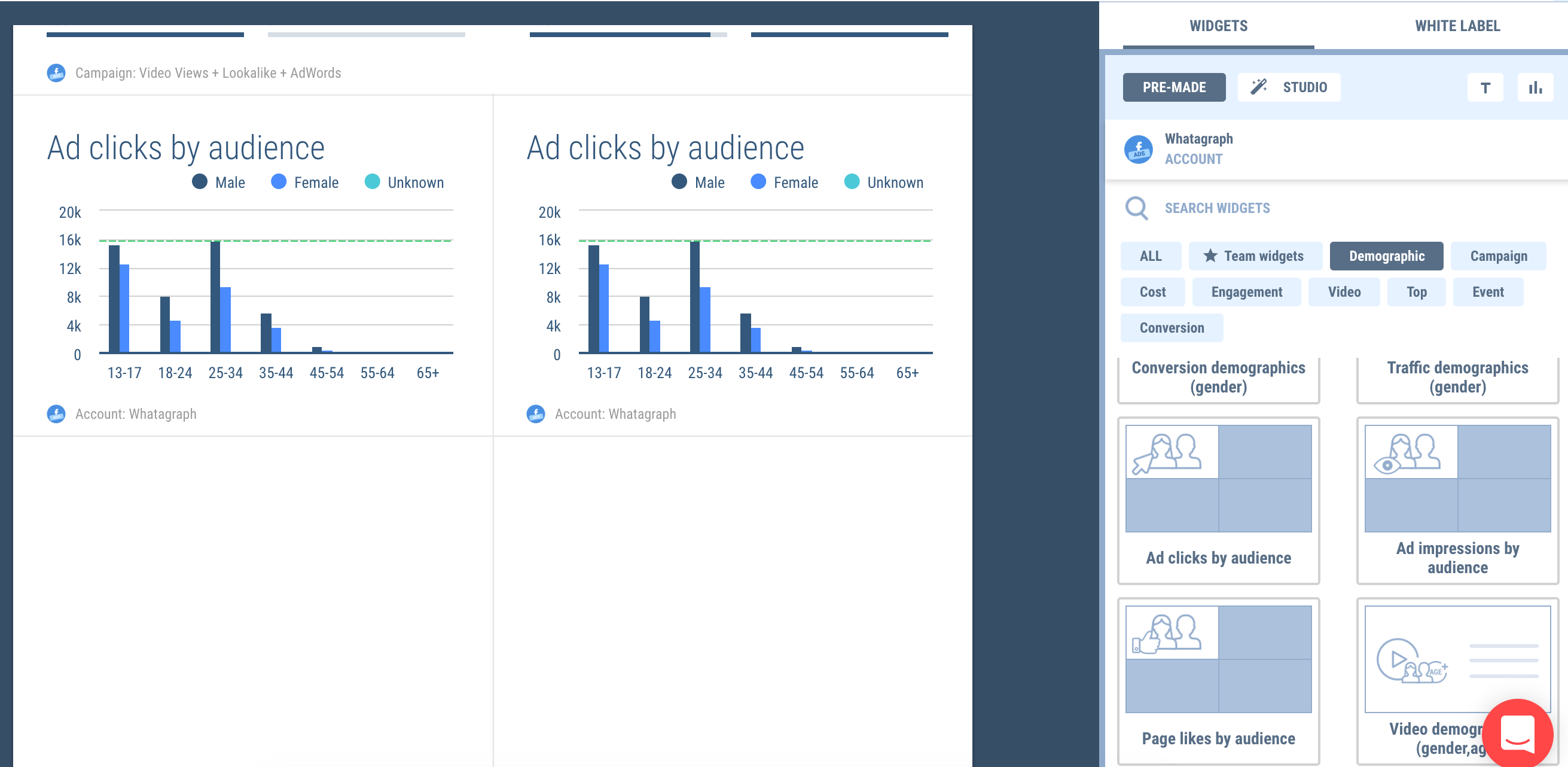 2. Now you will have to filter each widget to show numbers for each of your split ads. Click on the first widget to open its settings. Select "Ad performance" as your report type.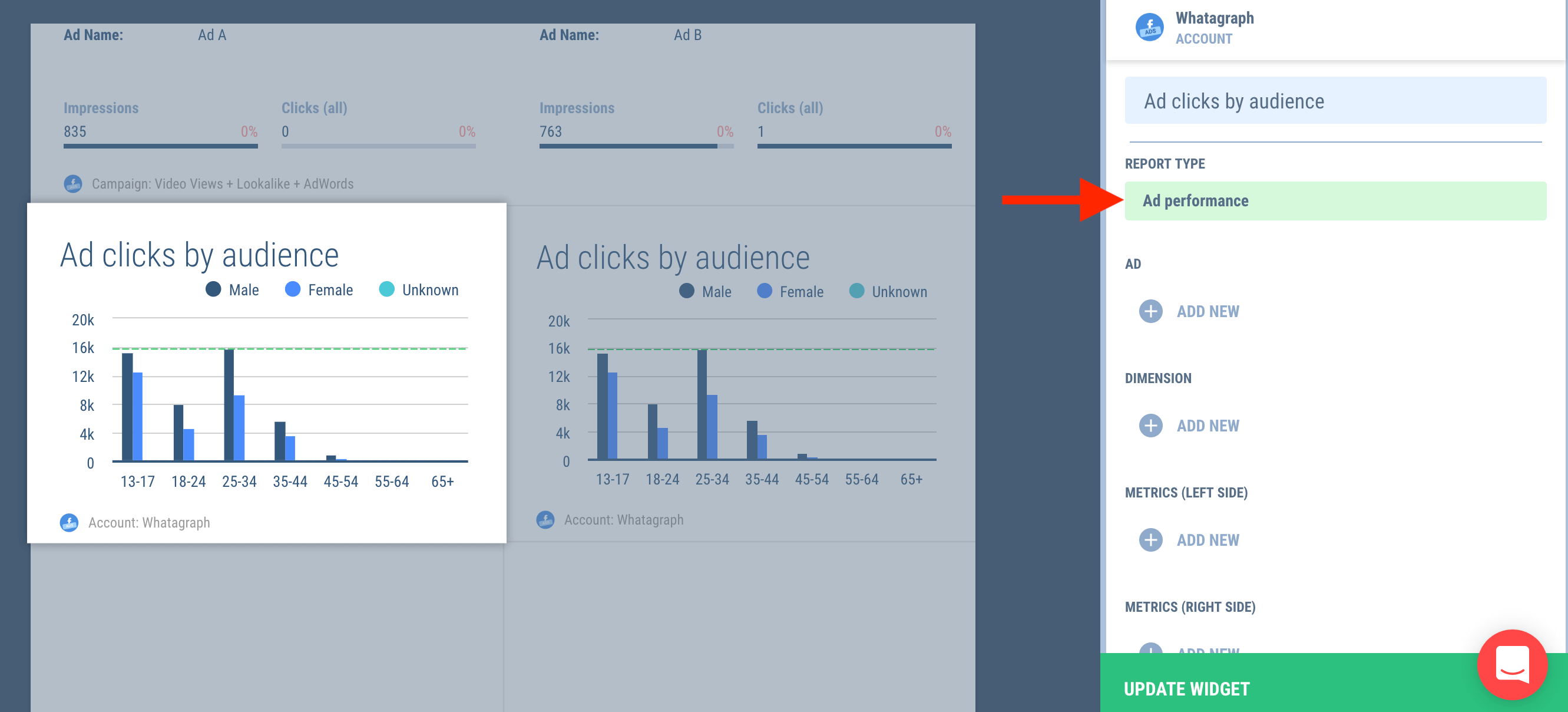 3. Click on "Add new" under "Ad" and select one of the ads from your Facebook split test. Kudos to you if you are using proper ad naming in Facebook - this will make it much easier to find the specific ad. Simply type the name of the ad in the search field and select it.
Then, edit the settings like here: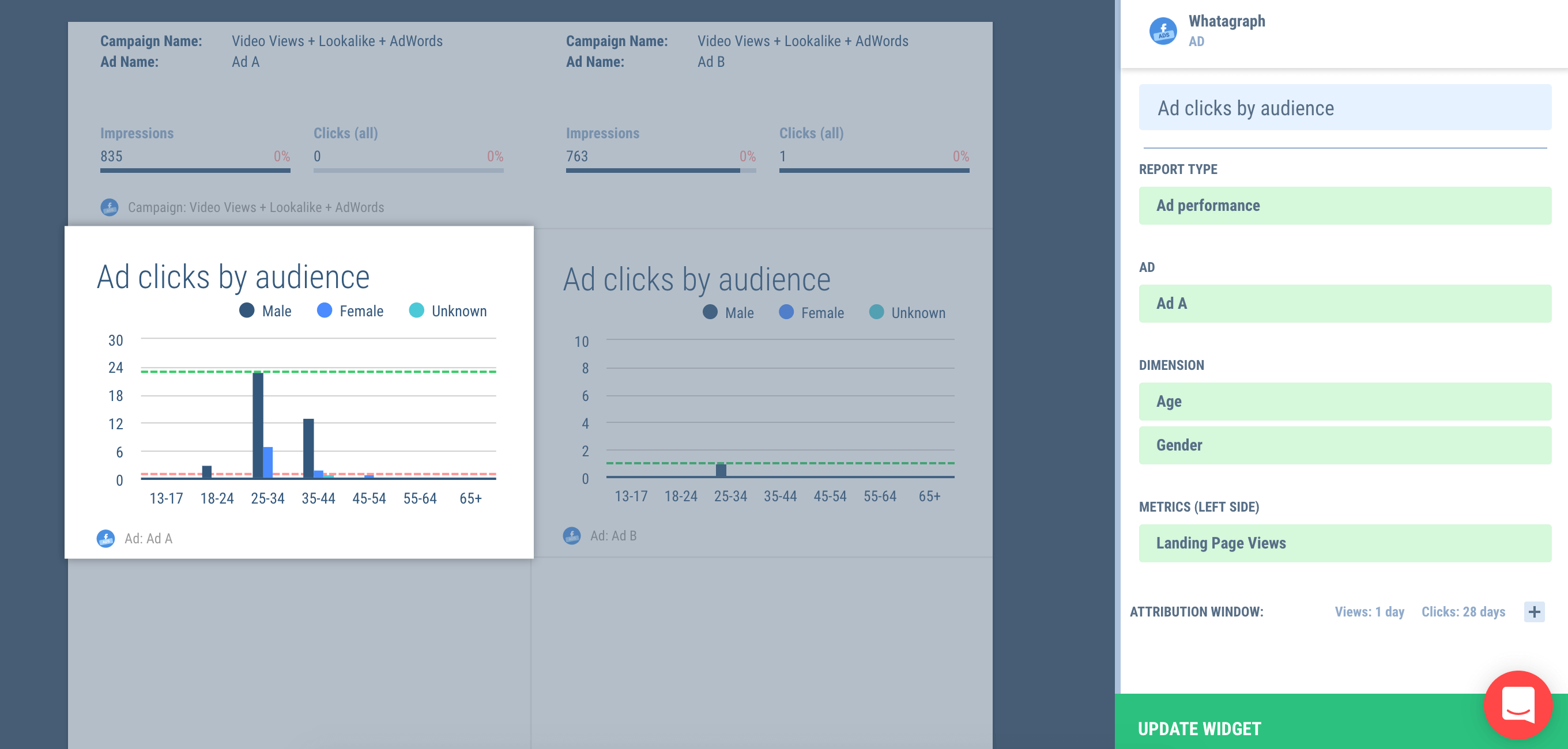 4. Do the same with the second widget, only filter it show data for your second split testing ad. Make sure to edit the titles of the widgets so your clients can easily understand what's what.


Using a table can also give an interesting perspective into ad demographics: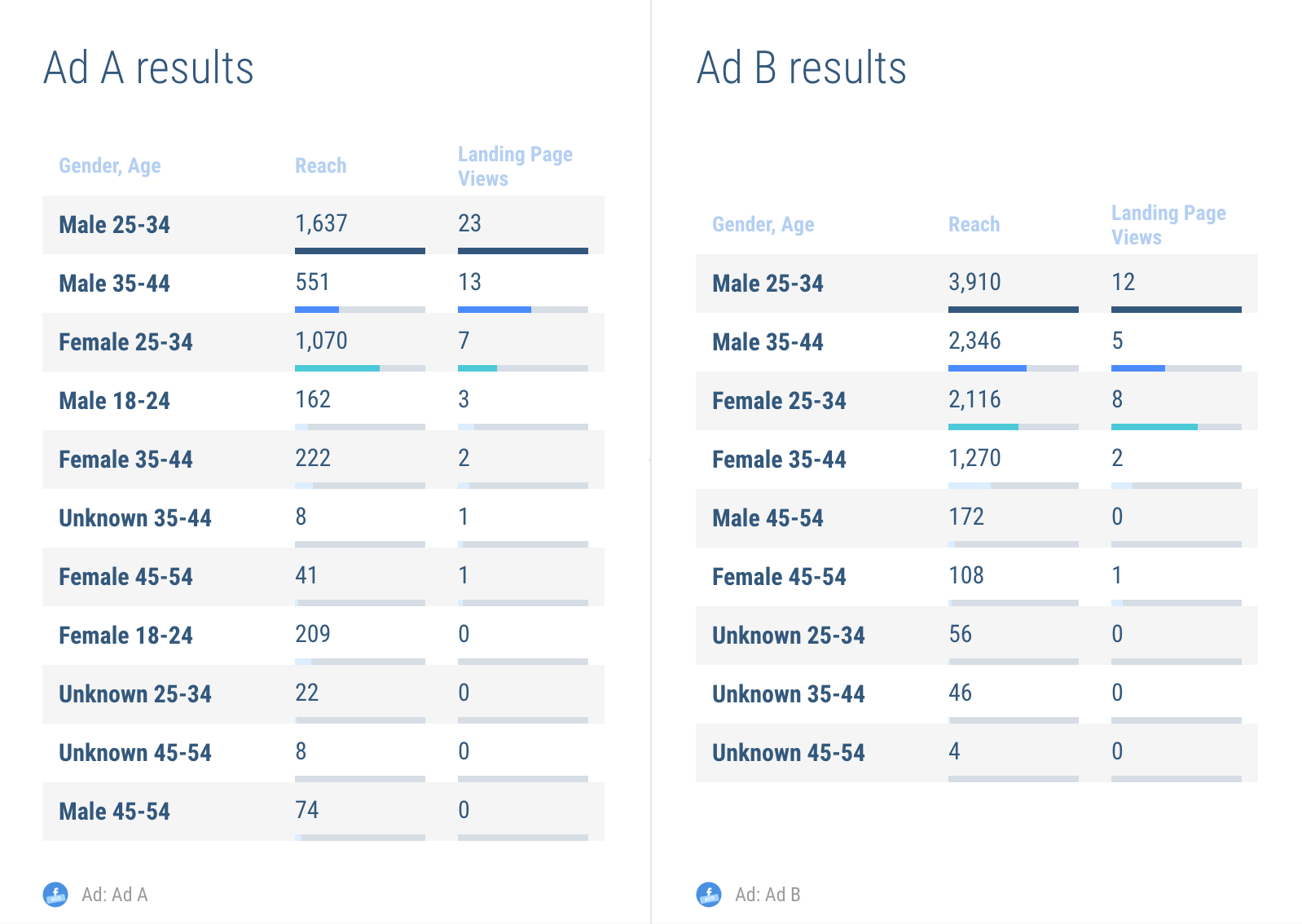 And, using a list can help show the full funnel for each ad: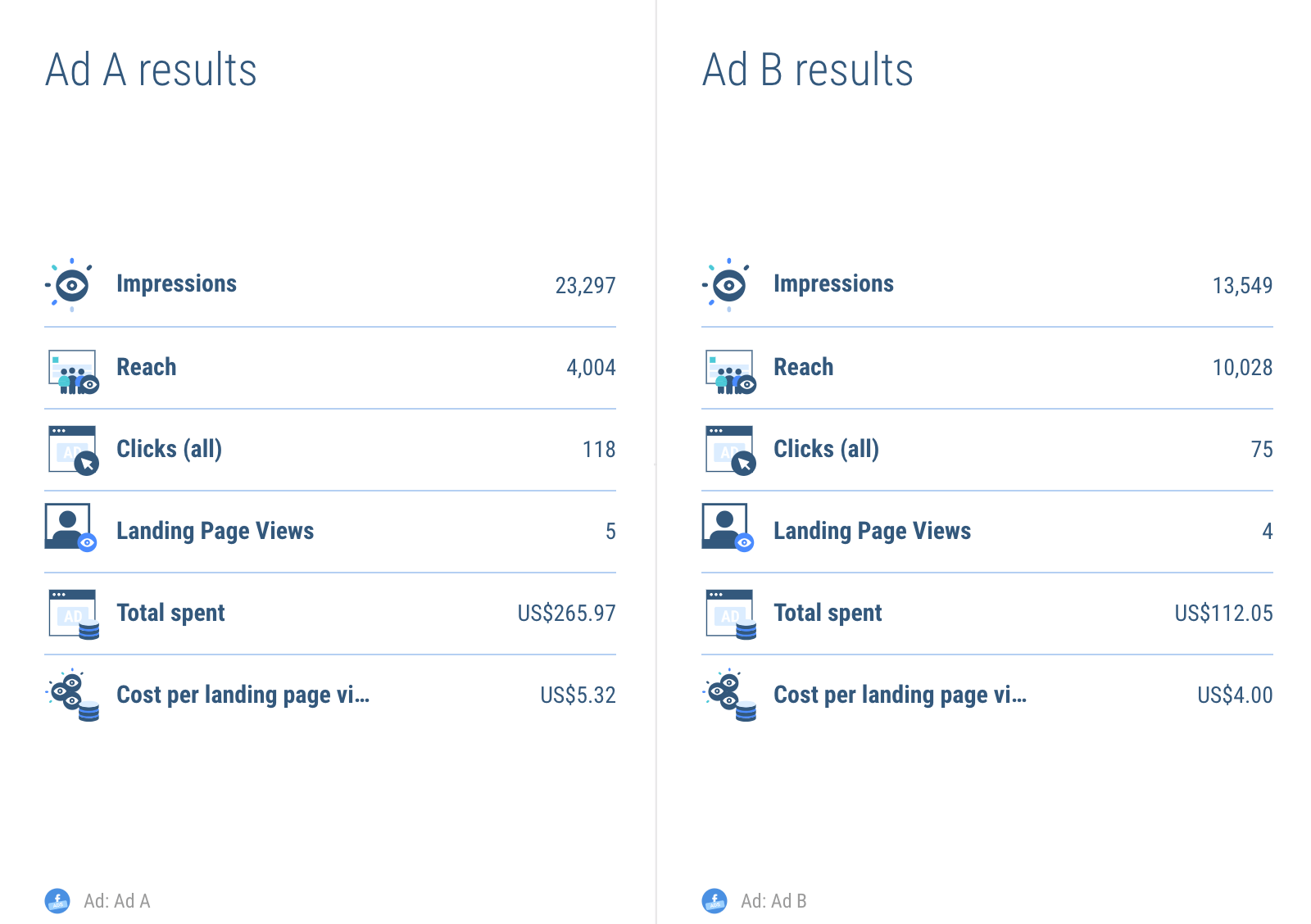 These are just few examples, but the possibilities are pretty much endless.
So, how is your Facebook split test report going to look like?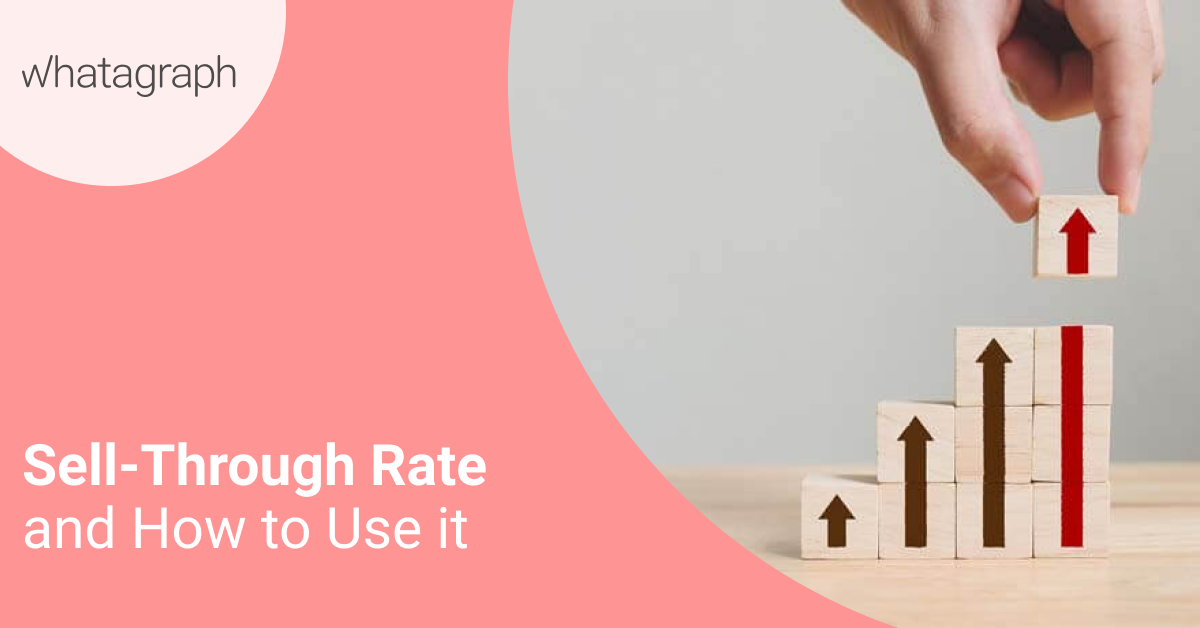 The best way to define a sell-through rate is the percentage of inventory you managed to sell. But, let's dig deeper and examine how we can use sell-through rates, and also find out how to determine a satisfactory sell-through rate.
Read more...