#marketing
5 Proven Ways to Generate Leads on LinkedIn
In the paragraphs below you will find out more about various ways to generate leads on LinkedIn, and hopefully, implement some of them right away.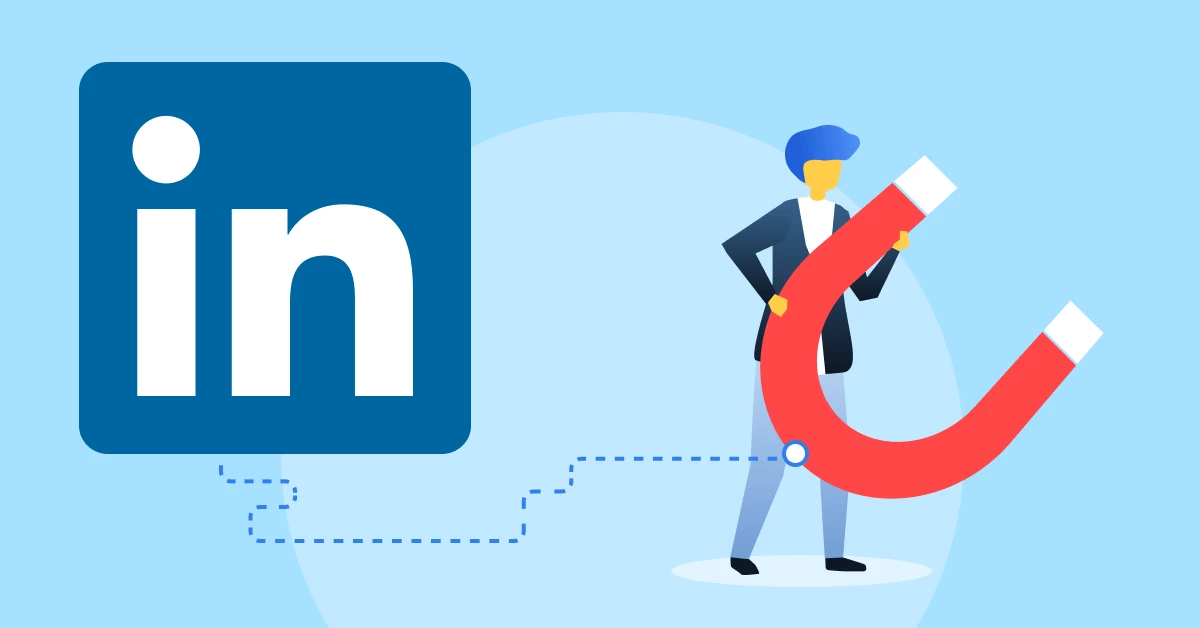 Table of Contents
The truth may be harsh but it's still the truth: lead volume has become one of the most critical KPIs for both sales and marketing departments these days. And, according to recent data, as much as 80% of all B2B leads generated by social media sites come from nowhere else but LinkedIn.
Hi! My name is Kotryna and I have been actively creating content and engaging with the LinkedIn community for the last four years. Recently, I've started consulting businesses and working on big scope LinkedIn Ad campaigns. The success of this venture has led me to co-found LinkedIst, a professional LinkedIn consulting service.
Today I've decided to share some of that knowledge with you and talk about our tried and tested ways to generate leads on LinkedIn.
1. Generate leads via content [free]
One of the best ways to generate leads via LinkedIn without spending a dime is by creating content. While it might sound simple, the important rule here is that your content shouldn't sound salesy and pushy. The key is to post content that teaches your readers something new or tells an engaging story.
Storytelling is one of the most popular techniques when it comes to indirect selling via social media platforms, as long as it is done organically and offers value to the potential customer. The technique might not be so easy to master, but once perfected, it will create a pull effect and drive leads towards you.
In the last three years, I have seen people from sales and marketing departments use this technique more often. So if you have some good stories to share, share them on LinkedIn. Don't forget to polish your personal LinkedIn profile and always refer to the company or product you are trying to promote.
2. Generate leads via engagement [free]
While some people are good at posting their own original content, others find success in lead generation by engaging and being active on LinkedIn. Everyone understands engagement differently, but in simple words, engagement on LinkedIn means liking, commenting or sharing content.
One of the most common techniques is to:
Identify your potential clients and their companies;
Find them on LinkedIn and find their employees;
Follow the decision-makers from that company and engage with their content daily.
Follow these steps and by the time you make your first pitch, they will already be familiar with your name and be more keen on listening to you.
3. Generate leads via cold outreach [free]
LinkedIn is very powerful because it allows you to connect 1-on-1 with potential clients in a way that you just couldn't before. One way to do it is by writing cold messages, sending connection invites or InMails.
Sounds easy, right? Well, there's a catch – if some of your techniques worked with generic cold-calling or cold emailing, messaging on LinkedIn is a different game. The biggest difference is that the messages should be as personalized and tailored to each individual as possible.
Personalization is all the rage these days, and it is simply expected from you. That's why cold outreach is still a good tactic for generating leads, but it will work best when at least some level of personalization is involved in the message you're sending.
4. Generate leads via employee branding [free]
Employee branding is a hot topic in 2019. Many companies have realized the power that employee advocacy has on brand image and reputation, and are making huge efforts to educate their staff about personal branding on social media, content creation and curation, etc.
This way of generating leads is a lot similar to content creation. However, this time, it is more company-focused. If you want to generate leads via employee branding, you first have to make sure everyone has an optimized LinkedIn profile and understands the benefit of spending a few minutes every day engaging on LinkedIn.
Once that is established, employees can start posting things about company culture, values, mission, among other things. Employee branding will increase brand awareness, which will shape potential customers' perception, establish authority and build relationships with your prospects. It will also help you to get your brand's or company's word out to the world and attract more leads.
5. Generate leads via LinkedIn Ads [paid]
If nothing else works, LinkedIn Ads are always there to help. LinkedIn offers a few different advertising options, which can be used for various purposes, one of them being lead generation. You can choose from:
Lead-Gen Ads – these ads can be used to drive people to sign up for an event, download a brochure or a freebie in exchange for contact information. The most important thing here is to offer something your audience wants, something that may bring them value, and only then move them down the sales funnel.
Sponsored Content Ads – these ads can be great for boosting well-performing content or making some sort of a news blast. Are they lead magnets? Not really. BUT! You can use these ads to drive people to a dedicated landing page on your website, which gives them more context about your business or product and may eventually convince them to try it.
Track performance with a dashboard
You may need to use a LinkedIn Ads dashboard to track the performance of all campaigns in a single place.
There is a great pre-build LinkedIn Ads dashboard that you can use for free. Just connect your LinkedIn ads account with Whatagraph, and the dashboard will populate itself with the necessary metrics.
Track costs and conversion rates in aggregate, or per individual campaign.
In the example above, a dashboard can allow you to segment each campaign and analyze performance individually. You can clearly see what ad campaign is benefiting you the most and which campaigns are a money-sink.
If you are using more than one digital marketing platform, you can build a cross-channel dashboard. Customize the pre-made dashboard template to suit your personal needs, and if necessary - include analytics from other platforms.
Measure ad performance from multiple sources - in one place. It's very convenient.
Closing thoughts
As you've probably noticed, all these lead generation methods are in some way connected and intertwined. The takeaway should be that while you can always use paid advertising to generate more leads, don't forget to experiment with methods like employee branding, content creation, engagement or anything else.
There is no one way to find new clients on LinkedIn because it also relies so much on your own personality, your network, and charm. So take that into consideration while applying some of the tactics above.
Need more help? Reach out to me by email and I'll be glad to answer your questions!
Published on Oct 02, 2019