#marketing
Big data use and the importance of context
In 2017, Economist published an article calling data the new oil, and since then, it became a common refrain. And it's what companies are looking at more intently than ever before. Even though the brand has complete access to data, just knowing what customers do is not enough. The modern business landscape is a data-driven environment. The big data and business analytics market were valued at $189 billion in 2019, and it's expected to grow to $274 billion by the end of 2022.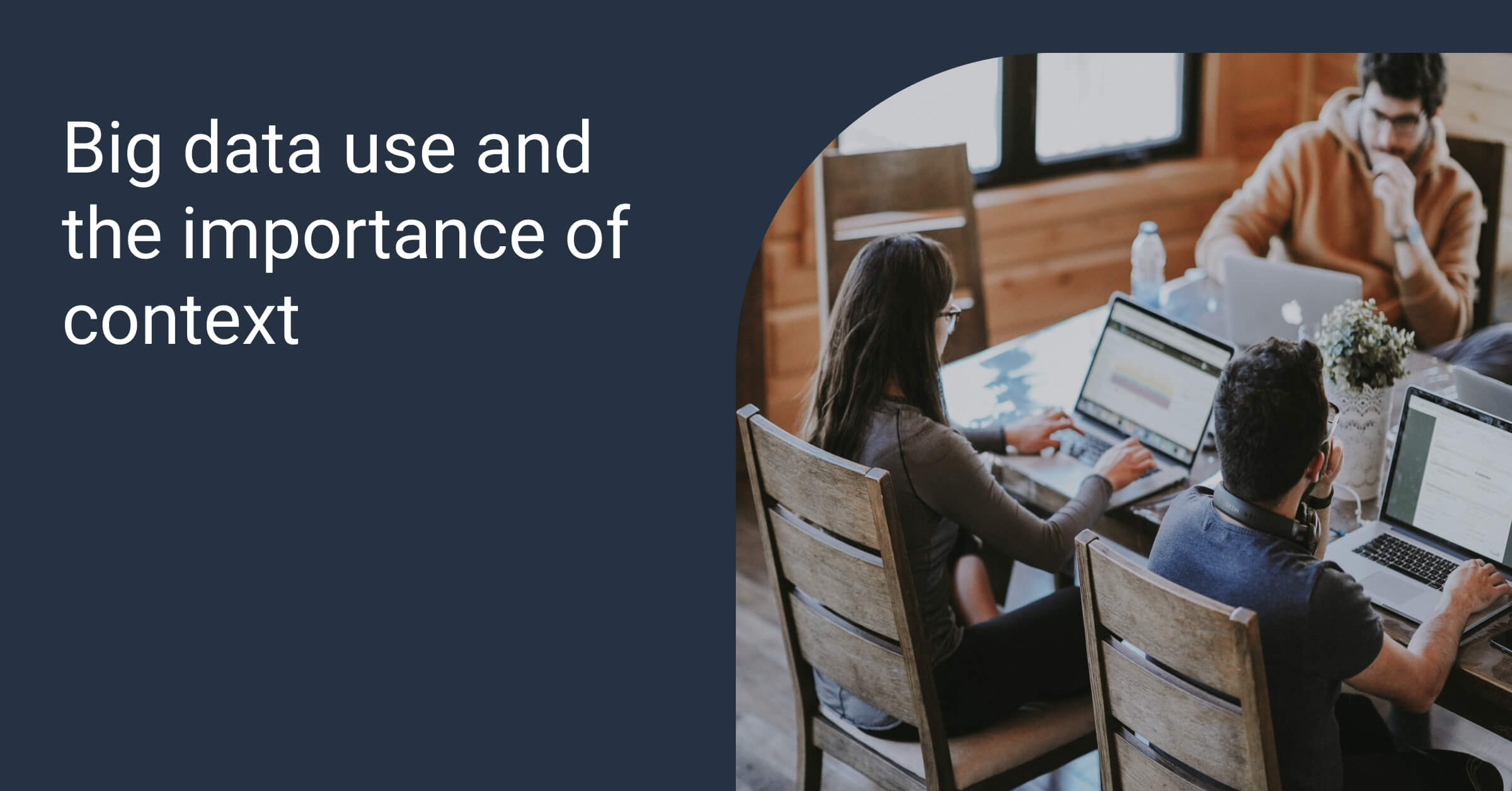 Table of Contents
The role of data is to allow business leaders to make decisions based on facts, trends and statistics that are unique - a method called DDDM, or data-driven decision-making. But with so much data, companies must filter all the noise and get the information that is truly useful for business growth. It's like a puzzle: gathering different pieces together to create a complete view of its customers.
Why Is It Important To Understand and Analyze The Data?
Over 2.5 quintillion bytes of data are created every day. In today's competitive environment - data is the fuel for growth. Collecting large amounts of data and analyzing it has become an essential part of how businesses track their progress and develop growth strategies. Once you understand the data analysis in your business, you can analyze particular events based on the generated data. The power of data can open new possibilities for business development, such as:
Understanding your target customers.

There is nothing that data analysis does better than checking the performance of your products or business in the market. By piecing together the numbers, you will filter out your targeted audience and get a clear understanding of the segments of users you will need to focus on the most.
More efficient targeting and budget planning

. Using data analysis will allow the brand to see what marketing actions resonated with the potential customers. This improvement will optimize the budget by cutting ineffective advertising actions and channels.
Getting a clear view of the trend.

By analyzing specific data elements, the brand will get a rough shape of upcoming trends and will be able to improve its product or service in the best way possible and be at the top of the market. It allows shaping the direction when moving towards the future and to remain relevant to customers.

Preventing the loss.

Every minor problem in the business can lead to a significant loss. And by finding real-time analytical insights, brands will understand what could be improved to maintain the stable flow of the company and prevent any possible damage.
Ready, Data Set, Go!
Yes, this is a new slogan for the recently announced Fiver's new vertical focused on data. The new vertical is mainly focused on small and medium businesses, as the study reveals that 67% of small businesses spend more than $10K a year on data analysis. The platform declared that "the use of data and analytics is no longer limited to big companies with deep pockets. It's widespread". The work-together platform introduced various new categories with talented freelancers waiting to get the job done:
The fact that Fiverr's first new vertical in over nine years related to data services shows the growing importance of understanding and increased reliance on data. More businesses are tracking and analyzing data and optimizing their workloads.
AI-powered Analytics
Demis Hassabis, CEO of DeepMind, calls artificial intelligence the "science of making machines smart". AI-powered tools are everywhere, from the phone's facial recognition technology to Amazon's product recommendations. The unique mix of technologies can come in handy when gathering and analyzing data. There are three types of analytics, where artificial intelligence plays a role:
Predictive analytics

is using historical data to forecast the future. Machine learning AI gathers and analyses the data and then makes assumptions on the possible outcome.
Prescriptive analytics

is like the doctor, but with data. AI is not only predicting while analyzing; it also provides recommendations. Prescriptive analytics can showcase customer's preferences, product development and effective marketing channels and, based on their interactions, recommend what action should be taken next for the best result.

Descriptive analytics

is the type of analytics where the AI power has the most negligible impact. It looks into different channels, gathers data and unifies it for an easy view in one place. However, this is undoubtedly useful and can save a lot of time.
By using artificial intelligence-powered analytics, you will be able to increase revenue and reduce costs to a minimum as you see what performs best for your business.
Putting Data Back Into Context
With so much data at our fingertips, it is important to remember that there are stories and real people behind the numbers. And we all know that in some instances, people can be complex or unpredictable.
In her TED Talk, Giorgia Lupi outlines that just analyze the data to succeed is not enough. There has to be a right mix of context to represent the reality behind the numbers. And without context, data may lose the point.
Establishing and understanding the context of data is likely one of the most challenging aspects of data analysis. So what role does the context play in data, and how can it work in favor of business?
It puts the analyst in the shoes of the consumer.

While presenting the product or running a marketing campaign, brands often act like they know what their customers might want. However, sometimes it's drastically different. Analyzing the data and putting a fair amount of context will increase the chances for the business to understand the customer and address their needs.

Remove the assumptions

about your customer. Browsing through the data and making assumptions about customer behavior may be risky. By just viewing the numbers, you only see the customer as a lead. And by injecting the context into your data, you will get a clear view of how specific business fronts are performing from the customer's point of view.
Gathering and Analyzing Data with tools
On average, the marketer spends around 16 hours a week doing routine tasks. 3.5 hours are spent on gathering and analyzing data. And minimizing workloads on data has never been easier with the right tools.
At Whatagraph, we are more than familiar with saving time on data gathering and reporting. After all, it's our bread and butter. While we are not the only ones providing such services, we certainly strive to save the most time in the industry with our data-dedicated tools. It's a platform created for marketers to quickly build visual reports within minutes.
Bottom Line
Data can assist in multiple business aspects and be a real game-changer for many brands. However, to get the best results, it's important for businesses to improve the quality of their data and use it effectively. And in the world of technology, there are plenty of tools to ease the work of a data analyst. Mastering data and inserting the right amount of context into the analytics is a highway leading companies to success.
Published on Jun 04, 2021