#marketing
How to Improve Data Literacy in Your Team
Understanding data is incredibly important in today's business landscape. With so many data sources out there, knowing how to improve the data literacy of a team is essential to the success of any business.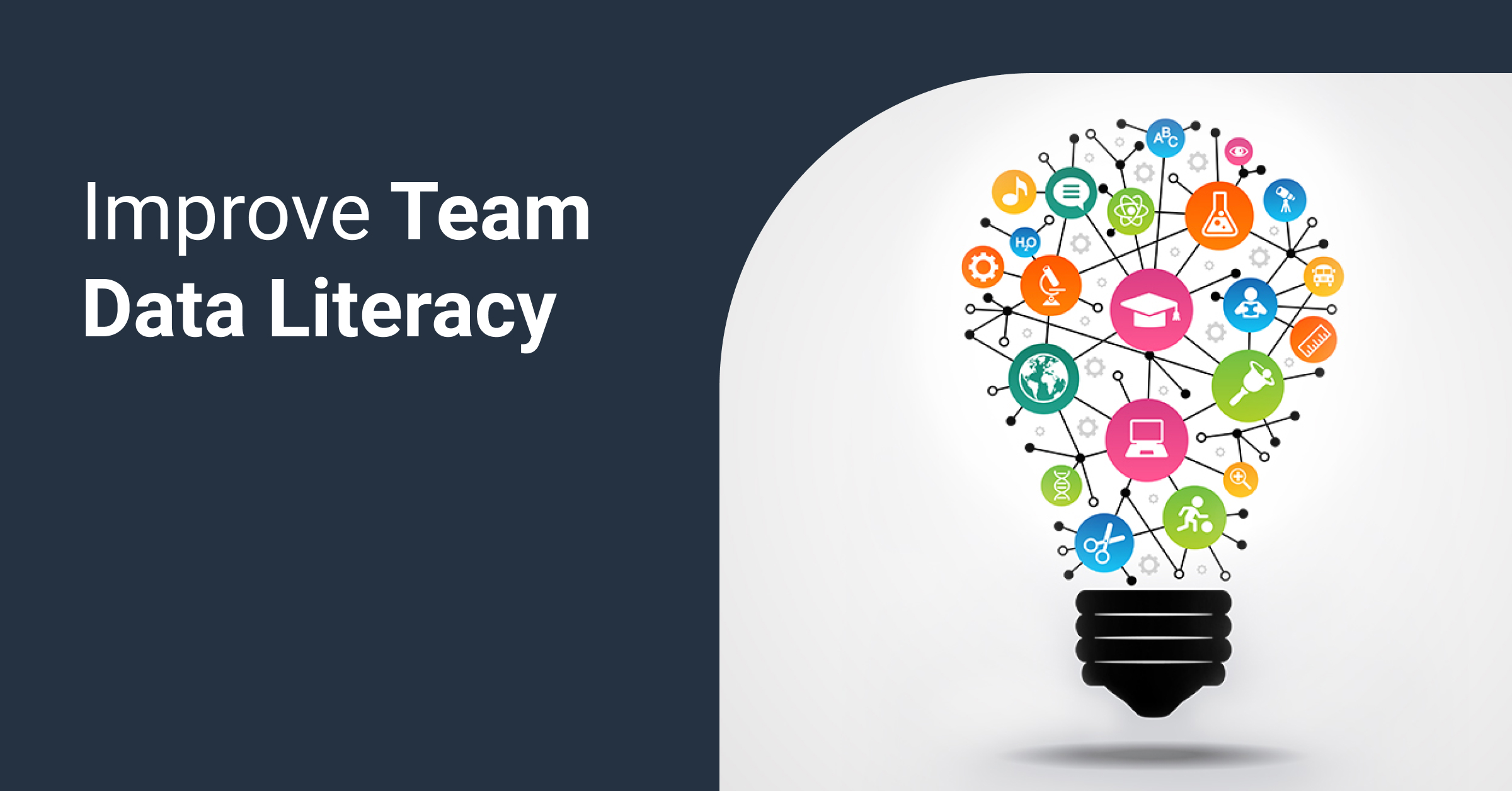 Data has already become an important ingredient in our lives, not just organizations. Every day, we are making, using, or processing data. This strong uptake and usage of data result from the digital transformation happening around us plus, companies becoming more reliant on data technologies.
However, the biggest hindrance to this data revolution and adoption of enterprise data is data literacy. Globally, only 24% of employees are data competent.
Clearly, there is a huge skill gap organizations face with data. While some organizations have resorted to hiring experts to bridge data literacy gaps and increase productivity, this only increases operational costs and cannot address the real problem of data illiteracy.
So how do you bridge the data skill gap in your organization?
Since every employee joining your organization has some level of data literacy skill, your best chance involves improving on those skills. In this post, we will share how to improve data literacy in your team. But first, why improve data literacy in your organization?
Reasons for improving data literacy in your organization
Make team members succeed in their work: when workers understand data, they can effectively execute their duty rightfully.

For easier and impactful cross-functional collaboration: understanding data makes it easier for internal and external collaboration.

Help employees make informed decisions and actions when using and understand data.

Easily deal with privacy and security concerns by laying the foundation for critical data handling and reducing data and security breaches.
13 ways to improve data literacy in your team
There is a strong correlation between data literacy and corporate performance. Data literacy affects an organization's gross margins, productivity, and decision-making.
1. Use the correct tools
One problem with data, like tech, is it has a long learning curve. Add this to the sophisticated big data tools, and the lesser employees would want to use data.
As an organization, use tools that make data easier to understand. The right tool helps in analyzing and interpreting data. Instead of creating a new tool, use everyday tools that employees are familiar with. When employees can easily handle data processing tools, they will be more inclined to learn about data and use it to generate insights.
2. Do assessments
How would you know if your team is data literate? How do you uncover common data literacy shortcomings? It starts by conducting an assessment, even before your organizations figure out training and providing tools for data manipulation.
Assessments help you figure out what needs improving. It also allows you to measure existing levels of data literacy programs before rolling out a new program. Besides, assessment helps you know where the gaps lie, how much training is needed, and what tools and resources you must put to help everyone on your team chat.
Remember also to reassess your team after some time. A successful data literacy program is usually an ongoing process, not a one-off program. Hence, hold regular meetings to assess progress, identify gaps and changes, spot improvements to meet the ever-changing tech and organization's needs.
While assessing or reassessing, take advantage of the data technologies to measure data literacy across various employees in the organizations.
3. Set an example
Data literacy findings show that 63% of enterprises recognize the importance of data literacy. However, many aren't doing enough to support data literacy. Besides, most decision-makers don't see the importance of data literacy to the success of an economy. Such lack of confidence in data literacy from management automatically affects how employees view data literacy programs.
To ensure that employees can adopt a data-based mindset, let C-suite executives lead by example in using data to meet strategic goals. Top executives should use data in their communication and permit a culture of data usage throughout the organization.
When employees see that leaders and managers use data or analytics in communication and decision-making, they would want to do the same. They can easily understand the goals when leaders encourage the adoption of data throughout the organization. Hence, management should be the first advocate of data literacy and share the success.
4. Train your team
Once you have assessed why you need to improve data literacy and even had the right tools, it is now time to get them learning. Here implement different training modules such as micro-learning to ensure your team gets every benefit. You may also hold group training, one-on-one coaching, invite an expert to answer critical questions, or set up a blog post where employees can access learning materials at their will and convenience.
While doing so, remember employees learn or improve at different levels. And questions are bound to arise even after you have explained matters frequently. Thus, be considerate with your training.
Consider also encouraging questions about data interpretations and data reporting to get a clear perspective on ways to strengthen your data literacy program. Besides, don't just focus on training new employees but also train existing ones.
5. Be supportive
The best way to help employees gain trust and believe in themselves is to encourage them to use their skills in manipulating data. At this stage, offer them more responsibility as they gain experience in processing data or request they provide their plans or ideas through data.
Besides, support them in their ideas and suggestions and give certificates or letters of recommendation to add extra weight to their skills. Empowering staff in data literacy helps you save time on training and make them feel part of the data revolution process.
6. Set a goal
Goals are the foundation of success. Without goals, we have no directions. In your data literacy program, map out data literacy for different levels of the organizations.
Remember that different roles require different data literacy programs. For example, those in higher levels of management may require a different level of data skillset compared to those in low levels. Thus, setting goals will help you prioritize resources and efforts to the right places.
7. Offer incentives
Before you get used to analyzing and interpreting data, you will most probably find it boring. To make employees excited about improving their data literacy skills, offer incentives or rewards.
These may be prizes, team-building events, or a chance to attend conferences and seminars on data and analytics to improve their literacy skills. This will encourage employees to work towards achieving the required or higher level of success and expertise.
8. Set a baseline for data competency
What level of competency do you want employees to reach? At some point, you would like employees to perform certain tasks with data. These may include recognizing data, asking the right data question, understanding the logic behind data, and communication.
Hence, set qualification levels for all employees. Such qualification levels help you keep an eye on employees' understanding of data, data usage, and interpreting the results. Similarly, a baseline tells employees the milestone they need to reach or score to become data literate.
9. Decentralize access to data
One common mistake organizations make is to channel every effort to improve data literacy but deny employees access to data. So they have a data literate team whose skills are wasting away. As an organization, consider giving your team more access to data to use it or understand insights on their own.
Besides, data mastery is not a one-time theoretical process. It requires hands-on experience for proper understanding. However, sensitive data should be withheld or limited to those with rights and authority.
10. Encourage knowledge exchange events
Knowledge exchange events may be internal (bringing together a specific aspect or department of the organizations, e.g., HR) or external (offering employees a chance to interact with industry experts or groups).
These events enable your team to exchange data and analytics ideas effectively, learn basic skills, discover how other professionals handle data, and brainstorm or benchmark on data literacy.
11. Assign KPIs to each employee
KPIs should instill accountability in each employee. Thus, split up each KPI so that each individual knows what to track or is required of them. Remember to hold meetings where each employee presents their discoveries or results with KPI reports.
This way, employees become more inclined to work with data because they can understand their metrics and their relation to company goals. Besides, they can suggest better KPIs if what you have may not bring the desired results.
12. Break down barriers to data literacy
There are many barriers to data literacy in an organization. One is company culture, and another is applications supporting data itself. For example, complex or new applications may have several learning curves or fail to completely integrate with existing applications or tools, hampering the decision-making process.
Alternatively, if the attitude and aspiration of administrators and managers are discouraging, it may spill over to the employees and stall any data literacy program. Hence, break down any barriers to data literacy so that the entire team accepts progress.
13. Share success
Success comes in different forms for different organizations. For some, the fact that an employee uses data or knows how to manipulate data amounts to success. For others, understanding the benefits of data to business goals is a success. Whatever the case, share how data has helped improve the business method or reduced bottlenecks so that those who are skeptical can be more receptive to learning about data.
Conclusion
As digital transformation continues to sweep through organizations, data literacy is becoming a fundamental skill in improving efficiency and making business decisions. If you see a gap in data literacy in your team, use the above methods to promote greater fluency in handling and processing data and limiting data literacy shortcomings.
Published on May 24, 2021