#marketing
Instagram Stories Analytics
We all know the world of business marketing has evolved. Businesses are now establishing a presence on social media platforms, and Instagram isn't an exception. The Instagram stories have turned out to become one of the most powerful online marketing tools. Instagram Stories is a goldmine.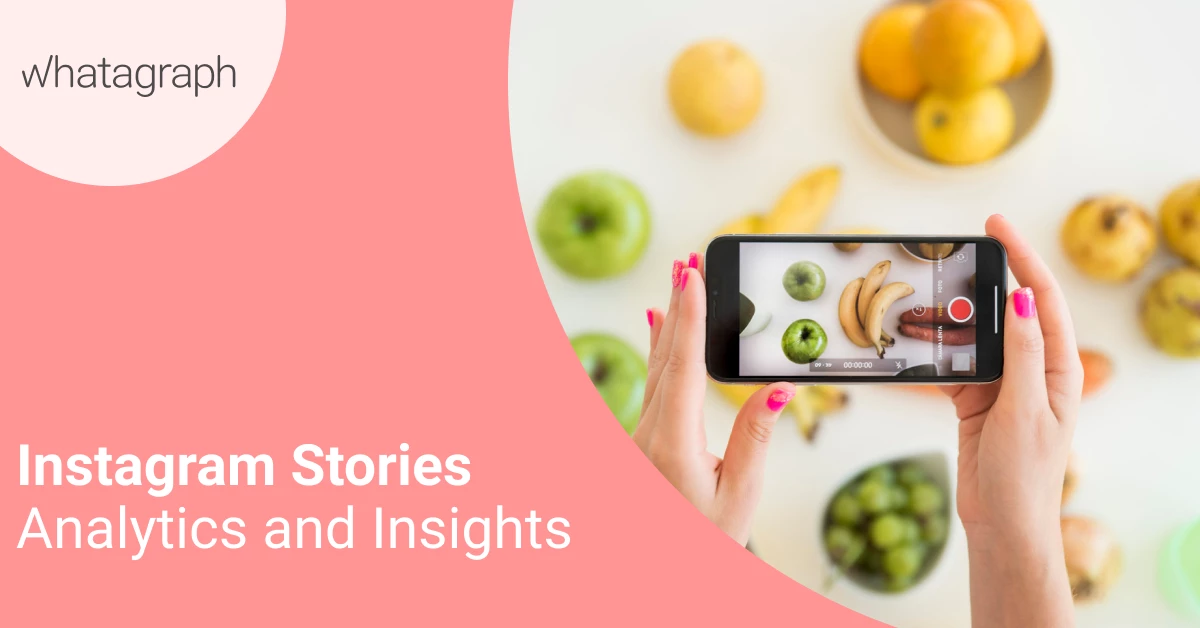 Table of Contents
This is why measuring your success through Instagram Stories analytics might be an effective way to make the most of your online business marketing strategies.
With over 500 million active users, there is no doubt that Instagram Stories is an excellent tool to connect your business with the new audiences, increase online engagement, and increase sales!
However, winning on your online marketing strategy through Instagram Stories requires that you have a clear idea of how to measure your performance from time to time.
How can you distinguish between what's working and what isn't? How do you make the most of your business marketing on Instagram Stories?
In this piece, we'll be walking you through the good, the bad, and the ugly of Instagram Stories analytics. Additionally, we'll walk you through what Instagram Stories metrics mean and how to utilize the insights to improve your Instagram Stories marketing.
Brief History of Instagram Stories
Instagram Stories was formally launched into the online marketing ecosystem in August 2016. Since that time, it has brought an entirely new approach to the duration of content on Instagram. Every picture, video, or boomerangs you posts on Instagram will disappear after 24 hours of being posted.
Instagram Stories have been programmed to feature at the upper part of your Instagram feeds. This makes it an excellent way to keep your brand on top of the game regardless of the ever dynamic and ever-changing Instagram algorithm. Apart from that, the short term nature of the content posted on Instagram Stories seems off-the-cuff. More interestingly, they are an excellent source of content that runs concurrently to the grid's brand messaging, while bringing a much exquisite perspective.
After the launching of Instagram Stories in 2016, Instagram has continued to look for other ways to build out creative features to enhance user's performances and experiences. One example of this the Stories highlight that allows users to permanently save a group of Stories to the user's profile.
With the unique blend of FOMO driven content, you should probably be aware that Instagram Stories takes a significant share in your Instagram marketing strategy. Yeah! It's really one of the important channels to keep in check and analyze. This will help you understand what part of your Instagram Stories engages your audience the most. From there, you'll be able to optimize your approach to attain success in your Instagram marketing strategy.
How to Use Instagram Stories Analytics to Optimize Your Strategy
Diving deeper into the analytics of your Instagram Stories is a bit complicated. It's not only about the photo, video, or stories that performed best on your Instagram stories. It goes beyond all that. If you really want to make the most of your content strategy on Instagram Stories, you should gain a much deeper understanding of your content's performance. How do you do that? It requires that you keep track of your key Instagram metrics.
Let's say you operate an Instagram account for an eCommerce store. One of the vital metrics you might want to investigate is the performance of different product pictures. Apart from that, you will want to make a comparison against each other. You might also perform a test on the background of those product photos. If you have a white background photo, you might even change to a black background or other colors.
From there, you might proceed to make a comparison between the product photos and your lifestyle content to discover a perfect match. This will lead you to determine the specific product photo your target audiences like the most.
If your target audiences show more interest in the product content, you may try a different approach to showcase your products. For instance, you can consider investing heavily in product photoshoots while scaling back on the lifestyle photoshoots.
You should know that your day-to-day success largely depends on several factors. This is why you need to test and compare different content and features on your Instagram Stories. Ultimately, this is the only way to identify your target audiences' trends in terms of their preferences.
Apart from that, you'll also be able to monitor your wins while at the same time, arriving at a fine-tuned online business marketing strategy through your Instagram Stories. Yeah! An approach that genuinely resonates with your target audiences.
Regardless of where you fall with your Instagram account, tracking your Instagram Stories analytics is vital to your business success. Why? It's the surefire way to gain a much deeper understanding of what your target audiences want. Additionally, you'll improve the content you post on your Instagram Stories while ultimately driving more traffics! And of course, traffic is a pointer to an increased sales!
Understanding Your Analytics
Like the Instagram account's analytics, the analytics of your Instagram Stories can be found at the top right corner of your Instagram business profile. Tap the "insight" button, and you are there. If you haven't converted your Instagram to a business profile, you should do that right away.
Once you navigate to the Instagram Insights, the next is to switch to the "Content." You'll also find this at the top part of the screen. This is where you'll find the data of both your Instagram Stories and your posts.
Taking a deep dive into the analytics of your Instagram Stories isn't complicated. You'll only need to click on your Instagram Stories icon and swipe up. The page will display a comprehensive list of insights. Once the page loads, it'll automatically display the key metrics that can help you measure the performance of content being posted on your Instagram Stories.
You might be thrilled to know that Instagram has continued to roll out new features since the launching of Instagram Stories. One of those features is the Creator profiles. This is specifically created for the MVPs, otherwise known as Instagram Influencers. There seems to be a similarity between Instagram business profiles and Instagram creator profiles as they both offer exclusive analytics and features.
Another incredible rollout of feature from Instagram is the Creator Studio dashboard. According to Instagram, this new rollout named Instagram Creator Studio will be loaded with analytics to suit the needs and wants of Instagram influencers. This data derived from the analytics will grant influencers insights into their content's daily and weekly performance. Apart from that, it is expected to work seamlessly across Instagram posts, Instagram Stories, and Instagram Television (IGTV).
Gaining access to your Instagram Stories analytics on the Creator Studio dashboard is simple and straightforward. You only need to navigate to the Content Library and select "Stories":
Influencers are allowed to sort out individual stories slides using date, posts status, and reach.
If you want to check the individual metrics for each slide on your Instagram Stories, you only need to click the slide, and then the analytics will be immediately displayed.
One of the most incredible features of the Instagram Creator profile is the option to follow or unfollow data. This makes it easier for influencers to understand how their content resonates with their followers.
In the past, influencers were subjected to looking outside the Instagram app before they can follow/unfollow data until the changes made on Instagram API disabled all third-party apps.
Whether it is the online status of their followers, or growth insights, or discovery data, Instagram influencers now enjoy access to a wide range of data and analytics.
One of the primary concerns of becoming an influencer is reach and engagement. Instagram Creator profile has a growth metric that grants influencers insight as to how they can reach and engage with their followers better.
While a number of these insights can only be viewed within the Instagram business profile, the new Creator Studio Dashboard is an incredible feature that makes every metric accessible directly from the desktop.
Instagram creator profile also features the key metrics that matter most to influencers. These metrics are easily accessible and shareable to the brands they are partnering with.
Do you know that tracking and measuring the performance of your Instagram stories and analytics with Whatagraph?
Whatagraph offers an Instagram reporting template aimed at analyzing your stories to extend your reach and engagement! With Whatagraph, you can track and measure your Instagram Stories by reach, impression, completion rates, average views per active user, and the number of responses received by each Instagram post. Whatagraph makes finding the best performing content on your Instagram Stories easy and hassle-free!
Discovering Your Stories Completion Rates
What does Instagram analytics do? It presents users with data and insights covering the pattern of interaction of viewers with posts on Instagram Stories. This will help you discover how people are getting engaged with the content you post on your Insta story.
Let's get practical a bit. If you click a single slide in your Insta story, the page will display a list of metrics which include Forward, Next Story, Exits, and Back.
With Whatagraph, you'll also be knowledgeable about the percentage of viewers that made it to your Story.
This engagement analytics provides you with reports on the types of content that are receiving the highest views from your target audiences. From there, you can determine the kind of content to display on your Instagram stories going forward. Let's take a look at what each of these metrics means:
Taps Forward
Tap forward is simply an Instagram Stories metric that displays the number of viewers that clicked the right side of the screen to view the "Next Story" in the queue. The usual pattern of Instagram viewers is that they "screen tap" whenever they check Instagram Stories. Other metrics such as Taps Backward, Exits, Next Story are all indicators that help you understand your Instagram Stories' actual performance.
For instance, you manage the Instagram profile of one online eCommerce store, and you'll want to be attentive to detail in other to determine the performance of different categories of eCommerce products against each other.
Does your audience get more engaged when you post product photos? Or do they show a preference for behind the scene footages? Do they always tap "away" when you post photos but taps "forward" whenever you post video content?
When you track these metrics, you'll discover how your content performs in front of your audiences.
Taps Backward
This is used to measure the number of times a viewer clicked the left side of their screen while on your Instagram Stories to re-watch a previous story.
For you, as an Instagram business marketer, this is a great way to measure what's working and what isn't.
When viewers tap the left side of their screen, which is the "backward" icon, it means the previous content needs to be given more attention. Viewers only tap backward for content that catches their attention while they "speed tap" through the Instagram Stories. A post with a lot of "tap backward" is an indication that your viewers are more interested in such content. Keep testing and monitoring these types of content in your future stories.
It's a goldmine to unlocking new trends. Besides, it also an indication that something is working in the right way for your audience.
Next Story & Exits
Exit simply means the number of times a viewer swiped away from your Instagram Stories. Next Story, on the other hand, means the number of clicks to the next Story, which will probably be another brand.
These two Instagram story metrics can appear similar, but the Exits has a lesser negative connotation. For instance, if someone swipes away from your Instagram story, it might be because they are running out of time.
More so, if there is a clickable link in your Story, they might have swiped away to learn more by clicking through that link.
Next Story is more of an indicator that viewers have exhausted their stay checking your brand story, and they wanted to proceed to the next one. This data is excellent as it feeds you with the insight as to the duration of content on your Instagram story should be. For instance, whether it shouldn't stand at 4 slides or more up to 14 slides.
Incredibly, these metrics are effective as they reveal the particular aspect of your content strategy that needs changes or improvements in order to gain more of your audience's attention. If there are lots of exits or next in your analytics, then you might consider reviewing the quality of the content you feature on your Instagram Stories.
Always aim at creating content that is engaging, interesting, and captivating enough to keep your audiences continuously tapping through your Instagram Stories until they get to the end! With that, they'll want to come back for more!
Measuring Engagements
With Instagram Stories analytics, users can track the kinds of interactions received by the content. The Swipe-Ups and Replies are features that explain these interactions.
Swipe-Ups
Just last year, Instagram advanced a bit in its quest to provide an excellent user experience. This is why it rolled out the feature to add links on Instagram Stories. Instagram users can now add links that are different from the links in their bios to their Instagram Stories. This feature is only available for Instagram business profiles with up to 10,000+ followers or profiles that carry the verified badge.
If you have fixed links in your Instagram Stories navigating to your product pages, blog posts, or web campaigns, tracking the number of users that taps the "swipe up" on your Instagram Stories is an incredible way to figure out the most performing content. That said, you'll be able to discover the types of content that are driving traffics to those links.
If the number of "swipe-ups" is low, you can try incorporating texts that let users know that they'll learn more when they swipe up. You can also make use of an arrow that points to the bottom part of your screen. Instagram also has cute "swipe-up" GIFs that show your viewers that there is a link to learn more about your brand, products, or services.
Replies
Just like photo and video engagements, "Replies" simply means the number of responses a portion of your Instagram story received over a period of time. Unlike photo and video comments, these responses show up directly in your inbox as they are not displayed publicly.
One of the effective ways to increase your overall engagement is to create Instagram content that encourages followers to send their responses!
Keep in mind what type of content attracts your audiences prompting them to connect with you. Once you can uncover these, you can take advantage of these opportunities to connect with your target audiences in the future!
These interactions boost your Instagram Stories and engagements, and they also help you establish a great connection with your target audiences.
Now that you have a deeper understanding of how Instagram Stories analytics works, the next is to optimize your Instagram Stories as parts of your online marketing strategy. Instagram Stories provides insight into the performance of your Instagram Stories content. Therefore, its left to you to keep testing and tweaking your online content marketing strategies.
Published on Jul 09, 2020