#news...
Key Takeaways from Mary Meeker's 2019 Internet Trends Report
Year after year, techies and digital marketers bite their nails in anticipation of Mary Meeker's annual Internet Trends report. Since 1995, Meeker, a well-known venture capitalist, has been sharing big-picture technology trends, and 2019 is no exception. We've compiled six highlights from this year's Internet Trends report that every marketer should be aware of.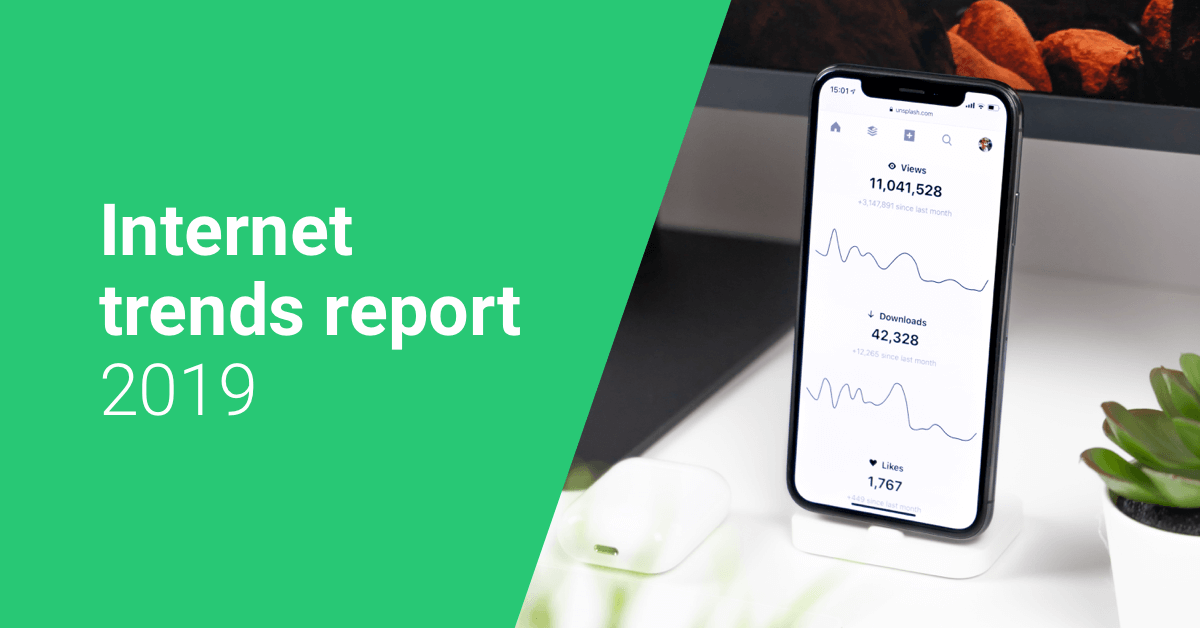 Table of Contents
1. Internet users
TL;DR: Everyone's already here.
According to Mary Meeker's Internet Trends report, about 51% of the world's population is now connected to the internet with the majority of users based in China, India, and the United States. However, global internet user growth has slowed down by 6% and it's becoming increasingly harder to get the rest of the world online.
Naturally, this opens up opportunities for expansion but not without challenges. Case in point: for the first time, there's been a 4% decline in smartphone sales in 2018.
That's not to say people are using their phones less, though. According to Mobile Marketing Magazine, "innovation in smartphones is actually encouraging people to hold onto their mobile devices for longer" and mobile usage is still on the rise.
2. Devices, platforms, and content
TL;DR: Images rule. But also podcasts.
As mentioned, internet usage continues to increase with 6.3 hours a day reportedly spent online (+7% compared to the previous year). Most of that growth comes from mobile (3.6 hours) with time spent on computers declining.
When it comes to social media platforms, Instagram and YouTube have seen the biggest growth from 13% to 19% and 22% to 27% respectively.
In terms of content, images are the medium of choice (even Twitter, which used to be text-first, now reports that 50% of impressions come from posts with images, videos or other dynamic media). There is a noticeable rise of video as well with 28% of total viewed content in the US is digital video.
One thing that we're super excited about is the meteoric growth of podcasts with more and more marketers viewing them as a great opportunity to reach highly-engaged users. In ten years, the number of listeners in the United States alone has grown from 22 to 70 million.
3. E-commerce and online advertising
TL;DR: Watch your spend.
While some online retailers might not be ecstatic with the slowing rise of e-commerce, it continues to gain share (15%) compared to physical retail. Naturally, marketing budgets are rising and ad spend in the US is up by 22%. Most of it still focuses on Google and Facebook with Amazon and Twitter catching up.
Nevertheless, Meeker expresses her concern regarding customer acquisition costs calling them "unsustainable" in some areas. To put it simply, the amount of money that companies spend to attract new customers surpasses long-term revenue those customers might bring. Meeker outlines alternative ways to acquire new leads, such as free trials or unpaid tiers.
Another challenge faced by inbound marketers in 2019 has to do with privacy. Targeted advertising will become even more burdened by GDPR, CCPA, and similar regulations, as well as data ownership push from large companies like Apple and Facebook.
To offset the worrisome trend, Meeker mentions that opportunity lies in data gathering as Internet users today leave a lot of personal data across multiple platforms.
4. Online education
TL;DR: Learning is hot.
According to Meeker's report, the demand for knowledge is higher than ever and will continue to increase over the years. This growth not only encouraged traditional universities to launch online study programs but also birthed new business models, such as Lambda School, Chegg, Quizlet, and more.
YouTube remains one of the best online learning tools with 4.5 billion hours of "How-To" video content streamed annually. Main interest areas still revolve around technology.
5. Data volume and utilization
TL;DR: More data < better data.
For us here at Whatagraph, the most important point, however, was to do with data volume and utilization. Hilariously illustrated by Slide 157, the problem lies in the unstoppable growth of data and our inability to make sense of it.
To quote the report: "Humans' ability to adapt to technological change is increasing, but it is not keeping pace with the speed of scientific and technological innovation."
Thus, it is more important than ever to invest in tools that help us not only gather but analyze and understand data about our users or customers. After all, a whopping 91% of people say they prefer brands that provide personalization, and according to Meeker, "context-rich data can help businesses provide consumers with increasingly personalized products and services that can often be obtained at lower prices and delivered more efficiently.
We hope you find this summary helpful. If you are interested in learning more details, download the full report here.
Published on Jun 26, 2019