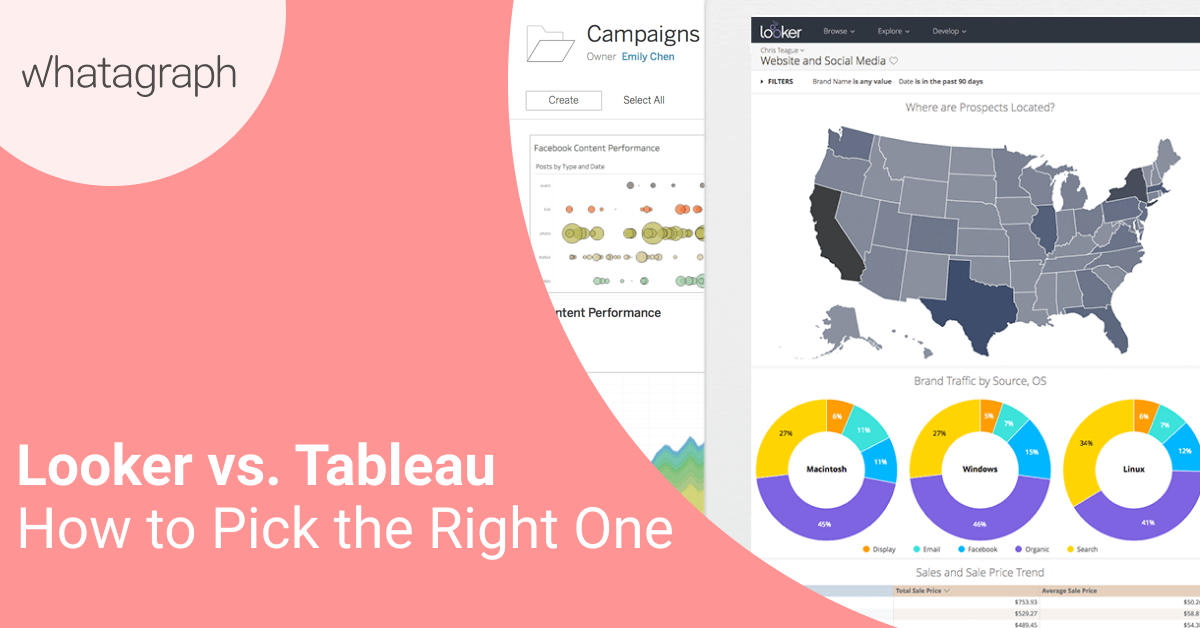 Looker vs. Tableau
Jul 30, 2020 ● 6 min read
Business intelligence tools have no doubt grown as a necessity for organizations of different industries and sizes. Have you ever conducted an analysis in your search for business intelligence tools? This article seeks to examine the apparent differences between the two major business intelligence tools; Looker and Tableau.
Of course, both platforms i.e., Tableau and Looker, provides functionality for businesses to assess their useful portfolio of data. Insights garnered from these data can help businesses understand their current position and future goals. Through these insights, businesses will be able to interpret their metrics while also utilizing their discoveries on the path of making better business decisions.
Table of Contents
Looker vs. Tableau: The Differences
Looker Data platform is no doubt, a data discovery platform. The Looker business intelligence platform provides companies with the opportunity to make better business decisions. This is achieved through real-time access to data.
Regardless of the size, the Looker platform allows 100% data analysis in the database and browser-based platform. Looker analytics can be integrated with any data warehouse or SQL database. These include Greenplum, Amazon Athena, and Microsoft Azure SQL Data Warehouse.
Tableau is a robust business intelligence tool that enhances and promotes data visualization. Apart from that, these data visualizations are offered to different kinds of business users and organizations. Tableau works with a drag-and-drop feature. This allows users to analyze essential data efficiently. It promotes the sharing of critical insights across different organizations, businesses, and enterprises while also creating innovative reports and visualizations.
Additionally, Tableau is unique in that it offers alternatives to embed dashboards into existing business applications. Some of these are SharePoint, Jive, and Salesforce.
Customer Service and Support
The Looker customer support platform is similar to that of a public help center. Why? It features a plethora of information both in published videos and documents. In its quest to deliver excellent users experience, Looker offers email support for its customers. Similarly, it provides a training platform to put the first-timers through the process of making the Looker platform effective.
Tableau also offers responsive customer support in that it integrated a web form to receive complaints. Besides, complaints, questions, and concerns can also be sent through the customer portal. Tableau excels in that it offers a comprehensive knowledge base characterized by three categories of subscription: Online, Desktop, and Server.
Users are offered unlimited access to a variety of resources that are specifically tailored towards their software. The information provided through this platform includes getting started, best practices, and effective use of the platform's top features. Similarly, training and other events can also be accessed from the Tableau community forum.
Both Looker and Tableau platforms offer extensive and responsive online support resources. However, while Looker its users access their technical support through chats, Tableau customers can only lodge their complaints through the private customer support portal.
Cost
You won't find a public statement on Looker's pricing information. Instead, the Looker platform offers customer-friendly pricing. This allows users to enjoy flexible pricing that is specifically created for businesses. Customers are offered the opportunity to get in touch with the vendor to request a quote for their specific business requirements.
Tableau's subscription model is also explicitly tailored to the user's requirements. These subscription models are titled Creator, Explorer, and Viewer. Prices are also offered on per user, per month, or annual basis. For the Creator plan, it involves the comprehensive functionality of the platform, and it comes at a rate of $70/user/month. This represents the standard pricing structure for the Creator plan regardless of whether it is deployed in the cloud or on-premises.
The Explorer platform, on the other hand, is explicitly offered to users who prefer self-service analytics without data cleaning or prepping. This plan costs $35/user/month for on-premise deployment while it costs $42/user/month when deployed on the cloud.
The Tableau's Viewer plan is specially designed for users who want to be granted access to the readily created visualizations. This plan costs $12/user/month if deployed on-premise while it costs $15/user/month if deployed on the host. However, it is pertinent to note that Tableau Viewer's plan requires at least 100 viewers for purchase.
Interestingly, this platform offers a free trial that lasts for 14 days, specifically for users who cares for a test before making a purchase.
While Tableau offers a simple and straightforward subscription plan, Looker's pricing plan appears to be more specific about the user's needs and preferences in their pricing. However, both platforms might seem a bit expensive for small scale businesses.
Ease of Use
Looker makes it simple and straightforward to drill down into their data, such as manually creating calculations, formatting dashboards, and designing visualization.
Tableau is easy to use as it integrates Ask Data's natural language capabilities. It may interest you to note that this is specially designed for business intelligence use cases. Above all, Tableau is available for use by all kinds of data analysts in one form or another.
Both Looker and Tableau are simple and straightforward when it comes to ease of use. While Looker has a smooth and efficient use, especially for first-timers, the Tableau is more tailored towards serving the professional data analysts.
How They Stack Up Features
Looker has a specific proprietary modeling language known as LookML. This is described as a better way of writing SQL and define queries. This modeling language helps users to develop custom models on the platform. The data models built allows users to create non-technical users to scan an SQL database efficiently. This is because it doesn't require any form of complicated coding.
Looker also features an API that integrates with diverse platforms such as Excel, Google Docs, and other third-party applications. These data can also be effortlessly exported into .csv or text files. Looker offers users a variety of functions. These include creating new metrics, making changes to the existing models, and exploring a range of data visuals such as graphs, maps, and charts. Looker is undoubtedly easy to build a dashboard, and it also offers personalized visuals. However, it doesn't support online analytical processing (OLAP).
Tableau provides support for a plethora of data connectors such as OLAP and big data alternatives. These are NoSQL, Hadoop, and cloud options.
When it comes to data analysis, Tableau can also gather data from a SQL database. These data connectors help Tableau to load and extract data by linking to different data sources. Of course, data preparation on the
Tableau platform can be carried out quickly and efficiently. However, first-time users will require extensive training. Tableau also has a Device Designer tool that allows users to design, customize, and publish dashboards that integrate with desktops, tablets, or phones.
Both Looker Tableau can efficiently pull data from an SQL database for analysis. However, due to the potency of SQL modeling capability, Looker seems more comfortable to run. Apart from that, users of Looker doesn't have to be experienced in SQL or data analysis. On the contrary, Tableau boast of a steep learning curve for first-timers.
Implementation
Looker is a browser-based platform. This is why it is faster to deploy compared to traditional business intelligence models. Instead of waiting endlessly, the Looker platform offers customers the opportunity to deploy the platform within hours because it is commonly packaged in a .jar file.
Besides, the customer's existing infrastructure doesn't disturb the platform's installation as it is hosted on the Looker's server or customer's server. Also, Looker's implementation team can help build a personalized deployment plan that perfectly matches the client's requirements.
For Tableau, there are a wide variety of implementation plans. Usually, it comes with a rapid start option for small scale deployments that can be set up to run in a few hours. However, deployment of Tableau for enterprise-level necessitates the following processes:
Phase one involves IT planning, architectural consulting, pre-installation check-ups. Apart from that, this phase also involves installing and verifying the server and security configuration.
Phase two involves operation with data coupled with data migration. These include data mining and modeling, data extraction, data sources, and business workflow.
Phase three is where two-day classroom training is organized to avail users with the fundamentals of the Tableau platform. Furthermore, this phase also covers the hands-on advanced coaching and building and formatting of visualizations.
Phase four is focused on expanding the usage of Tableau across a wide range of business practices. This phase involves the implementation workshops where subjects like an evaluation of action plans and defining measurable outcomes are covered.
While small and midsize companies can benefit from Tableau's quick start feature, large enterprises are subjected to four-phase processes. Looker is, however, available for implementation in a few hours regardless of the sizes.
Looker vs. Tableau; Which Should You Choose?
The business intelligence tools we've compared in this article aren't data dabblers. They are data analytics tools manufactured for companies with dedicated data resources. While the use cases for small businesses to purchase Looker or Tableau, ensure that you have gained the necessary SQL or data analysis experience to help manage these tools.
Looker and Tableau aren't the only business intelligence tools available. And of course, they won't be a suitable tool for every team. Before you select any of these tools, focus on defining the future state of your data strategy.
Does your business want to take advantage of a specific difference between both platforms? Or do you have another business intelligence tool that serves your organization better? Use Whatagraph Today. We have integrated all business intelligence tools on our platform to ease our customers' and clients' use. For further inquiries, get in touch with us.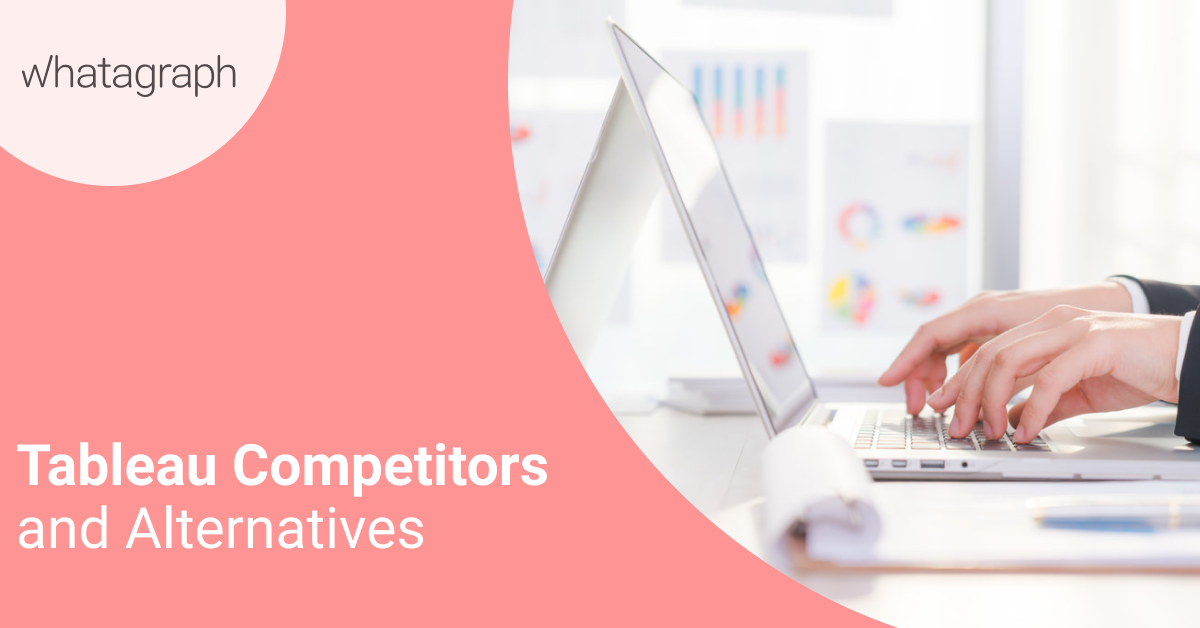 Correct understanding of data gives you a clear picture of your business progress, and this is key to success. Tableau is a powerful data visualization and business intelligence (BI) software that helps you view, understand, and interact with data on a single platform. It helps to simplify raw data and present it in a more easily understandable format. Learn more about Tableau's competitors and alternatives.
Read more...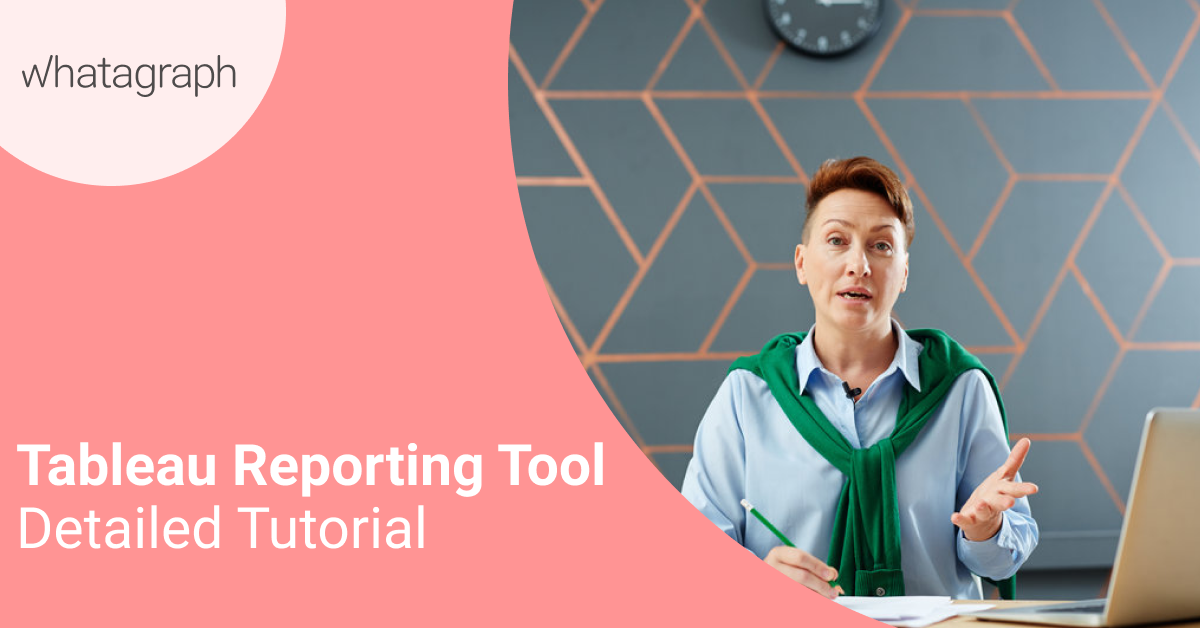 Data is the most important asset in any business as long as users know how to harness its power. Thanks to data reporting tools, anyone can understand the hidden insights of data and use it to make informed business decisions.
Read more...