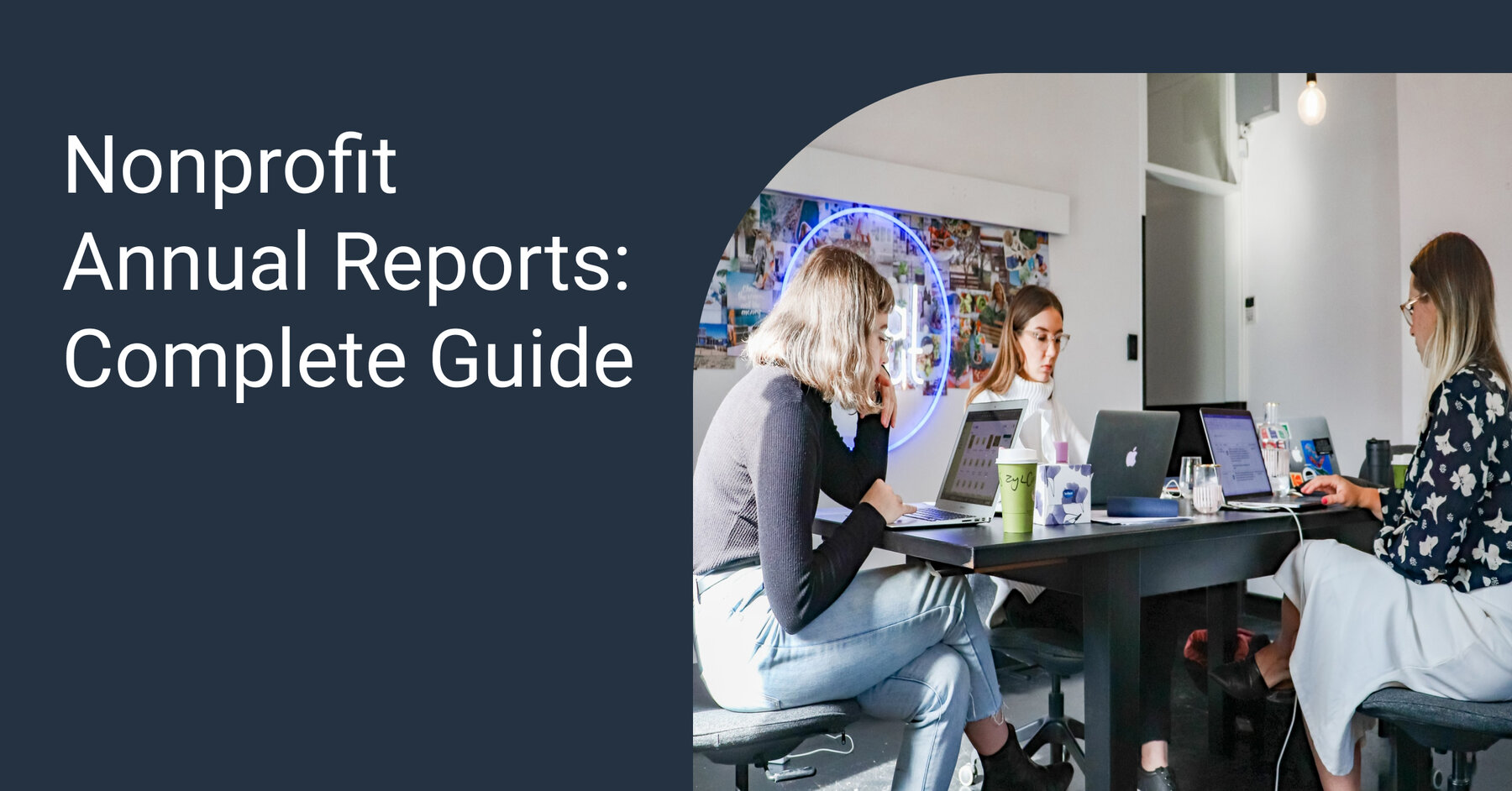 What should go into the nonprofit annual report template?
Mar 30, 2021 ● 6 min read
Professionals working for nonprofits do good work and rely on donors to maintain their organization. In these cases, it's extra important to build trust between the organization and the donors and make sure they feel safe and that their money is well-spent.
Professionals working for nonprofits do good work and rely on donors to maintain their organization. In these cases, it's extra important to build trust between the organization and the donors and make sure they feel safe and that their money is well-spent.
To achieve this, it's important to create a nonprofit annual report that clearly states the organization's mission, reports on the performance, and includes all information donors want to know. Right now, annual reports have the reputation of boredom, time waste, and low impact on donors. However, it doesn't have to be this way!
A well-built annual report can do much more than show readers what their money is being spent on. It can make them feel included in the nonprofit's operations and encourage further support and fundraising from sources you haven't thought of before.
In this post, we will share the best practices of nonprofit annual reports. We will also show what to consider when building a report template and how it can be done easier with Whatagraph.
How do you write an annual report for a nonprofit?
While there isn't a single best nonprofit annual report example, you should include some essential elements in your report to make it engaging. Here are some of those elements:
Make your report donor-centric. This means using a certain way with words to have a positive impact on donors. For example, use sentences like with your love and support, we were able to feed X number of homeless through our soup kitchen. We couldn't have done that without you! Not only does it thank the donor directly, but it also gives a sense of participation in the nonprofit's accomplishments.
Showcase long-term strategy. Show your supporters that each action was a part of a larger strategy that your nonprofit is working towards. It's an excellent way for your donors to understand how their money helps you achieve the nonprofit's goals in the past year. Don't forget to be transparent about those goals and include where you're falling short. This gives the audience a more realistic view of the nonprofit.
Include visual data. Find a platform or a tool that helps you visualize the data in your nonprofit annual report. Include images, information from social media like the best-performing posts. Present a document that is easy and engaging to read.
Be honest in your report. The best way to present information in the nonprofit's annual report is to be completely transparent. Obviously, your finances need to be in order to make it into the annual report. However, you must also be open about the performance of your nonprofit and its goals. To have an even more significant impact, make sure to showcase your needs and where more fundraising could help.
Make yourself a report template. Whether you're presenting annual reports, give monthly or weekly feedback to your donors - have a template ready. Invest time in a good text, important data, build a format to frame your accomplishments. That way, you will save much time in the long run and will be able to make your report even better.
Do nonprofits have to publish an annual report?
It largely depends on the country a nonprofit operates in. Generally speaking, the answer is yes. Not just for legal reasons but also to build trust between them and the donors.
What should be included in an annual report?
To quickly summarize, here's what data should absolutely be in your nonprofit's annual report:
Financials. How much you fundraiser and how much you spent on which campaigns. Worker salaries, marketing, inventory purchases, etc. - everything should go in.
Goals and performance. Show your organization's goals and how they were achieved. Showcase what has been missing the mark, where more help might be needed. Introduce long-term plans, as well as short-term objectives.
Growth/dip in supporters. Ensure your donors know they're doing the right thing supporting your organization because more and more donors are joining.
Additional information and personal stories. While not essential, a touch of feel-good stories might help your audience feel more related to the help you are giving out. If you think you need to add additional information, do so. Just make sure to write it concisely and explain why it's important.
How do you write an annual report for an organization?
If you are an agency that writes reports for a nonprofit organization and are looking for insight into how to write the best nonprofit annual reports, you're in the right place. Following the advice mentioned above is a good start.
What you need to make sure of is the communication between you and the organization. Get started with understanding the organization's mission and how they are working to achieve it. Figure out where their data is coming from and how it should be presented in the report. Look for design elements that could help make an impact on the audience.
How to use Whatagraph to create compelling nonprofit reports?
A great thing about using a data analytics tool like Whatagraph is that all data can be imported and built into an annual report template. It's also possible to directly connect social media accounts, call tracking platforms, e-commerce for merchandising and much more.
Whether you're building a report yourself or providing a service, Whatagraph is an excellent place to get started. Our report templates offer an insightful and accurate view of your last year or a year before that. Connecting your data sources will let you accurately measure your organization's accomplishments and see where your mission could use some help.
Whatagraph can help you build the best nonprofit annual report and make it look easy. We offer a seven-day free trial for you to try out our tool and see if it's the right fit. You can also book a demo to show you around and how to connect custom data sources.
Your readers will be happy to see an engaging, visual report with modern design and precise information. If you need constant donor feedback, you can also use interactive dashboard templates. The dashboard data is presented in real-time and can be resented based on time intervals. You will always control what your supporters see, but they will feel more engaged with the nonprofit's mission.
To engage your supporters even further, Whatagraph allows you to spruce up the report by adding images and informative text to your annual report. It will give readers a warmer picture of your organization's mission and the people that participate in it.
Conclusion
Writing a nonprofit annual report template should not be hard, groan-inducing work. While the first template will take effort, your supporters' continued reports should be quick, easy, and motivational. Don't let yourself be discouraged by the complex data. Your nonprofit mission always comes first, and with Whatagraph, you can dedicate more time doing good deeds than building reports.
Cross-channel marketing dashboards help you better assess the performance of ALL marketing channels. It's imperative that you, as a marketing professional, save yourself time and aggregate marketing metrics in one place. These cross-channel dashboards make long-term performance assessment really simple, as all of the data is found in one place.
Read more...