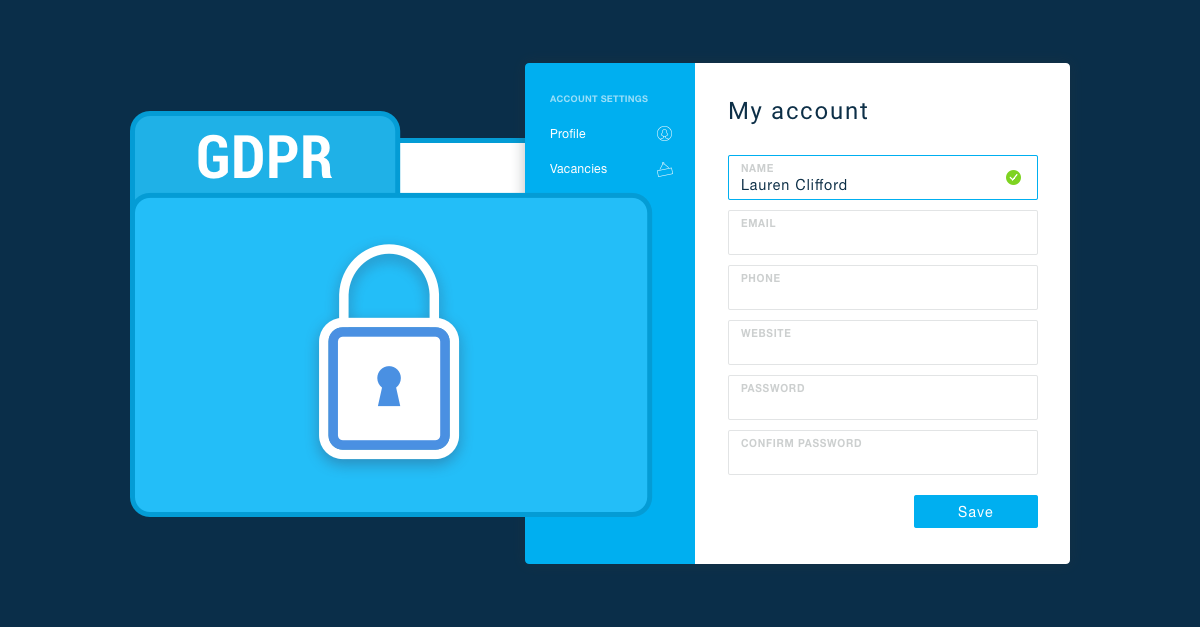 One Important Thing You Can Do Now Before the Arrival of GDPR
With GDPR coming into force on May 25, there are quick ways to check whether your Analytics is potentially storing personal information.
If you are using Google Analytics, there's a big chance you are storing Personally Identifiable Information (PII) in your company's analytical data.
Although Google Analytics prohibits sending any PII to Analytics such as names, social security numbers, email addresses, or any similar data, there are still many cases when these terms are (often unknowingly) defied.
A painfully often example is when client's email address is being saved in URLs because at some point password reset was incorrectly set up by your dev department (or that freelancer you got over at Fiverr).
The consequences of noncompliance can get pretty serious - from the removal of your analytics data to getting on Google's blacklist and the ban on your account.
If you have ignored it until now, today is the right time to start thinking about it.
Why?
Four letters - GDPR.
GDPR.. what??
The General Data Protection Regulation (GDPR) is a new and complex data regulation that comes into force on May 25, 2018.
GDPR is due to set new high standards for companies that collect and store personal information on the citizens of European Union (EU).
Designed to protect and give me more power to protect personal data, it will require some major changes to how companies treat Personally identifiable information (PII) from both their customers and employees.
If you are based outside the EU, GDPR still applies to you if you serve European customers or have offices in the EU.
Non-compliance consequences are a bit more serious here too - from a $20M fine (or a fine equalling to 4% of company's worldwide turnover) to a bankruptcy.
Good news is that May 25th is still a couple of months away. Organisational preparation, the change of contracts, cookie policy updates and even the appointment of Data Protection Officer - all need to be done, so your hands will definitely be full.
But before that, there are a few small steps you can take now to get a reality check with your Google Analytics data.
Let the checking begin!
There are some basic checks you can do now in your Google Analytics account in preparation for GDPR. By doing these simple searches you will be able to tell right away whether you are unknowingly sending PII data to Analytics.
You want to be looking for things like:
Full name (if not common)
Home address
Email address
Date of birth
Telephone number
Credit card numbers
There is an extensive list here that details various PII.
So, ready for some checks?
Behavior data
Head to your Google Analytics account and select

Behavior

tab.

Select

Site Content / All Pages.

In the filter field, just below the chart, enter @.

Make sure you have selected a longer date range - last 6 months for example.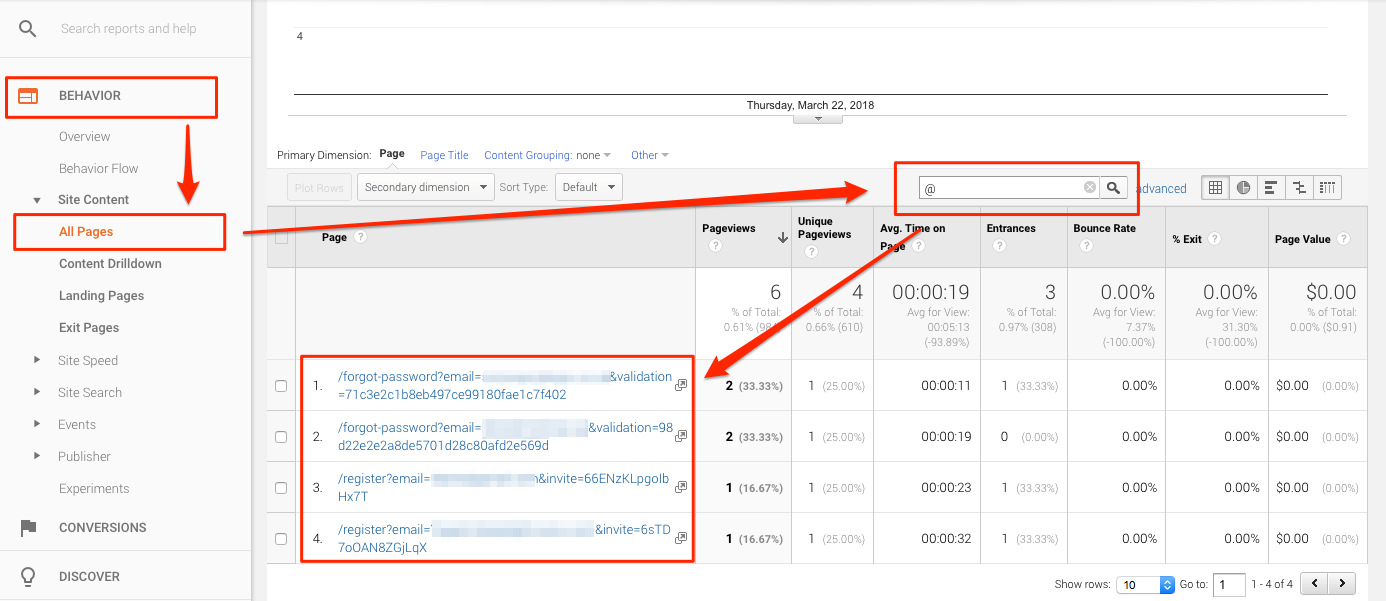 Note what search results are returned. If they have URLs starting similarly to /forgot-password?email=name.surname@mailprovider.com, it's a sign that you are already sending some PII data to Analytics.
Repeat the same steps but instead of @ use other PII indicators like First Name + Last Name of some of your subscribers or clients. You can get a lot of ideas for PIIs to use for a checkup from your CRM database.
After you've done with All Pages, head to Events / Top Events, and repeat the process.
Audience data
In your GA account, go to

Audience / User Explorer.

Use

Show rows

to open as big the list as you can.

Click the good old CTRL + F (CMD + F for Macs) and enter @.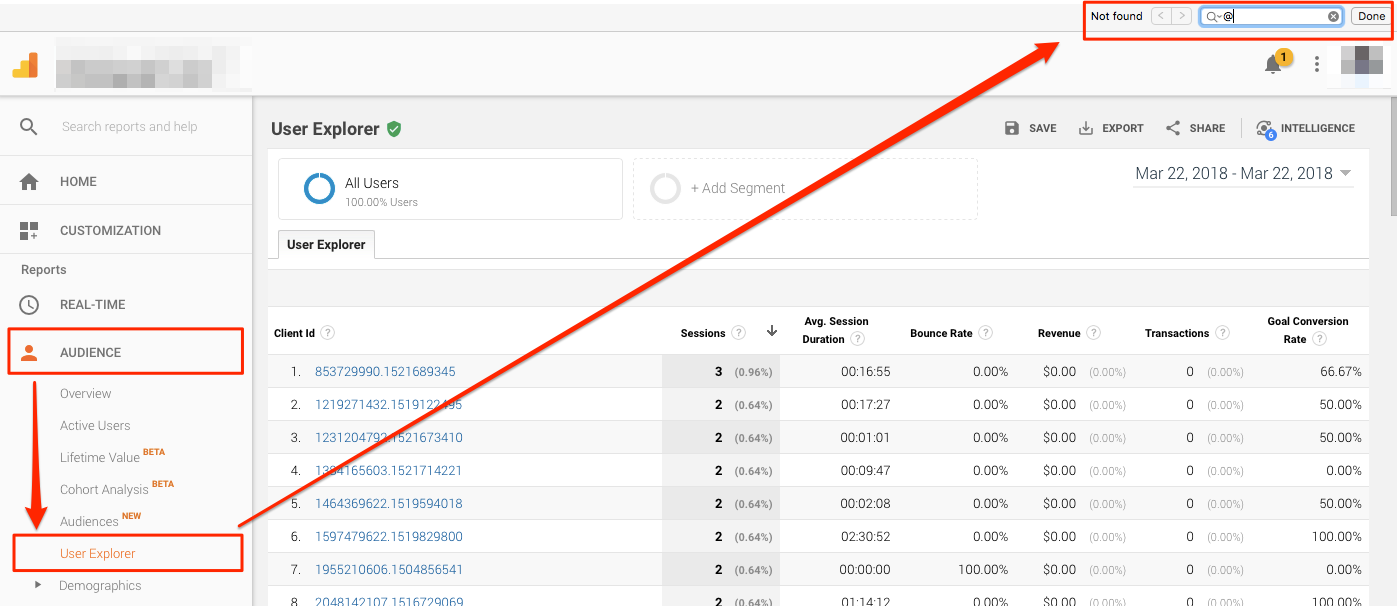 Repeat the same steps for other PII touch points.
You will need to do the same steps for the following data:
Audience / Custom / Custom Variables
Audience / Custom / User Defined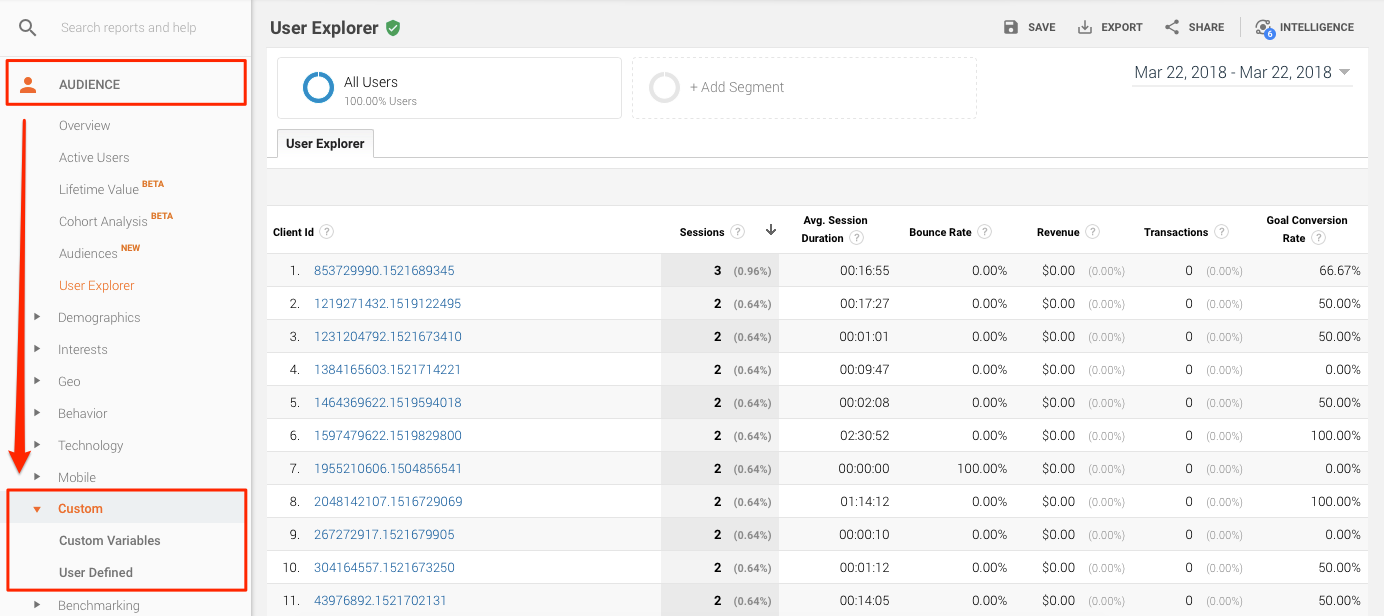 Acquisition data
Now head to the acquisition section, to

All Traffic / Source/Medium

In the filter field, just below the chart, enter @.

Repeat the search for other PIIs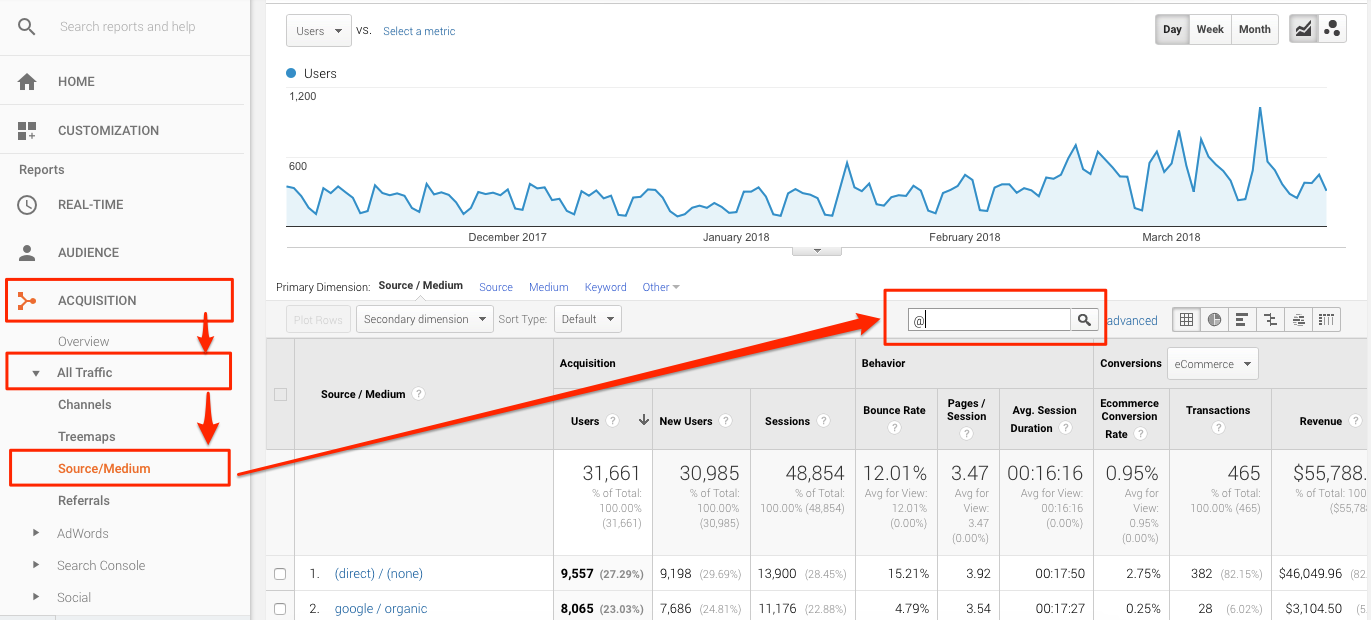 E-commerce data
Do the same process for the ecommerce data:
Conversions / Ecommerce / Product Performance

(note there are several tabs for the primary dimension -

Product SKU, Product Category, Product Brand

- make sure to check all of them)

Conversions / Ecommerce / Sales Performance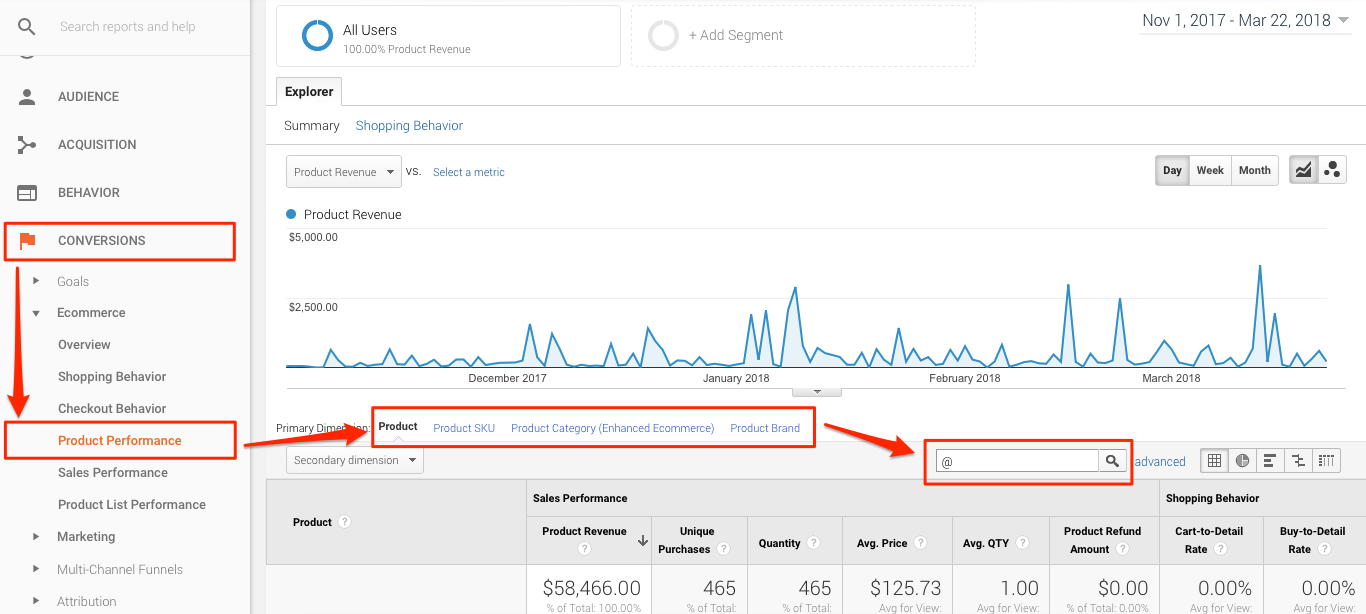 Don't forget to take precautions
Yes, the checking requires manual work and your dedication. A lot of it.
And even when you find the issues, and get your dev team to fix them, it's very likely that after an update to your website or an update release to your app, the problem crawls out again.
So it's essential to have your analytics monitored 24/7. Ok, maybe not so drastically, but you need to have regular checks to make sure no PII data is being sent to Analytics.
It's no surprise that a lot of experts suggest getting own Data Protection Officer to your teams to make sure that the new regulation is taken seriously.
Don't wait till May 25, and start preparing today.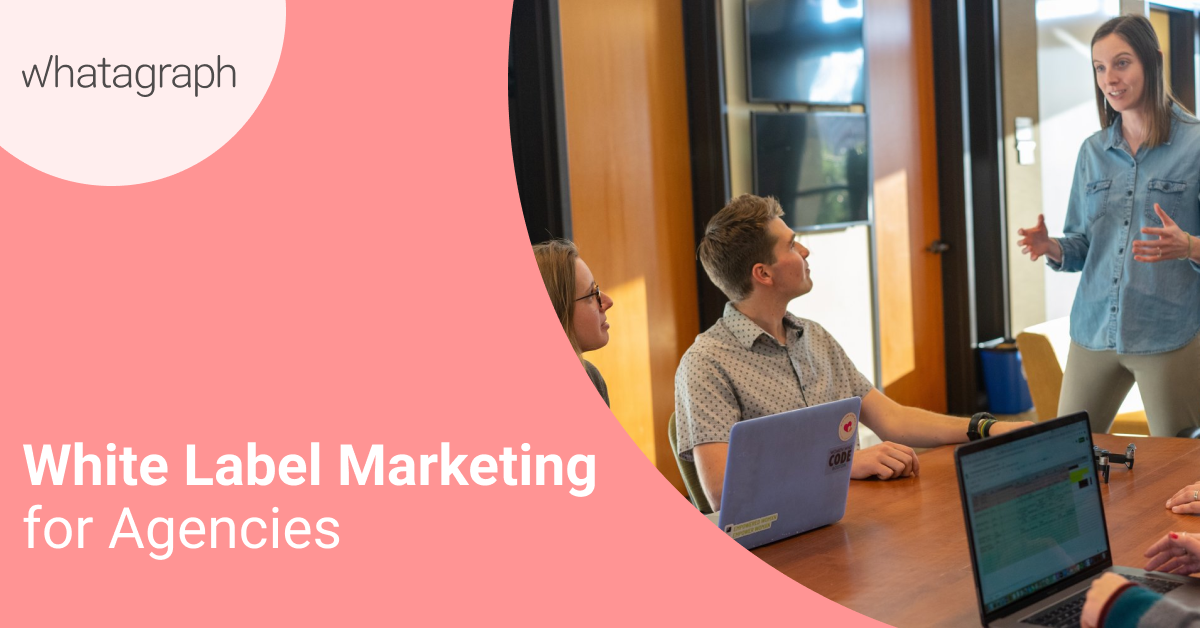 Many business professionals often desire to engage in everything that concerns their businesses by themselves. Interestingly, this is a wrong step as it could hamper the growth and development of their businesses if not done in the right way.
Read more...