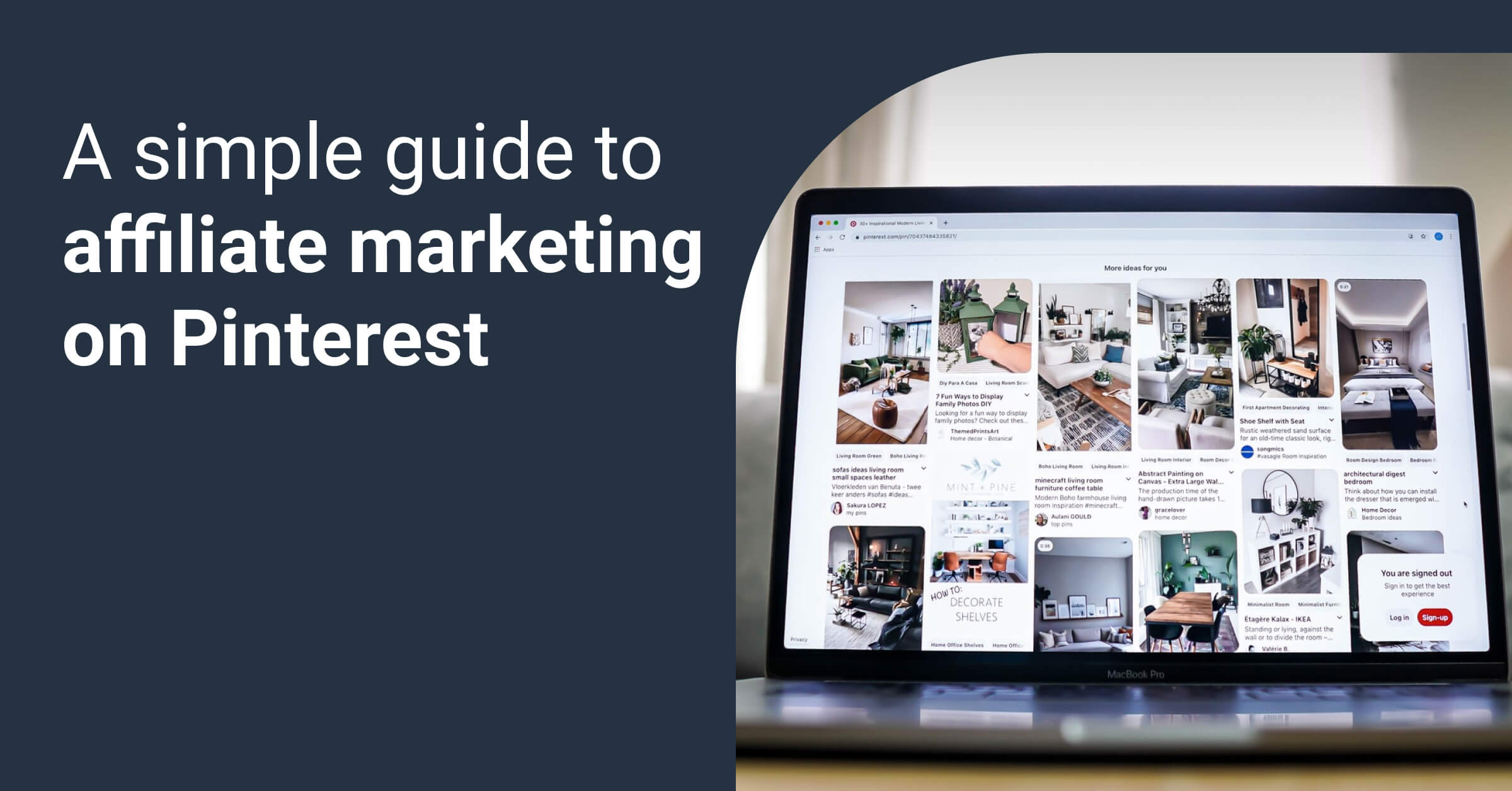 Pinterest affiliate marketing
May 04, 2021 ● 9 min read
Affiliate marketing can be a pretty reliable way of generating revenue. It may seem like it's only influencers that can profit out of it, but that is really not the case. In reality, it allows you to sell merchandise and products that you are genuinely passionate about. If you love interior design, or if you deem yourself a fashion guru, then Pinterest affiliate marketing can turn out to be more profitable than you would expect.
Here we will explain what is Pinterest affiliate marketing and why it is such a reliable tool for traffic. If you are a marketing agency you can basically diversify your income by relying on affiliate links. We will also touch upon, how to use affiliate programs on Pinterest, and how to expand your influence on this platform, which on its own is useful for multiple things outside of affiliate marketing.
Things You Should Know About Affiliate Marketing on Pinterest?
Any online store that has an affiliate program gives you an opportunity to generate affiliate links and get a small percentage of the retailer's earn whenever someone uses that link to purchase a product from the store. The link does not impact the pricing of the product, so users are aware that they are not purchasing something at a higher price, they know that by using your link they are simply helping out.
Pinterest is a social medial platform for sharing your interests or images of your interests. It's a place where people post photos of their meals, show off their graphic design skills, and really share different fashion products or ornaments that they find stylish. So, when someone sees something they like on Pinterest chances are they will also want to buy that thing, which makes the platform ideal for affiliate links.
Many startups use Pinterest to promote their merchandise, boost traffic on their website, and increase their brand awareness. Bloggers, and affiliate marketers, also use it to promote their content and as means of generating passive income. However, in order to be successful, you will have to go the extra mile and nurture your account.
How to Use Affiliate Links on Pinterest
One reason why affiliate marketing on Pinterest is so popular is that it is incredibly easy to add those links and make them visible for the viewers. Basically, all you have to do is add the new post or image as you would normally do and then use the affiliate link anywhere in the description section.
So, if you have purchased something from Amazon for example, and you like the product, you can use your own camera, and photo editing tool to create an impressive image, and then post it to Pinterest. After that just add the link in the description and share the image. Alternatively, you can just use the image that is already on Amazon, or if it exists online in a better form.
Bear in mind though that some stores or some countries have different regulations regarding affiliate links and using them on social media. So, assuming you know you are in the clear, you should be able to do your marketing on Pinterest without any trouble. Alternatively, if by any chance you cannot use the affiliate links on Pinterest, just create a blog post with the link, and then use the link to the blog post in the description section of the image.
If the online store does not allow for its images to be used on Pinterest, then there is an easy workaround for this problem. Just visit one of many online platforms that have a vast database of different photographs. Make sure all of those photos are licensed under CC0 or creative commons that are free for use and distribution. Then you can just find the image of the product you need and include the affiliate link.
Finally, if you don't like how creative commons photos look, and you don't think they will inspire people to take action and make a purchase, then just buy better images. There are plenty of stock photo sites that aren't even as expensive as some of the well-known platforms like Shutterstock. You can find really great images at a low price, and that should help you with affiliate marketing on Pinterest.
Best Practices for Affiliate Pins
Even if affiliate marketing is very accessible, there are a lot of those who simply give up on it, mainly due to poor results. In truth, there are several practices or tips that you need to implement when you rely on an affiliate program to generate revenue. After all, you don't deal with inventory, stock management, or storage costs, so you should go that extra mile in order to make sure you sell the items via social media. So, let's go over some of the best practices for beginners on how to make money via Pinterest affiliate marketing.
Focus on relevant posts
The reason why most of the users fail at this is because of spam. They clearly don't use their Pinterest account to share opinions or advice, and they are visibly only there to make money. Even you are trying to make money on Pinterest that doesn't mean you should treat your account as an online store. You need to use it just like a regular Pinterest account.
If you are interested in fashion, interior design, and fitness, then make those categories, and post products within those categories. Focus on what is relevant to you, and what you really believe will benefit your followers. Also, do not focus solely on posts with affiliate links, really share things you believe viewers will find interesting and useful.
After all, they need to come back to your profile and see what's new, regardless of whether they wish to shop or simply look at your pins. Basically, respect your target audience, and they are more likely to help you if they find something worth buying.
Think unique and pursue untapped market
In case your interests and pins are too general, or if the number of boards with the same topics is too high, then it might be more difficult to get noticed. In that event, you might want to take up a new hobby, something that is not as represented, and see if there are affiliate programs available to promote that product.
Pinterest is a platform for visual content, therefore users go there to find aesthetically appealing images. One of the newer trends when it comes to visualization is data visualization and there are tools that help users collect and aggregate data.
One such tool is Whatagraph and it also has an affiliate program. So you can for example promote neatly organized and visualized reports, and add an affiliate link to Whatagraph. This way you might make money on Pinterest and ensure your profile gets more organic users, which will come in handy for all the other products in different categories which you wish to promote.

Don't rely on affiliate link directly all the time
As mentioned you don't always have to rely on the affiliate links directly, and that can even be a good thing. Different niches require a different approach to affiliate marketing, so some of your pins should contain links that lead to other content. For example, you can link buyers guide for a specific product and use the links there, in order to allow the users to decide for themselves. Also, you can link user reviews of the product and once again use that content as your affiliate post.
This can be a more useful approach, and it will once again help you generate trust. Your primary goal is to share your enthusiasm and help others, therefore relying only on affiliate pins might cause your followers to get different ideas.
Be upfront
Don't try to hide the fact that you are using affiliate links and that you are getting money, mainly because it's already common knowledge at this point. More importantly, your followers need to know where the link is taking them, as that is simply a safer practice. You can also thank them in advance in the pin description and be upfront that you are also doing this for profit. So long as your boards are not filled with affiliate posts this won't look as bad as you might think.
Of course, you don't have to fill all of your pin descriptions with what you do and what are your intentions, but you can maybe put that information in the board descriptions.
Make Your Profile More Visible
All of the mentioned practices are useful, but they are only as good as your social media profile. In other words, you might have to invest more time to make your profile gain more followers and be more visible online.
You can use different tools to add new people quickly and see if they follow back. Of course, they are more likely to become a follower if you interact with them, so don't hesitate to like and repin their posts every now and than.
Also, try to join group boards that are relevant to your pins, and share your posts there. These don't have to be affiliate posts, given how the group might not like the idea, but you can still participate as a member in hopes of getting new valuable connections who will interact with pins on your profile.
Finally, remember to use tags and relevant keywords when pinning your content. It's a generally good idea to do so in any affiliate marketing strategy, and it will make your pins more visible in search results.
FAQ
Can you do affiliate marketing on Pinterest?
Yes, you can, and in the majority of cases, users do so by adding affiliate links in the pins description section. You need to mindful of rules though, as some group boards might not ban you for trying to pin posts with intention of selling a product, and some platforms might not allow for their images to be shared without permission.
How do I start affiliate marketing with Pinterest?
First, you need to be a part of an affiliate program on a different platform, which will allow you to generate affiliate links that you can post on Pinterest. Once you are a part of an affiliate program you can start creating pins that contain a picture of the product you are selling and also feature that affiliate link in their description. You don't have to always rely on a direct link, instead, you can use a link to a blog post that contains one or multiple affiliate links.
How do affiliate marketers make money on Pinterest?
Affiliate marketers want to become influential on multiple social media platforms in order for them to promote various products. They share images of those products and use their affiliate link in the description so that if anyone makes a purchase via that link, the portion of the funds also goes to the marketer.
Another way to make money on Pinterest is by helping retailers manage their accounts. If you are doing this as an employee then you can ask your employer if you are also allowed to use your affiliate links.
How do I sell affiliate products on Pinterest?
Much like on any other social media platform, you can sell products by sharing or posting pins with product images and adding an affiliate link that leads to an e-commerce site or online store where viewers can buy it. This is a common method to generate passive income, but there are other ways to sell products on Pinterest. Instead of linking the product page, you can go with a blog post or a buyers guide for beginners. If those posts or a similar article contains the relevant link you will still be able to get money for any purchase made via that link.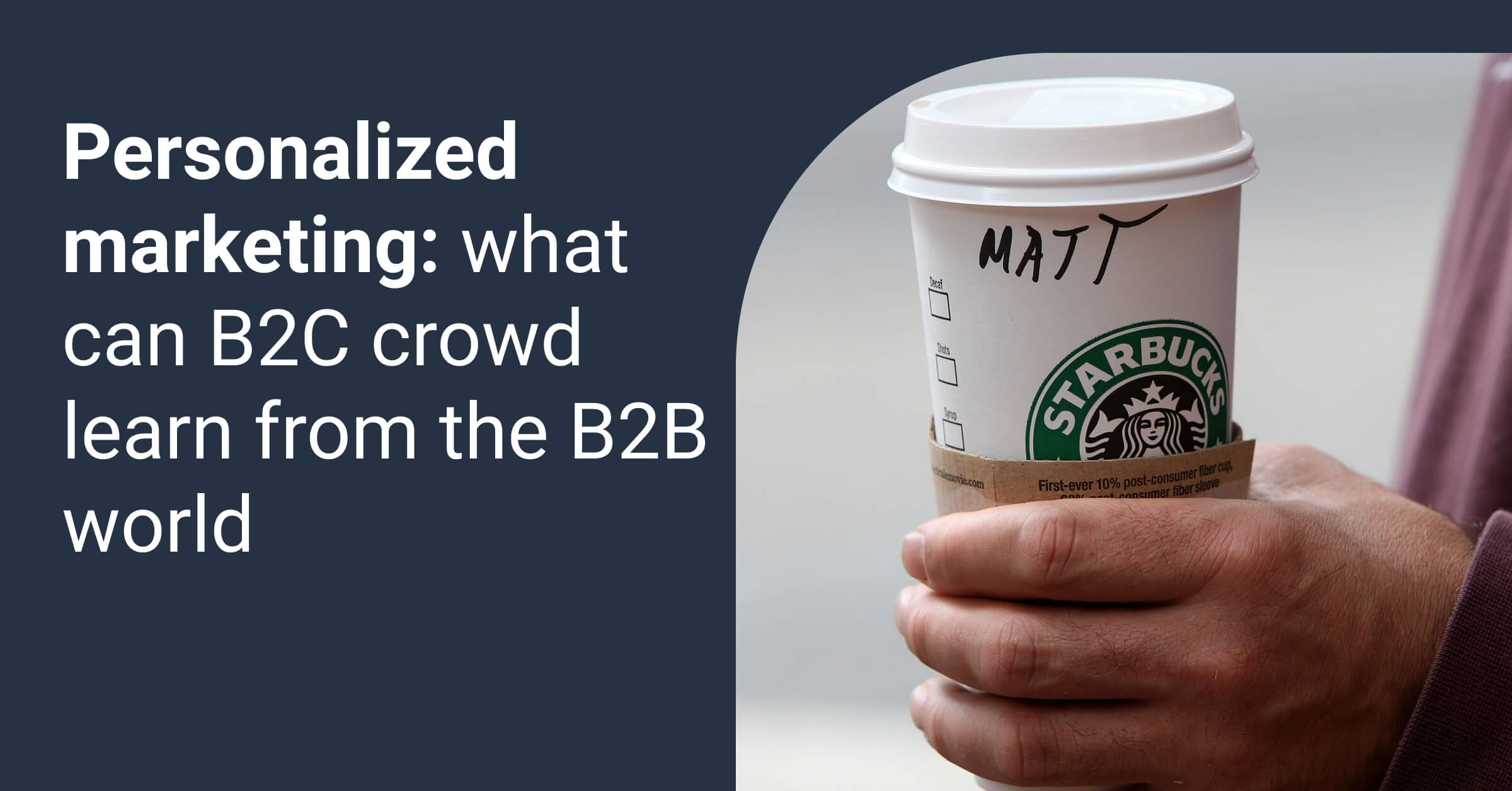 Personalized marketing has been trending recently, but its application started all the way back in the early days of social media advertising. Yet it's B2B businesses that have been personalizing their products, services, customer and sales experiences - and not by their own choice. What can B2C crowd learn from that experience?
Read more...