#marketing
Project Management Dashboard (Live reports)
Apart from considering the sector of the industry of your business. One of the foremost things that drive an organization is strategic initiatives aimed at developing the specific areas of businesses. All these helps businesses to grow, progress, and evolve year after year.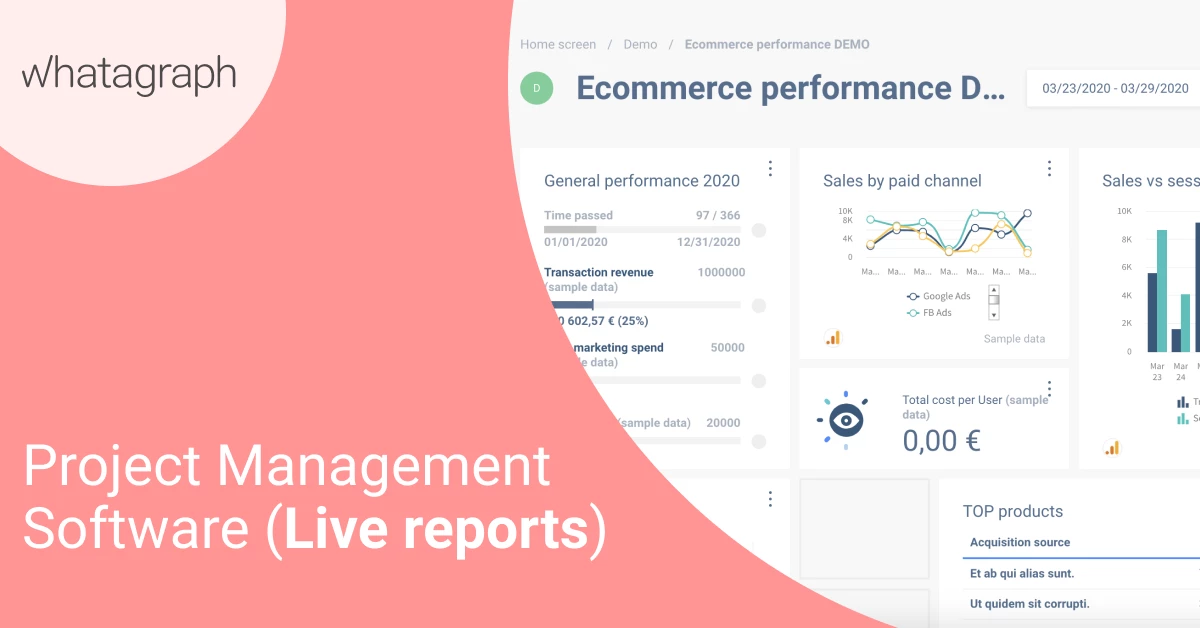 Table of Contents
Furthermore, there is a need for the implementation of a data-driven approach for the effectiveness in the management of reports to make the right, accurate, and precise business decisions and achieve much-desirable business success.
However, even though the potential to boost businesses lies in the successful delivery of collaborative strategies, about 50% of organizations still find it difficult and challenging to understand the nitty-gritty of project management to its fullest.
This was the report of the global survey conducted by the Institute of Project Management. With the desired knowledge, there is no doubt that one can gain the much-significant edge on the competition.
With the adoption and implementation of an online data visualization approach in handling the strategic activities of your company, whether large or small, your business will be more cohesive, intelligent, profitable, and collaborative.
What is a Project Management Dashboard?
In a simple sense, a project management dashboard is a data-driven platform that performs a whole lot of basic roles for businesses. Some of these include displaying the metrics, stats, and insights that are peculiar to a particular business strategy or project. This is achieved by presenting a well-tailored combination of key performance indicators (KPIs) in one central location.
If, as an individual department or agency, you are in search of ways to monitor the success of your campaigns of projects, try Whatagraph live reports as an alternative to the dashboard.


Apart from that, you can also spot both the past and present trends and ultimately contribute to the increased level of intelligence of the organization.
Project Management: 3 Golden Benefits
Regardless of the niche or industry, project management reports come with a wide range of benefits to your modern-day organization or business. Here are the top 3 benefits of a project management reports:
Centralized Data
In the present world of digital businesses, projects tend to be complicated as a result of the sheer number of platforms or touchpoints to put into consideration.
Apart from that, the complexity of businesses also depends on the significant piles of data available at a particular given time. Project management software helps to present and visualize the data that are most relevant to your business.
Of course, there is a possibility of gaining access to all of the metrics and insights that are integral parts of your projects. Even, you can access all these without having to log into other platforms or applications. And yes, project management software helps you to save time and money in that regard.
Communication and Cohesion
Communication is critical to the successful management of any project. If there a perfect understanding among everyone handling a particular initiative or strategy, it will help your business grow exponentially.
If everyone can access the insight needed to perform the specific tasks at hand, able to interpret and understand every data, your project is likely to surpass your expectation and burst targets. If you are in search of all these key attributes in one, you need to work with a project management software that is capable of creating analytical reports.
Targeted Information
By collaborating with the specific KPI template that's one hundred percent relevant to the project at hand, a project management dashboard makes it easy and hassle-free to track, measure, and improve your performances from the beginning till the end.
More so, you need to gain the ability to interpret, digest, and compare the digestible data. Besides, you also need to spot trends, capitalize on your strengths, and identify your weaknesses. All these will speed up the rate of improvement and success of your projects.
The Bottom Line
Without any doubt, insight, communication, and intelligence are fundamental factors in managing and delivering any successful project from start to finish.
Do you desire to surpass your business goal?

Do you have a quest to take your business to a dizzying new height?
Project management dashboards are undoubtedly the way forward. Embrace the power of project management techniques, and you'll witness an unprecedented achievement in the success of your business.
Published on Apr 06, 2020