#marketing
Why it's a great idea to replace proprietary agency software with a SaaS software like Whatagraph
Due to a lack of research, many companies are using multiple software to create a single report. They usually go for proprietary agency software such as Google Analytics,  Microsoft Excel, and the like. However, there are easier, less time-consuming solutions to creating reports. In this article, we will compare proprietary software with SaaS software like Whatagraph.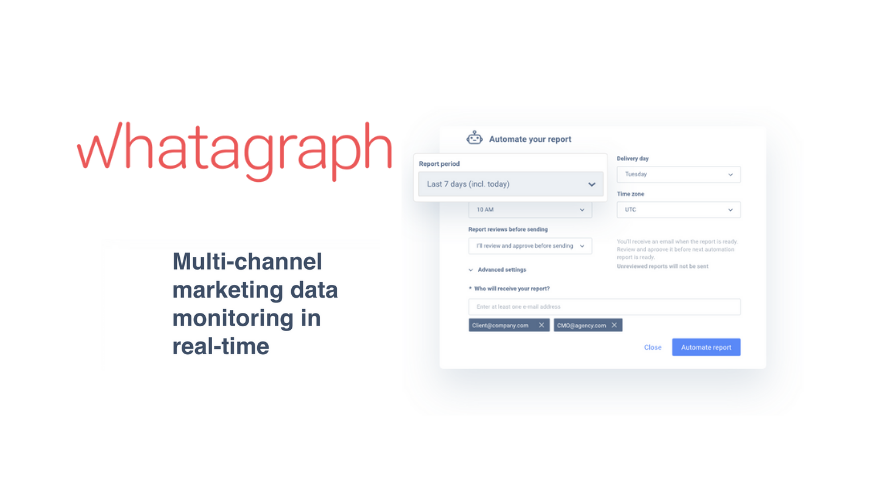 Pros: Google products and Microsoft PowerPoint
Key takeaways: Google Analytics is easy to understand; Google Data Studio creates visual reports; Google Sheets fosters transparency; Microsoft PowerPoint is perfect for presentations.
Clearly, people are slightly obsessed with these tools. What positives do they bring to their professional lives?
Google Analytics is all about data. It generates easy-to-understand and engaging real-time reports. It helps businesses determine what makes a good website and learn about their audience. GA does that by granularly analyzing websites by channel. It tracks budget spends for paid media, traffic for organic search, session duration, bounce rate, etc.
Google Data Studio is a platform that creates visual reports. It integrates advertising and analytics. With Google Data Studio, you can better understand your customers, easily connect to a variety of data sources, and have full control over the customization of reports. And good news: it's free!
Google Sheets allow users to edit, organize, and analyze different data. Multiple people can edit and make changes to the spreadsheet. One great thing about it is that you can even track data and create graphs accordingly to see a visual representation of it.
Microsoft Powerpoint is known for its ease of use and as a powerful tool for giving presentations. Anyone can create presentations with just a few clicks, add text, audio, video, graphics to a slide show. It even offers templates and pre-made designs.
Cons: Google products and Microsoft PowerPoint
Key takeaways: Google Analytics is expensive; Google Data Studio dashboard is not insightful; PowerPoint is at high risk of technical issues.
Google Analytics also can't process historical data. It will only process data from the time you started tracking your site. Another downside is that if you want to remove data limits and get a better understanding of customers, you'd need to pay $150,000 a year for Google Analytics 360.
Google Data Studio dashboard lacks real-time updates. If you wanted to get the latest info about your business's progress, you couldn't have it. You can forget about quick decision-making. Also, Google Data Studio offers only 50 components per page and you can't include more than 3 pivot tables per page. If you needed to create a more in-depth report, you wouldn't achieve it with Google Data Studio.
The biggest negative about Google Sheets is how much manual work it requires. Because of the manual process, data is vulnerable to costly human error.
PowerPoint is known for its high risk of technical issues. Many people report losing their files because sometimes it just stops working. Lots of time is wasted recreating presentations due to this imperfection. Not to mention the precious time you spend manually creating presentations.
Pros: SaaS software like Whatagraph
Key takeaways: One platform can pull data from various sources, create presentations and simplify reporting.
SaaS software like Whatagraph enables constant real-time and historical data tracking. You can easily monitor multiple channels at once and compare their performance. Forgot to send the report? Deliver them automatically at your selected frequency.
Usually, SaaS software offers customizations. Change your reports using your client's brand colors, add logos and custom domains and show them you care.
The great thing about SaaS software is that it reduces the number of tools you need to prepare for a monthly meeting. One tool can create a complete month's report in less than a minute. As you can see in the image, not only does it have all the needed metrics, comprehensive visuals, and insights, but it also has a table of content and overviews of each source.
Because of these features, no business needs an art department or to hire a large number of professionals to create tables on Spreadsheets or pull data from Google Analytics. Whatagraph replaces all these tools and simplifies the process of reporting.
One big positive: You don't need to be tech-savvy to understand how to create reports with Whatagraph.
Cons: SaaS software like Whatagraph
Sometimes people say that Saas software such as Whatagraph is pricey. Especially for small businesses. Fortunately, Whatagraph offers 3 subscription plans to meet everyone's needs.
Another downside is that SaaS software can only be accessed via the internet. And to make the most of it, you must have a fast internet connection; otherwise, you may encounter issues such as long load times and unsynchronized data. Yet keep in mind that you can access offline data (such as reports) if you download them.
Bottom line
Whatever you decide to go with, consider your needs and goals. Maybe you don't need a platform that replaces multiple tools because you only create PowerPoint presentations. Or maybe you only need a Facebook ads dashboard, then why would you get a tool that pulls data from multiple sources.
Identify your business needs and invest your money in tools you are actually going to use. If you don't know if SaaS software like Whatagraph is right for you, book a demo with us. We will give you a tour and explain in more detail what we can offer to YOU personally!
Published on Oct 08, 2021