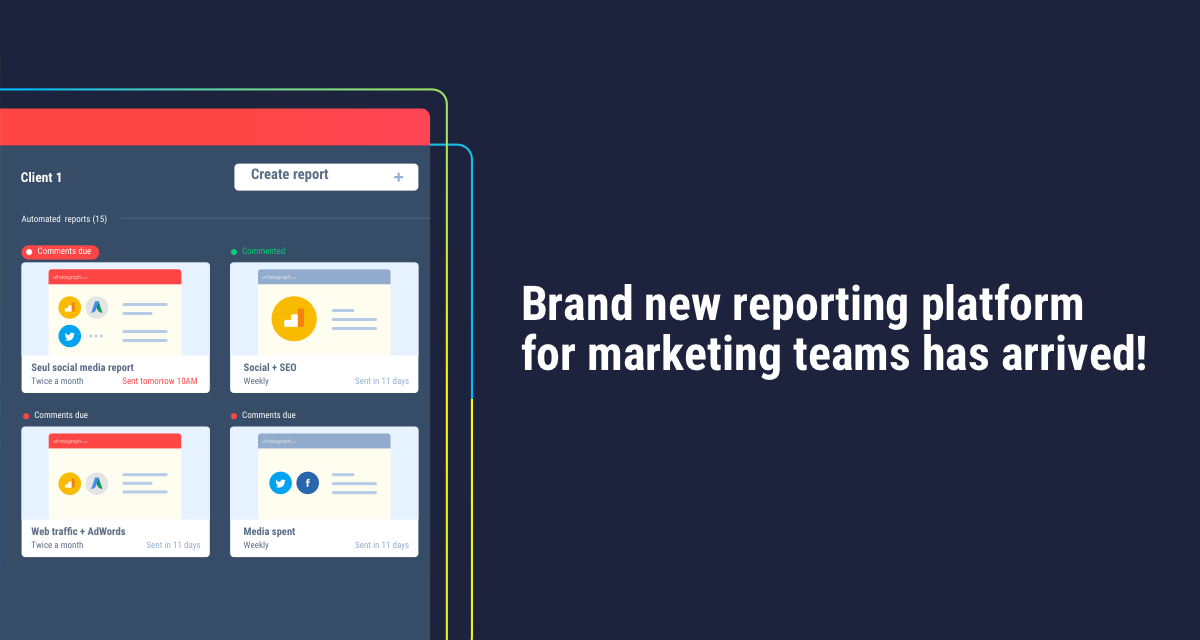 Ready for truly advanced marketing performance reporting?
Learn about powerful customisation and intelligent reporting flows for the agencies, enabled by the latest Whatagraph release.
New upgraded platform is out, and it's full of features to make your reporting more flexible, customisable and team-friendly.
With visual and easy to understand reporting still at its core, the new platform was built with digital agencies in mind, and ultimately fits their reporting flow with fully automated client reporting, commenting, and personalisation on both client and on individual report level.
In this post I will take you through the key changes of the platform enabled by the new release:
More flexible report customisation in a brand new report builder;
Ability to invite team members, assign roles and enable real team work;
Multi-source reports with a number of different data sources in one visual report;
New look and feel of the main home screen;
Individual customisation available on both client and report level;
Flexible pay as you go options with ability to add additional data sources and additional team members.
But let's go through the changes step by step.
1. Main home screen now has a convenient overview of all your reporting.
Previously, all your data sources were placed in folders on the left navigation menu.
Now, left navigation menu is dedicated for a simple client list that is fully managed and editable by you and your team.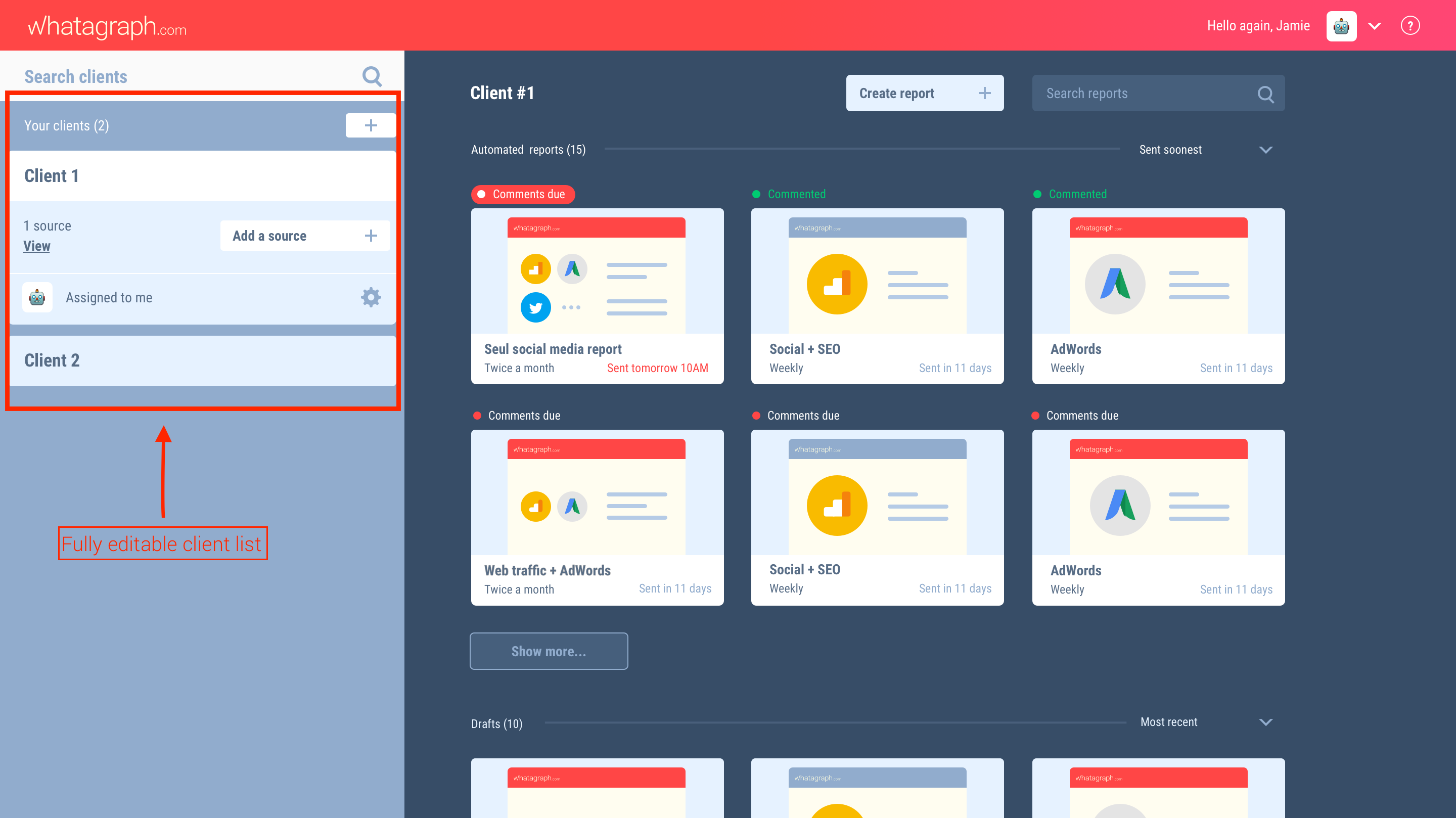 Previously, your homescreen was dedicated to an individual report preview and custom date reporting calendar.
Now, your homescreen is built around you and your clients. It shows a convenient overview of all your reporting, making it fast and easy to see all your automated reports, sorted by sending date. The view also helps you see which reports are due for new comments.
Now, custom report drafts are also conveniently arranged below, and report search is there making it easy to locate specific reports.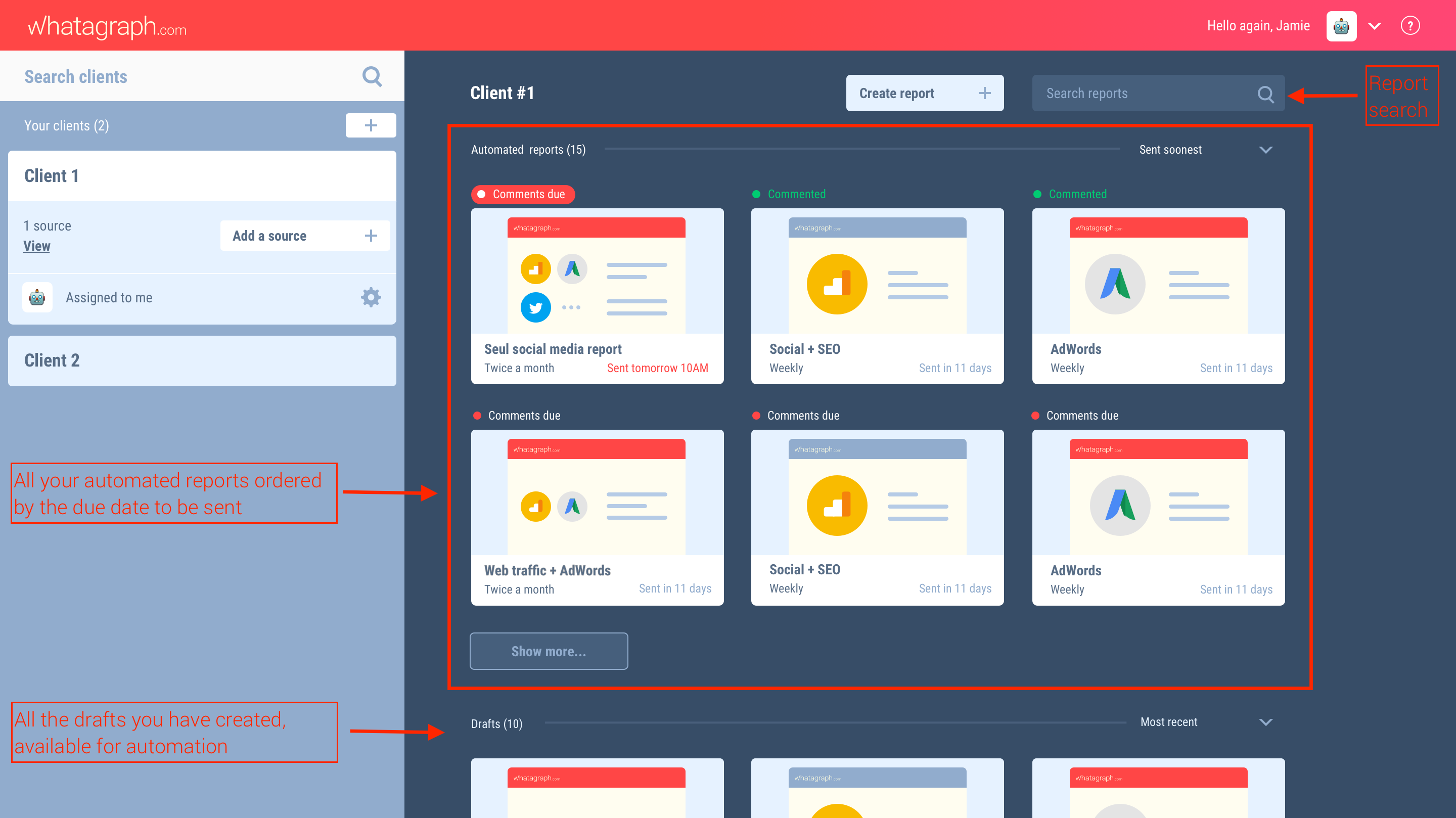 Previously, to create a report, you had to go to a separate report customisation menu.
Now, 'create a report' button is placed on your main home screen, making your next report setup always just a click away.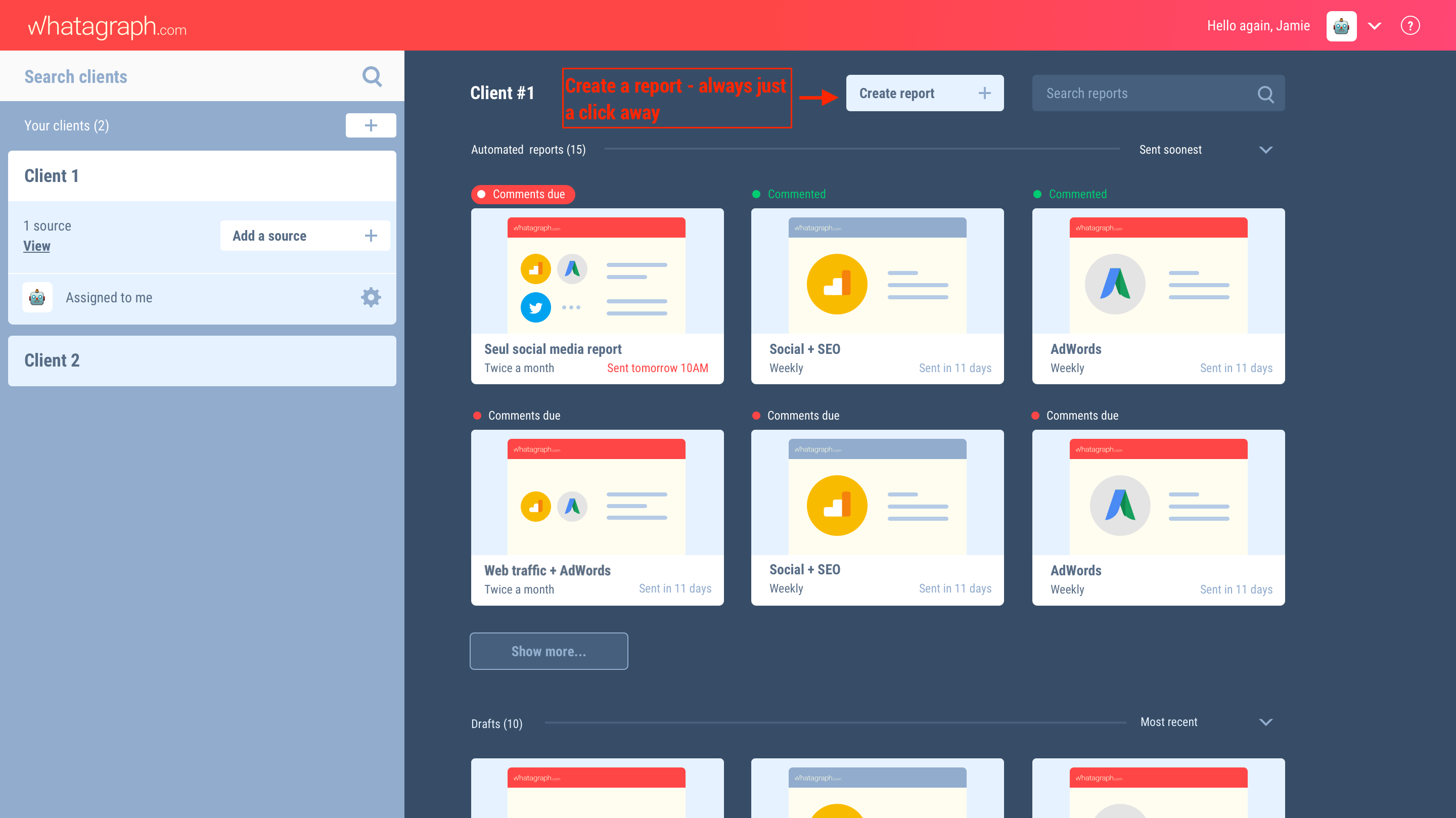 Previously, your home screen menu had a different look and functions.
Now, the menu is dedicated to your account and team settings, and you can upload your picture too!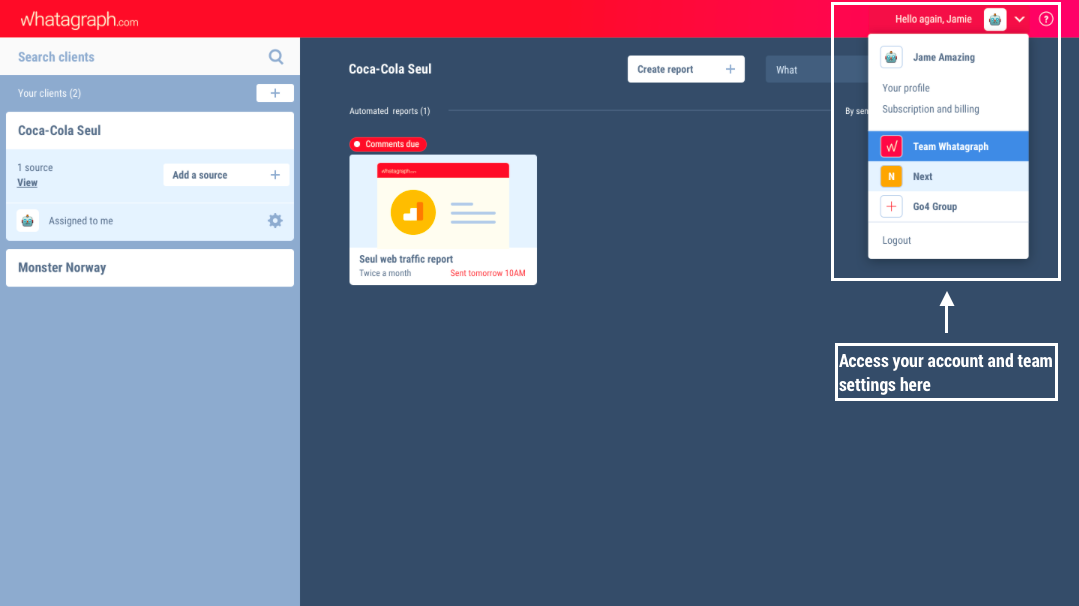 2. New client list introduced - fully editable and adapted to your own reporting flow.
Now, you can

set dedicated sections for each of your clients

with editable names and personalised settings.

Add all of the client's data sources

with one click, and see them all in one place.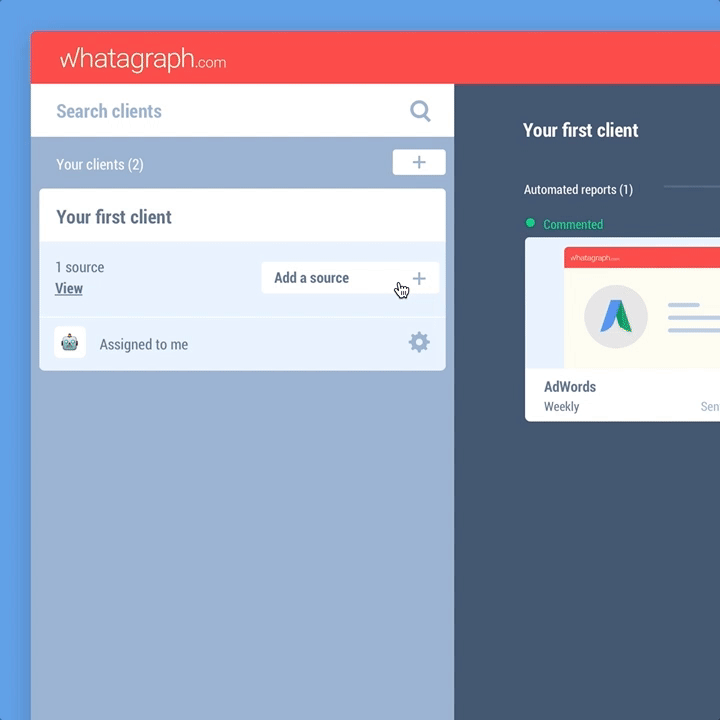 When your agency is growing,

easily add new clients to your reporting flow: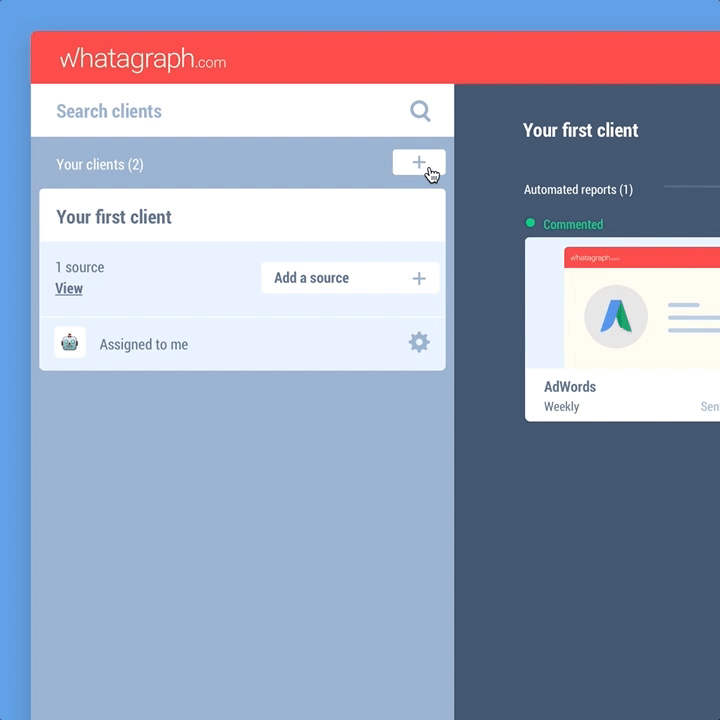 Assign your account managers to specific clients, to be responsible for their marketing reporting, customisation and commenting at the end of each reporting period: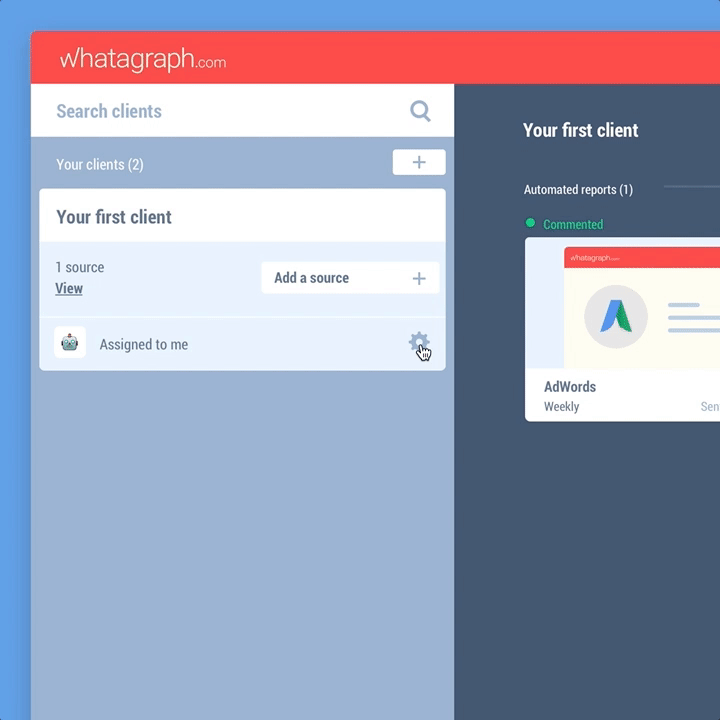 Bonus tip! Use the left navigation menu to build a flow around your internal performance reporting too, and assign dedicated team members to be responsible for the specific reports:
Add a section for your management team for automated performance overview reports.

Add another section for your social media team to enable automated social media overview reports.

Dedicate one section for your marketing team to keep them updated with automated website performance, SEO and PPC data all in one report.
3. Each of your clients can now have individual reporting settings!
Select date formats, report delivery time, set reminders, email recipients and automation options in each

client automation settings

.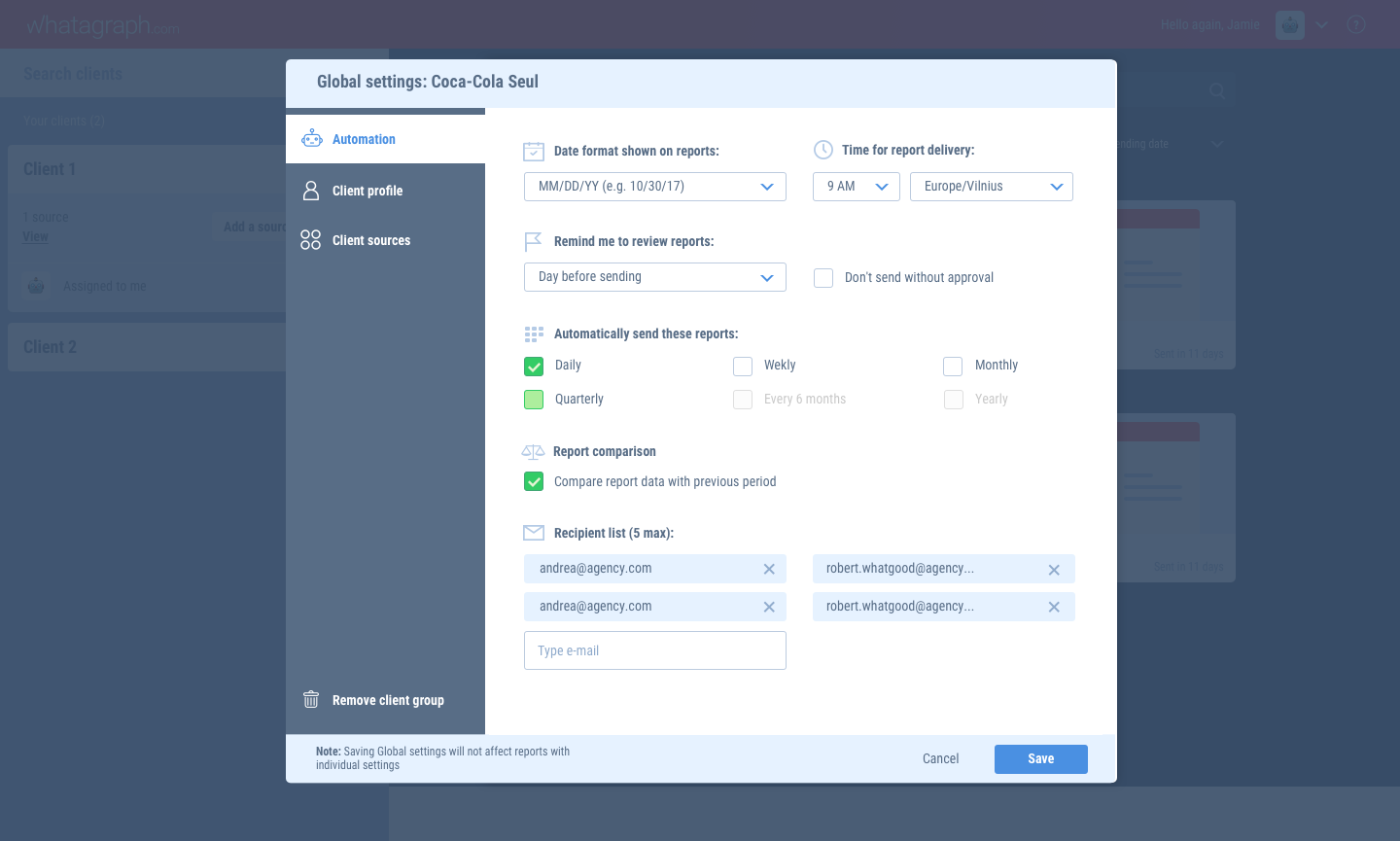 Edit client name, assign dedicated account manager and add individual whitelabel settings in

client profile settings

.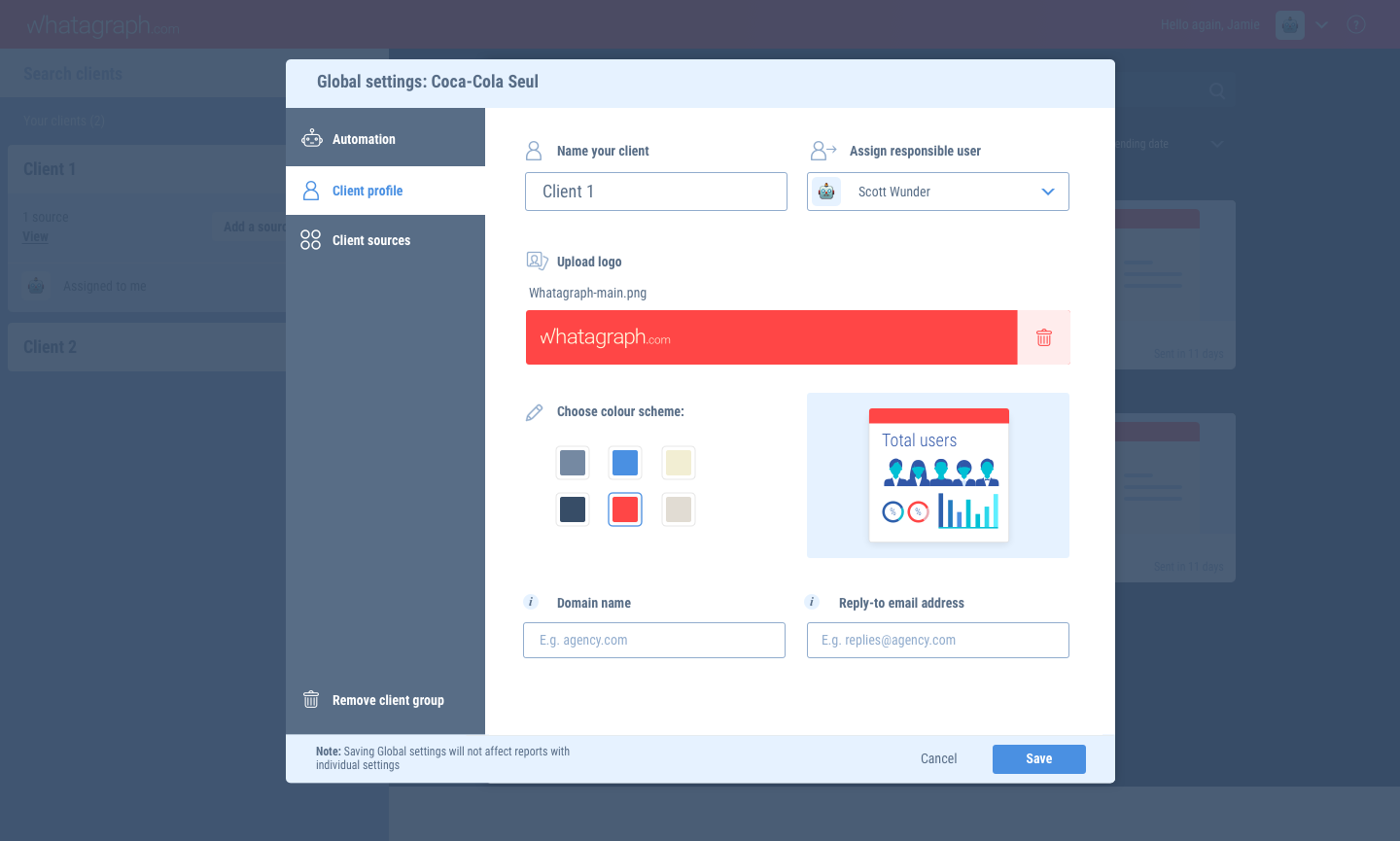 Add, connect and remove data sources for individual clients in client source settings

.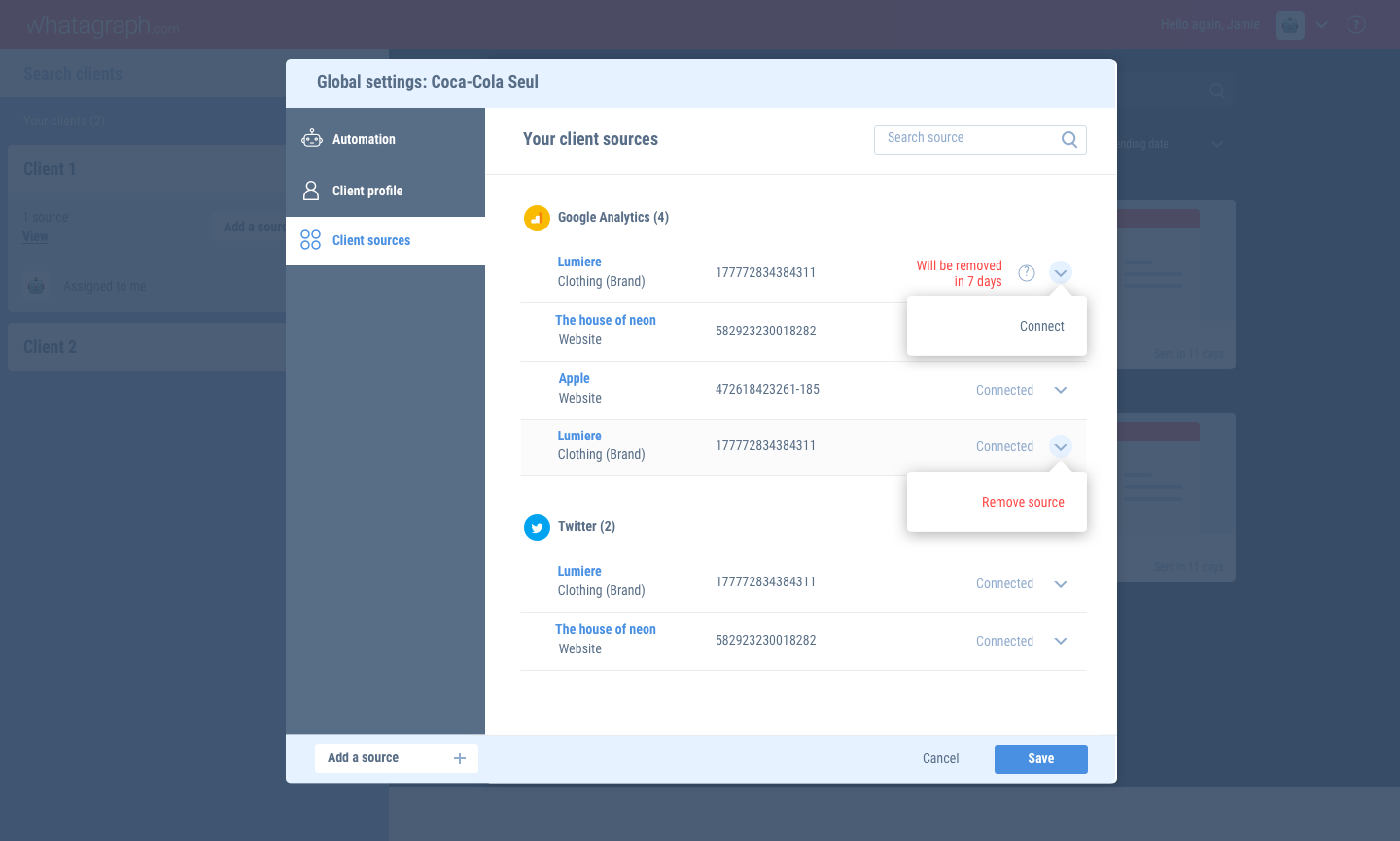 4. Each report can now be automated and customised at an individual level!
Previously

, all your reports were automated with one universal sending time and report frequency.

Now, you can set individual settings for each performance report.
Hover over the report to access individual report settings for downloading PDFs and editing the report itself.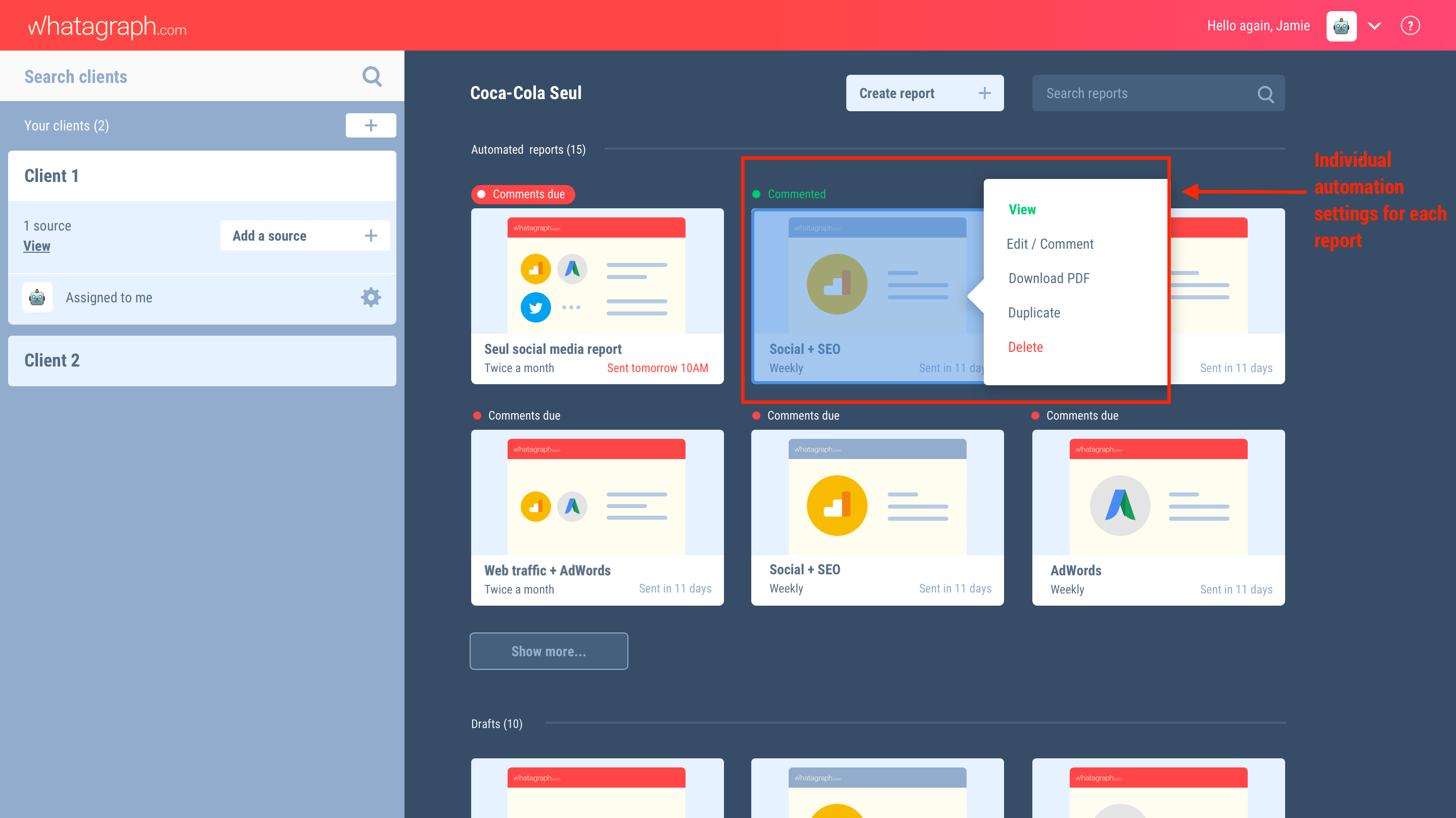 Click on the report to get to the report view page, where custom dates calendar is now located

, together with shortcuts for report editing, download and full screen views.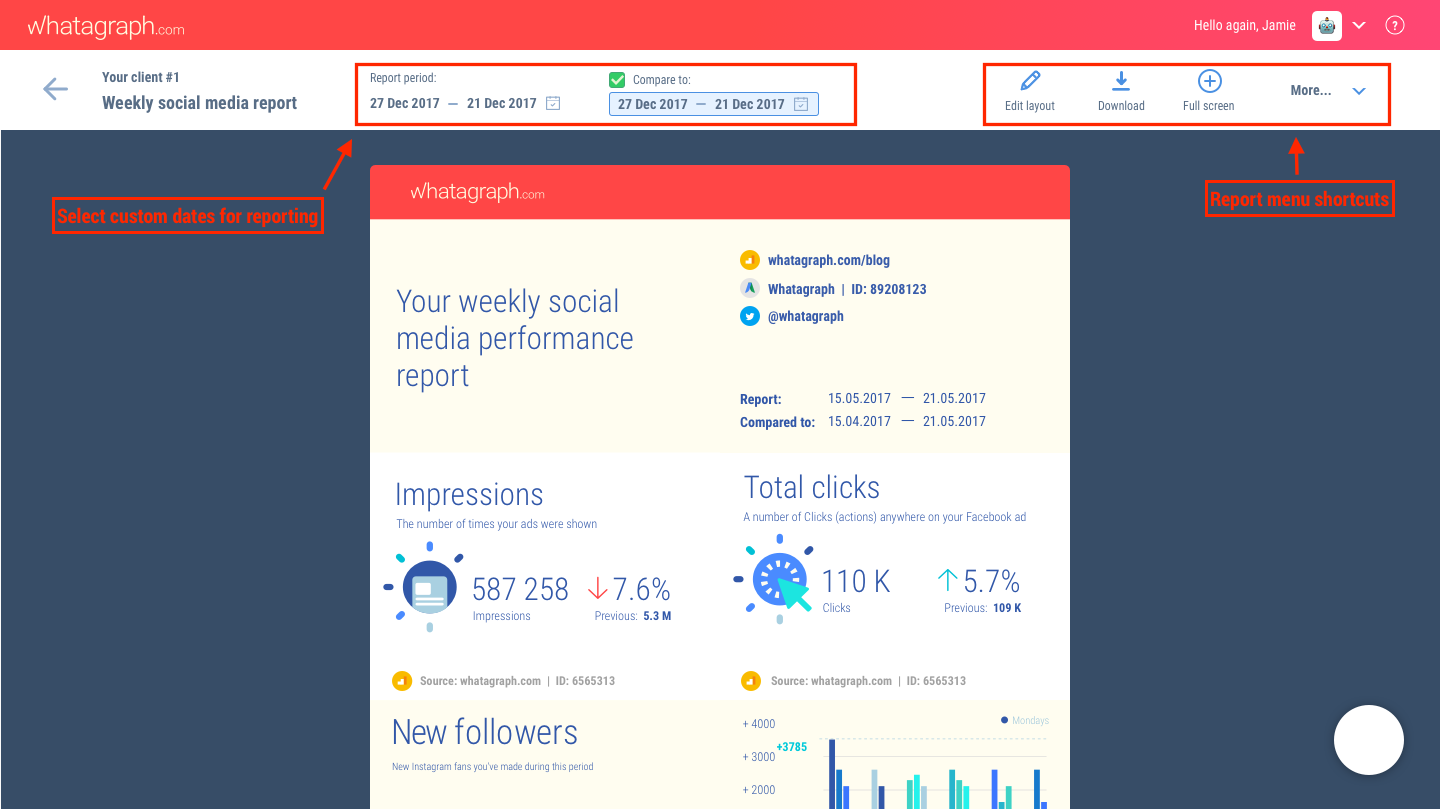 See more report options for

individual automation settings, instant share and embedding.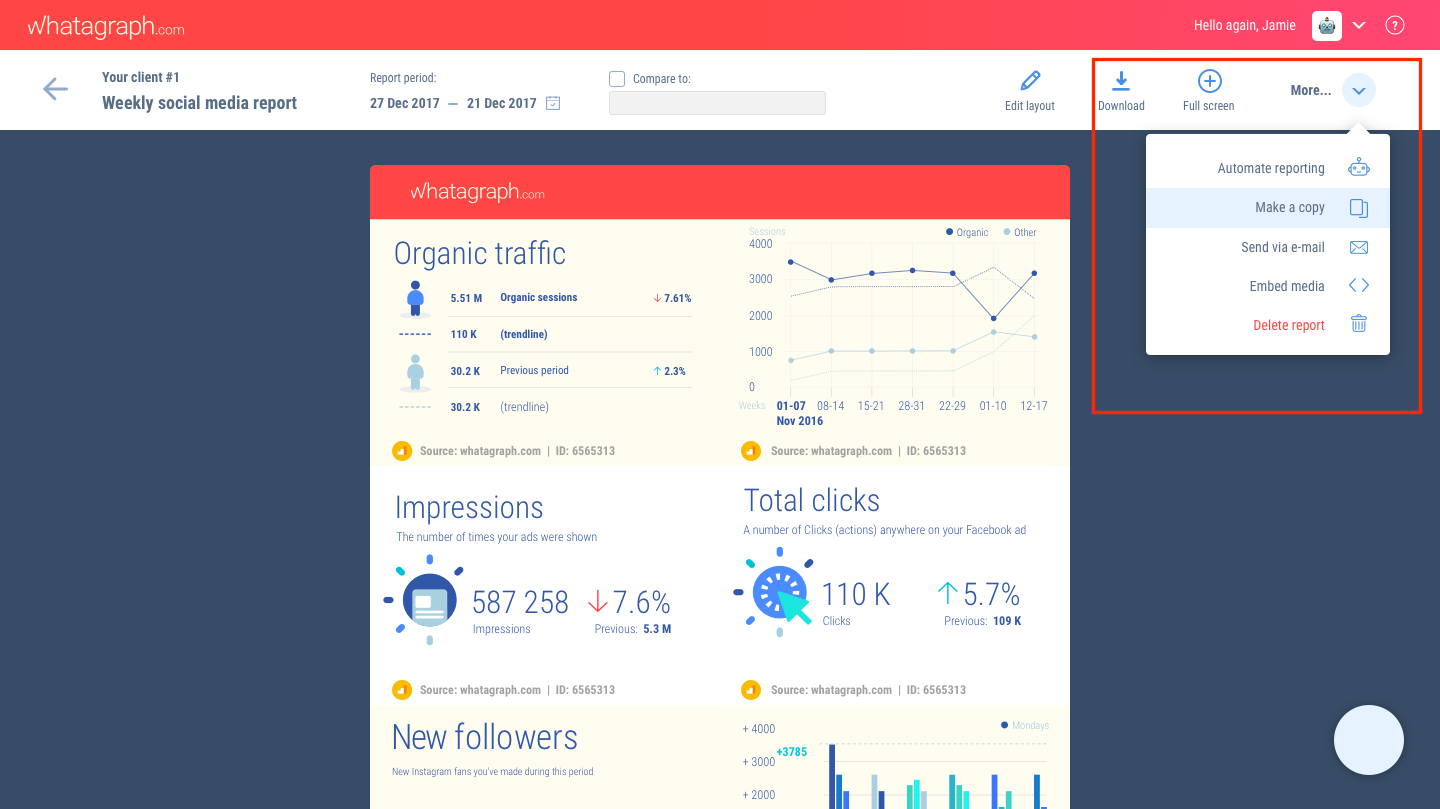 Automate each report individually

, or use global client settings with just one click.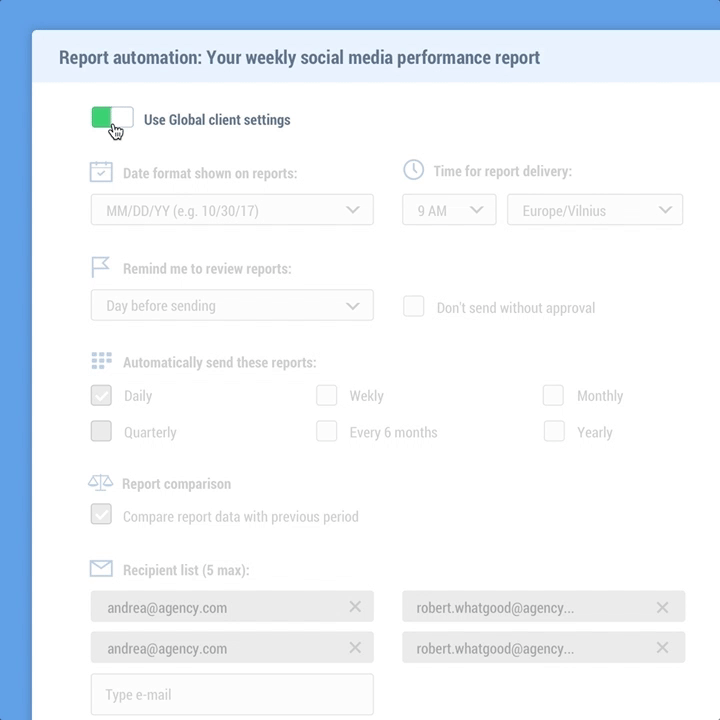 5. Meet your elaborate report builder for highly customisable multi-source report templates!
With the new report builder you will be able to access all customisation options in one place: whitelabel, custom stats and commenting. You will be able to: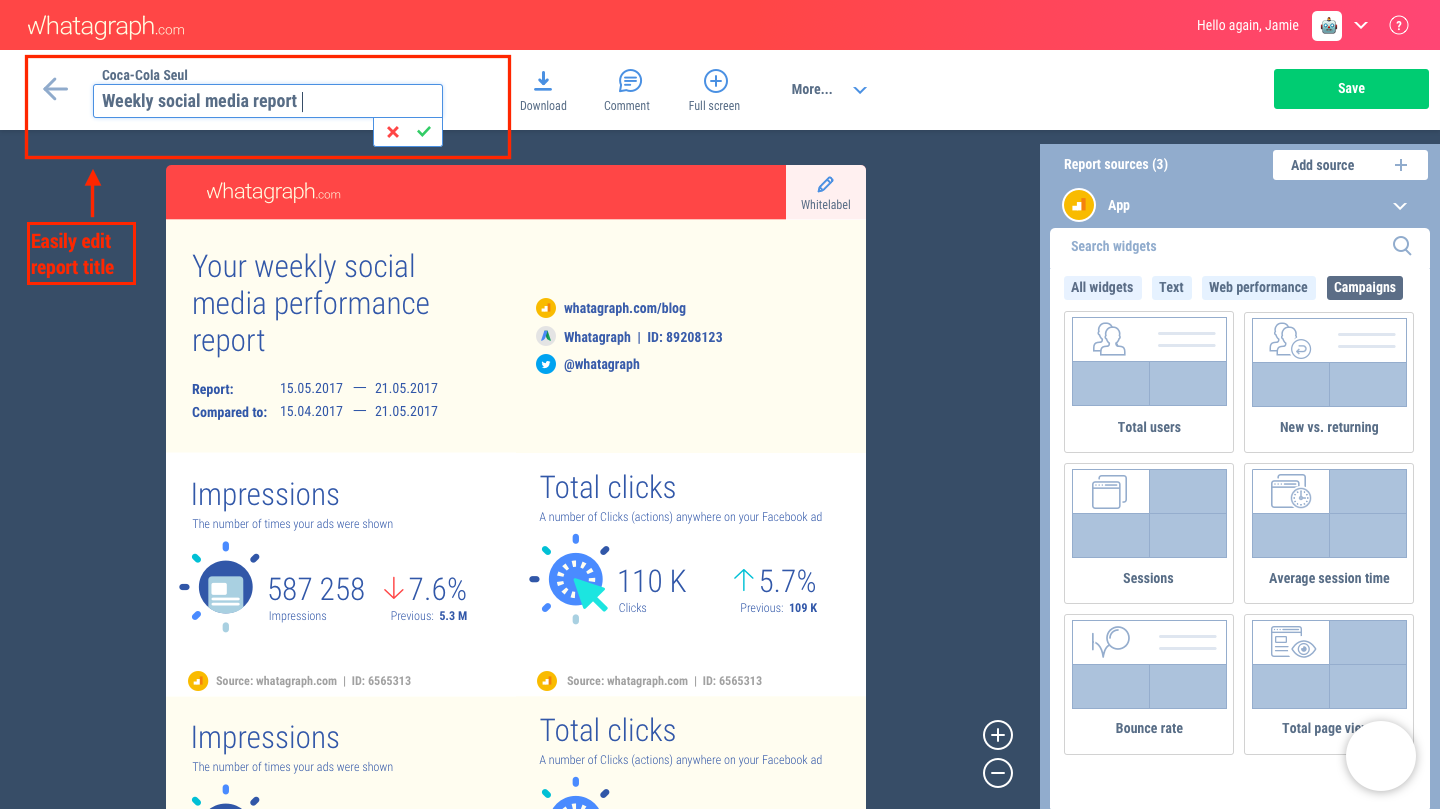 Add and change a number of different sources to one report: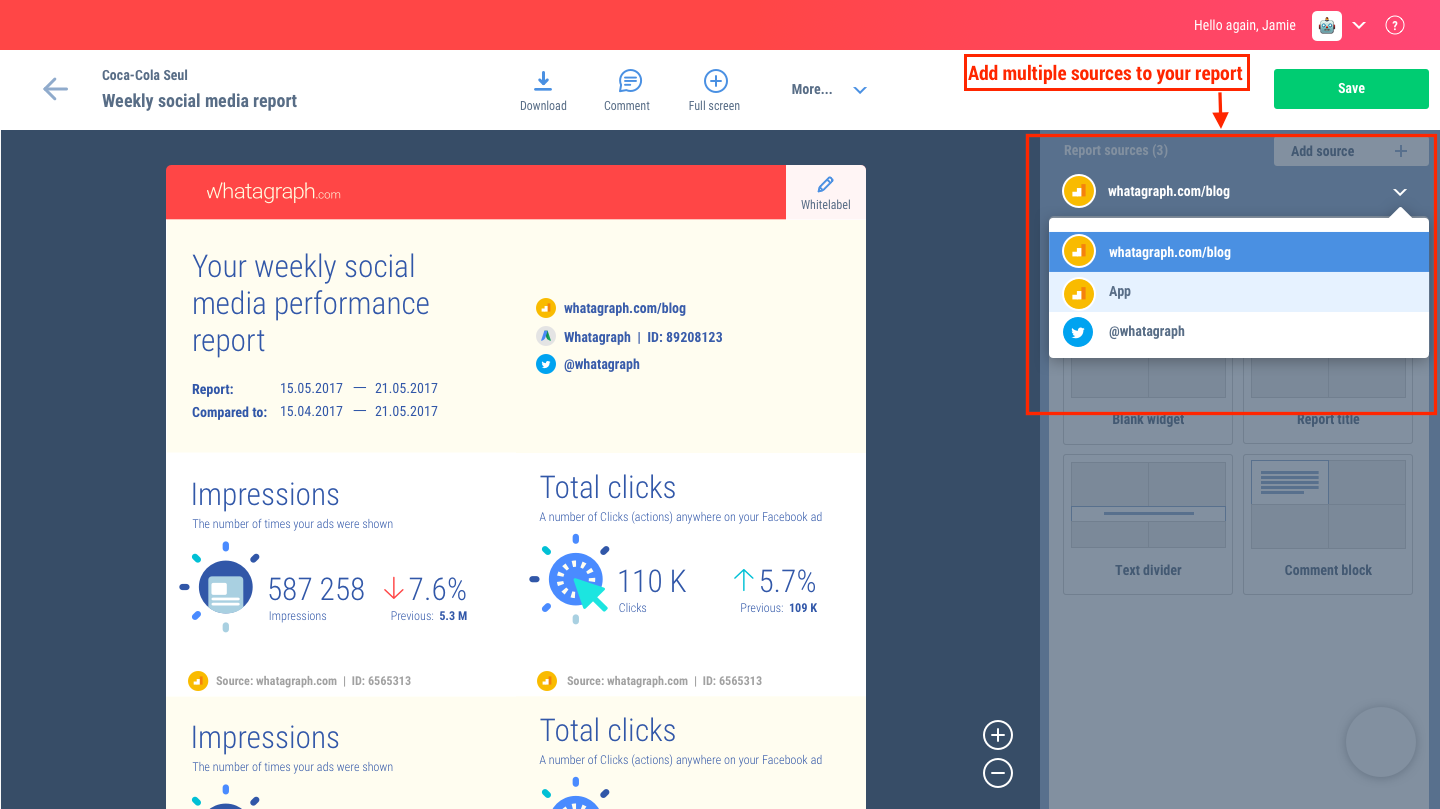 Edit individual metric and change its data source: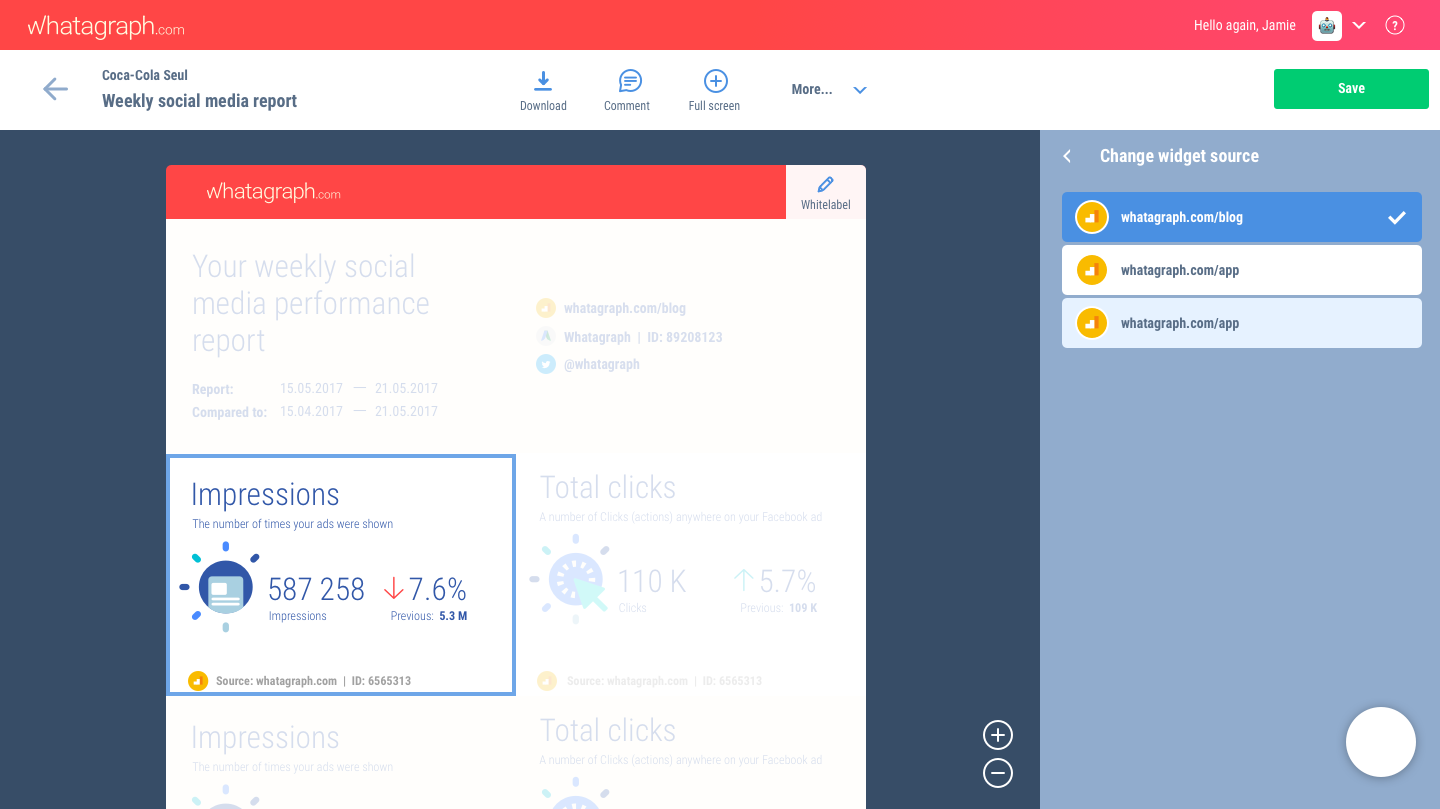 Now, instead of having to go through a number of pop-ups to build a custom marketing report, you can see all stats and widgets conveniently placed under separate tags in one flexible builder: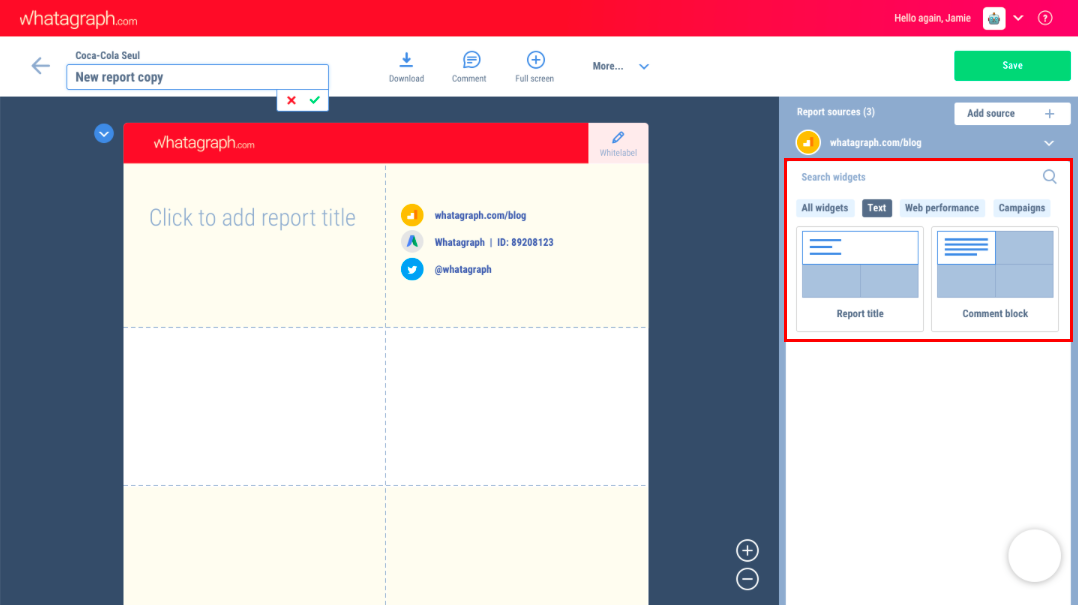 Now, you can add comment blocks to your report: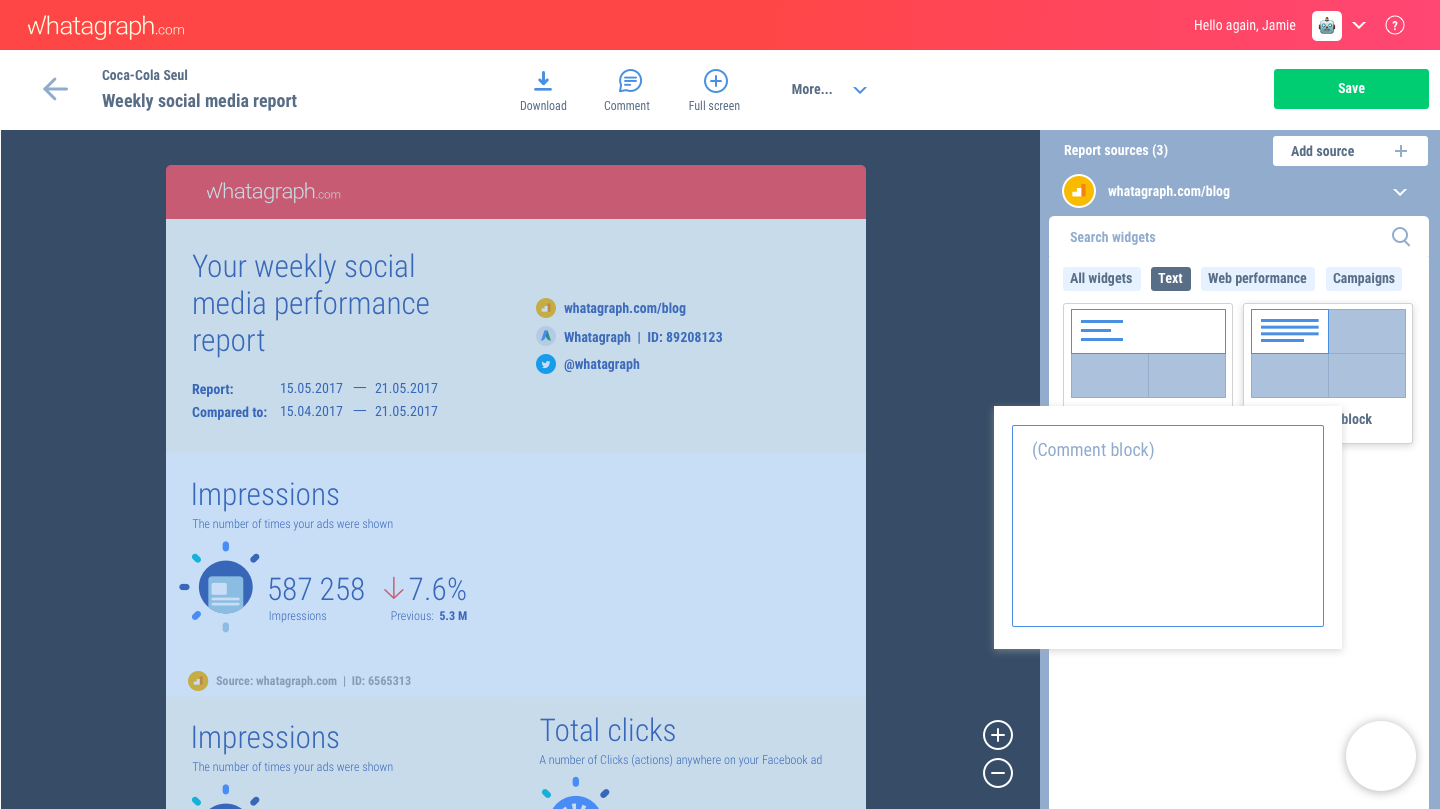 You can also edit your comments straight in the report: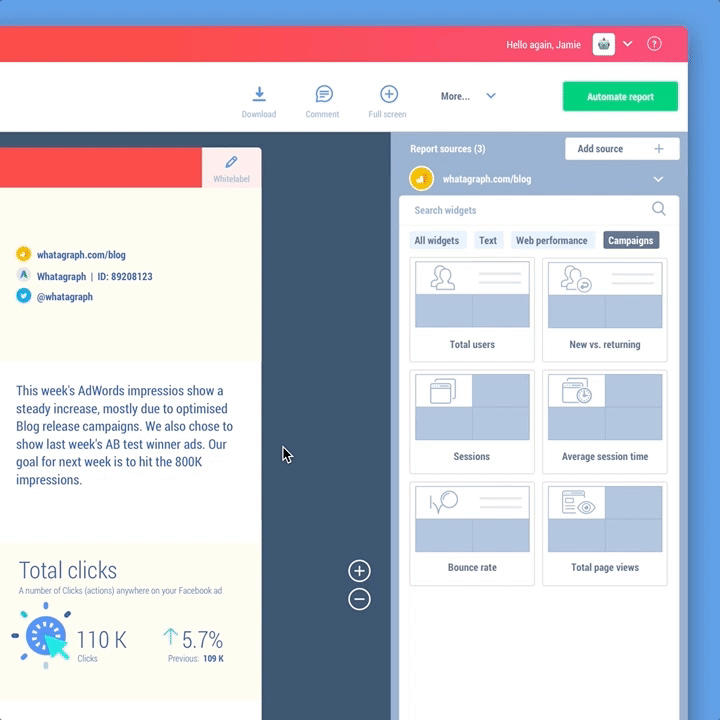 Bonus tip! Use commenting blocks to give more insights into data changes and to discuss further actions you have planned for the client. Add your assumptions, summary and recommendations and help client understand performance results better.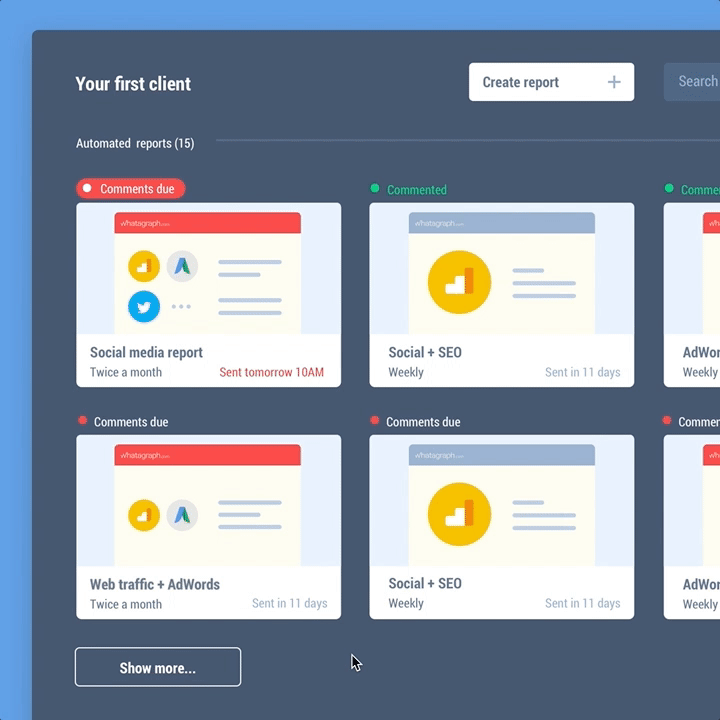 6. Add a number of different data sources to one report with the new multi-source reporting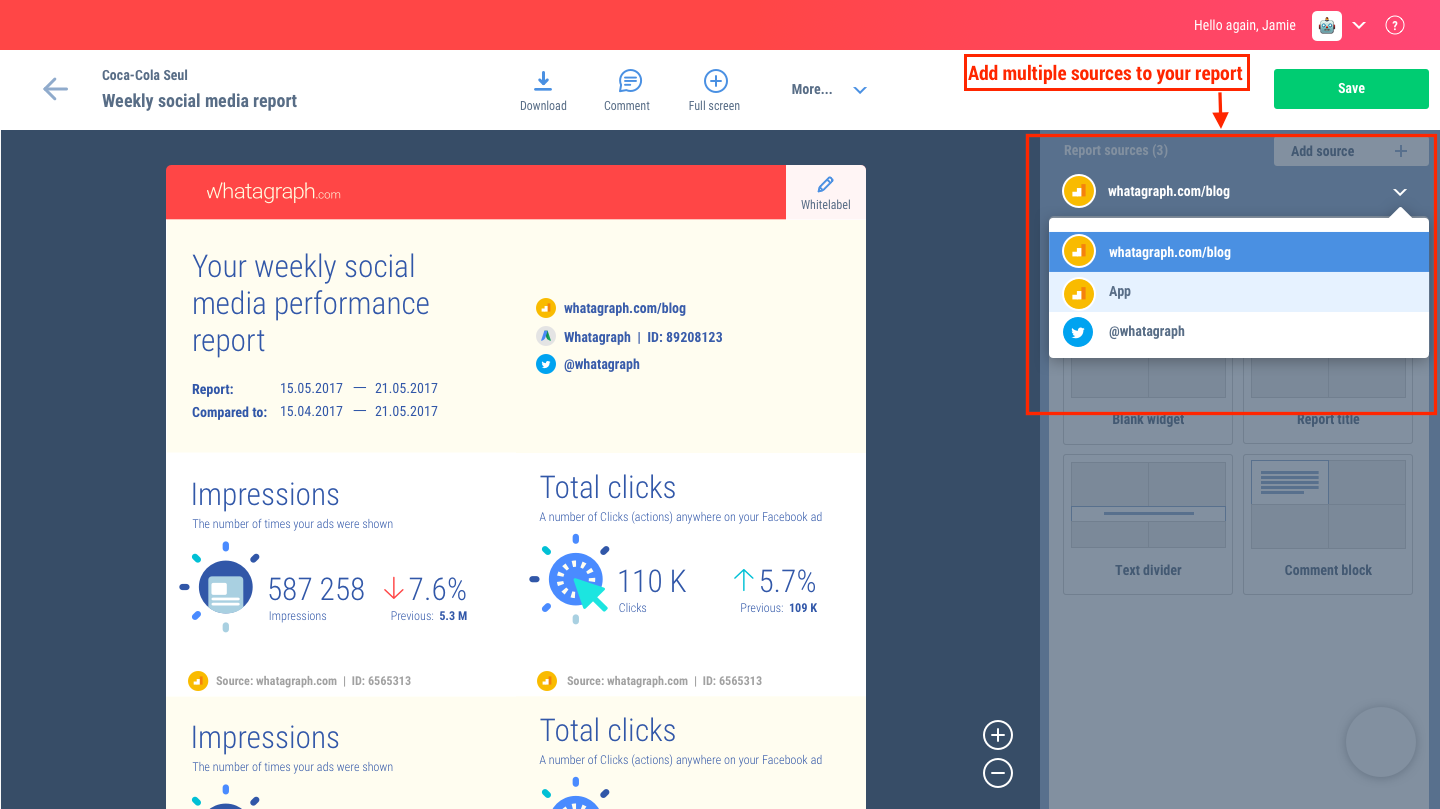 Bonus tip! Use the multi-source reporting to compare performance of different landing pages and campaigns:
Compare same metric for different data sources to see how different landing pages are performing in terms of visitors, registrations, sales and goal completion.
Build a report to track your KPIs across all marketing and sales funnel - starting from acquisition channels, registrations and ending with sales and revenue data.
See how the same campaign or advert is performing across different social media channels.
7. Invite your team members, assign different roles and access to individual clients and their reporting!
Administrator has access to all features, including ability to add new users and access payment options.
Manager has access to account settings, is able to add and delete clients as well as manage team member, but cannot access payment options.
Reporter has only access to assigned client and is able to manage and fully customise specific client's reporting.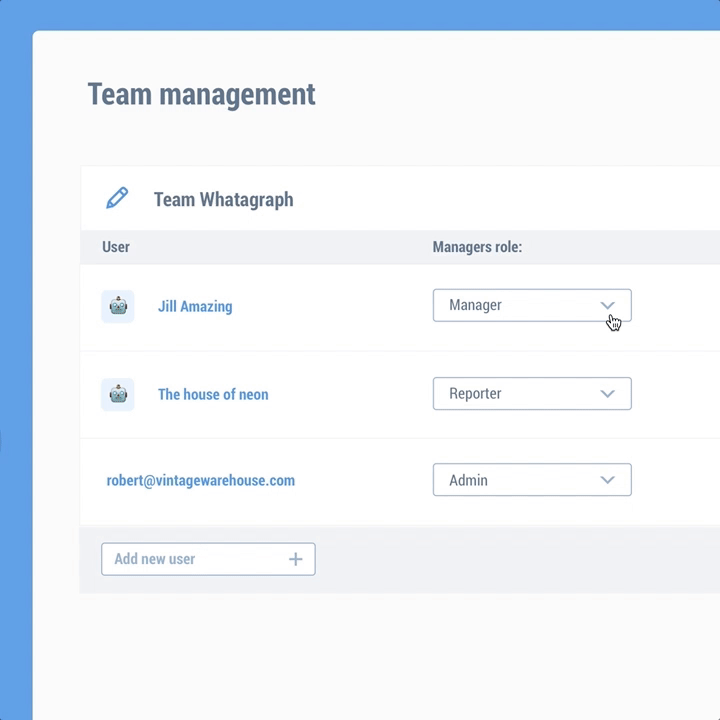 8. We've updated user settings for more flexibility!
We've added few new options in user settings to give you more choice and flexibility:
Now, you can check how many clients are assigned to you.
When going on vacation, hand over your clients to another team member to look after when you're away.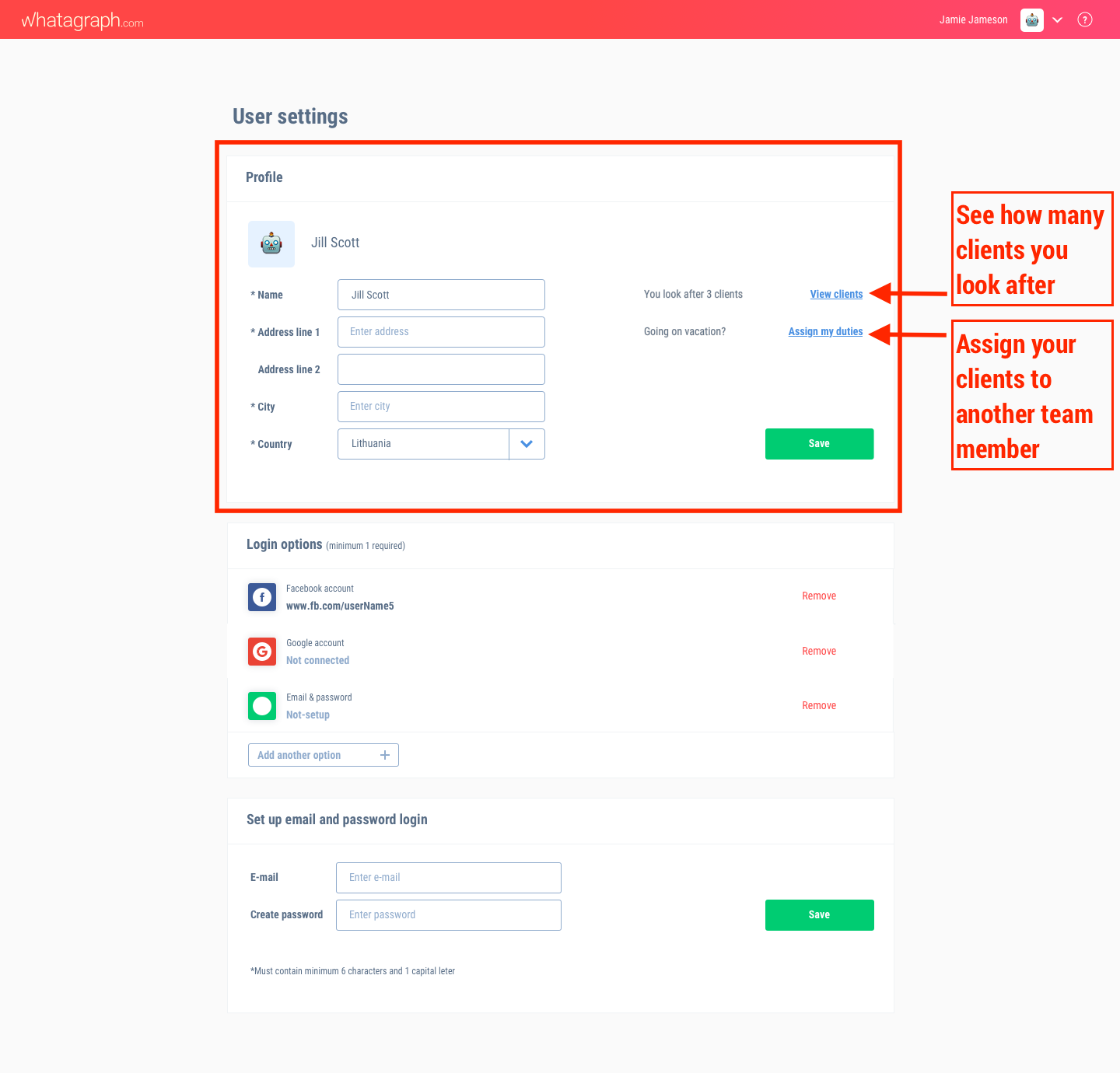 Previously, login to your account was limited to one option, set at the initial sign up.
Now, you can add new options for accessing your Whatagraph account, like email and password, and remove other logins you don't need.
Set up individual account access using your email and unique password for enhanced security: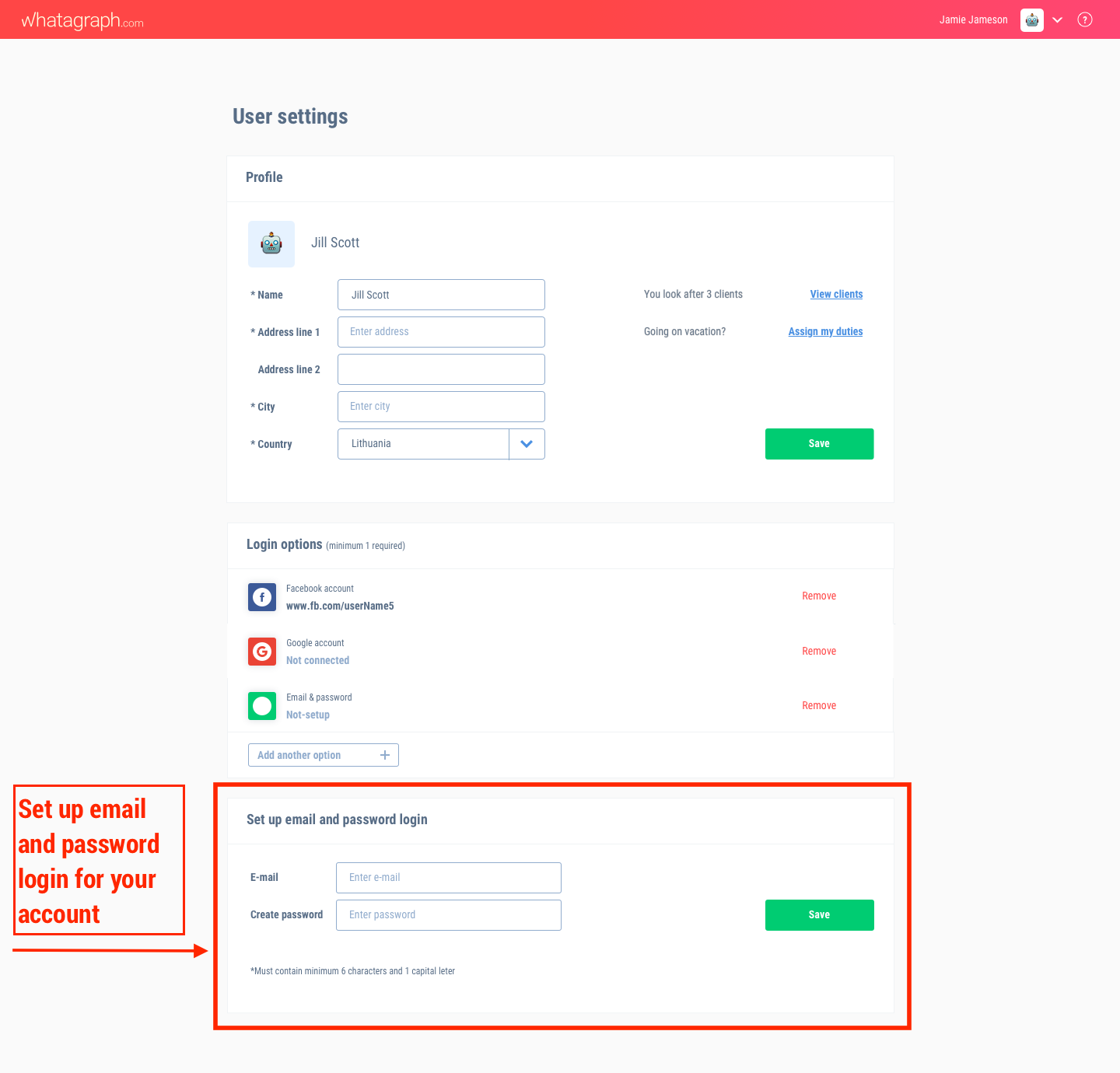 9. Let's grow together with Pay As You Go options.
Need to add more clients and add new data sources, but not quite ready for a plan upgrade? You can now add additional data sources to your account for a flat monthly fee.
Got more team members who manage new clients, but not quite ready for the upgrade? Add additional users with a flat monthly fee too!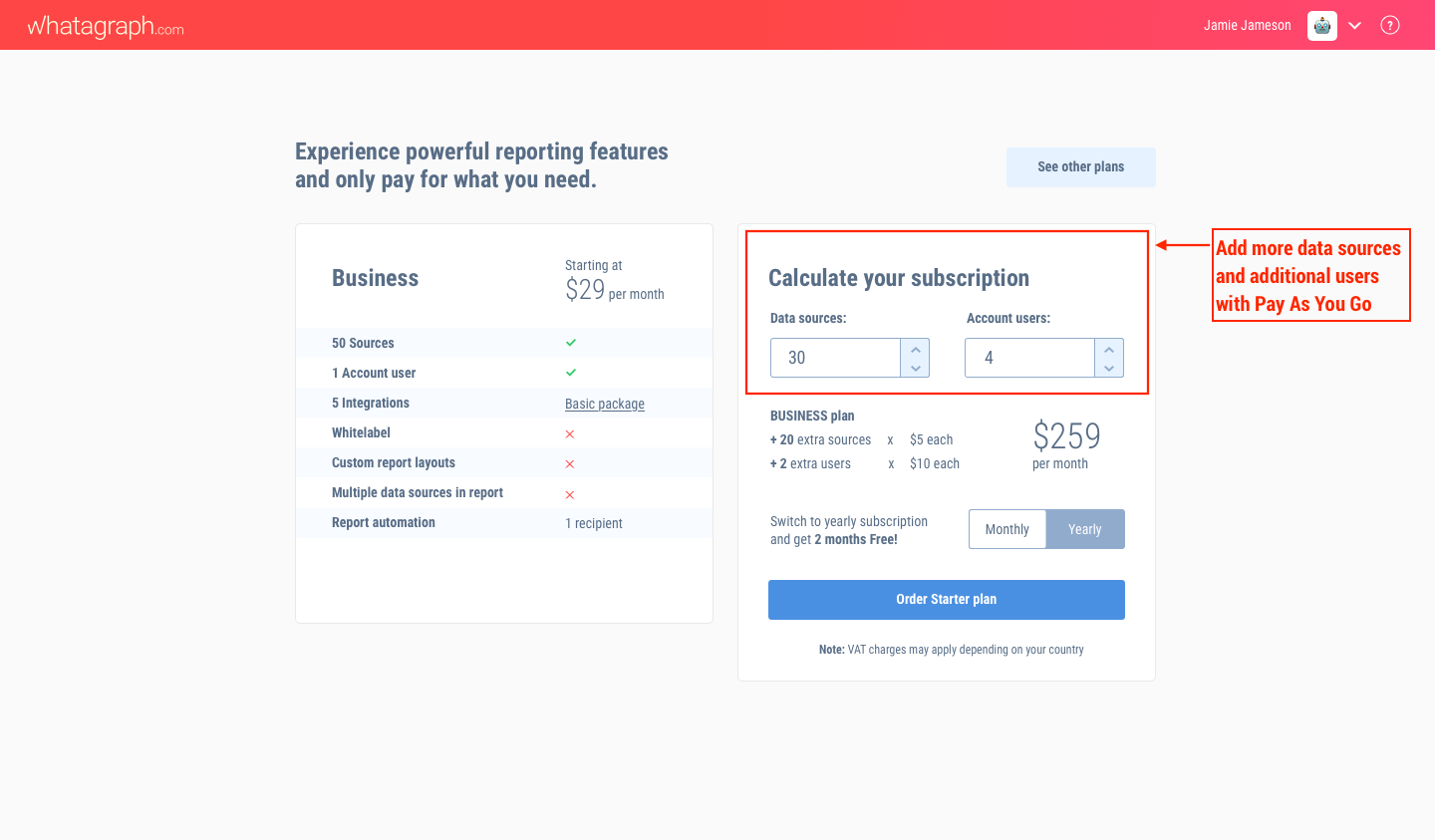 What now?
Our ultimate goal at Whatagraph is to simplify analytics reporting for clients, and this release is a big step forward towards the goal. With remarkably improved customisation, team roles and multi-source reporting, your work and reporting tasks are sure to get a positive boost.
We'd love to know what you think about the new reporting features - feel free to get in touch with your feedback. (We do have an amazing support team happy to answer all your questions.)
Meanwhile, please share this post with someone, who, for some reason, is still doing manual client reporting. (They will appreciate it.)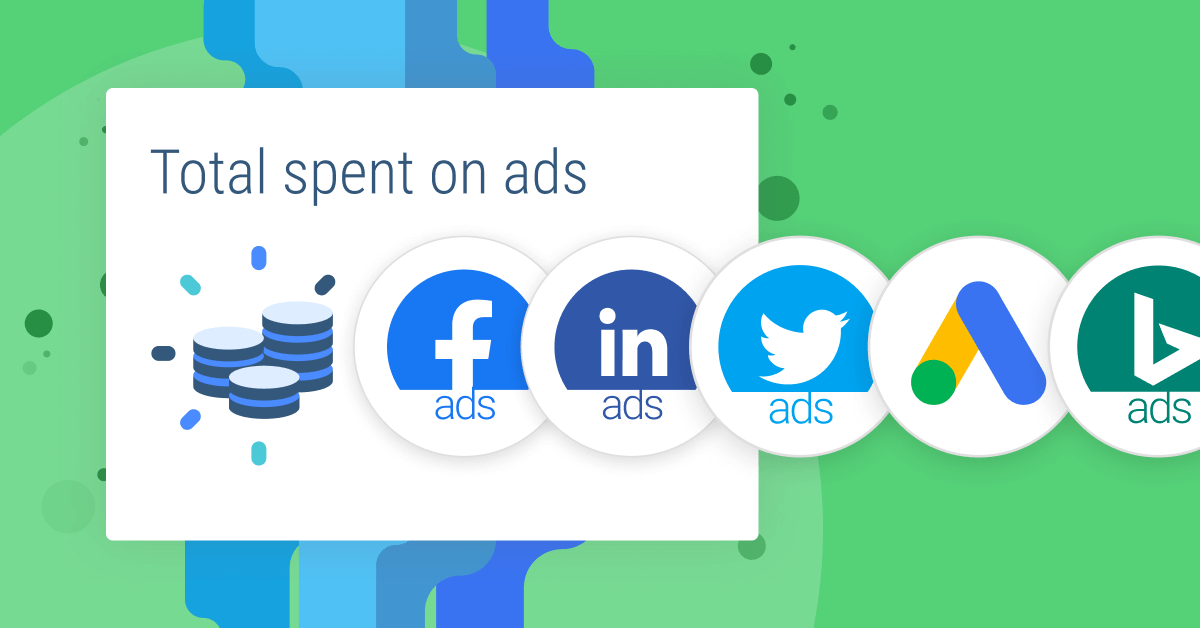 Ever wanted to show combined data in your marketing reports, like total followers on different social media platforms? Here are 7 ways PPC and social media managers can use data blending in their marketing reports.
Read more...