#marketing
The definitive guide to self-service analytics
In this present data-driven world, self-service analytics is gaining traction amongst businesses and companies who desire growth and control of the things they offer. Self-service analytics is a quality of self-service BI which allows business professionals to access data, perform queries and generate their own reports.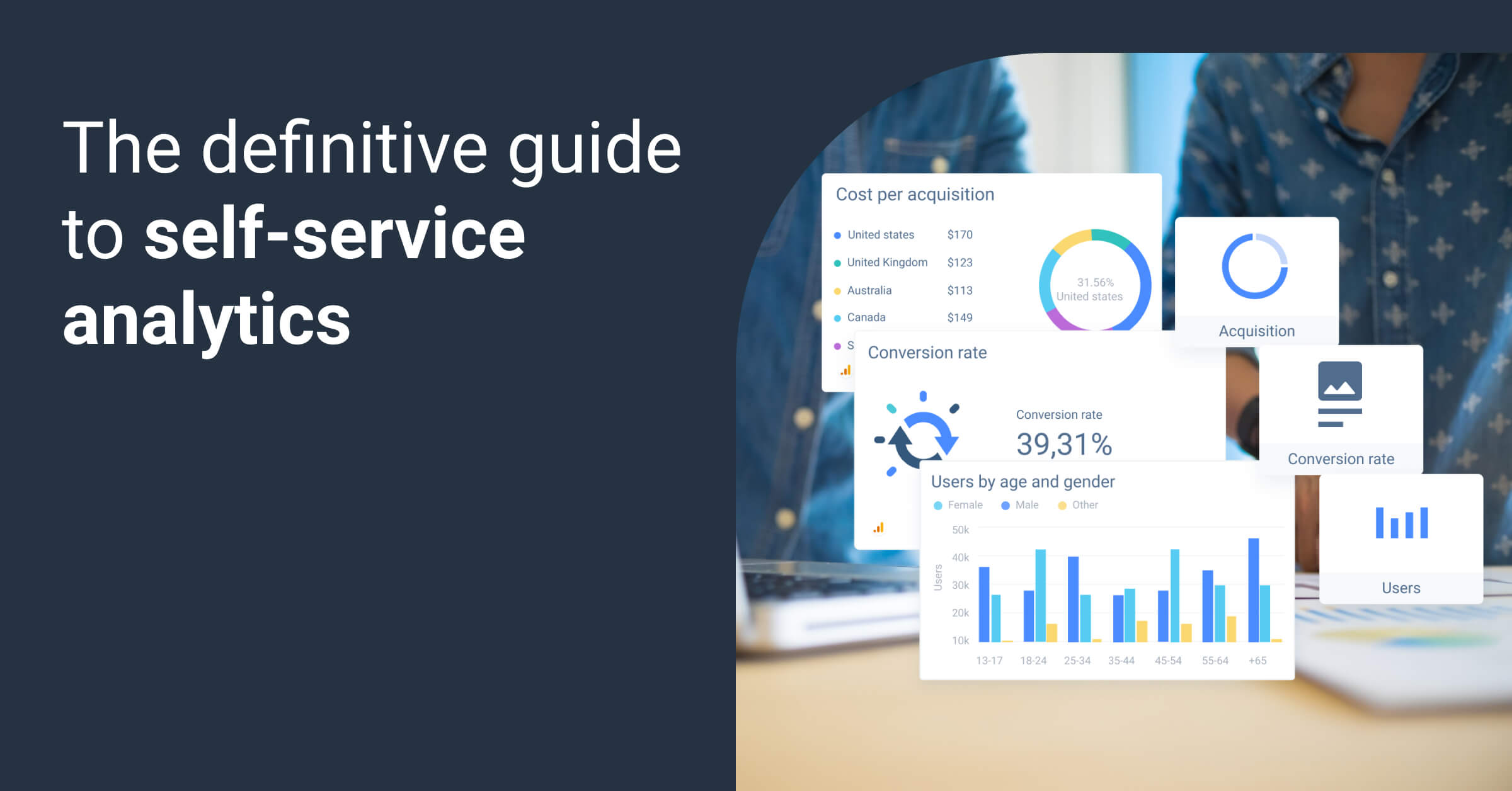 Table of Contents
This can refer to a data scientist running advanced analytics or a data analyst using SQL and NoSQL queries for investigating new reports.
It takes away the dependence to obtain insights from the IT department and makes them less focused while ensuring the satisfaction that traditional data analytics cannot give.
Why should you invest in self-service analytics?
Several reasons abound why you should consider self-service analytics, but we would look at a few of them that we consider top reasons. They are:
Swift decision-making process: When you use self-service analytics, you do not have to wait till reports are done for you. You can run queries and get relevant data you need for any purpose as fast as possible. Swiftness here depends on the type of software you are using.
Promotes business self-sufficiency and enhances data analysts' productivity: Technical background is not a requirement while using self-service analytics. Analytics and ad-hoc reporting are made simple, that you do not have to know so much to get things done. While this advantage makes it easier for other employees to focus on simple analytics such as running queries and conducting data analysis, it allows data scientists to focus on other important aspects of data analysis.
Democratization of data: With the use of self-service analytics, data literacy is encouraged. This gives room to the spread of data-driven culture among a larger number of employees with access to data. However, data access is regulated by policies and laws and not just given to anyone. The rigid security measures, however, sometimes limit the effectiveness of the analytics solution. An access model usually works perfectly in avoiding lags in the system. Hence, the fear of data breaches is taken away.
Empowers end users: End-users desire to have an analytics platform that provides the liberty to visualize, analyze, and share insights and real-time data. The analytics solution employed gives users the confidence that they can use analytics tools to make data visualizations.
Visualization creation and business trends uncovering: While they have been able to work on data directly by themselves, end-users can identify or discover business trends. As they continue to work on data visualization, they can narrow down their options and identify the cause of the trends. These business intelligence tools create great opportunities for business people and business leaders worldwide if maximized properly.
Self-service data preparation
This describes the process of transforming unstructured data into a more structured data form to make analysis easier. It is the modern reformation of data handling, processing, and analysis, making it important to understand, especially in the workplace.
Self-service analytics helps you extract data and get the maximum value possible for it, the application or analytics platform utilized, and its cycle time.
Self-service tools
Self-service data preparation tools and applications by companies apart from making intelligent executions should function in the following ways:
Interactive Exploration: Great analytics tools should provide data at the most compelling visual representation level possible. This gives room for a deeper, broader exploration of data furnishing users with deeper levels of understanding at the simplest levels possible.
Collective Data Control: Ideal data preparation tools should allow collaborative security and data governance. This is put in place to meet the growing demands of IT departments within companies and in businesses. It ensures coordinated access to the organization's data, makes it available when needed, and restricts permission to strangers.
Predictive Ability: Actions over visual representations on any data analytics platform should render predictive insights and recommend to analysts (tech-savvy or not) to edit or evaluate. A good application should do this for you.
Why self-service analytics fail
Since self-service analytics is still in its early years (yes, we could say that), it still poses difficulty to many people, despite you don't have to have a sound technical background before being part of the end-users. Below are few points to expatiate why self-service analytics fail:
It doesn't give room for operational transparency: Because many organizations store business data in siloes, it becomes increasingly difficult for employees to get the whole picture. Lack of a single truth source leads to decreased operational transparency and invariably negatively impacts the decision-making process of business users.
Self-service analytics platforms have limited capabilities: Certain functions of the platforms limit their efficiency and capabilities. For instance, the inability of users to change filters and view impacts the creation of a true report and dashboard.
A distinction exists between the workflow of daily users and the data bi tools analysis: This describes the line of action involved in the data analysis process. Non-centralization of operation serves as an issue to data users. When employees have to run analysis at a place and make the application (of the analysis) in another place, productivity is hindered.
Users' difficulty relies on the completeness of their organization's data: Issues with incomplete, duplicate, or corrupt data sets discourage users from utilizing their reporting tools. A huge level of concern is given to analytics platforms that expunge a company's data into some other database. End users cannot rely on the accuracy of the data, nor can they trust the data quality.
The analytical process requires IT knowledge: Data discovery and insight become impossible to even in self-service analytics due to over-reliance on the IT team for anything regarding data. Users do not find it easy to explore data to create reports or run analyses.
Difficulty in using analytics tool: User interface should be simple and promotes less dependence of IT team members. More often than not, analytics tool becomes difficult to navigate; hence user adoption becomes reduced. Non-technical users should be able to stay with a self-service analytics tool and make appropriate use of it.
Speed lag in data reports, dashboards and analysis visualizations affects workflow: In this age, individuals don't want to wait for IT guys or any data scientist before making decisions. Everyone wants to think for themselves and not rely upon or have to wait for reports from anywhere.
Steps to Achieving Success with Self-service Analytics
A proper understanding of self-service analytics would help to achieve a great level of success while utilizing the available self-service analytics tools. The following steps would help:
Choose self-service analytics tools that you are informed about: Critical factors should be considered when thinking of self-service analytics tools to embrace. Aspects such as speed of reporting, data integration capabilities, data security, data visualization capability, advanced analytics capabilities, and many other factors should be top considerations. Also, while considering these options, you may need to consult experts who would help you opt for software that will satisfy both your short and long-term goals.
Adoption for Users: Allowing users access to self-service BI does not translate that they have the required skill set to perform the tasks ahead of them. Their successful use of the software depends on:

- Choice of simple software with an intuitive interface that allows some form of non-technicality.

- Allowing employees to themselves explore the software, rather than making demands and setting unrealistic targets immediately.



- Conduction of training for end-users to align their skills with self-service analytics software.

Data Management Procedures: The fact that self-service analytics is employed does not make the services of a data analyst unnecessary. It would help if you had a data analyst for services such as data cleaning, monitoring system performance, preparing data sets for further use by end-users, and conducting data analysis at an advanced level.
Self-service Business Intelligence
For emphasis's sake, this refers to businesses users can perform independently without reliance on IT for assistance. It particularly explains the freedom and the idea of user-independence embedded within the system.
However, you can define business intelligence usage according to the roles user plays. They are:
Power Users: These are professional BI users that make about 25 percent of all users. They utilize business intelligence's flexibility to solve their basic daily business problems. They analyze data (with a suitable BI tool) and create new reports and dashboards from scratch or change the existing ones.
Casual Users: These are also referred to as standard users, and they make about 70 percent of the BI user population. Unlike the power users, they are unskilled and only perform simple tasks with self-service tools.
Business Analysts: These are highly skilled users of business intelligence software. They form about 5 percent of the users' population. Data models, data explorations, and other deep functions are their major calls.
Self-service Business Intelligence Requirements for Users
Dashboards and Reports Modification: Utilizing self-service business intelligence tools gives room to business users to make different modifications to reports and dashboards. Users are allowed to filter or make reports visualizing important indicators using the best possible means. It gives room for the independent creation of analysis that can address specific areas of interest. This process leads to the discovery of insights useful for businesses. Hence, self-service provides flexibility at the highest level for business users.
Data Models Creation and Modification: In certain environments, self-service must provide business users the possibility of creating or modifying models independently. They (business users) create models and adapt them to various department's needs with no reliance whatsoever on IT. Modeling can occur in a sandbox (controlled environment), database, or metadata layer. Companies' definition of their metadata management is important as it will help to adapt a well-suited approach.
Dashboards and Ad Hoc Reports Creation: The intuitive tools contained in business intelligence software and the predefined report templates it comes with make it possible to create ad hoc reports which can be useful for end-users. The dependence on IT has been removed.
Private and Local Data Integration: With self-service, you can integrate data into existing reports as a business user. Data could be from flat files, excel documents, or some other external sources. You can use local data to extend information delivery by the data warehouse, reducing the pressure on data management.
Conclusion
From business users to companies and individuals, the need to have insight into the right data (sensitive data) for their various needs, such as data visualization to generate reports, data discovery, data analytics, etc., is essential for everyday life.
Data provides accurate answers to the questions you may have. Having the right data sources helps to eliminate the doubt of data infiltration by some unwanted "elements." Data governance, however, gives "easy access" to persons (employees, business people, BI developers, etc.) to visualize data and make data-driven decisions that will positively impact their businesses.
Self-service BI ensures business departments have access to data and information at any given time, under appropriate circumstances anywhere in the world. This makes it easy to utilize data and generate necessary reports.
Self-service analytics drives the world today, and businesses need to embrace it so they can record huge successes in their business.
Published on Jun 03, 2021