#marketing
11 Crucial SEO KPIs You Should Be Tracking and Measuring in 2023
Whether you work as an in-house SEO specialist or do agency work for your clients, you need to report on your results regularly. And with so many marketing metrics and data points out there, choosing the best SEO KPIs can be difficult. Today, we selected the very best SEO metrics that you should measure, improve and report on.
You'll learn what SEO KPIs are, why it's important to track them, and what reporting tools are available to help you collect and analyze your client's website performance.
What Are SEO KPIs?
SEO KPIs are measurements for specific SEO strategy objectives. They allow marketers and agencies to set benchmarks, track specific SEO objectives, and measure their progress and performance of marketing activities. 
In other words, SEO KPIs help marketing agencies to monitor their SEO strategy progress and they provide enough data to optimize their efforts. 
Why Is It Important to Track SEO KPIs?
There are three main reasons for tracking SEO KPIs.
They give an overview of search performance
Search traffic, for example, is highly affected by technical issues, seasonality and algorithm changes. Seeing a drop or a rise in traffic could help identify those reasons and prep more efficient and precise strategies. 
They provide an opportunity to find new opportunities for growth
Depending on the SEO analytics you perform, whether site, content or off/on-page audit, you'd get different important data. 
For example, perform an on-page SEO audit and find out which keywords are the most relevant ones; off-page -  to identify which backlinks could bring in the most referral traffic; or content audit -   to learn which content pieces perform the best and determine what the audience wants to read more about.
A baseline for comparison
Ultimately, your SEO objectives and goals are to improve, grow, and expand. But how will you know if you are making any progress? By tracking KPIs!
KPIs can be used as benchmarks to measure your SEO efforts and progress. Not only that, but SEO KPIs can also serve as guidance and point of comparison. 
Whether you're using an SEO reporting tool or manually tracking KPIs, you'll need a list of them on hand to compare the progress of different KPIs at any stage.
Regarding the list, continue reading to find out which of these are important KPIs to consider for SEO and their benefits to your strategy.
1. Organic Traffic
First off, we have organic traffic. 
To understand it better, think about the visitors who land on your client's landing page or anywhere on the site through an unpaid source such as search engine results (which is most of the time). This is organic traffic generated to the website. 
The bigger the organic traffic volume, the higher chance of getting qualified leads as there are more people browsing the website. It improves brand loyalty, is cost-effective and is more sustainable (compared to paid traffic) in the long run.
Organic traffic also gives insights into your efforts to target audiences and how well certain keywords perform. Higher organic traffic could also mean that your content is relevant to the client's audience and you are delivering what they want to read about. 
Here's some advice from Jonathan Zacharias, the Founder of GR0:
'You need to remember that organic traffic alone does not equate to money earned. Organic traffic that converts to a customer or potential customer is what is important'.
To measure organic traffic, you have two options:
If you are using Google Analytics, go to Acquisition → All Traffic → Source/Medium → Select Organic Traffic.
First, create a Whatagraph account →  connect your data sources → analyze organic traffic (both real-time data with the current status and historical to see user behavior habits).
2. Conversions Coming From Organic Traffic
When a visitor arrives at a client's website via organic search and takes the expected action, you get a conversion from organic traffic.
Marketing agencies can use this data to calculate ROI and conversion rates for specific keywords. By identifying which keywords bring in the best results, you can learn more about the visitors and what they look for, distribute your budget accordingly and increase conversion rates even more. 
In short, writing content for the sake of growing organic traffic is nice, but it's even better if you can drive organic conversions from that traffic and those search queries. While conversions are not a ranking factor, you actually can get more of them by ranking better in search engine results pages.
There are 2 basic and most common keywords people use when searching on search engines:
Commercial keywords: buy or price;
Informational keywords: how or why.
Not to get overwhelmed by all this complex data, try out our performance report. It will show you your specific KPI progress, organic goal completions, and the number of conversions you got from organic traffic.
3. New and Lost Backlinks
New and lost backlinks show you what new websites linked to yours and which links you lost in the meantime.
New backlinks are created when another website links to your client's. 
Measuring new backlinks is critical for your SEO strategy and inbound marketing. Remember that the more high-quality backlinks you have, the higher your client ranks on Google or other search engines. 
Lost backlinks give information on the links removed/deleted from another website.
Measuring lost backlinks is also important for your SEO strategy because many lost backlinks can negatively impact the performance of your client's page to which those links were directed. It could also indicate that someone is conducting a black-hat SEO campaign against your website, so keep an eye on this metric.
To easily track these KPIs, connect Ahrefs to Whatagraph and get your backlink report generated in less than 2 minutes.  
4. Keyword Rankings
Another important SEO KPI is keyword rankings, which refer to the position of your client's page on the search results page for a specific keyword search.
Keyword rankings is a KPI that tracks, measures and highlights the effectiveness of your SEO efforts at driving search traffic to your client's site. This KPI is a good marker that offers useful insights regarding the progress of your current rankings or ability to rank for new keywords. It's a general metric to show your content marketing success and overall performance in search rankings.
And there is more.
Monitoring this KPI will provide you with advanced analytics on your keyword and related pages' performance in Google search results. The higher your ranking in SERPs, the more traffic you can expect. This is one of the most important marketing metrics to monitor because a single increase in keyword ranking can significantly impact your bottom line.
If you don't know how to track SEO rankings - no problem!
The simplest method to track keyword rankings is to use a tool like SEMRush integrated with Whatagraph. Connect your accounts and easily see which keywords are ranking and which aren't.
5. Bounce Rate
The fifth key performance indicator is the bounce rate. 
Bounce rate in SEO counts the percentage of people who land on your client's site, take no action and exit it. 
Digital marketing agencies must track this KPI because it allows for identifying and solving technical issues with the website (maybe your client's site is not mobile-friendly) or content gaps (maybe your content isn't sufficiently covering certain topics). In general, a high bounce rate will hurt your marketing strategy efforts so reducing it should be your number one priority.
Moreover, tracking your bounce rate does the following:
Helps to see how users engage with client's pages on the site;

Identifies data sources from which users come;

Identifies the data sources with the lowest and highest bounce rates;

Provides enough data to base optimization and marketing decisions;

Highlights funnel flaws that need to be addressed.
Track your bounce rate with a powerful Google Analytics /GA4 Reporting Tool for Agencies. Our tool will not only display the status and patterns of bounce rates but also gather all your key metrics into a single visually beautiful dashboard. 
6. Session Duration
Marketing agencies create content for their clients' blogs, improve user experience, develop eye-pleasing product pages, etc. What then? Track the duration of your organic sessions.
Session duration is a KPI measuring each user's time on your client's site in one session.
Joshua, the CEO and Founder of bullseyelocations, says that:
' The most important SEO KPIs are the ones that will help you understand how your website is performing and what changes need to be made'.
The session duration KPI helps to achieve just that.
Depending on the current average session duration on any page, you can predict and plan new content according to what visitors prefer to read and consume. It's also the perfect KPI to help understand your client's audience, and what topics, keywords, and CTAs attract the most attention. 
To measure session durations, try using one of the following methods:
Google Analytics. It employs a method that considers the time between your first and last 'engagement hits' (any interaction user with anything on the site) on your client's site.

Use our

free SEO reports template

.
Create a Whatagraph account →  connect your data sources → analyze session duration.
7. Page Load Speed
Technical SEO aims to ensure that the site meets the technical benchmarks of current search engine standards. Furthermore, technical SEO analysis helps improve organic rankings. 
One of those benchmarks is page loading time. 
In a nutshell, page load speed is a KPI that lets you know how quickly your server processes a request and how long it takes for the page to render.
A couple of things to keep in mind in regards to page speed:
By not optimizing website speed, you harm your rankings. Google favors websites that load quickly because they provide a better user experience and as a consequence, better search visibility.

 
Take into account the web hosting services you are currently utilizing. Perhaps a company exists that offers a faster-loading, better-optimized website.

To ensure that your average page load times for desktop and mobile devices are reasonable, you should monitor this KPI. No more than two seconds should pass during the ideal load.
Create a Google Analytics account to track page load time → navigate to your view →  reports →  behavior → site speed
8. Branded vs Non-branded Traffic
Branded vs non-branded traffic measures traffic coming from different types of keywords.
Branded traffic refers to the traffic coming from your branded keywords. This includes queries containing your client's company name. 
Non-branded traffic refers to the traffic coming from non-branded keywords. These keywords don't necessarily have the client's company name but rather keywords describing your client's products or topics of interest. 
Neither is more important than the other; both are essential when improving overall organic traffic. 
High non-branded traffic suggests reaching a larger audience and building authority, whereas higher branded traffic suggests that your client's brand awareness is strong.
To improve branded vs non-branded traffic, you need huge volumes of data, and to handle it in a smart way, get a reporting tool. 
If you connect your Google Analytics account with Whatagraph, you'll find your branded and non-branded traffic KPIs in one comprehensive report or dashboard;
9. Total Referring Domains
Referring domains can be a bit confusing as they seem to be similar to backlinks. So let's start with how they differentiate. SEOchatter depicts one main difference:
'Referring domains are the websites your backlinks are coming from, while backlinks are the actual links on sites that are linking to your web pages'.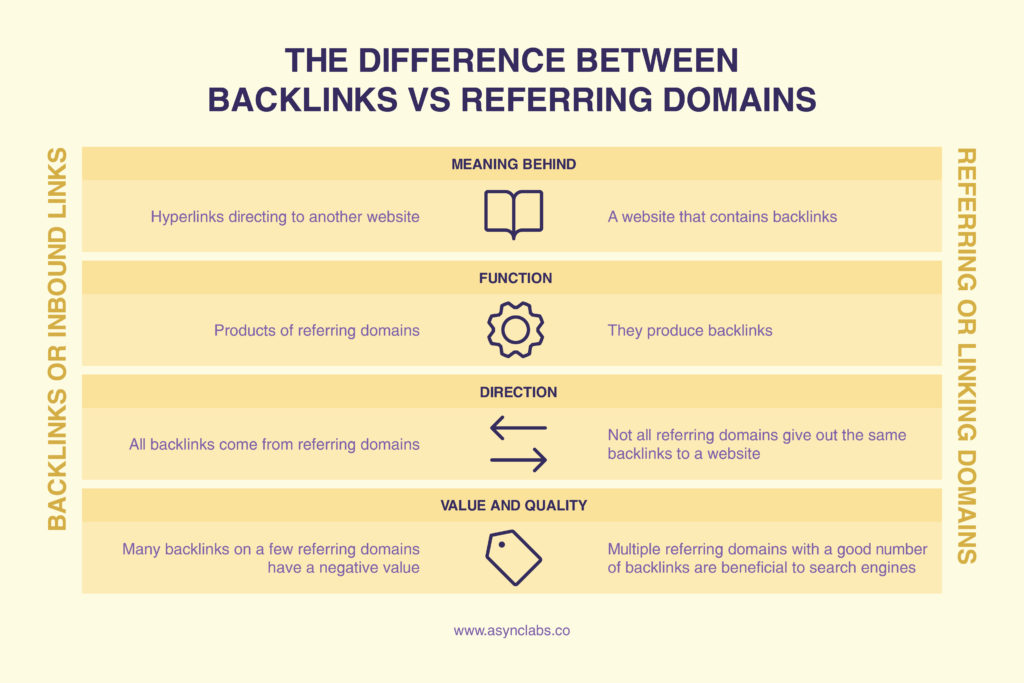 Now that the difference is clear let's cover referring domain.
The website RD provides information about the origin of your referral traffic. In essence, marketing agencies make a lot of effort to connect blog posts to other websites.
By tracking total referring domains with our automated SEO report, you can enjoy the benefits of getting the answers to these questions:
Which pages on your website are most frequently linked to?

What websites link to you?

From which pages do the backlinks originate?
10. Impressions
Google defines impressions as the number of times a URL from your site was displayed in a user's search results, excluding paid Google Ads search impressions.
In other words, every time users get an URL presented on its search results, that's counted as an impression. 
Impressions are important in SEO because they reveal the market importance of a particular search term. If your client's company's SEO result receives a lot of impressions but no clicks, user behavior suggests that the result is not pertinent to the search term.
Track your impressions with a powerful Google Analytics /GA4 Reporting Tool for Agencies. Our tool will display the status and patterns of impressions and gather all your key metrics into a single visually beautiful dashboard.
While impressions are relevant, they're not crucial for your client's overall return on investment. In other words, your search engine optimization time is better spent elsewhere. 
11. CTR
The click-through (CTR) metric measures the volume of clicks on search engine results. 
The main factors that affect an organic click-through rate are:
Ranking position;

Title tag;

Description;

URL. 
The primary purpose of CTR tracking is to gauge user engagement and gain a better understanding of your customers. This measurement reveals the topics that captivate your audience, the pages that receive the most clicks and even the problems they are experiencing.
Tracking this KPI will help to determine if your ad copy (for paid search results) attracts people's attention enough to be clicked on. Sometimes there is a need to alter the copy, the visual, or the offer.
How to Track SEO KPIs?
We have mentioned a couple of ways you could track your SEO KPIs throughout the article. Now let's dive deeper into three solutions for the best KPI tracking experience for your SEO performance. 
1. Reporting tools such as Whatagraph
Reporting tools are solutions for marketing agencies to create reports and measure needed metrics easily. 
For example, Whatagraph is a leading SEO data reporting platform to measure your SEO success. This is because of a couple of key features:
Whatagraph has more than 40 integrations, including SEO tools such as SEMRush, Ahrefs, Google Analytics, Google Search Console and Google My Business. This provides easy access to multiple platforms and their data. 

Cross-channel reporting + the above-mentioned integrations equal a report with a high-level overview of your overall SEO strategy and its results. You can easily compare different channels and their performance and optimize the areas that need a

paid

push.

Normally, you would have to copy and paste the data from the preferred SEO tool if you wanted to send a report to your clients. No more—just link these platforms to Whatagraph, and SEO data for your clients will be filled in automatically.

Lastly, your

SEO reports for clients

can be sent out automatically. Simply choose the needed time frequency and time you want to report. 
2. Google Analytics and Google Search Console
Google Analytics is a web analytics tool that provides fundamental analytical tools and data for SEO. To gather user information from each viewer, they employ page tags to get data such as the average time on page, the number of visitors and other organic search results.
Each page's Google Analytics tracking code includes a JavaScript page tag. This tag sends data to one of Google's data collection servers from each visitor's web browser. Then, Google Analytics generates individualized reports to monitor and display information like channel-specific sessions, pageviews, users, conversion rates, etc.
On the other hand, you can control and troubleshoot how your website appears in search results using Google Search Console, formerly known as Google Webmaster Tools. It can submit, identify and fix technical issues, sitemaps, and view backlinks.
3. SEO tools like Ahrefs and SEMRush
SEO tools are solutions to marketing agencies providing data and insights into the overall SEO health and success of the client's website. They aid in identifying areas of potential growth and flaws or problems that might prevent you from ranking and gaining visibility in the SERPs.
For example, Ahrefs.  

Ahrefs is an SEO software that tracks rankings, aids in site audits, and offers keyword research solutions and competitor analysis. It is the largest backlink index of any tool on the market and can be found in Ahrefs. This tool can be used to keep an eye on your competitors' SEO strategies, target keywords, and other elements.
Essentially, when using Ahrefs, you can:
Check Backlinks of Competitors;

Identify Broken Links when doing link building;

Identify Keywords;

Track your ranking;

Audit your site;

Check Website's Content.

 
Bottom Line
Launching any SEO campaign produces a lot of data, metrics, and KPIs. It's both: great and overwhelming. Great, because you're getting data you can use in the future when setting benchmarks and developing strategies. Overwhelming because without a proper tool, it's hard to manage and use all this data. 
Join Whatagraph for a free 7-day trial and start creating SEO reports that help you, instead of trigger you. 
Dominyka is a copywriter who uses simple words to explain tough ideas. Her content is inspired by the good old brand "For Dummies." Anyone can read and learn all things marketing with her.
Read more awesome articles
Enter your email and get curated content straight to your inbox!
Only the best content & no spam.
Pinky promise.
By submitting this form, you agree to our
Privacy policy