#marketing
9 Best Social Media Monitoring Tools
Social media platforms are great for businesses to stay up to date with what their customers want. You can even monitor your competitor's activities and form strategies to get a competitive edge in your industry.
As soon as you get the necessary data, you can start working on ways to improve your business marketing strategy. 
If you are new to social media, using social media monitoring tools will come in quite handy. Numerous social monitoring tools are available in the market today.
However, you must remember that these tools aren't as high level as enterprise tools. Anyone new to social media marketing should use cheap or free social monitoring software and only use enterprise-level tools once they are ready to improve their online marketing game. 
What is Social Media Monitoring Tools
Before we proceed any further, let us take a brief look at what social media monitoring tools are and how they're relevant for a business' marketing strategy. In most cases, entrepreneurs want to know about things like:
Current industry-related trends;
Monitor competitor's online activity;
Relevant branded and unbranded hashtags;
Brand mentions through tags and without tags.


You can track vital social media metrics and use the information to track ROI and test social campaigns. All the best social monitoring tools provide insights and trends, allowing you to take action based on what you find.


In simple words, software like these are all about gathering industry-relevant information from online social platforms. Social listening allows companies to be strategic and active. Nonetheless, you will need to analyze complex data to gain actionable insights. 
Best Social Media Tools
Here are some of the best social monitoring tools you can utilize for your business:
Brand24
Everyone would like to know what is being said about them. That is precisely what Brand24 is telling you. It shows quotes from all around the Internet and social media, especially. What is more, the tool uses sentiment analysis to decide whether you are praised or criticized. Additionally, Brand24 keeps you updated all around the clock, thanks to alerts. If you want to have everything summarized, here comes a report bookmark that can be sent your way as frequently as you wish.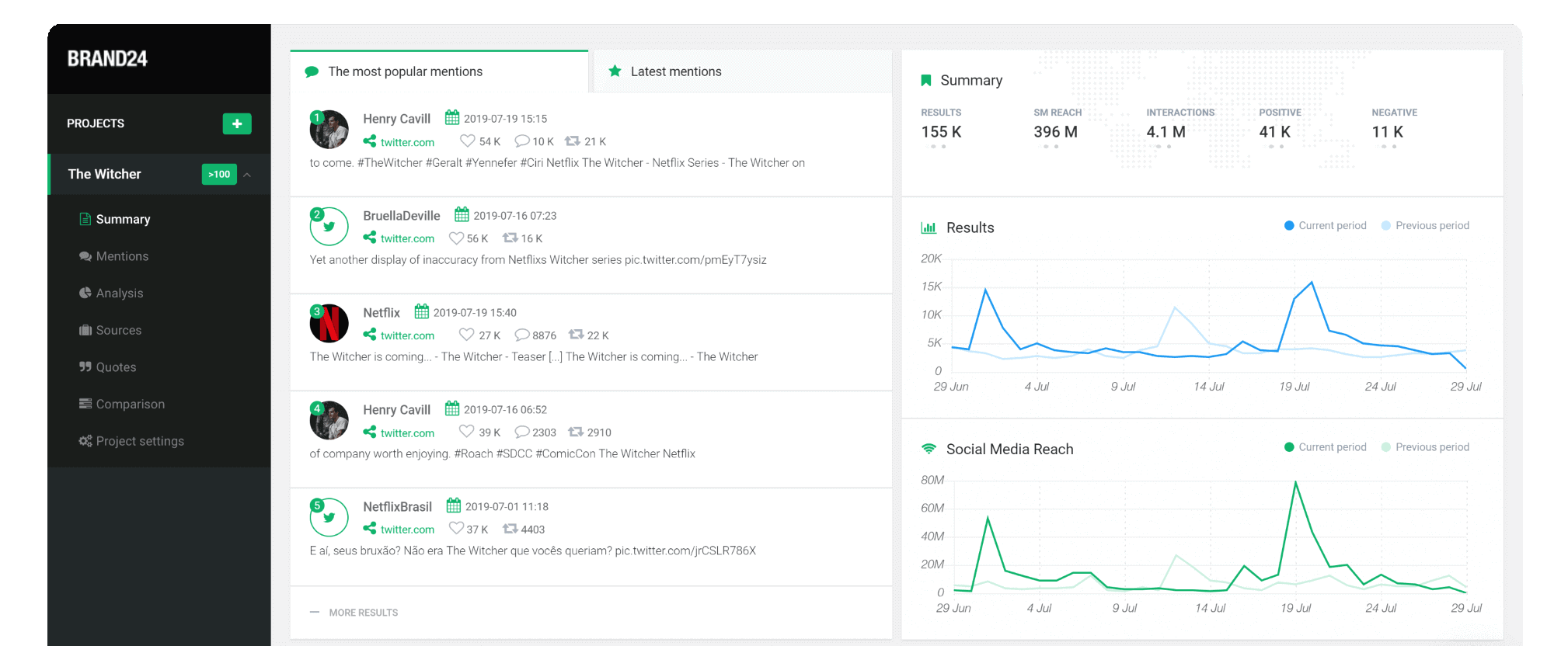 Another excellent feature is that you can spy on your competition a little bit and take a peek at their mentions and easily compare their results with yours to see where you need to improve your social media presence. If you are into full media monitoring analysis, insights on a higher scale this one is a must for you. There is an excellent review made by Milosz Krasinski Brand24 - Not only for Big Brands
TweetReach
Thousands of people rely on TweetReach for their company's social media monitoring needs. It measures the implications and impact of social media conversations.

Information like this is beneficial to determine your business's most influential followers. Which will eventually guide you towards the right target demographic when promoting and sharing online content. 
Hootsuite
If you are looking for free social monitoring tools that offer numerous features, go for Hootsuite. The software covers several social networks such as Google Plus, Foursquare, WordPress, LinkedIn, Facebook, Instagram, and Twitter. 




Hootsuite offers excellent team management features and weekly reports, providing convenience to businesses that employ multiple social media account managers.
The tool also lets you monitor particular keywords in real-time. This is quite useful for tracking product and brand mentions. Hootsuite allows you to share posts on your organization's social media account through its RSS feed. If you've read a lot about this tool, better look out for other tools to compare Hootsuite with just to make sure you've made the right decision for your business.
Rebrandly
Whether you're posting to social media, sharing links, or directing customers to your latest YouTube video, links are often the first point of contact with customers online. Each post, tweet, and email should be polished and perfected so that it represents your company in a positive light and maintains consistency with your brand image. 
And one of the best ways to maintain consistency and entice users to take action is by using branded URLs. Along with boosting brand visibility and awareness, they show your audience that the content they're clicking on is coming from the trusted source that is your brand. Rebrandly URL Shortener is the perfect tool to create, share, and track the results of your branded links.
Awario
Awario is a powerful social media monitoring tool that makes brand monitoring easy - both on social media and the web at large. You can also use the tool for competitor analysis, sentiment analytics, and influencer marketing - the choice is yours.


What makes Awario stand out is the tool's potent Boolean search mode - a flexible way to write queries with the help of Boolean operators. This way, even if you're getting a lot of noise with other social media monitoring tools, you'll be able to make your searches precise and make sure you only get relevant results.
Mention
Mention is a distinct social media monitoring tool that can accurately translate its results in 42 languages. Using this software will allow you to stay on top of your industry's forums, blogs, news sites, social network activity, brand mentions, and much more. 


The application also assigns tasks, shares alerts, and tracks your team's activity in real-time. Mention has a free two-week trial period.
Plann
Plann is a powerful visual planning and scheduling tool that helps businesses and individuals streamline their social media marketing efforts. 
With an intuitive interface and a range of customizable features, Plann makes it easy to create and share content, schedule posts, and analyze performance across multiple social media platforms. 
Whether you're a small business owner, a content creator, or a marketing professional, Plann can help you stay organized, stay on brand, and stay connected with your audience.
With Plann, users can easily create and schedule visually stunning content for platforms such as Instagram, Facebook, Pinterest, and LinkedIn, using a range of features including drag-and-drop scheduling, hashtag research, and analytics. Plann's sleek and modern interface allows users to plan and preview their content, ensuring a cohesive and consistent online presence. Additionally, Plann's AI-powered Caption Assistant helps users craft engaging and effective captions for their posts.
IFTTT
If This Then That. While the developers didn't design the tool for social media monitoring, you can still get creative with how you use it. Using this social monitoring software, you can stay up to date about different activities through a single platform. 




Also, this software sends you an update each time someone mentions your brand. In addition, you receive SMS notifications to offer you suggestions about search terms that you recently used on Twitter.
Compared to other online tools, this is highly customizable. It also has a variety of integrated apps that let you keep a close eye on various activities on social media. 
It has several user-friendly features and monitoring options that will provide you valuable insight to position your brand towards success.
Brandwatch Consumer Research
Brandwatch is among the best social monitoring tools out there. It stands out from other applications by offering plenty of unique and exclusive features. With this software, you can track essential aspects like specific keywords and phrases, hashtags, and channels. 


There is also a query builder in this app. You can use it for tracing broad as well as specific topics. You can receive data from platforms like Reddit, Twitter, popular blogs, and several other sources. You can create custom social media dashboards on this software to ensure that you have as much convenience as possible for monitoring insights.
Keyhole
If monitoring hashtags and tracking keywords is essential for your business, choose Keyhole. With this social monitoring software, you create a live dashboard that shows you all online mentions. You can sort this information according to date, engagement, and several other metrics.


You can even look at particular sentiments, trending topics, and influencers, according to the mentions displayed on your customizable dashboard.
Why Social Media Monitoring is Important
There is no denying that the social internet space today is remarkably more prominent than what it used to be a couple of years ago. People communicate and broadcast their opinions on social media platforms about a variety of topics, including the brands and products they like and dislike.
With an abundance of information available on these platforms, social media monitoring can help your business succeed. You can gather insights and opinions on pretty much anything you want, and use them to position your business in the right direction. 
Wendy is a data-oriented marketing geek who loves to read detective fiction or try new baking recipes. She writes articles on the latest industry updates or trends.
Read more awesome articles
Enter your email and get curated content straight to your inbox!
Only the best content & no spam.
Pinky promise.
By submitting this form, you agree to our
Privacy policy