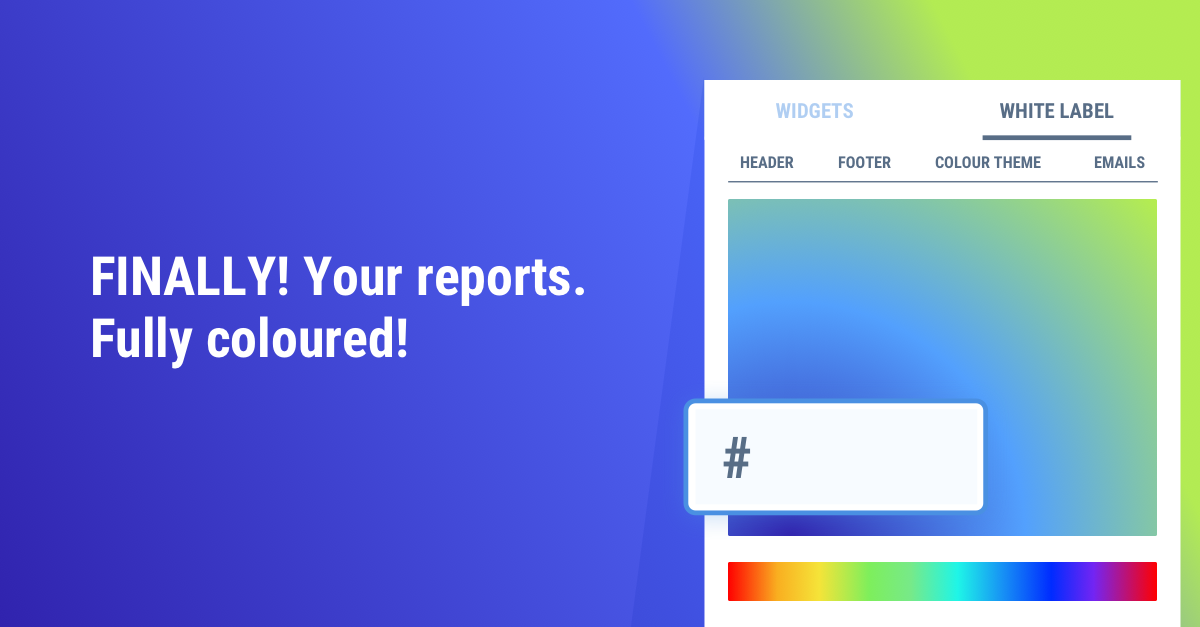 The grand whitelabel update: bring your brand to meet your reports
Hex colour picker, customizable headers and footers, and other features that are sure to elevate your whitelabel.
We understand how important branding is for both companies and marketing agencies alike. And sometimes having your logo on the report is just not good enough.
Now imagine having the ability to pick a completely custom color scheme for your marketing report.
Well, this thought just might have come true. This, and a little something extra too.
Our reports + your brand colors = a match made in heaven
Next time you log into your Whatagraph account, be sure to visit the updated white label section.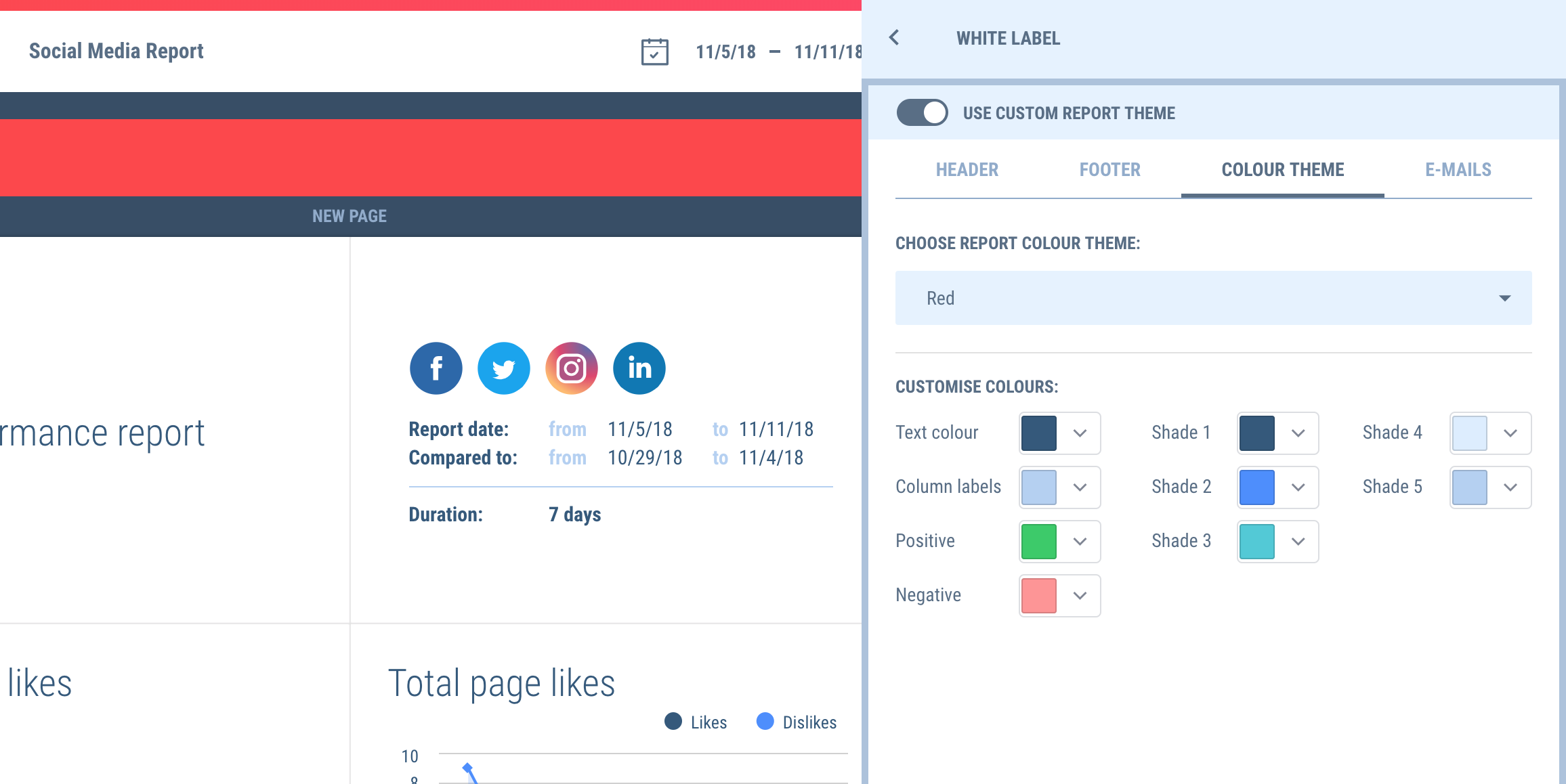 You will find four new sections under report white label now:
Header
Footer
Color themes
E-mail
Use report header (and footer) to show your brand, logo and add custom text
We've increased the space for your logo, so now you can add it in the middle of your header, in the corner, or even make your full header shine just with the logo alone. It's up to you really.
If you're more of a color person, we've got good news too. You can now bring your brand colors to the report header (and, in fact, footer). Tip! Use hex code field to adhere to your brand guidelines easier.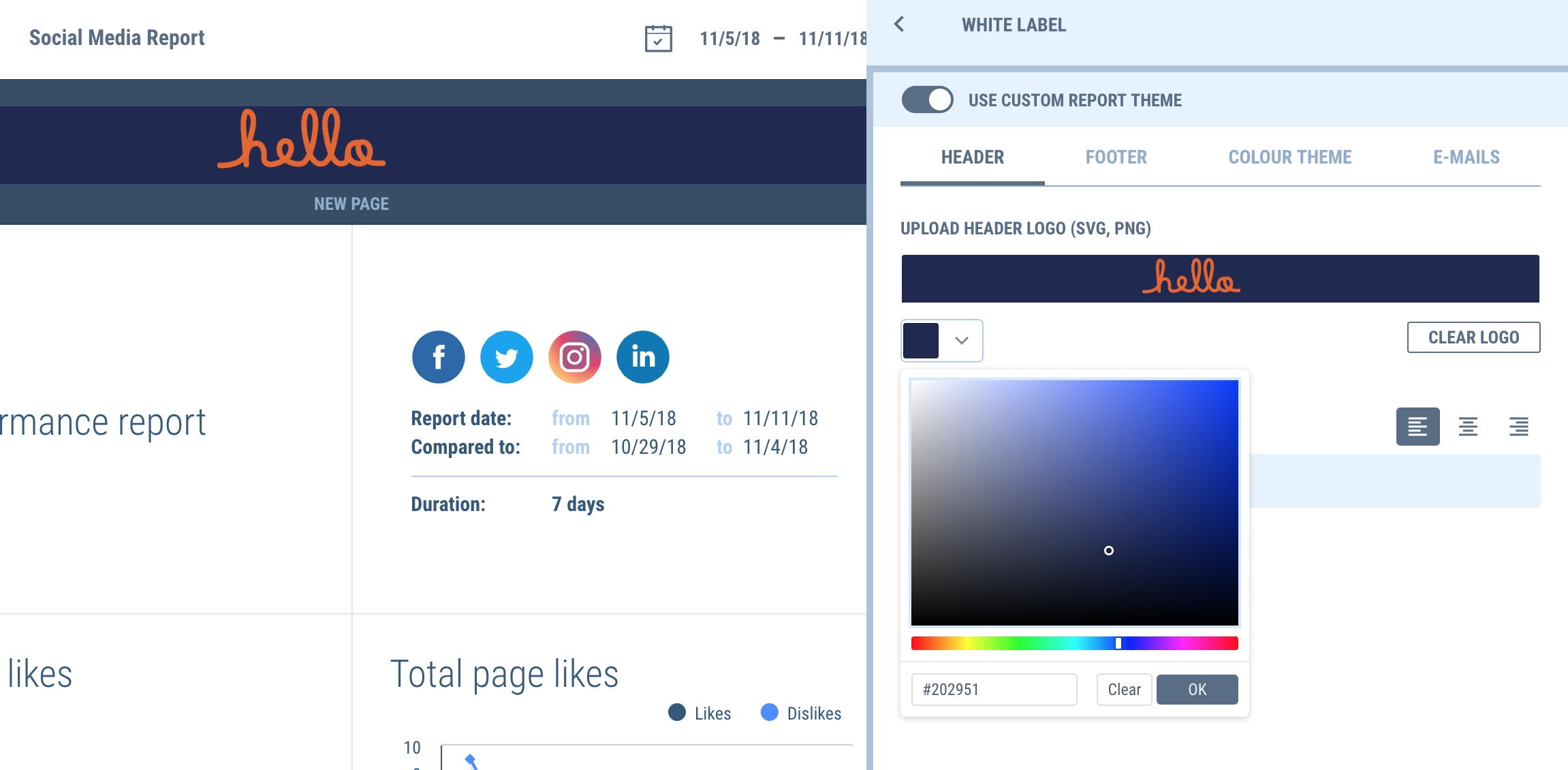 Talking about customization, you can now add text to your report header and footer too! Just here: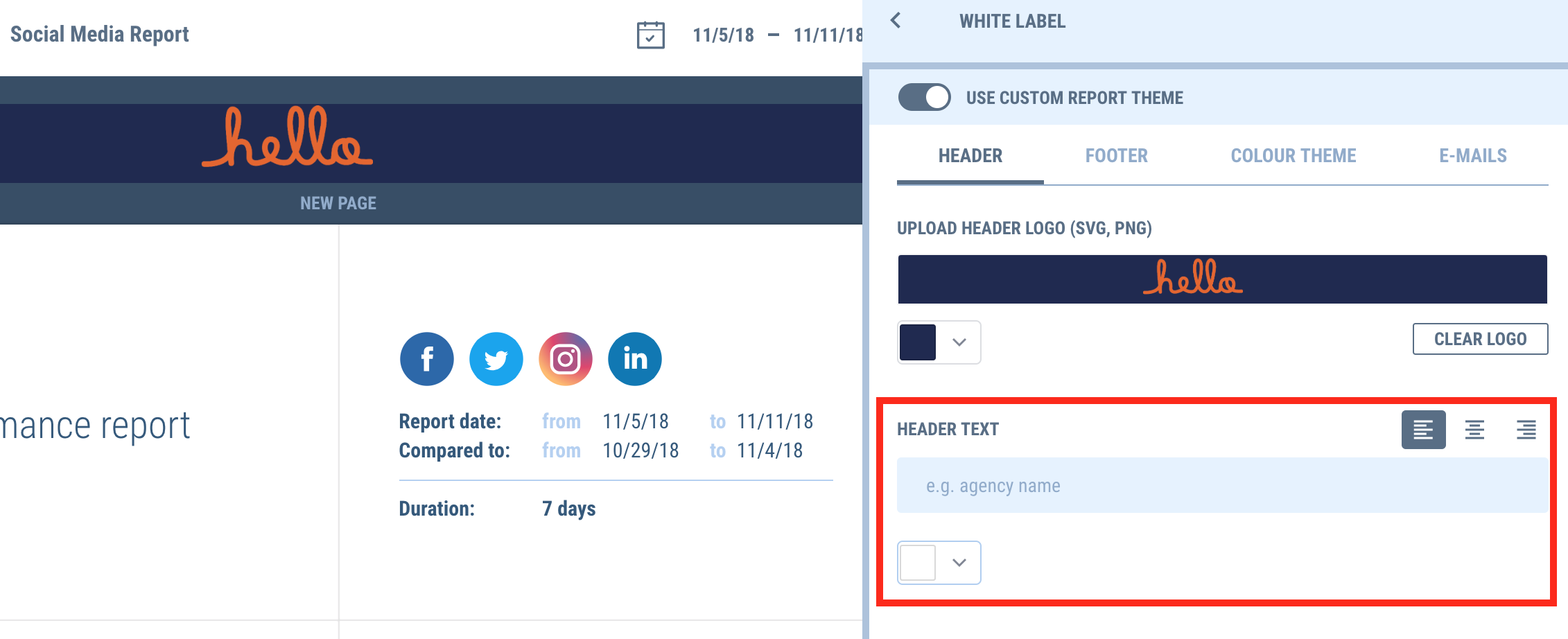 You can use text for a number of cases:
Add your agency's/company's name
Add the reporting date
Share your contact details
Add a link to your FAQs
Add different logos to header and footer - use one space for your client's logo, and use the other one for your agency's logo
Add a direct link to your report where your customer will be able to access your web report at any time
Build a custom color scheme for your report to match your brand
You can now customize absolutely everything - from text color and infographics' shades, to the color of your positive and negative values. The latter is the percentage difference you see in the reports when comparing different dates.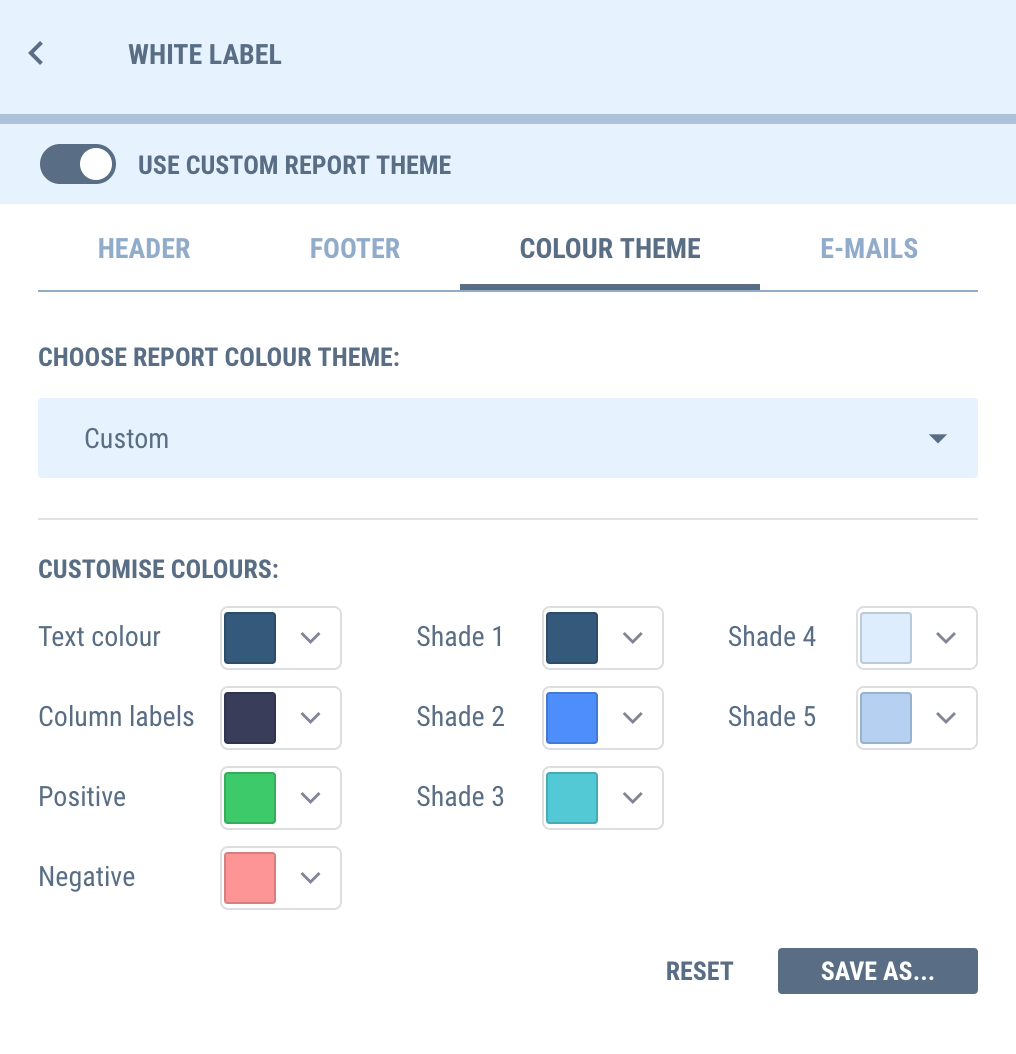 Here's a little cheat sheet for you about what each setting means here:
"Text color" allows changing the color of widgets titles, descriptions, as well as the color of numbers and their values.
"Column labels" change the color of columns names in the table widgets. This setting also controls which color is used for these little "from" and "to" words that you see in the calendar widget.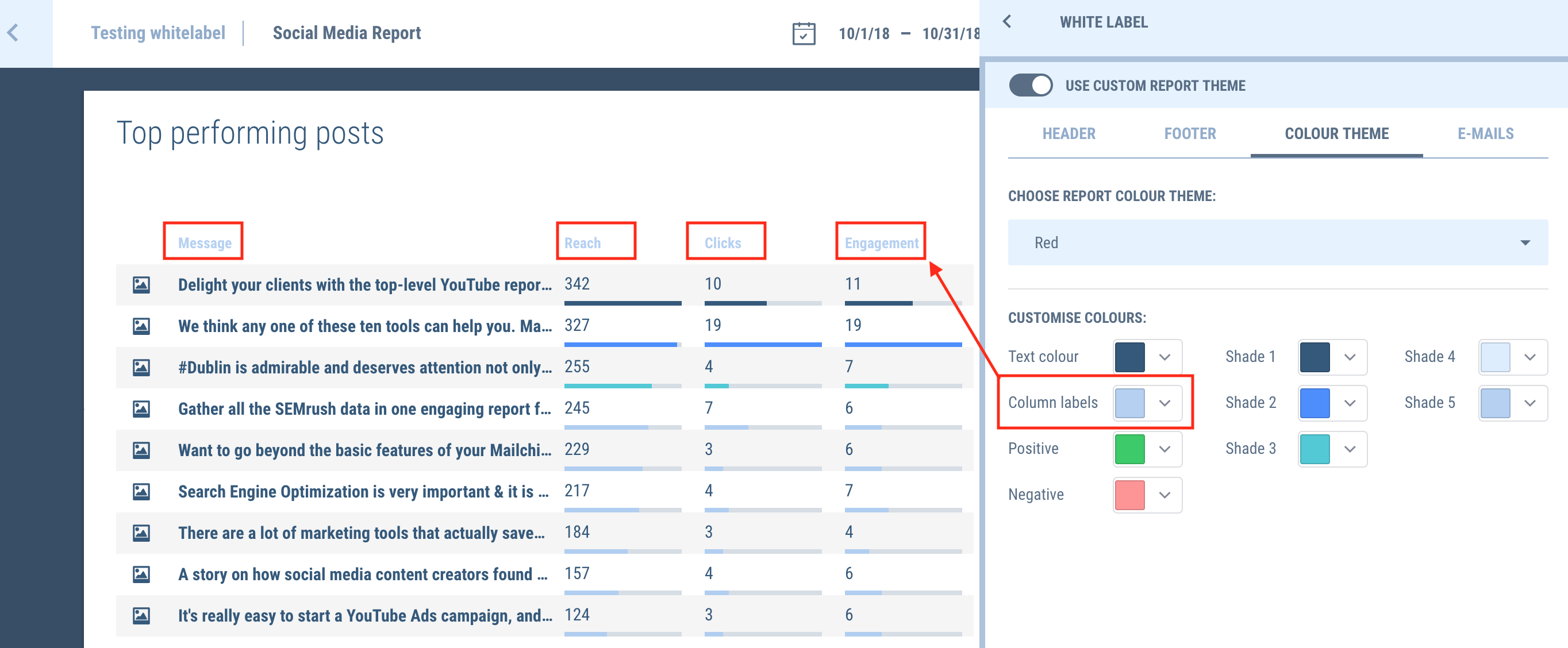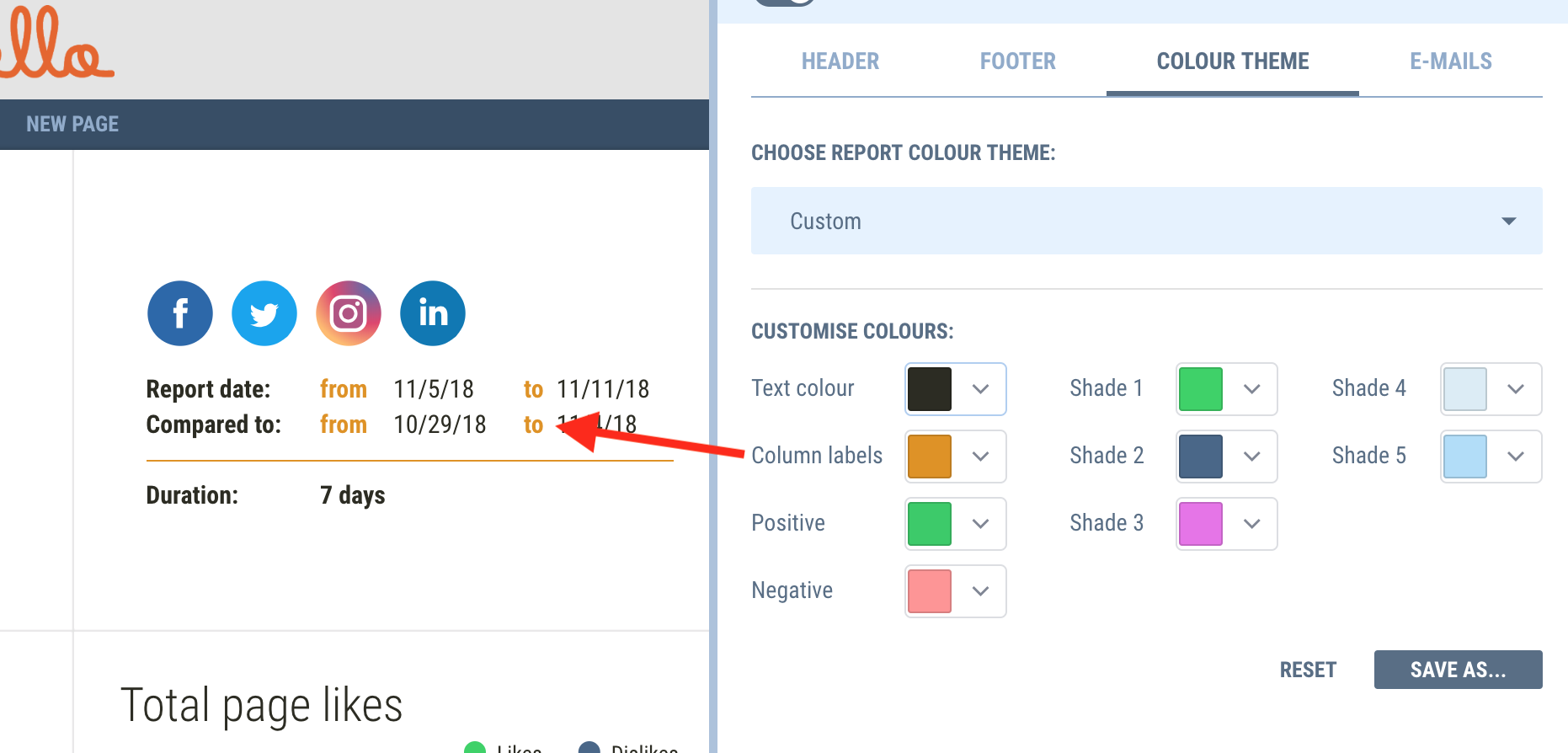 "Positive" and "Negative" will adjust the color of percentages and their values, when you are comparing data to another date period.
"Shade 1" controls the main color of the infographics, including column color in bar charts and numbering symbols in the tables. So it's a good idea to use your brand's primary color here.
The rest of the shades add little pieces of colors to your infographics and work as secondary, supplementary colors. So if you have these in your brand book, add them here.
It might take a bit of a trial and error to work out the perfect color scheme, but once you find - save it to your themes to be able to apply to all of your reports.
We also left your favorite color schemes too when you just don't feel like going through the 5 shades of hex: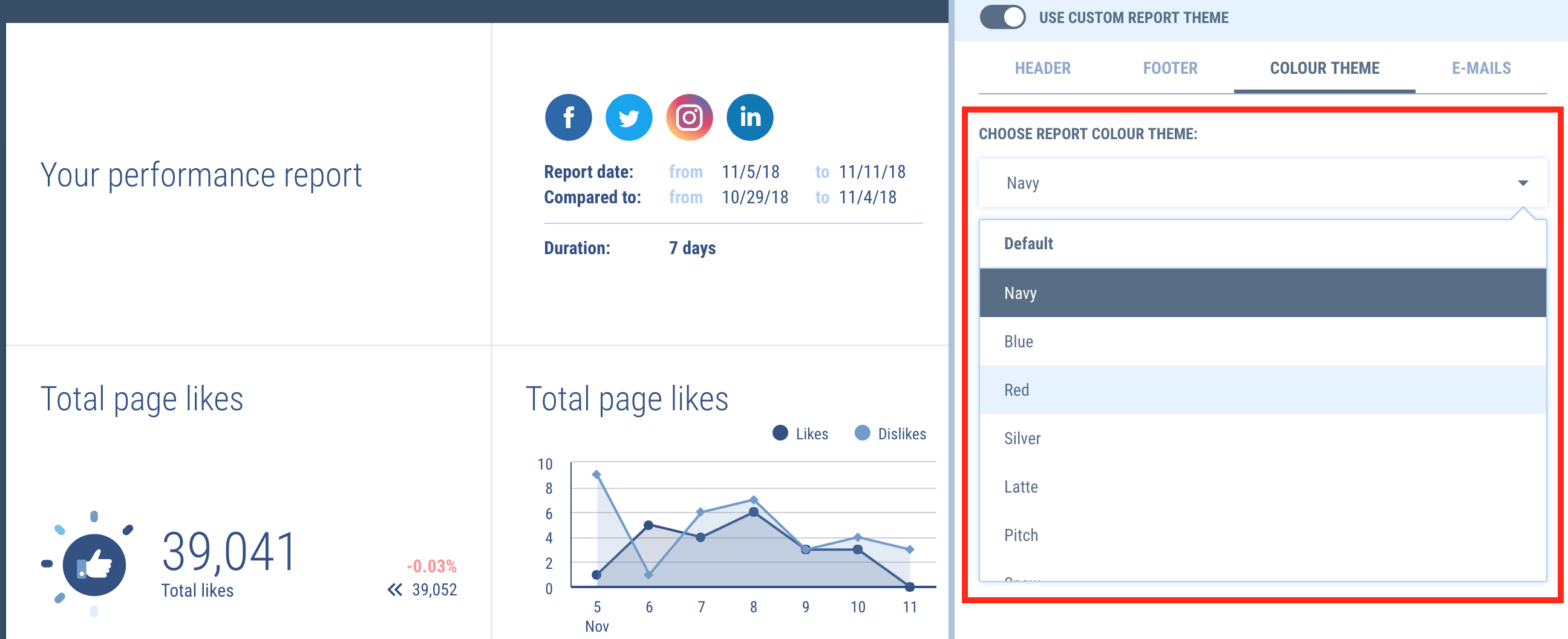 What's coming next?
You'll notice that white label email settings stayed the same, but we've got good news - we are already working on the ability to edit your white label emails, so keep tuned!
In the meanwhile, log into your account and check out how well your reports can match your brand!
New to Whatagraph? Request your free trial here.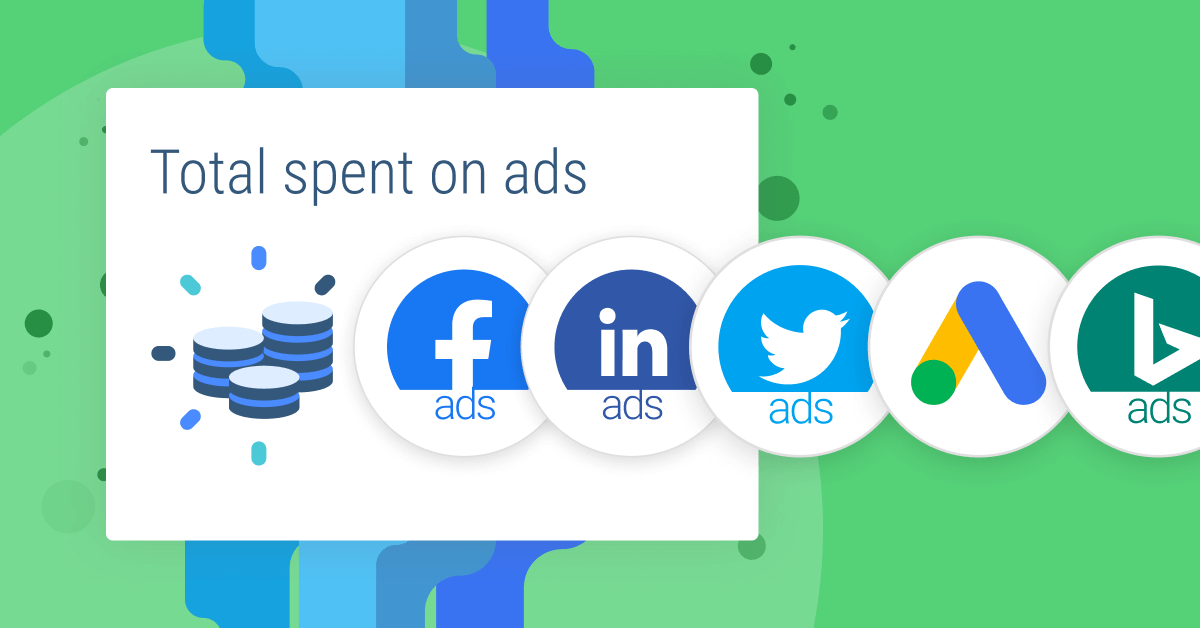 Ever wanted to show combined data in your marketing reports, like total followers on different social media platforms? Here are 7 ways PPC and social media managers can use data blending in their marketing reports.
Read more...