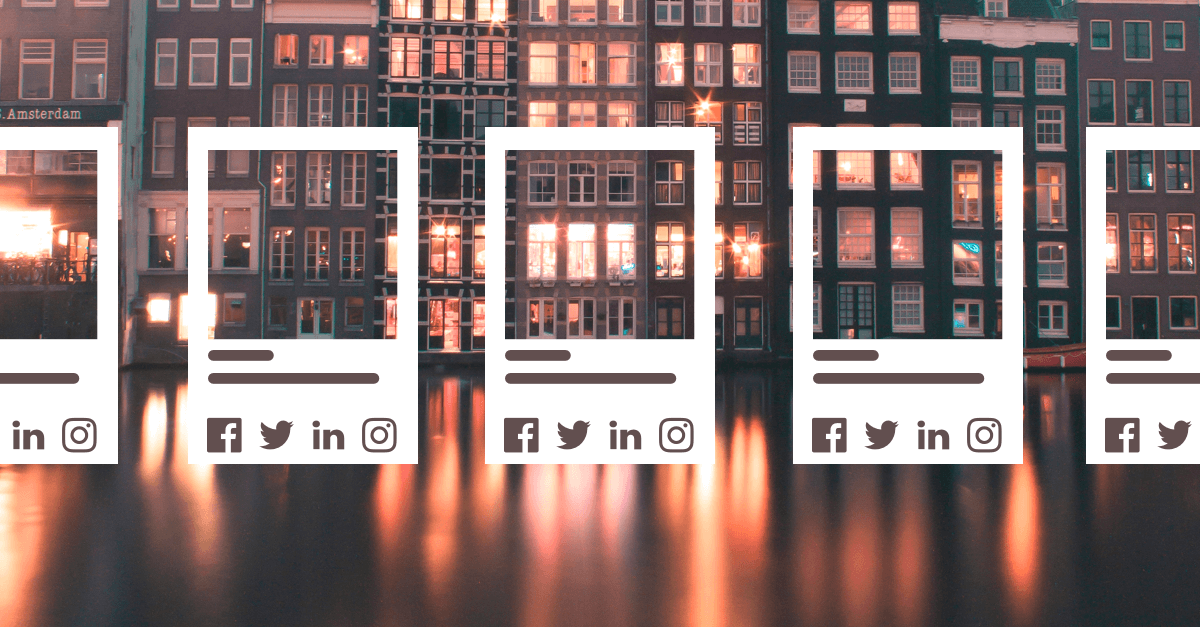 This is the list of the best digital marketing agencies in Amsterdam
Wondering which are the best digital marketing agencies in Amsterdam?! Here is a list of the top of them!
Amsterdam is well known for being one of the cities in Europe with the most creative digital marketing agencies.
Except red light district and coffee shops, you can find lots of talent in Amsterdam. In this article, you will find a list of the best digital marketing agencies located in the city.
In Amsterdam, you can find a lot of digital marketing companies that do business with Great Britain and Central Europe.
Here, we will introduce some of the most innovative and creative agencies which are based in Amsterdam.
Which one is your favourite? Is it not there? Drop us an email and we will look it up for you.
Festina Amsterdam was founded in 2008, starting as a digital production agency, to then grow into a new breed of agency:
They are no longer a digital production agency and are not an advertising agency, but they are a club of creative people developing new things. Their service is built around branding and digital products, where strategic collaborations are key.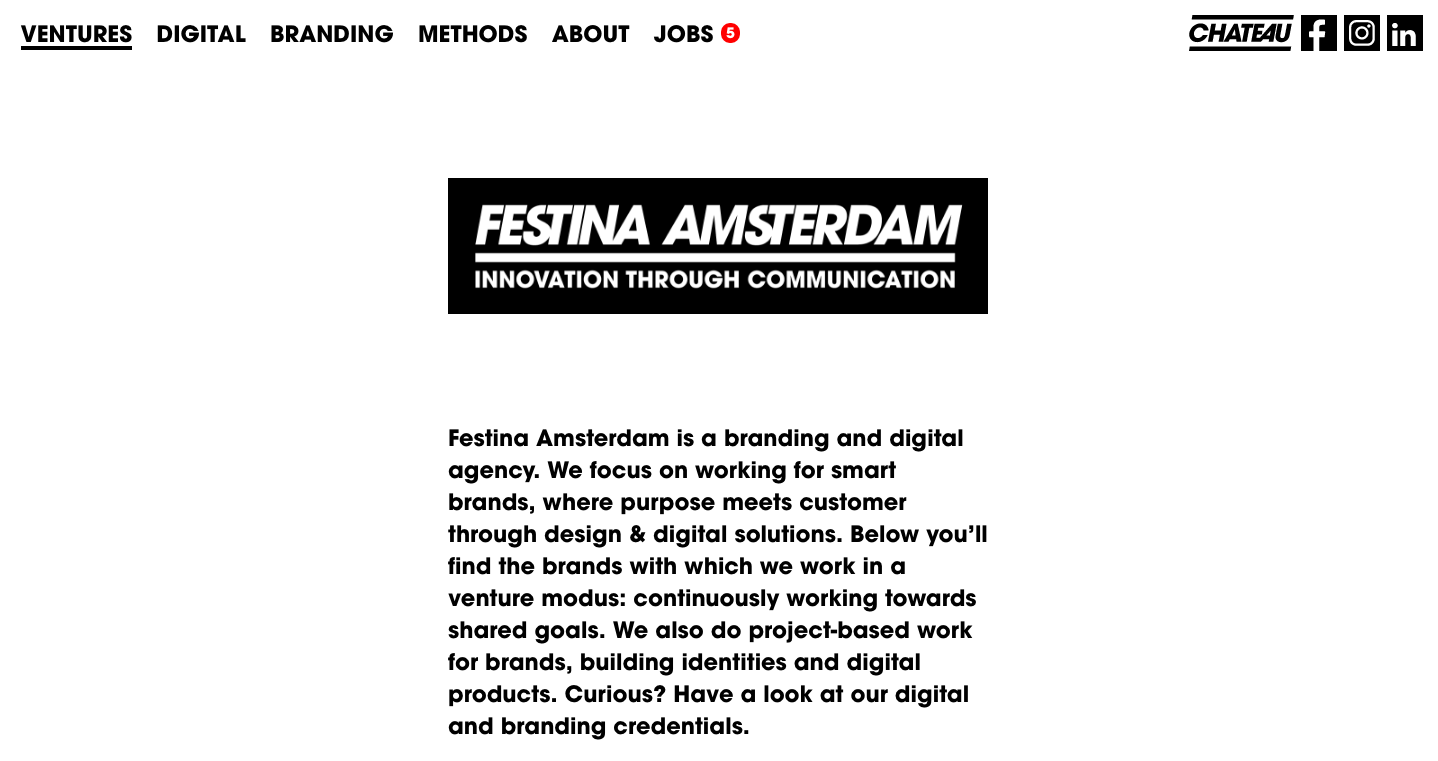 Company's Mission
Innovation is a must: A brand loses relevance when it stops moving and increases in value when it innovates.
This is why they constantly look for value improvement chances.
They help brands utilize digital mediums to extend their reach and relevance to clients, consumers and stakeholders alike. From helping brands to build and set up digital strategies, ecosystems, and e-comm. , to launching core digital platforms and products on top of existing IT and infrastructure.
Approach
They specialize in bringing together two pillars that are often siloed across teams and companies: the brand and digital.
By aligning on goals and audiences they help brands revolutionize their business in the digital space by showing creative interactive concepts. For brands that are looking to expand and escalate their brand across the digital domain, they help create their digital ecosystem, from A (strategy) to Z (service).
Festina Amsterdam in 5 words
New breed of creative club
Awards won:
Red Dot Award, Webby Honoree, an IDA, a W3 Award, a HAFF Special Mention, an Awwward Special Mention, a Lovie Award and a People's Lovie, an EDA Honoree, a CSSDA Special Kudo and a FWA Award.
Some of their clients:
Cityhub T-mobile Fairphone Innofest Fc Hyena Oerol HvA HKU
Testimonial
"Dear heroes of Festina, Thank you for all the help and hospitality in 2017. You know exactly what a starting entrepreneur needs :). See you soon, Mark Thiessen" Mark Thiessen - Meute
Why should people choose Festina Amsterdam?
They focus on making work that moves and evolves as a whole: brands, products and people.
They constantly search for commercial and aesthetic improvements, and through that, they help build thriving dynamic businesses.
What we found interesting about these guys
In their workspace, they also have a winery, so they invite everybody who is interested to come have a look at it.
Whello is a full-service online marketing agency in Amsterdam.
They have multiple specialists of each discipline working together to improve their clients' online marketing efforts and aim to get the best ROI possible.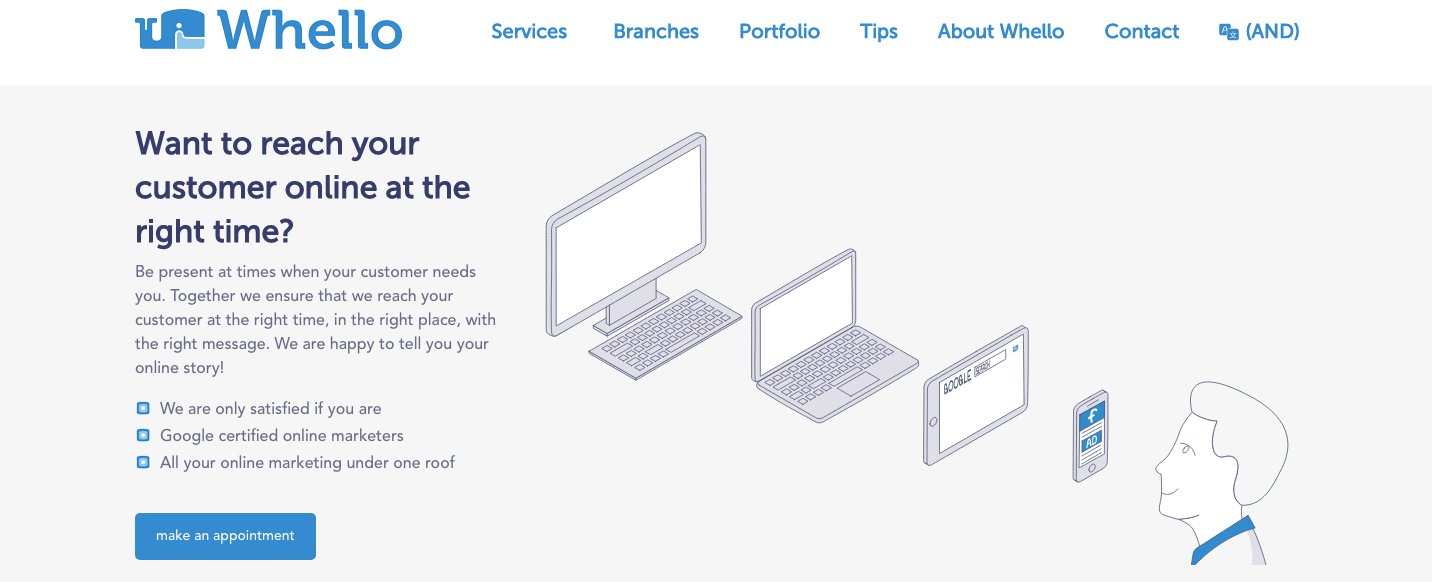 Approach
They specialize in utilizing multiple specialists to bring the best improvements to their clients and get the best return on investment.
Whello in 5 words
Full service, approachable, efficient, transparent and innovative
Some of their clients:
Hotel Amsterdam, Nationale Autolease, Interclavis, Ziggo, Nudeal, Fiscali, Flowently, Footy, NoLabel
Testimonials
'Experienced people who are able to deliver great quality. Very pleased to be working with Whello.' Daugh Neuhofer
'It's a pleasure working with really professional and competent people. SEO results we have achieved thanks to Whello are amazing!' Luca Bagnaschino.
Why should people choose Whello?
Whello is full service. They work efficiently, take initiative and are very transparent.
They share the results and are always aiming for the best ROI possible for each client. They are trustworthy and willing to take on your company to the next stage.
What we found interesting about these guys?
They have a full section on their website with marketing tips where they share their knowledge and expertise.
That is the best place to gain more insights into their knowledge!
IMA is a full-service influencer marketing agency founded in 2010 by Maddie Raedts and Emilie Tabor.
Together with a team of 70 digital experts, the agency is at the forefront of realizing and harnessing the power of international bloggers and influencers. In 2016, Anneke Schogt joined the management team to support founders Maddie and Emilie in achieving international growth for the agency.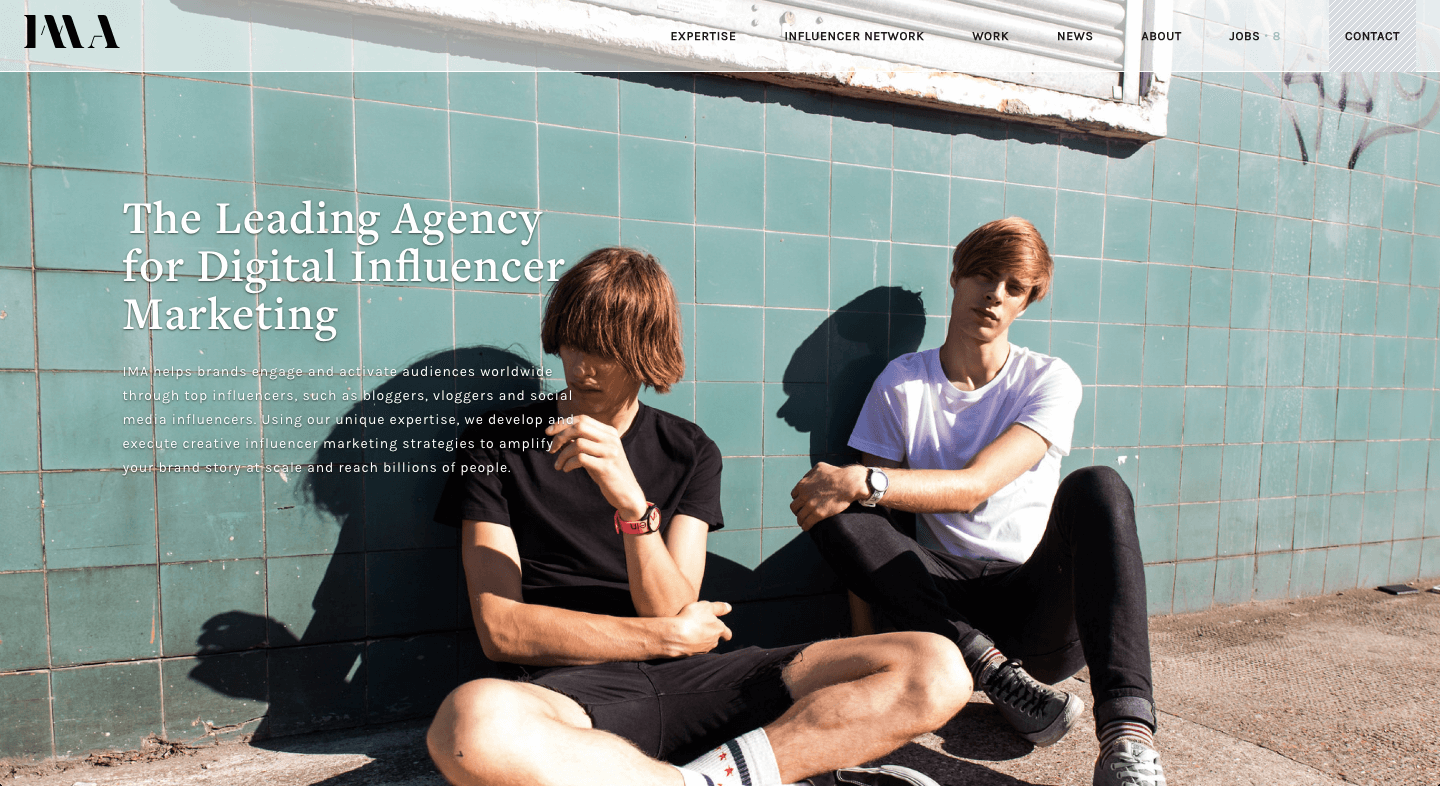 In the past few years, the Amsterdam-based agency has built up its reputation as an expert in the growing industry of influencer marketing.
IMA helps to lead, international brands, including Diesel, NIVEA, Tommy Hilfiger and Samsung, activate the right target audience through the development of tailored strategies and campaigns.
This is made possible through the use of the authority and power of the best and most diverse influencers.
The total network of IMA consists of over 20,000 bloggers, vloggers, creatives and social media influencers.
Altogether, this network has a worldwide reach of more than 10 billion consumers, divided over a number of different industries including fashion, retail, consumer electronics, automotive, travel, beauty and lifestyle niches.
IMA is the largest European influencer marketing agency. IMA's founders, Maddie and Emilie, were honoured by Forbes in the 2017 Media 30 under 30 list, which represents Europe's leading young change-makers and innovators.
Company's Mission
They believe in the power of personal connections to move people.
Therefore, every day they are on a mission to achieve meaningful matchmaking that creates impact.
Approach
IMA is a full-service influencer marketing agency that not only develops influencer marketing strategies that match brands with the right influencers but also executes them.
Unlike automated influencer marketing solutions, they have an in-house team of strategists, producers, influencer project managers, designers, developers, digital marketing analysts and social media experts that support brands from defining their goals
to developing a content strategy and all the way through to executing the campaign.
They have their own IMA platform that they developed in-house and this houses their network of over 20,000 influencers.
Being a first-mover has given them the advantage of having a wealth of historical data that they have stores on the platform over the years and which provides them with exclusive insights.
Today, the platform helps them optimize our day to day work processes, such as selecting influencers and effectively running their campaigns. Clients are provided with a login for real-time insights into projects, such as audience demographics, audience sentiment and more.
IMA in 5 words
Dynamic, Expertise, Global, Innovative & Quality.
Awards won:
M&M Global Awards 2017, The Lovie Awards 2017, an Honourable mention from Awwwards, Shortlisted for the Webbys.
Some of their clients:
Tommy Hilfiger, Samsung, Chupa Chups, L'Oreal, Nivea and Starbucks.
Why should people choose IMA?
There are not many agencies like IMA that specialize in influencer marketing on an international scale, and execute a full campaign from A-Z. More and more we are seeing the emergence of automated influencer marketing solutions.
However, we know that without the addition of in-person communication that can really give an influencer direction, a collaboration can often fall short of its potential.
Influencer marketing is more than copy-pasting brand messages.
It is about facilitating the right match between brand and influencer and building a content strategy that acknowledges an influencer's individuality whilst also highlighting their compatibility with the brand.
What did we find interesting about these guys?
They believe that small does not equal irrelevant. They have a vast network of 20.000 influencers which they can utilize in their marketing efforts.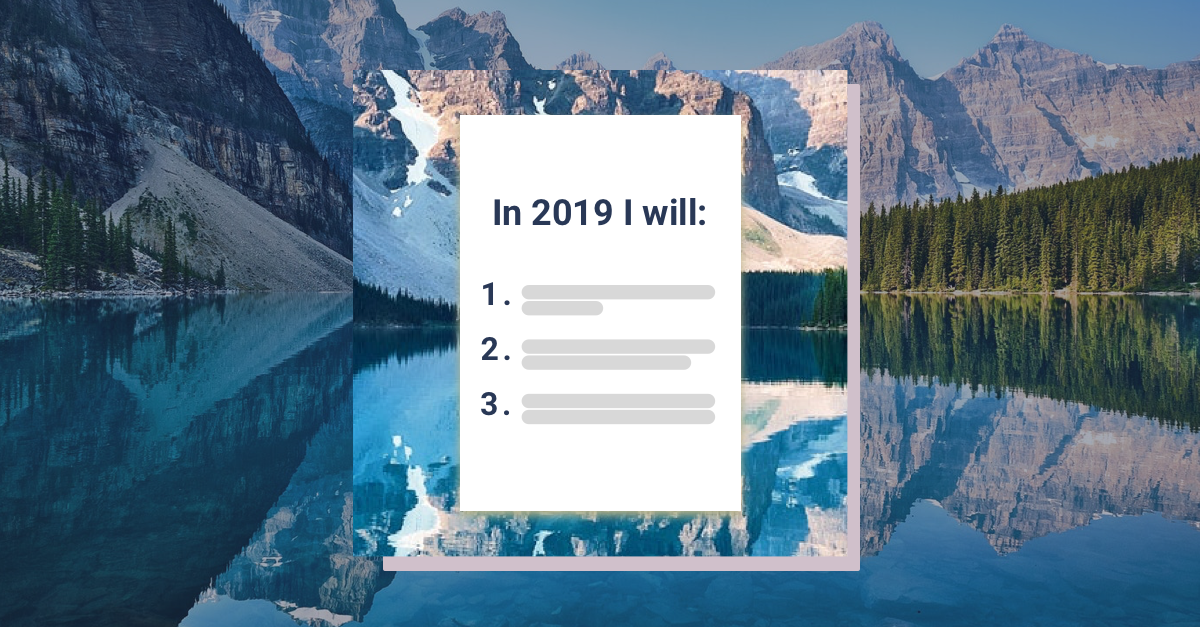 Don't forget yourself when you lay out your marketing plans for 2019. This list of resolutions for marketers will give you some ideas for strategic places to focus on for the coming year.
Read more...