#marketing
Digital marketing agency in Chicago
Save your time with this TOP list of the best digital marketing agencies in Chicago.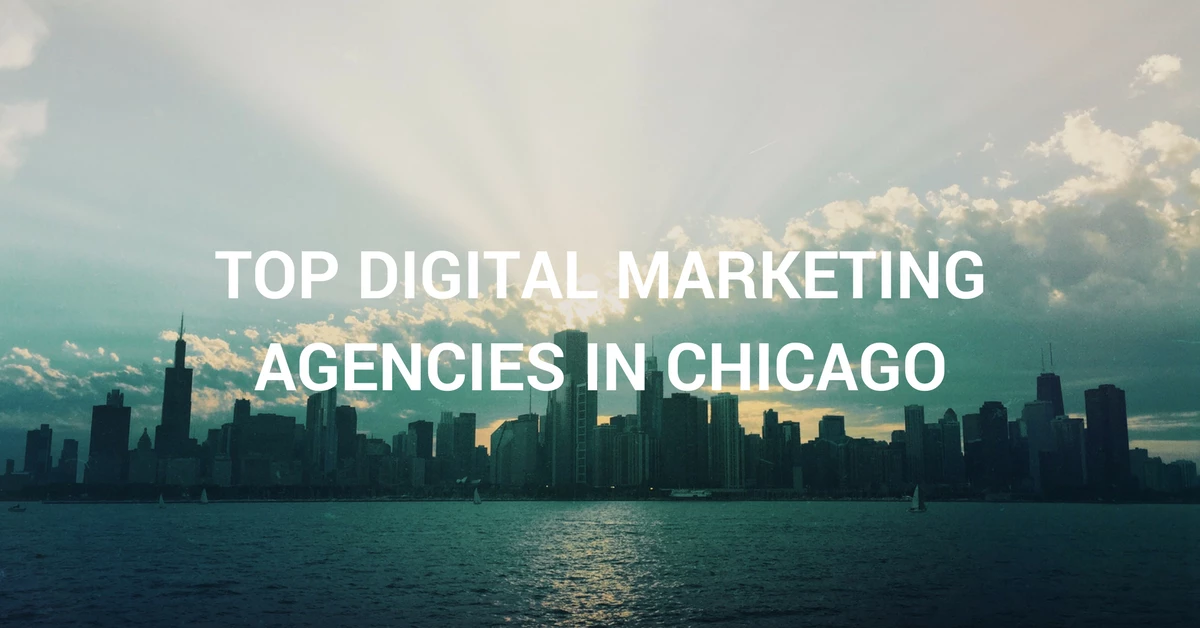 The first step for any new company wanting to succeed is to build a brand that rocks. The brand helps then establish a company's identity ensuring it's recognizable and desirable.
And still, establishing a successful brand is no easy task. It has to make people start conversations and encourage actions.
A top-notch marketing strategy helps. As does active social media presence, well-thought-out marketing campaigns and optimization of your website content, winning you visibility and top SERP positions in Google.
And sometimes all you have to do is choose the right digital marketing agency that could lead your way into the digital success. We went ahead and picked 5 digital agencies from Chicago that we thought are the perfect examples in leading that digital transformation.
We had a brilliant time researching and interviewing these agencies, based on criteria like user reviews, work, certifications, employees, etc. I am sure you will love it!
Here is our TOP list:
Wpromote


Founded in 2001, Wpromote is an award-winning, rapidly expanding digital marketing firm headquartered in El Segundo, California. With 8 offices nationwide in cities like Chicago, New York, and San Francisco, Wpromote is the country's largest independent digital marketing agency.
Company mission
Wpromote is The Challenger Agency. We specialize in digital marketing strategy, execution, and customer acquisition that will exceed our clients' expectations. We love to help brands challenge the 800 lb. gorillas of their industry and grow their market share through digital efforts. At the end of the day, our clients realize that they want us sitting at the table beside them, pushing them to challenge the status quo and build a strategy for their future.

Approach
At Wpromote, all digital marketing can be managed under one roof by a team that has advanced proficiency in all channels. Understanding the power of integrated PPC, SEO, email, and social campaigns is what helps our clients reach new heights.
We fuel, optimize, and grow the entire funnel, from identifying the intent at the time of an initial search all the way to the email confirmation following a sign-up.
Think like a CHALLENGER.
While each channel requires separate executions and are distinct disciplines, Wpromote's integrated campaigns leverage keyword data, ad creative testing, content, and holistic web analytics mining to deliver total results greater than the sum of their individual parts.
There is a tremendous amount of overlap between channels, and choosing to work with one agency to handle all online marketing efforts grants seamless strategic advantages.
Your brand in 5 words
Driven, Transparent, Collaborative, Innovative, Supportive.
Awards
Two Time Winner Of Ad Age Best Place To Work In The U.S.

Nine-Time Inc. 5000 Honoree

Inc. Top 50 Best Places To Work

Premier Google Partner Agency

Tiny pulse Top Company Dedicated To Employee Happiness

Six-Time LA Business Journal's Best Places To Work

LA Business Journal's Fastest Growing Companies 3 Years In A Row

Deloitte Fast 500 Award

US Search Award Winner For Best Integrated Campaign - Zenni Optical
Clients
J.D. Power, Z Gallerie, Forever 21, Marriott, Papyrus, Kendall College.
Testimonial
Wpromote seamlessly executes our entire digital marketing strategy with incredible skill and expertise. Their ability to provide consistent results and offer the latest techniques keeps our brand ahead of the competition in an ever-changing digital environment. We consider the Wpromote team an extension of our company – not just another partner.
Why choose Wpromote?
Wpromote sits on both sides of the table as an extension of our client's team, fully dedicated to your success and working together to show great results and strategize for your future.
We want to have full transparency that goes both ways. We can do a better job when we have insights into the inner workings and success of our client's business as a whole.

We can assist with business units outside of Wpromote walls, e.g. TV or on-property purchases. We can also act as "air traffic control," ensuring all parties work well together and achieve the best results.

We are solutions focused. Clients come to us with pain points, and it is our job to identify opportunities, as well as gaps in strategy, and then propose solutions.
What we loved about these guys
That inspiring video. 'Why jog, when you should be and need to be sprinting!' - a real goosebump machine.
That amazing Instagram page. It's bold, fun, stylish and refreshingly genuine.
Monday Loves You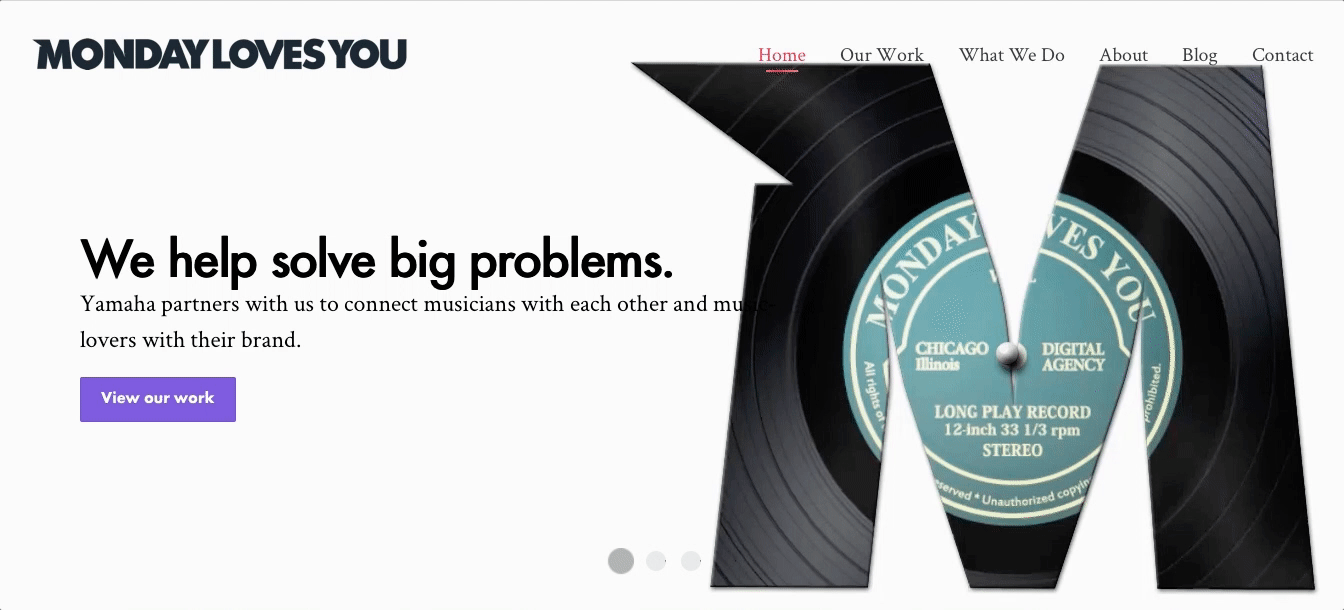 Monday Loves You is a team of 14 people with their office in Chicago. They started in 2008, and just recently changed their name.
Approach
Every organization is very, very different, so the process always changes based upon who we're working with. However, the most consistent thing we do is try to learn the details of our clients as well as someone that's been there for many years. We can't do our best work unless we understand the intricacies of what they do.
We solve big problems using a mix of digital strategy, marketing, technology development and CRM.
Brand in 5 words
Oye, this is a good question! Meaningful. Effective. Quirky. Mindful. Optimistic.
Clients
Yamaha, Adidas, the City of Chicago, City of Denver, Salt Lake City, New World Symphony, United Way. There's a decent list – but those are the first that comes to mind.
Why choose Monday Loves You?
We don't feel like technology and digital marketing should cost a zillion dollars. We're affordable because we know how to do things efficiently while not sacrificing quality. There's no project overhead. We deal with a lot of nonprofit clients, so we know how to do things while keeping budget in-mind. We're also really nice, and we have a 2-year-old Golden Retriever that comes to work every day. All joking aside – we work our tails off for our clients, and those clients help make the world a bit better place to work, live and play.
What we loved about these guys
An agency that empowers charities to do the good things. And helps solve big problems and make the world a better place to live. Altruism is refreshing in the field of digital!
The heart-warming story behind the new name.
Sam. Sam is a furry team member. 'Sam's focus is sleeping, food and refraining from jumping on clients as they come into the office. In his spare time, he likes to stare at rabbits and chase his tail.'.
Next/Now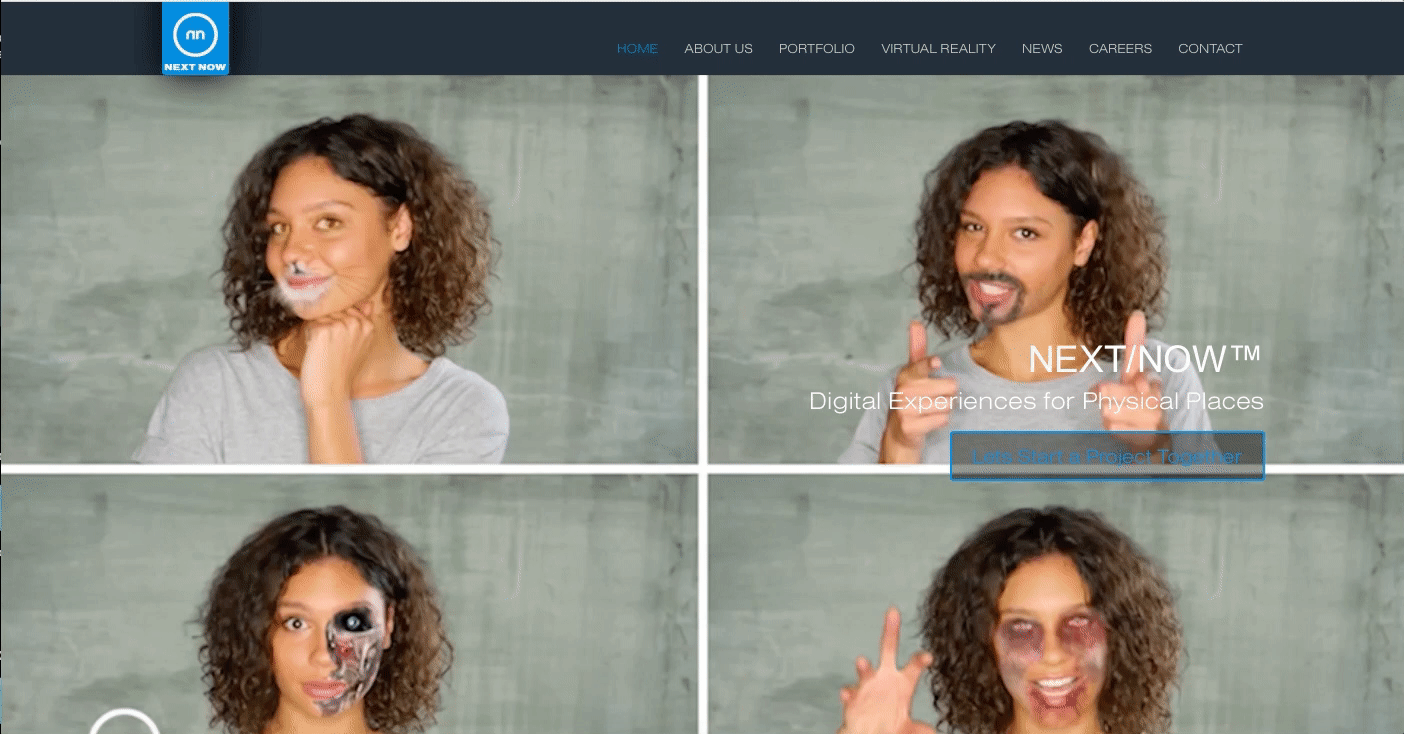 Next Now Agency was founded in 2011, by Alan Hughes. NEXT/NOW is a creative technology agency that produces next-generation digital/physical experiences for world-class brands.
Approach
We bring digital experiences to physical places and spaces.
We lead in the art and science of creating physical/digital experiences for world-class retail, exhibit, event, festival, tradeshow and brand environments.

Brand in 5 words
Leaders in Emerging Experiential Technology.
Awards
Event Marketer IT LIST 2017
4 Best of awards from ICX Association Elevate awards 2017
Gold for Marketing Agency from BMA Chicago
Best VR Developers, Clutch.co 2017
Best Marketing Agency, Agency Spotter 2017
Silver, Experience Design and Tech Awards 2016.
Bronze, Experience Design and Tech Awards 2016.
Gold Quill Award 2016
Ex Awards 2016
Clients
Intel, McDonald's, Mazda, LG, the NBA, Ogilvy, State Farm, Goodyear.
Testimonial
'Their view on technology and its utilization for creating unique, one-of-a-kind experiences is something I haven't seen with similar vendors. NEXT/NOW is ahead of the curve when it comes to the solutions they offer for clients, helping them stand out from the sea of the same. We had access to some smart, capable people in our team for executing that flawlessly.' - Maureen Boyle, Director of Creative Service, Cars.com
Why choose NEXT/NOW?
NEXT/NOW's top-to-bottom, in-house development pipeline blends together talented creatives, animators, and 3d artists with a team of software developers and agile project management to create best-in-class content and design. We bring digital interactive experiences to events, tradeshows, festivals, raceways, retail stores, sporting events, and concerts. We leverage wow factor and connect people to brands through deeply immersive environments. We've transported people to the future, to virtual racetrack pits, and to peaceful bioluminescent forests. We've projection-mapped walls, floors, tables, sculptures, buildings, and vehicles. We've put fans in the shoes of their favorite athletes and we've built augmented reality motion tracking devices that help riders adjust their bike for optimum fit; all in service of event and brand messaging.
What we loved about these guys
Catchy portfolio page - it piqued my interest because it is easy to understand what you are doing and decide if it fits my needs as a client. Really great work!
Bright Bright Great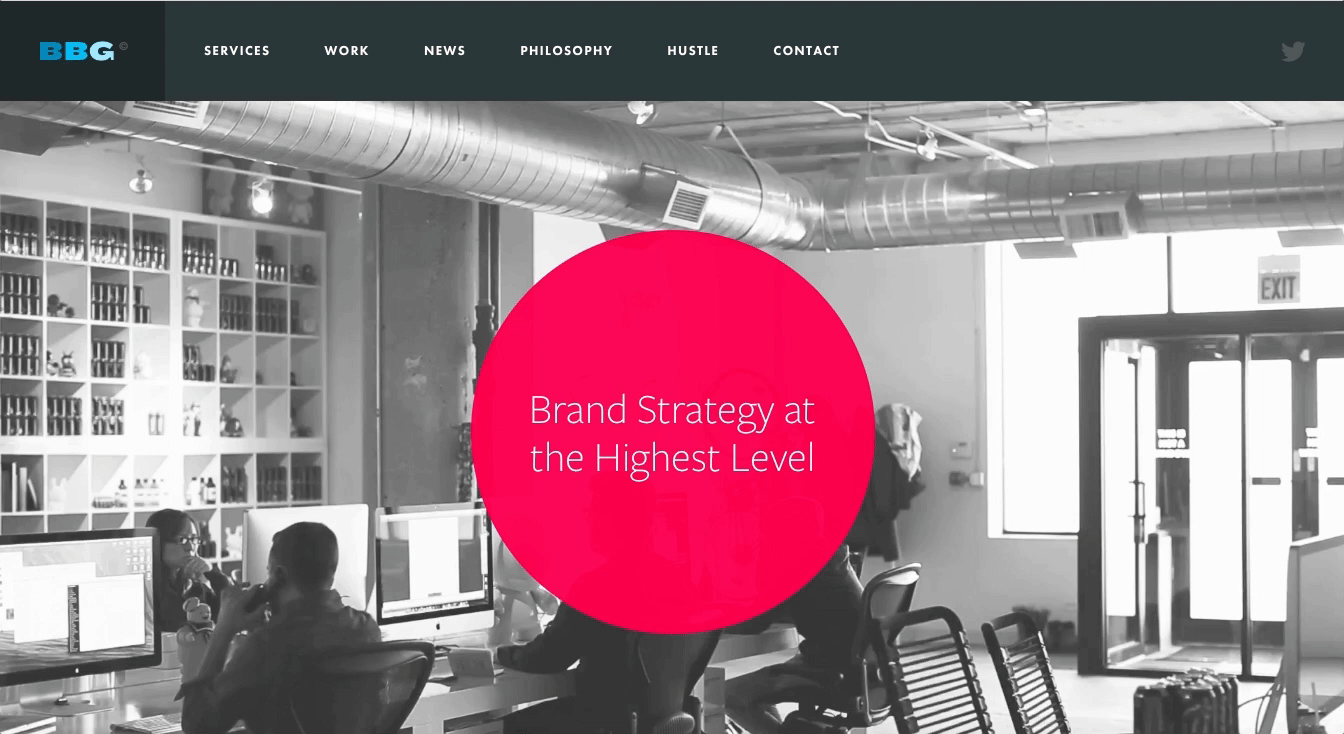 "We are a multi-disciplinary design, strategy & technology agency."
Approach
Bright Bright Great follows Dieter Rams '10 Principles of Good Design'; the classic design philosophy created during his tenure at Braun.
It's not just about making something. It's about making something amazing.
Brand in 5 words
Branding, Strategy, Design, Development, Marketing.
Awards
Selected as one of the New City Design 50 2016
The winner of the 2015 Command X at the AIGA design conference
Award of Excellence from the Communicator for the Secret Handshake website
Clients
American Institute of Architecture (AIA), Assistance League of Los Angeles, American Institute of Graphic Arts (AIGA), McDonald's, Nike, Trustwave & more.
Testimonial
"To this day, I still receive unsolicited compliments from customers praising the unique and interesting packaging and brand elements developed by the team at Bright Bright Great."
Why choose BBG?
At Bright Bright Great we pride ourselves on happy clients. We understand that success is a result of an open, happy & collaborative relationship. We've been around for 10+ years, have a retainer rate of almost 100% and continue to work with our clients on successful and rewarding projects.
What we loved about these guys
Slogans that inspire. Couldn't choose between 'We don't just make pretty pictures, we build brands.' and 'It's not just about making something. It's about making something amazing.'
MSTQ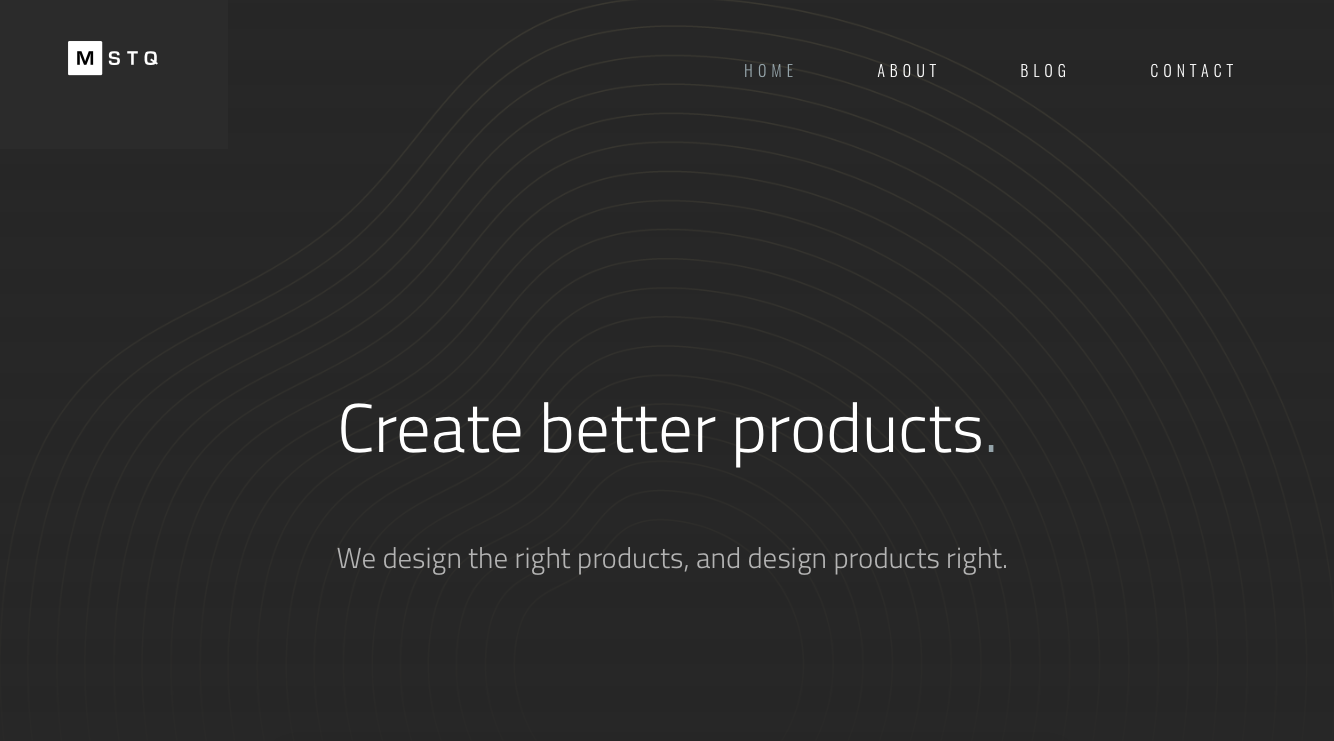 MSTQ was started back in 2016 by founder Yazin Akkawi.
"I saw a gap in the way digital agencies applied design to their digital work. With technology, the design has taken a new meaning and new role in business and society and I wanted to create a firm that harnessed the "superpower" the way it deserves."
We are architects for the digital age.
Approach
Our approach is unique in that we are huge advocates for user-centered design and design thinking, but we don't think it's enough. We've created our own approach to product design called outcome-centered design, which incorporates the behavioral sciences into our design process.
Your brand in 5 words
Forward-thinking, thoughtful, determined, positive, optimistic.
Awards
A majority of our work is oriented towards creating products for future markets, so the nature of our work is highly confidential. We don't submit our designs for awards.
Clients
We work with clients in all industries and from Fortune 500 to concept stage startups. Also, we've undertaken projects oriented to design the future.
Testimonial
"MSTQ excels in creativity and execution of the vision. They require little project management, can adapt to internal methods, and they communicate effectively. They're able to capture ideas and contribute quickly, helping consistently make progress on the project."
Why choose MSTQ?
Clients should go elsewhere if they want a design agency to just make something look pretty, or if they just want something developed. They should work with us if they already have technology capabilities and want to design a digital product that has high engagement, retention and user satisfaction. More and more companies need to differentiate with design today, and if that's a priority for someone, then we're a great fit.
What we loved about these guys
The name that fits the mission. MSTQ is an abbreviation of the Arabic word Mustaqbal, meaning Future, and derives from Agency's mission to design products that fundamentally change the way we live.
Also, people-focused design & the inspiring agency blog.
Published on Oct 13, 2017