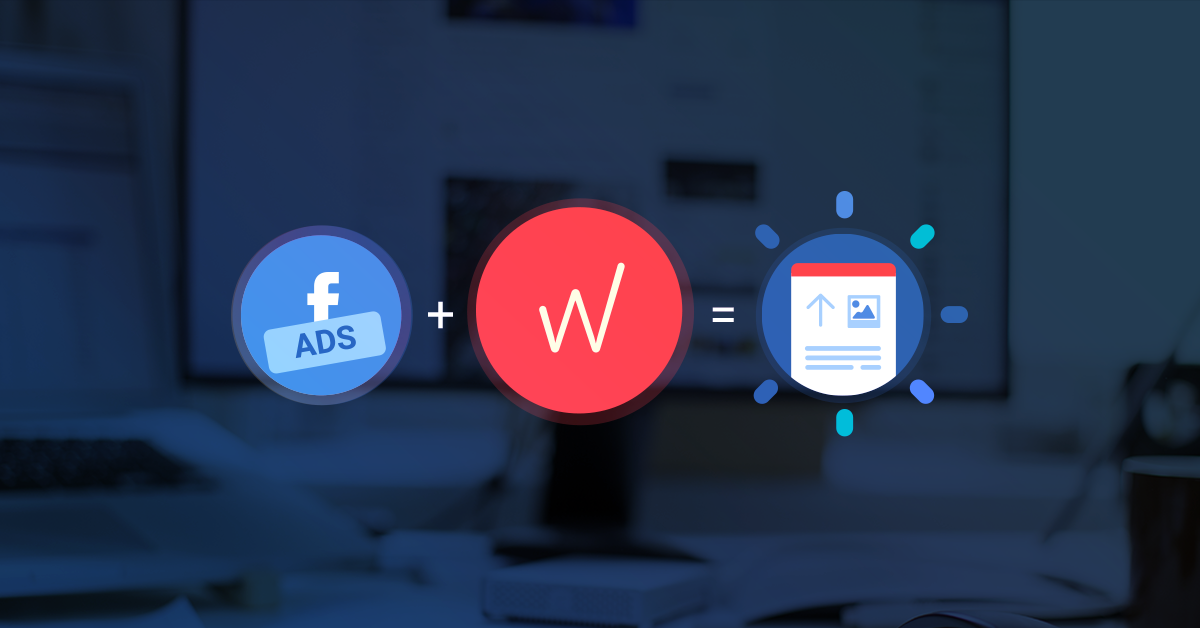 We have launched Facebook Ads Reports
Cut your Facebook Ads reporting time to zero
Have been waiting for this moment for all my life, oh yeah!
We love getting feedback from our clients and what we love even more is making their suggestions possible. Some of you were waiting for Facebook Ads for a really long time, so today we have some exciting news to share.
We introduced Facebook reports last June, Twitter and Instagram joined the list this February and today marks the day we added Facebook ads reports.
Facebook Ads reporting is ready for you
The new integration will let you to:
Find out the extent to which your Facebook adverts encourage page impressions;
Know how cost-efficiently you achieved the objectives you set in your Facebook advertising campaigns;
Track engagement and interaction driven by your content from Facebook Ads;
Compare the average percentage of video watched with the previous month;
Find out the average cost per each 10 seconds video view;
Analyze and compare top performing ads.
Very important note: Facebook ads report sample awaits your attention NOW!
Get a quick overview of your Facebook ad performance
Reports will allow you to have a very clear understanding of how well your Facebook Ads are performing. In just a few clicks generate your Whatagraph report and instantly improve ROI with powerful Facebook Ads reporting.

For example, Impressions shows you how many times your ads were viewed and it's the best way to measure ad delivery.
Total clicks indicate how cost-efficiently you achieved the objectives you set in your advertising campaign, so it's a great way to determine your bid for advert sets.
Talking about Click through rate, it's important to notice that it is commonly used to measure the success of Facebook Advert campaign.
Keep an eye on Facebook campaigns cost & spent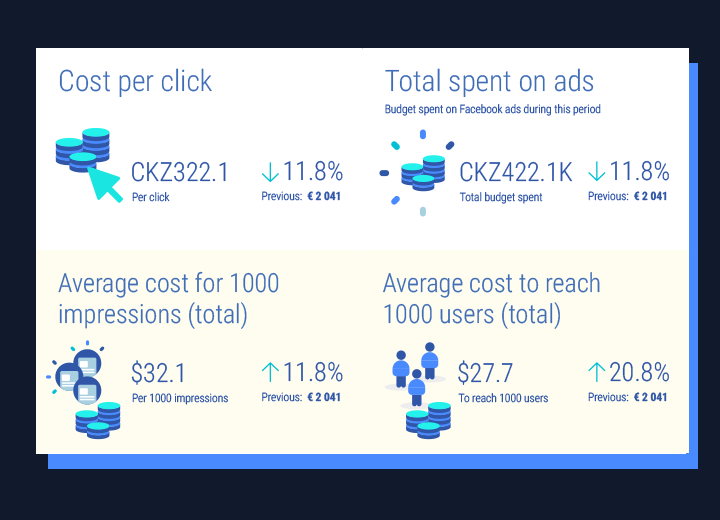 Digital advertisers have considered the CPC (cost per click) to be the measurement of success for a Facebook adverts campaign. Link clicks are one way to measure the interest that your advert generates amongst your audience.
Total spent on ads - in this Facebook Ad report you can compare previously spent budget and a current one, what helps you keep on eye where does your ad budget disappears.
Facebook Ads report shows you CPM (cost per 1,000 impressions), which is an important metric to gauge the cost-effectiveness of an advertising campaign. CPM might be a good choice for your business if you want to build awareness around your brand.
Meanwhile, CPP (average cost to reach 1000 users) shows how much it will cost to reach 1000 users with your budget, which enables you to compare the cost of this advertisement to other advertisements.
See how well your Facebook ads encourage link clicks
Link clicks report the number of clicks on ad links to specified destinations or experiences, on or off Facebook-owned properties. This metric is used for click optimization and CPA (cost per action) billing.
See how visible & actionable your Facebook ads are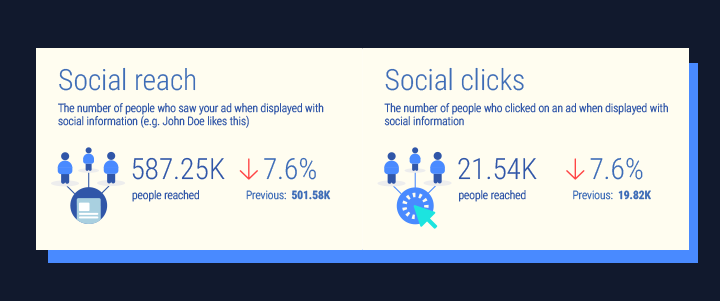 Social reach is the number of people who saw your advert when this was displayed with social information, which shows other Facebook friends who engaged with your Facebook Page or advert. For example, when someone likes your ad, it shows up in his friends' news feed.
Social clicks are the number of clicks on advert links to selected destinations or experiences on or off Facebook-owned properties.
Check how your ads are performing in the Facebook news feed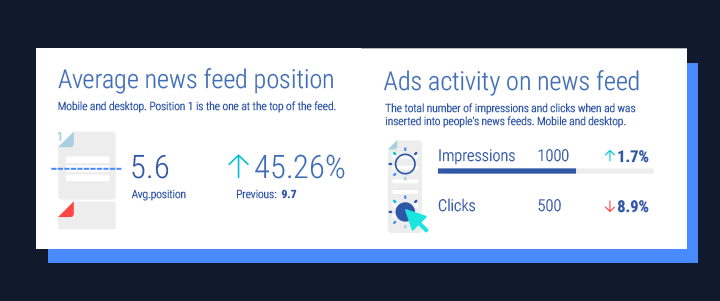 One more important metric is an Average news feed position. This metric shows the average position your ad takes in a Facebook newsfeed. The higher the position the more impressions your ad will get.
Meanwhile, Ads activity on news feed shows the total number of impressions and clicks when your Facebook Ad was inserted into people's news feeds on both mobile & desktop.
Discover key KPIs for your Facebook video ads
When you decide to optimize your video ad with 10-second video views charging option, you're choosing to pay per 10-second video view, meaning that Facebook will optimize your ad to reach people who are likely to view your video for an aggregate of at least 10 seconds.
Secondly, you can find out how your video ads are performing - for example, the average cost per each 10 seconds video view shows you how much it costs to pay per ten-second video view.
The average percentage of video watched lets you know how your video ad is performing & you can compare it with your previous time period.
The Facebook Advert report will also show you the Average watching time of your video, implying how catchy your Facebook video ad is.
When you know how many Views each quarter of your video gets, it's easy to determine your optimal video length for your next campaign.
Easily compare your Top campaigns, Ad sets, and Ads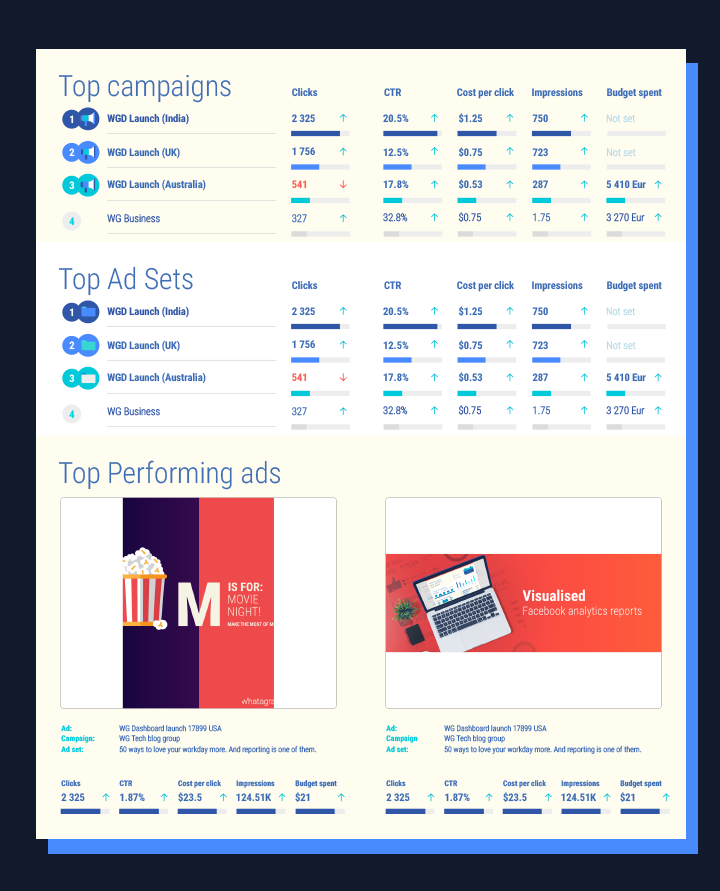 To compare your best performers in your Facebook ads campaigns, look no further.
Top campaigns compare metrics like Clicks, CTR, Cost per click, Impressions, and Budget spent across all your Facebook campaigns for the selected period.
Similary, Top Ad Sets and Top Performing Ads will show you the winners in these campaign levels.
Ready to see your Facebook ads report in action?
Adding Facebook ads to your Whatagraph dashboard is a matter of two clicks.
Seriously.
Cut your reporting time to zero, spend your time doing more satisfying things.
New to Whatagraph? Sign up now!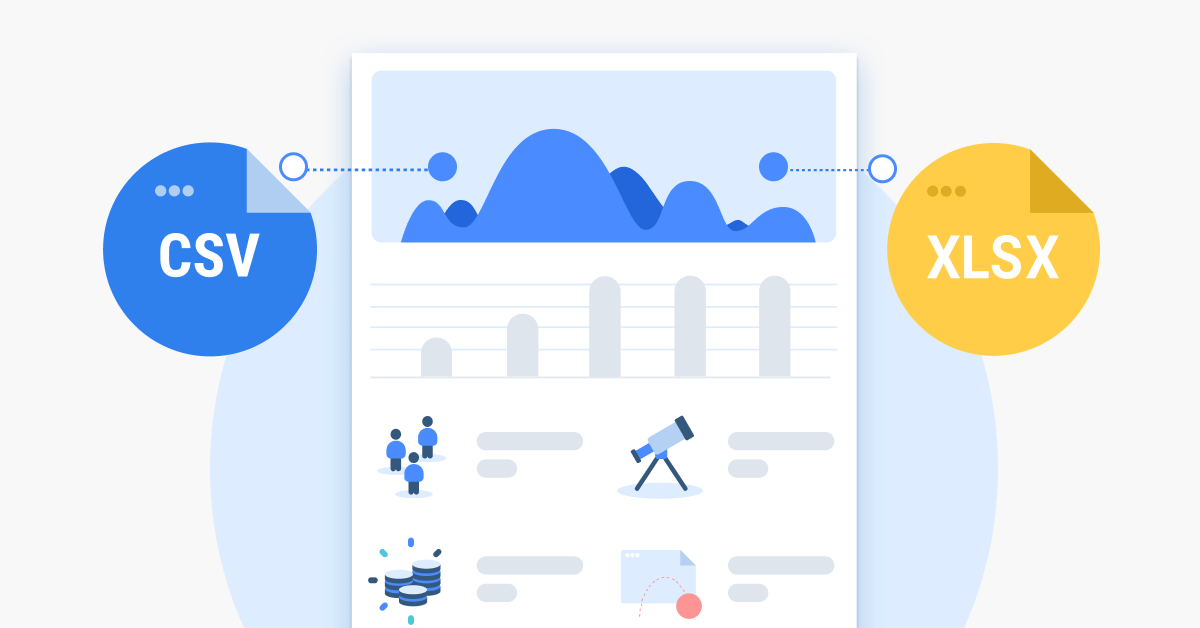 Can't find the integration you need? Want to showcase data from an offline source? We've got you! Our new CSV/Excel file import lets you add custom data from virtually any source to your marketing report. Learn more about it below.
Read more...