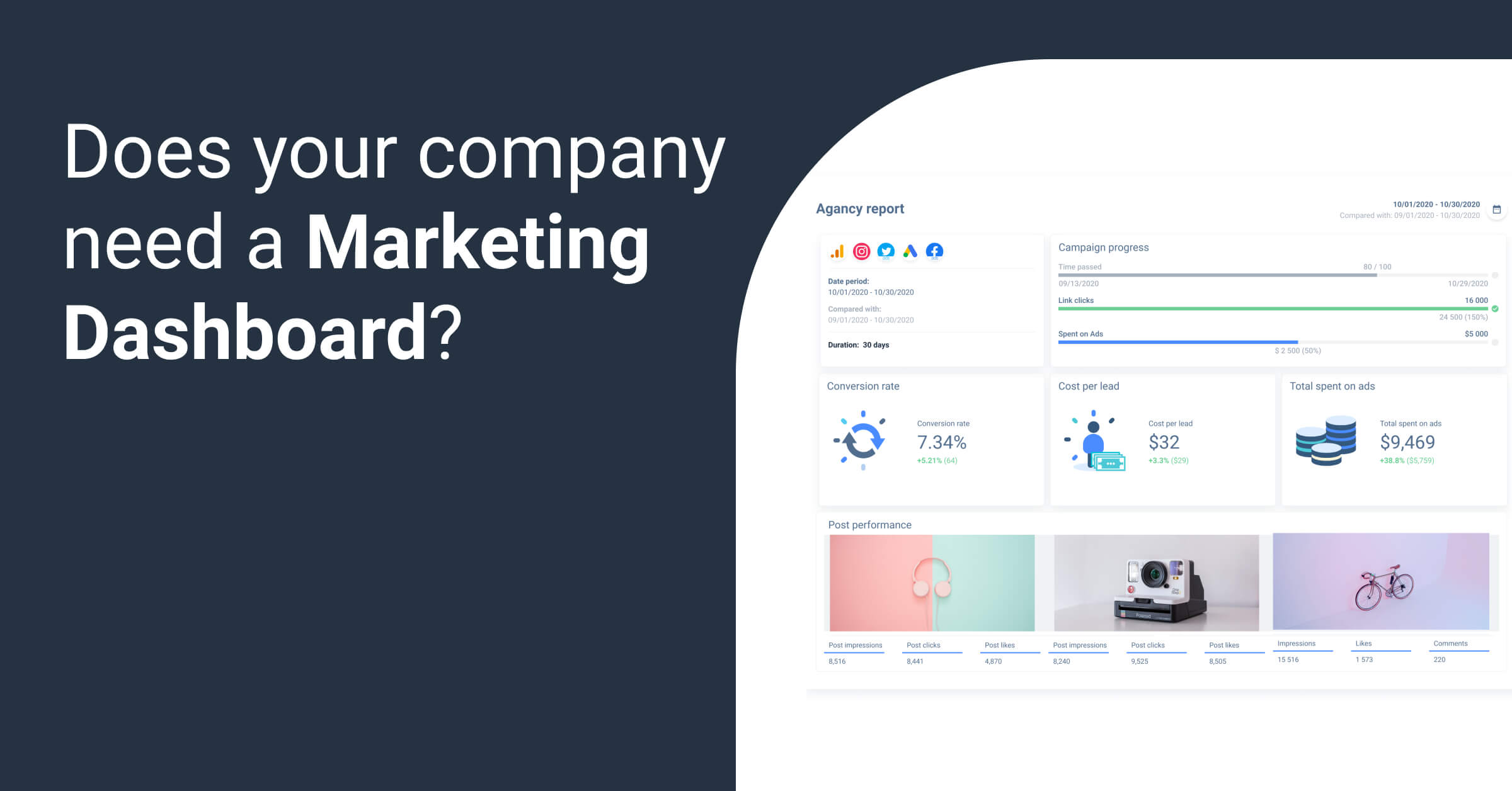 What is a marketing dashboard?
Apr 22, 2021 ● 7 min read
The key to successful marketing campaigns is a combination of the right strategies. As a marketer, you must also keep track of the marketing activities by monitoring different channels, audiences, and KPIs. For accurate strategy tracking, you will need a marketing dashboard.
A marketing dashboard is a reporting tool. It displays relevant information that marketers need to track key metrics. With the Whatagraph reporting tool, it is easy to achieve marketing objectives. The dashboard provides insights and real-time analytics for your marketing campaigns. You will have a better understanding of how your marketing strategies are performing. Only then will you know where to change.
What should a marketing dashboard include?
Setting up a dashboard is beneficial to your company's interests. It helps you to consider how to use your marketing analytics effectively. Know which metrics benefits your return on investment (ROI) on upcoming strategies. That said, below are five metrics to consider when creating an analytics dashboard.
Social media reach
A successful online marketing campaign is not about gaining followers. It is about gaining a loyal community that will respond to your call to action messages. Simply put, focus on customer relationship marketing (CRM).
Most marketing dashboards have social media values showing sources of traffic and views. We recommend that you take advantage of these results and see what is causing such changes. This information is what will assist you in improving your marketing strategy.
Bounce rates
First, a bounce rate is the percentage of visitors who enter your website and leave. They no longer continue to view more pages on the website. Your bounce rate should be on the lower level. A high-level bounce rate will show that your strategy needs modification.
Marketers try to improve their call to action messages and social media reach. But, when the bounce rate keeps spiking, you may want to dig deeper into what could be causing the problem. Bottom line, should you notice a change in your bounce rate, check what trend could be causing the change.
Traffic sources
A traffic sources report will tell you what made your traffic increase or reduce. This report entails traffic from organic search, email marketing, referrals, among others. Its metrics also have a significant impact on your campaigns. And, Its organic search will give you the necessary data to improve your marketing.
CTA – ClickThrough rates
People who visit your website not only need to read your content but go ahead and press the call to action button. These clicks on your call to action are what we call ClickThrough rates.
These metrics, through the conversion funnel, helps marketers know the percentage of CTA views. Marketing executives can also identify the part of CTA that proceeded onto further action. The call to action message is usually signing up for a subscription. To succeed with these metrics, look into the highest conversion rates. High-level conversion rates can improve your call to action messages if necessary.
Progress to goal
This type of metrics helps you notice little changes affecting your campaign's success. You will be able to attend to the problem area before it's late. Having a clear insight into your business performance, in the long run, is also essential. These metrics can help you compare monthly goals for future prediction.
What is the purpose of a dashboard?
Every organization needs a dashboard that aligns with its company objectives. It is, however, difficult to identify a reporting tool that suits your business. Worry not because at Whatagraph, we have enough templates to choose from. If you have a large company, you may want to consider multiple marketing dashboards. These will help you track different department's key performance indicators.
That said, below are the purposes of a marketing dashboard:
A marketing dashboard displays current and accurate data reports. This data helps marketing teams identify a problem and act on it early. Note that every day the tool will display a new data analysis. With this accuracy, you are likely to make the best business decisions.
Organizational data displayed on the reporting tool is valuable to businesses. Members will be able to gain enough insight into what they need to improve their performance.
You don't need to go through the strenuous manual data analytics processes. A dashboard helps you save time by displaying all information in a single place.
It is easy to understand the company's needs with a dashboard. This reporting tool displays your business's current performance. Should the data look alarming, you can take quick action before the situation worsens.
It's time to make changes in your organization. Since you now know the purpose of dashboards, you can make your company improve a great deal. Choose a web analytics dashboard that will display the reports your company needs. At Whatagraph, we guide you every step of ensuring that you choose what is best for your team.
What is the difference between a marketing metric and a marketing dashboard?
When seeking information on your marketing campaign performance, you will need metrics. Marketing metrics are measurable values. The marketing teams use these values to track the status of marketing activities. These values show how effective marketing strategies campaigns are to their marketing channels.
There are different marketing metrics across a variety of social media platforms. So, marketers need to come up with the best values for accurate results.
When it comes to dashboards, these are display tools of marketing metrics. Both marketing dashboards and metrics are essential for a successful marketing campaign. For this reason, it is wise that you set the values to measure even before creating a dashboard. Consider the following when identifying the perfect marketing metrics for your company.
The values you measure needs to be easy to understand and consistent for all marketing team.
It is common to track progress over time. Make sure that you can, later on, measure your reports' values to compare your results.
Metrics should be actionable. This is because a change in it affects employees' and customers' behaviours.
The values to measure should be simple. They need to provide you with relevant information for informed business decisions.
What is a brand dashboard?
A successful brand requires a detailed branding strategy campaign. It would be best if you tracked the risks and opportunities that will build your company's name. With key metrics and KPIs, your brand dashboard will display all the marketing data.
A brand dashboard serves the purpose of optimizing business brands. It is also available for brand owners only. Simply put, it is not an easy tool to gain access to unless you are eligible for ownership. It helps you get real-time insights into your analytics for a successful strategy. You can also easily prove to investors the value of your brand.
What is a marketing dashboard, and how can it benefit your business?
Simple dashboards are the best for your marketing needs. We understand that every organization has its different approach. That is why these dashboards create the right balance between valuable metrics and available data points. It's all about the choice of your business' metrics you want to feature.
A marketing dashboard has to be unique to fit each company's needs. It has to be flexible so that each client can receive an accurate KPI report. The visual element of the marketing dashboard is also essential. It should be in a way that marketers can interpret data takeaways.
Accessibility is another attribute that a marketing dashboard should include. Marketing is an essential aspect in achieving a business objective. As such, clients should easily access dashboards on all media devices.
In general, a marketing dashboard has to be sharable. This feature helps marketers, agencies, or clients access it with ease. It must also suit each marketing goal. If you aim to drive more sales with your campaign, the key data should be revenue and customer growth. Whereas when creating awareness, visibility and engagement will be the key data.
Final thoughts
Digital marketing dashboards have now become an essential tool in every organization. It takes away all the confusing guesswork. Hence, these digital dashboards provide accurate information for your company.
Organizations that have digital marketing dashboards have seen tremendous growth in their campaigns. Go for a useful marketing dashboard. Your business's real-time data and insights will help you make the right decisions. Marketing executives will no longer worry if their choices will benefit the company.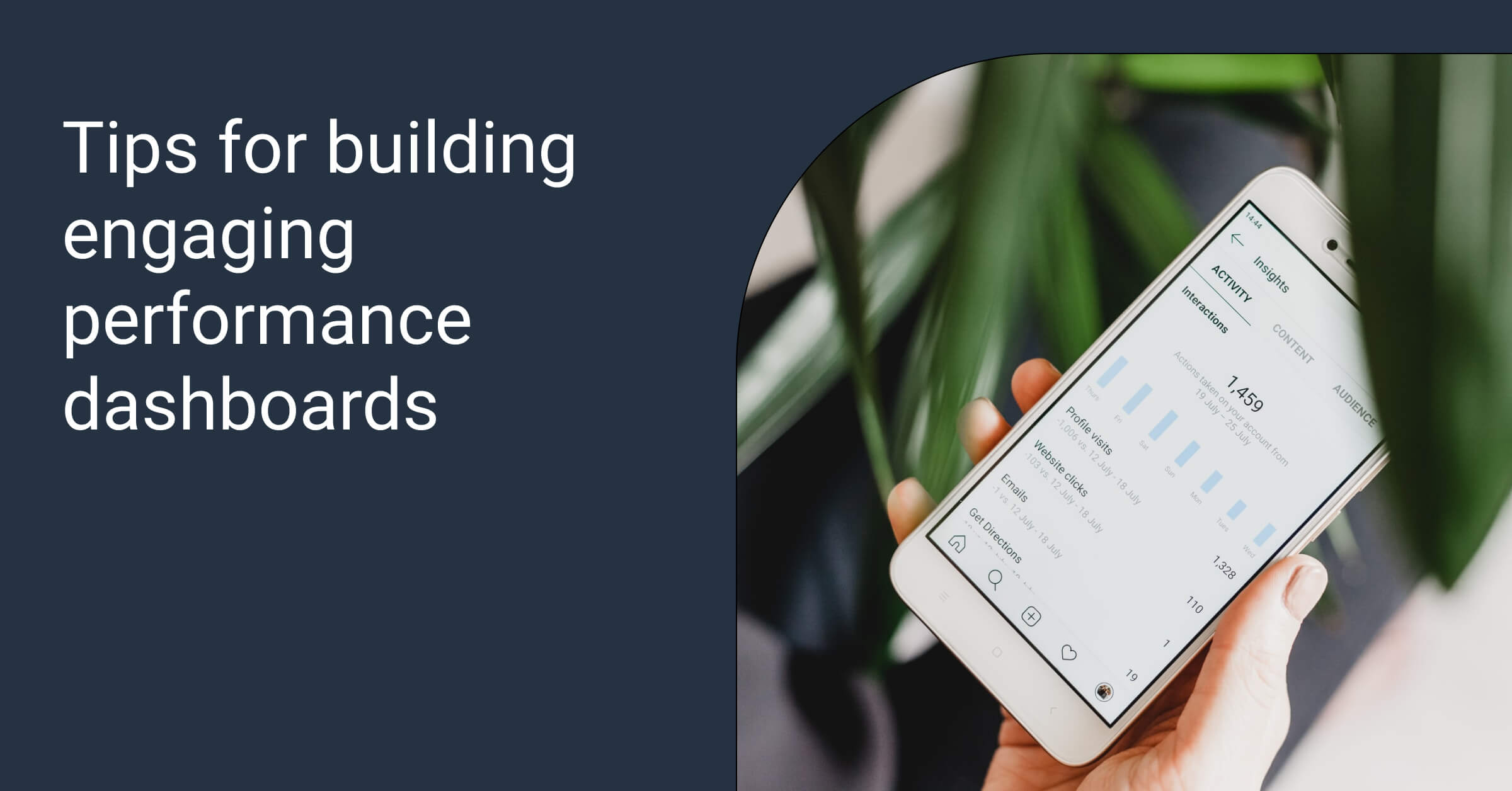 It can be difficult for startups to survive in today's world and compete with already established corporations. There are advantages to having a smaller business, as you can devote more time to nurture a relationship with your customers and more actively communicate with them. Unfortunately, wrong decisions can easily lead to the downfall of any startup, as it will require a lot of capital for them to recover.
Read more...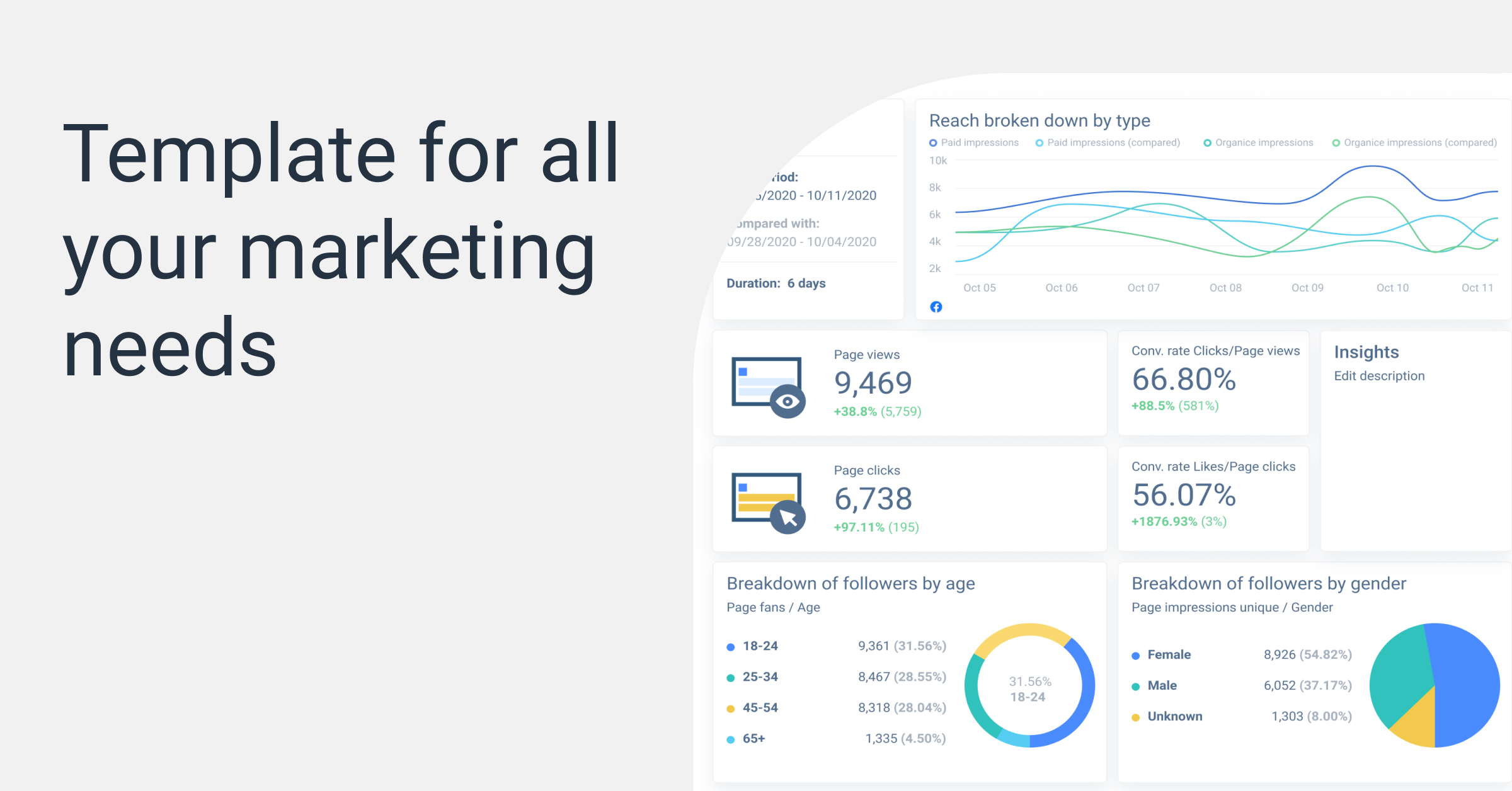 As a brand or business that spends a whole lot of time, effort, and resources mapping and carrying out well-planned marketing strategies, you do not want to miss out on gathering detailed analytics, metrics, and feedback the right way.
Read more...