#marketing
What is enterprise reporting?
A growing business becomes more difficult to sustain or manage over time. It's simple when there are more people involved the environment is prone to becoming more hectic. Given how at the heart of any organization are people, each and every business is under certain limitations. Anyone who has a position in management can only manage a certain number of people or a number of teams.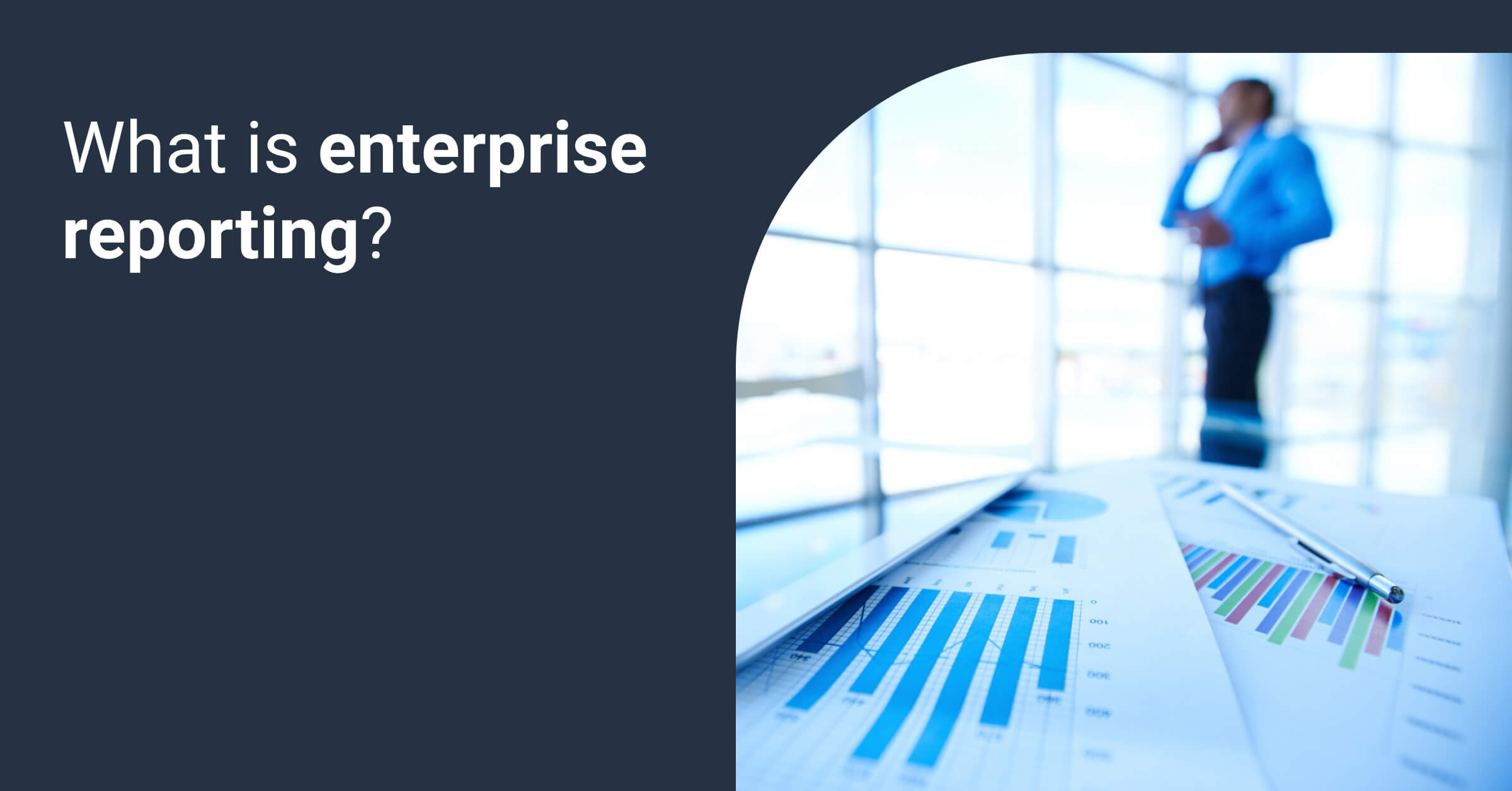 For top management or decision-makers to have a good insight into what is going on within the company and teams they don't manage directly, there needs to be a reporting structure. The corporate term for this type of structure is report down structure. In other words, a manager reports to an under a manager that is higher up in the chain of command and so on. Moreover, the types of reports that are used here are called drill-down reports.
Drill-down reports basically allow you to gain insight into the most granular level of a specific report. For example, an international company from the US can see the performance of their sales team in Bulgaria's branch office. This all brings us to Enterprise reporting and how it is done. Here we will take a deeper dive into this topic, explain why enterprise reporting is important, how companies can benefit from it, and what capabilities or infrastructure is necessary to facilitate this approach.
What is Enterprise Reporting?
Enterprise reporting is the process or culture of creating and distributing reports that detail business performance or KPIs relevant to decision-makers within the company. These reports contain metrics or indicators that showcase the effectiveness of marketing, sales, employee productivity, project completion rate, or other performance indicators.
These reports typically include visualized data, so the metrics and graphs are displayed on a dashboard that a user can monitor. Often these dashboards have real-time data sync, so if problems emerge, the decision-makers are immediately notified. The reports are also useful for data analysis and business intelligence, as they reveal just how certain approaches or decisions were effective and what needs to be adjusted.
Importance of Enterprise Reports
Enterprise reports are important for multiple reasons. The overwhelming amount of data circulating within the company is given structure and form when you incorporate it into a report. Moreover, the way other users can interact with the reports makes the whole process more streamlined and efficient. This is why the tools available today are so important. You can automate a large part of the report and then visualize it, which we manually do. Other users who are higher in the chain of command can then use those available reports to generate their own reports.
It is a system that allows insights on both micro and macro level and truly allows for the decisions in the company to be data-driven. Of course, the written part of the report is just as important as they are there to explain outliers, drops, or spikes in performance and give better context to the numbers displayed to the board members on top.
Benefits of Enterprise Reporting
Having the capability to document in detail what is going on and what happened in the past is incredibly advantageous. Moreover, having the capability to do it in a time-efficient manner, or even better real-time, saves tons of money. Enterprise reporting tools were developed in the first place because there was a high demand for aggregating and processing data as effectively as possible. Here are some of the main benefits of enterprise reporting:
Better decision-making - Having reliable data readily available empowers the decision-makers to act. In other words, you have means of acquiring and delivering mission-critical information, which helps the company grows and even save it during a difficult period.
Increasing productivity - Knowing what needs to be done and how close you are to achieving your goals has a massive impact on productivity. Results are what gives your work meaning, and it's how you know you are going in the right direction. With this kind of immediate feedback, both managers and employees become more productive, as the fruits of their labor are clearly visible.
Superior user experience - The interactive and user-friendly dashboard of an enterprise reporting software is beneficial in its own right. Users are more empowered to use it, which contributes to more diligent reporting. Moreover, it's both time and cost-effective when using a certain tool does not require extra training.
Increase in reporting capabilities - Modern reporting tools typically rely on API integrations to work or establish data pipelines between multiple platforms. This means you can easily adapt your strategy and add even more data sources to your list. This allows you to keep up with trends and connect with your customers.
These are some of the most general benefits of an enterprise reporting tool, so let's see the capabilities these apps need to have to facilitate the mentioned benefits.
Interactive reporting or data visualization functions - It's not enough that your tools can capture and collect data. They also need to transform it to fit your report templates and then visualize it in a way that is easy to read or digest.
Self-service reporting - Automated data management features allow you to track data in real-time and generate ad-hoc reports. This means you don't have to wait on a weekly or monthly report to see that something went wrong. You can notice it a lot faster or on the same day.
API hooks - The tool needs to have the so-called open architecture or capability to interface with other software and online platforms. The more data sources the tool is compatible with, the more useful it is. Companies nowadays rely on social media and Google products for communication and data processing, so integrating with those platforms is paramount.
Multi-tenant support - The business performance dashboard needs to accommodate different departments or the company's branches. It would be best to have a sales report, marketing report, financial statements, ongoing costs, etc. So different staff across the organization need to access the tool and generate reports, and each of them needs to have their own permissions in terms of what they can do and view.
Support for different formats - This also means your tools will have to deal with different file types or formats. So it needs to be compatible with PDF files, XLS, XML, HTML, CSV, DOC, JSON, ODT, RTF, etc.
Of course, every software or tool has its pros and cons, so even enterprise reporting tools are imperfect. So, let's see some challenges that companies need to overcome to facilitate enterprise reporting.
Issues and Challenges of Enterprise Reporting Software
Although it is both beneficial and practically necessary nowadays, enterprise reporting tools do come with their fair share of challenges. One is definitely development costs and time. These are really complex and robust systems that can be expensive and time-consuming to create. Moreover, it would be best to have an infrastructure that can support enterprise reporting software or lots of data storage. If you need to rely on historical data to track your progress, all of the information you acquire through data mining needs to go somewhere. Moreover, with an expanded list of data sources that your enterprise reporting system will strive to accommodate, these storage requirements will continue to grow.
One way to go about this is to limit the amount of data that will be stored. Let's say that you will only use data that has been recorded in the past six months or last year. This is something you see banks do, organize data in a way that needs to be compliant with their regulators. If they are obligated to keep account statements for the past 3 or 5 years, that's what they will do, and the rest will be automatically deleted.
Another way to go about this problem is to outsource both software and storage capabilities. Today, many of these enterprise reporting tools are cloud-based and monetized using a subscription model, which allows you to manage costs according to your storage requirements.
One enterprise reporting tool you can use is Whatagraph. It has an array of integration capabilities that allow you to monitor your sales and marketing efforts. It has a user-friendly dashboard that you can use to generate reports. You can gather business data from all popular social media, your eCommerce platform, and all of the popular Google tools you are likely using.
The reality is that most businesses really benefit from outsourcing this capability. It's only a giant corporation with specific data analysis requirements that need an in-house solution. Furthermore, these businesses are actually the ones who can afford in-house development of these. If you are a smaller and mid-size business and want to build it from scratch, you are likely wasting both time and resources.
FAQ
What is the role of enterprise reporting?
The role of enterprise reporting is to enable internal information sharing within an organization in interactive reports. The reports need to detail all of the KPIs and performance stats that enable decision-makers to analyze data and generate business intelligence. The enterprise reporting tool is common in companies with report-down structures that rely on data-driven decisions weekly and monthly.
What does an enterprise reporter cover?
Enterprise reporter provides insights into the most crucial performance indicators and gives them a wider context. So, in addition to knowing where things stand, you also have access to the information or data that shaped those results. If an organization as a whole is performing better or worse than expected, enterprise report needs to allow them to pinpoint outliers or assets that are underperforming or exceeding expectations. It's similar to enterprise journalism that goes beyond just stories that cover specific events. It also goes into details that led to those events or outcomes.
Which are reporting perspectives common to all levels of enterprise?
Role-based perspective - Reports generated for or by a manager with a specific role, financial officer, marketing officer, project manager, HR, etc.
Internal and external - Reports for external use, like financial reports for auditors or the general public, and those for internal use, like those that detail employee productivity.
Strategic and operation reports - Reports that provide feedback on a present situation and align with long-term or short-term goals.
Standard and Ad-Hoc - Standard reports are generated regularly like weekly, monthly, annually. In contrast, ad-hoc reports are generated on-demand to gain insight into a specific occurrence.
Published on Jun 01, 2021