#marketing
7 Amazing White Label Tools For Agencies to Impress Their Clients
A successful marketing agency is a well-oiled operation run by great people, processes, and tools. And while making a great hire and establishing a process are two pretty complex things, choosing tools for your agency has never been easier. There are thousands of marketing apps with new ones launched every day.
For agencies that want that boutique look and feel for their clients, white labeling is one of those must-have features. Luckily, many marketing tools nowadays offer a white label feature.
Today, we'll show you some of the top white label marketing tools for digital marketing agencies.
But first…
What is white labeling?
When speaking about software, white labeling means that a tool allows you to remove all of its branding when sending something from that tool to your clients. For example, Whatagraph's marketing reports come with a Whatagraph logo at the bottom. Once you use the white label feature, the logo is removed and it looks like the person sending (marketing agency in this case) created the report on their own, without using a tool.
Why would you need this feature? Here are some reasons:
A premium experience for your customers

A professional appearance for your agency

Costs and time savings - you don't have to develop your own tool from scratch

Your clients associate your work with your agency and not a third-party product
White label usually comes as an add-on feature in marketing tool offers and you have to pay a bit of extra money for them.
With that in mind, let's go through some great marketing tools that have this feature.
Best 7 white labeling tools for agencies
We chose these tools based on their price, features and how useful they are for a marketing agency setting.
1. Whatagraph
Marketing reports are one of the staples of agency work. Big or small, every agency needs to send updates about their work to clients and this is where Whatagraph shines. Just connect your data sources, grab a report template and you can have your next report or white label dashboard in a couple of minutes, filled out with all the metrics and KPIs you need.
There are over 40 available integrations, including Facebook Ads, LinkedIn Ads, TikTok Ads, SEMRush, Google Analytics, Google Search console and many others. To get you inspired, we have 100+ report templates for different uses, from social media management reports to SEO and call center reports.
When you use the white label feature in Whatagraph, you can completely remove all mentions of Whatagraph as a tool and instead, slap on your agency logo. Just like that, you have fully custom reports. The customization lets you change the color scheme and add and remove widgets as you please.
Whatagraph plans start at $199 per month, giving you access to 25 data sources and 5 spots on your team. The white label option is a paid add-on, and you need to reach out to sales to get a quote on how much it will cost you.
Speaking of which, now is a great time to automate your reporting and creating stunning reports for your clients. Sign up for your free trial of Whatagraph to get started today!
2. Metrics Watch
Sometimes clients prefer to receive their marketing reports by email to suit their busy schedules. Metrics Watch offers a streamlined email-based solution designed to remove the friction between marketers and their data.
Full white label features are available on every plan, so nobody misses out here. Metrics Watch offers the ability to add:
Custom logos

Custom color schemes

A custom domain to send reports from

Personalized summaries for clients

PPC markup

And more…
You can pull data from multiple marketing channels into one report and then automate them to be delivered daily, weekly, or monthly to suit your needs. Reports are easy to build with the drag-and-drop editor, widgets to add graphs and charts, and more - so you don't need any tech skills to make professional reports.
But what makes Metrics Watch unique is that reports are displayed in the body of the email itself, so there's no need to clutter up your client's desktop with PDF attachments. Instead, they can get all their key marketing data directly to their inbox, making it an easy way to incorporate reporting into busy schedules.
You can try Metrics Watch free for 14 days (no credit card required)!
3. SERanking
Search engine optimization is an incredibly popular form of marketing as it delivers an incredible ROI compared to PPC and other forms of paid ads. Most business owners struggle doing SEO work on their own, which is where agencies come in and SERanking is one of the better SEO tools when it comes to offering white label SEO services.
With SERanking, you can accurately track your clients' keywords in the SERPs, audit their websites, do keyword and competitor research (both for organic and PPC), among other things. You can also report on new and lost backlinks to your clients.
When it comes to white label, there are generous options available. SERanking provides a custom domain for your agency that you can use to give clients access. They can see their rankings, backlinks and performance in a real-time overview as well as get white labeled SEO audits.
There is a free trial available and paid plans start at $31.20 per month. However, the white label software is offered only in the more expensive plan which sets you back $71.20 per month. You can track up to 1,000 keywords in this plan and audit up to 250,000 pages, making it a good offer for smaller to mid-size agencies.
4. SEMRush
It's really hard to talk about doing SEO work without mentioning one of the greats that is SEMRush. This tool has been a staple in many a marketer's toolsets because of the wide range of uses, including:
Competitor research

Keyword research

Backlink tracking and analysis

PPC research

Website audits

And much more.
Whether you need to track your clients' competitors, do content marketing strategies, get a full-blown analysis of your clients' marketing strategies, or even schedule and track social media performance, SEMRush can do it all.
The basic SEMRush plan is $119.95 per month and it is unclear whether white labeling is included. However, it certainly comes in the next plan called Guru, which costs $229.95 monthly.
5. Mention.com
Tracking your clients' mentions across the web is an incredibly useful activity. You can do reputation management, crisis and media monitoring and get real-time updates about everything happening around the web that revolves around your clients.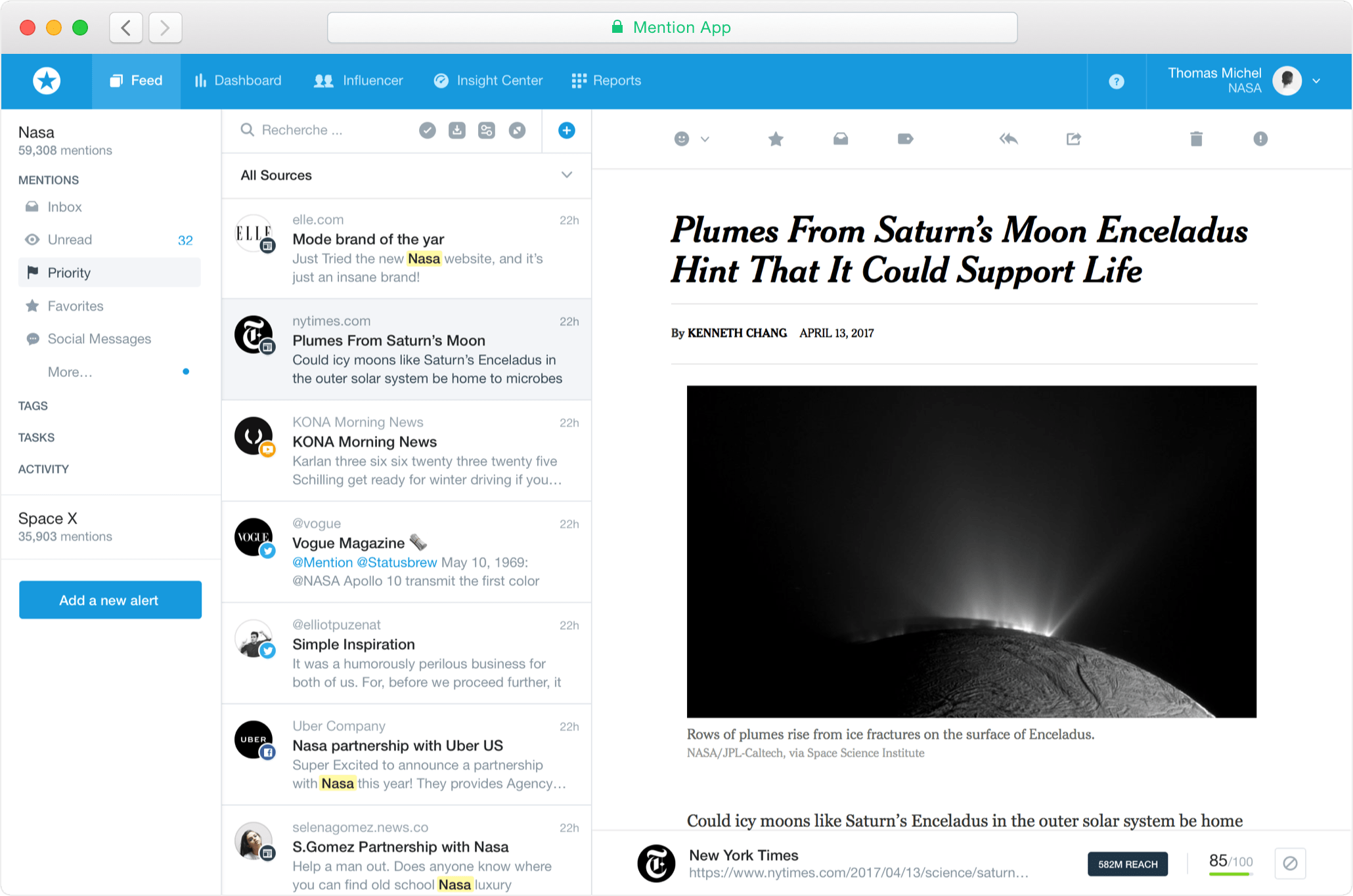 Mention.com can be your best friend in monitoring your clients' online presence. You can use it to monitor terms across 1 billion online sources and get real-time notifications. Thanks to Boolean operators, you can get surgical precision with your searches and alerts and impress your new clients right off the bat.
On top of all this, you get comprehensive analytics about your mentions - who mentioned you the most, where, what they wrote about and what their sentiment was. With the white label option, you can fully remove the Mention logo from your marketing reports.
Paid plans start as low as $41 per month, which gets you 2 basic alert types and up to 5,000 tracked mentions a month. As for the white label feature, it does not come in the standard pricing scheme - you have to talk to sales.
6. ActiveCampaign
Email marketing does not seem to be going anywhere as the ROI of this marketing activity is still excellent compared to channels such as social. As it's been around for a bit, it's only natural that there are quite a few agencies specializing in email marketing as a service. ActiveCampaign is one of the oldest marketing automation platforms out that offers white label as a functionality.
This tool offers a handy drag and drop email builder that anyone can use to create beautiful emails that work on any device. There is a good number of email templates as well, so you don't have to look far for inspiration. You can set this tool up for advanced email workflows and segmented campaigns.
With the white label feature, you can send emails from custom domains and fully remove the ActiveCampaign branding from your emails. You can dig into the HTML/CSS code to change every aspect of your emails, making sure your clients get amazing automation features but without any mention of ActiveCampaign.
You can try the tool for free before committing to a paid plan. Those start at $29 per month but the white label and custom branding are only available in the Plus plan that costs $49 monthly. Their CRM feature also comes in this plan, so this could be a great deal for an agency looking to kill two birds with one stone.
7. Landingi
Landing pages are one of the basics for a good marketing campaign. In fact, your agency probably builds and promotes quite a few landing pages for your clients. The great thing about landing page software like Landingi is that you can create landing pages at scale without involving a developer or a designer. This saves quite a bit of money but also incredible amounts of time.
Whether you need to build full-blown landing pages, pop-ups or anything else for your clients, Landingi has your back. There are over 400 templates to choose from and you can test out your landing pages on test domains as well as schedule them to go live at a certain time point. There is also the option of A/B testing for the best conversion rate optimization and testing your messaging or design.
In terms of white labeling, you can remove the Landingi logo from all client-facing collateral, including landing pages and forms.
You can try Landingi for free and if you want the white labeling solution, you have to get the Agency plan which costs $109 per month - but is billed annually.
Wrapping up
If you're looking for a marketing platform to take your agency to that next level, these white label tools will help you appear more professional and deliver more value to your clients. Time is money and if you don't want to build your own tools and processes, white labeling is an amazing shortcut that your entire agency (and your bank account) will appreciate greatly.
You can start with white-label reports today and sign up for your free trial of Whatagraph! Give your marketing services a fresh lick of paint and impress your clients with beautiful, automated marketing reports.
Mile is the Head of Content at Whatagraph. With over 7 years in the SaaS industry, he developed a love for writing about all things marketing.
Read more awesome articles
Enter your email and get curated content straight to your inbox!
Only the best content & no spam.
Pinky promise.
By submitting this form, you agree to our
Privacy policy