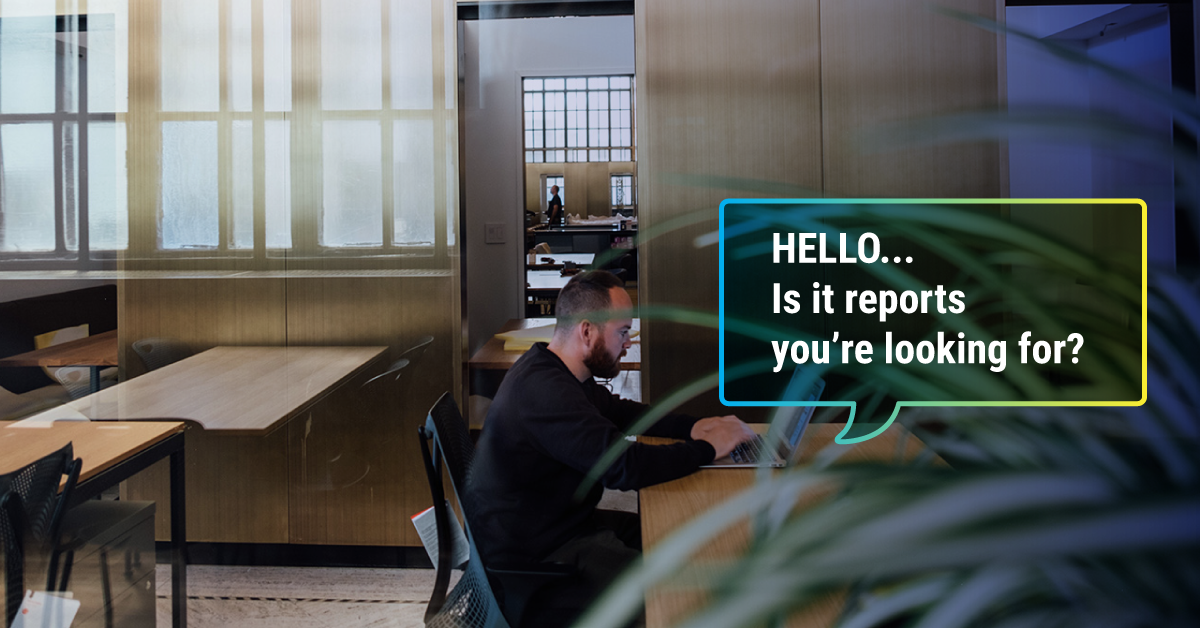 Why digital agencies are failing their clients?
Learn one thing that's hurting your relationship with clients, your brand and how to fix it.
If I asked you - what is one thing that will shatter the glamorous atmosphere at any digital marketing agency? What would you say?
I say it's the numbers. Let me explain why.
It's all good while you're in the creative process. Your pitch is magic. You make the sexy advert. You craft the distinctive copy with a matching landing page that converts like hell.
And then you arrive at numbers and reporting your results. Welcome to the nightmare of ANALYTICS!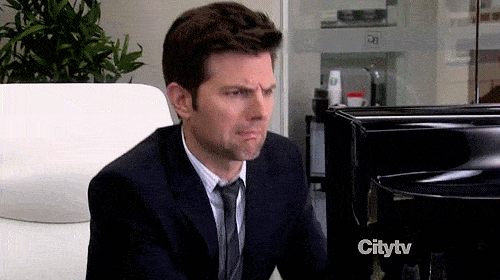 Not so sexy anymore, is it? (Unless you are the analytics person.)
Let me take you through a nightmare-ish and somewhat surprising list of how numbers are hurting:
Your relationship with clients

Your brand

Your employee relationships

Your productivity

Your revenue
Best part? I'll let you know how to fix it all with a click of a button.
Nightmare #1: Most of your clients don't get the numbers
Clients want to see the results, backed by real numbers. And yet when they see a spreadsheet or a table with data, they don't get it. The truth is, numbers in your analytics reports for clients are hard to digest and to understand.
What can you do to turn this nightmare into a dream? Visualize your numbers.
Human brain digests visual information faster, it's easy to scan, memorize and make sense of.
Visual data is more engaging. When clients understand the data, they start getting questions, ideas, and a satisfying feeling of belonging and self-importance.
Nightmare #2: Majority of clients aren't familiar with analytics terms
'The average CPC for your inline clicks is below FB average' might make sense to you, but it will not make sense to Pat who hired you to run FB ad campaigns for his logistics business.

'Talking terminology' will make an agency look smart and reputable, but 'talking human' will help you build and maintain a more personal, down to earth relationship with your clients.
What can you do to turn this nightmare into a dream? Be human.
Talk the language your clients understand. Explain the terms. Encourage questions. Create opportunities for real conversations, not just matter-of-fact reporting.
Nightmare #3: Your account managers are wasting time in analytics data collection
When you have one Facebook page to manage it's ok. When you have twenty Facebook pages to run, plus a few Twitter and Instagram accounts, and a number of websites too - it can get out of hand.
Unless you have an in-house solution built in to automatically pull data from Facebook, Google Analytics, Instagram and other analytics sources, your account managers will be wasting as much as 2 hours per client just to collect the data from all analytics sources.
Two hours for a manual copy-paste work.
What can you do to turn this nightmare into a dream? Automate data collection and use automated report delivery.
Build your own solution (requires a dedicated development team for building and maintaining the solution)

Leave it to external reporting tools that will automatically get your data and deliver it to your clients at the required frequency.
Nightmare #4: Your team is wasting time on charts and screenshots
It will take anything up to 2 hours to turn the data you've just collected into a visually appealing presentation.
The sad truth is that you are putting your effort/time/resources into charts and presentations that people simply a) don't care about b) don't understand.
Presentation still looks like an analytics dashboard, and numbers are still hard to read and understand.
What can you do to turn this nightmare into a dream? Get someone to do it for you. (And I don't mean interns.)
Let's be fair - agencies can't just scrap the reporting part. But instead of wasting hours on manual reporting you can be smarter and outsource the tasks that don't directly contribute to your quarterly business goals.
Will creating another pie chart bring you more clients? Doubtful.

Will networking and building relationships bring you more clients? Most likely yes.
So instead of choosing colors for your next reporting chart, let someone else do it for you. Preferably, automatically - so you can put your team to the tasks they are actually good at.
(Seriously, stop wasting talent.)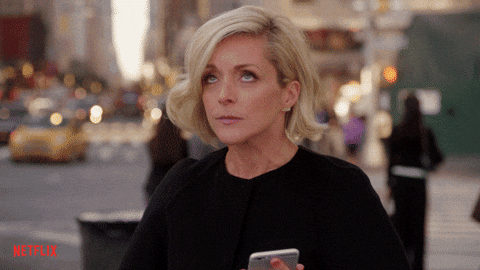 Nightmare #5: Welcome to the risky and time-consuming business of relying on other departments to get the data
If your agency is lucky enough to have own analytics department, you know the struggle is real.
The more people are involved in the loop of data collection and reporting, the longer the process gets. Not even mentioning the room for human error.
What can you do to turn this nightmare into a dream? Cut out the middlemen.
Good news - by solving your nightmare #3 you solve your nightmare #5.
Nightmare #6: Not everybody has the access to analytics, and rightly so.
When it comes to sharing data access with your team, it's only natural to be sensible. It's not just the obvious data protection issues, but also about giving access to someone who might accidentally turn your Google Analytics settings upside down.
Or create a random segment. Or delete an important segment.
And actually, not everybody needs to have access to the data.
If your social media manager Lucy needs a bunch of GA overview stats once a month, it only makes sense to get the process of analytics sharing in place.
Another scenario: your CEO Marcel is meeting a client who spontaneously asks for an update for the latest AdWords campaign. To get the performance metrics, Marcel needs to get into the client's AdWords or Google Analytics account and literally dig it out. If he's got the access.
What can you do to turn this nightmare into a dream? Set up automated delivery for team-specific reports.
Talk to your team and find out what metrics they need to keep an eye on. You'll find that the required data will vary from CEO to the marketing department, and from product development to content creators.
Then take those 2 hours out of your schedule for one time only and create custom report templates for your team to be delivered regularly.

It's a one-time job really. Your team will appreciate the transparency and it will save you from spontaneous analytics requests during that half an hour when you need to finish your magic pitch for the client presentation.
Nightmare #7: Excel sheets and classic charts are not good enough for a creative agency like yours
Your clients are super excited about the results after confirming your jaw-dropping proposal, right?
People just stop scrolling and start taking screenshots of your latest creative piece for that Facebook engagement campaign. I mean, who wouldn't, right?
So why would you present the results like this?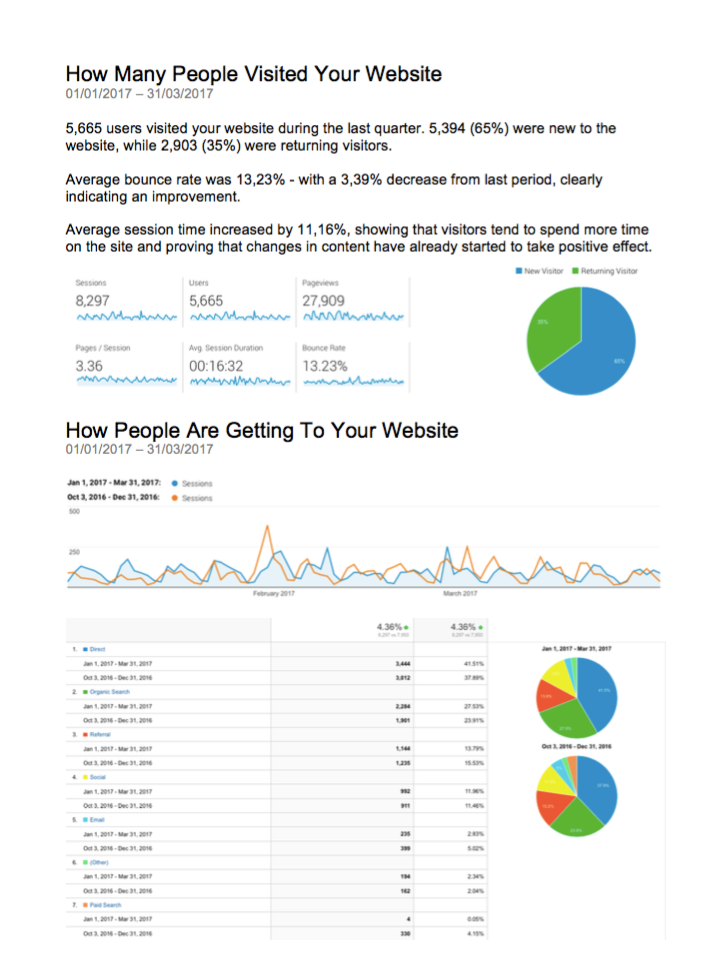 It's not good enough, and you know it.
What can you do to turn this nightmare into a dream? Give your analytics reports more spark.
Get your designers/creative folk to create a reporting template that conveys your branding. Use it to wow your clients. (Involves data copy-pasty at the end of reporting period though.)
Nightmare #8: Having a dedicated person to build fancy website reports hurts your budget
You've seen how long it takes to build a report from scratch when you need to gather data, build the presentation and add your comments.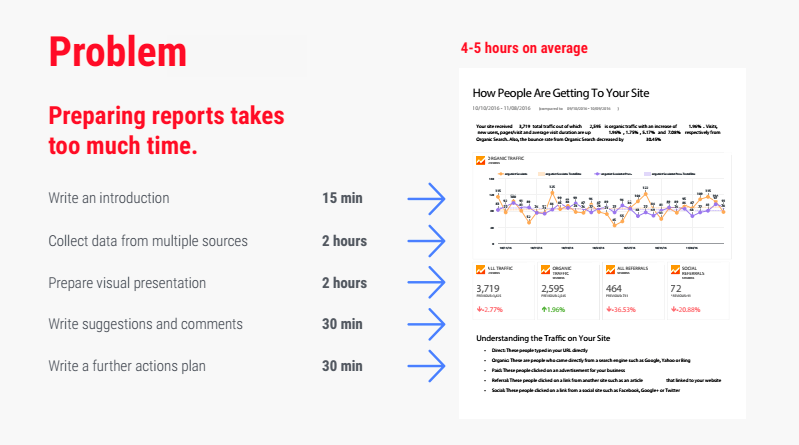 Having a dedicated person to build reports will make your clients happy, but it will also come at a cost from your business expenses.
What can you do to turn this nightmare into a dream? Automate the work with a dedicated tool.
Monthly subscription for a reporting tool will often cost less than paying 4 hours to a skilled employee for something as manual as building analytics report.
And in all honesty - people would rather be doing something more creative and goals driven than manual number copy-paste.
Nightmare #9: Analytics platforms Like GA and Omniture require experts and training to analyze the data.
While social media analytics data is still fairly easy to find and analyze, giant platforms like Google Analytics and Omniture require deep knowledge to simply know where particular website analytics data is located.
What can you do to turn this nightmare into a dream? A few options for you:
Hire an expert to pull out the data and analyze it (can get expensive).

Send your marketers and account managers to career development courses.

Automate data collection with pre-made report templates, so all you have to do is check whether KPIs are going up or down.
Nightmare #10: You are wasting time trying to figure out where the bounce rate is.
You can be optimizing your campaign instead.

If you are just getting to know Google Analytics (or any other similar platform), chances are you'll be struggling to find particular data for a particular campaign or landing page. It's no coincidence GA is called a data jungle.
What can you do to turn this nightmare into a dream? Get that bounce rate delivered to you.
Obviously, you can get the data yourself. But why would you, when you can have it delivered to you without lifting your fingers?
Again, tools like Whatagraph fetch KPI data for you and deliver to your email address automatically.
Nightmare #11: You aren't winning the competition game
$75.6 billion - that's how much it is estimated to be spent in digital advertising in 2017. It's a lucrative market, and one with fierce competition.
Wondering how you can step up your competition game using something as dull as analytics numbers?
Don't do them. Seriously - automate your reporting

. When you are discussing recommendations and improvements with your clients, your competitors will still be screenshotting their analytics data.

Offer analytics reporting that provides value

and helps your clients understand data. When you spend time building a relationship with your clients, your competitors will be providing reports that only makes sense to them. And you can do much better than that.
What now?
Remember that one fix-it-all button I mentioned at the beginning?
All it takes to turn 11 nightmares into marketer's dreams is the right tool.
But do think twice before pressing the button. Don't do it if:
You want to be an average agency.

You are happy with static zero-engagement reporting.

Your clients are happy with reports they don't understand.

You do not want to grow.

You are ok with using your team's talents for mundane tasks.
Please use the Sign up for Free button at your own discretion.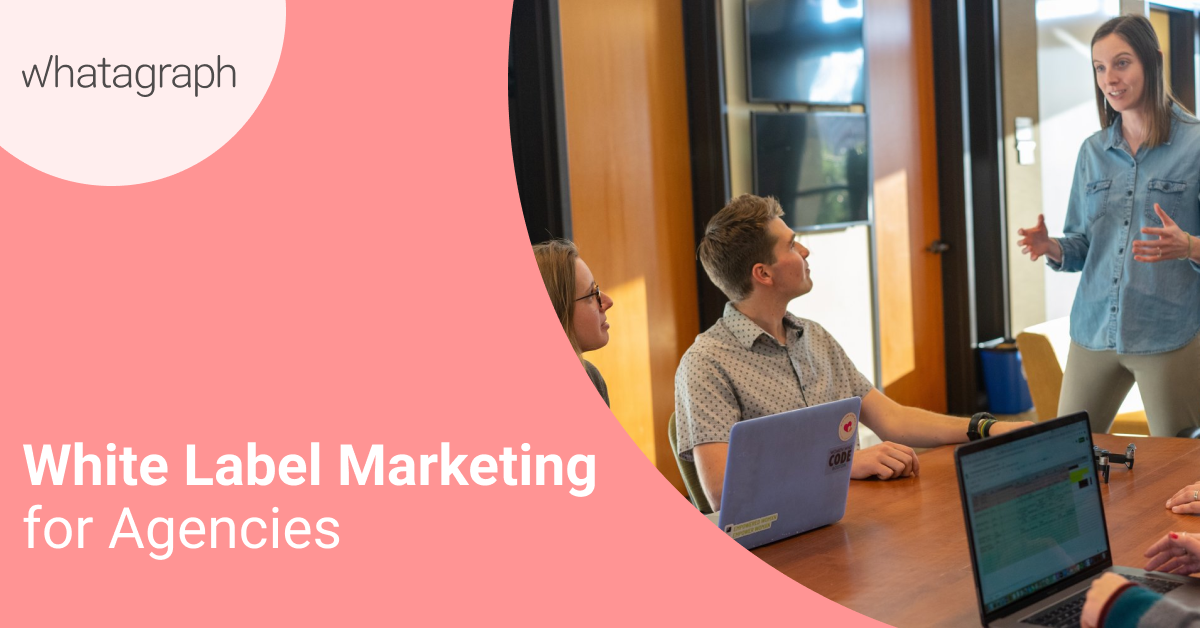 Many business professionals often desire to engage in everything that concerns their businesses by themselves. Interestingly, this is a wrong step as it could hamper the growth and development of their businesses if not done in the right way.
Read more...