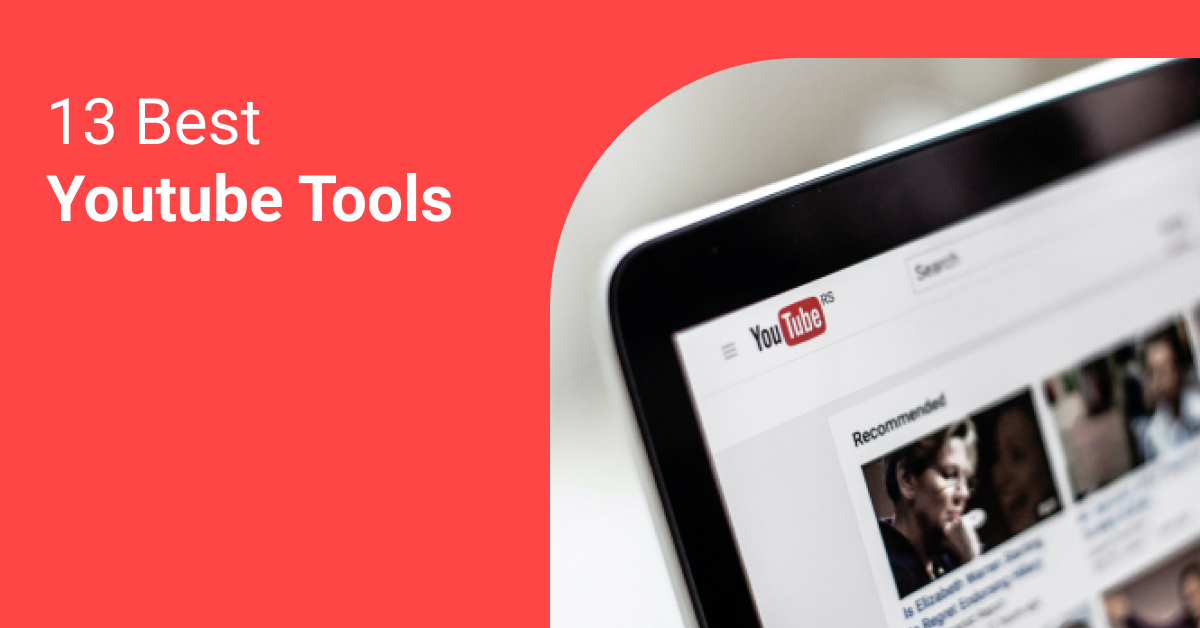 13 Best Youtube Tools to Grow Your Channel
Dec 30, 2020 ● 8 min read
Right now, Youtube has 2 billion active users, which is an outrageously big number. Yet, when people talk about social media platforms, they speak of Facebook, Instagram, and Twitter. Youtube, for some reason, often gets left out of the conversation.
Table of Contents
If that is the case with your business, you might want to reconsider your approach. With these numbers, Youtube is the most popular social media platform, only second to Facebook.
As Youtube has solidified itself as having one of the largest user bases in the social platform realm, marketing on the platform has responded in turn.
Content curation and promotion is no small task on any social platform, but Youtube is video-based. Building and promoting videos is definitely not an easy process for most. Luckily, this is something you can tackle head-on with the right tools.
13 best tools for Youtube marketing
So, if you want to grow your Youtube channel, you're going to need good content. Youtube has great on-site tools, but there are even better 3-rd party options. In today's article, we're going to show you 13 of the best tools out there to grow your channel.
Here we go!
To start off the list, VidIQ is a cool browser extension that acts as an analytics tool for Youtube. You can get growth insights and tips on how to expand your channel even more. This tool also offers video courses about Youtube channel growth.
VidiQ also offers beneficial insights into your competition. Knowing what your competitors are doing to succeed could help you employ some of the same tricks and tactics. This functionality is handy when you're just getting started or when monitoring up and coming competitors.
Another valuable asset that VidiQ offers is comparative tools. These are internal systems to help you evaluate and track your content and performance.
Additionally, this tool has built-in analytics tools to allow you to track trending content and see detailed insights on tags and other trends. Built-in analytics can help you rise with the occasion, rather than having to lag behind and rise to it.
And the last notable feature of VidiQ has is keyword suggestions. Keyword suggestions could be the difference between people seeing your content or not – VidiQ automatically detects which keywords might work or not.
TubeBuddy is a browser extension that integrates with your YouTube account upon activating it and helps you manage your channel.
Unlike other tools, TubeBuddy allows you to test specific tags, thumbnails, titles, and even descriptions to simulate how well they might perform. Although this may not always be super accurate, the testing systems are getting more sophisticated.
Once you run these tests, you can start scheduling your posting. This way, you don't have to worry about missing an optimal time to post ---the tool does it automatically.
Using TubeBuddy also gives you access to insightful analytics like rankings, comparisons, and details of traffic.
One of the other great benefits of TubeBuddy is the bulk editing option. Imagine you want to put a link to your new website in old video descriptions. Well, with TubeBuddy, you can update all of them at once.
Minimal manual work involved. Amazing, huh?
iVidz is a cloud-based platform that makes the content creation process super easy. The whole system is based on drag and drop; it's simplistic and user-friendly.
The easy-to-understand interface is what makes iVidz stand out. Suppose you have no experience creating interactive videos or content for Youtube, this tool is ideal for you. iVidz offers a cool design option for campaigns integrated with your set goals.
Unlike other tools, iVidz also lets you update and start (or stop video) campaigns whenever and wherever you are.
iVidz also employs a top-notch video hosting server to ensure that your videos don't buffer and play quickly on any device. They also allow you to share content with your socials directly from their platform.
Fourth on the list is Camtasia, a screen recording tool with video editing capabilities. If you're filming tutorials or screen recordings on Youtube, this is a great tool for recording and editing – no more shaky iPhone-tutorials.
Once you finish recording, you can clean up the video, add effects, and edit it. Some of the cool editing features include arrows, captions, highlights; you can even show keystrokes or mouse movement.
If you want to do a voice-over, Camtasia allows you to edit that in post-recording. This way, you don't have to worry about restarting your recording 20 times to get the wording right.
Bitly is yet another example of a platform to help you market your content, not only on Youtube but also on other channels.
How so? Well, when you post links on social media, sometimes they look spammy and cluttered.
Bitly shortens these links and makes them look more appealing.
This feature is great, and it's not exclusive to your Youtube content. You can use this across the board with your links.
Social Blade helps you track performance data on YouTube, Instagram, Twitch, and Twitter, allowing your business to become more data-driven.
You can also check out your competitors and see how you're stacking up against them.
With Social Blade, you can check whether a Youtuber has an affiliation or belongs to an agency or a network. Knowing these sorts of things can help you understand what kind of revenue model they're operating on.
We'd be remiss not to include the official Youtube tool, Youtube Studio.
You can download Youtube Studio on both Android and iOS, allowing you to manage your accounts on-the-go.
This tool offers the ability to monitor your account data in real-time. It also allows you to interact with subscribers and receive notifications of importance.
And if you want, you can also adjust settings related to monetization, schedule posts, and manage other key details.
All in all, Youtube Studio is one of the better tools to manage your account remotely.
Since we're talking about official Youtube apps, here's another resource they offer. Creator Academy is a platform for learning everything you need to know about Youtube and how it works.
Obviously, you can only go so far without research. If you really want to grow your channel, you'll need to know as much as you can about Youtube.
Now, if you're an expert already, this may not be a tool for you. But if you want to learn how to upload, do some edits, and monetization, Creator Academy is ideal for you.
Yep, you guessed it – it's a tool for keywords. It's entirely free and will help you get discovered. After all, visibility means everything on Youtube.
Good videos can only get you so far, but if you get the right ones down, you'll be on another level.
Here's another great tool that acts as a one-stop video maker. If you want to build videos and do everything that comes after on one platform, Movavi's got you covered.
Movavi is a downloadable platform that allows you to work from anywhere. Using it, you can easily manage all of your recording and editing processes all in one place. Plus, it lets you do screen recording for tutorials or presentations.
Like a few other tools, they offer mobile apps to keep working directly from your other devices.
Okay, let's admit it – we've all fallen victim to thumbnails. You know the drill: we see a crazy picture, click the video, and get sucked in. Thumbnails can be a gamechanger for numbers. Pixlr helps you generate thumbnails to draw people in.
This tool allows you to add thumbnails, layers, and even effects to videos. Finally, Pixlr also offers mobile apps to build on the fly.
At number 12, we have Tubular Insights. This nifty platform provides information on the latest trends and tips for performance boosting. Essentially, Tubular Insights tracks all of the videos along with their performance and turns this information into trends.
Understanding current trends can help you curate better content and reach larger audiences.
Last but not least is Woobox. This tool is for promoting Youtube content on other social channels.
Let's say you want to put all your Youtube videos on a single Facebook tab. Well, Woobox lets you do just that. This way, all of your Youtube content is directly posted on your Facebook profile, giving you a wider reach. Even if your numbers on Youtube are low, you can direct some of your Facebook traffic there.
By using Woobox, you can expand your reach to entirely different networks and platforms. Ultimately, bleeding into your growth on your Youtube channel.
Concluding
Whether you're just getting started on Youtube or a pro, this list has tools you can use.
In some way, shape, or form, these tools can improve your content and enhance your overall performance.
Obviously, you can't use every tool, and you may not be able to implement more than one at a time, but depending on what you need, some of these tools are definitely worth checking out.
Try some out and start optimizing your strategy!
Since you're already here, you probably know what a KPI is. But here's the definition in case you don't. A KPI, or key performance indicator, is a metric to measure the successes of strategy or other organizations' actions.
Read more...