Project Dashboard for real marketers
Whatagraph project dashboard will highlight important KPIs along with progress made by you and your team. Integrate your favorite sales and marketing tools with Whatagraph and track project status and development in one place.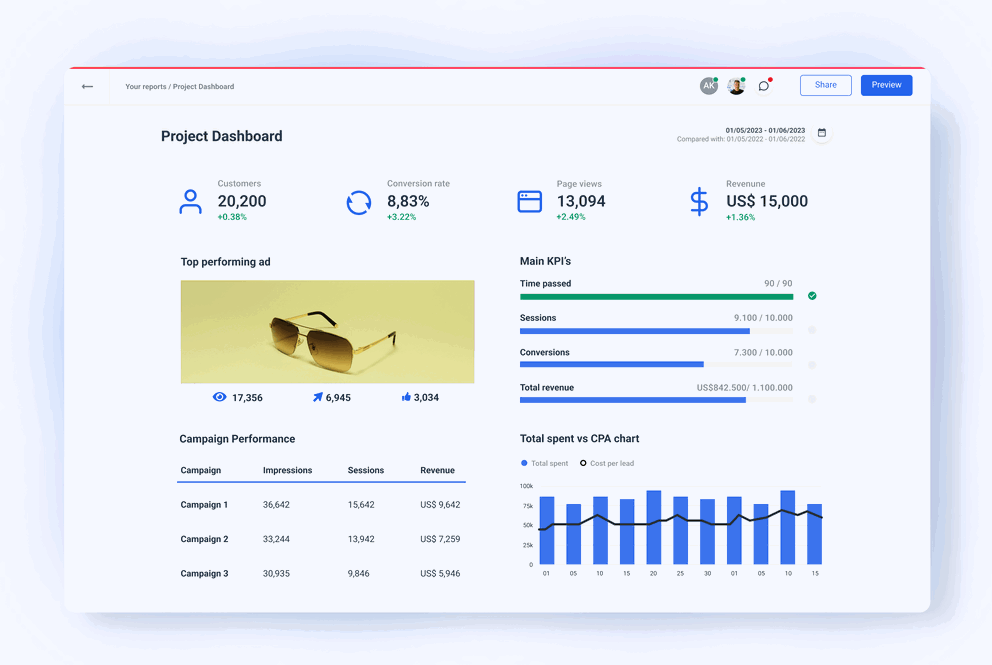 Join marketing agencies and teams worldwide who use Whatagraph to work with marketing data!








Effortlessly report, monitor and analyze your campaigns.
Segment project progress based on individuals or teams
Whatagraph is a data-driven platform that displays critical metrics, stats, and insights attributed to a particular project by presenting a tailored mix of KPIs. These KPIs can be segmented by individual or team so you can view task status based on particular individuals or departments, in real-time.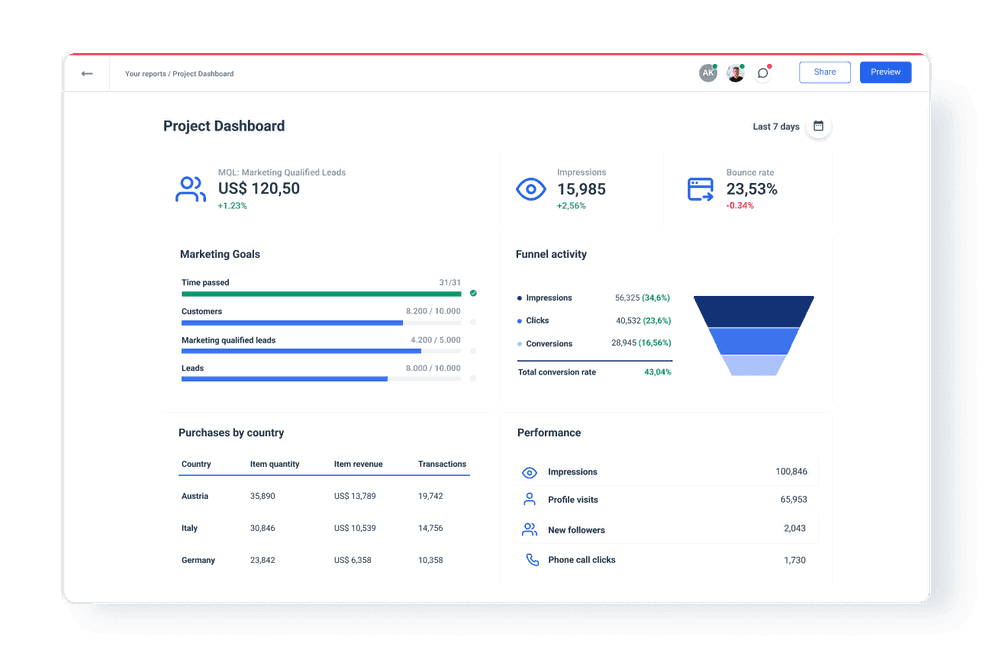 Highly customizable project dashboards to divert attention to metrics that matter
Customize your project dashboards so it only contains the essential progress metrics. These customization options may include goal widget types, metrics, and graph styles that adhere to specific projects you're tracking or the needs of clients.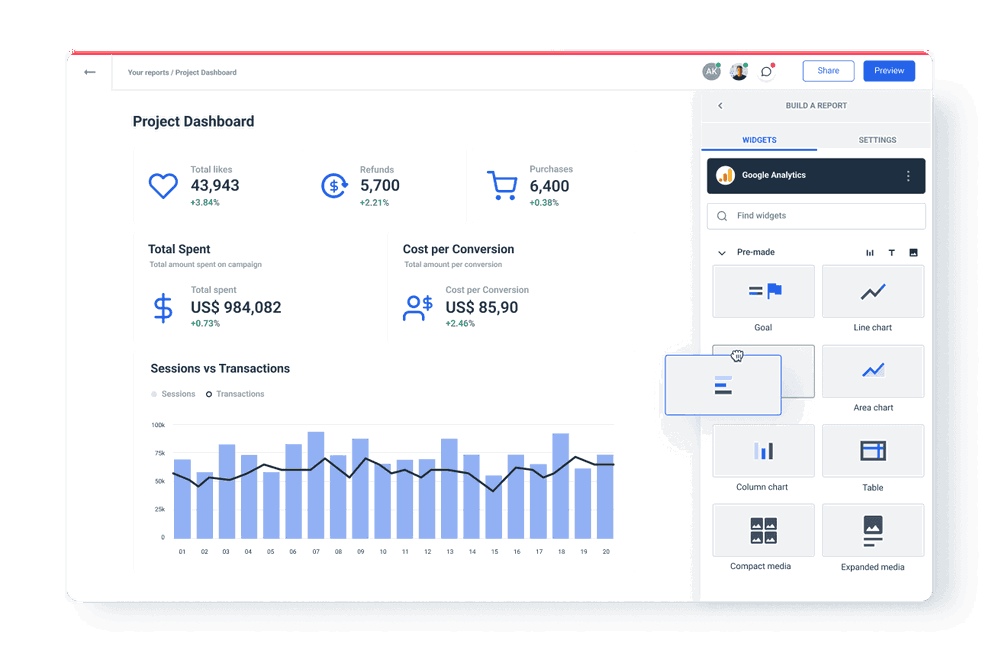 Managing marketing projects and campaign performance
Marketing project dashboards emphasize your organization's promotional development. Agencies can use our dashboard tools to monitor and manage the performance of multiple marketing campaigns and projects for their clients in order to create comprehensive project reports.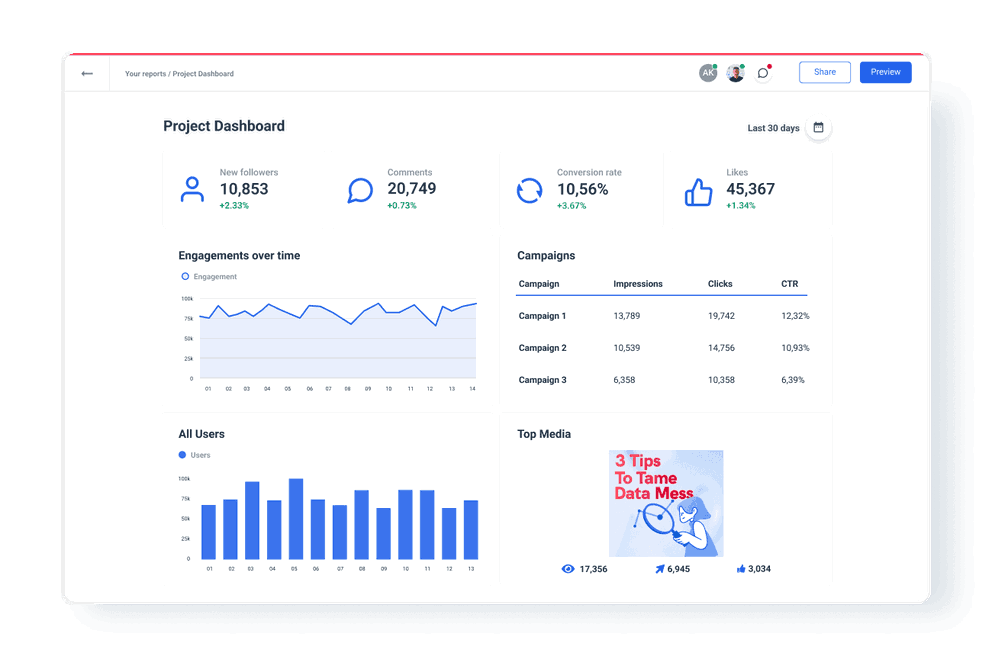 FAQs
All your questions answered. And if you can't find it here, chat to our friendly team.
How do I create a project dashboard?
Understand what the project entails and what is the definition of "done".
Collect and curate your data and the data sources that will eventually signify the end.
Identify the top metrics that guide you through the project development.
Create your dashboard layout. 
Consider using a reporting/dashboard tool to simplify the data gathering and tracking process. One platform to help you simplify this process is Whatagraph.
What should be included in a project dashboard?
Activity tracking widget;
Individual activities that encompass the larger scope of the project. This breakdown of big tasks into smaller ones can help manage budgetary, time, and human capital resource allocation.
Progress reports & status widget;
Tracking milestones and small steps which comprise the large, end-game goal.
Personal to do list widget;
This could be a personal to-do list, almost like a shopping list of small tasks you are responsible for.
Resource allocation widget.
Tracking budgets, human capital, and other resources that are used to complete projects and certain tasks. 
What is the use of a dashboard?
A dashboard - whether it's a project dashboard or any other - is a data management solution that tracks, analyzes, and displays businesses' key performance indicators (KPI), metrics, and key data points to monitor the health of a business, department, or specific process. They can be customized to adhere to a particular department, individual, and company's specific needs.
It's good to be loved! Our clients are not shy about expressing it.
Need more help with getting started?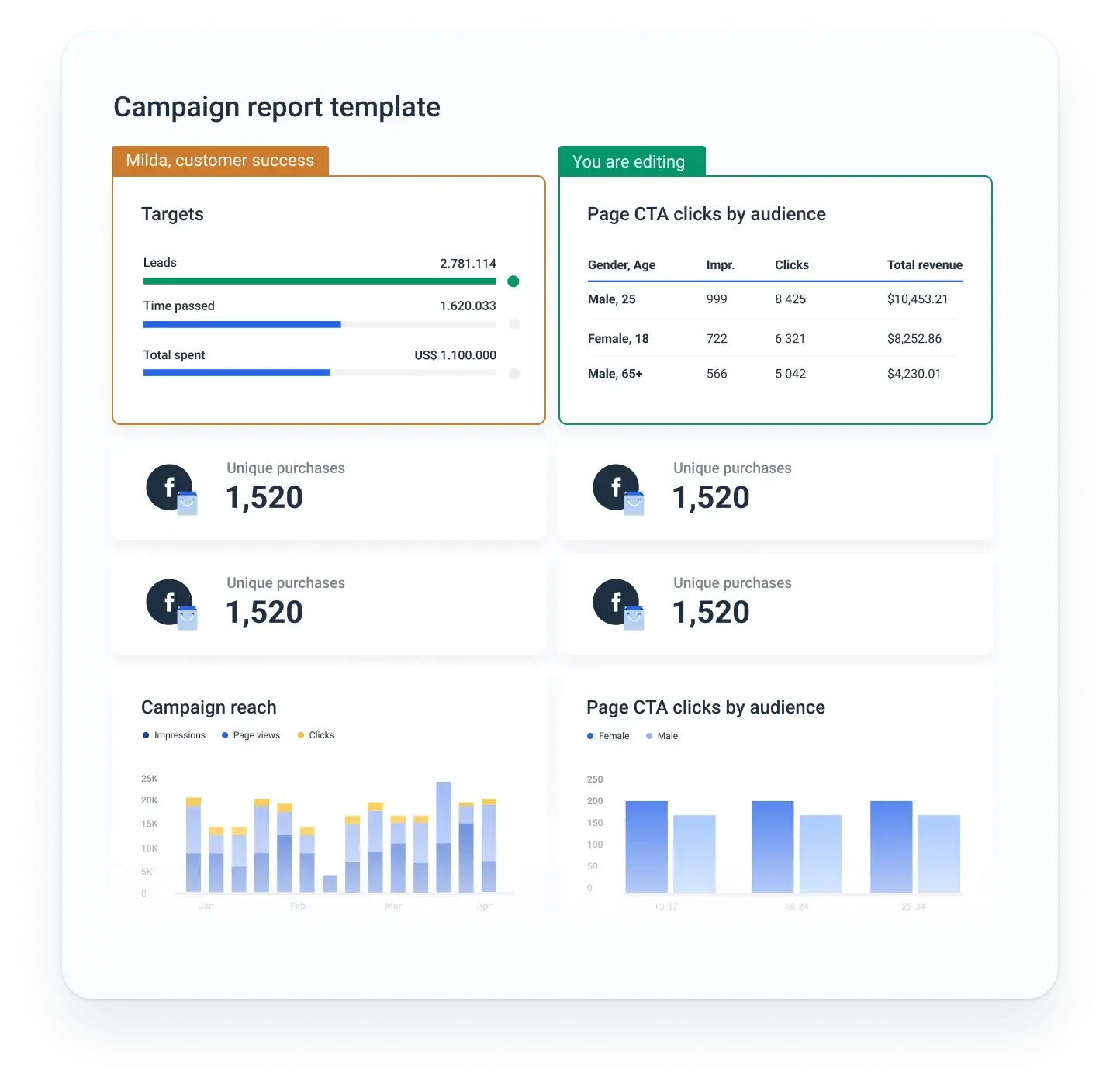 We can set up your report campaign for you!
If you need help with setting up Whatagraph - our team can create your campaign reports!
Ready for insights?
It's time to focus your time on the tasks that really matter, and let us worry about your marketing analytics. Start your free 7-day trial.
Free for 7 days

No credit card required

Live chat support

Cancel anytime