The Ultimate Marketing Reporting Software for All of Your Agency Needs
Your marketing reporting software that automatically pulls data from various marketing channels. Share live dashboards or automated reports that took you minutes to build. Say goodbye to spreadsheets, clunky or complex visualization tools and say hello to intuitive real-time data and automation!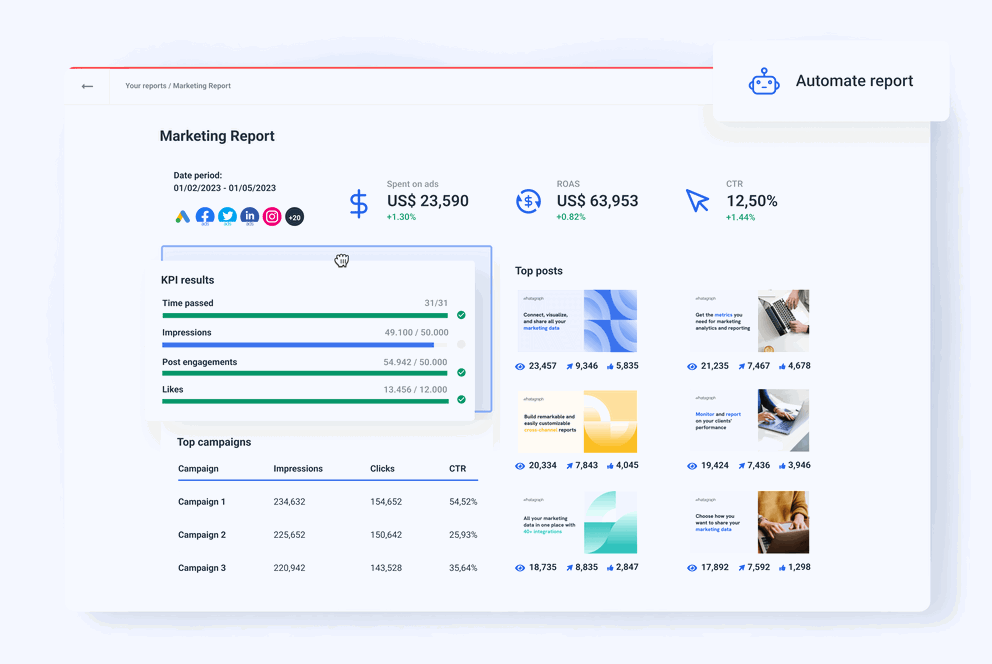 Join marketing agencies and teams worldwide who use Whatagraph to work with marketing data!








Replace Multiple Tools for Marketing Reporting with an All-In-One Software
45+ direct Integrations with All of Your Digital Marketing Sources
Social media, SEO, eCommerce, PPC, and email marketing  - are just some of the many marketing channels that you can report on with Whatagraph. More than 45 different integrations allow you to create real-time custom reports for your clients' marketing campaigns. Start with a report template or our smart builder, or create your own custom report from scratch.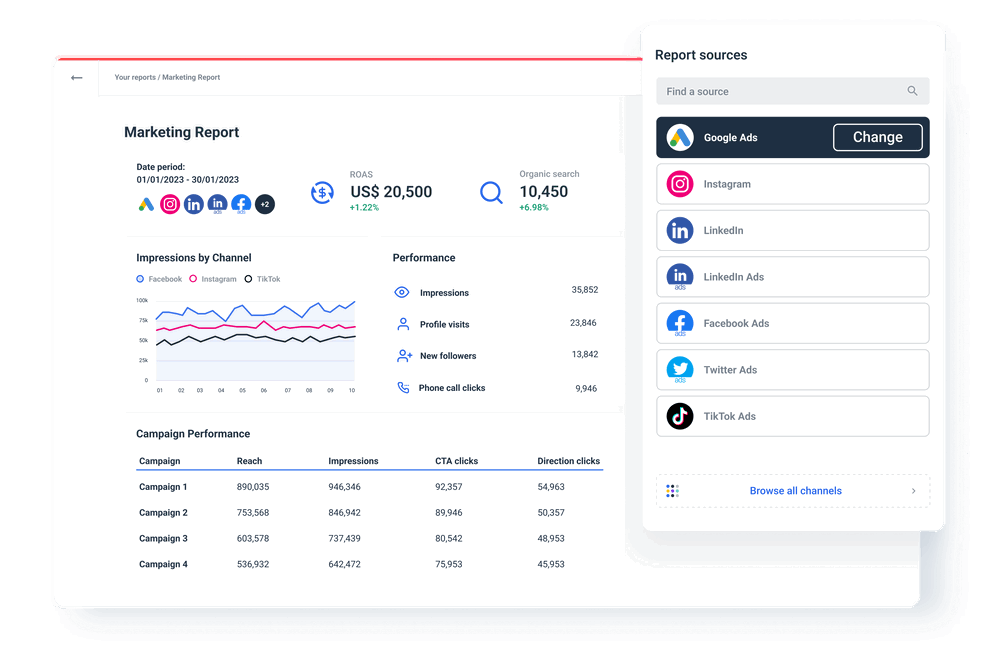 Visualize data and create reports in minutes
Turn marketing data into detailed, visual, cross-channel reports fast, without any training or background. Pick your widgets and drag and drop them on the page to instantly create charts and tables. Add goal-tracking and visuals. Create custom formulas that you can reuse for any metric in your reports. Save any calculation, filter, widget, or whole report as a team template and use it again. Explore our library of pre-built report templates for a quick start or inspiration.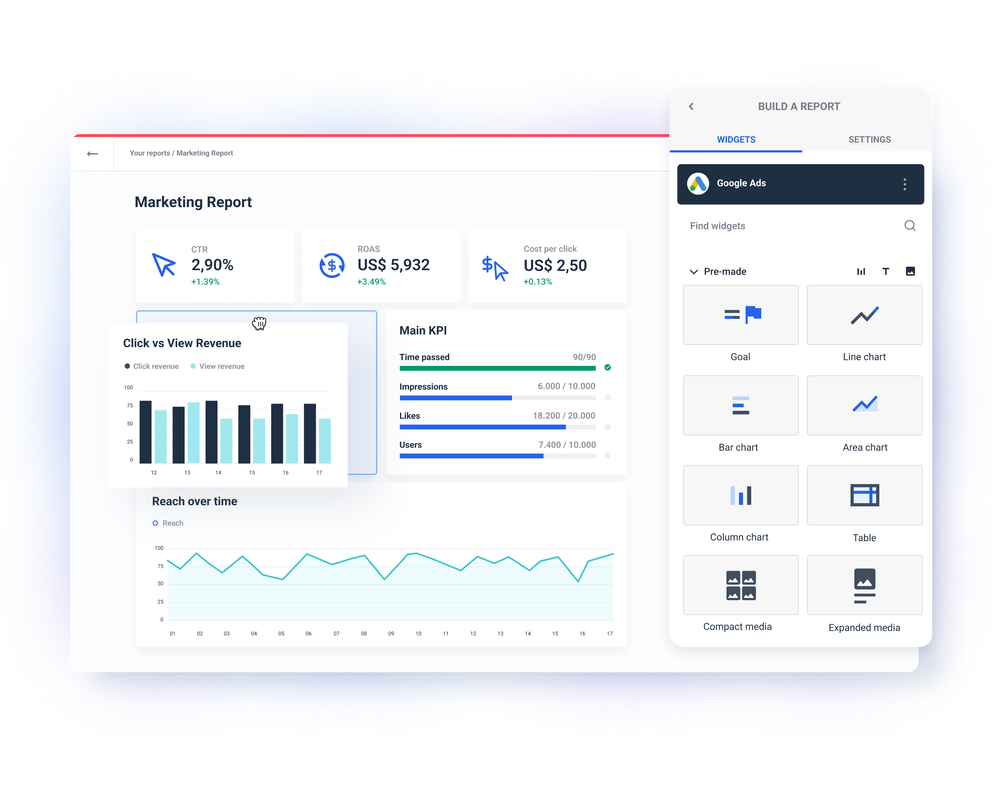 Fully Automated Marketing Reporting at Your Fingertips
Report automation 101: pick a cadence, add a review step if needed, and never worry about the send-out. Share live dashboards to build additional trust and transparency with on-demand reporting accessible from anywhere, anytime.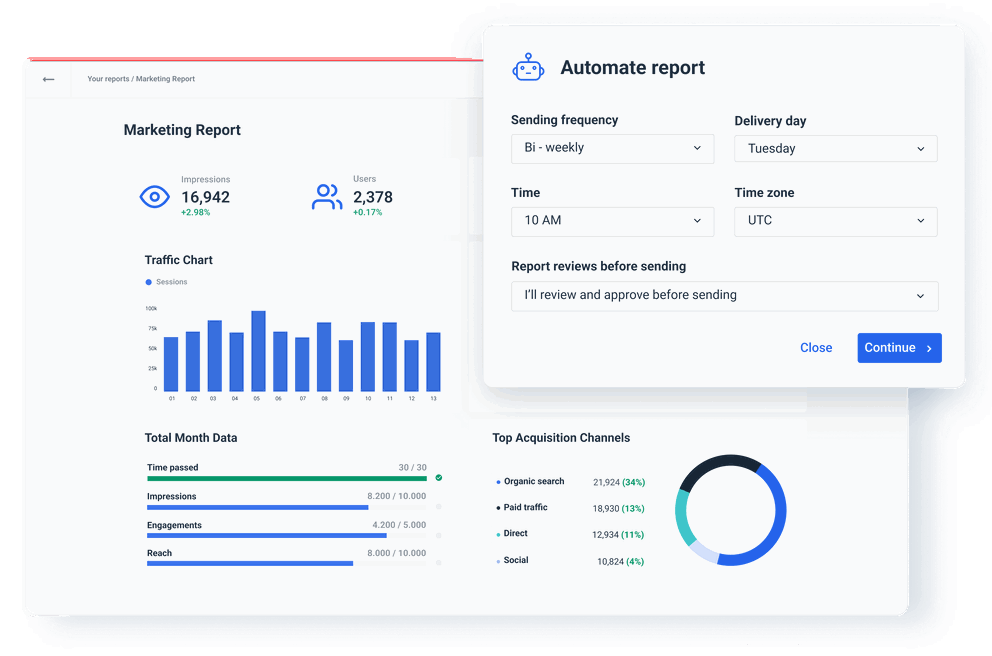 Create Customizable Marketing Reports & Enjoy White-labeling
Create new or combine existing metrics, as well as change their names so your clients don't get confused about what's what. Build custom widgets and rearrange the layout of graphs and charts. Easily adjust the scale by selecting min and max values. Add custom titles and descriptions for more context. Remove Whatagraph's branding from all dashboards and reports and use your agency's instead. Use your or your client's domains, logos, colors, and even fonts. Send marketing reports and dashboards that match your or your client's branding.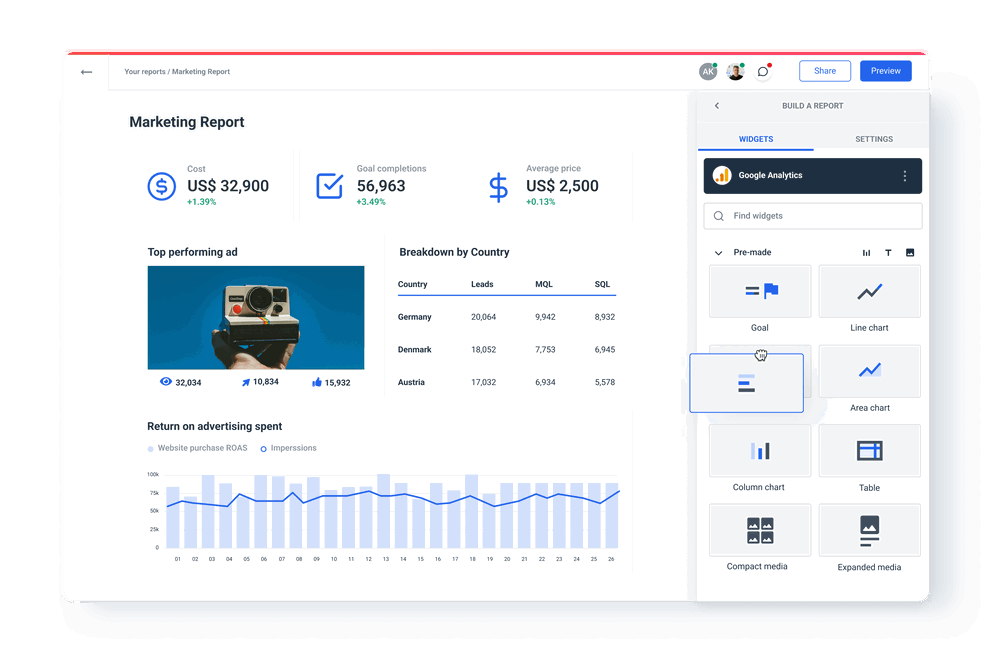 FAQs
All your questions answered. And if you can't find it here, chat to our friendly team.
What should you look for in a marketing reporting tool?
We strongly believe that you could get a faster, more intuitive, easy-to-use, and all-in-one digital marketing reporting tool with Whatagraph for data connecting, visualization, and sharing:
Easy to connect any source: No third-party connectors or other tools needed. Connect any of the 45+ sources directly with a few clicks and start reporting.
Super intuitive and timesaving report building: No previous experience or training needed. Select any of the pre-made reporting widgets and drag and drop it on the page. Save your report and reuse it over and over as a template or choose one of pre-built templates from our library. Link multiple reports to one template and save time by editing them all at once.
Sharing live dashboards and report automation: Do you want to do it manually? Then generate a dashboard link or create a PDF file and distribute it. Or would you prefer to save time and send reports automatically? Set an email to be sent out at the needed frequency, reporting the chosen period of time.
Easy to set up Data transfers and data export: In just s few steps, move data from your marketing sources to Google BigQuery with Whatagraph no-code data transfer. Avoid the API call limits and changing rules of individual platforms by keeping your data in a data warehouse. Use Whatagraph visualization to use BigQuery data as a source and draw insights from your historical data. Export Whtagraph data as Excel or CSV files. 
Create an unlimited number of reports and dashboards: All of our pricing plans include an unlimited number of dashboards. Create, edit, and send as many as needed. Use our drag-and-drop dashboard tool to create client reporting dashboards in minutes and speed up client reporting. Add and remove widgets or create your own using data from multiple channels.
Easy cross-channel reporting: This feature is a lifesaver when comparing different channels' performance or when looking at your overall digital marketing performance.  Whatagraph has over 45 of the most popular integrations with marketing platforms. This means that this marketing analytics solution may be the only one you ever require.
Amazing support and customer experience: Live chat where you can talk to the customer support team like you would on messenger with your friends. This means you can contact and chat with our team specialists, get a reply in under 1 minute, and get help with anything you need, such as data visualization, real-time reports, or anything else.
How many marketing channels can I use in a single Whatagraph report?
Easy answer - as many as you see fit! 
What kind of sources can I report on?
Whatagraph supports a wide range of marketing data sources, including Google Analytics, social media like Instagram and LinkedIn, search engine optimization tools like Google Search Console and Semrush, paid ads platforms like Google Ads (former Adwords), Bing Ads, and Facebook Ads, emailing automation tools like Mailchimp, and CRMs like HubSpot and Salesforce. 
We add new integrations constantly, but if you can't find a direct integration for your source, you can connect it using our custom API. Alternatively, you can export your source data into Google Sheets or Google BigQuery first and then connect them as a source.
Is Whatagraph a good marketing reporting platform for businesses?
Yes, Whatagraph is a good marketing reporting platform for businesses. It is an ideal choice for companies that want more granular insights into the performance of individual departments and venues. Our data platform helps them connect all business metrics and KPIs into a single dashboard.
But marketing dashboards and reporting is just one part of what Whatagraph does. Businesses can use Whatagraph to connect data from different sources and optimize the metrics through a powerful data transformation functionality. This way, decision-makers, and stakeholders can have a single source of truth with valuable data pouring in from different campaigns, projects, or regions of business.
And then, Whatagraph allows teams to send live dashboard links or schedule automated report sending to stakeholders, so they are always in the loop.
Whatagraph might have started as an online marketing reporting software, but today it's an all-in-one marketing data platform for connecting, visualizing, and sharing marketing data.
How can enterprises benefit from Whatagraph?
Enterprises can use Whatagraph to connect scattered data across the organization's marketing stack into actionable reports and high-level overviews. The linked reports option is especially useful for enterprise users that create a large number of reports. It allows teams to edit all reports linked to a master template at once, saving a lot of time for the task. 
Using the Overview dashboard, in-house teams can use the insights to optimize websites, campaigns, and even location performance. For example, Rekom Group, a nightlife leader with multiple brands in Europe, used Whatagraph to monitor marketing data from a country level down to a single venue. 
Enterprises can also benefit from our BigQuery data warehouse integration both as a source and destination for data transfers. This means two things: 
Enterprise users can connect any data source to Whatagraph by exporting it to a data warehouse first.
They can use Whatagraph's no-code data transfer to store their business data for safekeeping. 
How can digital marketing reporting software help with your landing page ranking?
Digital marketing reporting software can help with page ranking by connecting data from different SEO apps and giving you a unified view of your pages' keyword rankings, active backlinks, branded and non-branded search terms, organic CTR, and other SEO-related KPIs.
It's good to be loved! Our clients are not shy about expressing it.
Need more help with getting started?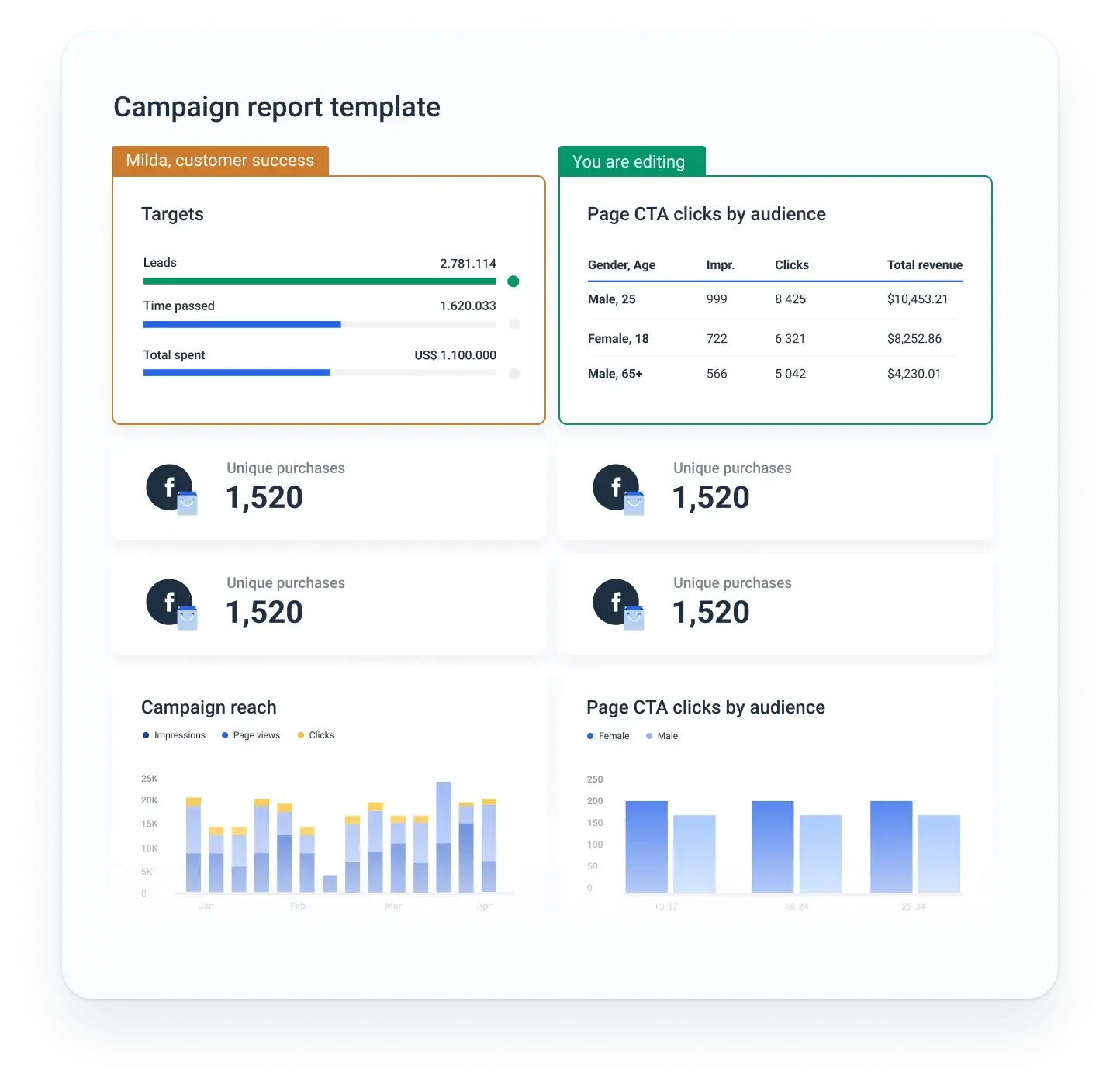 We can set up your report campaign for you!
If you need help with setting up Whatagraph - our team can create your campaign reports!
Ready for insights?
It's time to focus your time on the tasks that really matter, and let us worry about your marketing analytics. Start your free 7-day trial.
Free for 7 days

No credit card required

Live chat support

Cancel anytime