The year's about to end and your marketing team is left wondering what's been accomplished. But rather than guess your way through your marketing goals, you can create an Annual Marketing Report to deliver the milestones and KPIs (key performance indicators) that people need to know.
The only question is: how?
How do you create a comprehensive annual marketing report, and what needs to go into it? Let's look at the reasons to create your next marketing report, what it needs to include, and tips for making your report as clear as possible:
What to Include in an Annual Marketing Report
1. The Summary of Your Marketing Goals & Strategy
The summary of your marketing strategy and goals should be at the forefront of your marketing report. Even if someone reading your annual marketing report doesn't read through every detail, this is the page (or pages) that contains the most vital takeaways and explains your company's direction.
One thing to bear in mind here is that you can't summarize unless you cut some of the details out for later. The best way to do that is to employ "highlights" that hit at the key points and provide a bird's-eye view of your actions.
Focus on outlining your yearly marketing goals, how they tie to the overarching business objective and explain the strategy that was employed to achieve them. Don't forget to paint with a broad brush here – a more detailed look at tactics and KPIs will follow later. Here's an example of what it could look like: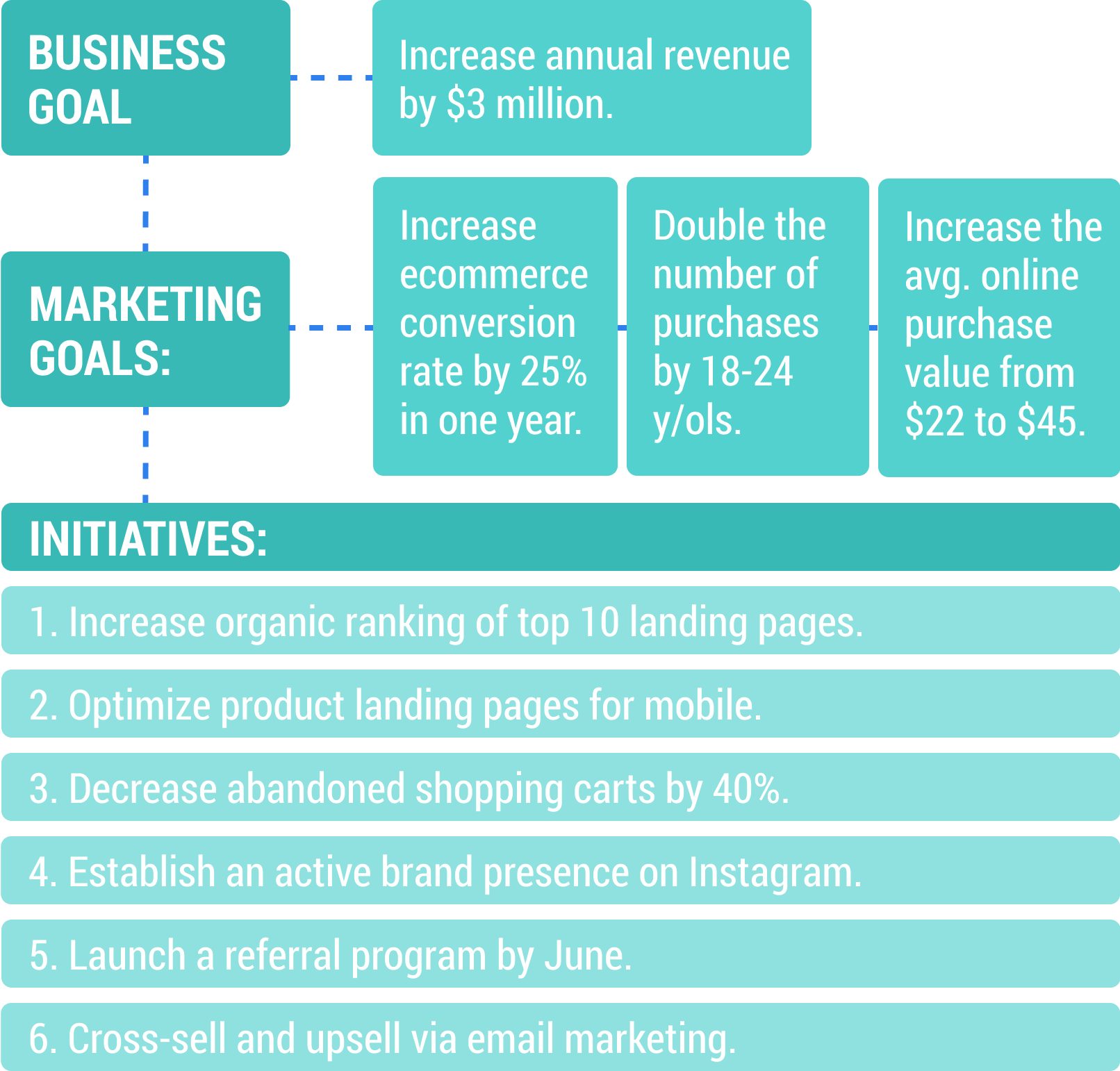 If you're just getting into the swing of marketing performance reporting, you can also use quarterly goals to establish some baseline for where your marketing currently is.
2. KPIs by Which Yearly Performance was Measured
This starts to get into the heart of what your annual marketing report is all about. Now's the time to display the key numbers that demonstrate where your marketing was targeted all year—as well as the results it generated.
Please note that every business and channel is different. B2B business may focus their marketing efforts on lead generation, whereas ecommerce stores will go after transactions. That's why when it comes down to metrics and KPIs, there's no single template that would fit everyone.
Below, however, we've outlined some of the broad-level factors that are important to discuss in an annual marketing report, and provide a big-picture overview tailored for CMOs and CEOs:
Website performance. Getting clear about your desired outcomes is vital because it not only helps define the parameters for success but makes it more likely to achieve them. According to a marketing statistics report by CoSchedule, "Goal-setting marketers are 376% more likely to report success."

KPIs to include: Users, Sessions, New vs Returning users, Page load time.

Audience demographics. How are you doing with particular target segments among your potential customers? Is there a high-performing segment you're not targeting yet but should consider? What's the correlation between your audience demographics and other KPIs?

KPIs to include: Age, Gender, Location, Device category, Conversions.

Channel performance. One of the key things all stakeholders want to know is where are the bucks coming from? Which channels are generating the best marketing results? Which ones could use some closer attention?

KPIs to include: Top acquisition channels, Budget attainment, Return on marketing investment (ROMI), Cost-per-acquisition (CPA).
3. Year-Over-Year Performance
Broaden the scope of your marketing report by comparing some of the most important KPIs to previous years. Make sure to display the percentage of change (when relevant), and color code these changes by category to create an instant impression of where your marketing has improved—and where it still needs to grow.
FREE RESOURCE
Annual Marketing
Reporting Template
Get My Template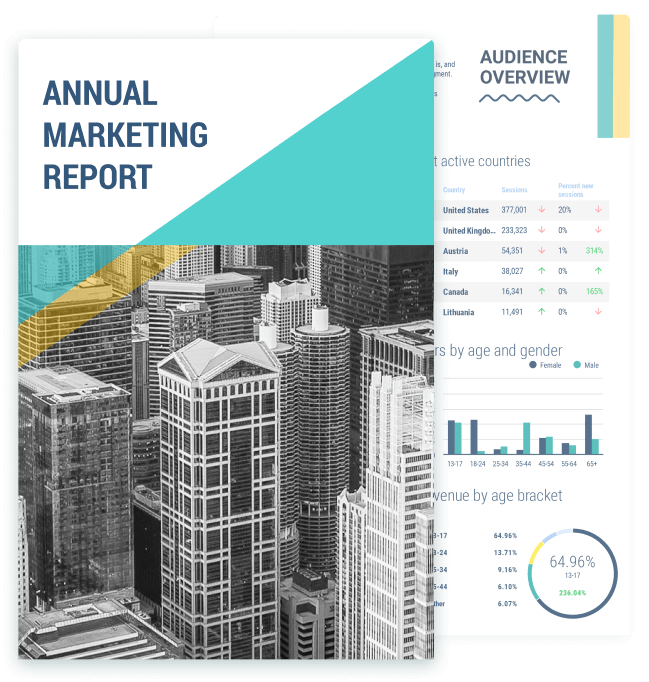 4. Recommendations
The annual marketing report shouldn't only be about creating an accurate picture of what's going on. It should also be an active document that recommends what should happen next year. The best way to do this is to include a brief recommendations section that hits on the weaknesses in the marketing report and what can be improved upon next year.
Using your choice of the KPIs listed above, you should be able to identify the milestones by which you can measure your success.
You don't have to make this long. Even just a few points at the end of the report can give you enough direction for next year.
Tips for Creating the Best Annual Marketing Report
With the guidelines above and access to your own numbers, you'll be able to create a quick breakdown of your annual marketing efforts, how they compare to your previous efforts, and what goals to set for the next year.
All it requires is a clear direction and a desire to fully communicate what's happening with your marketing team. Let the numbers tell the rest of the story.
To wrap up, here are some quick tips on how to create a comprehensive marketing performance report:
Avoid vanity metrics. You're looking for a comprehensive assessment of your overall performance here—including a section on what can be improved for next year. The more vanity metricsyou put in, the less honest you're being about your current achievements. And the less accurate your recommendations will be.

Turn raw numbers into insights. Try to avoid a dry, stale look at the numbers. To do that, turn these numbers into insights. Cross-reference successes with other variables and ask yourself "what are we doing right?" or "what can we do better?" The annual marketing report is meant to not only provide data, but context.

Make it visual. The more visual elements you can include to illustrate your data, the better. It will help bring your insights to life and make the more pressing concerns much more obvious.

Don't be afraid to use tools. There are many automated marketing report tools that can help you simplify the process of data collection and focus on drawing insights, making your report visually stunning and engaging.

When in doubt, use a template. Whatagraph provides a free annual marketing report template with pre-built layout and metrics.