Google Ads (formerly Adwords) Reporting Tool for Agencies
Powerful Google Ads reporting tool for digital marketing agencies - Whatagraph. Design your Google ads reports according to your clients' needs. Get access to accurate PPC metrics like CPC, click-through rate, conversion rate, quality score, impressions and more. Use our dashboard to get keyword-level analysis and present it to your clients. Set up a schedule so Whatagraph automatically sends your clients reports on a weekly, monthly or quarterly basis.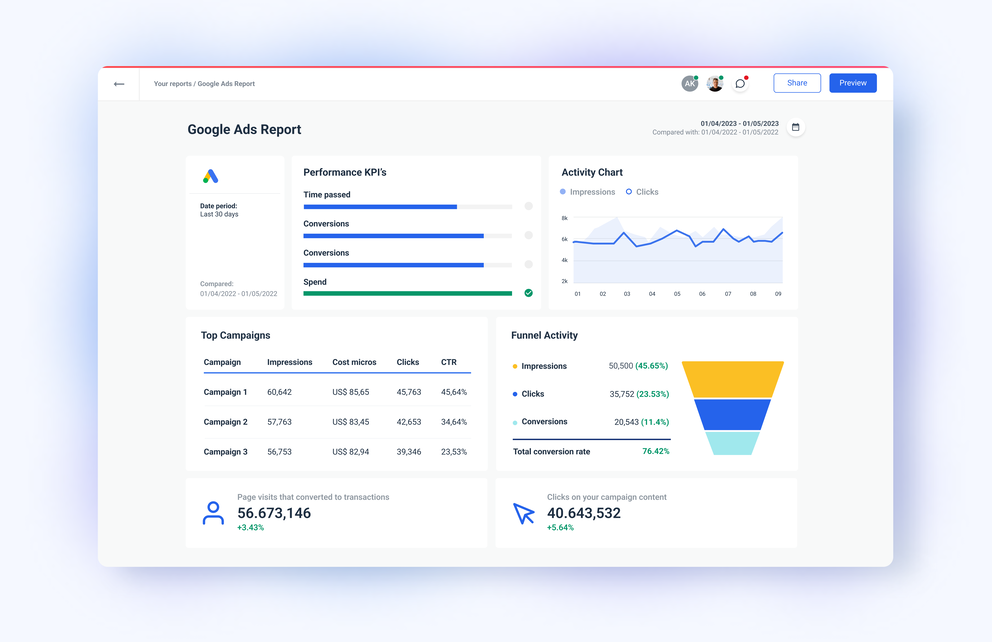 Join marketing agencies and teams worldwide who use Whatagraph to work with marketing data!








Whatagraph's Google Ads integration will help you easily report on your paid campaigns
Choose from 100+ metrics and 50+ report types to build PPC reports in minutes. Use our pre-made templates or start from scratch – Whatagraph can help you effortlessly create insightful reports and dashboards. 
Track all important performance metrics with easy-to-read AdWords analytics reports
Use Our Pre-made Google Ads Templates for PPC Reporting
Overwhelmed by the number of metrics to measure? Try Whatagraph's pre-made Google Ads templated for PPC reporting. Our Google Ads templates include the most commonly used KPIs and metrics used by agencies like yours all around the world. Grab the template, make some edits and the report is truly your own. Our Google Ads reports can be shared through emails, PDFs or a live link to the report.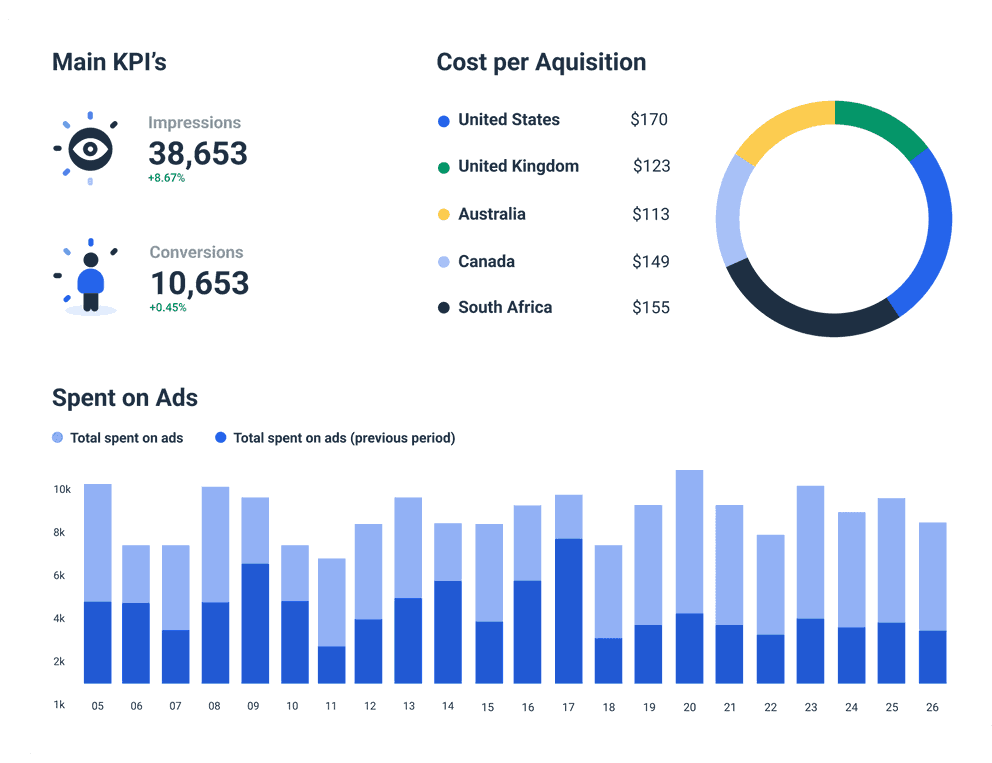 Use Whatagraph & Monitor All Your PPC Campaigns in One Single Dashboard
Upload your company logo, use custom color schemes, and stunning visuals. Whether you prefer to create custom Google Ads reports using our drag-and-drop builder or use our pre-built templates, your options for customization are limitless. Choose the metrics that your clients need to be aware of and present them in an actionable AdWords report. See it for yourself by using our Google Ads Report Template.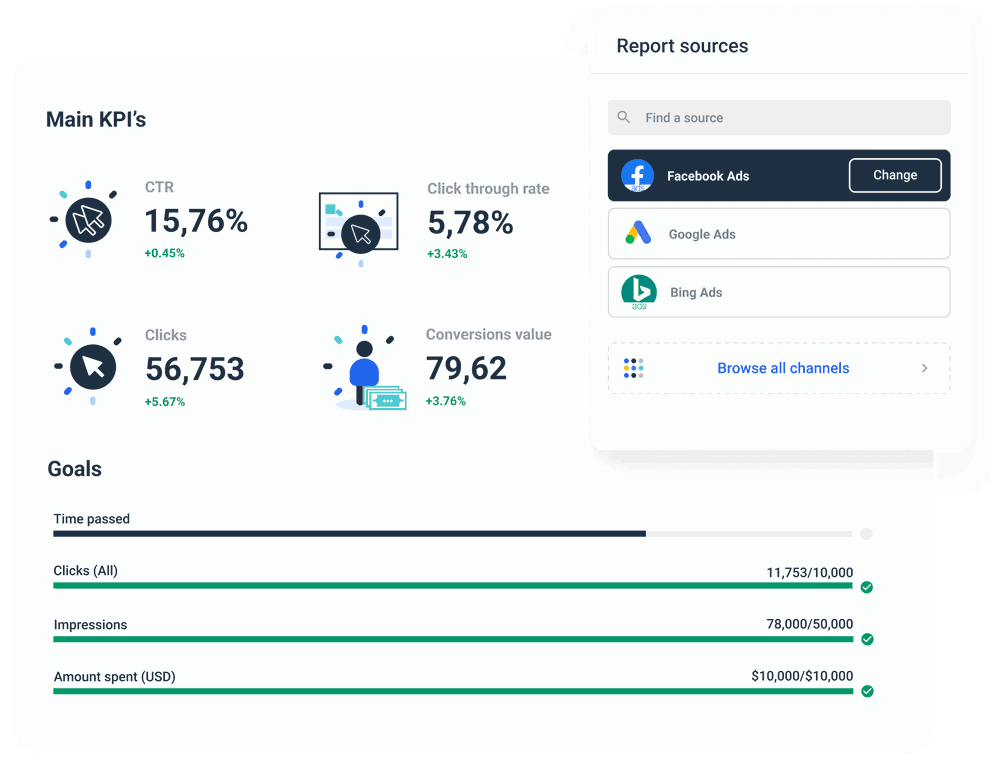 Gather up-to-date KPI's automatically
Add custom formulas for each channel and client. Remove Whatagraph's branding from all dashboards and reports and your agency's instead. Use your or your client's domains, logos, colours and even fonts. Change the overall theme of the report. Send Google Ads data analytics dashboards and reports that match your or your client's branding. 
FAQs
All your questions answered. And if you can't find it here, chat to our friendly team.
How does Whatagraph compare to Google Data Studio?
Google Data Studio, like Whatagraph, provides a library of pre-made templates and supports cross-platform reporting. It is as customizable as Whatagraph and allows marketing agencies to track and monitor custom dimensions. 
As for the differences, Whatagraph offers 24/5 customer support, 40+ marketing platforms to connect to and enrich your reports, a user-friendly interface, and customer-based platform updates for a fee. On the whole, Whatagraph is more user-friendly and our customer support team will make sure you get help any time you need it along the way.
What should be included in a Google Ads report?
Anything that your clients want to see in relation to the goals. Here is what to consider:
Goal widget. To always stay on track with your performance and see how you are reaching your goals;
Key metrics. CTR, clicks, conversions, CPC, CPA, ROAS and impressions.
Notes. Add a couple of sentences to the report explaining any performance spikes or drops;
Tables, graphs, charts. To easily spot customer behaviour and immediately learn about current trends.
How do I set up Google Ads reporting?
1. Create a Whatagraph account 
Create an account in less than a minute by adding your data. No credit card is needed, and you can try it for free for 7 days!

2. Connect your tools 
Connect your client's account to Whatagraph. With just a few clicks, you can automatically populate your report templates in real-time.

3. Create a template by adding pre-made widgets or creating it from scratch
Create your first Google Ads report or dashboard template by choosing from a list of pre-made widgets. Or you can create your own template by combining the elements your clients need to see.
It's good to be loved! Our clients are not shy about expressing it.
Need more help with getting started?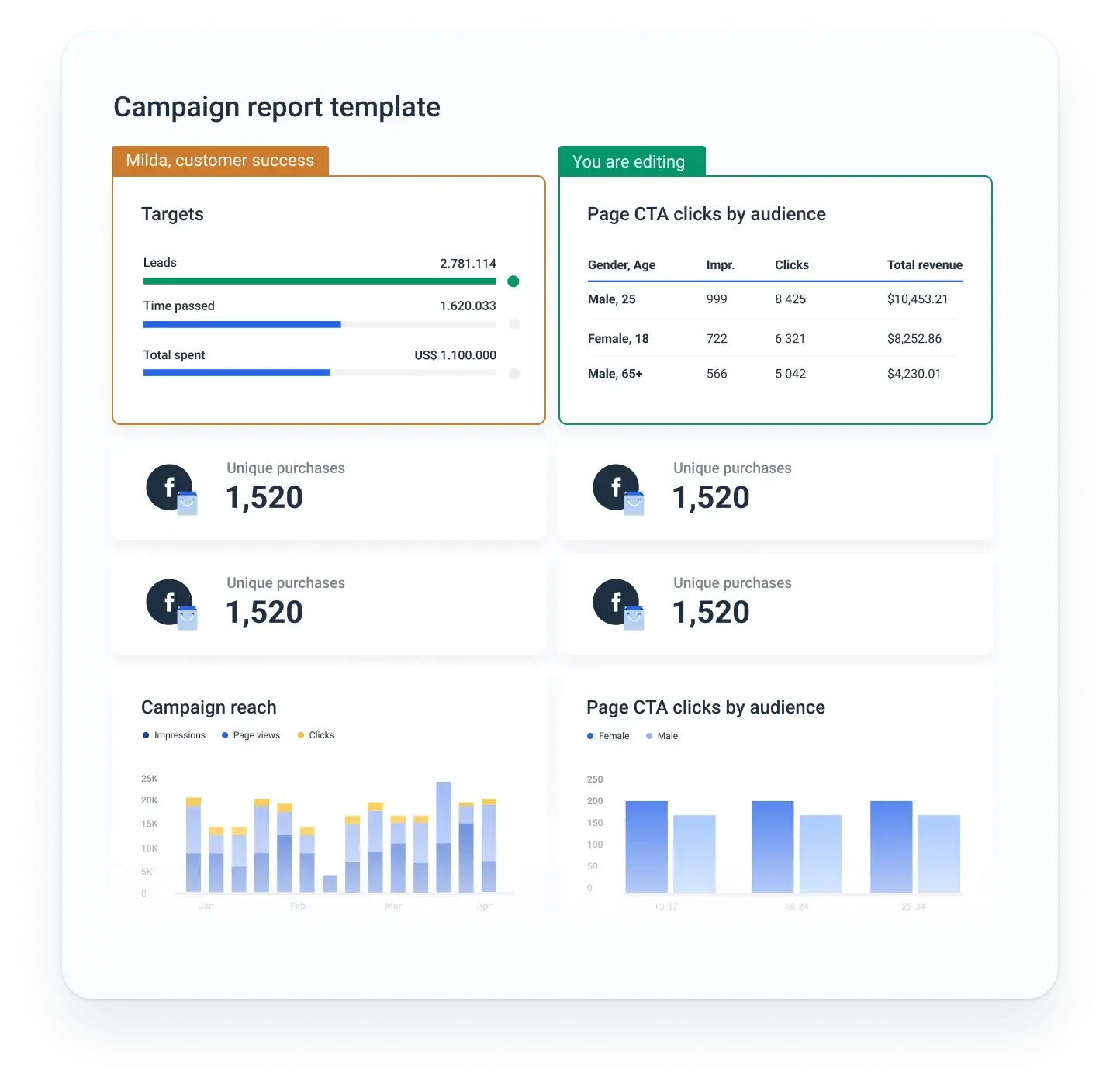 We can set up your report campaign for you!
If you need help with setting up Whatagraph - our team can create your campaign reports!
Ready for insights?
It's time to focus your time on the tasks that really matter, and let us worry about your marketing analytics. Start your free 7-day trial.
Free for 7 days

No credit card required

Live chat support

Cancel anytime