Drag and Drop Report Builder for Marketing Agencies
Whatagraph is a simple yet incredibly powerful drag-and-drop report builder. Integrate with over 40+ different data sources with Whatagraph, then drag the metrics you wish to see onto the custom report - it's really that easy.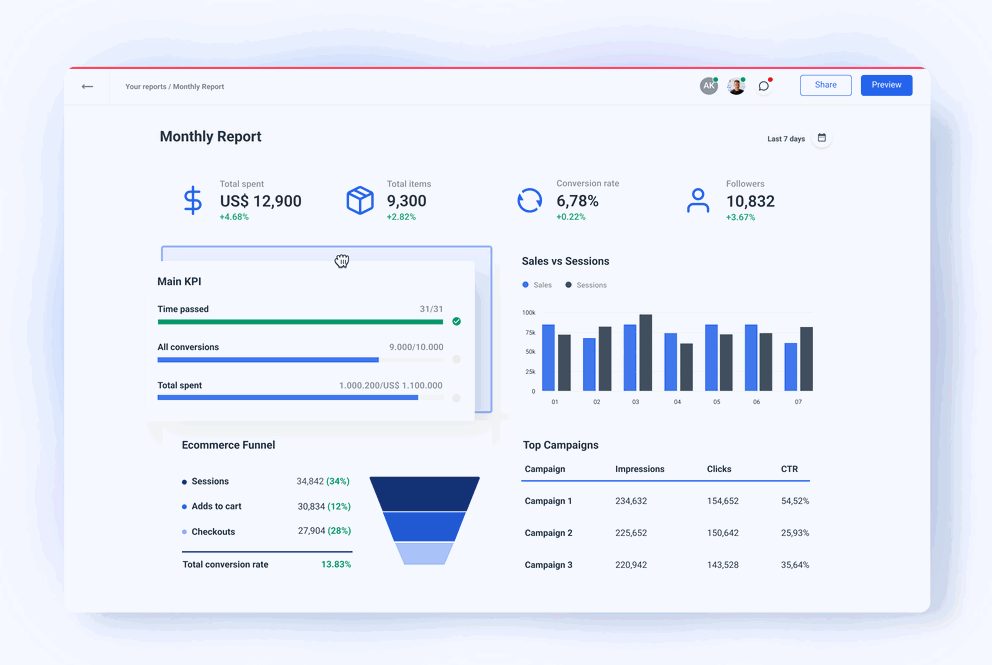 Join marketing agencies and teams worldwide who use Whatagraph to work with marketing data!








Spend more time driving better results for your clients
Real-time data gathering with drag and drop dashboard builder
Whether you use our intuitive drag and drop report builder or a pre-made tamplate, the data that is shown is gathered in real-time. You no longer have to use excel and jump from platform to platform to manually collect the most-recent data from individual platforms. Whatagraph does all that for you - in one place with a drag and drop reporting tool.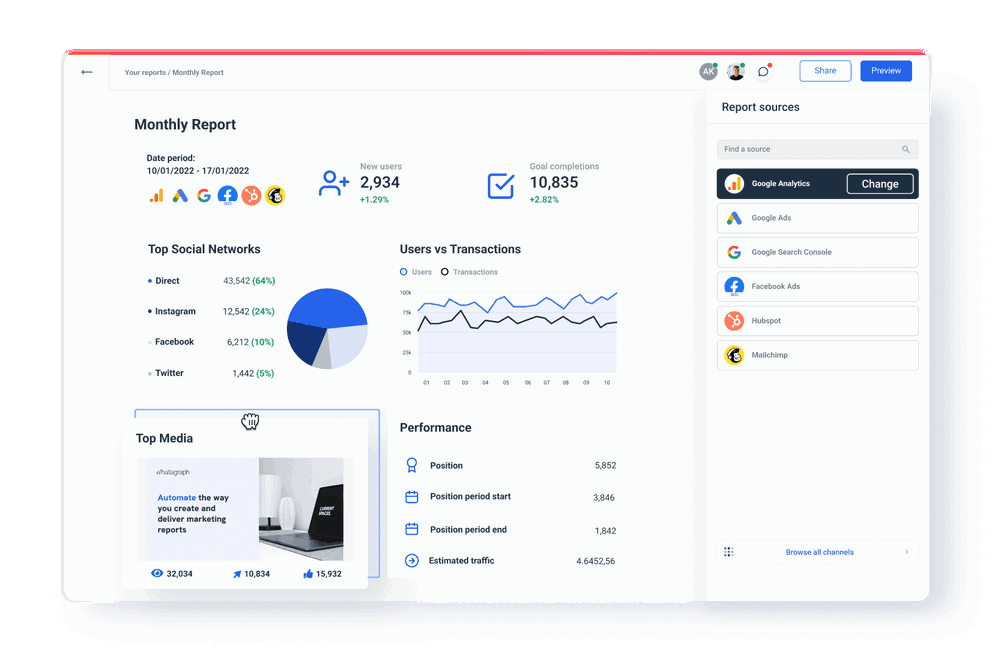 The intuitive advanced report creation process
Build bespoke reports and dashboards with the help of the platform's drag and drop feature. This simple interface will allow you to report and track KPIs effectively. Aggregate your data sets and get actionable insights. If the need arises, you can change the report in seconds - just drag and drop down the new metrics you wish to see.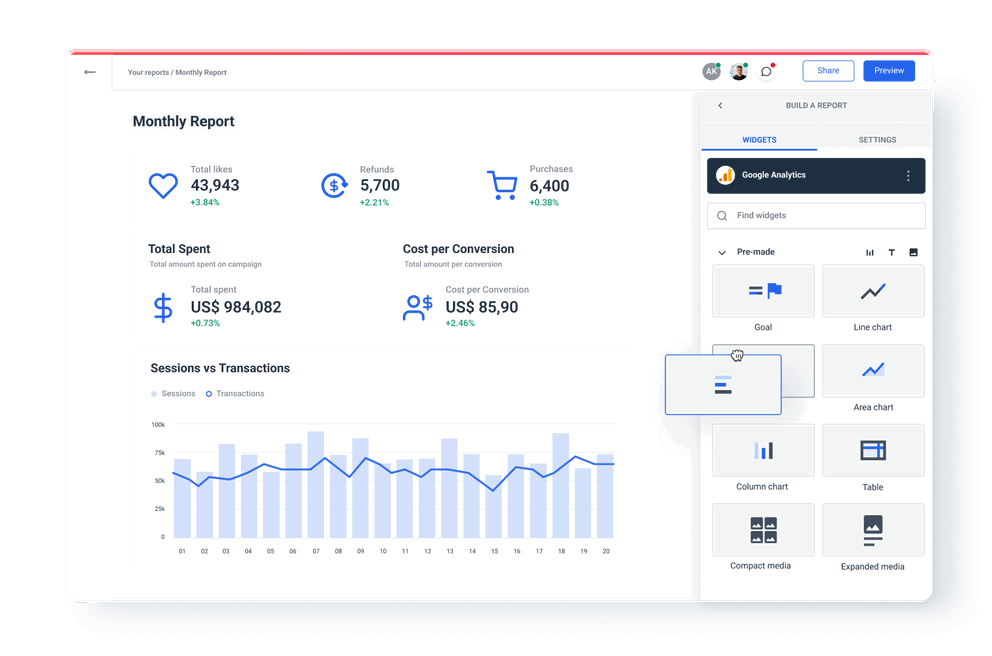 Have the report reflect your brand
Whatagraph allows you to build stunning white-label reports. You are able to customize everything from branded colors to custom email domains. Create your first new report and customize date ranges, add comment boxes, change widgets, and much more.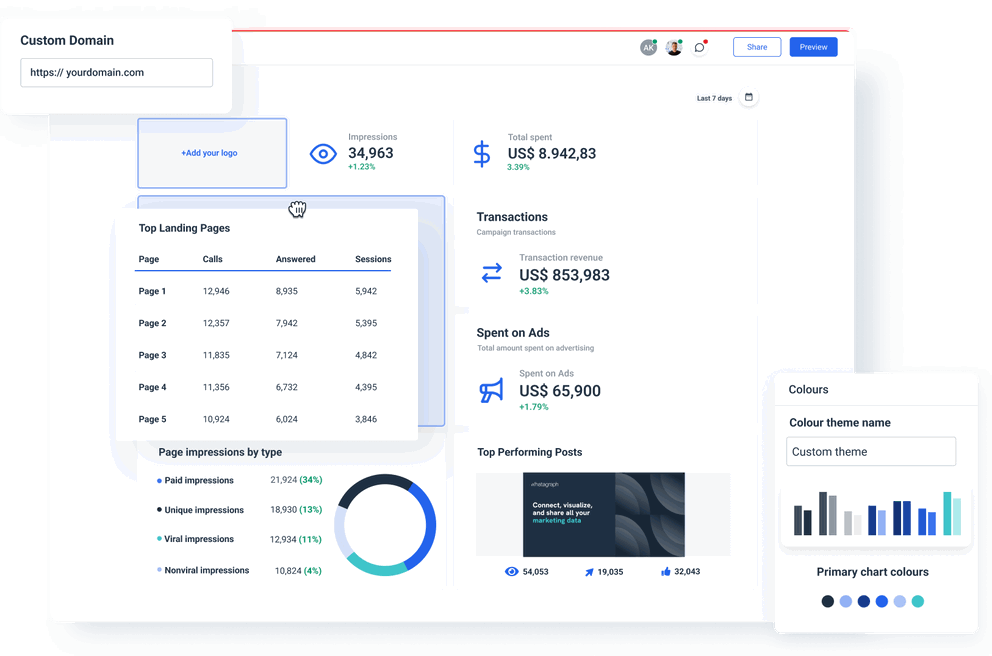 All reporting features your agency needs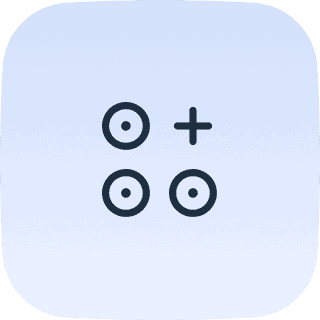 45+ data sources
Create a true cross-channel digital marketing dashboard in Whatagraph. Over 45 integrations for your cross-channel marketing campaigns.
Cross-channel reports
Combining cross-channel data is intuitive and takes a few clicks. Create a single client report for all channels instead of one report for each.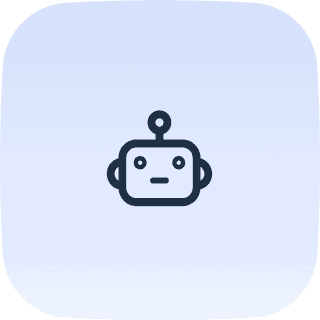 Full report automation
Schedule your reports at desired intervals or share a live link to a report so your clients can check for updates at any moment.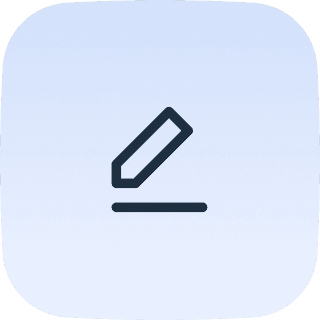 White-label reports
Customize colors and logos in each report to align it with your agency's or clients' branding and style.
FAQs
All your questions answered. And if you can't find it here, chat to our friendly team.
What is a drag and drop dashboard?
A drag and drop dashboard is when a reporting tool provides an interactive panel. This means that anyone can customize the design of the dashboard and decide on the placement of any widgets.
What is a dashboard report?
The term "dashboard report building" refers to a data visualization and real-time document that simply displays analytics and KPIs. A dashboard report is an online document that you can share with your clients or other members of your company to relay important performance indicators.
What is the difference between a dashboard and a report?
There are a couple of things to know about a dashboard and a report - and other business intelligence technologies which analyze data. Although each aforementioned type has data visualization features, they are quite different in regard to their purpose and content.

 
The first thing to keep in mind is that a dashboard only produces and provides real-time data. It only contains the most relevant metrics and KPIs so that they could immediately provide insights into the current marketing strategy's progress. 

 
In contrast, a report includes both real-time and historical data. They're frequently made to highlight or assess a specific period's work and its progress.

 
Another thing to consider is the amount of data each provides. As already mentioned, a dashboard only contains relevant data. This is beneficial to make the most out of this reporting tool. 

 
However, a report can be as long and as detailed as needed. Huge volumes of data are needed when trying to spot customer trends and patterns or to identify the causes of errors. This is when a report comes in handy.
It's good to be loved! Our clients are not shy about expressing it.
Need more help with getting started?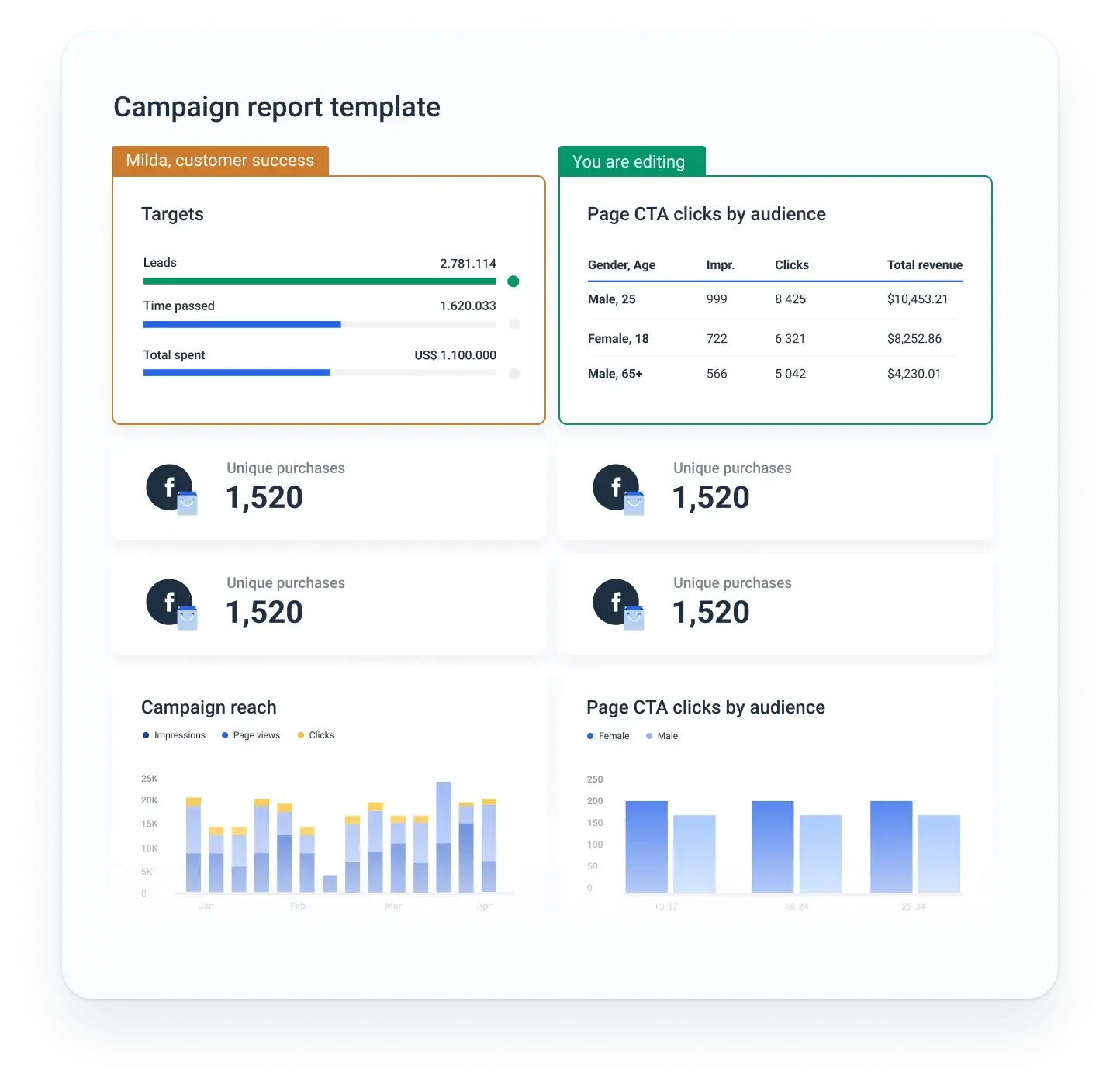 We can set up your report campaign for you!
If you need help with setting up Whatagraph - our team can create your campaign reports!
Ready for insights?
It's time to focus your time on the tasks that really matter, and let us worry about your marketing analytics. Start your free 7-day trial.
Free for 7 days

No credit card required

Live chat support

Cancel anytime