Semrush Reporting Tool
Send your clients automated SEO reports from SEMRush with one click. Whatagraph generates beautiful visual reports and dashboards that your clients understand.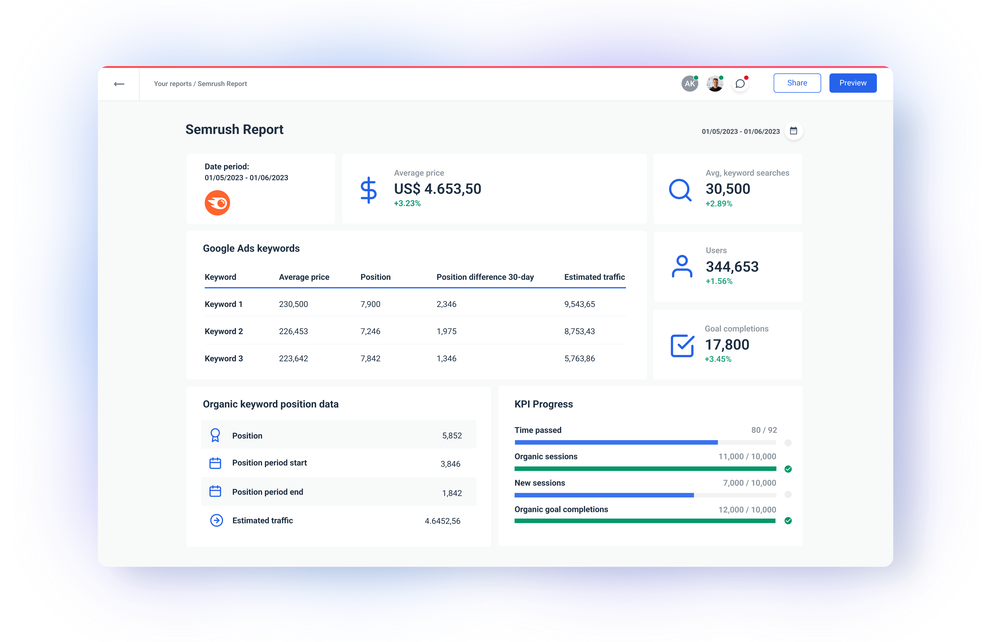 Join marketing agencies and teams worldwide who use Whatagraph to work with marketing data!








Whatagraph: Your Ultimate SEMRush Reporting Tool
Find easy opportunities for improving your SEMRush SEO results
An easy overview of your most important metrics: backlinks, keywords, top pages. Use our dashboard templates and widgets to find opportunities for quick SEO wins.

 
Don't waste hours in Google Analytics trying to uncover how to move the needle for a client's website. All of your most important metrics are in one place with this handy SEMRush report.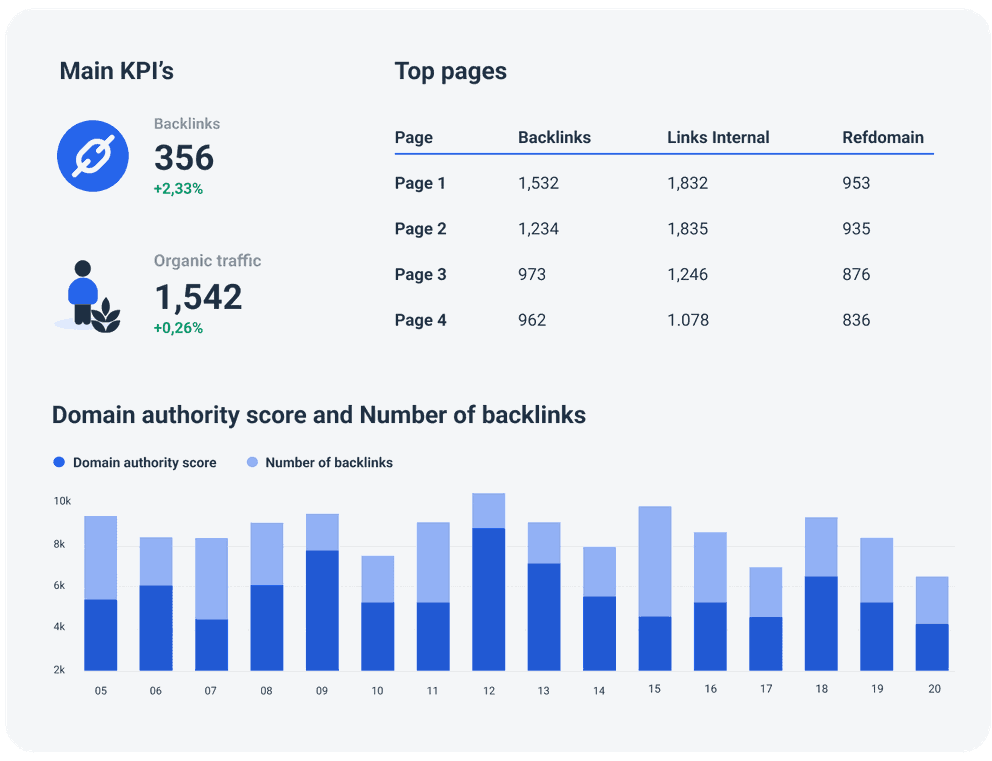 Automate the way you create SEMrush reports for your clients
Give your clients intuitive and easy-to-understand reports on everything SEO: organic and paid keyword performance and more. Give them a clear overview of the most important SEO KPIs, with beautiful, branded visual reports in Whatagraph.

 
You probably have clients whose knowledge of SEO comes down to "make me rank #1 on Google" for a keyword. You won't have to do any more explaining - our SEMRush report will show them all the most important information in one place. 

 
Give clients an easy overview of their keywords - how many they're ranking for and how many they lost. Show them clear progress of your link-building strategy and how it affects their overall growth.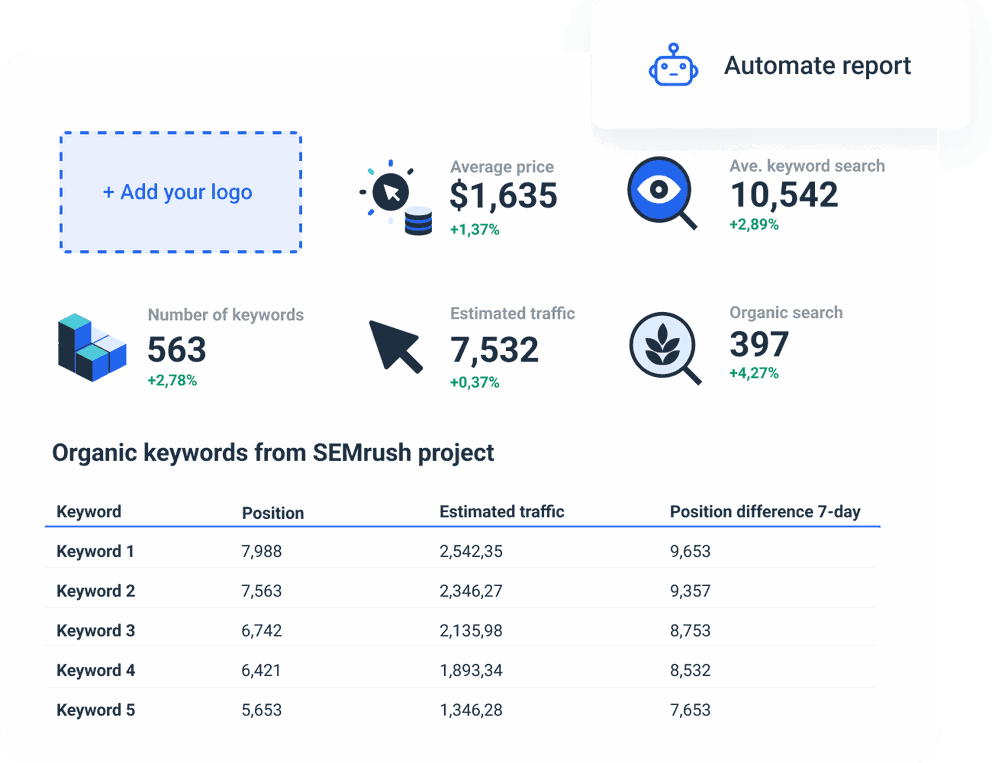 Track long-term SEO goals for your clients
Get a full overview of your long-term campaigns with our Overview. Display multiple campaigns, accounts, and clients with stunning visual dashboards.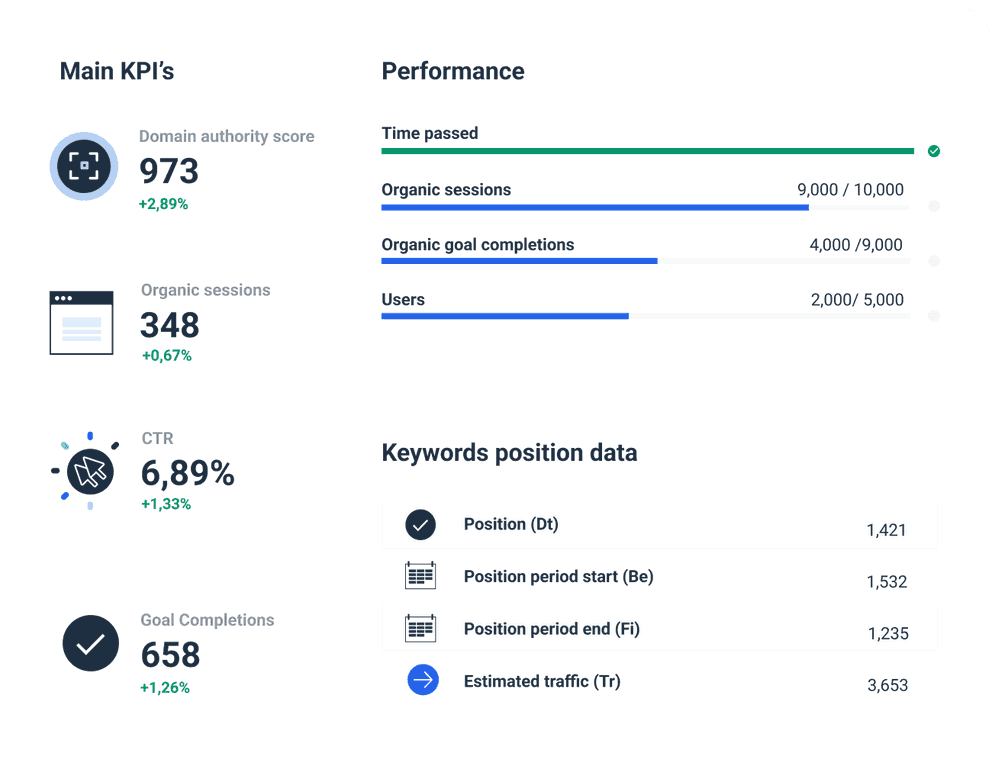 All reporting features your agency needs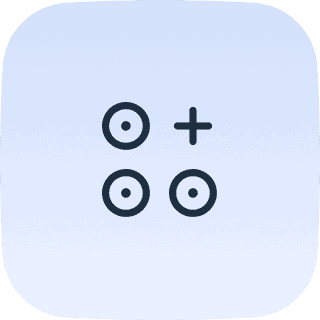 45+ data sources
Create a true cross-channel digital marketing dashboard in Whatagraph. Over 45 integrations for your cross-channel marketing campaigns.
Cross-channel reports
Combining cross-channel data is intuitive and takes a few clicks. Create a single client report for all channels instead of one report for each.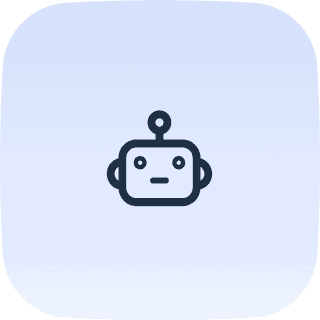 Full report automation
Schedule your reports at desired intervals or share a live link to a report so your clients can check for updates at any moment.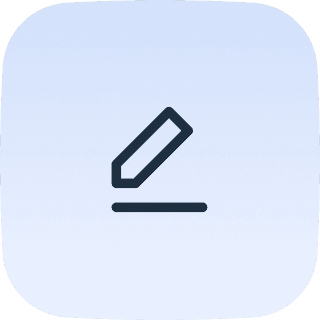 White-label reports
Customize colors and logos in each report to align it with your agency's or clients' branding and style.
FAQs
All your questions answered. And if you can't find it here, chat to our friendly team.
What is a SEM report?
Search engine marketing - or SEM - is a strategy used to raise a website in search engine results pages - or SERPs. A SEM report shows the effectiveness of current digital tactics used to achieve this goal. These tactics can be PPC and/or SEO campaigns.
How do I create a SEMRush report in Whatagraph?
Once you've connected Whatagraph and SEMRush with an API key, simply log into Whatagraph and start a new SEMRush template from scratch. If you have more clients, you can create individual reports for them or an overview for all clients at once - to show your progress as an agency.
How accurate is Semrush data?
While Semrush is probably ahead of the most competition, no 3rd party SEO tools can give 100% accuracy on your website's search results. However, it helps to have a general understanding of your SEO analytics, like where your website is ranked, which provides you insight into new possible ways forward.
It's good to be loved! Our clients are not shy about expressing it.
Need more help with getting started?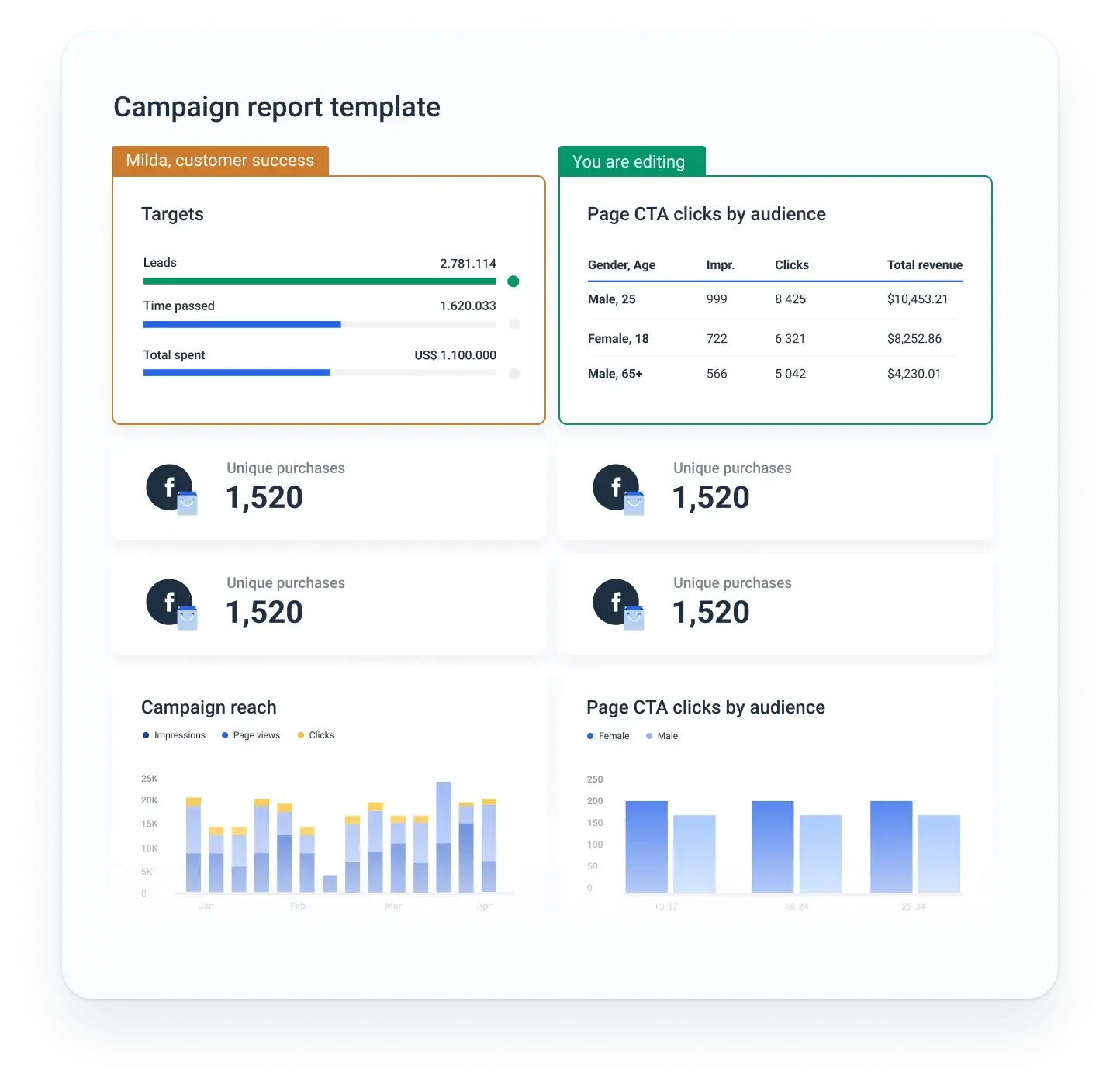 We can set up your report campaign for you!
If you need help with setting up Whatagraph - our team can create your campaign reports!
Ready for insights?
It's time to focus your time on the tasks that really matter, and let us worry about your marketing analytics. Start your free 7-day trial.
Free for 7 days

No credit card required

Live chat support

Cancel anytime