Microsoft Advertising (Bing Ads) Dashboard for Agencies
The only Microsoft Advertising (formerly Bing Ads) dashboard you'll ever need. Whether you use just Bing ads or a combination of multiple PPC platforms, you can show all your campaign data in one dashboard. Include your conversions, conversion rate, CPC, and other Bing ads campaign data in one place.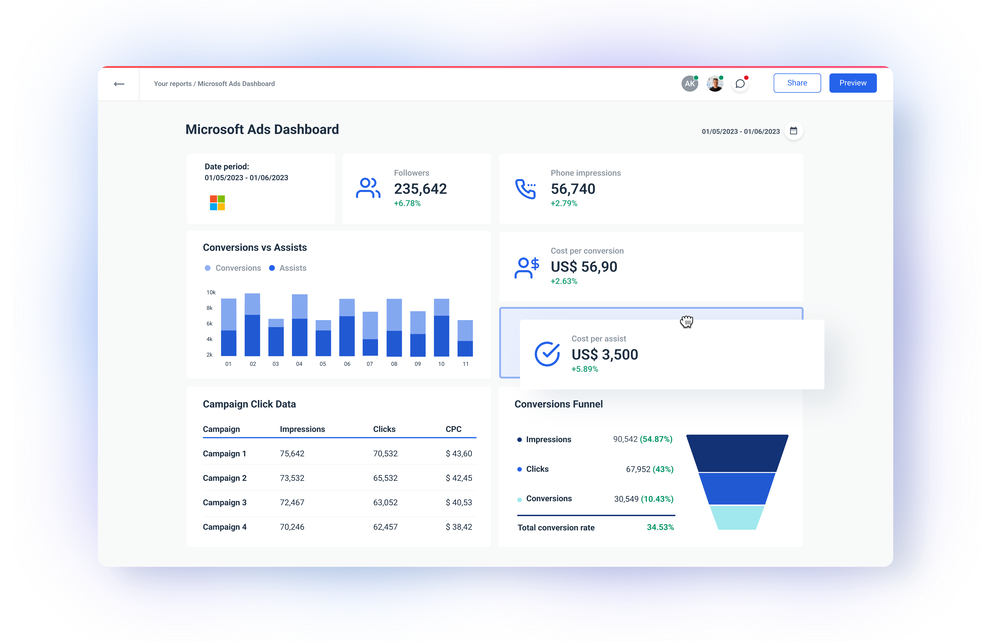 Join marketing agencies and teams worldwide who use Whatagraph to work with marketing data!








Easily Report on Your PPC Campaigns with our Microsoft Advertising Integration
Create Insightful Microsoft Advertising Dashboards Using our Pre-Made Templates
Pre-made Microsoft advertising dashboard templates for busy marketing agencies. Start using Whatagraph and get access to an extensive library of templates, including Bing ads dashboards and much more. Save time by quickly creating a streamlined Microsoft ads dashboard instead of building them from scratch. Present your client's most up-to-date info and showcase your progress with ad groups, ad spend, ad clicks and more.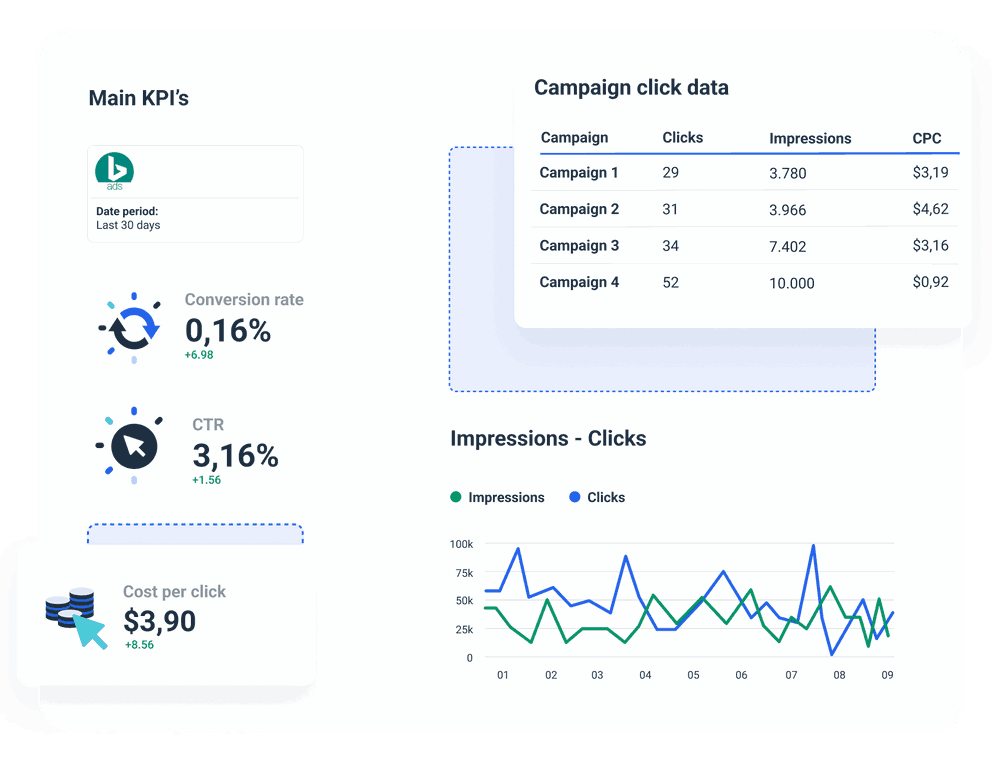 Automatically Collect Bing Ads Performance Data for All Your PPC KPIs & Metrics
No more spreadsheets! Start using modern reporting tools and automatically aggregate your PPC KPIs and metrics like impressions, clicks, and CTR. Our intuitive dashboard allow you to find patterns and trends easily by employing data visualization features such as tables, charts and graphs. Tweak and improve your client's ad campaigns based on actionable insights.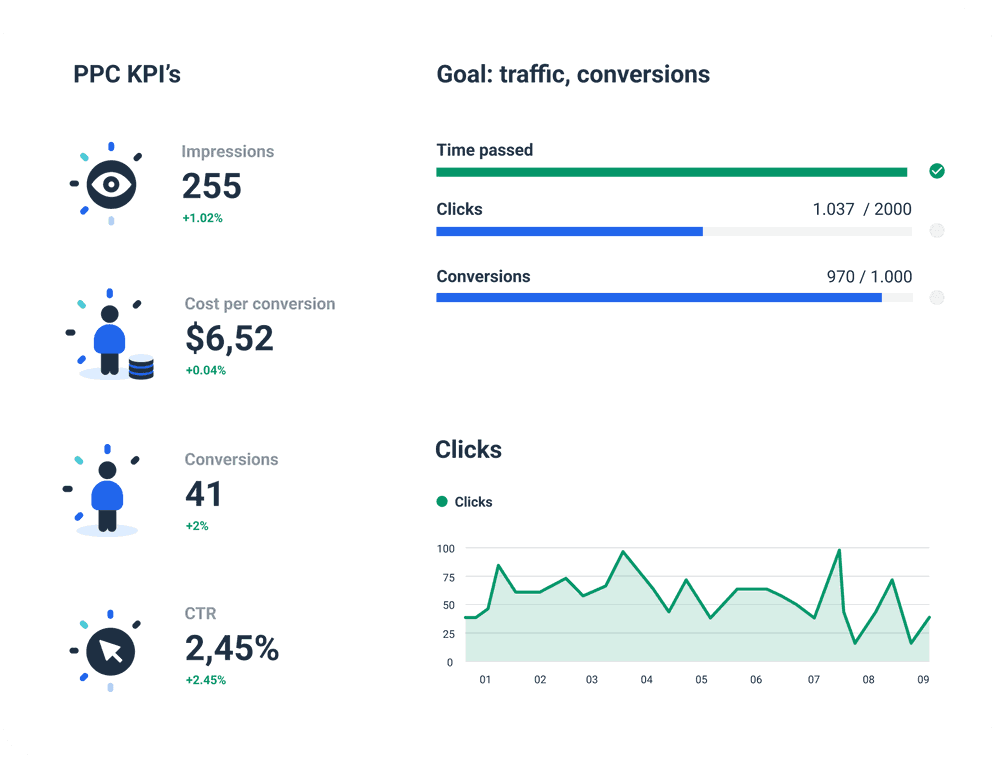 All of your PPC Reporting Tools In a One Place
Impress your clients by presenting information from multiple data sources - not just Bing ads. Connect and integrate data from Google ads and Facebook ads, or any other ads. Compare and analyze real-time data of all your clients' campaigns. With all their data in one place, clients can quickly make a decision about what to do with their PPC campaigns, what their ROAS is and how to better use this advertising platform.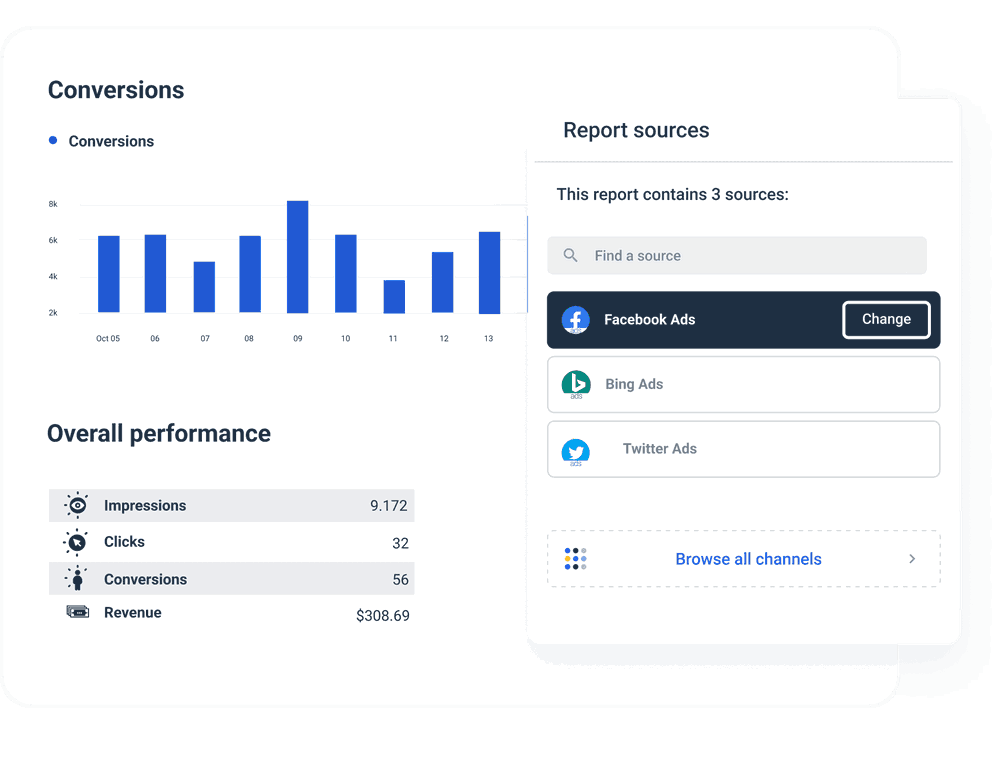 All reporting features your agency needs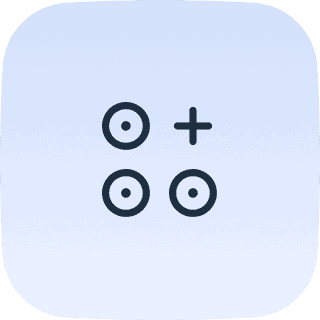 45+ data sources
Create a true cross-channel digital marketing dashboard in Whatagraph. Over 45 integrations for your cross-channel marketing campaigns.
Cross-channel reports
Combining cross-channel data is intuitive and takes a few clicks. Create a single client report for all channels instead of one report for each.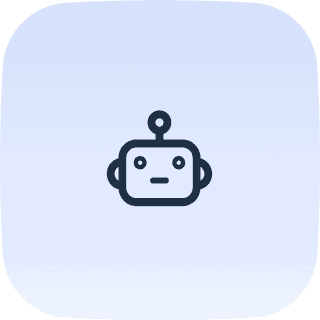 Full report automation
Schedule your reports at desired intervals or share a live link to a report so your clients can check for updates at any moment.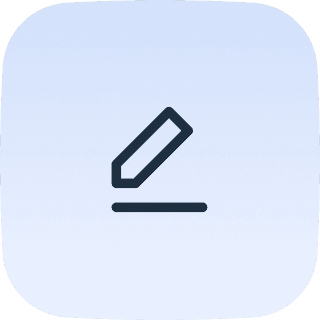 White-label reports
Customize colors and logos in each report to align it with your agency's or clients' branding and style.
FAQs
All your questions answered. And if you can't find it here, chat to our friendly team.
How do I manage Bing Ads?
Once you create and launch your Bing ads, you'll need a tool to manage and monitor them to meet your client's advertising goals. Try Whatagraph and take advantage of the automation and cross-platform reporting features with your Bing ads data. The first one allows you to send emails based on pre-defined rules, while the second lets you track the performance of your Bing Ads in comparison to other paid media channels. Show your clients their return on investment in one of our marketing dashboards!
What is Microsoft Advertising PPC?
Microsoft Advertising PPC means that you run your ads on a pay-per-click basis. This means that whenever your ad appears on a search engine, such as Bing or Yahoo!, and someone clicks on it, you will be charged the amount you bid on the keyword. You only pay for the clicks you get and not whenever you appear in search results.
What other PPC integrations does Whatagraph have?
All of the most popular ones! Some platforms that we integrate with include:
Facebook Ads;
Google Ads;
Pinterest Ads;
Linkedin Ads.
It's good to be loved! Our clients are not shy about expressing it.
Need more help with getting started?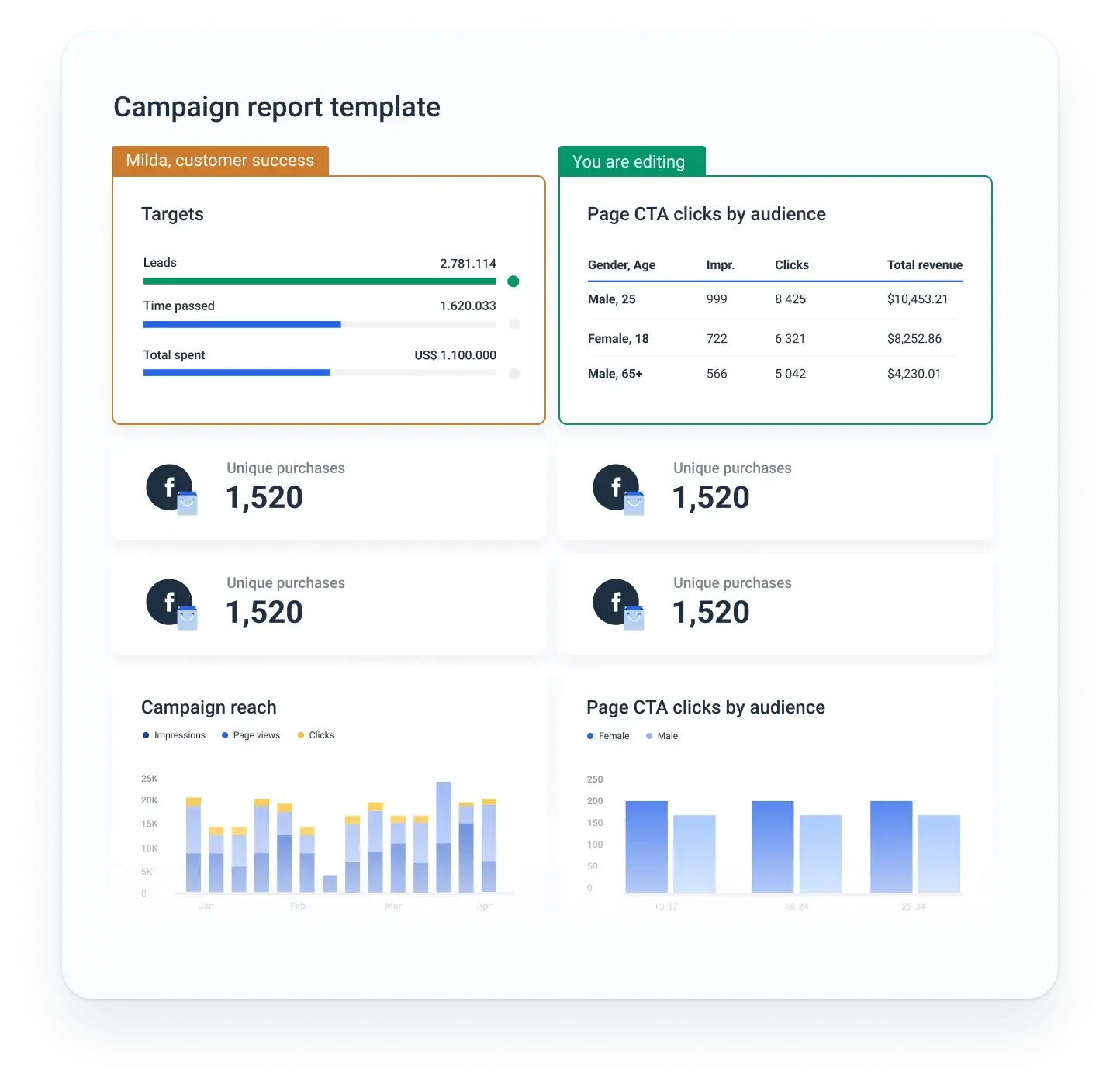 We can set up your report campaign for you!
If you need help with setting up Whatagraph - our team can create your campaign reports!
Ready for insights?
It's time to focus your time on the tasks that really matter, and let us worry about your marketing analytics. Start your free 7-day trial.
Free for 7 days

No credit card required

Live chat support

Cancel anytime