Monitoring Dashboard for Marketing Agencies
Do you manage your client's accounts and need to present their current data? Try Whatagraph and find out how easy it is to gather performance metrics from multiple accounts. It takes only a few minutes to aggregate the most up-to-date information. Accurately report on campaign progress to clients, without spending too much time on reports.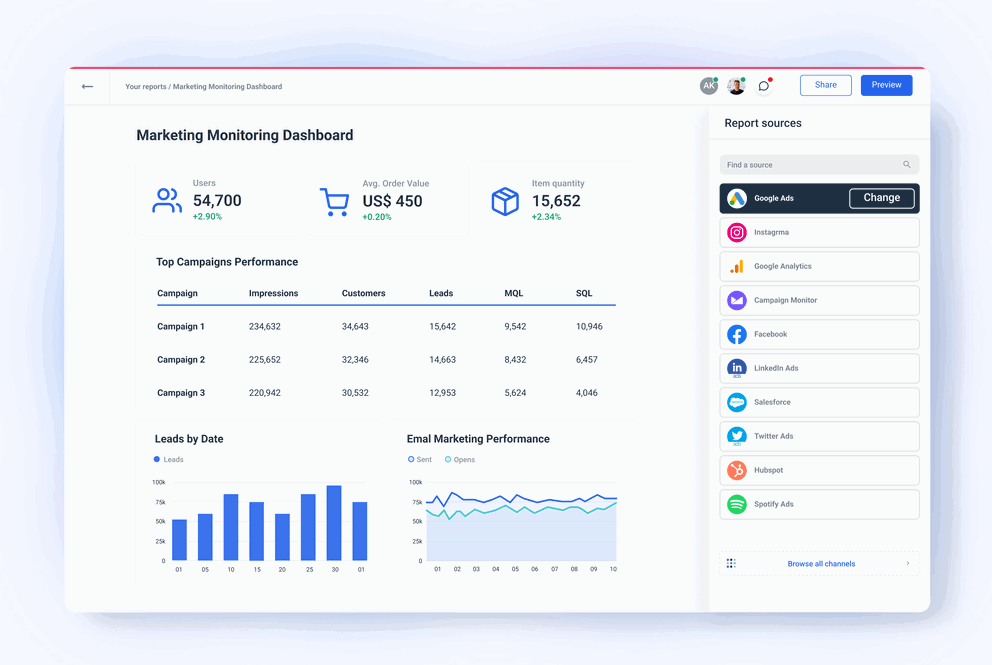 Join marketing agencies and teams worldwide who use Whatagraph to work with marketing data!








Build a Monitoring Dashboard with Whatagraph and Track Vital KPIs in One Place
Monitoring Dashboard for Live Performance Analysis
Keep track of your client's most recent marketing performance by visualizing key metrics and KPIs on a single page. Our monitoring dashboard provides real-time insights into campaign performance as well as business metrics. Create a dashboard in Whatagraph now and watch your campaigns go live through our monitoring dashboard.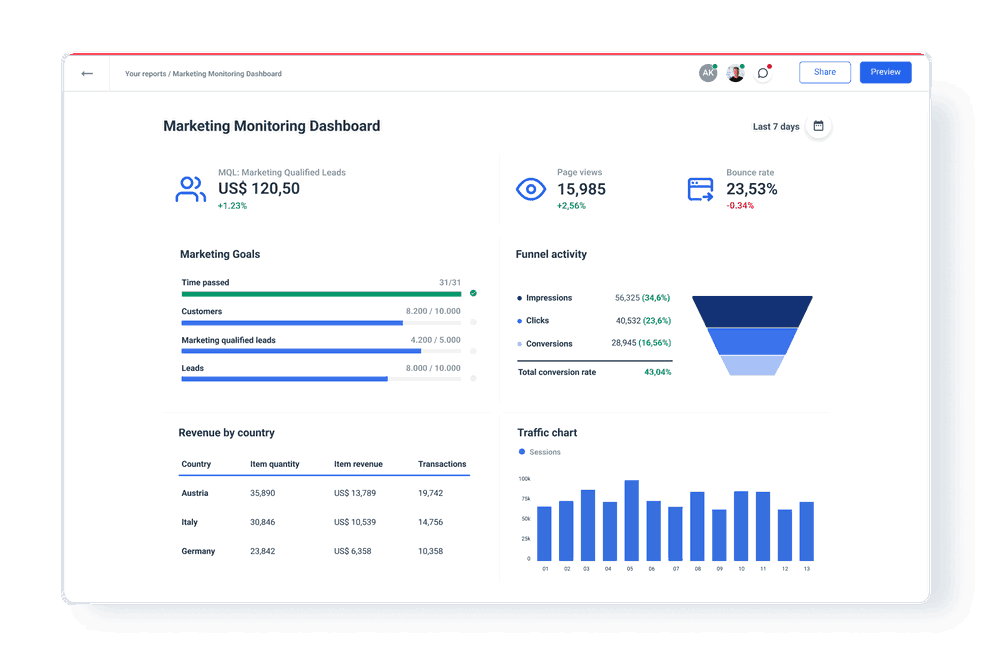 Get an Overview of Your Client Data In One Platform
With Whatagraph you can combine as many data sources as needed yet enjoy the simplicity of a monitoring dashboard. Get a quick overview of all your clients' marketing channels like PPC, social media or SEO. In no time connect and aggregate performance data to learn about the status of your marketing initiatives through custom views of their campaigns.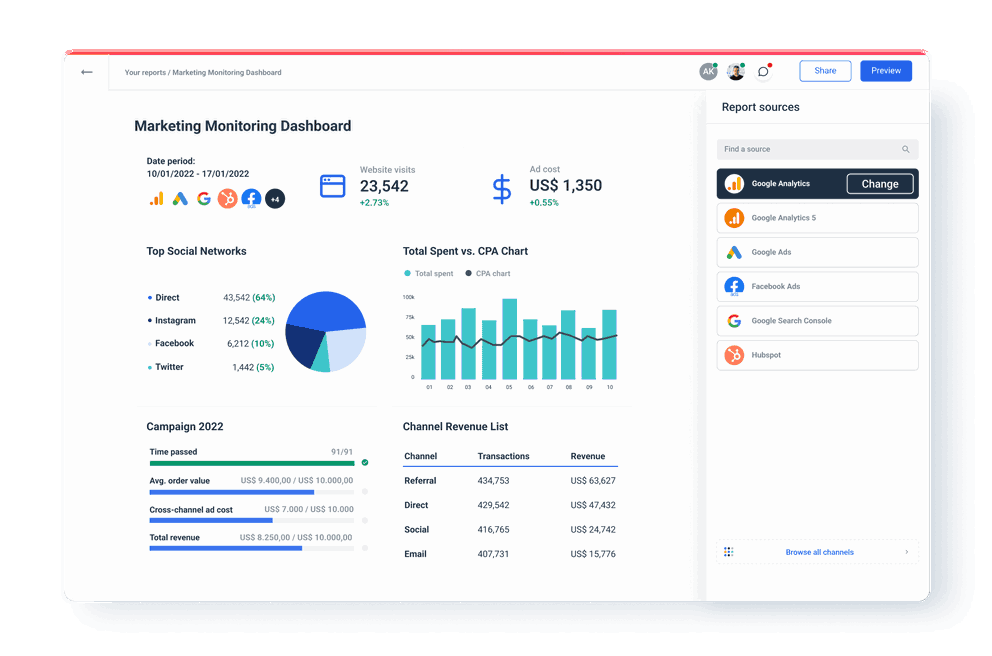 Tailor Your Monitoring Dashboard to Your Agency Needs
Do you need specific features in your monitoring dashboard? Look no further, as Whatagraph solves one of the major pain points for marketing agencies. You can connect to +40 different data sources, and customize and automate your dashboards. Moreover, you can access a template library with 95+ pre-made dashboard templates or create a new dashboard from scratch. Add different widgets and metrics data and choose the visualization type your clients need.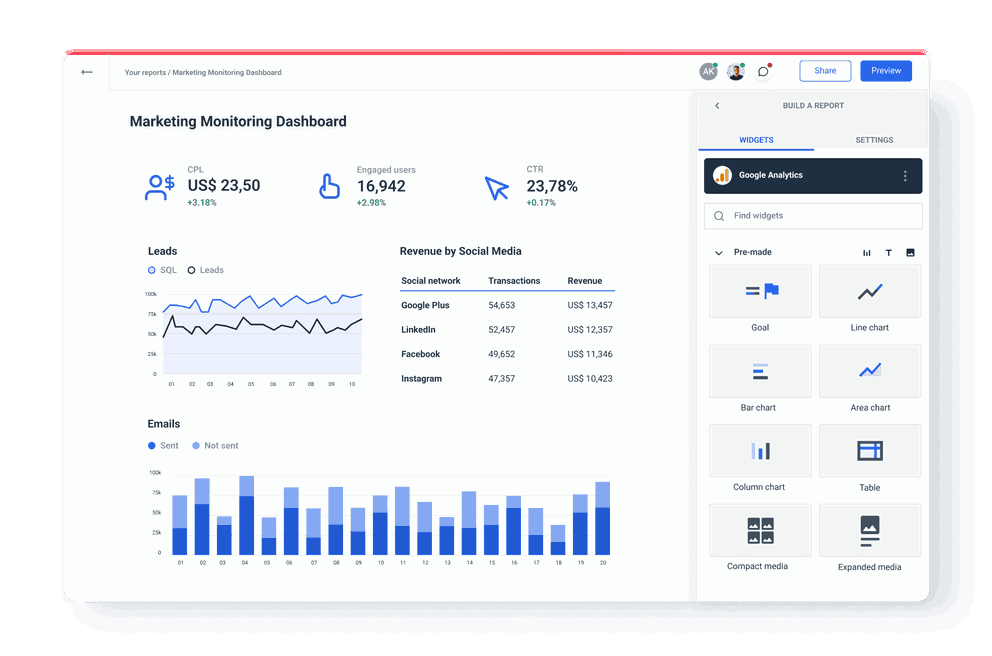 FAQs
All your questions answered. And if you can't find it here, chat to our friendly team.
How often does the Whatagraph monitoring dashboard refresh with new data?
Monitoring dashboards created with Whatagraph don't require a manual refresh. Every time you open a dashboard it presents ONLY the most recent data.
Can I share the monitoring dashboard with others? Like colleagues or my clients?
Easily! Our question would be: do you want to send automated monitoring dashboards or would you prefer to do it manually? With Whatagraph, you can do both. 

Manually? Then generate a dashboard link or create a PDF file and distribute it.



Automatically? Set an email to be sent out at the needed frequency, reporting the chosen period of time.


How many metrics and key performance indicators can I track with monitoring dashboards created on Whatagraph?
All of our pricing plans include an unlimited number of metrics and KPIs. This means you can overwhelm yourself with data, just be mindful that it might not be the best practice!
It's good to be loved! Our clients are not shy about expressing it.
Need more help with getting started?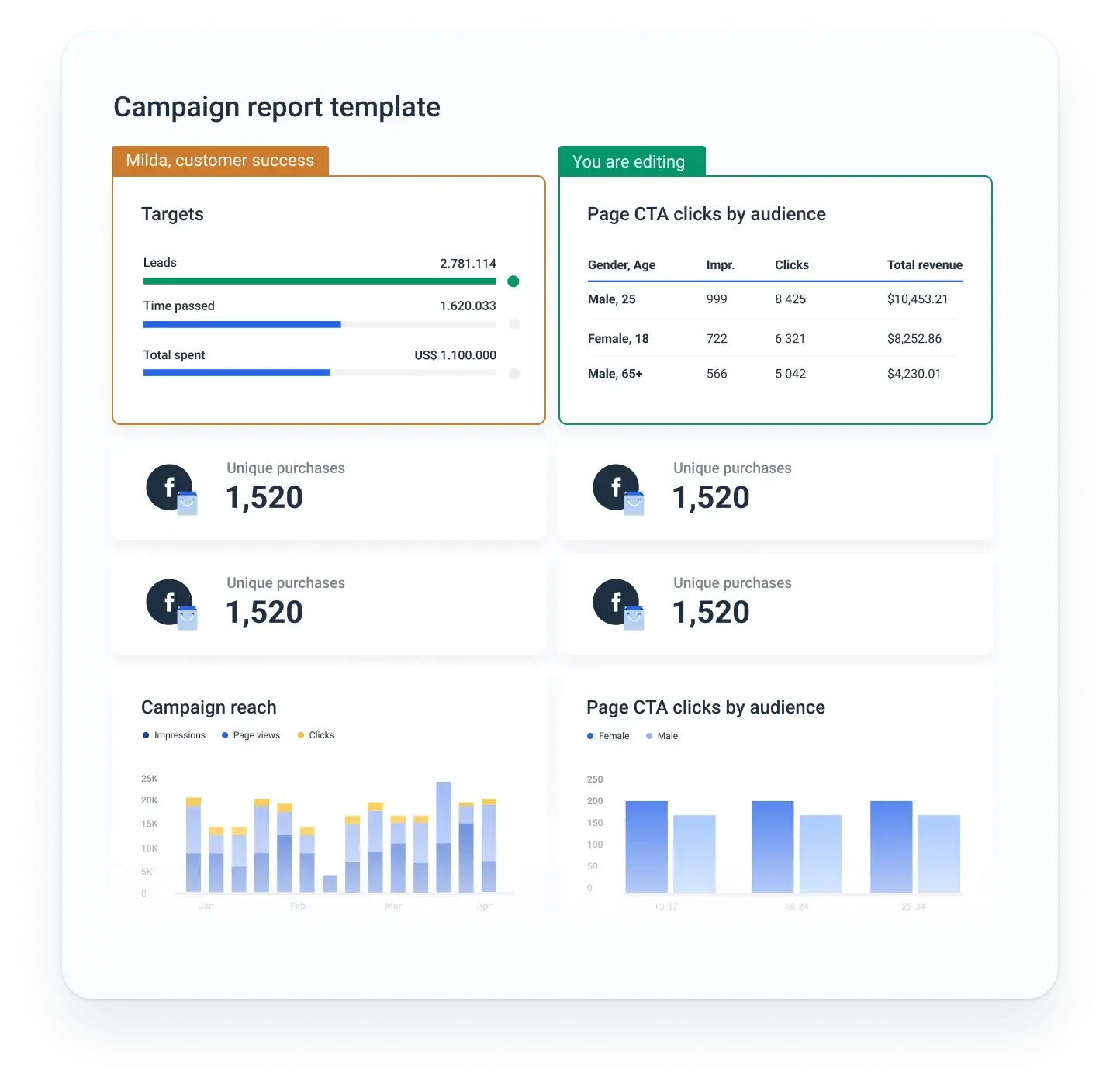 We can set up your report campaign for you!
If you need help with setting up Whatagraph - our team can create your campaign reports!
Ready for insights?
It's time to focus your time on the tasks that really matter, and let us worry about your marketing analytics. Start your free 7-day trial.
Free for 7 days

No credit card required

Live chat support

Cancel anytime