Sales Performance Dashboard
Bolster your business' processes with the help of the Whatagraph sales performance dashboard. Minimize - and even eliminate - the roadblocks that impede your growth. Sales performance metrics that you can ACT on will always be within reach when using a Whatagraph sales performance dashboard.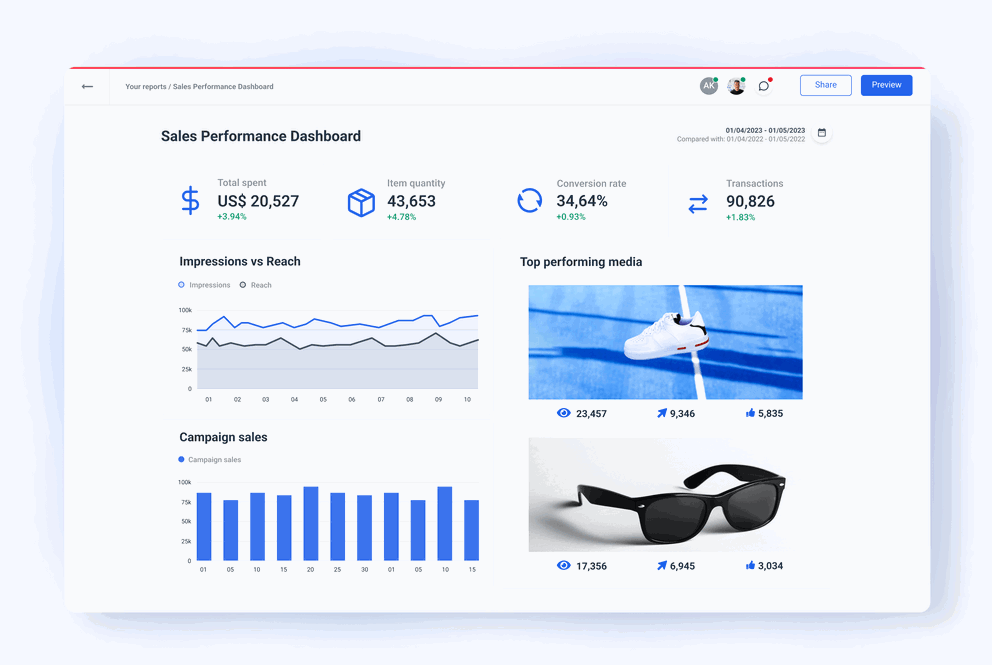 Join marketing agencies and teams worldwide who use Whatagraph to work with marketing data!








Spend more time driving better results for your clients
Sales KPIs and analytics from multiple sources
Cut the reliance cord with time-consuming spreadsheets. Start using a visual sales performance dashboard to track and analyze sales metrics and top-performing marketing channels. Track weekly, monthly, or quarterly sales progress with pipeline conversions, ROMI, and other metrics.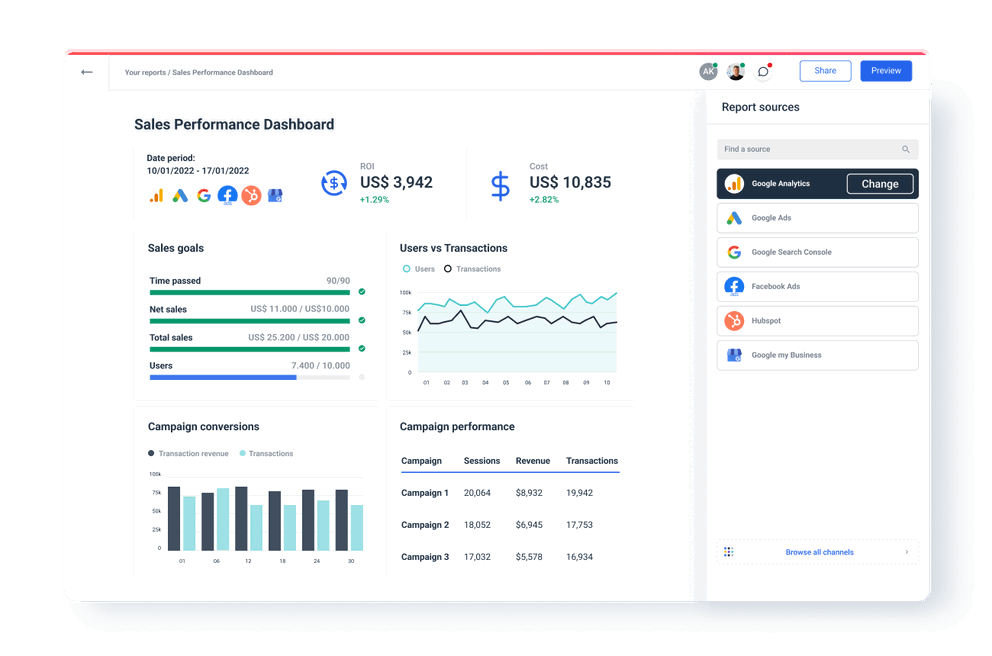 Sales dashboards that are customizable to your specifications
View current sales metrics when you integrate desired platforms with Whatagraph. Use a pre-made sales performance report template or drag-and-drop widgets to create a comprehensive sales dashboard yourself. Sales teams of any size will appreciate a flexible platform that contains critical performance metrics in one place.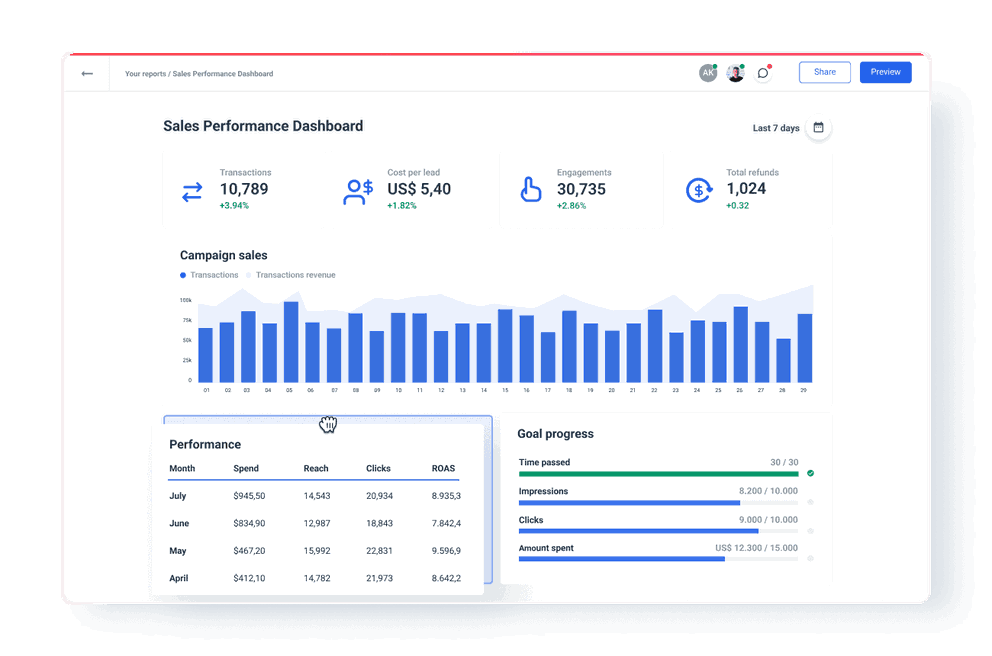 View which marketing channels are driving sales
Do you know which marketing channels are driving sales? Consolidated business analytics will help you understand what is moving the sales needle by channel - PPC, social media, organic. View budget allocations and KPIs of each marketing channel and compare them.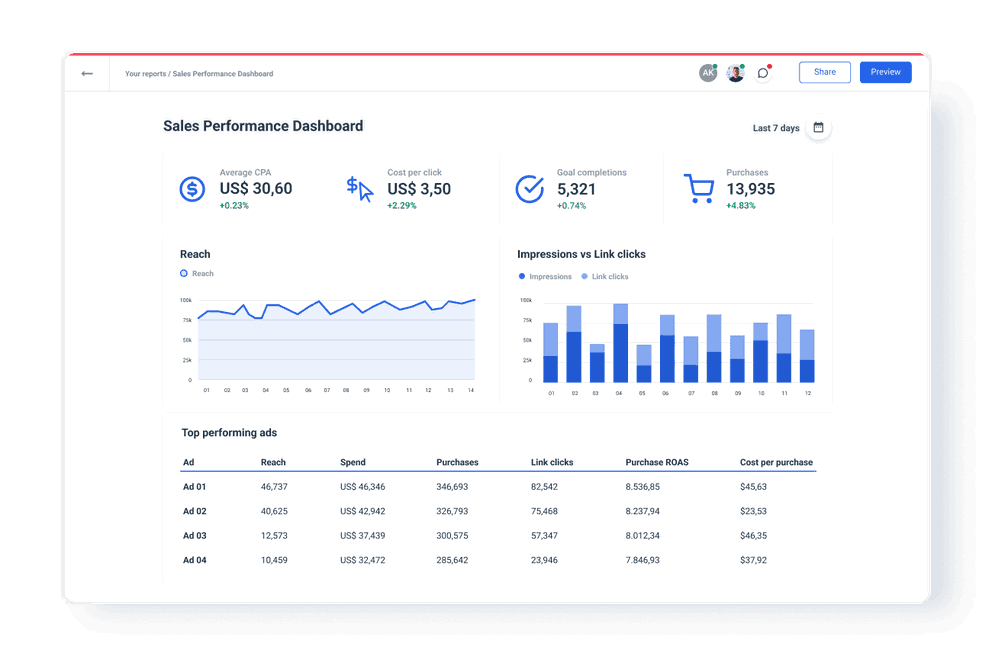 FAQs
All your questions answered. And if you can't find it here, chat to our friendly team.
How do you monitor sales team performance?
Within your dashboard, you have the option to create and set goals - individual or team goals. Set these goal trackers for yourself, and the data will be automatically extracted from the native platform. As progress is being made, the goal tracker will update itself to provide you with the most-recent performance insights.
What should a sales dashboard include?
1. Leads by source
What channels are generating the most leads


2. Current activities (calls, product demos)
What do you have to do currently for your potential clients. This may include walkthroughs, onboarding process, demos. 


3. Open opportunities
These opportunities are your bread and butter and tie into your win/loss rate. Use this to track your leads and delegate when you have too many. 


4. Closed opportunities
See how much revenue your sales team has generated so far. This metric is vital if your sales quota is based on revenue, and it can help you keep an eye on commission goals.


5. Sales cycle
The average time it takes to close a sale. This is usually measured in days.


6. Pipeline
Potential sales and where they currently stand in regards to the sales funnel


7. New clients and upselling ratio
Compare how well you are upselling products to your existing customers in relation to onboarding new clients.


8. Win/loss rate
A total number of created opportunities in relation to the total number of closed sales.
How do I create a sales dashboard?
Here are the steps you need to go through when creating a sales dashboard for yourself or your team: 


Decide which sales metrics you'll be tracking;
Understand you or your team will be using the created dashboard.
Look at sales dashboard tool builders. One great tool for this is 'Whatagraph'.
Extract the data into the dashboard. This can be done automatically if you decide to use Whatagraph.
Drag-and-drop the metrics you wish to see onto your dashboard. 
It's good to be loved! Our clients are not shy about expressing it.
Need more help with getting started?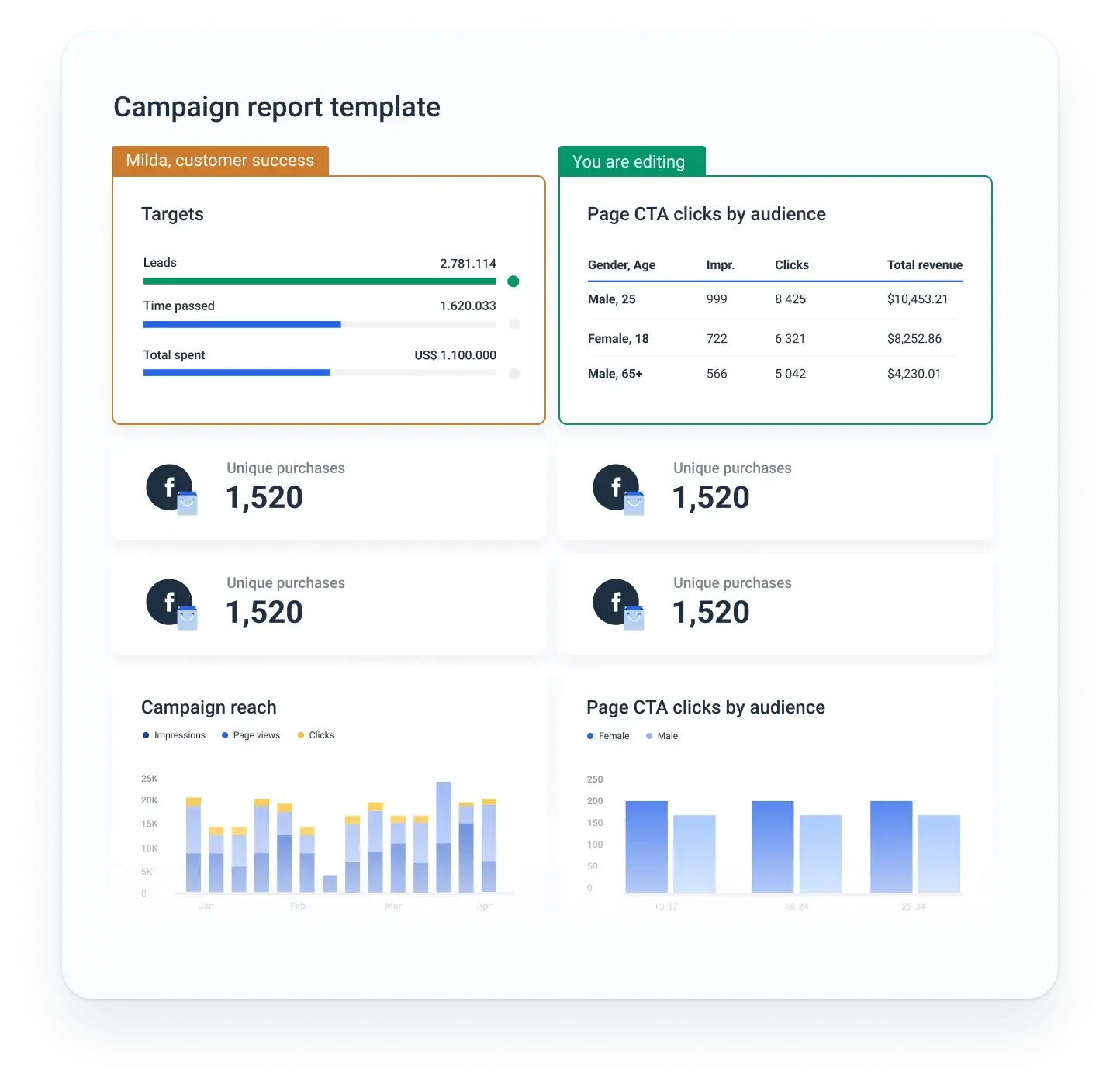 We can set up your report campaign for you!
If you need help with setting up Whatagraph - our team can create your campaign reports!
Ready for insights?
It's time to focus your time on the tasks that really matter, and let us worry about your marketing analytics. Start your free 7-day trial.
Free for 7 days

No credit card required

Live chat support

Cancel anytime