Multi-channel marketing Dashboard Template
Measure your marketing performance across all of your channels with a single, data driven dashboard. All of your most important marketing metrics in one place and your entire marketing strategy at a single glance.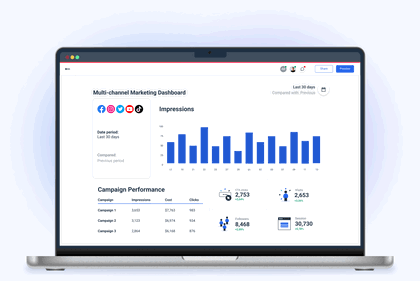 Join marketing agencies and teams worldwide who use Whatagraph to work with marketing data!








What is multi-channel marketing?
Multi-channel marketing is the practice of doing marketing activities on more than one channel. For example, doing marketing activities on Facebook, LinkedIn, Instagram, Twitter, Snapchat, or any combination of these platforms.
All the features you need in a multi channel marketing dashboard
Stay up-to-date with acquisition overview
Find out which channels are driving the most revenue and cut out the noise. With Whatagraph's interactive dashboard, you can see in real-time which channels and touchpoints are producing vanity metrics and which ones are driving new revenue for your client's business.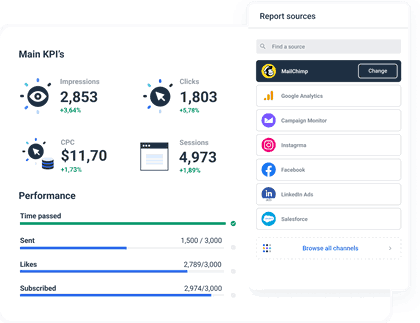 Keep close track of your website
The most important website metrics you need to keep the finger on your website's pulse and attribution. From demographics to conversions, bounce rates and sessions, monitor all your crucial marketing analytics KPIs in this dashboard and highlight crucial points in your customer journey. Add social media to the mix for a true overview of your campaign performance.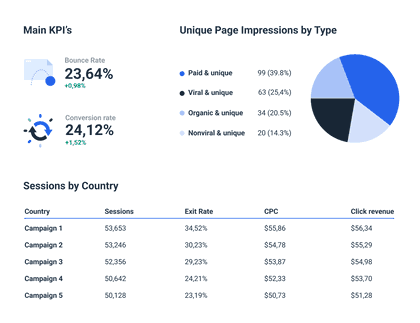 Review traffic by channel
Discover which channels are driving the most traffic to your website with a cross-channel marketing dashboard. Find out which type of traffic it is and whether it's bringing conversions or just eating up your cost per click. Improve your marketing reporting through the visualization of each of your channels - all in one, actionable analytics dashboard.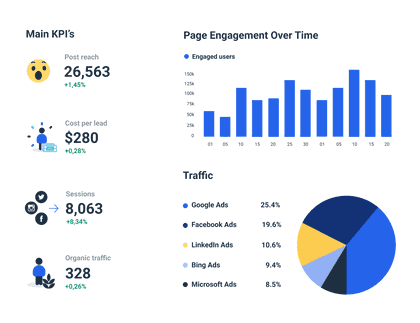 Multi channel marketing examples
Multichannel can mean anything in the marketing world. With Whatagraph, you can combine channels such as SEO, email marketing, ecommerce, website analytics, social media and many others. For example, you could combine SEO, PPC and email marketing for a clear view of your acquisition strategies.
 
All reporting features your agency needs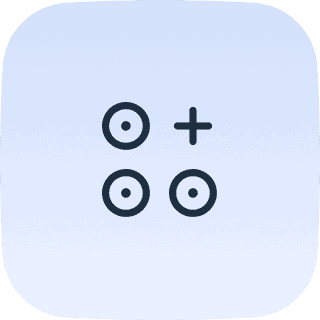 40+ data sources
Create a true cross-channel digital marketing dashboard in Whatagraph. Over 40 integrations supported for your marketing campaigns. Some marketing platforms supported include: Google Analytics, Google Ads, LinkedIn Ads, Facebook Ads, Shopify, TikTok Ads, Twitter Ads, Ahrefs, SEMRush and many others.
Cross-channel reports
SEO, SEM, social media, performance marketing, email marketing - create a singular client report for all channels instead of one report for each.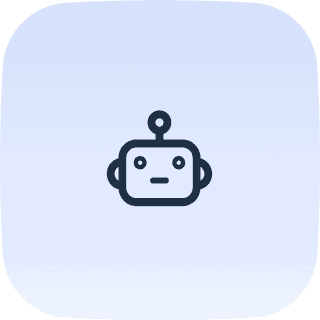 Full report automation
Start from a report template, add your sources and you can create a report in under 10 minutes. You can automate the delivery too - and send reports automatically at your desired intervals.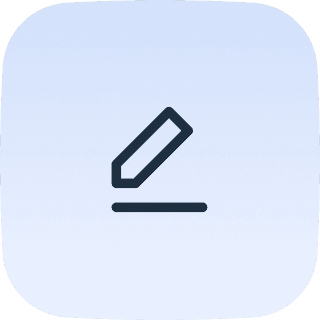 White-label reports
Make your reports align with your agency branding and style. Customize each report with your agency logo, colors and branding and every detail you need to make your report truly your own.
FAQs
All your questions answered. And if you can't find it here, chat to our friendly team.
How do I create a multi-channel marketing dashboard?
All you need is a Whatagraph account to get started. Simply create an account, grab a dashboard template, connect your data sources and your new dashboard is pretty much done!
How do you monitor marketing KPIs?
Just use Whatagraph! Once you create a marketing dashboard, the online marketing data in it is updated in real-time thanks to our automation capabilities. Every time you open the dashboard, it gets populated with aggregate, live data. No more Google Sheets reports!
It's good to be loved! Our clients are not shy about expressing it.
Need more help with getting started?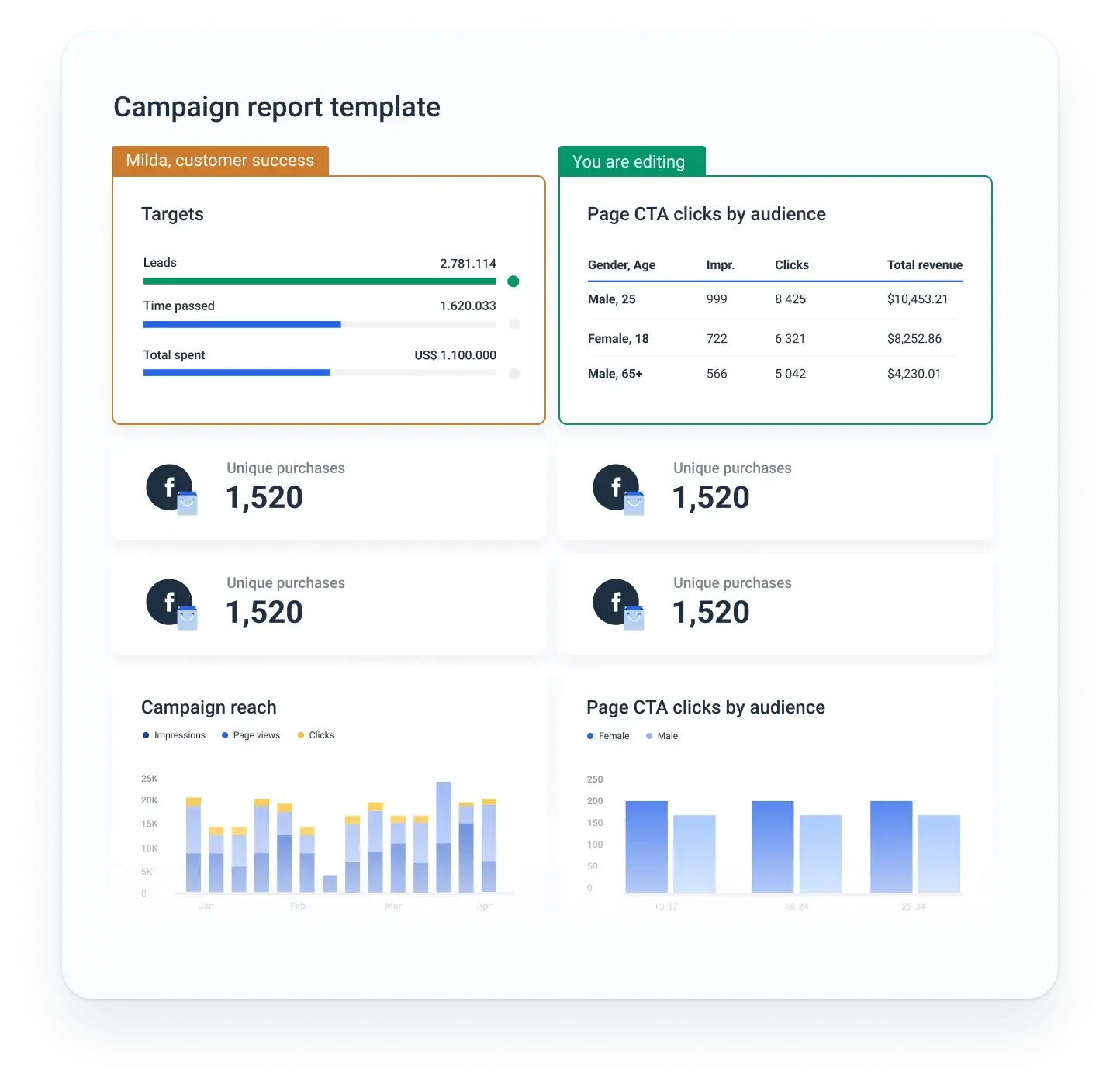 We can set up your report campaign for you!
If you need help with setting up Whatagraph - our team can create your campaign reports!
Ready for insights?
It's time to focus your time on the tasks that really matter, and let us worry about your marketing analytics. Start your free 7-day trial.
Free for 7 days

No credit card required

Live chat support

Cancel anytime