The Perfect Data Visualization Dashboard for Agencies
Interactive data visualization in Whatagraph lets your clients easily make conclusions, take quick action, identify trends and easily understand complex concepts. Try Whatagraph and show your clients' results in a more visual way that is easy to understand. To effortlessly track live data and performance metrics, you can use infographics, maps, tables, goals and insights widgets.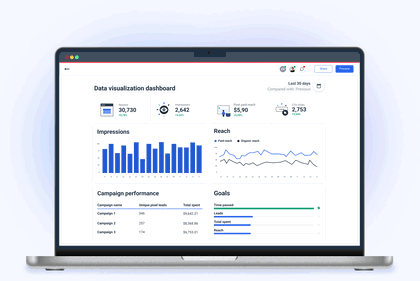 Join marketing agencies and teams worldwide who use Whatagraph to work with marketing data!








What is a Data Visualization Dashboard?
A data visualization dashboard is a tool used by marketing agencies to illustrate data and better communicate with clients. This means that massive amounts of raw data can be transformed into something more actionable and insightful that your clients can actually understand. Pie charts, bar charts, graphs, images, and maps are some of the most common ways to visualize datasets – it's all about making complex numbers understandable and improve decision-making. No more Excel spreadsheets - show your clients interactive visualizations in Whatagraph. You don't need a team of data analysts to show your campaign results any more - just the best data visualization tool out there, Whatagraph.
Build Data Visualization Dashboards & Make Data Easier to Understand for Your Clients
Connect Your Tools & Visualize All Your KPIs in a Beautiful Dashboard
Do you want to learn more about the effectiveness of your marketing campaigns? From multiple sources? In one location? Using our marketing reporting tool, you can integrate any marketing platform, including Google Sheets, and turn numbers into stunning visual insights. Connect your tools and visualize all your KPIs with Whatagraph's automation capabilities. With 40+ data sources, you can display all types of marketing data.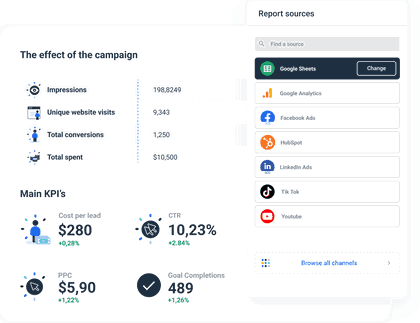 Use Whatagraph's 50+ Pre-Made Dashboards
Whatagraph's visual analytics tool enables marketing agencies to quickly generate detailed visual data reports. We have over 50 pre-made dashboard templates and even more widgets to make agency work easier. Use our pre-made dashboards and customize them to your client's specifications. Create a perfect dashboard design in under 5 minutes and automate its distribution to your clients.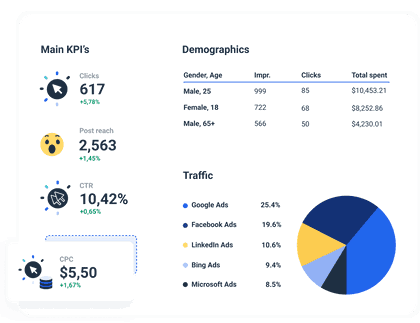 Real-Time Reporting with Data Visualization Tools
Take a look at the current status of your marketing performance with our real-time data visualization tools.  Notes, emojis, gauges and number blocks are used to summarize results. Whatagraph gives you access to optimized live dashboards allowing your clients to make instant judgments. Create a real-time dashboard now and get an overview of your marketing initiatives' status.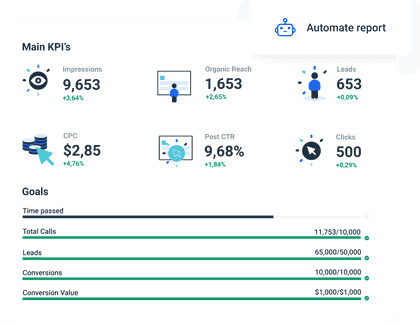 FAQs
All your questions answered. And if you can't find it here, chat to our friendly team.
How do I create a data visualization dashboard?
Start reporting with Whatagraph
Gather relevant and accurate data from reliable sources;
Drag and drop visual widgets;
Give an introduction by using note widgets.
What are the benefits of using a data visualization dashboard?
Easer for clients to comprehend big data
Allows agencies to monitor their processes in real-time;
Whatagraph users can gain a better understanding of specific elements within the report.
Which tool is best for data visualization?
There are many powerful data visualization tools available in the market. One of those tools is Whatagraph. 


It has real-time data analysis, extraction and transformation capabilities, so your interactive graphs update every time a change occurs. Interactive also implies that you have more options for customizing that visualization. You can delete or add components, compare them over a specific time period, and isolate outliers.
What is the purpose of using dashboards for data visualization?
An interactive dashboard is a business intelligence tool which allows marketing agencies to monitor, track, and analyze information from various data sources. It also visually displays all of the key business metrics and allows you to interact with them. The goal is to provide users with accurate data analytics and to make data-driven business decisions easier.
It's good to be loved! Our clients are not shy about expressing it.
Need more help with getting started?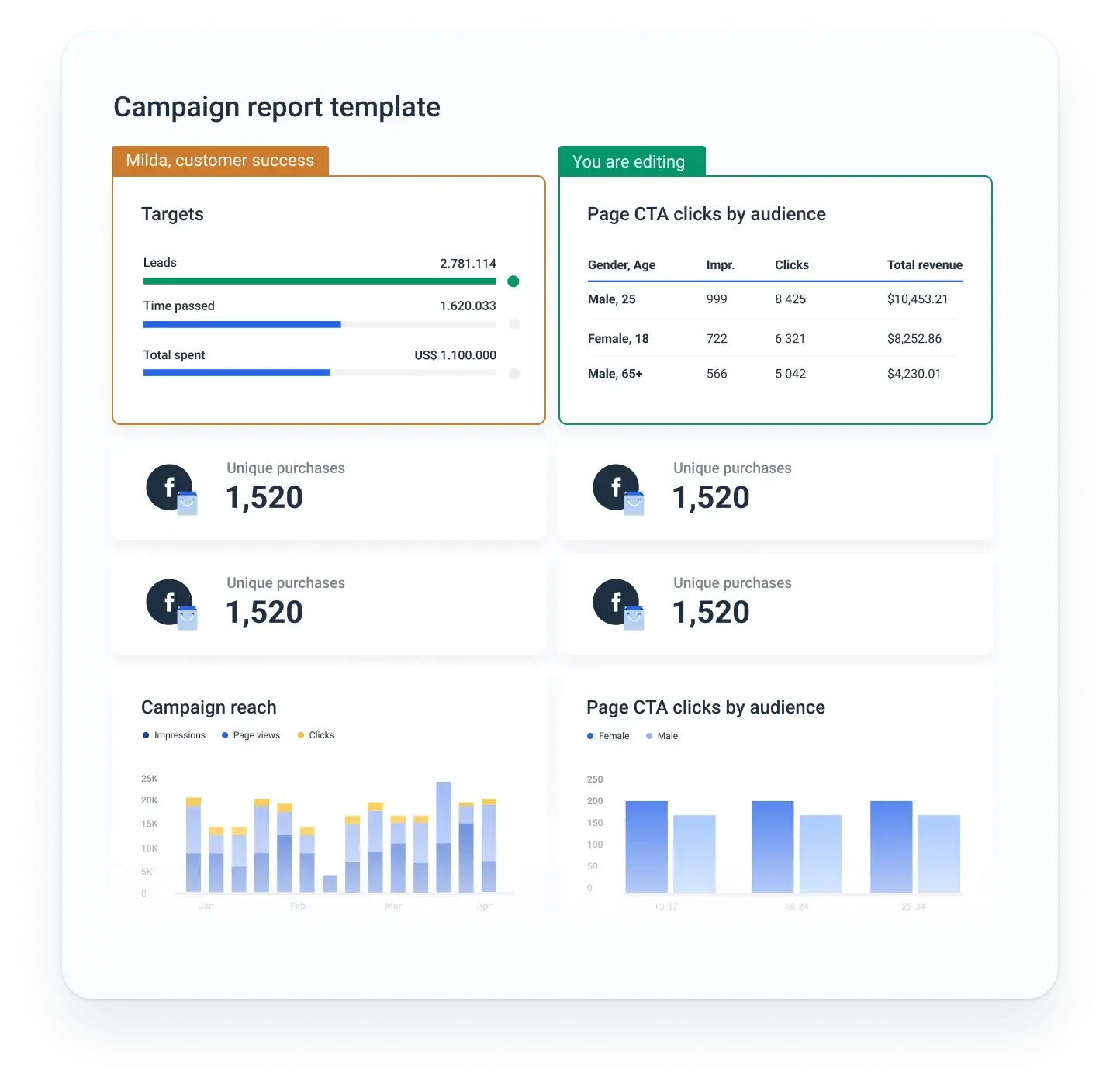 We can set up your report campaign for you!
If you need help with setting up Whatagraph - our team can create your campaign reports!
Ready for insights?
It's time to focus your time on the tasks that really matter, and let us worry about your marketing analytics. Start your free 7-day trial.
Free for 7 days

No credit card required

Live chat support

Cancel anytime