The Perfect Data Visualization Dashboard for Agencies
Try Whatagraph's data visualization dashboard and show your clients' results in a visual way that is easy to understand. Don't spend any more time on data analytics than you need. Identify trends and make more informed decisions for your clients' marketing campaigns. Use graphs, charts, maps, tables, and other widgets to effortlessly track live data and performance metrics.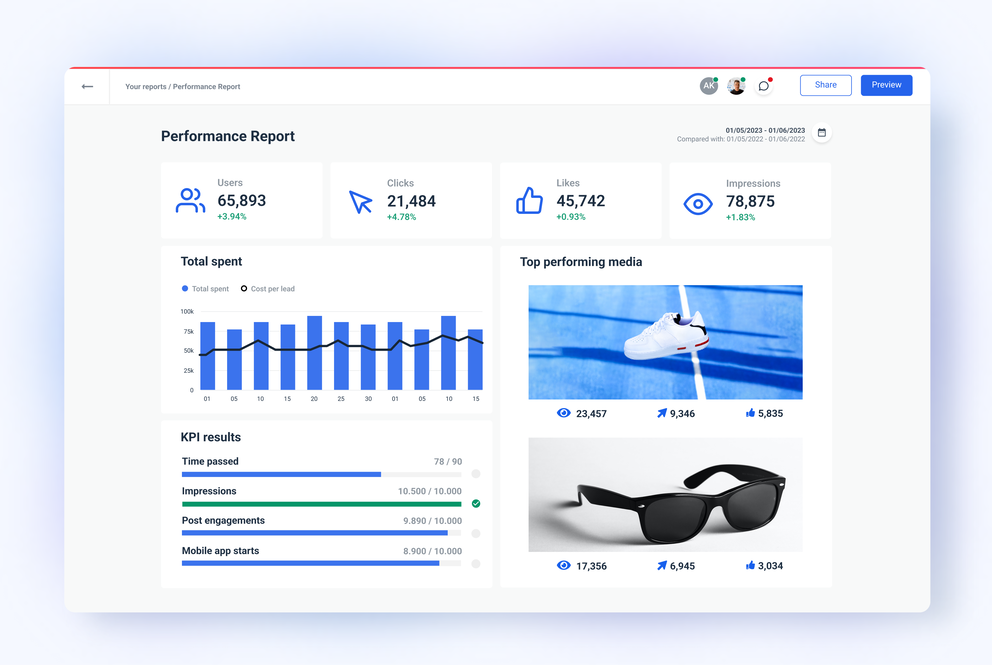 Join marketing agencies and teams worldwide who use Whatagraph to work with marketing data!








What is a data visualization dashboard?
A data visualization dashboard is an interactive dashboard that you can use to track key metrics across different marketing channels, visualize data trends, and share insights with your clients so they can instantly see the results of your work. 
Build data visualization dashboards & make data easier to understand
Connect your tools & visualize all your KPIs in a beautiful dashboard
Monitor the effectiveness of your cross-channel marketing campaigns from one place. Create your custom data visualization dashboard with all the marketing KPIs and turn numbers into stunning visual insights. Natively integrate more than 45 marketing tools, including Google Analytics 4, social media, paid ads, SEO, email marketing, eCommerce, and CRM platforms. Connect any data source you have using a Custom API, Google Sheets, or BigQuery data warehouse.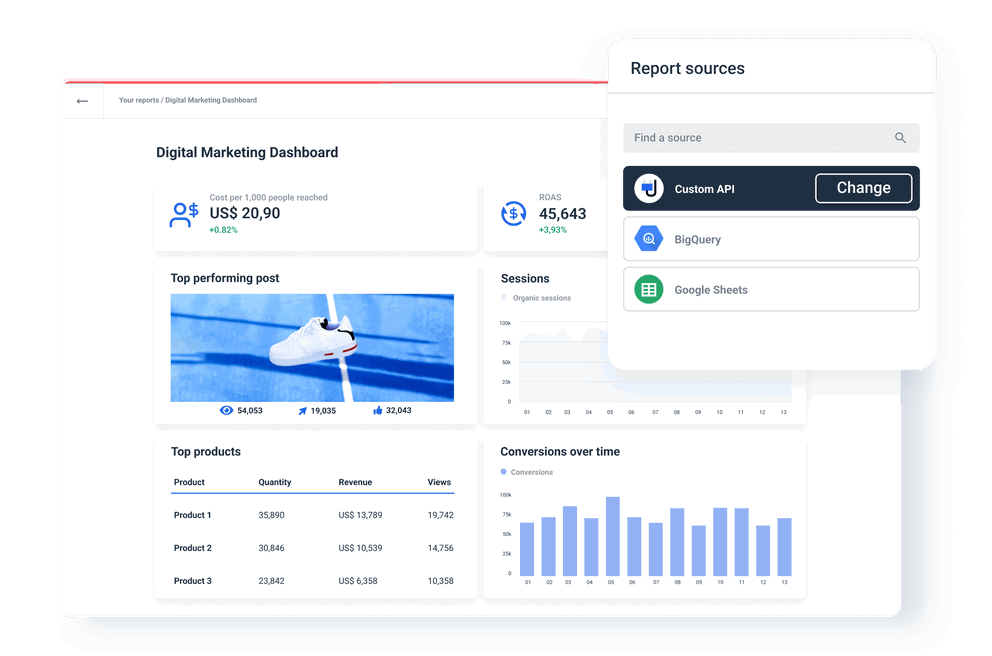 Use Whatagraph's pre-made dashboards
Whatagraph allows marketing agencies to quickly generate detailed visual data insights. We have a library of pre-made dashboard templates to make your work easier. Use our pre-made dashboards right out of the box or customize them to your client's specifications. Want to build a brand new dashboard from scratch? Drag and drop everything you need from the toolbar onto a blank page. Combine insights from multiple sources in one table, graph, or chart. Create custom metrics, edit existing widgets, and save the new ones you create as widget templates. Build a perfect dashboard design in under 5 minutes and automate its distribution to your clients.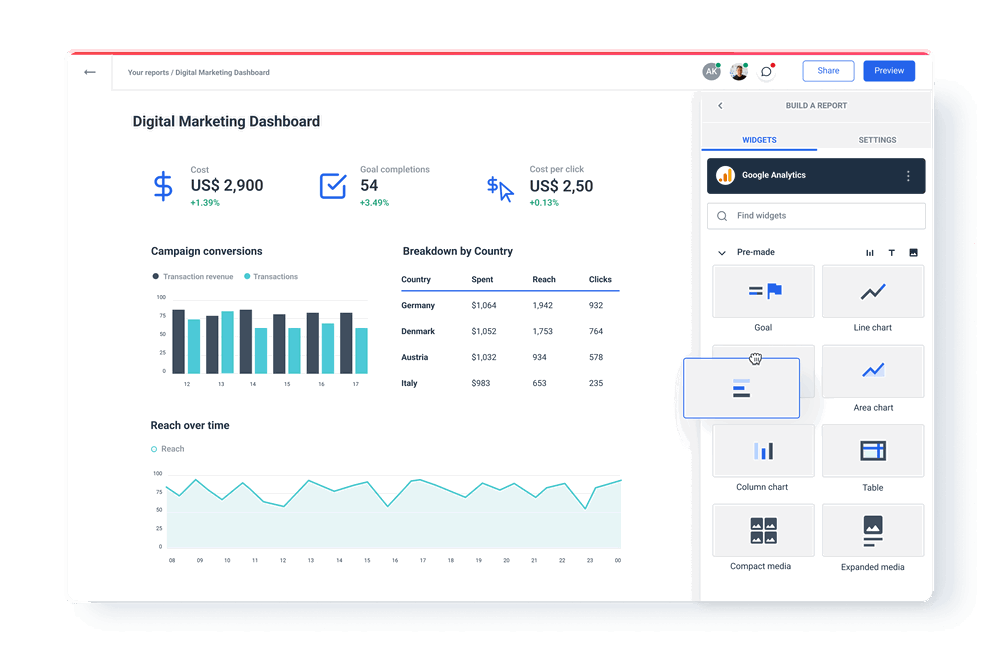 Live links for on-demand access
Take a look at the current status of your marketing performance with our real-time data visualization tools. Whatagraph allows you to share a live link for direct on-demand access. This way, your client can check their marketing metrics whenever they want and make instant business decisions.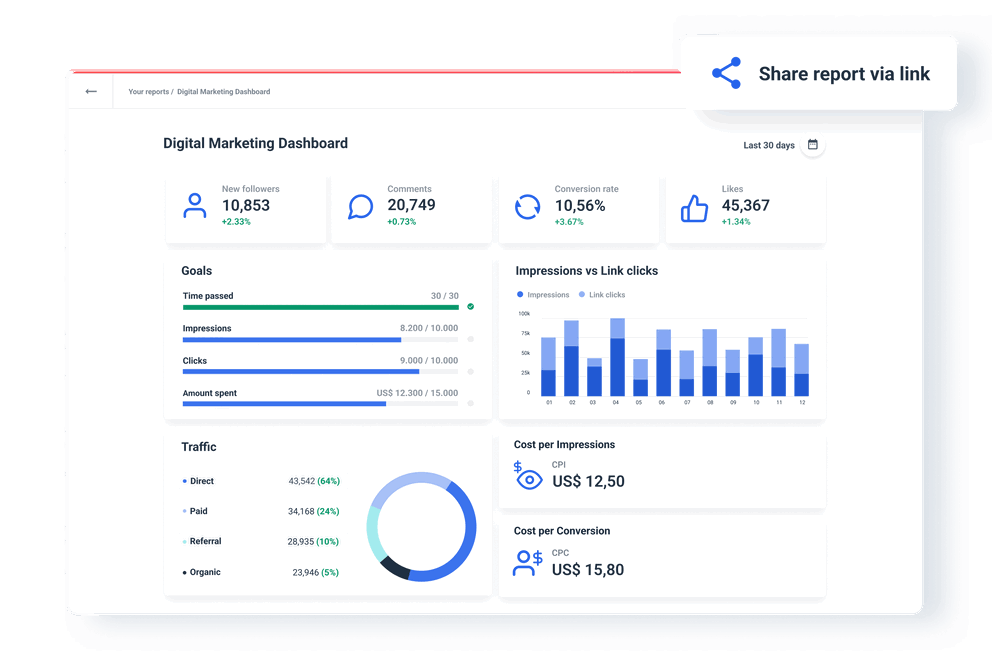 FAQs
All your questions answered. And if you can't find it here, chat to our friendly team.
What is data visualization?
Data visualization is the graphical representation of data through visual elements like charts, graphs, tables, infographics, dashboards, and data visualization tools. 
How do you visualize data in a dashboard?
You visualize data in a dashboard by combining numbers, charts, graphs, and other visual elements grouped in such a way as to bring focus to metrics that matter the most. 
Which tool is best for data visualization?
The best data visualization tool is one that is simple and easy to use, supports various visualization styles for different types of data, can drill down into big data, and has sharing automation and competitive pricing plans. 
Whatagraph also allows you to easily connect sources, visualize data points, and share the results from the same page. 
If you need a data visualization tool that supports machine learning and has business intelligence features, you can also consider Tableau and Power BI. 
If you are on a budget and mainly use Google-based marketing tools, a self-service tool like Looker Studio can help you 
What is the purpose of using dashboards for data visualization?
A data visualization dashboard is a tool used by marketing agencies to illustrate data and better communicate with clients. A dashboard can transform massive amounts of raw data into something more actionable and insightful that clients can actually understand. 
Pie charts, bar charts, graphs, images, and maps are some of the most common ways to visualize datasets – it's all about making complex numbers understandable and improving decision-making. 
While in the past marketers struggled with Excel spreadsheets, now you can use Whatagraph to run data analysis in a few clicks and present your clients with interactive visualizations of their data. 
You don't need a team of data analysts to show your campaign results anymore — just the best data visualization tool out there, Whatagraph.
What is the difference between data visualization and a dashboard?
Data visualization gives a detailed report of the information as a whole, while a dashboard provides a summary of that information. Data visualization is a larger set, and a dashboard is a snapshot of the most critical metrics. 
It's good to be loved! Our clients are not shy about expressing it.
Need more help with getting started?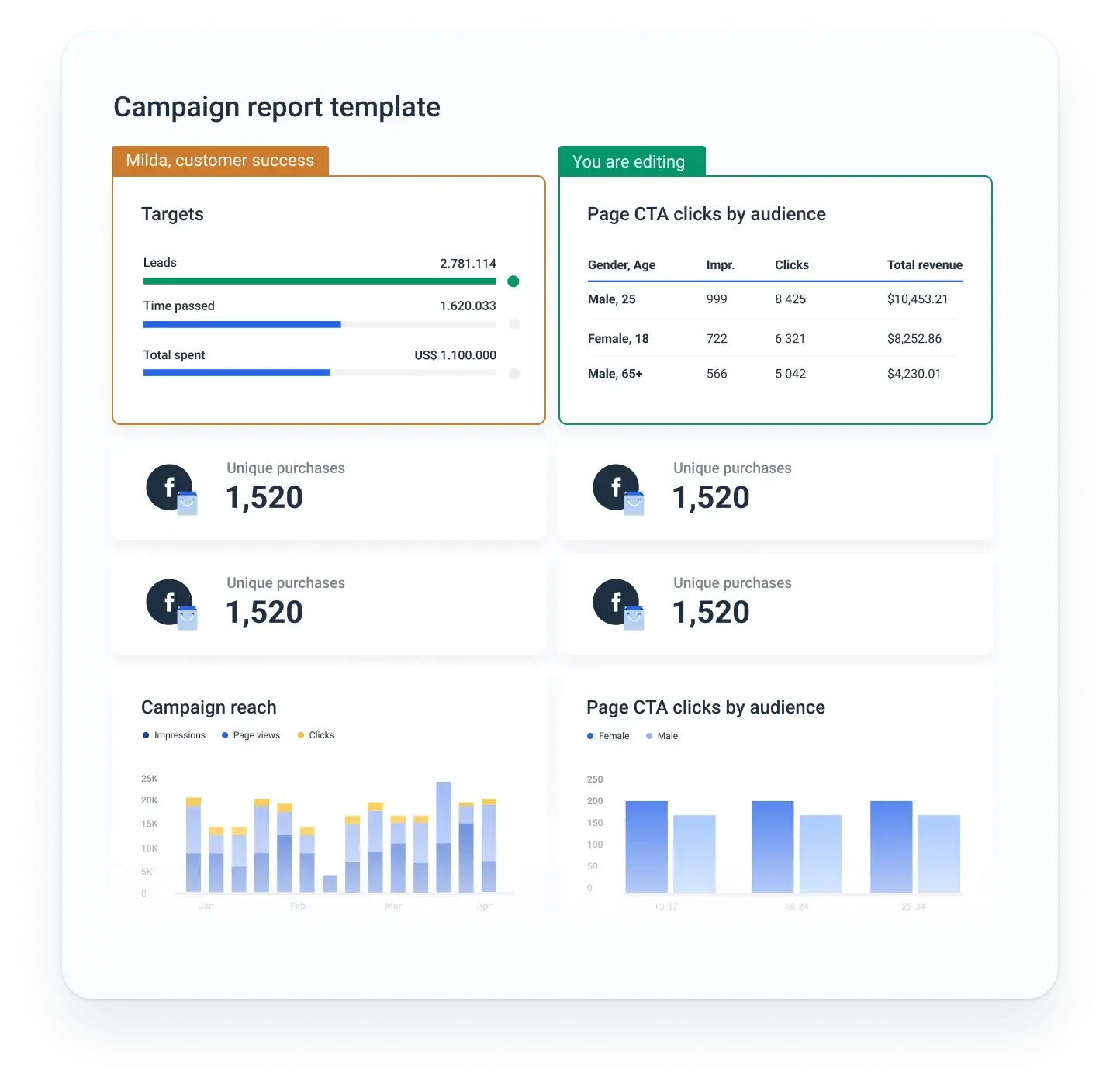 We can set up your report campaign for you!
If you need help with setting up Whatagraph - our team can create your campaign reports!
Ready for insights?
It's time to focus your time on the tasks that really matter, and let us worry about your marketing analytics. Start your free 7-day trial.
Free for 7 days

No credit card required

Live chat support

Cancel anytime